An easy 2.5-hour drive from San Jose International Airport, Manuel Antonio is a paradise for nature lovers looking to spend time with the local wildlife. This touristy beach town is located in North Puntarenas and is home to Manuel Antonio National Park, the smallest of its kind in Costa Rica but one of the most frequently visited and famous national parks in the country.
With the national park in close proximity, Manuel Antonio has grown in popularity in recent years with tons of tourism businesses springing up. However, this doesn't mean that the town has turned into a concrete jungle. In contrast, Manuel Antonio has maintained a delicate balance with nature. There is still a cloak of rainforest enveloping the town, and wildlife is as abundant as ever.
Apart from the national park, the breathtaking views of Playa Espadilla also draw thousands of visitors to the town every year. This has led to a wide range of accommodation options opening in town, from backpacker hostels to luxurious hilltop resorts.
While it's great to have choices, it can be a bit of a headache to choose just one place to stay. Lucky for you, I'm pretty versed when it comes to deciding where to stay in Manuel Antonio, and in this blog, I'll share with you some of my top hotel picks for every budget. I've also broken it down into the different areas you can choose from with the pros and cons to staying in each!
What are the Best Areas to Stay in Manuel Antonio, Costa Rica
As far as Manuel Antonio accommodations go, you have four primary areas to choose from: Manuel Antonio town, near Playa Espadilla, Quepos Point, or the city of Quepos.
Manuel Antonio town is the central area with the most hotels and restaurants. Most of the accommodations here offer much-wanted privacy, but you'll be on the hills and a short drive from Playa Espadilla (the main beach in town) and the park's entrance gates.
Playa Espadilla is the main beach close to Manuel Antonio and is a prime spot for beach lovers to stay. The beach itself is flatter compared to the town center, so walking around is a lot easier. It's also located right beside Manuel Antonio National Parks entrance gate, which is great for convenience but also makes the area very busy and congested.
Quepos Point is located in a remote area, so expect quiet surroundings and plenty of wildlife. You'll only find luxury resorts here, though, but if this is your idea of a grand vacation, Quepos Point is the place to be.
Quepos is the closest city to Manuel Antonio (about 15 minutes away), which houses some of the cheapest accommodations. That said, many visitors prefer staying here for the budget-friendly rooms and to experience the more "local" community atmosphere since Manuel Antonio is purely a tourist town.
I've compiled a list of my favorite hotels in and around Manuel Antonio below to help you pick out which one is perfect for your vacation.
About Staying in Manuel Antonio Town
Staying in the town center of Manuel Antonio means you'll be treated to jaw-dropping views of the ocean without blowing through your budget. You can find plenty of hotel and hostel choices here, some of which feature unmatched views of the Pacific.
Although the town center is about a five-minute drive to the beach (Playa Espadilla) and the national park entrance, you'll still be close enough to nature, thanks to the dense vegetation enveloping the town. Expect to encounter the local wildlife, especially mischievous monkeys trying to steal your sandwich.
Another thing you should take note of when staying in Manuel Antonio is that it's on the hills and somewhat spread out. You can still walk around, but it can be a bit tricky since the roads are inclined – just be prepared for a bit of a workout!
Advantages to staying in Manuel Antonio Town:
Disadvantages of staying in Manuel Antonio Town:
Can be hard to walk around with the hills
Not walking distance to the beach or national park
The road can be busy and loud
Not so peaceful
3 BEST Hotels in Manuel Antonio Town
$$$ – Hotel La Mariposa
You may be in Manuel Antonio to get up close and personal with the wildlife in the National Park, but it wouldn't hurt to add a sprinkle of luxury to your vacation. That is exactly what you'll get at Hotel La Mariposa.
Standing on the town's highest point, La Mariposa treats guests to a majestic 180-degree view of the Pacific Ocean, the National Park, and even the neighboring town of Quepos. You can see the expansive blue for miles on end with no obstruction at all. This makes it a perfect backdrop for your photos (believe me, the pictures you'll take here will be the highlight of your Instagram feed).
La Mariposa has a lot more in store for its guests, too. With its wooden furniture and tropical decor, it's brimming with Costa Rican charm everywhere you look. There are also top-notch amenities and services you can find right on the property.
Among them are two infinity pools, where a panoramic vista of the ocean is waiting; a spa center, where you'll get pampered with soothing body treatments; a pool bar to quench your thirst for cocktails; a complimentary beach shuttle for easy access to Biesanz Beach; and concierge services for days when you're up for an adventure.
My favorite amenity is definitely the large infinity pool, but I personally think the hotel's open-air Le Papillon Restaurant is the next best thing. Serving both international and Costa Rican cuisines, Le Papillon combines exceptional views with sumptuous dishes to create an unmatched gastronomic experience. Make sure to grab a seat on the alfresco dining terrace, so you can enjoy the views while digging into your food.
Apart from the amenities, I'm sure you'll love the rooms. Save for the Standard Rooms, they all feature floor-to-ceiling glass doors that open to your balcony or terrace that look out to the jungle and the ocean. If you really want to splurge, stay at the Honeymoon Suite on the upper floor. This spacious room comes complete with a living room and an oversized jacuzzi on the deck overlooking the gorgeous Pacific.
Prices here range between $150 and $350 USD a night. You can check availability and book Hotel La Mariposa online here!
$$ – Hotel Villas Lirio
Nestled in the lush foliage of Manuel Antonio, Hotel Villas Lirio will definitely wow you with its Costa Rican charm. As soon as you step into the property, you'll be greeted with Costa Rican-style décor featuring wood accents and tropical colors. This gives the property a warm, cozy atmosphere that makes you want to stay longer.
Another major thing I love about Villas Lirio is the individuality of each room. While all 33 guestrooms are appointed with the same amenities like air conditioning, mini-fridge, and cable TV, no two rooms are exactly alike. Every one is uniquely decorated and highlights different local Costa Rican art. But whichever room you end up picking, you'll still get a refreshing view of the hotel's garden from your window or terrace.
Stepping away from your room, you'll wind up in the large crystalline pool in the middle of the property. This one has a pool bar for your cocktail needs and is bordered by about a dozen sun loungers. If you're looking for somewhere more private, Villas Lirio has another pool on the edge of the property, away from the main buildings and lined with towering palms.
Once you've had your fill of the water, you can relax in the game room outfitted with table tennis, billiard table, foosball, and card game. I personally liked hanging out in the tropical-style restaurant and lounge, though, where you can find more local artwork.
Accommodations here cost between $104 and $173 USD per night, inclusive of breakfast.
You can check availability and book Hotel Villas Lirio online here!
$ – Teva Jungle Hotel and Hostel
For something that's right in the town proper of Manuel Antonio, Teva Jungle Hotel and Hostel is easily one of the most budget-friendly accommodation providers.
You can pitch your own tent on the 20-hectare property for as low as $10 USD per night. And if rustic camping is not your thing, there are plenty of room options to choose from. The hotel has several private rooms ($40 to $110 per night) for those who want peace and quiet and lots of dorm beds ($10 to $30 per night) for those who like to meet new travel buddies.
While I love the idea of camping on the property to get closer to nature, I'm someone who prefers having the conveniences of modern life. If you're like me, then I can't recommend the Apartment enough. This is the most spacious room option at Teva, well-equipped with a living area, smart TV, kitchen, and en-suite bathroom with a hot-water shower. I also love the room's private outdoor deck that overlooks the lush jungle.
Besides the cheap rooms, Teva's major draw is its fabulous Moroccan-Latin fusion restaurant, Azulëo. Here, your taste buds will be spoiled for choice with dishes like Moroccan Kefta Burger, Pil Pil Pacific Shrimp, and Famous Shakshuka.
After filling your tummy, grab a drink in the pool bar and take a quick dip in the pool to escape the summer heat. The hotel also offers fitness and wellness programs to choose from.
If you feel like exploring for the day, the hotel staff can recommend adventure tours for you to try in the Manuel Antonio area. I also suggest trying the hiking trails right on the property (especially when the National Park is packed), as this alone is enough to get you up close and personal with the local wildlife.
You can check availability and book Teva Jungle Hotel and Hostel online on Hostelworld or Booking.com!
About Staying near Playa Espadilla (the Beach)
Stretching along the coast next to the national park, Playa Espadilla is considered the main beach of the town. The waves here are smaller compared to other Costa Rican beaches, but that's exactly why it's such an ideal spot for learning to surf.
Playa Espadilla is actually divided into two sections: Espadilla Norte and Espadilla Sur. Espadilla Norte is closer to the town itself, is open to anyone, and has a flatter coastline than Espadiila Sur. You can find plenty of dining options and beach vendors here, so you don't need to wander far if you're craving coconut juice. This is also the area where you will find some of Manuel Antonio's best hotels!
Espadilla Sur, on the other hand, is only accessible via the national park, meaning you'd have to pay for a ticket to get here. But I promise you, the price is worth it as the beach is away from most of the crowd. You also have access to the mangroves on the beach's backside, bringing you closer to the park's beautiful flora. You can't find establishments or vendors here, though, but this only makes it more secluded and relaxing. If you choose a hotel near Espadilla Norte, then you can easily walk into the National Park and relax at Espadilla Sur for the day.
Advantages of staying in Playa Espadilla:
Close to the beach
Some nice restaurants and stores around
Walking distance to the national park
Can easily walk around
Disadvantages of staying in Playa Espadilla:
Limited accommodation options
Most hotels are expensive
Can be very busy during the day when tour buses come to the national park and beach
Hard to get parking
Less wildlife around
3 BEST Hotels near the Beach in Manuel Antonio
$$$ – Espadilla Gardens Hotel
Espadilla Gardens Hotel is relatively small at first look, especially since it only has single-floor buildings. But don't let its size fool you. While small, it's perfectly suited for a comfortable stay and comes with all the essentials you might need.
When it comes to dining, you can walk to Puerto Escondido Restaurant, the hotel's off-site restaurant only two minutes away on foot. Both international and Costa Rican flavors are served here, from fresh toast and burgers to fresh seafood and chicken. My favorite dish is hands down, the whole fish with spicy sriracha sauce. I love their cocktails and smoothies, as well.
Back on the property, there's a large swimming pool in the middle of the buildings, where you can swim to your heart's content. I like that the pool is surrounded by lush vegetation, so you can watch the wildlife hanging out in the trees while you float in the water. You can also find a handful of luxurious covered sunbeds and sun loungers lining the pool, perfect for an afternoon nap. Speaking of napping, several hammocks and chairs dot the hotel's tropical garden in case you want to be closer to nature.
If your idea of a good time is exploring the area, just approach the hotel staff, and they'll happily assist you in booking local tours. You can try sport fishing, hiking in the National Park, and white water rafting.
Playa Espadilla is really close to the hotel, too (just a three-minute walk), so feel free to play in the sand and surf whenever you like!
Retreat to your airy room at the end of the day, well-appointed with air conditioning, Wi-Fi, cable TV, and a coffee maker. I also love that the rooms have a little furnished terrace with pool and garden views. Nightly rates here start at $160 USD, with breakfast included.
You can check availability and book Espadilla Gardens Hotel online here!
$$ – Millenium Manuel Antonio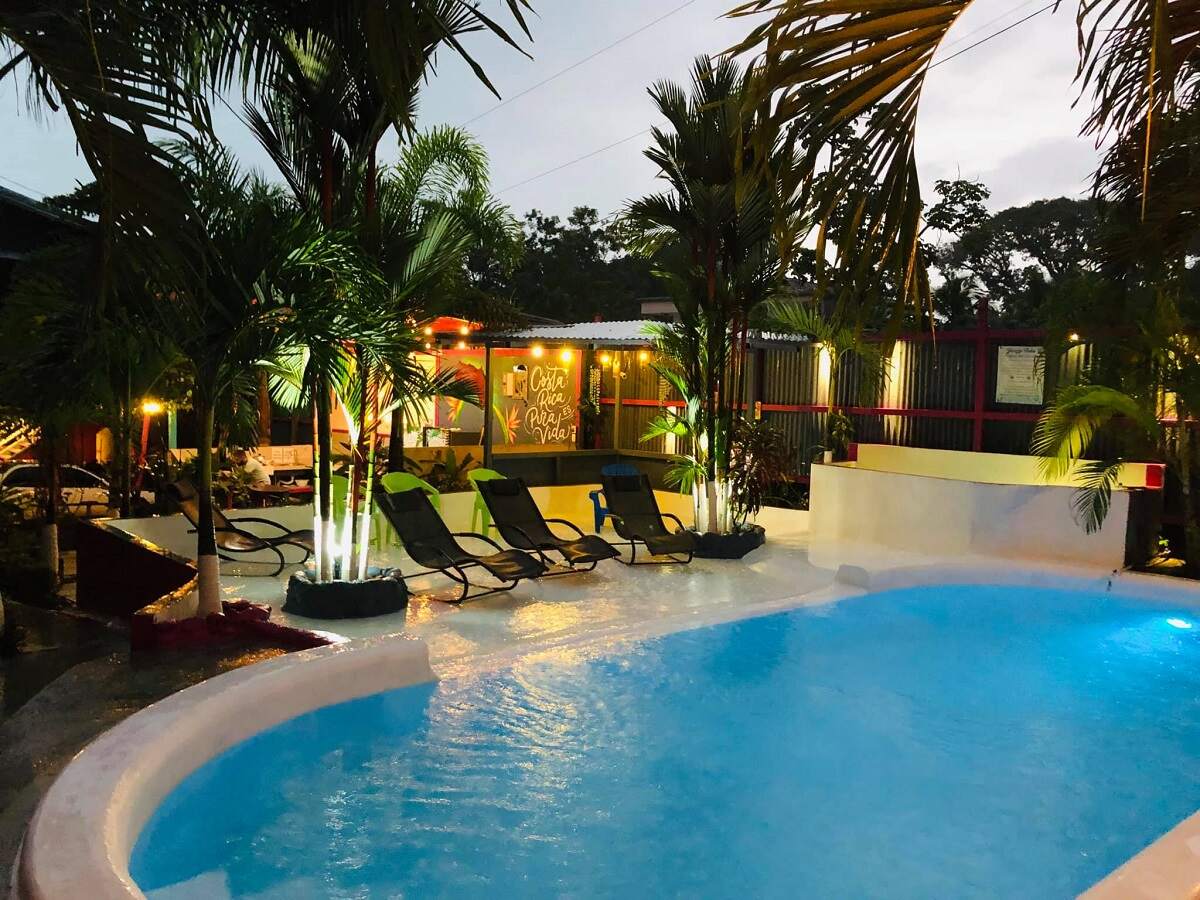 If visiting the National Park is your main reason for coming to the town, there's no better hotel for you than Millenium Manuel Antonio. This two-star hotel is legitimately just 25 meters away from the park entrance and five minutes on foot from Playa Espadilla, meaning you can enjoy the park and the beach whenever you please! I also like that Millenium is conveniently located near supermarkets, restaurants, and bars, so it feels like you're just within the town proper.
Beyond the hotel's prime location, what makes Millenium an awesome find is its on-site amenities and services. If you don't feel like walking to the coast, you can always stay cool in the outdoor pool, lay back in the sun loungers, or rent a car to explore the area.
I also loved spending my afternoons holed up in the cozy and airy room, just watching TV or reading a book on the terrace. Other amenities you can find en-suite are air conditioning, a private bathroom with a shower, and a seating area (select rooms).
The Basic Double Room here costs as low as $119 USD per night, while the Deluxe King Suite starts at $165, both for double occupancy and inclusive of breakfast.
You can check availability and book Millenium Manuel Antonio a online here!
$ – Costa Linda Art Hostel
When deciding where to stay in Manuel Antonio on a budget, you can never go wrong with Costa Linda Art Hostel. Sure, its rooms are pretty bare and basic, but it's the hostel's budget-friendly rates and central location that make it one of my go-to Manuel Antonio hotels.
For as low as $35 USD a night, you get to be just a two-minute walk away from the beach and seven minutes on foot from the entrance of the National Park! Costa Linda Art Hostel is also one of the cheapest accommodations in the area (the other budget spots are all the way in Quepos). That alone is already a major draw, in my opinion.
The hostel also boasts a handful of amenities, so you won't need to wander far. You can grab breakfast in the in-house restaurant and bar. My favorite is the Mahi Mahi Special, but there are also tons of continental options like pancakes, scrambled eggs, and fruit slices. When I'm not making a splash on the beach, I love hanging out in the on-site library that houses an extensive German book collection.
Another thing that makes Costa Linda special is that they display several of their guests' artwork, from carvings to paintings. It was because of this that the property came to be known as "Art Hostel."
You can choose from a wide variety of rooms here. They have a six-bed dorm and several private rooms, all inclusive of breakfast.
You can check availability and book Costa Linda Art Hostel online here!
About Staying in Quepos Point (Puntas Quepos)
If luxury is your thing, there is no better place to look for the best hotels in Manuel Antonio than in Quepos Point. This remote area is nestled on the peninsula and is brimming with luxury resorts to spoil you rotten. Most of the accommodations here are surrounded by tropical vegetation, so you're sure to see lots of wildlife.
Did I mention that the ocean views here are nothing short of dreamy? Since the hotels are perched on the hills, you get spectacular sunset views.
The only downside of staying in Quepos Point is you'll be a drive away from the beach and the national park, so you have to add car rental or taxi expenses to your budget.
Advantages to staying in Quepos Point:
Very quiet environment
Luxurious and more exclusive area
Lots of wildlife around
Some quieter beaches nearby
Disadvantages of staying in Quepos Point:
Very few shops and restaurants around
Resorts and hotels are expensive
Must get transport to visit the National Park or Playa Espadilla
3 BEST Hotels in Quepos Point
$$$ – Parador Resort and Spa
Boasting a unique blend of old-world ambiance and the warmth of Costa Rican hospitality, El Parador Resort & Spa is one of the best hotels in Manuel Antonio for guests looking to spoil themselves rotten. This luxurious hotel is set on the hills of Quepos Point, close to Playa Biesanz and overlooking the vast Pacific. This means the spectacular views take front and center here.
In fact, you'll get to enjoy the phenomenal views wherever you are on the property, whether you're splashing in one of the three pools, dining on the restaurant terrace, or chilling in the private balcony of your suite. I also love that El Parador features a host of world-class amenities for your enjoyment. There's the fully-equipped fitness center, outdoor tennis court, mini-golf course, jungle trails (where you'll see tons of wildlife!), and yoga sessions.
If you'd rather explore the area than stay in the hotel, I'm happy to tell you that El Parador offers a complimentary shuttle service to take you straight to the beach! You can find a concierge desk at the hotel, too, if you need help planning your itinerary around Quepos and Manuel Antonio. When you head back to the property, cool yourself off in the 24-hour adult-only pool before rejuvenating your tired muscles with a relaxing body treatment at the hotel's spa.
At dinnertime, you can pick from one of the restaurants on-site. I personally enjoyed dining in the La Fragata because I got to take in the refreshing view of the ocean while digging into my fresh seafood meal. La Cava is also a great choice if you're after a more private romantic dinner – perfect if you're on a honeymoon in Costa Rica. Other dining options you have on-site include the Gourmet Room, El Galeón Pool Bar, La Reina, Bar Don Juan, and La Galeria.
Finally, head to your suite to cap your day off. A total of 129 rooms are available, spread among four buildings and each one featuring a balcony with a view of the mountain or ocean. If you like to spoil yourself, I suggest booking the adults-only suites that come complete with a private jacuzzi on the terrace. Other en-suite amenities at your disposal include air conditioning, a mini-bar, free Wi-Fi, cable TV, and a coffee maker.
Booking a room here starts at $182 USD, inclusive of a daily buffet breakfast at La Galeria Restaurant. If you really want to get the most out of your stay, El Parador also offers package deals with tours and spa treatments.
You can check availability and book Parador Resort and Spa online here!
$$$ – Shana by the Beach Manuel Antonio
Don't know where to stay in Manuel Antonio with your family? Then check out Shana by the Beach. This boutique hotel is nestled in the lush greenery of Quepos Point's hills, bringing you closer to nature and treating you to an expansive view of the Pacific.
It's the property's prime location that drew me into it in the first place. After all, wouldn't it be nice to get away from the busy town streets?
Another one of Shana by the Beach's major highlights is its private beach access to Biesanz Beach. From the hilltop, you can follow a nature trail lined with jungle trees and tropical flowers. Lots of wildlife hang out around this area, so keep your eyes peeled for sloths, toucans, and spider monkeys in the trees. Once you reach the end of the forest, you'll be welcomed by the soft sands of Biesanz Beach – one of the best beaches in the area.
If you feel like a visit to the beach is meant for another day, you can always stay within the property grounds. Shana by the Beach has tons of entertainment facilities in store for you. You can find a refreshing pool here, complete with a poolside bar to quench your thirst for a glass of margarita. Drop by the Elements Spa for a soothing treatment or order the best-selling seafood pasta in the Bella Vista Restaurant, both of which are just right on-site.
After a day of adventure, retreat to your airy room outfitted with cable TV, mini-fridge, air conditioning, rain shower, and Wi-Fi. I love that all the room types have a private balcony for you to enjoy the jungle and ocean views.
If you're traveling with family and friends, I suggest booking the Presidential Suite which sleeps up to eight people. This room doesn't only give you more than enough space but also offers access to your very own pool, full kitchen and dining area, and outdoor daybed. Talk about sleeping in style!
A night here can cost anywhere from $108 to $318 USD, inclusive of breakfast. You can check availability and book Shana by the Beach online here!
$$$ – Issimo Suites (Adults Only)
The perfect honeymoon in Costa Rica is spent at a luxurious five-star hotel on the beach. But what makes it even better is when you can spend your entire stay without having to deal with rowdy kids. This is exactly why the adults-only Issimo Suites makes it on my list of the best hotels in Manuel Antonio.
Perched on a hilltop overlooking the Pacific cove, this boutique hotel offers guests complete relaxation and privacy. You'll be cozily nestled in the lush jungles of Quepos Point but will still be just within a quick walk away from the hotel's secret beach. Can you imagine a more ideal setting?
With Issimo Suites being a five-star hotel, you'll probably expect nothing but world-class amenities. Fortunately, the hotel doesn't disappoint. It has an on-site spa that will massage your worries away, an outdoor pool with a poolside bar that will keep you cool during the day, and a Mediterranean restaurant that will serve you tender cuts of lamb and a breathtaking view of the ocean and jungle.
While these amenities alone make Issimo Suites one of the must-book Manuel Antonio hotels, what really made me fall in love with the property is its terrace. Here, you'll be treated to a panoramic view of the Pacific and its year-long beautiful sunsets that will surely make a phenomenal backdrop for your Instagram photos.
Apart from these top-notch amenities, I love the hotel's lavish suites, all well-appointed with TVs, Egyptian cotton sheets, wireless internet access, air conditioning, and a minibar. But if you think the en-suite facilities stop there, think again. The suites also feature floor-to-ceiling windows and private terraces, giving you an unmatched view of the jungle and the ocean. As the cherry on top, you have a private jacuzzi right in the comfort of your room!
You have three room options at Issimo Suites: the Junior Suites priced from $256 USD, the Master Suites from $319, and the Honeymoon Suites from $381 a night. Breakfast is already included in every booking.
You can check availability and book Issimo Suites online here!
About Staying in Quepos (City)
Sitting about a 20-minute bus or taxi ride from Manuel Antonio, Quepos is referred to as the entry point to Manuel Antonio National Park. This harbor city is typically where guests first arrive when visiting the area, so expect to find plenty of budget accommodations and guesthouses here.
The small city also hosts several restaurants, bars, banks, supermarkets, and other shops, so you won't have to go far to get your essentials. Everything is just within walking distance, and with Quepos having easy-to-walk streets, you won't have to rent a car. The bus station in the center of town offers transport to the National Park every 20-minutes or so.
I also love that the dining scene here is very cheap compared to the tourist prices in Manuel Antonio. In fact, you can get some seafood meals for half the price!
Beyond the convenient facilities and great-value-for-money food, Quepos will enchant you with its authentic local atmosphere. It's almost as if you're not close to a tourist destination as the town has retained its Tico charm despite the tourism boom. This is one of the reasons why many visitors prefer staying here.
Advantages to staying in Quepos:
Cheap accommodation
Walking distance to tons of local shops and restaurants
A nice marina in town to walk
Has a more local atmosphere
Disadvantages of staying in Quepos:
Busy local city with not many tourist attractions
Loud
Far from Manuel Antonio and any nice swimming beaches
Lack of nature
No luxury hotels/resorts to choose from
3 BEST Hotels in Quepos
$$ – Sueño Tranquilo
While Sueño Tranquilo Hotel seems pretty basic at first look, it's one of the Manuel Antonio hotels with a really good value for money. For as low as $66 USD per night, you can enjoy a spacious room with all the standard amenities to make a comfortable stay: a shower, flat-screen TV, hairdryer, and work desk.
If you do end up staying at Sueño Tranquilo, make sure to book a room with a terrace or balcony, where you can enjoy a relaxing view of the pool. Speaking of the pool, it's a decent size and bordered by some tropical plants. It can get a bit hot, though, since there is no shade. But you can always lay back in the sun loungers under the palm tree if you want to stay outside your room.
Although Sueño Tranquilo lacks luxurious amenities, its convenient location is what makes me want to return here. It's just right across the street from the highly recommended Bahia Azul restaurant, six minutes on foot from the Parada Boca Vieja bus stop, and a 12-minute walk to the Canopy Safari. You can also drive to Nahomi Park (1.4 km away), El Oscars Galleria (7.7 km away), and Manuel Antonio National Park (7.7 km away).
You can check availability and book Sueño Tranquilo online here!
$$ – Best Western Hotel & Casino Kamuk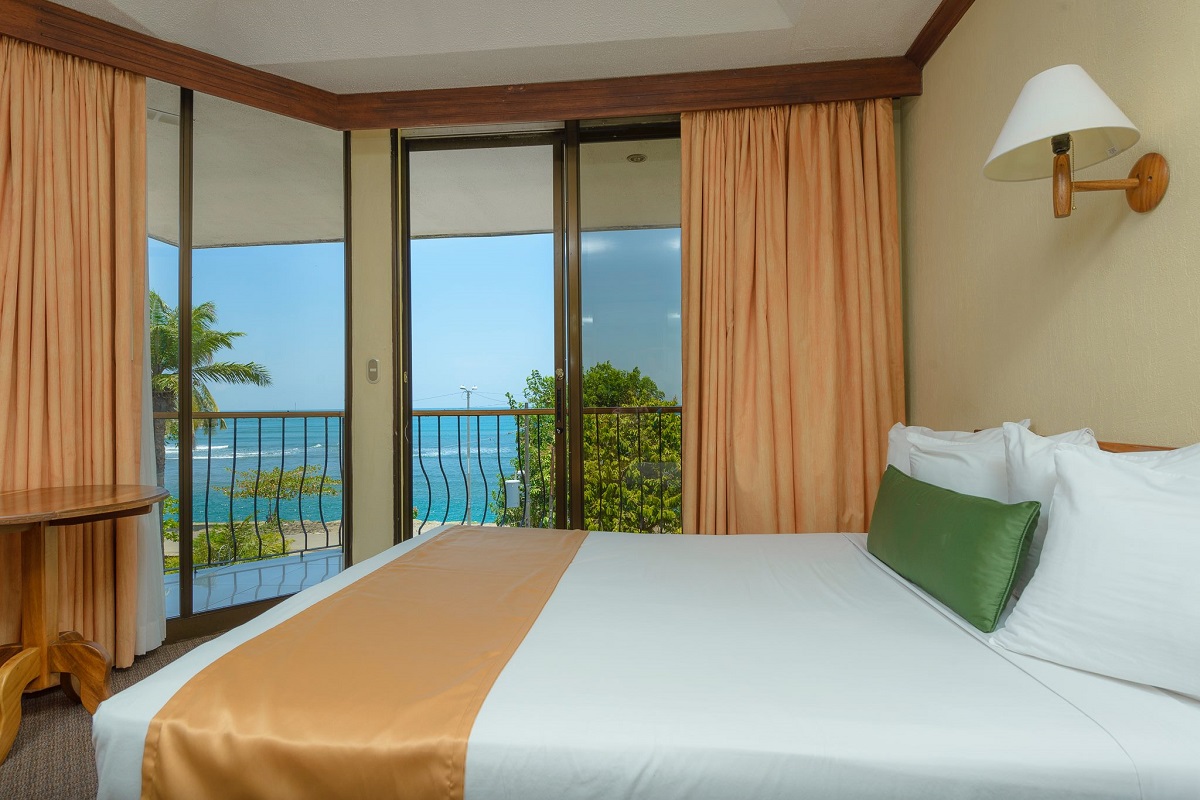 If chain hotels are more your style, then Best Western Hotel & Casino Kamuk is one of the best Manuel Antonio hotels for your vacation. It's a bit of a drive from Manuel Antonio National Park (about 16 minutes), but it's totally worth it, especially if you're after the amenities of a four-star hotel.
There are tons of things to do right on the property grounds. Try your luck in the casino, make a splash in the private outdoor pool, or get pampered with a tropical organic facial in the Kae Spa.
My personal favorite amenity, though, is the Mira Olas Restaurant. It's on the hotel's third floor, meaning you can take in a panoramic view of the Pacific Ocean while digging into your complimentary continental breakfast. Apart from serving only the freshest of ingredients, the restaurant also lets you bring in locally caught fish for them to prepare and serve with no extra fees! Talk about excellent service!
Best Western's strategic location is one of the major things I also like about it. You're so close to the beach that you can go surfing, swimming, snorkeling, and pier fishing at any time of day. The hotel also has super friendly staff who'll happily help you plan your day and book you canopy tours to the rainforests or river-rafting trips.
After a long day of adventure, you can head back to the property and retreat to your cozy suites. Every room here is outfitted with luxurious amenities like air conditioning, a cable TV, a coffee maker, and a hot shower.
If you're after an elevated experience or traveling with family, I recommend the Premium Room. This is the most spacious room type in the hotel and comes complete with a balcony, where you can sip your morning cup of coffee while enjoying the ocean view and sea breeze.
Rates here per night are as low as $77 to $113 USD. You can check availability and book Best Western Hotel & Casino Kamuk online here!
$ – Wide Mouth Frog
If you're staying in Quepos on a budget, I highly suggest booking a room (or bed) in Wide Mouth Frog. This backpacker hostel is not only close to the main bus station but also offers guests a wide range of room types to suit every budget.
There's the family room priced from $59 USD to $120 a night, double rooms from $32 to $55, single rooms from $22, and a dorm room bed from $12. Whichever one you pick is outfitted with the basic amenities for a comfy stay, including free wireless internet, cozy beddings, and a private bathroom and outdoor seating area for select rooms.
When you step out of your room, you will immediately see the inviting pool, complete with sun loungers, where you can lay back and enjoy the refreshing atmosphere. There are some chairs and tables under the shade of the towering trees, too, perfect for spending a lazy afternoon with a good book. You can also watch a movie or two in the open-air TV lounge or sink into one of the hammocks in the garden.
If you're a solo traveler who wants to meet new travel buddies, just head to the open-plan kitchen and dining area. You're sure to find some guests prepping their meals here. I also loved hanging out in their on-site restaurant, especially since they serve both Costa Rican and American dishes!
You can check availability and book Wide Mouth Frog online on Booking.com or Hostelworld!
Thanks for reading!
Everything you need for a tropical vacation is all here in Manuel Antonio: pristine beaches, lush rainforests, and thriving wildlife. With all the exciting activities and mouth-watering cuisine the town boasts, it's easy to see why it has become a hotspot in recent years.
Between these 12 Manuel Antonio hotels, I hope you finally have a pick! If you're still undecided, though, you'll be happy to know that you can find dozens upon dozens of other accommodation options in and around town. Let me know in the comments where you stayed in town, and I'll surely check it out the next time I visit.
For more blogs, check out these related reads:
The BEST Restaurants in Manuel Antonio
Where to find the most beautiful Waterfalls in Costa Rica