San Jose is a great jumping-off point for some serious adventure – especially one that leads you to La Fortuna! La Fortuna is a popular spot and one of my top three places to visit in the country. This small, chill town is home to the famous Arenal Volcano, gorgeous natural hot springs, and tons of outdoor activities.
In true Costa Rican style, the routes to get from San Jose to La Fortuna are beautiful and jampacked with unique attractions. From animal sanctuaries and cloud forests to huge waterfalls and volcanos, there are dozens of epic stops along the way!
However, not everybody has the same timeframe or budget to travel, so to help you out, we've gathered all the information you need. Whether it's renting a car, taking a bus, or hiring a shuttle, one thing's for sure: you won't regret the road trip! So read on to learn everything you need to know and plan your trip accordingly!
How far is La Fortuna from San Jose?
From downtown San Jose, La Fortuna sits 116 kilometers (72 miles) northwest – in the neighboring province of Alajuela. Most traveler accommodations and car rentals are centralized in downtown San Jose, so it's a good reference point!
If you're coming from downtown San Jose, the driving distance is about 130-160 km (80-100 mi). Without stops, this takes around 3 hours. From Juan Santamaria International Airport, you'll cut out some city driving. This journey should take about 2.5 hours by car without traffic.
Popular options for getting to La Fortuna include rental cars, shuttles, private transfers, and of course, the local bus. Depending on the mode of transport you pick, the trip can take anywhere from 2.5 to 5 hours. Some allow for more exploring than others, but we'll get into that more below!
Driving from San Jose to La Fortuna FAQs
What are the best ways to get from San Jose to La Fortuna?
Rental Car (Driving)
Renting a car in Costa Rica might require a bigger budget, but it's our favorite option because you get the freedom to explore! This is also the fastest way to La Fortuna, between 2.5-3 hours of driving. Of course, typical rush hour and weekend travel will add a little extra time.
Rentals generally run between $70-$100 USD daily, depending on the car (and sometimes, the season!). Driving in Costa Rica is on the right-hand side, and roads are generally paved and in good condition. Resist all temptation to drive at night, though, believe me! There is less visibility, and there are often drunk drivers on the road at night.
The rental process is pretty straightforward, requiring a valid license you've held for a minimum of two years (written in the Latin alphabet). If it's in a different alphabet (such as Arabic or Cyrillic), you'll need an International Driving Permit for your visit, plus your foreign license.
San Jose has many rental companies, and browsing Discover Cars makes it less overwhelming! Always check rental conditions before booking, especially the driver's minimum age (which in Costa Rica is often 25 years old!). You'll still find some with a minimum age of 21, but they usually come with a young driver's fee, which is common in most countries.
For pickup, bring your passport, valid driver's license, credit card in the driver's name, and enough credit available for the security deposit (though this price will vary)! Insurance is a must, but the summary price on Discover Cars includes full coverage, so there are no surprise extras when you show up to grab the keys!
Shuttle
When we can't quite sneak a rental car into our budget, taking shuttles is the next best thing! You'll have less freedom than with a rental, but shuttles do come with some major perks.
The biggest plus is an air-conditioned drive in a minivan or a shuttle bus, depending on the company. Plus, it's a fairly comfortable ride, and you won't need to worry about directions. If you're tired after a long flight, you can sit back and enjoy the scenery or take a nap.
You can book shuttles to La Fortuna online, and shared or private options are available. Shared shuttle buses are slightly cheaper, starting around $36 USD, and minivans from $42 USD. Private shuttles start at $160 USD for a 6-person max vehicle. However, if that price is split amongst several people, it could work out cheaper – or at least comparable.
Bear in mind prices do vary depending on the season but are generally around these marks. If you're traveling with a bit more luggage, check the limitations or added fees for extra bags!
Departure times depend on the company. For shared shuttles, there are generally 1-2 departure times per day. One will be in the morning, around 8 am, and another in the afternoon, between 1 pm and 4 pm. Private shuttles can leave any time of the day, so this might be the best option if you're arriving in the evening or at night.
Shuttles depart from either the airport or any hotel in San Jose, so just select the right one when booking! The ride is generally between 3 to 4 hours to La Fortuna, and most shuttles include a rest stop along the way.
Usually, I love planning the logistics of our trip, but sometimes, my brain needs a little break! Sites like Bookaway are handy those days, and it's super easy to find a shuttle (to pretty much anywhere!). All you have to do is book, pay, and show up!
Although shuttles cost quite a bit more than public buses, they're comfier and have fewer stops. They can also be organized ahead of time and often include pick-up from your accommodation. All in all, not a bad way to go!
If shuttles sound like your ideal option, you can check prices and schedules between San Jose and La Fortuna here.
Related Read: Have you made your La Fortuna itinerary yet? Try one of our top La Fortuna tours while you're there!
Bus
If your budget or sense of adventure calls for public transit to La Fortuna, you got it! We've hopped on plenty of public buses worldwide on our travels. Although they've got some drawbacks, it's not all bad!
You can take public transit all the way from San Jose to La Fortuna. Buses to La Fortuna run from Terminal 7-10 in downtown San Jose. This is located just 4 or 5 blocks north of the Central Market. Its location makes it pretty walkable from most accommodations in the downtown area, so that's a bonus.
You've got two options here: the direct or indirect bus. Either way, the buses only accept local currency (Colones) and rarely have change, so come prepared.
The direct bus obviously has the advantage of going straight to La Fortuna. However, it only leaves once daily at 8:40 am and arrives after 1 pm. It's affordable at $5 USD per ticket (~$2,700 CRC), but you'll want to show up 30-40 minutes ahead to secure your spot. It's first-come, first-served, and there are no advance tickets!
If the direct bus departure time doesn't work for you, hop on an indirect route. From San Jose Terminal 7-10, you can take a bus to Ciudad Quesada (3 hours; ~$3 USD/$1,600 CRC), then take the bus from there to La Fortuna (1 hour, $2-3 USD/$1,000-1,600 CRC). Buses from San Jose to Quesada leave at various times between 4:30 am to 7:30 pm. Buses from Quesada to La Fortuna leave between 5:15 am and 7:30 pm, so there's tons of flexibility.
You can also download Costa Rica's bus itinerary; it's pretty handy for reference!
Compared to shuttles, buses will be busier, a little slower, and less comfy (no AC!). Make sure you have smaller bills or coins to pay with. And as always, keep a close eye on your belongings at the station and on the bus. Also, we've heard rumors of scammers hanging outside the station telling people the buses aren't running – just keep walking!
Taxi/Private Transfer
Last but certainly not least, we've got taxis and private transfer options. It's a bit of a splurge, but sometimes odd flight arrival times or public holidays deem them necessary! And if you can afford it, private transportation can make traveling that much more convenient and enjoyable.
As we mentioned, this option is super convenient if you have a flight that arrives (or departs!) at an odd time. They generally run any time of day or night. If you arrive at 11 pm, you can go straight to La Fortuna instead of staying overnight in San Jose. Plus, private transfers are comfy, air-conditioned, and include rest stops if needed.
Bookaway is a great tool to use when looking for private transfers. They have multiple options on their website, depending on the size of your group.
Most private transfers are regular cars (sedans) or SUVs, so they fit 2-4 passengers, depending on which you pick. Cars generally cost between $250-$300 USD, with either airport or hotel pickup in the San Jose area.
Although cars and SUVs can be more expensive, you can get decent deals on private shuttles. I've seen prices from San Jose to La Fortuna as low as $160 USD for a group of 6 (which is just $27 USD per person), but they can also be upwards of $300 USD. It can work out well when in groups, but pricier if traveling solo or as a couple.
I also really like this private transfer option through Viator. They're a reputable website owned by Tripadvisor, and I always feel safe booking through them. Plus, it's quite cost-effective in a larger group. These private shuttles run every half hour, around the clock, and you can book for groups of up to 7 ($180 USD per group) or 10 ($200 USD per group). You can check availability and book this private transfer on Viator here.
Catching a taxi is also an option, but it's earned a bad rep for overcharging. A taxi from San Jose to La Fortuna can cost somewhere in the $150 USD ballpark, depending on passengers, time of day, etc.
If you're grabbing a cab, stick with official ones – always! Airport taxis are orange and can operate anywhere, while the other official taxis in Costa Rica are red with yellow triangular stickers. Both must run the meter at all times, by law!
Avoid "pirate taxis," the unmarked, illegal ones that aren't licensed and don't use meters. It's a sure way to get ripped off, so give them a miss! To avoid other travel scams, I recommend reading my guide about safety in Costa Rica.
Related Read: Are you spending a few days in San Jose? Check out our favorite restaurants in San Jose!
What are the best routes to drive between San Jose and La Fortuna?
1. Main Route via the 1 and 702
This route is ideal if you're looking for great roads that don't require 4WD. Plus, it also has the shortest driving time (around 3 hours on average) and an easy direct route!
If you use Google Maps, this is usually the fastest route that shows up. It's straightforward, taking you out of San Jose on Route 1 (Interamericana). When you get to San Ramon, you turn onto Route 702.
Once you hit San Ramon, the roads start getting curvier and are a great reminder why driving this at night is a no-no!
All in all, it's 130 km (81 mi). There's not a ton to see, so it does leave a bit to be desired. However, you'll still get to pass through cute towns on the way. Plus, the surroundings are pretty lush, with some mountains looming in the distance.
Still, it's worth checking out some of the stops below to add excitement to the trip!
Road trip stops on this route
Rescate Wildlife Rescue Center
Rescate Wildlife Rescue Center is one of our favorite animal rescue centers we've visited. It also happens to be the largest in Central America!
It's located just outside San Jose, only 15 minutes from the airport. If you're heading to La Fortuna directly from the airport, it's a great way to start your trip. You can get some fresh air, stretch your legs, and see Costa Rican wildlife all in one go!
When we came here, we really enjoyed strolling through the gardens – the animals were the icing on the cake! We saw so many animals we'd never seen before. We spotted sloths, capuchin monkeys, margays, and vibrant scarlet macaws.
It's open daily from 9 am to 5 pm, so squeezing it into your road trip is easy. Visiting here also doesn't involve any crazy detours since it's right off the freeway.
To make it even easier, you can grab tickets ahead of time to skip the line upon arrival. Tickets cost $30 USD per adult and $15 USD per child (ages 2 -12). We've actually noticed tickets are often cheaper on Viator than through the rescue center's website.
Why We Book Tours with Viator
Viator is a trusted online booking system for tours around the world! We almost always book our tours using Viator for a couple of reasons:
Free cancellation on most tours – Most of the tours on Viator allow you to cancel and get a full refund up to 24 hours in advance. This is handy in case plans change, or if booking an outdoor activity, the weather forecast is looking grim.
Reserve now and pay later – You can secure your spot on some of the most popular tours well in advance and not pay until closer to the day of the tour.
Pay in your chosen currency – Avoid costly international transaction fees by choosing to pay in your home currency.
Peace of mind – When booking with tour operators you find in person on the street or in small booking offices, you are often promised one thing and given another. This online platform holds tour operators accountable with a written description of inclusions as well as the opportunity for customers to leave reviews.
Check out the Viator website here!
Bosque Nuboso el Cocora
A little over halfway between San Jose and La Fortuna, you'll find Bosque Nuboso el Cocora. This translates to "El Cocora Cloud Forest" and is exactly that! It's a small garden in the cloud forest with short trails, a lake, and tons of gorgeous insects. When we visited, we saw so many colorful butterflies and hummingbirds darting around!
There's a $10 USD entrance fee, which might seem a little steep for its size. However, we found it was just what we needed after staring at the highway! They're open daily from 8 am – 4 pm. They also have a cute café with excellent local coffee to perk you up for the rest of the drive!
Chocolate and Coffee Farm Tour Don Jorge
Our last stop on this route is the Chocolate and Coffee Farm Tour Don Jorge, a charming, family-run farm (and any chocolate lover's dream!).
It's located just 15 minutes before La Fortuna, so you might be tempted to skip this one and get to your nearby destination. However, it's well worth stopping in for a tour, a hot chocolate, or even some fresh, local lunch!
There are several coffee tours in Costa Rica, but this one is just so convenient and has that local flair. As you walk through the farm, your passionate guide will explain the coffee and chocolate-making process. We especially loved that this tour caters to small groups, and we really got a personalized experience! The tours are offered at 9 am, 12 pm, and 3 pm.
One of my highlights was making my own chocolate bar at their chocolate workshop. There are also trails and a small waterfall nearby to take a cool dip! If that sounds appealing, make sure to bring your swimsuit and hiking shoes.
They're open 8 am – 4 pm daily. Tickets cost $40 USD for adults, $20 USD for kids (ages 10-15), $10 USD (under 10 years old), and free for kids under 5. Contact them at least an hour before, and bring Colones or small USD bills to pay.
Related Read: La Fortuna is full of wildlife! Before you arrive, check out these incredible sloth tours in La Fortuna.
2. Route via Poas Volcano
Take your road trip up a notch by driving the Poas Volcano route. This is one of Costa Rica's most famous volcanos – and it's still an active one!
Poas Volcano National Park is located about 2 hours from San Jose. It doesn't involve much of a detour, so you might as well add it in!
This route is around 156 km (97 mi) in total, so it's slightly less direct than the first option. In total, this route takes about 3 hours and 40 minutes to get to La Fortuna. You should definitely factor in at least an extra hour for the volcano visit.
On this drive, you'll cruise along paved, well-maintained primary and secondary roads, so there's no need for 4WD here. Some spots are windy and narrow, but we just slowed down and had no problems!
Even though it's a little longer, this route is super beautiful. It includes driving on Route 126, famous for its lush surrounding forests and cascading waterfalls. We also found out it's a pretty popular area for birdwatchers and lots of other cool animals too!
Road trip stops on this route
Hacienda Alsacia Starbucks Coffee Farm
Have you ever wondered where Starbucks sources its coffee? Let us introduce you to Hacienda Alsacia Starbucks Coffee Farm – which is also a great place to visit! When we came here, we learned a ton about coffee growing, research, and the sustainable future of coffee production.
After the tour, visit the Starbucks café to snack on some goodies … while enjoying the incredible view of the hills and valleys surrounding this 240-hectare (593-acre) farm. Not a bad way to get energized before hitting up your next stop!
The farm is located right on Highway 712, which is en route anyway! It's open daily from 8 am – 6 pm.
While reservations aren't required, we recommend reserving a spot on a 1.5-hour guided tour, which includes a tasting! English tours run every hour on the hour, with the first tour at 8 am and the last at 4 pm. Tickets for foreign adults are $30 USD, students and seniors (both must have IDs!) are $25 USD, and kids under 6 enter free.
Poas Volcano
The main reason to take this route is to visit Poas Volcano – so you absolutely must stop here! Poas has one of the largest craters on the planet – and it's stunning!
The Poas Volcano National Park is open daily from 8 am – 4 pm (including holidays). However, you'll have better chances at clear views before 10 am. It's a very slight detour to get here. You'll turn left onto Route 120, and the parking lot is at the end of the road.
If you're not up for a big hike mid-road trip, don't worry! Poas Volcano is a pretty leisurely stroll.
There's a 10-minute walk from the entrance to the viewing platform. Once you arrive at the lookout, you'll get 20 minutes to take it all in before heading back down. Good shoes and a sweater are good to have!
They limit daily visitors, so buy tickets online beforehand. It costs $15 USD for non-residents, $5 USD for those under 13, and free for kids under 2. Parking can be paid on arrival, costing 1000 Colones (~$1.85 USD) for motorcycles and 2000 Colones (~$3.75 USD) for light vehicles. Cards are accepted, but cash is never a bad idea.
There's also a small gift shop and café on-site, with yummy pastries and fresh coffee – great for refueling after an early morning start!
La Paz Waterfall Gardens Nature Park
Once you're done exploring the volcano, you'll hop back on the route to La Fortuna. After about 40 minutes, you'll spot La Paz Waterfall Gardens Nature Park on your left – it's hard to miss! This beautiful cloud forest is a popular day trip from San Jose and it really has it all. You'll see waterfalls, walking trails, and tons of animals like margays, jaguars, sloths, and small critters like butterflies and hummingbirds.
They're open 8 am to 5 pm daily. Tickets cost $59.50 USD for adults and $40.46 USD for kids (ages 3-12) including tax and fees.
It's a self-guided tour, so you can pay on arrival. BUT we have a little insider tip for you: grab a day pass ahead of time, and you can skip the lines and it's cheaper! Tickets via Viator are $51.20 USD for adults and $33.11 USD for kids, so you're saving about $8 a ticket and won't have to wait in line – that's a win-win in my books!
Related Read: If you can't get enough waterfalls, check out our guide on visiting the La Fortuna Waterfall.
3. Driving Route via Catarata del Toro
If hiking and waterfalls are your jam, this is the route for you! The road via Catarata del Toro is about 3.5 hours of driving, but you'll want to leave San Jose as early as possible. There are so many incredible waterfalls on the way – Catarata del Toro is just one of them!
This trip starts on smooth Route 1, but after Sarchi, you'll end up on adventurous Route 708! I love driving this route, but the roads can be narrow, steep, and bumpy at some points. It's a good idea to have a 4WD or at least a high-clearance vehicle for this one.
I'd completely avoid driving this route at night (you'd miss out on all the attractions anyway). Also, it's a mountain road, so be mindful of fog or other weather on your way, especially in the rainy season!
This 145 km/90 mile stretch has some of the best points of interest, including a few stunning waterfalls that aren't as well-known as others. There's nothing wrong with popular spots, but there's something extra special about having a whole waterfall to yourself!
If you prefer to take your sweet time on this route, overnighting in Bajos del Toro is a great option. It's about halfway to La Fortuna. It makes a pretty convenient home base for a day or two of exploring the area.
Road trip stops on this route
Catarata Vuelta del Cañon
Our first road stop recommendation is Catarata Vuelta del Cañon, one of the most enchanting waterfalls I've ever seen. I'm talking water cascading down the mountain, green mossy rocks, crystal clear water, and maybe some fairies hanging around. Ok, maybe not, but you get the picture!
It's just off Route 708, less than a mile past Bajos del Toro. The parking lot and trailhead are on private land, but the owner was easy to find. They are super friendly and will open the gates and point you in the right direction, with the trailhead just a few minutes away. When we visited, it cost 7,500 Colones (about ~15 USD) each to enter.
The trail is well-marked and takes roughly 2 hours each way (12 km/7.5 mi round trip). Expect to cross through some fields and mountainous areas as well as cross rivers. Good hiking boots are a must if you visit during the rainy season – the mud is no joke!
They're open 6 am – 9 pm Tuesday through Sunday and 12 pm – 9 pm Mondays. We'd recommend you start off around 10 am to get the most out of this hike!
Rio Agrio Waterfalls
Next up are the Rio Agrio Waterfalls, another gem in this area's verdant valleys.
Continuing North on Route 708, it's located about 3 km (1.8 mi) from Catarata Vuelta del Cañon. The parking lot is free and easy to find, mainly because it's attached to Dino Land, a dinosaur-themed park! It's open daily from 7 am to 5 pm, so it's a convenient stop any day of the week.
The trail to Rio Agrio Waterfalls is popular and well-marked but can get muddy. It's about 3 kilometers (1.8 miles) round trip, taking about an hour or so to see everything. There's no swimming at Rio Agrio, but it's a great place to take pictures and enjoy the scenery.
However, the nearby Blue Pools (Pozas Celestes) is a fantastic spot to take a dip. Just head back to the entrance, and the owners of this property will give you a lift there. When we went, we hopped in the owner's truck for the 3-minute drive. On the way back, you can either wait for them to return, call them, or walk back to the Rio Agrio Waterfalls parking lot (which takes about 20 minutes).
When we went, there were two ticket options. The first was for the waterfall, mirador (viewpoint), and Blue Pools, which cost 6,000 Colones (~$10 USD) for adults, 3,000 Colones (~$5.50 USD) for kids (ages 4-10), and kids under 4 are free. If you want to add admission to Dino Land, it's 10,000 Colones ($19 USD) total for adults, 8,000 Colones ($15 USD) for kids (ages 4 – 10), and still free for children under 4.
Catarata del Toro
A little further, you'll find the entrance for the awe-inspiring Catarata del Toro. This dramatic waterfall drops over 100 meters (328 ft) into an extinct volcanic crater. The whole area is teeming with gorgeous scenery and lots of incredible birds.
Catarata del Toro is located less than 5 minutes from Rio Agrio Waterfalls and about halfway to La Fortuna. It makes the ideal place to stretch your legs. In fact, we got a good leg workout here, as there are close to 400 steps leading down to the falls!
Despite so many stairs, the Catarata del Toro trail is just a 2-kilometer (1.3-mile) loop. However, it's fairly challenging, and it took us about 1.5 hours roundtrip, including a little (frosty!) swim at the falls. Luckily, there are rest stops along the way, should you need them.
This trail is open Monday to Saturday, 7 am to 5 pm. You can grab tickets with cash or card for $14 USD for adults and $7 USD for kids and seniors. You can also get combo tickets to visit the nearby Blue Falls, costing $25 USD for adults or $12.50 for kids and seniors.
If you have time, I recommend checking out Blue Falls, which is a series of six waterfalls with lots of swimming holes. The whole journey there and back is about 4.5 km (2.8 mi). This will add another 2 hours to your visit, so it's best to get here early if you're doing the combo!
There's also a cute open-air restaurant serving coffee, drinks, cake, and small bites to refuel. We felt it was the perfect treat after a short but intense hike!
Cascada Pozo Azul
With six waterfalls flowing into deep-blue pools, Cascada Pozo Azul is all kinds of dreamy!
It's located just off Route 708, about 25 minutes north of Bajos del Toro. It's accessible via private property. After the turnoff, the road isn't paved, so a 4WD will come in handy here in the rainy season.
My highlight of this stop was the Catarata Caida Nieve y Paz. This is the largest waterfall in this area at over 152 m (500 feet) tall – which was super impressive to see! However, you have to earn this stunning view. The 3.4-kilometer (2.1-mile) trail here was quite challenging and included 350 steps to the falls.
If you're not quite up for a difficult hike, there are four other waterfalls before it! Cataraca Pozo Azul and Cataracas las Rocas aren't far from the trailhead and are awesome spots to hang out and swim.
Cascada Pozo Azul costs 4,000 Colones (~$8 USD) to visit, and you can also grab a hearty lunch there for another 4,000 Colones. They are open 7 am – 5 pm, and it's best to get there early to explore the falls!
Mariposario Alas del Destino Butterfly Garden
Our next and final stop is the Mariposario Alas del Destino Butterfly Garden. It's run by the owner, Roberto, who is also usually the tour guide (with his dog, Rex!). He'll teach you all about the butterfly garden's history, plus show you the various stages of the butterfly life cycle.
Hanging out with beautiful Blue Morphos is much more chill than some of the waterfall hikes we've mentioned. Adding this as our last stop made for a nice change of pace! Kids love this place – but even without children, we thoroughly enjoyed it.
They are open 8 am – 4 pm daily and cost 4,000 Colones (~$8 USD) for a 2-hour guided tour. The garden is located just off Route 140 and about a 20-minute drive from Cascada Pozo Azul. And after seeing these butterflies, you'll only have an hour left till La Fortuna!
What is the best way to get from San Jose to La Fortuna?
In our opinion, nothing beats renting a car and heading out on a road trip! You can really personalize your trip. And with ample opportunity to explore along the way, it's pretty hard to beat this mode of travel!
Another major bonus is that you can tailor your route to your comfort level. If you're nervous about driving, the Poas route is the best bet for a straightforward, easy trip. If you're ready to ramp up the adventure, the Catarata del Toro (aka "valley of waterfalls"!) is an awesome way to go!
In the end, though, there's no wrong way to do it – all roads to La Fortuna have great stops on the way. You're bound to have an epic adventure any way you slice it!
Related Read: Are you also looking for a beach destination? Check out our favorite beaches in Costa Rica.
Things to do When You're in La Fortuna
Once you arrive, you'll have plenty of things to do in La Fortuna! These are just a few of our top picks:
Hot springs – After a long journey, hot springs always help me relax! The Free Natural Hot Spring River is a public river running through the Tabacon Hot Springs Resort. It's only 15 minutes outside La Fortuna and feels amazing after a day of hiking! If you don't mind paying for a soak, there are tons of other amazing hot springs in La Fortuna to choose from too.
Go on a night walk – There are so many daytime activities, which is why we love this night walk and dinner tour. Guides lead you on an easy hike through the rainforest, spotting all the critters that come out after dark. To finish it off, you'll enjoy a traditional Costa Rican dinner prepared on a wood-burning stove.
Visit a rope swing – El Salto, or "the rope swing," is a hidden paradise with a swimming hole, more waterfalls, and a local vibe. Although most things here cost money, this is one of the free things to do in La Fortuna! You can easily walk to El Salto from town and swing into the refreshing waters – or ask the locals where it's safe to jump!
Where to Stay in La Fortuna, Costa Rica
Because La Fortuna is such a big tourist town, there are a ton of amazing places to stay. We even wrote an entire blog about the best hotels in La Fortuna. However, to make it super easy, we've narrowed it down to our top places for each price point. So keep reading to find one that suits your needs (and budget!).
Luxury – $$$
Those with a luxury budget can wake up to views of Arenal Volcano! The Volcano Lodge is set at the foot of Arenal Volcano. It has hot springs and a lush, tropical garden on the property where you can see lots of the beautiful birds of Costa Rica, including hummingbirds! Rooms here typically start at $200 USD per night. For a luxurious stay in a natural setting, book The Volcano Lodge online here.
For arguably the most luxurious hotel in La Fortuna, check out The Springs Resort & Spa at Arenal. While the rooms don't come cheap ($600 USD+), it's a bucket list place to stay that's perfect for visiting Costa Rica on a honeymoon! There's also a resort-style pool, a fitness center, a swim-up bar, hot tubs, and a spa and wellness center. If you're looking for the ultimate luxury, reserve your stay at The Springs Resort & Spa at Arenal!
Mid-range – $$
Those with a medium budget should check out Casa Luna Hotel & Spa. I stayed here on my first visit to La Fortuna and loved it. The property is beautiful, with a large pool and four hot tubs surrounded by nature. They also include a delicious breakfast at the $170 USD room rate. Casa Luna is located a short drive from town and can be booked online here.
Budget – $
One of the go-to budget options is Selina La Fortuna. I've stayed in Selina hostels around the world, and this is a great one. It has a fun party atmosphere and a great co-working space where we spent a lot of time. You can also book on Booking.com or Hostelworld.com for the best rate.
La Fortuna Natural Green is another budget option suited to those who prefer to avoid hostels. They offer small chalets a short walk or drive from town. Rooms start at $75 USD and include free breakfast. To grab this great deal, check prices and availability on Booking.com.
Invest in Travel Insurance
Paying out of pocket for trip interruptions or medical treatment will add to what might already be a stressful situation. Not to worry, SafetyWing is here to help!
This affordable travel and medical insurance is perfect for digital nomads, long-term travelers, and remote workers. The best part is that it only costs $45 USD per 4 weeks.
To start coverage you must purchase it after leaving your home country. We usually purchase it as soon as we land at the airport.
Since using SafetyWing we've been reimbursed thousands of dollars when we've gotten sick. During the pandemic, they've even gone as far as to pay for our last-minute flights back to Canada before the border closed!
Pura Vida!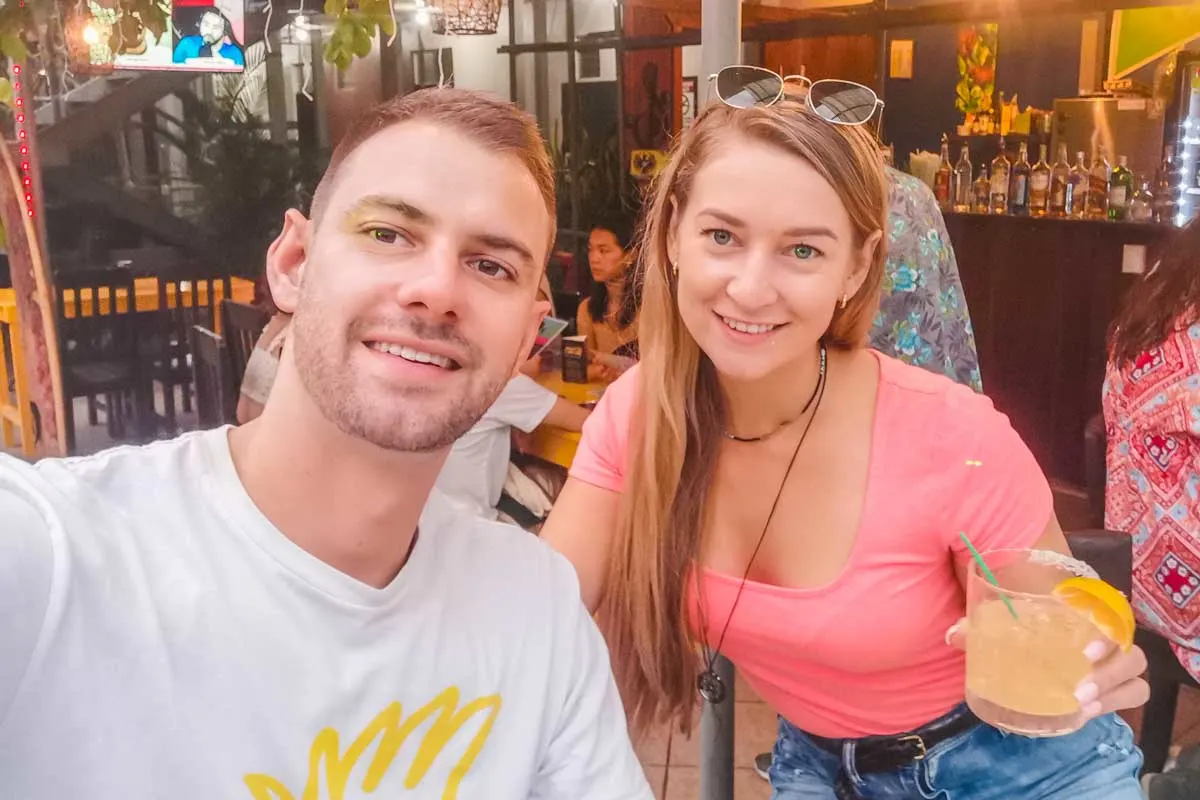 La Fortuna is one of my favorite places in Costa Rica – and luckily, there are several ways to get here from San Jose. If you're on a budget, we prefer shuttles over the public bus. However, the absolute best way to get to La Fortuna is by renting a car. If you're planning a road trip, we hope that you enjoy one of the routes we mentioned!
To learn more, read our blog about Costa Rica. We've lived and traveled all over this beautiful country, and there's so much to see! I've linked to a few articles below so you can get an idea of what to expect on your epic Costa Rican vacation.
8 BEST Tours in Samara, Costa Rica
12 Best Places to go Surfing in Costa Rica & Complete Surfers' Guide