A road trip is high up on a lot of people's bucket lists as one of the top things to do to Costa Rica, and for good reason!
Costa Rica is filled with beautiful beaches, cloud forests, and stunning waterfalls to explore. Driving around this amazing country is the best way to cover a lot of ground to see everything you want to and enjoy a true Costa Rican experience.
Whether you're spending a week in Costa Rica or just a few days, having a set of wheels means you can visit some pretty incredible places on your own time.
Renting a car and driving in a new country can seem scary at first but we are here to assure you that driving in Costa Rica is fun, safe, and the best way to get around – we've done it many times!
Before you hit the road, here are some things to know before driving in Costa Rica to ensure you have the best trip possible.
1. Should you drive in Costa Rica?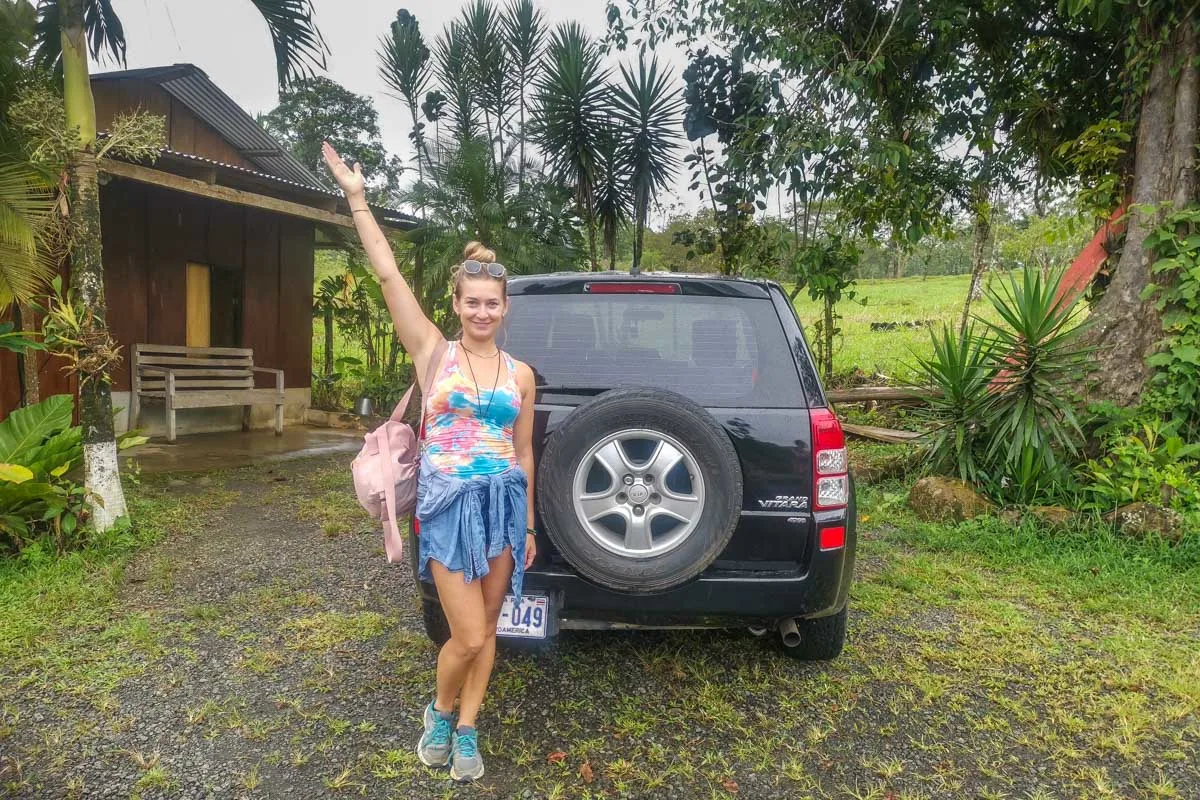 Absolutely!
There are so many bucket list things to do in Costa Rica and to check as many off as you can, it helps to have some wheels.
Sure, you can book tours or use public transport, but if you want the freedom of exploring some lesser-known spots and traveling at your own pace, driving yourself is the way to go.
There is an abundance of tourism in Costa Rica, meaning many of the main attractions are super busy, especially in peak season. Having your own transport means you can hit all of those popular spots outside of tour times, or visit some hidden gems en route to the main attractions.
On top of that, the public transport in Costa Rica is notoriously slow and limits how much you can get off the beaten track. Similarly, private shuttles between locations cost around $50 USD per person, so it is not particularly ideal if you are traveling as a couple or as a family.
If you are seeking adventure and looking to explore the country a bit differently than the average tourist, we would definitely recommend driving your way around Costa Rica!
Related read: I love driving around to check out the best cheap things to do around La Fortuna including free natural hot springs!
2. Do you need insurance to drive in Costa Rica?
Yes, you do need insurance to drive in Costa Rica.
There is mandatory insurance required by the National Insurance Institute (INS) to drive a vehicle in Costa Rica. This is despite any kind of travel insurance or credit card insurance you might already have.
This type of mandatory insurance is required by law and covers any damage to other vehicles and property, rather than your own car or rental. It costs around $15-20 USD per day, but many rental car companies will have this included in your rental price. It's best to check with your company before making any purchases.
Additional insurance such as collision damage waivers are often available as an add-on from rental companies. These limit the costs of how much you will have to pay for the damage if you do get into an accident and damage the vehicle.
However, this type of insurance does not protect against break-ins or theft. This additional type of insurance usually costs around $5-$25 USD a day depending on the vehicle and company.
If you want to be fully protected, zero liability or full coverage insurance is available and worth getting.
Protection against theft and damage to your vehicle is worth purchasing, so if something does happen and you get in an accident or your car gets stolen/broken into, you will not be liable from your rental company. It's best to buy this kind of insurance from a separate provider, either a dedicated travel car insurance or through your credit card.
However, you will still need to purchase the mandatory insurance alongside the zero liability insurance so don't forget that.
3. Where should you rent a car from in Costa Rica?
There are heaps of car rental companies in Costa Rica, so you will not struggle to find one suitable for you when renting a car in Costa Rica.
It's best to go for reputable companies with plenty of recent reviews so you are less likely to run into any issues. You can request online quotes, but many don't mention the hidden fees, so it is best to contact these companies directly to ensure you know what the final price will be.
Many companies also require a damage deposit so prepare to potentially have to pay anywhere between $500-$2,000 USD depending on the vehicle and length of your trip.
Common pick-up points include airports in San Jose and Liberia, and main areas such as Puerto Viejo de Talamanca, Limon, Manuel Antonio, and Tamarindo. If you are flying into Costa Rica, we recommend staying overnight in a hotel before picking up your rental so that you are refreshed for the next day and can avoid driving at night.
Here are some car rental companies we recommend:
Related read: Check out our complete guide of hotels in Costa Rica so you can book the best place before you arrive!
4. How much does it cost to rent a car in Costa Rica?
Compared to other popular tourist destinations, Costa Rica is relatively cheap to rent a car. Don't get too excited though, it may not be as cheap as it seems as there are a few hidden costs.
The cost of a car rental in Costa Rica depends on the season. In the low season, you can hire a basic two-wheel drive car for as little as $5 USD a day! However, in high season these can go up to as much as $50 USD without the added insurance and deposit.
For a four-wheel drive car, you expect to pay upwards of $60 USD a day in high season but sometimes in low season, you will be able to find one for around $20 USD a day.
A lot of local companies will offer deals for longer rentals, so this is definitely worth looking into if you are planning on staying in Costa Rica for a while.
These rates don't include insurance and liability insurance is mandatory to drive in Costa Rica. This can cost around $15-20 USD a day for just the basic required insurance, but it is best to be fully covered if your budget can stretch to the full coverage insurance.
Luckily there is a lot of free parking scattered about, so parking up shouldn't eat too much into your travel budget but expect to pay between $1-$4 USD at national parks in Costa Rica and shopping centers.
Fuel is also quite expensive at around $1 USD a liter and larger vehicles will undoubtedly cost a lot more to fill up, so this is worth considering when choosing your rental.
Although it might seem expensive at first, if you are planning to go to multiple locations during your stay, you will save a considerable amount by not having to book tours and shuttle buses around the country. Plus, how can you put a price on freedom!?
5. What license do you need to drive in Costa Rica?
You do NOT need an international driver's license to drive in Costa Rica as long as you have a valid driver's license that is over two years old and written in English or what is known as "roman script".
If you have a driver's license written in a different alphabet, you will need to purchase an international driver's license from your home country. These are usually inexpensive and can be used across the globe.
6. What are the road conditions like in Costa Rica?
The road conditions in Costa Rica really vary depending on where in the country you are. In the larger towns and cities like San Jose and Jaco, you will find the roads are a lot smoother and easy to drive on. That being said, expect potholes everywhere!
The main highways in the country are paved and are in good condition but the other roads are mainly dirt tracks which aren't maintained very well.
If you are visiting in the rainy season, the roads are slightly more tricky. Rain brings wet roads, flooded tracks, and a lot more mud so be extra careful when driving around. You will find during large downpours, many drivers will pull over and wait for the rain to stop before continuing their journey. The rain might seem crazy, but showers can be as short as a few minutes, so you might find waiting for it to clear is a good idea.
Although the roads can be bumpy and unpredictable, you don't necessarily need a 4×4 to get around. The roads between the cities are fine to do in a normal car, just be prepared for a bumpy ride if you are heading off the beaten track.
Related read: It's a nice smooth drive from San Jose or Jaco to the famous Costa Rica Crocodile Bridge!
7. Is it safe to drive in Costa Rica?
Overall, yes!
As long as you are careful, drive safely, and be slightly more cautious than you normally would be, it is safe to drive in Costa Rica.
Road conditions and other drivers are likely to be your only issue when driving around. Locals don't seem to be a fan of using their signal lights or waiting at stop signs, so just give other drivers a bit more space than you might usually in your home country.
Weather and road conditions are other issues you might find. In some areas, you might find a huge dip at the side of the road and roads can sometimes flood in bad weather and near waterfalls.
In areas like Monteverde, you will find steep hills with huge drops at the side, so be extra careful and avoid driving in heavy rain and the dark.
Related read: For more safety tips and scams to avoid, we've put together this Costa Rican safety guide for you!
8. What's the best app for directions in Costa Rica?
Popular map apps like Google Maps and Apple Maps are often wrong and outdated in Costa Rica and can actually lead you down some really bad roads. We really wouldn't recommend using these as GPS when driving around.
If you choose a rental car that has GPS built-in, these are likely to be more reliable, but you still should not trust them 100%. We've heard they aren't the best out of the main cities.
The Waze app seems to be the best app to use for directions in Costa Rica. This app has the most up-to-date information and you will actually sometimes see locals using it to get around too.
9. Do you need a high-clearance 4WD in Costa Rica?
Not necessarily. If you are only planning on visiting the main tourist destinations in Costa Rica, you won't need to rent a 4-wheel drive as they are mostly connected by main highways.
If you are dreaming of a long road trip, off the beaten path to some more rural areas, a 4WD will definitely come in handy! They can easily go up steep hills, over bumps, and through rivers a lot easier than a regular car. Also, 4x4s are a lot safer and you will be thankful for it if you do find yourself in an accident.
Unfortunately, 4-wheel drives are more expensive to rent, but if your budget can stretch to it, we highly recommend opting for one.
Related read: A larger vehicle is especially handy if you're packing it full of gear to check out the top surfing spots in Costa Rica!
10. What are the major hazards on the roads in Costa Rica?
Potholes
Costa Rica has some of the biggest potholes we have ever seen, they are really quite impressive! However, they are not ideal for driving around and can cause some damage to your car. Be extra careful and try to avoid them where possible.
One lane bridges
You will likely come across one lane bridges when you're driving around Costa Rica. If you don't know how they work, they can be quite tricky. Usually, they will have a sign showing which side has the right of way. People don't always take notice of these so be careful, drive slowly, and be sure that people on the other side can see you when you go over.
River crossings
While driving around you might come across a river crossing with no bridge, especially in the rainy season. You might well just see a road disappear into a river and reappear on the other side.
You must be really cautious when approaching these as it can be tricky to tell how deep the water is. If you are lucky, you might be able to see someone who knows the roads a bit better to drive through first to test whether your car is suitable to drive through.
If you didn't opt for a 4×4 and you can't test how deep the water is, we would definitely recommend trying to find another route to be safe!
Drunk drivers
You might come across drunk drivers, especially in larger towns and cities, so always be aware and careful when driving, especially at night.
Wildlife
Iguanas, monkeys, sloths, large birds, alligators, you name it, and it's probably free roaming around here! Keep an extra eye out for wildlife in Costa Rica while driving around, especially in the more rural areas.
It is also not uncommon to be stuck in traffic for a while and find out the hold up is a full herd of cows crossing the road. So plan ahead and expect delays for your journeys, that's the "pura vida" lifestyle!
Heavy rain
As we said before, heavy rain brings some more hazards when driving in Costa Rica. Mudslides and flooding are not uncommon, especially in the rainy season. Try to avoid driving during and straight after a heavy downpour, but don't worry, the sun dries up the roads pretty quickly!
11. Should you drive at night in Costa Rica?
Ultimately, we wouldn't recommend it. You should really avoid driving at night as much as possible.
If you are based in a city and just want to drive a short distance from your accommodation to a shop or restaurant, you should be fine, but try to avoid driving long distances at night.
For some road trippers, driving a large portion of a journey at night seems like a great hack to get from place to place with minimum traffic, but this is definitely not recommended in Costa Rica.
For one, there are hardly any street lights around, so a lot of the roads will be completely pitch black at night. With the uneven roads and limited road signs, this is less than ideal!
Unfortunately, at night there are quite a lot of drunk drivers about so it's best to avoid them completely. It is also prime time for car jacks, thieves, and criminals, so it's best to not put yourself in any potentially bad situation.
Costa Rica is also home to a huge amount of wildlife, especially at night, and running over an ocelot might put a downer on your holiday.
Related read: One of our favorite night activities is seeing a show at the National Theater of Costa Rica. It's in the center of San Jose, and there's no parking – so take an Uber or walk if your hotel is close!
12. Are police strict on the road rules in Costa Rica?
It depends on the area, but police can be very strict on the road rules.
Common fines include driving without a valid license, speeding, not wearing a seatbelt, talking on your phone, and passing on a solid yellow line. It helps to carry a valid ID which the police can match up to your license and insurance if you do get pulled over.
Don't make these mistakes and you shouldn't have any issues!
13. Are there tolls in Costa Rica?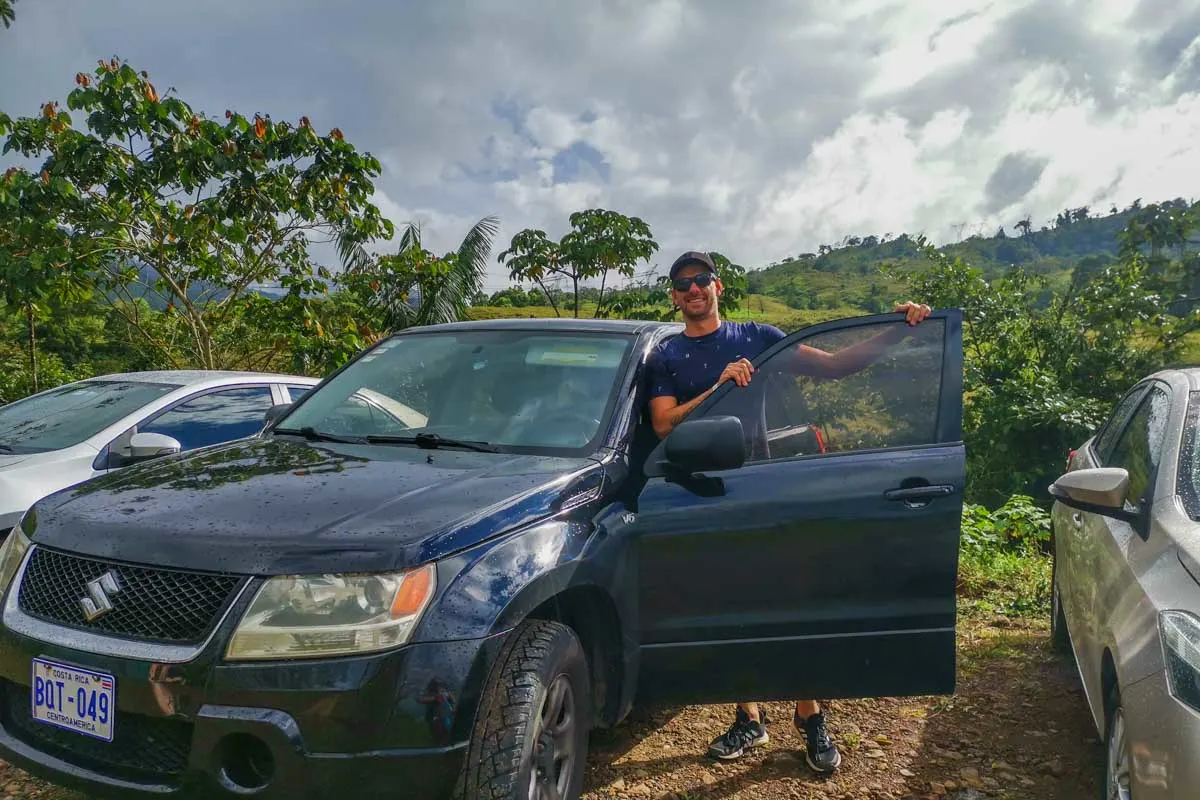 Yes!
On the main highways, there are tolls, but these are quite cheap and worth paying. There are ways to avoid them by taking back roads, but we don't recommend doing this as these main roads are in much better condition and considerably safer than trying to avoid tolls.
14. What should you do if you get in an accident in Costa Rica?
The most important thing to remember if you get in a car accident is to not move your car. No matter how small of an accident, do not move your car, even if it means blocking the whole road.
This is because for all accidents, even minor collisions, they need to have a ticket written by a traffic officer unless all parties agree that there was no damage. Unless you are fluent in Spanish and can be sure that everyone agrees there are no problems, it is best to leave your car in position and call 911.
911 will send the traffic police to your location so that they can write you up a ticket to give to your insurance provider. It's best also to note any other parties' details in case you have trouble reading the ticket given to you.
Basically, if you get into an accident in Costa Rica, don't move your car, try to remain calm and avoid arguing with anyone else involved, call 911, and wait for the traffic police to arrive.
15. Should you leave baggage and valuables in your car?
You should really avoid leaving anything in your car where you can. Sometimes it's unavoidable, like if you are stopping off somewhere on a day trip in between hotels, but it's best to avoid it where possible!
Most of the common theft that happens in Costa Rica happens when cars are left unattended. Try to hide anything you do need to leave in your car unless the parking lot has security, like in some hotels.
We personally do occasionally leave baggage in our car when driving around Costa Rica, but it is a big risk that we don't really recommend.
16. Why shouldn't you illegally park in Costa Rica?
Traffic police in Costa Rica have really been cracking down on illegal parking in recent years, so you should be careful when finding a spot to park.
If you do park illegally, you might get a fine but also – quite randomly – you might find that the traffic police have removed your number plate! The process of getting your number plate back is quite tricky and can take weeks.
It's best to find public car parks where you can buy a parking ticket because in a lot of areas you aren't allowed to park down the road. Areas along the street you aren't allowed to park in should be clearly marked with a sign or yellow paint along the pavement.
If you're not too sure whether you are allowed to park somewhere, it is best to ask locals or find somewhere with paid parking.
Luckily, a lot of hotels and hostels in Costa Rica have their own parking lot and free parking at beaches is common.
You might find when you park at a beach or a national park that someone in a high-vis vest will come up to you and request a dollar or two for parking. These aren't always official, but it is worth paying as they will be more likely to keep an eye on your car for break-ins.
Related read: There are plenty of parking spots (both free and paid) at the stunning Marino Ballena National Park. You HAVE to see the 'Whale Tail" sandbar here!
17. Is it easy to fill your car with gas in Costa Rica?
Yes!
You will not struggle to find a gas station in Costa Rica as they seem to be everywhere unless you go out to the middle of nowhere. In this case, we would recommend filling up before you start adventuring!
Gas stations take both cash and card and they usually fill up the car for you, making the process super easy. Gas in Costa Rica is measured in liters and usually costs around $1 USD per liter, which works out to $4 USD a gallon.
18. If the map says I can go, is it safe?
Not always.
Maps and GPS are not always reliable in Costa Rica. Roads can close, new roads can be built, some can be completely underwater, and maps are often outdated.
If you are planning on heading off the beaten track or spending some time in either the Osa Peninsula or the Nicoya Peninsula, it is best to have your hotel look over your route. In our experience, hotel staff members are always more than happy to help you plan routes and can even give you some lesser-known places to stop off at along the way!
Invest in Travel Insurance
Paying out of pocket for trip interruptions or medical treatment will add to what might already be a stressful situation. Not to worry, SafetyWing is here to help!
This affordable travel and medical insurance is perfect for digital nomads, long-term travelers, and remote workers. The best part is that it only costs $45 USD per 4 weeks.
To start coverage you must purchase it after leaving your home country. We usually purchase it as soon as we land at the airport.
Since using SafetyWing we've been reimbursed thousands of dollars when we've gotten sick. During the pandemic, they've even gone as far as to pay for our last-minute flights back to Canada before the border closed!
Pura Vida!
So there you have it, all the things we think you might need to know BEFORE driving in Costa Rica! Hopefully, this guide has been helpful as you prepare for your visit. We had an awesome time driving around the country and we are sure you will too.
If you are planning on heading to Costa Rica soon, make sure to check out the rest of our Costa Rica blogs! We've lived here and traveled across the country seeking out hidden gems, the best tours, and all the spots you shouldn't miss out on while you're here.
7 MUST-VISIT Volcanoes in Costa Rica
5 BEST Places to go Ziplining in Costa Rica + Top-Rated Zipline Tours
Ultimate Guide to Guanacaste, Costa Rica and Fun Things to do