Costa Rica is an amazing country full of once-in-a-lifetime tours, spectacular waterfalls, and wildlife galore, but it's not the easiest to get around. Planning your transport can be pretty stressful, especially if you don't know much about the country and its road conditions.
Not everyone wants to rent a car in Costa Rica, and using public transport can be difficult and time-consuming, especially for longer journeys. For that reason, many travelers planning a Costa Rican holiday turn to shuttles to get around.
We've traveled to Costa Rica countless times and we even lived there for a while! We've booked shuttles often and always had good experiences with them. So if you're wondering whether or not using shuttles to get around Costa Rica is the right option for you, this blog is here to help you decide.
We've compiled all of the need-to-know info about shuttles in Costa Rica to help you plan your trip!
1. About shuttles in Costa Rica
Shuttles are small, white buses you'll see all over Costa Rica. If you've ever done a group tour in Costa Rica or elsewhere in the world, chances are you've traveled in this type of vehicle!
The Costa Rican tourism industry really knows what it's doing and so they've established a very strong shuttle network to make it easy for tourists to travel all over the country.
The shuttle services in Costa Rica are very reliable and can take you pretty much anywhere. You can book shuttles online, and private or group options are available. We use them all the time when we travel in Costa Rica, and they're one of the best ways to get around if you don't want to drive here.
2. When is the best time to use shuttles in Costa Rica?
There are several reasons to take a shuttle in Costa Rica. Overall, it really comes down to your preferences and what works well for your trip. To be honest, they're very safe and reliable so taking a shuttle is rarely a bad idea.
You don't want to drive
Overall, driving in Costa Rica is safe, but the roads can be bumpy and unpredictable. The potholes are huge! You also sometimes come across river crossings with no bridge, which can be risky without a 4×4.
Due to patchy cell service, navigation can also be tricky outside of major cities. If you're the kind of person who struggles with paper maps and gets stressed out if you get lost, it's probably best to take a shuttle.
Driving at night can also be difficult due to a lack of street lights, uneven roads, drunk drivers, and poor signage. Short trips in cities are okay, but overnight drives are a bad idea.
We're not saying that you shouldn't drive in Costa Rica, but it's definitely understandable if you don't want to.
You are limited on time
Shuttles are great if you've only got a short amount of time to explore Costa Rica. Taking a private shuttle is usually faster than driving yourself because the drivers know exactly how to handle the Costa Rican roads, and they can find the fastest routes without getting lost.
And shuttles are DEFINITELY faster than public transport in Costa Rica. Public transport is okay for short journeys around one area, but not for getting around the whole country. The buses tend to be unreliable, which can be frustrating and time-consuming.
More remote areas also don't tend to have good public transport networks, so it can be very difficult to get around. It can be hard to plan your route and there's often a lot of waiting and changing buses involved, which takes a lot of time away from your trip.
You arrive or leave late at night
We really don't recommend driving far at night in Costa Rica. If you arrive or leave late, it's definitely better to take a shuttle for a couple of reasons.
The roads in Costa Rica tend to be poorly lit and given all of the potholes, this can create big problems if you're driving a rental car. You also need to be careful about wildlife in the middle of the road when driving near mountains or forests.
Drunk driving is also unfortunately a big issue in Costa Rica. Naturally, there are more drunk drivers out late at night and this, combined with the difficult road conditions, can be a recipe for disaster.
Finally, nighttime is when most thieves and carjackers operate, so it's just safer to take a shuttle. If you want to rent a car in Costa Rica but your flight gets in early or late, we recommend taking a shuttle from the airport and picking your vehicle up the next day.
You're traveling in a large group
Most rental cars have a maximum capacity of five people, so if you're traveling in a large group, you're probably better off using private shuttles than renting two cars. Private shuttles are usually more spacious and comfortable than shared shuttles because it's just your group inside.
It's likely to work out cheaper, especially if you're staying in one or two places rather than heading somewhere new every few days. It also takes all of the stress out of getting from A to B, so we think it's a win-win situation.
Low-stress travel and convenient
Using shuttles really does take the hassle out of getting around Costa Rica. As we mentioned, navigation can be tricky here and the road conditions can sometimes be challenging, especially if you're not confident driving in a foreign country.
You can also book your shuttles before you arrive so that you really don't have to stress about transport during your trip.
Costa Rica is also full of incredibly beautiful places, so it's nice to be able to sit back, relax, and take in the views as you travel around, rather than worrying about driving and swerving potholes. I mean, you're on holiday, after all!
3. Where is the best place to book shuttles in Costa Rica?
Bookaway is the best because they've got the most choice. You can find shuttles from all companies in Costa Rica, and they have the broadest selection of routes. We've also found that we get the best prices by reserving shuttles online with Bookaway.
We also like booking with Viator because they have a generous cancellation policy and a buy now, pay later option, so it gives you a lot of flexibility. However, their selection isn't as wide as Bookaway's, but it's still worth checking.
4. What is better, private shuttles or group shuttles in Costa Rica?
It depends on how many people you're traveling with, and how much luggage you have.
If you're traveling alone, as a couple for a honeymoon, or in a small group, then the shared group shuttles are fine. However, they can be cramped, so you should think about a private shuttle if you're in a group with more than five or six people. It should end up costing the same, or even less than a shared one!
A private shuttle can also be better if you have lots of luggage, as there may not be room for all of it on a shared shuttle.
5. Do you need to book shuttles in Costa Rica in advance?
Yes, you should book them in advance, especially from December to April. This is the busiest season in Costa Rica and so they can book up weeks in advance. You should book your shuttles before you arrive, otherwise, you might struggle to find one!
Even outside of the busy season, we still recommend booking in advance as it will give you more choice. Plenty of companies on Bookaway offer free cancellation, so you can still adjust your plans if necessary.
Related Read: Other great experiences we recommend you book in advance include ziplining adventures, whale watching tours, and snorkeling trips!
6. Can you take luggage on shuttles in Costa Rica?
Yes! Just like flying on an airplane, most companies will let you have one large bag and one day bag. Fortunately, unlike airlines, they are flexible and won't charge you the Earth for extra bags. If you've got more luggage you can message them to see if they have room for it onboard the shuttle.
However, if you have loads of luggage with you, a private shuttle might be a better option. This is especially true if you're in a group where everyone has multiple suitcases.
7. Are shuttles safe in Costa Rica?
Yes, they are. Safety in Costa Rica is top of mind for the tourism industry and all drivers must have a special license to drive a tourist vehicle. You don't need to worry about moonlighters and sketchy drivers, because they're all professional and know the roads well.
If you do notice your driver driving erratically, say something to them. Most drivers are friendly and want you to feel comfortable!
8. Can you take small children on shuttles in Costa Rica?
Yes, you can but you may need a car or a booster seat for kids who are:
Aged 12 and under
Are up to 57 inches (145 cm) tall
Weigh up to 79 pounds (36 kg)
Babies under the age of one have to sit in rear-facing car seats and kids aged 6-12 usually sit in backless booster seats. Fortunately, you don't need to stress too much about getting the right kind of seat when taking a shuttle because most companies offer them. After all, they're a legal requirement, so they could get in a lot of trouble for not doing so!
Just make sure that you contact the company ahead of time about needing a car seat. Tell them the age and size of your child so that they can provide you with the right seat for them, and then they'll handle it all from there. When you go through Viator or Bookaway, you can usually contact the shuttle company right after you book your ride.
9. Is public transport reliable in Costa Rica?
No, it's not.
Public transport is okay to use on shorter routes in touristy areas, but it's a lot more difficult for longer routes and in remote places. For example, it's really hard to travel the Nicoya Peninsula using public buses and it takes SO much time.
We really don't think that using public transport is worth the time that it takes away from your holiday, especially if you're only here for a short trip. There's so much to see and explore in Costa Rica, and you're much better off using your time to experience all of the country's natural wonders rather than waiting for a bus!
10. What is cheaper, taking shuttles or a rental car in Costa Rica?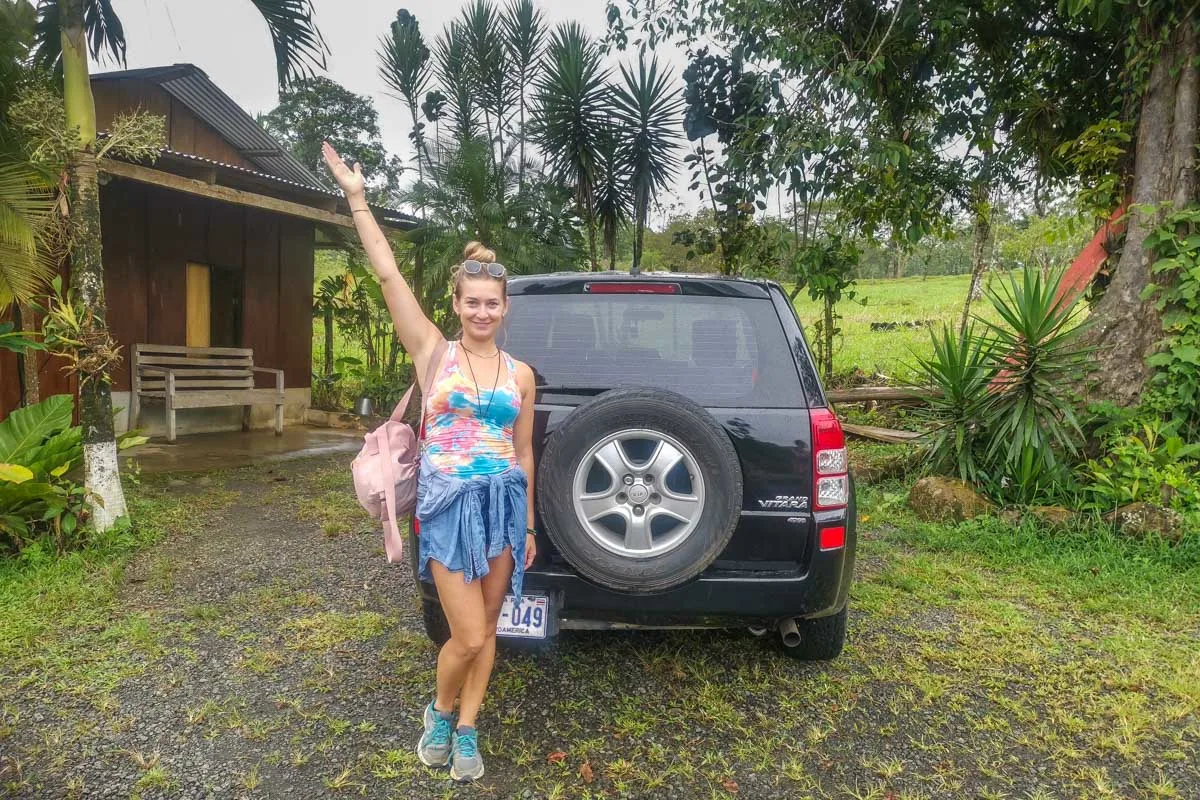 It depends on your trip.
A rental car in Costa Rica can cost less than $80 USD per day including full coverage insurance. Meanwhile, shuttles usually cost $45 USD to $60 USD per person, although prices depend on your route and do vary a bit between companies.
If you're staying in one place in Costa Rica, then a shuttle will probably be cheaper. You can take a shuttle to and from the airport, and then make short journeys using public transport or taxis. (Just remember, public transport should only be used for short journeys!).
If you're traveling solo around Costa Rica, a shuttle will still be cheaper. If you're traveling as a couple, it probably works out about the same once you factor the cost of gasoline into the equation. Plus, we think that the added convenience of shuttles makes it a good option for couples.
However, if you're traveling around Costa Rica as a group of three or more, renting a car is the more wallet-friendly option. If you're traveling with a group of three, you'll be spending $100 to $150 USD per trip, so you're better off renting a car. And when you're traveling in a group of four or five, driving becomes even cheaper.
11. Is taking shuttles in Costa Rica worth it?
Yes, we loved traveling around Costa Rica by shuttle. It's convenient and very low-stress, so we would definitely recommend it. It's also very affordable if you book online with places like Bookaway or Viator, particularly for solo travelers and couples, and it's one of the safest ways to get around.
Related Read: If you're traveling on a budget, there are lots of free and cheap things to do in Jaco, Santa Teresa, La Fortuna, and Tamarindo!
Invest in Travel Insurance
Paying out of pocket for trip interruptions or medical treatment will add to what might already be a stressful situation. Not to worry, SafetyWing is here to help!
This affordable travel and medical insurance is perfect for digital nomads, long-term travelers, and remote workers. The best part is that it only costs $45 USD per 4 weeks.
To start coverage you must purchase it after leaving your home country. We usually purchase it as soon as we land at the airport.
Since using SafetyWing we've been reimbursed thousands of dollars when we've gotten sick. During the pandemic, they've even gone as far as to pay for our last-minute flights back to Canada before the border closed!
Thanks for reading!
Hopefully, this guide on taking shuttles in Costa Rica has helped as you plan your trip! Personally, we love spending as much time as we can exploring and not stuck on public transit or lost on backroads, so shuttles really come in handy – especially if it's your first time in Costa Rica!
I'm so excited you're heading to Costa Rica soon! If you need any more help, drop us a comment below, or have a look at our other blogs including some popular ones below.
15 BEST All-Inclusive Resorts in Costa Rica (Our Unbiased Opinion!)
Where to See Sloths in Costa Rica +Facts and Tips!