Manuel Antonio is home to some of Costa Rica's most beautiful landscapes. Sitting right next to Manuel Antonio National Park with picturesque blue water and white sand beaches, it has become a haven for travelers. This place specifically draws anyone looking for an outdoor adventure, and if that's you, this place will not disappoint!
As former Costa Rica locals, we frequently visited Manuel Antonio and were never bored. There are SO many activities surrounding this town, from epic ziplines and whitewater rafting to sea kayaking and snorkeling. You could spend an entire week here and just scratch the surface of what Manuel Antonio has to offer.
When traveling to Costa Rica, it can be overwhelming to know exactly what to squeeze into your itinerary. To make your planning easier, we have picked out 15 of our favorite tours in Manuel Antonio. You can't go wrong with one (or more!) of these epic adventures.
Best Tours in Manuel Antonio
1. Manuel Antonio Park Nature Guided Tour
One of the biggest draws to the Manuel Antonio area is visiting the national park. This is top among the national parks in Costa Rica for its astonishing amount of wildlife, in addition to the rugged jungle and white sand beaches. This park is popular for a reason!
We've found that taking a tour of Manuel Antonio National Park is the way to go. A lot of the wildlife is difficult to spot and having a guide helps you see so much more. I would have walked by so many animals if our guide hadn't pointed them out! Guides are familiar with the park, so not only can they take you to areas off-the-beaten-path but they also have a lot of information to share about the animals you're seeing.
This half-day tour is great for exploring the park. You're with a small group of only 10 people and are picked up right from wherever you're staying in Manuel Antonio or the Quepos area. The tour is offered at either 7 am or 12:30 pm and I recommend getting up early to take the 7 am tour like we did. You'll see more wildlife before the heat of the day sets in!
You'll spend a few hours walking through the jungle, stopping to see monkeys, sloths, toucans, and more! Part of this tour takes you to the beach, so you can spend some time relaxing and taking in the beautiful view as well.
This tour includes roundtrip transportation and your knowledgeable guide. I really enjoyed this tour because we learned a lot and had fun spotting lots of different creatures along the way. For a great look at the wildlife around Manuel Antonio, you can book this tour online for $59 USD.
2. Cruising the Manuel Antonio Coast
One of the best tours in Manuel Antonio we got the chance to take was this cruise along the coast. It came at the perfect time since we needed a break from some of the other adventurous activities and were ready for a few drinks on the ocean – I mean that's what a vacation is all about right?!
This exact sailing tour is the one we did and it includes unlimited drinks, supper, snorkeling, and swimming. Plus, I have to give a shout-out to the awesome crew and guides on board who made sure we had a great time.
After we set sail, the first hour was spent enjoying a couple drinks and keeping an eye out for whales and dolphins. While we didn't see any this time, you might!
Our first stop was at a snorkeling spot where we could jump in the water (or take the slide off the boat!) to explore. We saw quite a few fish in the waters around water around Biesanz Beach. Then it was time to cruise along the Manuel Antonio coastline, where we spotted lots of Costa Rica's tropical birds including some macaws!
After all that swimming, we were ready to tuck into a yummy meal prepared on board. It was a great way to end the experience.
The cruise is available for $95 USD and leaves from Quepos. Each cruise only has room for 35 people, so you should book the cruise online in advance as there are limited spots!
3. Manuel Antonio Canopy Tour (Longest Twin Zipline)
Costa Rica is known for its amazing ziplines, but what about taking a ride on Central America's longest zipline? This zipline runs over a mile, with 14 tree platforms, three nature walks, and six hanging bridges!
This Manuel Antonio canopy tour gives you the chance to try that epic zipline that stretches 4,300 feet/1,300 meters! I've been on a lot of ziplines and this is definitely one of my favorite spots to go ziplining in Costa Rica! The automatic braking system is a huge plus – you don't need to worry about braking at the end of the lines, it's just a smooth ride.
Of course, this tour does have more than simply ziplining (even though that's the highlight!). You'll be picked up from your local hotel and brought to the zipline park for 4-5 hours of fun. You'll have plenty of time to get an adrenaline rush as you zipline, rappel, and walk over suspension bridges.
Throughout the tour, you'll be provided water and snacks, but the real star of the show is the authentic Costa Rican lunch at the end of the tour! The guides make sure you're safe the whole time and they are also hilarious, making it a fun experience all around.
This tour is great for families, kids absolutely love the ziplines, but it's really fun for any age! The tour cost is $90 USD and this tour tends to sell out! So if you're after a day of adventure, make sure to reserve your spot on the ziplining tour online here.
Related Read: For more high-flying fun, these are the best ziplining tours in Jaco that you won't want to miss!
4. Chocolate and Coffee Tour Manuel Antonio
If you know me, you'll know that coffee and chocolate are two of my absolute favorite things in the whole world. So when I found out there was a tour combining them, I immediately booked this top-rated coffee and chocolate tour in Manuel Antonio!
On this tour, we not only got to sample cacao and chocolate, but learn about the whole process of chocolate making. The "bean to bar" experience! Making chocolate with the traditional methods here is a lot of hard work and it was really neat to see it up close and learn about the important history of cacao.
Then this 2-in-1 experience moves on to coffee! It was among the best coffee tours in Costa Rica I've been on. We got to learn about the entire process of making coffee including café chorreado which is a traditional way of making pour-over coffee and it's so good.
Transportation from Manuel Antonio or Quepos is included along with the 2-hour tour for $60 USD. The grounds are wheelchair and stroller-friendly as well. If you're a coffee and chocolate lover, make sure to book a spot on this tour online here!
5. Whitewater Rafting Savegre River
There are a ton of whitewater rafting experiences in Costa Rica, but after trying a few, we think this tour is one of the best. It's an exciting day on the Savegre River facing Class II-III rapids along with a chance to visit a hidden waterfall, and get to see some of Costa Rica's most iconic wildlife!
Before you get to the river, it's like the tour has already started with a mini-sightseeing experience on your way there. Hotel pick-up is included from Quepos or Manuel Antonio and then it's only an hour's drive to the Savegre River. Along the way, the guides tell you all about the small towns you pass by, the river, the wildlife, and the unique aspects of Costa Rica.
Once you get to the river, the guides will provide a safety briefing, helmets, and life jackets so you are safe and can have fun! You'll spend a few hours going down the rapids, which are exhilarating, to say the least! The guides take you to a beautiful hidden waterfall for a break and a snack. This tour is simply gorgeous the whole time!
After you finish your rafting adventure, the tour will take you back to headquarters in Manuel Antonio for lunch, then return you to your hotel. Children 6 years and older are welcome to join and the cost is $124 USD per person. If you want an exciting day on the river, book spots on this rafting tour online here!
6. Jungle Night Tour Manuel Antonio
Exploring the jungle at night time is like a totally different world! There are so many animals that are nocturnal and you'll only be able to see them if you venture out after dark. To be honest, walking through the jungle at night by myself sounded a bit scary, so taking this tour is the way to go!
The tour begins with a hotel pickup from Quepos or Manuel Antonio and will take you to a protected jungle nearby. You'll spend around two hours taking an easy hike, hearing all the sounds of the nocturnal animals. You might see tree frogs, snakes, owls, bats, rare insects, and even more animals than I can list!
The guides on this tour are amazing, they share their knowledge with a good sense of humor making this an amazing learning experience and a memorable time. Never once did I feel unsafe as we walked through the jungle at night. It definitely was one of my favorite tours in Manuel Antonio!
This tour includes hotel pickup and drop-off, a flashlight (which comes in handy!), and your wonderful guides! This is a truly unique experience and one that I am so happy we did. This tour can be reserved online for $59 USD and is a great way to experience Manuel Antonio in a completely different way!
Related Read: Monteverde is another spot you'll want to explore at night. These are the best night tours in Monteverde to check out!
Why We Book Tours with Viator
Viator is a trusted online booking system for tours around the world! We almost always book our tours using Viator for a couple of reasons:
Free cancellation on most tours – Most of the tours on Viator allow you to cancel and get a full refund up to 24 hours in advance. This is handy in case plans change, or if booking an outdoor activity, the weather forecast is looking grim.
Reserve now and pay later – You can secure your spot on some of the most popular tours well in advance and not pay until closer to the day of the tour.
Pay in your chosen currency – Avoid costly international transaction fees by choosing to pay in your home currency.
Peace of mind – When booking with tour operators you find in person on the street or in small booking offices, you are often promised one thing and given another. This online platform holds tour operators accountable with a written description of inclusions as well as the opportunity for customers to leave reviews.
Check out the Viator website here!
7. Surf Lessons Manuel Antonio Beach
Going surfing in Costa Rica is a total bucket list item. The beaches are beautiful, the waves are incredible, and there really isn't a better place to learn! By the end of this surfing lesson, you'll be well on your way to surfing like a local.
What really stands out about this surfing experience is that it's a private, small-group lesson. They really focus on keeping a low teacher-to-student ratio so you get a lot of attention and can truly learn a lot. This is great if you're brand new to surfing or looking to improve your skills.
Your lesson will last for 90 minutes, starting with basic instructions on dry land first. Once you have the basics, you'll take to the waves to learn how to paddle and stand up on the board, which is a little scary at first but totally fun! Our instructors were encouraging and everyone in our group was riding waves by the end!
Learning this new skill is rather tiring, so they provide beach chairs, umbrellas, and fresh fruit on shore if you need a break. This tour also includes roundtrip transportation from your hotel, as well as any equipment you'll need for the $69 USD cost. If you want to catch a wave in Manuel Antonio, make sure to reserve this surfing lesson online before you go!
8. Manuel Antonio Ocean Kayaking and Snorkeling
A great way to experience the ocean and surrounding islands is by going kayaking in Costa Rica! Luckily right around Manuel Antonio is a fantastic spot and this ocean kayaking and snorkeling tour lets you venture into the water by paddling through the beautiful blue ocean.
This four-hour kayaking tour is perfect if you're looking to get off the beaten path and into nature. You'll paddle past islands and inlets, reaching areas that you normally wouldn't see on boat tours.
About halfway through, the tour will stop at Bisanz Beach for a snack and snorkeling! You'll have about 30 minutes to explore this hidden bay and see parrotfish, starfish, angelfish, and maybe even a turtle! You'll then head back, seeing pelicans above and flying fish jumping out of the water.
Kayaking tours are some of my favorite activities because you can really get into nature and have a day of adventure! This area is simply stunning, so exploring it by kayak is a real treat.
This tour is around $80 USD per person and includes roundtrip transportation from your hotel. You'll also be provided with all the necessary equipment, lunch, and guides. Children 8 and older are welcome to join the tour, and no prior kayak experience is necessary. If you want to go kayaking while you're here, make sure to book your kayaking experience here.
9. Mangrove Boat Tour Damas Island
The mangrove forests are another beautiful and essential part of Costa Rica's diverse ecosystem. Damas Island (just outside of Manuel Antonio) currently holds one of the most important remaining mangroves in Costa Rica, and this boat tour will take you through it to understand this incredible place!
The Damas Island boat tour weaves along the river and through the mangroves to explore this protected forest from the water. The main draw of this tour is the chance to see wildlife, which is abundant in this area. You'll see all types of birds, monkeys, sloths, snakes, and other animals.
Not only do you get to see all of this incredible wildlife, but there is so much to learn about the area as well. These naturalist guides are a wealth of information, telling the history of the mangroves and how they are essential to the ecosystem. Tours like these always give me such an appreciation for the area surrounding me!
This tour includes transportation and lunch for $70 USD per person. To see an area you just can't get to without a guide, book a spot on this mangrove boat tour online.
10. Bird-watching Tour – Manuel Antonio Surroundings
I have truly never seen so many birds until I lived in Costa Rica. The tropical climate makes this the ideal place for these brightly colored creatures, and is likely to impress anyone whether they are an avid "birder" or not! That's why this bird-watching tour is a great activity, even if you've never been bird-watching before.
The best time to catch a bird sighting is at sunrise or sunset when they are most active. You'll have the choice to visit Playa el Rey or Manuel Antonio National Park to see the birds in their natural habitat. Both are beautiful for different reasons!
This is a private tour, ensuring small groups and one-on-one time with your guide. If you can get Marvin as your guide, you will truly learn so much! We saw 35 different species during our tour. He will take you around for nearly two hours, identifying birds, and teaching you along the way. This tour provides binoculars and a spotting scope.
This is a unique experience, and Costa Rica is probably the best place to go bird-watching! If you're visiting Playa el Rey it is $99 USD per person, and visiting Manuel Antonio is $65 USD per person. This tour includes roundtrip transportation and can be reserved online!
11. Horseback Riding Tour
The area surrounding Manuel Antonio is so vast that horseback riding is one of the best ways to explore it. Not only will you be able to cover lots of ground, but you'll also see beautiful sights and get to ride a horse for a full day of adventure!
This guided horseback riding tour will take you up through the mountains over Manuel Antonio. You'll climb (with the help of a four-legged friend!) to an altitude of 1,900 feet/580 meters to enjoy the incredible views. I love horseback riding tours because it's a different way to experience the area and cover more ground without your feet getting too tired!
You'll have a few stops along the way, such as a stunning waterfall where you'll have the chance to take a swim in the cool water. After a bit more riding, you'll stop for an authentic Costa Rican lunch at the ranch made with locally-grown ingredients.
The guides are knowledgeable and fun, making this quite a memorable tour! You'll be provided with roundtrip transportation from your hotel, lunch, safety instructions, and the horse – of course! Children 8 years and older can join this tour. You can reserve your spot online for $89 USD.
12. SUP Paddleboard Tour
What's SUP doc? Well, it's another opportunity to get on the water and explore Manuel Antonio on a stand-up paddleboard aka SUP. I will warn you that it's a bit of a workout, but it's also a lot of fun too! This paddleboarding tour is great because they take care of all of the details, and you can simply enjoy the day!
You'll spend a few hours on the gorgeous water surrounding Manuel Antonio National Park. After some initial instructions and safety briefing, you'll start exploring. The guides will lead the group along the coastline where you'll see lots of wildlife and plants, making stops at some beautiful secluded beaches.
Eventually, you'll make your way to visit Biesanz Beach, where its clear water is ideal for snorkeling! You'll spend some time at this beach playing in the waves and relaxing on the sand with a fresh fruit snack.
I've had such a fun time anytime I've paddleboarded in the ocean and if you've ever wanted to try, this is your chance to do it!
This tour includes roundtrip transportation from your hotel, equipment, snacks, and guides for $55 USD. You can pick from a 7 am or 3 pm tour and I always choose the morning option. The water is less crowded and it's a perfect way to start the day, but still have time for other experiences later on. This fun day of adventure can be reserved online.
13. Ziplining, Rappelling, Tarzan Swing, Waterfalls Tour
If you're looking for a thrill, this adventure park tour is just for you! I felt like I was in my own action movie while ziplining, rappeling, swimming in a waterfall, riding in a 4X4, and swinging like Tarzan through the jungle.
This full-day tour begins by picking you up from your hotel in Manuel Antonio or Quepos and bringing you to the adventure park where the fun begins! The guides will take you up to the base camp in a 4X4 vehicle. After a safety briefing and getting fitted with a harness and helmet, they will take you along the adventure course.
You'll spend hours flying down ziplines ranging in length and speed. The course weaves through the jungle and the guides are great at giving commentary along the way.
Eventually, you'll make your way to a waterfall, where you'll have the chance to rappel and swing on a Tarzan swing into the water! Any zipline tour I've done has been a blast, and this one is even more exciting because it has extra adventures wrapped into the day.
This tour includes roundtrip transportation, snacks and lunch, safety equipment, and guides for $147 USD. This is a seriously full day of fun, where you can run around the jungle on a giant playground, so make sure to reserve your spot!
14. Nauyaca Half-Day Waterfall Tour
There are a lot of waterfalls in Costa Rica, but few are quite as beautiful as Nauyaca Waterfalls. This is easily one of the most stunning waterfalls I've ever seen! This waterfall stands 197 feet (60 meters) tall and has an upper and lower section, making this an impressive sight.
Booking a tour of Nauyaca Waterfall is one of the best tours around Manuel Antonio because this isn't the most accessible waterfall. This is also an advantage as I found the crowds at this waterfall weren't nearly as bad as some of the more popular waterfalls.
This half-day tour will pick you up from your hotel and take you to the trailhead. Here you'll have a 40-minute trek through the jungle before you reach the cool pool of water sitting at the base of the large waterfall. The guides know the best (and safest) spots to jump off of the waterfall into the pool if you're feeling a little adventurous! Otherwise, you'll spend the afternoon swimming and relaxing in this beautiful area.
It's nice to have a guide who knows the area so well and can provide all the details so you can relax and have a fun day. This tour includes transportation, lunch, and snacks, as well as entrance fees to the waterfall for $144 USD. If you're looking for a day of chasing waterfalls, reserve a spot on this tour through Viator here!
Related Read: For one of the bluest waterfalls I've seen (like blue Gatorade!), make sure to visit Rio Celeste Waterfall!
15. ATV Tour Manuel Antonio
ATVing is a must on your trip to Costa Rica, and Manuel Antonio is one of the best places you can do it! On this half-day ATV tour, you'll spend an afternoon splashing through puddles and mud, seeing animals, and exploring the jungle.
It's a pretty exhilarating way to travel through the jungle surrounding Manuel Antonio. You'll experience the unique ecosystem and the guide will give you lots of information along the way so you can know more about the area you're exploring. The ride will take you through small mountain villages and by natural springs.
Eventually, you'll take a break from riding and hike to a waterfall. Here you'll swim and have a snack, and enjoy this beautiful spot! You'll continue ATVing back to the starting point where an authentic Costa Rican lunch awaits.
ATVing is always fun, and I find it to be a great way to explore an area. You'll be given safety instructions ahead of time and provided with all of the equipment. While we have done quite a bit of ATVing, this tour is also suited to beginners – you'll catch on quickly!
This tour includes roundtrip transportation, lunch, and the choice of a double ATV for $80 USD per person or a single ATV for $124 USD.
This tour is suitable for riders 16 and older and only accommodates up to 15 travelers, so make sure to reserve a spot here so you don't miss out!
Where to Stay in Manuel Antonio, Costa Rica
There are tons of different hotels to choose from when deciding where to stay in Manuel Antonio.
One of the best budget-friendly places to stay in Manuel Antonio is Selina. Selina has hostels all over Costa Rica and the world. They always offer a nice place to stay with clean rooms, a great bar, and a social atmosphere.
In Manuel Antonio, Selina is no different, and the hostel comes with a huge pool, restaurant and bar, private rooms, and dorm rooms. Bunks here are around $20 USD and private rooms are also really affordable starting at $65 USD per night. You can book Selina on Hostelworld or Booking.com.
For the medium-budget traveler, my top choice is Hotel Villas Lirio (pictured above). This gorgeous hotel is reasonably priced around $150 USD but has some very luxurious features such as an outdoor pool, tropical manicured gardens, an included breakfast, and a restaurant.
The hotel is also located in the heart of Manuel Antonio and is only meters from the main road where the bus down to the beach and national park goes (it's a 1-minute drive or a short walk). Be sure to book it in advance as it is often fully booked.
Those who enjoy staying in a beautiful hotel and don't mind paying for it, have to check out Parador Resort and Spa. This place does tick a lot of boxes! It's only a short walk to the beach, has fantastic panoramic views thanks to its elevated location, and has two infinity pools. The hotel is surrounded by rainforest, so there's tons of wildlife around too. It's more around the $300+ per night mark, but is great for a luxury getaway! You can check availability and book on Booking.com.
Getting Around Costa Rica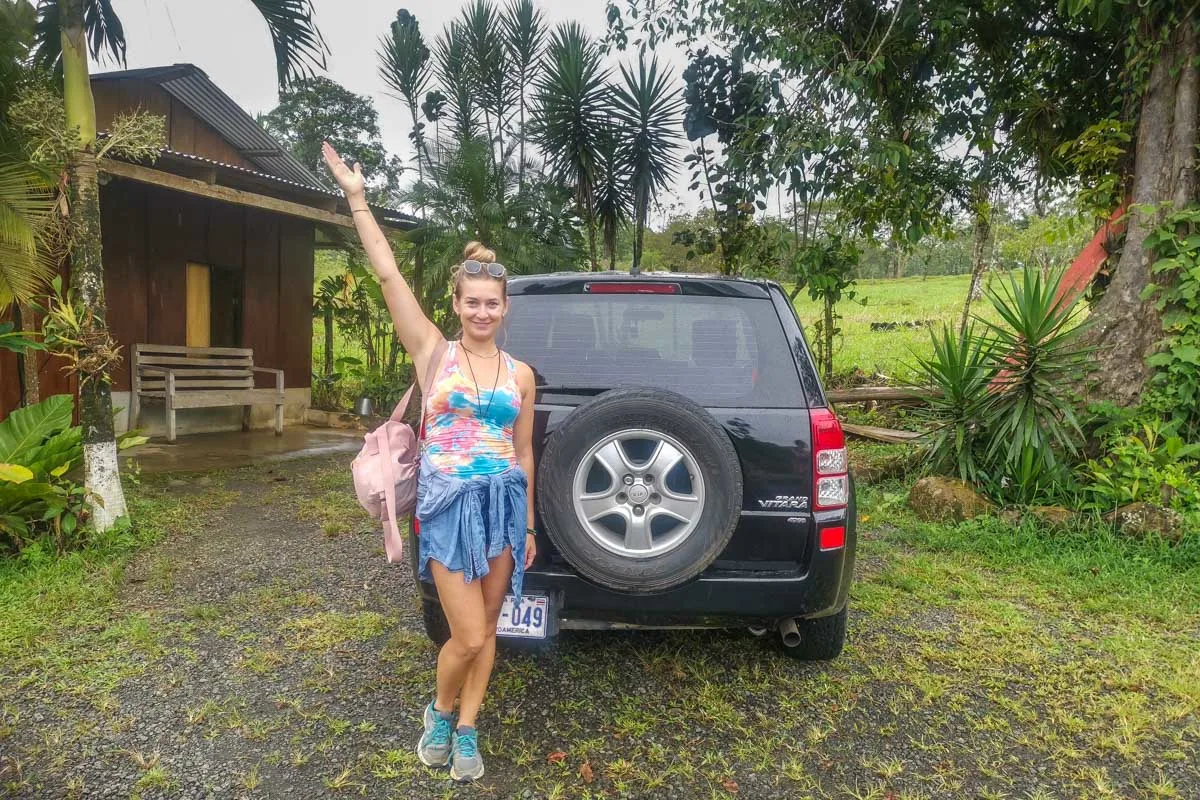 How you choose to get around Costa Rica is one of the biggest decisions you'll make when planning your holiday here! How you do it depends on your budget, travel style, and comfort level.
Renting a Car
Without a doubt, the number one way to explore Costa Rica is in a rental car. We book rental cars on the Discover Cars website as we have had good experiences with them in the past.
One of the things you need to watch for when renting a car in Costa Rica is the mandatory insurance that the government requires you to have. There are a lot of very cheap rentals that don't include this mandatory insurance (TPL) in the original booking price, but there are also ones that do. To avoid additional surprise charges when you pick up your rental car, be sure to rent a car that includes the mandatory insurance when you book.
Thankfully, on Discover Cars it's easy to tell apart the companies that include the mandatory insurance and those that don't. The trick is you can't pick any car on their website. In the picture below, you can see this rental car, with pick up in Jaco, includes the TPL. That means the mandatory insurance is included in the price. Any cover you get above that is extra.
Of course, I still suggest getting the full coverage offered by Discover Cars, which covers you even more.
You can browse cars on Discover Cars here.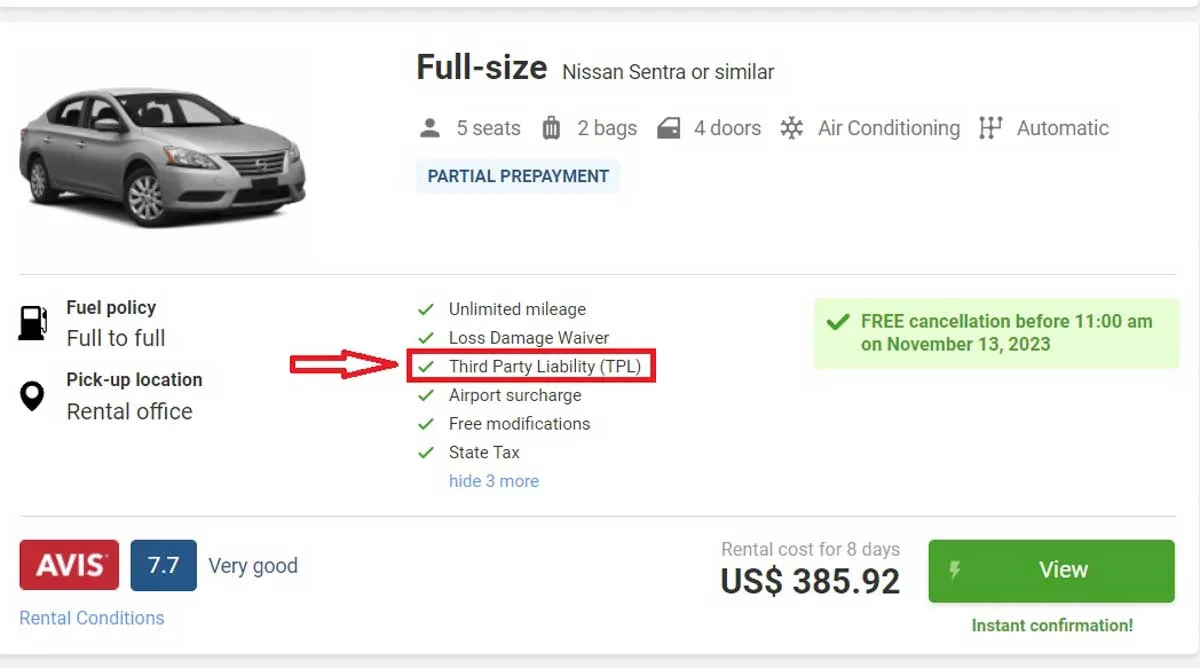 Book Shuttles
If renting a car isn't in your budget, you don't feel comfortable driving in Costa Rica, or you just don't like driving, shuttles are the next best option. There are hundreds of shuttle routes available all over the country, and they are very affordable.
Shuttles in Costa Rica are specifically for tourists and often include pick up and drop off at your selected hotels and airports. The drivers also speak some English, and the vehicles have air conditioning. You'll also be guaranteed a seat when you book a shuttle (which isn't the case with the public bus system.)
To get the best price, use the website Bookaway. They compare all the offers and prices of shuttle companies in Costa Rica so you get the best price! Honestly, we have saved so much money using Bookaway!
You can search for shuttles online on Bookaway here.
Public Bus
Lastly, you can use the public bus system. On short journeys, such as from San Jose to La Fortuna or Uvita to Manuel Antonio, this system is great. However, the longer the journey the more hassle and time spent on a bus. It's undoubtedly best to save the public bus in Costa Rica for short and straightforward trips!
The public buses are definitely the cheapest way to get around Costa Rica, but they are not always very reliable and schedules often change without notice and delays are to be expected. The buses can also be very crowded and hot – so just be prepared!
It's also good to speak some Spanish if you plan on riding the public bus since most drivers and ticket booth operators don't speak English.
Invest in Travel Insurance
Paying out of pocket for trip interruptions or medical treatment will add to what might already be a stressful situation. Not to worry, SafetyWing is here to help!
This affordable travel and medical insurance is perfect for digital nomads, long-term travelers, and remote workers. The best part is that it only costs $45 USD per 4 weeks.
To start coverage you must purchase it after leaving your home country. We usually purchase it as soon as we land at the airport.
Since using SafetyWing we've been reimbursed thousands of dollars when we've gotten sick. During the pandemic, they've even gone as far as to pay for our last-minute flights back to Canada before the border closed!
Pura Vida!
Hopefully, this list of all the best tours in Manuel Antonio has given you tons of options for your trip! The experiences here really are among the best tours in Costa Rica. The hardest part might be narrowing down which ones to take, I know I had trouble getting it down to my top 15!
You could probably spend your entire vacation around Manuel Antonio and have a blast, but if you're looking to branch out and travel around Costa Rica, we've got you covered! Make sure to have a look at our other blogs including some popular ones below.
50 BEST Things to do in Costa Rica
12 BEST Restaurants in Manuel Antonio, Costa Rica