As you might expect from a country with such beautiful beaches and lush rainforests, the wildlife in Costa Rica is truly next level.
From the majestic jaguar to sloths, anteaters, macaws, and butterflies, Costa Rica is home to a truly incredible amount of wildlife. In fact, it has over 500,000 species, which means that roughly 4% of the world's species can be found in this small Central American country!
Of course, with so many amazing wild animals in Costa Rica, it can be difficult to know where to start. Some animals can be seen all over the country, while others only inhabit certain areas.
That's why we've put together this handy guide to the 25 must-see animals in Costa Rica, as well as where to find them. Make sure you add seeing some of these incredible creatures to your Costa Rican itinerary!
1. Two-toed sloths
One of my favorite things to do in Costa Rica is looking for sloths! They can be found all over the country in national parks, wildlife rescue centers, or even in towns.
Sloths are one of the world's slowest mammals – so when you do see one, chances are they won't be moving very fast! In fact, two-toed sloths are so slow that algae actually grows on their fur! This then acts as a camouflage and a convenient food source for the sloths, so although it may seem gross, it's actually a win-win situation.
Interesting fact: All sloths have 3 toes on the back legs. However, two-toed sloths only have two "toes" on their front legs.
Moths, beetles, and insects also often take up residence within the sloth's fur, so you probably don't want to pet them. It is, however, super cool to get a glimpse of these super-slow mammals.
Hoffman's two-toed sloths are the most common sloths in Costa Rica and can be found in forests throughout the country. Two-toed sloths are not as seriously endangered as their three-toed counterparts, but they are threatened by loss of habitat and hunting in certain countries, such as Brazil.
The best place to stay in Costa Rica to see these creatures is in Manuel Antonio National Park. This is one of Costa Rica's most popular national parks, and it even has a dedicated sloth trail!
La Fortuna, a small town in the northern highlands, is also a popular place to see sloths, as they often come down from the trees to feed on the mineral-rich volcanic soil.
If you take a sloth watching tour in La Fortuna, your chances of spotting some two-toed sloths are pretty high.
In La Fortuna, you can take a tour to "Sloth's Territory", where you're almost guaranteed to see some sloths in the wild! This private nature reserve is located less than 10 minutes away from La Fortuna and you can tour it for only $30 USD. You'll also spot plenty of other Costa Rican wildlife, such as hummingbirds, toucans, and porcupines. Plus there's a tasty snack of local fruit after your hike!
Sloth-spotting tours are also available in Manuel Antonio National Park, where there are literally hundreds of species of animals to see. This tour takes you along a fairly easy hiking trail where you're likely to see plenty of sloths. The $97 USD cost includes hotel pickup and drop-off, lunch, admission to the park, and some time to relax on the beach!
2. Three-toed sloths
Costa Rica is also home to the brown-throated three-toed sloth. These creatures love to sleep upside down in the trees, which they do for up to 18 hours a day!
There are three main types of three-toed sloths in the world, and although the other two varieties are considered as endangered or threatened, the brown-throated sloth is not. Although their habitat is in danger in some areas of the world due to deforestation.
Again, you can spot these babies in La Fortuna or Manuel Antonio National Park. Although they're fairly common, you're more likely to see them if you're visiting with a guide because their coloring makes them difficult to spot with an untrained eye when they're chilling in the treetops.
When it comes to wildlife in Costa Rica, seeing at least one sloth is a must!
Related read: We loved seeing sloths, monkeys and reptiles galore while exploring Cahuita National Park! Plus it's super affordable with admission by donation.
3. Tapirs
Tapirs are large, forest-dwelling animals that look kind of like a cross between an anteater and a pig. They're actually related to horses and rhinoceroses, and they're the only animals in their family that live in the Americas.
Baird's tapirs are some of the most famous wildlife in Costa Rica. They're actually the largest native land mammal in Central America!
Baird's tapirs have very few natural predators due to their size, but they're sadly endangered as a result of deforestation and fires. It's estimated that there are only around 4,500 left in the wild, so it's a real privilege to see one while you're in Costa Rica.
These animals are nocturnal, although it is possible to spot one at any time of day. The best place to see them is Corcovado National Park, which you have to visit as part of a tour (you are not allowed to enter the park without a guide.) They're most likely to be spotted near Sirena Station, the park's main ranger station.
You can visit Sirena Station on a full-day tour from Drake Bay. Corcovado National Park is really remote, so this tour is handy as it takes care of all the transportation from your hotel and the boat ride along the coast of the Osa Peninsula. Then you'll have a wildlife guide along who knows all the best spots to look for tapirs and other animals. For $125 USD, the tour includes 5 hours in the park and a lunch to keep you fueled while you explore.
While there's no guarantee of spotting a tapir, you can increase your chance by staying in the park overnight. We highly recommend this overnight tour if Baird's tapirs are one of your bucket-list animals to see in Costa Rica. You'll get to spend a night at the Sirena Station so you'll have extra time in the park to spot wildlife. Plus, you'll get a sunrise hike and breakfast in the forest when you wake up – how cool is that? The tour is $410 USD and includes all the meal costs, transportation, and accommodation.
4. Jaguar
The jaguar really needs no introduction. This beautiful animal has been listed as "near threatened" by the International Union for the Conservation of Nature (IUCN) since 2002. It's estimated that there are around 173,000 left in the wild.
Jaguars are the largest cats in the Americas and they're actually pretty similar in size to leopards. They can be found all over Costa Rica, usually in national parks and protected zones. However, their patterned fur can make them difficult to spot unless you're with a guide.
The best place to see jaguars in Costa Rica is Corcovado National Park, and ideally, you should stay overnight to increase your chances since, like many big cats, jaguars are nocturnal.
There are single-night tours to Corcovado available, where you'll bunk at the Sirena Ranger Station. But to really maximize your chances of seeing these elusive animals, it's best to book a multiple-day tour. This not only gives you a greater chance of spotting jaguars, but also other big cats such as pumas and ocelots.
The multi-day tour includes 3 days and 2 nights in the park with a small group of up to 6 people. All your meals and entry fees are included in the $740 USD cost and you'll have a naturalist guide to show you around.
Related Read: Check out our guide to the best multi-day tours in Costa Rica for more tours that are great for spotting wildlife!
5. Macaws
Scarlet macaw
If you're a sucker for a comeback story, you'll love the scarlet macaw.
This beautiful bird was once on the brink of extinction in Costa Rica, but thanks to some determined conservation efforts, there are now plenty to be seen.
Scarlet macaws are easily recognizable thanks to their brilliant red, blue, and yellow plumage. They can be seen throughout the country, but two of the best areas to spot them are Corcovado National Park and Carara National Park.
If you don't have room in your budget to visit Corcovado, check out this wallet-friendly tour to Carara National Park. For only $31 USD, you'll get to explore one of the best birdwatching sites in the country. The park here combines tropical rainforest with dry forest, so the variety of birds is top-notch. Bring your camera along for this one!
Great green macaw
The great green macaw has also made a pretty impressive comeback, although the population size is still pretty small. These massive birds can be seen in the same areas as scarlet macaws, although they're a little more difficult to spot.
Maquenque National Wildlife Refuge is considered the best place to see great green macaws, and it's well worth spending a few days here if you're hoping to catch a glimpse of these beautiful birds.
6. Howler monkeys
Howler monkeys are some of the most memorable animals in Costa Rica. You'll hear them before you see them because, as their name suggests, they have a pretty loud call which can travel up to 3 miles (5 kilometers)!
Howler monkeys can be found all over Costa Rica. You can even spot them on the beaches or on the side of the road in areas such as the Osa Peninsula and Guanacaste!
Related read: See howler monkeys from the top of Turrialba Volcano, one of the must-visit volcanoes in Costa Rica!
7. Squirrel monkeys
Squirrel monkeys are small and very, very cute.
Sadly, this cuteness means they're in demand in the illegal pet trade, which has contributed to their dwindling population size. Today, there are only around 5,000 left in the wild.
These little guys can be spotted along the South Pacific coast of Costa Rica. Corcovado National Park, Osa Peninsula, and Manuel Antonio National Park are among the best places to see them.
8. Spider monkeys
One thing that surprised us about spider monkeys was how big they are! They're actually one of the biggest New World monkeys and weigh between 6-9 kilograms (13-20 pounds).
Spider monkeys are endangered due to deforestation and can now mostly be found in remote areas. Corcovado National Park and the surrounding Osa Peninsula are considered the best places to see them.
It's also possible to catch a glimpse of them in Monteverde Cloud Forest, Sarapiqui, or Rincon de la Vieja National Park, but you'll need luck on your side.
9. White-faced capuchin monkeys
"Friends" fans will remember Marcel, Ross's white-faced capuchin monkey.
Marcel was very cheeky and wasn't shy about stealing things, which is typical of these animals. Therefore, make sure that you hang on tight to your sunglasses, cameras, and other valuables when these mischievous monkeys are around.
White-faced capuchin monkeys are currently classified as "least concern" by the IUCN. You can spot them in several reserves and national parks across the country, including Manuel Antonio and Palo Verde National Park, and Monteverde Cloud Forest. Hanging bridges in places like Monteverde or La Fortuna also offer an opportunity to get closer to these monkeys.
10. Crocodiles
There are two main types of crocodiles in Costa Rica: saltwater crocodiles and American crocodiles.
You're likely to spot American crocodiles in the lowlands and along the coasts of Costa Rica, as they prefer freshwater habitats. If you visit Corcovado, you're likely to see some crocs swimming in the park's many swamps, mangroves, and lagoons.
As for the slightly larger saltwater crocodiles, the Crocodile Bridge has become an unlikely tourist attraction in recent years. It's a bridge across the Tarcoles River along the Pacífica Fernández Oreamuno highway. It's about an hour's drive west from San Jose or 25 minutes north of Jaco. As you walk across, you can see crocodiles swimming or basking in the sun along the riverbanks.
There's no entry fee to the bridge so you can drive yourself. There's free parking nearby, but it can get pretty busy. If you can't find a spot, you'll have to buy a meal at a nearby restaurant in exchange for the use of their parking lot. When I was there, we made a deal with a guy that we would come back and buy a smoothie after we saw the crocodiles.
However, if you really want to get up close and personal with the crocs, you can take a crocodile safari tour from Jaco. This 3-hour tour includes a boat ride along the Tarcoles River, as well as hotel pickup and drop-off for $77 USD. In addition to the crocodiles, you'll also see a variety of birds, including pelicans and ospreys.
11. Hummingbirds
Costa Rica is home to around 50 different species of hummingbirds, making it one of the best countries in the world to see these jewel-colored little creatures.
Hummingbirds are most commonly found in Costa Rica's four main cloud forests, which are: Monteverde, Los Angeles, Bajos Del Toro, and La Paz Waterfall Gardens. La Paz is one of the best day trips from San Jose and the hummingbird garden is beautiful. The cloud forests will let you see tons of hummingbirds flying through the air, flitting around the flowers, and drinking nectar.
However, you're likely to see hummingbirds wherever you travel in Costa Rica, just not in such large numbers.
12. Iguanas
Green iguanas can be found in several parts of Costa Rica, including the Pacific and Caribbean coasts, and the Northeastern lowlands. They love living in warm, wet areas, so Costa Rica's tropical climate is ideal for them.
Iguanas are excellent swimmers and they can actually hold their breath for up to 30 minutes underwater. They can also fall up to 15 meters (50 feet) without injuring themselves and are great tree jumpers – in this regard, they're very similar to cats, despite their reptilian nature!
13. Whales
One of the things Costa Rica is known for is its whales. The South Pacific Coast is one of the best places in the world to see humpback whales.
Every year, these giant creatures migrate from the cold waters of Antarctica to the warmer waters of Costa Rica to mate and give birth. Fortunately, most types of humpback whales are no longer considered endangered and are still protected under Costa Rican law.
There are two peak whale watching seasons in Costa Rica. One from July to November (the best season) and the other from December to March.
I highly recommend visiting Uvita as it's one of the top places in Costa Rica to see whales. Whale watching is easily one of the best tours in Costa Rica that you can go on!
To maximize your chance of spotting these magnificent creatures, this whale watching tour of Marino Ballena National Park is a great option. In addition to humpback whales, your guide will help you to spot bottlenose dolphins, turtles, and pelicans.
Plus, when the water is warm, you'll also be able to grab a snorkel and explore the park's crystal-clear waters. You might even get the chance to swim alongside some turtles! The 3-hour tour is $95 USD.
14. Dolphins
Costa Rica is home to a large variety of dolphins. If you stay in Drake Bay, you'll be in one of the best places in the entire country to witness these amazing creatures in their natural habitat.
We think that this tour offers one of the best dolphin-watching experiences in Costa Rica. Not only do you get to see dolphins and snorkel alongside them, but the tour also provides a hydrophone, which allows you to hear the dolphins' underwater clicks and squeaks. It's a really incredible experience!
On this tour, you're also likely to spot whales, and you'll also be able to use the hydrophone to listen to them. If you're lucky, you might even see a humpback whale breaching! This 6-hour tour is $128 USD.
Dolphins are sadly endangered animals, so it's important to only take tours with reputable companies who follow best practices for dolphin watching.
Related read: Another great place to spot dolphins is on the boat ride out to Tortuga Island!
15. Turtles
Come on, who doesn't love turtles? These gentle creatures have been around for millions of years and there are 13 native species in Costa Rica.
There are lots of places to see turtles in Costa Rica, but one of the best is in Tortuguero National Park. Every year, between July and October, hundreds of Green Sea and Hawksbill turtles come here to lay their eggs on the beach.
In order to see this natural phenomenon, you'll have to visit Tortuguero as part of an organized tour. These tours leave at night time, when the turtles are most active, and they'll take you to see the turtles laying their eggs. This small group tour is a great and relatively inexpensive option for only $40 USD.
Tortuguero tours are heavily regulated to ensure that tourism doesn't disturb the turtles. So, when you take a tour, you can be sure that you're not harming these animals in any way.
We, unfortunately, missed the sea turtles laying eggs because we visited in December. However, we still got really lucky and watched baby turtles make their journey into the ocean. It was still really special!
Alternatively, Cano Island, which is accessible from Drake Bay, is one of the best places in Costa Rica to go snorkeling with turtles. On this tour, you'll not only get to swim alongside turtles, but you'll also have the chance to spot an octopus or two, manta rays, and a huge variety of tropical fish. The $100 USD tour includes snorkeling in two different spots and some time to relax on a beautiful beach.
16. Manta rays
Manta rays are one of the largest marine animals in Costa Rica, and I find them to be one of the most graceful and elegant, too. They really are mesmerizing to watch.
Costa Rica is home to many different types of manta rays, including giant manta rays, which are endangered. There's actually a pretty large population of giant manta rays in Costa Rica but their numbers are dwindling overall because they are hunted for medicinal purposes in other parts of the world.
There are plenty of places where you can see manta rays in Costa Rica, including Tortuga Island, Blanco Nature Reserve, Osa Peninsula, Coco Island, and the waters around Las Catalinas.
I loved seeing manta rays while scuba diving around the Nicoya Peninsula. I've been diving all around the world and the dive sites in Costa Rica are amazing! It's best to stay in Santa Teresa if you want to dive around here. Visit sometime between January to April for the best chance of seeing huge manta rays.
17. Blue jeans poison dart frogs
Ironically, blue jeans poison dart frogs are mostly red in color but their lower legs are denim blue, hence their name. They're also sometimes called strawberry poison arrow frogs, due to their scarlet hue.
These little frogs are actually one of the most toxic animals in Costa Rica and their toxins can be deadly to humans if ingested or come into contact with an open wound, so you should be safe. Just don't try to eat them!
Happily, these little guys are not endangered. They can usually be found in Costa Rica's lowlands, in places like Puerto Viejo or Tortuguero. Often, you'll see them on the forest floor, but they're also known to climb trees.
18. Toucans
Toucans are one of the most iconic birds in Costa Rica. These beautiful birds are actually quite common throughout the country and you'll find them in most of Costa Rica's national parks.
They tend to live in pairs or small groups, so if you see one toucan, there's a good chance there are more nearby.
There are six different species of toucans in Costa Rica, including the Keel-billed toucan, which is probably the most famous. This rainbow-colored bird is often used as a symbol of the country and you'll find it on everything from t-shirts to souvenirs.
You'll generally see keel-billed toucans and most other types of toucans on the Caribbean side of Costa Rica. They're commonly spotted in Monteverde Cloud Forest, as well as the Central Valley and Arenal Mountains, and the Cartago province.
The very best places for birdwatching include Tortuguero National Park and the Osa Peninsula. I also like visiting Carara National Park, which is one of the best cheap things to do in Jaco to spot lots of tropical birds.
19. Coatimundi
Coatimundi is another one of our favorite wild animals in Costa Rica. These furry creatures look like a cross between a monkey and a raccoon and they're really pretty cute.
The white-nosed coatimundi is the most common type of coatimundi in Costa Rica and you'll find them all over the country. They live in forested areas, be it rainforests, dry forests, or cloud forests.
They are most frequently seen in Manuel Antonio National Park and near the Arenal Volcano, but you'll spot them on many wildlife tours.
20. Blue morpho butterfly
The blue morpho butterfly is one of the most beautiful animals in Costa Rica. These brightly colored insects are a sight to behold and they're one of the most popular insects for wildlife lovers to spot.
However, this pretty critter's wings aren't technically actually blue – they just appear that way because of the way the light reflects off them.
You'll find blue morpho butterflies all over Costa Rica but they're especially common at the butterfly gardens in La Paz Waterfall Gardens or in Manuel Antonio National Park.
Related read: After seeing the butterflies and waterfalls at La Paz Waterfall Gardens, make sure to check out some of the other amazing waterfalls in Costa Rica!
21. Eyelash viper
The eyelash viper is named for the scales over its eyes that make it look like it has eyelashes. This venomous snake is actually quite common in Costa Rica, and you'll find them throughout the country.
Although this species of snake certainly can pose a big threat to human health, they don't attack unprovoked, so there's no need to be too worried about them. Just be sure to keep a safe distance when you spot one and don't try and make it angry!
Eyelash vipers are not endangered and they can be spotted throughout the country, usually in forestland. They especially like vines, shrubbery, and low-hanging branches. They come in a variety of colors, but yellow is the most common.
22. Quetzals
Quetzals – or resplendent quetzals, to give them their proper title – are one of the most beautiful animals in Costa Rica. These stunning birds have brightly colored feathers and a long tail, and they're really something to behold.
Sadly, quetzals are quite rare and they're actually an endangered species. They used to be found throughout Costa Rica but now they're only spotted in a few remote areas of the country.
The best place to see them is in the Monteverde Cloud Forest Reserve, which you can visit as part of this birdwatching tour. This 2.5-hour tour takes you through the cloud forest where there are an astonishing 450 species of birds! If luck is on your side, you'll get a glimpse of the beautiful emerald green quetzal! Transportation and an expert guide are both included in the $65 USD fee.
23. Red-eyed tree frogs
Red-eyed tree frogs are one of the most iconic animals in Costa Rica. These little amphibians are absolutely everywhere and they're a real national symbol.
One of the best things about red-eyed tree frogs is that they're really easy to spot. They're most commonly found in the lowland tropical rainforests of Costa Rica, and they love to hang out on leaves near water sources.
You'll see them all over Manuel Antonio National Park, Corcovado National Park, and Tortuguero National Park. You can also see them on night tours in places like Monteverde or La Fortuna.
24. Anteaters
There are three types of anteaters found in Costa Rica – the lesser anteater, the silky anteater, and the giant anteater.
Of these, the silky anteater is the most common, while the giant anteater is endangered.
Giant anteaters are one of the largest wild animals in Costa Rica and they can grow up to 2.5 meters (8 feet) in length! These animals are mostly found in grasslands, rainforests, and dry forests of low to medium elevation.
The Osa Peninsula is the best place to see giant anteaters, as they mostly dwell within this area. However, it's possible to spot silky and lesser anteaters across Costa Rica in many of the country's national parks.
25. Margays
Margays are a type of wild cat that's native to Costa Rica. They're actually quite common in the country and they can be found throughout its forests. Margays are nocturnal animals, so they're mostly active at night.
They closely resemble ocelots and are related to leopards. They're considered threatened in Costa Rica and endangered in several other countries.
These animals are very shy and blend in well with their surroundings thanks to their coat. Because they're nocturnal, the best way to spot them is on a night tour of one of Costa Rica's national parks.
You'll have the best chances of seeing one in Corcovado National Park, Monteverde Cloud Forest, or Santa Rosa National Park.
Getting Around Costa Rica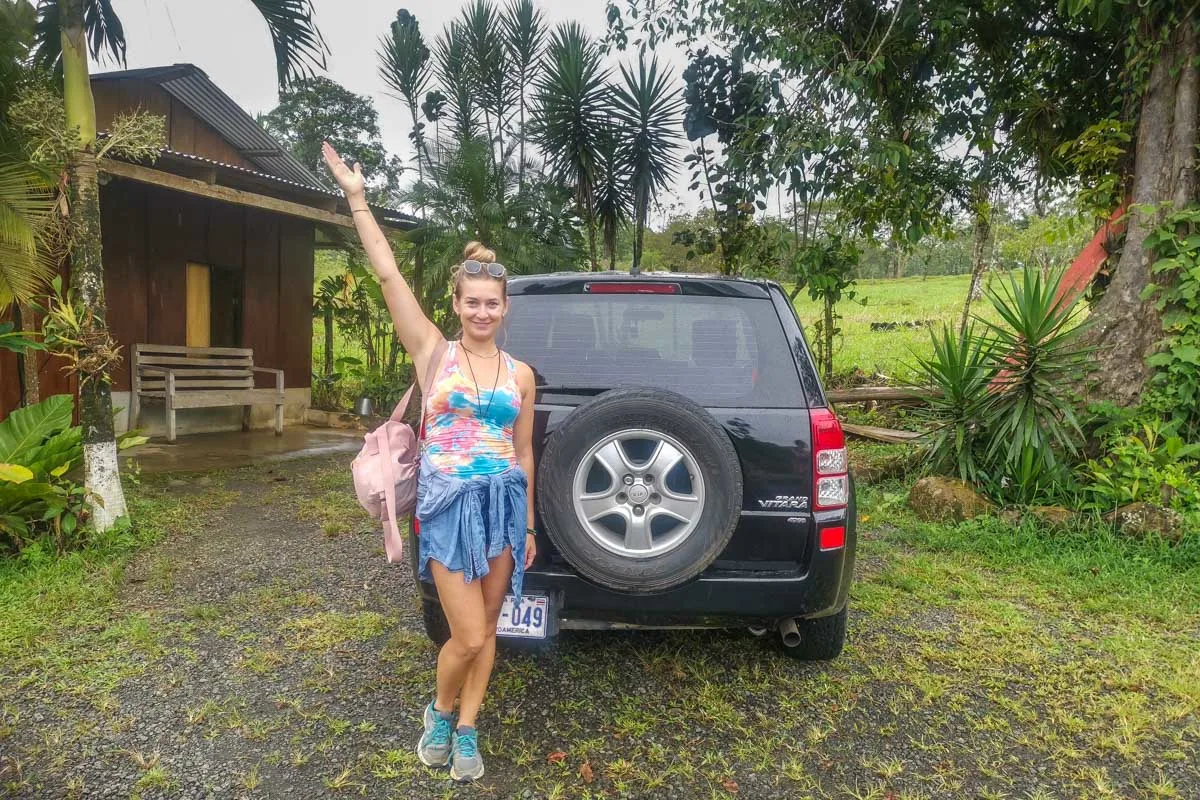 How you choose to get around Costa Rica is one of the biggest decisions you'll make when planning your holiday here! How you do it depends on your budget, travel style, and comfort level.
Renting a Car
Without a doubt, the number one way to explore Costa Rica is in a rental car. We book rental cars on the Discover Cars website as we have had good experiences with them in the past.
One of the things you need to watch for when renting a car in Costa Rica is the mandatory insurance that the government requires you to have. There are a lot of very cheap rentals that don't include this mandatory insurance (TPL) in the original booking price, but there are also ones that do. To avoid additional surprise charges when you pick up your rental car, be sure to rent a car that includes the mandatory insurance when you book.
Thankfully, on Discover Cars it's easy to tell apart the companies that include the mandatory insurance and those that don't. The trick is you can't pick any car on their website. In the picture below, you can see this rental car, with pick up in Jaco, includes the TPL. That means the mandatory insurance is included in the price. Any cover you get above that is extra.
Of course, I still suggest getting the full coverage offered by Discover Cars, which covers you even more.
You can browse cars on Discover Cars here.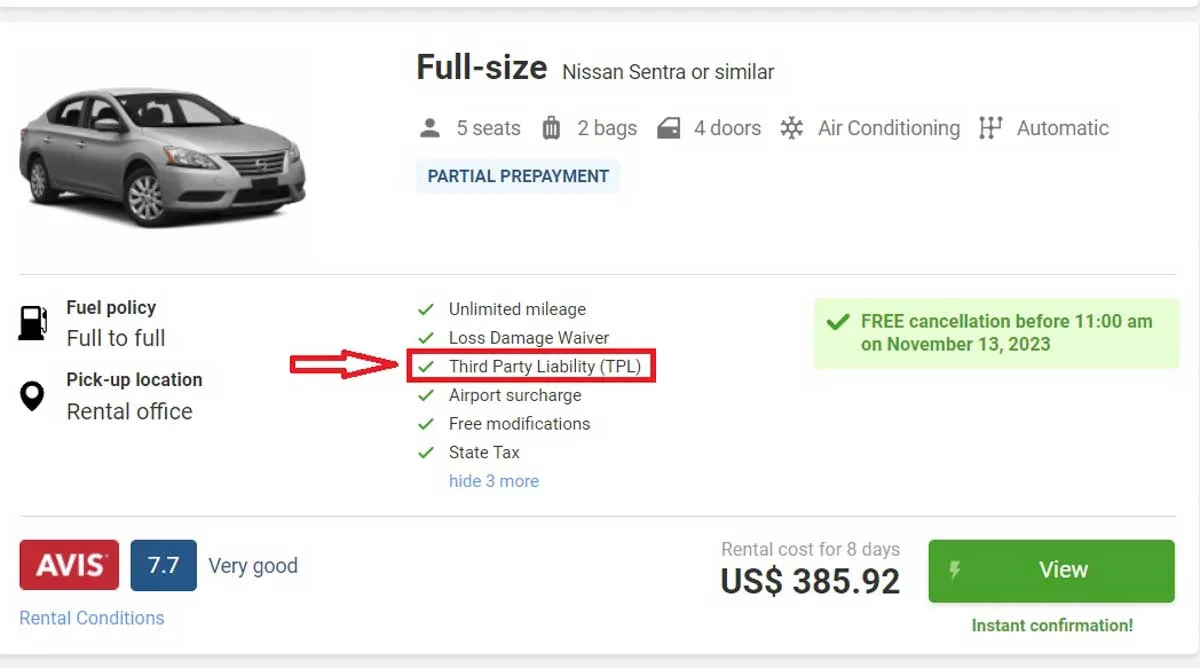 Book Shuttles
If renting a car isn't in your budget, you don't feel comfortable driving in Costa Rica, or you just don't like driving, shuttles are the next best option. There are hundreds of shuttle routes available all over the country, and they are very affordable.
Shuttles in Costa Rica are specifically for tourists and often include pick up and drop off at your selected hotels and airports. The drivers also speak some English, and the vehicles have air conditioning. You'll also be guaranteed a seat when you book a shuttle (which isn't the case with the public bus system.)
To get the best price, use the website Bookaway. They compare all the offers and prices of shuttle companies in Costa Rica so you get the best price! Honestly, we have saved so much money using Bookaway!
You can search for shuttles online on Bookaway here.
Public Bus
Lastly, you can use the public bus system. On short journeys, such as from San Jose to La Fortuna or Uvita to Manuel Antonio, this system is great. However, the longer the journey the more hassle and time spent on a bus. It's undoubtedly best to save the public bus in Costa Rica for short and straightforward trips!
The public buses are definitely the cheapest way to get around Costa Rica, but they are not always very reliable and schedules often change without notice and delays are to be expected. The buses can also be very crowded and hot – so just be prepared!
It's also good to speak some Spanish if you plan on riding the public bus since most drivers and ticket booth operators don't speak English.
Pura Vida!
The wildlife in Costa Rica is truly incredible – there are literally hundreds of thousands of species of animals here to discover. While this list covers only a few, seeing any of this wildlife while exploring the country will definitely be among the highlights of your trip!
Now that you know some of the best spots to see wildlife, make sure you browse around our site for more ideas on places to stay, where to eat, and the top activities to experience while you're here. Check out some of these in-depth guides including:
Guide to Seeing Sloths in Costa Rica
Is Costa Rica Safe? Travel Scams, Safety Advice & More
15 BEST Hot Springs in Costa Rica (and which ones you should visit!)