Manuel Antonio is the gateway to Manuel Antonio National Park – one of the most beautiful places to visit in Costa Rica. It's a pristine coastal tourist town with countless restaurants serving some of the tastiest cuisines from all around the world.
You'll be spoilt for choice when choosing where to eat in Manuel Antonio because many restaurants offer unique food, stunning ocean views, and fancy tropical cocktails. With that said, there are some restaurants in Manuel Antonio that stand out from the rest. In fact, enjoying a delicious meal is one of the best things to do in Manuel Antonio.
To make choosing just a little bit easier, I have compiled for you a list of the best places restaurants in Manuel Antonio, Costa Rica. As you explore the town's beautiful beaches and an abundance of wildlife, these restaurants will make sure you fuel your body with delicious food!
12 BEST Restaurants in Manuel Antonio
1. Falafel Bar Manuel Antonio
Location: Calle Principal, in the heart of Manuel Antonio town
Hours: 11 am to 8 pm Tue-Sun
Average Price: Around $9 to $12.50 USD for a main dish
Come here for: Falafel, hummus, and salads. They also have tasty smoothies, tahini, and some epic hot sauces – all homemade.
Takes reservations: No. Dine-in and takeaway
Falafel Bar is run by an awesome lady from Israel, adding to the cuisine diversity found along the main road in Manuel Antonio where it's located. Come here for authentic falafel dishes, among other delish Middle Eastern favorites. You'll find various vegetarian options, including French fries, couscous, fresh salads, and fruit smoothies.
There are also lots of non-vegan specialties too. Enjoy yummy shawarmas and schnitzels. Afterward, treat yourself to a yummy dessert!
Falafel Bar also serves a uniquely picked salad and sauce bar with various pickled vegetables with a well-balanced array of spices. You can also try their fresh hummus! It's so delicious, even for those who dislike hummus, need to try it! In fact, this particular one will make you crave more.
What I loved most about the Falafel Bar were the generous food portion and the prices. One pita wrap will most definitely have you stuffed full, and you won't even feel a dent in your pocket!
The overall atmosphere and outdoor seating feel cool and relaxing with a cozy, welcoming design to accompany an all-day mood, regardless of what time you check-in for a hearty meal. I recommend you try the Falafel and Hummus and Salads. Everything served at this bar is the real deal.
The combination of fresh healthy food with a chilled atmosphere at an affordable price point makes Falafel Bar one of the best restaurants in Manuel Antonio.
Related Read: One of the best restaurants in Samara, Costa Rica is also a falafel place!
2. El Avión Restaurant
Location: On the main road through Manuel Antonio (on the way towards Quepos)
Hours: 6:30 am to 10 pm
Average Price: $13 to $36 USD for a main course
Come here for: The unique cargo plane, fresh seafood, and a spectacular view!
Takes reservations: Yes
El Avión is a famous restaurant in Costa Rica. It has an interesting history that stretches way back to the eighties. In fact, the restaurant is home to a C-123 Fairchild cargo plane. The famous restaurant and bar in Manuel Antonio was established in 2,000 and converted into two-level bars and a restaurant built in, around, and above the airplane with stunning views of the Manuel Antonio coastline below!
Enjoy casual dining, a wide-ranging menu, and views of incredible sunsets over the Pacific Ocean.
El Avión serves unique seafood dishes like Shrimp in Coconut, Yellow Fin Tuna Steaks, Sautéed Calamari, and many more. They also have a special Ceviche, Tuna, Grilled Fish, and more. And if you find Costa Rica too enchanting to pass by the chance to get hitched, El Avión has got your back as they also host special events, including weddings with a guest range of over a hundred.
One of the coolest things about El Avión (and one reason kids love it) is the plane looks like it crashed right on the cliffside off the main road. The cockpit is still intact, where you get to slide in and pretend to be a pilot ready for take-off.
If you prefer a hyper kinda nightlife-type, El Avión is such a vibe! The bar in the cargo section of the plane plays regular live music, and you can enjoy a few popular artists. Alternatively, enjoy a drink while seated on the patio as you watch the sunset.
The restaurant specializes in seafood cuisines and offers amazing grilled meats, dips and salsa, and sandwiches. Besides the regular local beer and wine, the bar also offers special cocktails.
You can check out El Avion's menu online here.
3. La Luna Restaurant
Location: Halfway between Quepos and Manuel Antonio on the main road.
Hours: 7 am to 10 pm
Average Price: $18 to 25 USD for a main course on the dinner menu.
Come here for: Fresh Seafood
Takes reservations: Yes
Snuggled atop the Gaia Hotel & Reserve in a clubhouse, is La Luna Restaurant, just minutes away from Manuel Antonio National Park and the Pacific Ocean. The restaurant has a fantastic ocean view and the surrounding rainforest is filled with wildlife.
Enjoy scrumptious Costa Rican cuisines combined with international choices, including low carbs options for those on a diet. You have plenty of dishes to try like the Ginger and Panko-crusted Tuna (my favorite) in sesame salad dressing, Shrimp, Tequila-lime Scallops, Tenderloin Steak, and tasty Mushroom Risotto for vegetarian selections.
If you're on a romantic getaway, you can go to this spot to catch a glimpse of the sunset, as you witness a breath-taking view of the golden ocean and coastline for miles around as the sun gently fades away. Besides the mind-blowing view and the food, the restaurant offers an excellent choice of cocktails, wines, and tasty local starters.
You can check out La Luna Restaurant's menu online here.
4. Cafe Agua Azul
Location: near Villas del Parque, Manuel Antonio
Hours: 11:00 am to 9:00 pm
Average Price: $9 to $19 USD for a main dish
Come here for: Fresh Tuna, Seafood, Patacone Tower, the Azul Margarita
Takes reservations: No
Agua Azul Café is located on the main highway in a strip mall with an open parking lot. Perched on the first floor of the building, Cafe Agua Azul offers a fantastic view of the ocean. The restaurant serves local cuisine inspired by fresh seafood. You can start with the Tuna Tostadas and finish with a large healthy Shrimp Salad!
Other options include the amazing Mahi Tacos, the Pizza Margarita with Basil, the Torre de Patacones (pictured above), and the wraps with Calamari. The Seafood Spaghetti is also so yummy! Don't forget to try the fries, which come in a huge portion!
Another small feature I look for in many restaurants is an open kitchen. It's so interesting to sit at a restaurant where you have a glimpse of everything going on in the kitchen!
At Agua Azul Cafe you can chill with their range of ice-cold beer as you wait for your order to come. It's the perfect place to relax right before lunch. You can also choose to have your brunch here and enjoy their breakfast/lunch selection. The morning breeze makes you feel truly comfortable. Try the smoothies too – you will love them!
Price-wise, the overall experience at the restaurant is worth every dime spent here. The price aligns well with the fresh, flavorsome, and generous food portions. The service team is equally awesome and you'll feel compelled to leave a generous tip.
You can check out Agua Azul Cafe's menu here.
5. El Arado Restaurant
Location: C. Vieja, El Cerro, in central Manuel Antonio
Hours: 12 pm to 10 pm
Average Price: Around $16 USD for a main.
Come here for: Pork Ribs served with sweet sauce, Casados plate, or Tuna. Every dish comes with an assortment of veggies.
Takes reservations: Yes
Looking for top-quality food with a wide-range menu that includes meat cuts, burgers, fresh seafood? Well, here's a great choice for you. El Arado Restaurant is home away from home. It's an urban restaurant with a difference. You get to enjoy happy hour cocktails just like Friday nights back at home. And get this right; the happy hour is a nice surprise because it runs from 3:00 pm -7:00 pm, mad fun, right?
Enjoy the best place to eat in Manuel Antonio if you're looking for superb food with a wide range of fresh seafood, Costa Rican cuisine, and vegetarian options. They have menus in both English and Spanish.
Try the Pork Ribs served with sweet sauce, the Ravioli stuffed with Ricotta, the Tenderloin Steak with red wine sauce, or any of the fresh Tuna dishes. These combinations mainly come with mashed potatoes with an assortment of vegetables.
Every dish served comes in surprisingly good quality, accompanied by great cocktails and fair prices. The overall hospitality is exceptional.
You can check out El Arado Restaurant's menu online here.
6. Rico Tico Jungle Grill
Location: Inside Hotel Si Como No, Manuel Antonio
Hours: 6:30 am to 10 pm
Average Price: Around $30 USD for a main course at dinner. Lunch and breakfast menus are cheaper.
Come here for: A delicious meal any time of the day.
Takes reservations: Yes
Rico Tico Jungle Grill is a beautiful gem hidden at Hotel Si Como No.
The restaurant offers a blend of traditional Costa Rican dishes and a wide selection of tropical specialties. There's also a buffet, picked from their daily fish specials; a children's menu including tasty mashed potatoes, tacos, burgers; fresh tropical cocktails including margaritas; and the coveted Banana Flambé!
Rico Tico Jungle Grill also offers a large breakfast buffet for $15 USD per person, a delicious pizza menu, a dedicated tapas menu, as well as a large lunch menu offering affordable items like sandwiches and salads. It's safe to say that you can come here any time of the day and enjoy a delicious meal for a reasonable price!
Plus, the fact that they open for breakfast early at 6:30 am means that you can eat a huge breakfast buffet before a busy day exploring Manuel Antonio National Park (and be one of the first ones there when they open!) To me, this makes Rico Tico Jungle Grill one of the best, and most convenient, restaurants in Manuel Antonio.
On top of all of that, the grill offers friendly service with attentive staff very helpful with the menu translation where you don't understand, and the food is served quite quickly once you place an order. I liked the food presentation, kind of like a picture-perfect setting for a food magazine, it was unbelievably delicious! And let's face it, you eat with your eyes well before your mouth!
Overall I love Rico Tico Jungle Grill. The service is remarkable, the food is ever fresh, and the staff makes visitors feel at home with their personalized services.
Explore the menu at Rico Tico Jungle Grill here.
7. Emilio's Cafe
Location: Just behind Plaza Vista in central Manuel Antonio
Hours: 7 am to 9 pm daily. Closed on Tuesdays.
Average Price: Around $12 USD for breakfast, around $19 USD for a main at dinner.
Come here for: Brunch, steak, and pastries!
Takes reservations: Yes. You can do it via WhatsApp
Everything about Emilio's Cafe is simply wonderful. It's all delightful, from the caring staff to the food, desserts, wine, and coffee. The café overlooks the Pacific Ocean, and the food is all homemade. Emilio often greets the guests in person. What a charming man! He treats his employees with respect, and they're all such a wonderful team to be around. They all take time to make your dining experience a memorable one.
The bakery offers an array of fabulous pastries, especially the bagels, the flourless almond cookies, the coconut flan, the banana bread, and the ciabatta bread that melts in your mouth! They also have different types of cheesecakes and other healthy brunch options. It was all delicious.
Try out the thick, juicy steaks if you prefer dinner for two. They also serve fresh fish and specials every night accompanied by fine wine and a live band playing. You should also try their coffee, it's so good! Costa Rica has great coffee in most food establishments, but Emilio's coffee is unmatched.
Emilio's is one of my personal favorite restaurants in Manuel Antonio for breakfast. For less than $5 USD you can enjoy breakfast here – what a steal!
You can check out Emilio's Cafe's menu online here.
8. El Patio de Café Milagro
Location: Just off the main road in the heart of Manuel Antonio town
Hours: 6:30 am to 9:30 pm
Average Price: Around $7 USD for breakfast, $9 USD for lunch, and $16 USD for dinner.
Come here for: Tacos, crepes, and freshy roasted coffee!
Takes reservations: Yes
El Patio de Café Milagro has a carefully decorated ambiance that invites you into this simple restaurant. The place feels warm with so many lovely hibiscus plants that make you feel relaxed – you could come here every morning for yoga and meditation (It's so peaceful for meditation).
For your lunch, try the tasty tacos and iced coffees or the well-prepared delicious Tuna Sandwich with arugula, and fresh ingredients, accompanied by sweet potato fries.
Love coffee? The restaurant roasts their coffee beans every morning for a fresh cup of espresso for every customer.
The brownies have this unmatched thick, yet light, feel with a touch of flaky hazelnut crust, which goes well with ice cream or a vanilla ice latte. Try the fruit, Huevos Rancheros, and a mix of Mango Berry Crepes. You'll also love the Espresso Shake. For your breakfast, get the Omelet and Mango Crepes with your cup of coffee. You'll love it!
All the food is fresh, delicious, and comes with great service from the pleasant staff. The cafe is inviting which I love and it's a great place to get some work done with the free WIFI. You can also check out the gift shop with souvenirs to take home, including their homemade coffee.
If you're looking for one of the most relaxing restaurants in Manuel Antonio, this is the one!
You can check out El Patio de Cafe Milagro's menu online here.
Related Read: If you're a foodie, be sure to check out the best restaurants in Tamarindo – one of the Costa Rica's top culinary destinations!
9. Buena Vista Beach Club Bar & Grill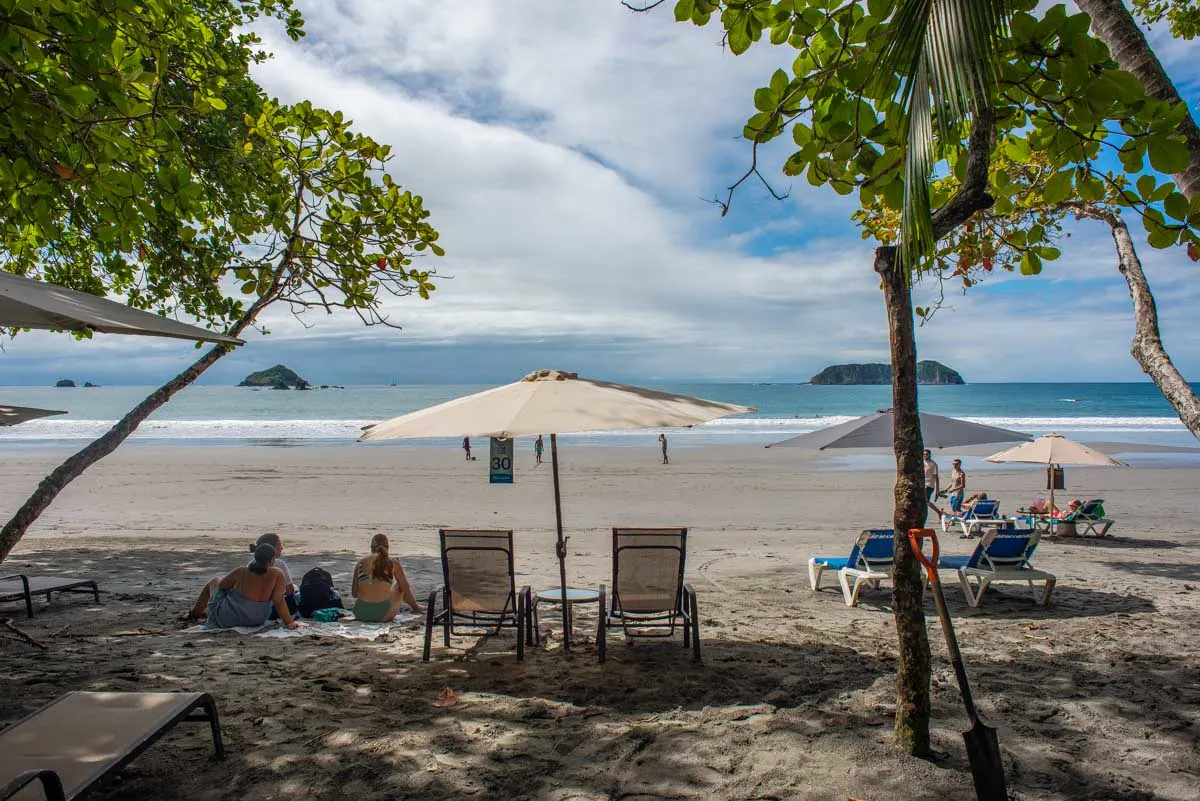 Location: Buena Vista Beach Villas, near Espadilla Beach
Hours: 7:30 am to 6 pm
Average Price: Around $25 USD for a main dish.
Come here for: Fresh meats, including seafood!
Takes reservations: No
Located at the Buena Vista Beach Club, the Buena Vista Beach Grill is an outdoor spot serving food and alcohol with a knack for sensual taste buds! This place offers great food, nice and polite service, combined with a calming atmosphere. It's spacious, so you don't feel congested like other touristy places in Costa Rica, and the best part is there's no loud music.
The beach venue is a great place to relax if you've planned for a beach day, relaxing, strolling, swimming, and enjoying the hotels' delicacies. You can rent chairs and beach umbrellas and spend the day. The facilities are spotless, with clean showers provided at a small fee.
The friendly staff at the beach club work all day to keep you well-fed and hydrated.
Buena Vista Beach Club Bar & Grill combines nice food, drinks, and the beach atmosphere, a unique combination in Manuela Antonio. You can try the beef tenderloin, the fresh fish and shrimp, or the Ceviche and Patacones all pleasantly organized on your plate. I liked the sides and sauces, which went well with the dishes. If you don't mind drinks in plastic glasses, you'll enjoy your drinks.
This beach bar and restaurant offer five-star hotel amenities. The service, setting, and food were all provided exceptionally making it one of the best beachside restaurants in Manuel Antonio!
10. Shana Restaurante
Location: In the Shana By the Beach Resort, on the way to Biesanz Beach
Hours: 24 hours
Price range: Around $18 USD for pizza or pasta or rice, around $30 USD for a seafood or steak main
Come here for: Sushi, fresh fish, and wood-fired pizza
Takes reservations: Yes, on their website.
Shana by the Beach Restaurante is a casual restaurant and pool bar where flavors, textures, and culinary skill gives you a tropical foodie experience where you'll enjoy fine dining and excellently chef-prepared cuisines. The pool bar makes for a lovely and peaceful lounge area on warm nights as you sip refreshing cocktails and is accompanied by great food while cooling off with a dip in the pool.
Shana Restaurante is located within the Shana by the Beach Resort, one of the best hotels in Manuel Antonio. The setting is beautiful and the entire place will make you feel like you are really on vacation.
Enjoy quiet evenings watching the scenic sunset from the restaurants as you drink fine wine from a range of more than 800 bottles collected from France, Spain, South Africa, and the USA. Shana offers a personalized food experience with chef requests for guests seeking an intimate evening with loved ones.
The restaurant offers tasty fresh fish – I liked the Al Limon. Other favorites include wood-fired pizzas, Bruschetta, Ravioli Ricotta-Spinach, Crème Brûlée, Hummus, and fresh fruits all served in generous portions. Surrounded by friendly jungle capuchin monkeys, you sure will enjoy this all-inclusive restaurant plus the entire establishments' additional amenities.
Spend your days lazing by the pool and your evenings watching sunsets as you enjoy the chef's daily specials. Simply the best place to eat as you chill, eat well and enjoy nature.
You can check out Shana Restaurante's menu online here.
11. El Lagarto
Location: 200 meters from the Norte Plaza, Manuel Antonio (on the road towards Quepos)
Hours: 3:00 pm to 9:00 pm
Average Price: $25 USD for a main course at dinner.
Come here for: BBQ meat.
Takes reservations: No. Best for Dine-in and take away
This local steakhouse grill in a strategic location with a stunning sunset view serves fresh meat cuts parched on a wood-fire grill and served on chopping blocks. El Lagarto has amazing décor, all made from wood. The floors have a unique mosaic design with driftwood tree stumps and tabletops.
The starter includes a Spicy Seafood Platter served with warm garlic bread. After that, you can try out the Tender Beef Cuts served with lovely margaritas. Other specialties include Stuffed Chicken, Pork Ribs, Lamb, or the Grilled Lobster, and Jumbo Shrimp, all served with baked potatoes and grilled zucchini. Vegetarians can try the Portobello Mushrooms stuffed with cheese and garlic – yum!
All of the grilled food is charred to perfection with mixed spices. This is the best place to eat in Manuel Antonio if you want BBQ!
The service is great too, and they have sufficient staff, but sometimes it can take up to an hour to get your main dish. Overall, you will enjoy the ambiance, the drinks, and the stunning sunset view.
Worth noting is that there's a second location in Samara, Costa Rica.
12. TuleCafe Restaurant
Location: Tulemar Resort
Hours: 6:30 am to 10:00 pm
Average Price: $25 USD for a main course at dinner
Come here for: Healthy meals filled with color
Takes reservations: Yes
TuleCafe Restaurant is located within the Tulemar Resort. The food is incredible, with gourmet meals like the Casado (chargrilled chicken), the Chicken Parmesan, and the Jumbo Shrimp. The food has menu options for kids, including nachos, burgers, fries, and so much more.
The bartender, Danielle, makes amazing fresh fruit daiquiris, mojitos, white sangria and pina coladas! Enjoy your drinks as you gaze at the sunset seated by the gorgeous long pool. Then there's Omar, the famous waiter. He is a ball of energy to be around! If you're not accustomed to Spanish menus, he'll be more than happy to walk you through the daily specials and some familiar cuisines you may want to try out at Tule.
The rest of the staff is also quite courteous, helpful and they go out of their way to assist you with the menu, and the service is exceptional.
On top of all of that, the food is simply out of this world. Try it. You'll love it!
Some things to note though, the restaurant is only open for dinner to the public (people not staying in the resort), and they do not accept cash.
You can check TuleCafe Restaurant's menu online here.
Must-Do Activities While You're in Manuel Antonio
If you're planning to do a few tours in Manuel Antonio, check out our shortlist of the top 4 activities in Manuel Antonio town:
Sunset Sail – The sunset or daytime sail in Manuel Antonio was my favorite tour I have done in town. It's a fun and relaxing tour with spectacular views, lots of drinks, snorkeling, and food.
Coffee and chocolate tour – Coffee and chocolate are two of my favorite things. So, it should come as no surprise I just had to join this top-rated coffee and chocolate tour in Manuel Antonio! The tour teaches you about the historical importance of cacao as well as the entire process of making chocolate. It's a fantastic experience!
Ziplining – Did you know that Manuel Antonio is home to the longest twin zip line in Costa Rica? Well, on this tour, you'll get to zoom through the treetops on a tandem zipline over 4,300 feet long! You can race your friends and enjoy the experience together, which is incredible!
ATV tour– ATVing is without a doubt one of the best things to do in Manuel Antonio. The entire tour is so much fun and takes you into the jungle to explore at high speed and then refresh in a natural waterfall. You'll get wet and dirty but have a fantastic time! A traditional Costa Rica lunch is also included.
Getting Around Costa Rica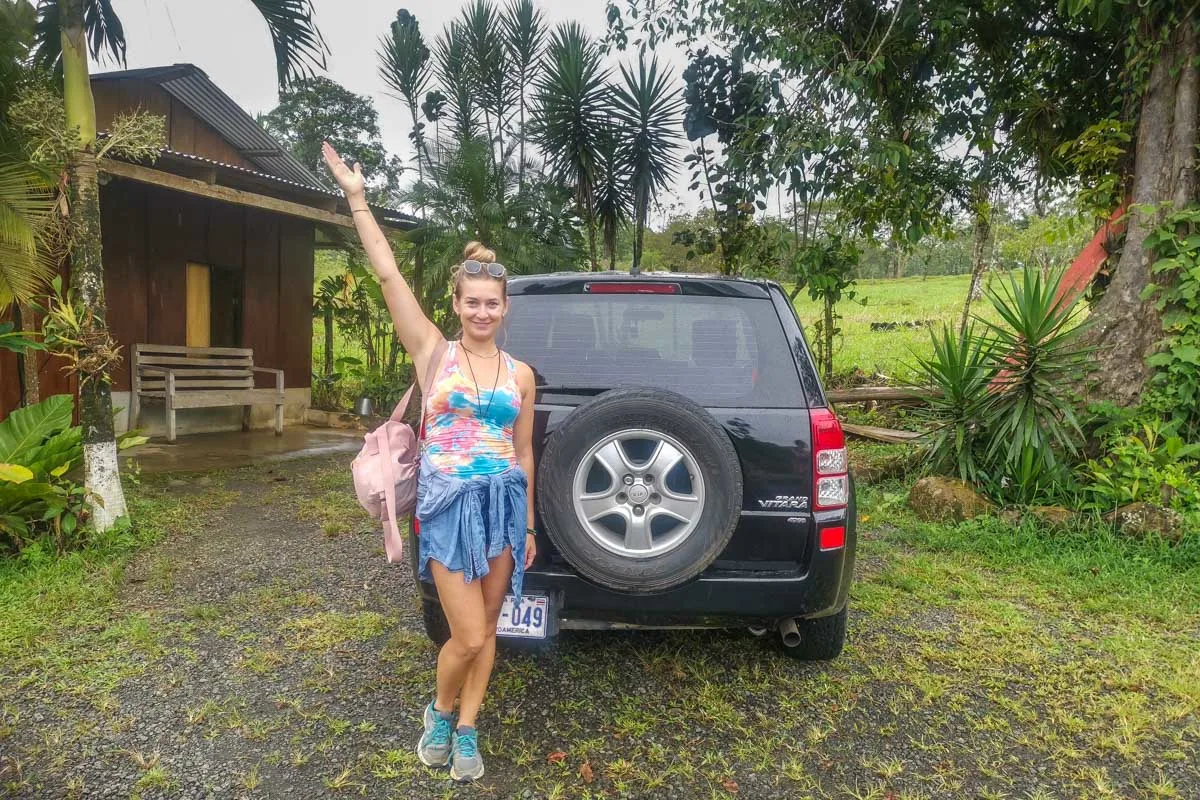 How you choose to get around Costa Rica is one of the biggest decisions you'll make when planning your holiday here! How you do it depends on your budget, travel style, and comfort level.
Renting a Car
Without a doubt, the number one way to explore Costa Rica is in a rental car. We book rental cars on the Discover Cars website as we have had good experiences with them in the past.
One of the things you need to watch for when renting a car in Costa Rica is the mandatory insurance that the government requires you to have. There are a lot of very cheap rentals that don't include this mandatory insurance (TPL) in the original booking price, but there are also ones that do. To avoid additional surprise charges when you pick up your rental car, be sure to rent a car that includes the mandatory insurance when you book.
Thankfully, on Discover Cars it's easy to tell apart the companies that include the mandatory insurance and those that don't. The trick is you can't pick any car on their website. In the picture below, you can see this rental car, with pick up in Jaco, includes the TPL. That means the mandatory insurance is included in the price. Any cover you get above that is extra.
Of course, I still suggest getting the full coverage offered by Discover Cars, which covers you even more.
You can browse cars on Discover Cars here.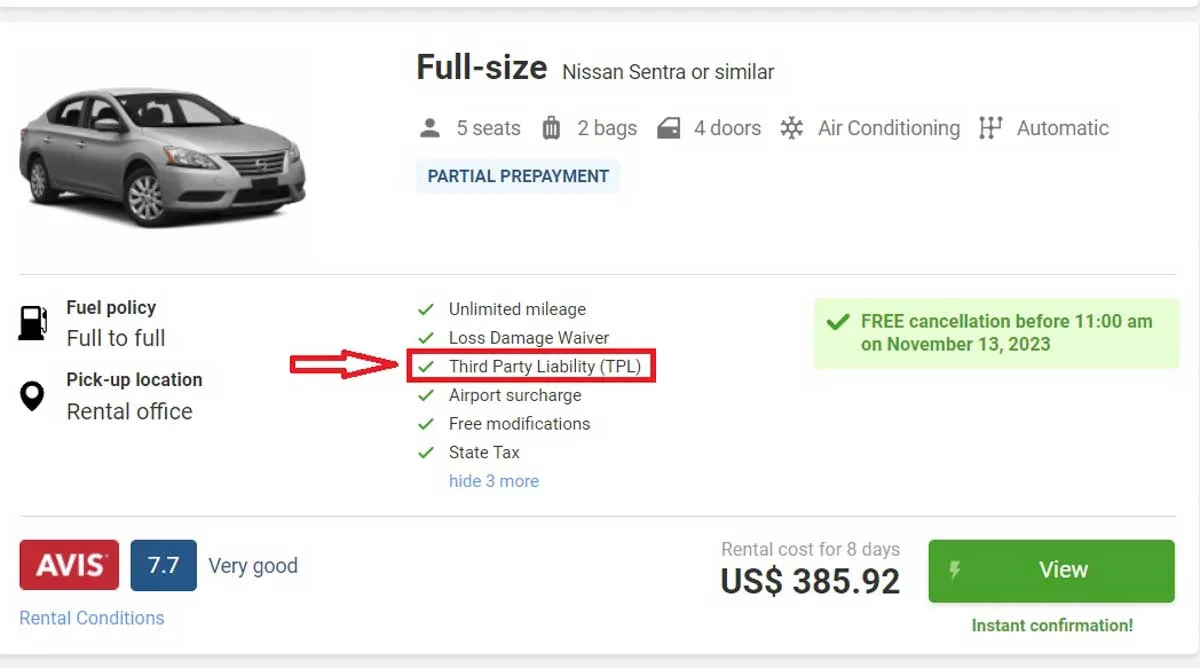 Book Shuttles
If renting a car isn't in your budget, you don't feel comfortable driving in Costa Rica, or you just don't like driving, shuttles are the next best option. There are hundreds of shuttle routes available all over the country, and they are very affordable.
Shuttles in Costa Rica are specifically for tourists and often include pick up and drop off at your selected hotels and airports. The drivers also speak some English, and the vehicles have air conditioning. You'll also be guaranteed a seat when you book a shuttle (which isn't the case with the public bus system.)
To get the best price, use the website Bookaway. They compare all the offers and prices of shuttle companies in Costa Rica so you get the best price! Honestly, we have saved so much money using Bookaway!
You can search for shuttles online on Bookaway here.
Public Bus
Lastly, you can use the public bus system. On short journeys, such as from San Jose to La Fortuna or Uvita to Manuel Antonio, this system is great. However, the longer the journey the more hassle and time spent on a bus. It's undoubtedly best to save the public bus in Costa Rica for short and straightforward trips!
The public buses are definitely the cheapest way to get around Costa Rica, but they are not always very reliable and schedules often change without notice and delays are to be expected. The buses can also be very crowded and hot – so just be prepared!
It's also good to speak some Spanish if you plan on riding the public bus since most drivers and ticket booth operators don't speak English.
Pura Vida!
Manuel Antonio isn't just a place for the adventurous. It's also a place for the foodies amount us. As you can see from the list above, there's no shortage of great restaurants in Manuel Antonio – the hardest part is choosing which ones to visit!
Thanks so much for visiting our blog! I hope you found this guide helpful and now have a bucket list of places to eat in Manuel Antonio. If you loved it, be sure to check out more of our blogs such as:
Where to Stay in Manuel Antonio: The BEST Hotels & Areas