This blog may contain affiliate links. Read our disclosure policy for more info.
Costa Rica is paradise on earth – this Central American gem is filled with lush green rainforest, golden sand beaches, plenty of adrenalin-fuelled activities, and of course, a nice sprinkling of "Pura Vida!"
Believe it or not, you can experience the best this country has to offer in only a week! Collectively, we've spent many months in Costa Rica so we feel like we have enough information to condense our adventures into a very well-rounded week!
We've started this 7-day Costa Rica itinerary in San Jose because it's where the large International Airport is located, and so is where most travelers begin their Costa Rica Adventure.
From San Jose, you will head to La Fortuna, where you can hike volcanoes and chase giant waterfalls. You will end your trip in the coastal haven of Manuel Antonio, where you can hike through one of the best National Parks in Central America and indulge in a sunset cruise! We've covered all bases with this itinerary – culture, volcanos, waterfalls, wildlife, and the beach!
So, experience Costa Rica through our eyes by following this amazing 7-day Costa Rica itinerary!
Costa Rica 7-day itinerary overview
Total drive time: Approx 12 hours (From San Jose and return back to San Jose)
Suited for: Those who love wildlife, nature, and beaches
Accommodation Required: 1 night in San Jose, 3 nights in La Fortuna, 3 nights in Manuel Antonio
Itinerary Overview:
Day 1: San Jose
Day 2: San Jose to La Fortuna
Day 3: La Fortuna
Day 4: La Fortuna
Day 5: La Fortuna to Manuel Antonio
Day 6: Manuel Antonio
Day 7: Manuel Antonio
Why We Recommend this 7-Day Costa Rica Itinerary
We have traveled Costa Rica extensively and even lived there for a while! The country, while appearing small on a map, takes a long time to get around. There are also endless amounts of things to do in Costa Rica, and in 7 days you just can't see and do it all.
That's why we've carefully designed this 7-day Costa Rica itinerary to include three main destinations. These destinations provide the biggest variety of activities and attractions and are also fairly easy to get to so that you won't spend your entire holiday driving. Plus, the itinerary starts in San Jose, which is where your international flight will likely land.
Here is a little overview of each destination in this itinerary:
San Jose – for a day to relax after a flight, get cash out and get organized (pick up your rental car if you've rented one). See the real Costa Rica in this city, and eat amazing food.
La Fortuna – volcanoes, waterfalls, and hot springs! Costa Rica is about more than just the beach!
Manuel Antonio – End your vacay at the beach! The national park here is amazing with tons of Costa Rica wildlife and beaches. Plus, it's not far from San Jose for getting back to catch your flight home.
Day 1: San Jose
What to do in San Jose
Your 7-day Costa Rica itinerary will more than likely start in San Jose, seeing as it's the capital of Costa Rica and also the largest city with over 1.4 million people living here. It's also home to a large international airport – Juan Santamaria Airport, so it's where most people start and end their trip to Costa Rica.
Many tourists chose to skip San Jose altogether and head straight for La Fortuna, which is a shame as there are a lot of cool things to do in the city. From exploring the stunning National Theater, which is one of the most prestigious buildings in Costa Rica, to learning about the city's fascinating history at the National Museum, it's easy to spend several hours here and not get bored.
There are also lots of awesome restaurants in San Jose too, like Restaurante Grana D'Oro and Cafe Rojo, but we loved tasting the local cuisine at the Central Market. If you're a true foodie, this is the city for you and you can even join a food tour here!
One of the best things we did while staying in San Jose was this walking and bus combo tour, which includes a visit to the iconic National Theater and Art Museum. It's a great introduction to San Jose and also allows you to explore busy markets and plazas with a knowledgeable guide. Allow up to 5 hours for this experience, which we think is a must for first-timers to the city. It costs $72 USD per person.
Alternatively, skip the bustling city altogether and head straight on a day trip to Tortuga Island, a beautiful island paradise that is only accessible by boat. Boats leave from nearby Jaco or Puntarenas, both about 90 minutes from San Jose. This small island offers some of the top snorkeling spots in the country to see an array of fish and even larger animals like Sharks, Dolphins, Octopus, and Manta Rays. Alternatively, you can spend the day sunbathing or even hiking one of the many trails through the forest on the island.
We think the best way to get to Tortuga Island is on an organized tour from San Jose such as this one. It includes all your transport, an English-speaking guide, lunch, snacks, and drinks for $133 USD. They also offer a self-drive option with the meeting point in Puntarenas.
Related Read: Not keen on staying in the city? Check out the best day-trips from San Jose!
Where to Stay in San Jose
$$$ – Gran Hotel Costa Rica
Conveniently located in the city center and just a 5-minute walk from the Costa Rica National Theatre and San José Cathedral. Gran Hotel Costa Rica has, in fact, been designated as a historical and architectural landmark by the government, the only hotel in San José to receive such a title.
You can find an impressive lobby here, as well as an executive lounge, conference space, and an innovative restaurant. Their state-of-the-art guest rooms have elegant furnishings, updated facilities, and top-of-the-line technology. It's undoubtedly one of the best places to stay in San Jose.
Prices start from $188 USD per night. For luxury in a great location, book the Grano de Oro Hotel right here on Booking.com, here on Hotels.com, or here on Expedia!
$$ – Hotel Colonial
Situated near the lively San Jose Central Market, Hotel Colonial boasts neo-colonial architecture and a cozy vibe. It offers an outdoor swimming pool, sun terrace, and complimentary Wi-Fi in public spaces. The rooms and suites here are cozy and homey and have a ceiling fan, cable TV, and an en-suite bathroom.
You can stay here for as little as $84 USD/night with deals available during the low season. You can book Hotel Colonial right here on Booking.com, here on Hotels.com, or here on Expedia.
$ – Hotel Cultura Plaza
Hotel Cultura Plaza is a contemporary hotel nestled in the heart of the city center and close to the Metropolitan Cathedral, the National Theater of Costa Rica, and the Pre-Columbian Gold Museum.The rooms are fitted with a flat-screen TV with satellite channels and an attached bathroom.
You can book a Standard Double Room for as low as $68 USD per night with discounts available during the low season. Book Hotel Cultura Plaza here on Booking.com, here on Hotels.com, or here on Expedia.
Where to Stay near the Airport:
If you are arriving late or very early and just want a place to rest your head, check out these amazing hotels near the SJO international airport. They are the easiest option if you need a quick place to sleep!
Where to eat in San Jose
Best for fine dining – Restaurante Grano de Oro
Situated in the Grano de Oro Hotel's central courtyard, this beautiful restaurant provides visitors with a relaxed fine dining experience. The French chef Francis, who's the owner, beautifully blends European dishes with his native specialties and Latin flavors, creating tasty dishes so hard to describe – you've got to visit Grano to experience it.
Prices here range from $20 to $40 USD for mains.
Best Cafe – Franco
Franco – offers a range of fresh food options that blend the best of Costa Rican coffee, confectionaries, smoothies, egg combinations, meats, and so much more.
At Franco, everything is lovely, with plenty of vegan and gluten-free options. For drinks, the fresh Costa Rican coffee will certainly put a spring in your step, but they also serve mimosas and fantastic smoothies too. Our top tip is to grab a seat on their glorious back patio!
Best local cheap eat – Cafe Rojo
Right in the heart of San Jose sits Café Rojo, a trendy coffee shop, restaurant, and cultural space. They specialize in Asian cuisines and Vietnamese-inspired dishes prepared with local ingredients and fresh products. The atmosphere is unique because the owners converted an old mansion into a magical place while maintaining stylish touches from the ancient building.
Prices start from as low as $9.50 USD for a main.
Related Read: Check out the best restaurants in San Jose
Day 2: San Jose to La Fortuna
To drive from San Jose to La Fortuna will take on average 3.5 hours, but be sure to avoid peak traffic times in San Jose because the traffic there can be hectic!
There are two ways to reach La Fortuna from San Jose, but the quickest and easiest route takes you via San Ramon. This particular route is 130 km (80.7 miles). What's great about this road trip is that there are plenty of awesome stops along the way like La Paz Waterfall Gardens, which is about halfway between the two cities, and Poas Volcano, which is about 1.5 hours from San Jose.
We highly recommend hiring a rental car to drive this route because that way, you can stop as you please along the way (At Poas Volcano and La Paz Waterfall Gardens.) If you don't have a rental car, you can book a shuttle that will pick you up from your hotel in San Jose, costing approximately $37 USD – this will take 4 hours and 15 minutes. Alternatively, you can catch a public bus from downtown San José from Terminal 7-10 bus station – this option costs as little as $5-10 USD but it will likely take up to 5 hours.
Poas Volcano
About an hour and 15 minutes into your drive, you'll come to the entrance to Parque Nacional Volcan Poas, which is where Poas Volcano is located. You'll need at least 2 hours here if you want to climb the volcano as it's an hour and 40-minute return trail to the viewpoint.
It's worth noting that Poas is a very active volcano (39 eruptive episodes since 1828!) and is characterized by its acid blue lake crater, which is one of the world's biggest craters. Seeing this massive crater with your own eyes is mesmerizing, and understandably, it's one of the most popular day trips from San Jose. Poas is also one of the most famous volcanoes to visit in Costa Rica.
If you want a nice view of the crater, get there as early as possible to avoid the clouds that typically cover the volcano by late afternoon. This is very important because the clouds can completely obstruct your view of the volcano – believe me, on this, I once went and saw nothing but clouds.
Poas Volcano National Park is open every day from 8 am to 4 pm, and the ticket price is $15 USD. Make sure you book a ticket online on the SINAC website in advance since a limited number of tourists are allowed per time slot to visit the crater. During peak season, the early morning time slots book up days in advance.
La Paz Waterfall Gardens
Approximately 40-minutes from Poas Volcano National Park is La Paz Waterfall Garden, and we think this should be your next stop on your drive from San Jose to La Fortuna. It is one of the country's biggest private wildlife sanctuaries and hosts five stunning waterfalls accessible via paved trails.
One of my favorite attractions here is the butterfly observatory. You will also see jungle cats, sloths, monkeys, snakes, frogs, and Costa Rican birds throughout the gardens! In my opinion, it's a must-visit during your 7 days in Costa Rica!
The entrance ticket from the park's website is $48 USD for adults and $32 USD for kids aged 3-12 or you can buy skip-the-line entrance tickets here for a few more dollars. The park is open from 8 am to 5 pm and we recommend spending at least 3 hours here!
Visit La Fortuna Waterfall in the afternoon after arriving in La Fortuna
After checking into your accommodation in La Fortuna and provided it's not getting dark, we recommend checking out La Fortuna Waterfall before you head out for dinner. This stunning 230-foot (70 meters) waterfall shoots out from a tall cliff into a pool below that's surrounded by lush forest.
Visiting La Fortuna Waterfall is easily done without a tour. You can get a taxi or drive from La Fortuna town to this parking lot, where you'll pay the entrance fee ($18 USD) and begin hiking. The trail is well-maintained and leads down to the waterfall via many steps. It only takes 15 minutes to get down but a little longer on the way up – it's 500 steps!
Once at the bottom, you can get some great pictures and swim in the pool below the waterfall or visit the calmer pools downriver for a more relaxing swim. The water is cold but super refreshing, and the entire area is gorgeous.
Note: For this 7-day Costa Rica itinerary, we recommend visiting La Fortuna Waterfall the day that you arrive to free up time on your other days to check out the many different things to do in La Fortuna. Plus, La Fortuna Waterfall is never that busy later in the afternoon.
Why We Book Tours with Viator
Viator is a trusted online booking system for tours around the world! We almost always book our tours using Viator for a couple of reasons:
Free cancellation on most tours – Most of the tours on Viator allow you to cancel and get a full refund up to 24 hours in advance. This is handy in case plans change, or if booking an outdoor activity, the weather forecast is looking grim.
Reserve now and pay later – You can secure your spot on some of the most popular tours well in advance and not pay until closer to the day of the tour.
Pay in your chosen currency – Avoid costly international transaction fees by choosing to pay in your home currency.
Peace of mind – When booking with tour operators you find in person on the street or in small booking offices, you are often promised one thing and given another. This online platform holds tour operators accountable with a written description of inclusions as well as the opportunity for customers to leave reviews.
Check out the Viator website here!
Where to Stay in La Fortuna
La Fortuna is one of the best areas to stay in Costa Rica with a selection of hotels – here are our favorites!
The Springs Resort & Spa at Arenal – $$$
For arguably the most luxurious hotel in La Fortuna, check out The Springs Resort & Spa at Arenal. While the rooms don't come cheap ($600 USD+), it's a bucket list place to stay that's perfect for visiting Costa Rica on a honeymoon!
You'll find 28 hot spring pools here, making the resort the perfect place if you really want to relax. There's also a resort-style pool, a fitness center, a swim-up bar, hot tubs, and a spa and wellness center. You can reserve a room at The Springs Resort & Spa at Arenal on Booking.com, on Hotels.com, or on Expedia.
For more in-depth info on the areas to stay in La Fortuna, check out our blog on where to stay in La Fortuna!
Casa Luna Hotel & Spa – $$
Those with a medium budget should check out Casa Luna Hotel & Spa. I stayed here on my first visit to La Fortuna and loved it. The property is beautiful, with a large pool and four hot tubs surrounded by nature. You can also enjoy the tropical botanic garden at the hotel.
Casa Luna Hotel & Spa is near Arenal Volcano National Park, and all the rooms have views of the volcano and the rainforest. The hotel also includes a delicious breakfast in the $204 USD room rate. Casa Luna is located a short drive from town and you can reserve a room online on Booking.com here, Hotels.com here, or Expedia here.
Selina La Fortuna – $
One of the go-to budget options is Selina La Fortuna. I've stayed in Selina hostels around the world and this is a great one. It has a fun party atmosphere and a great co-working space where we spent a lot of time.
Selina Fortuna is located right in the middle of town, so you have easy access to great bars and restaurants nearby. Rates begin at $26 USD for a one-night stay in a dorm and $124 USD for a one-night stay in a private room. You can check availability and book on Booking.com, Hostelworld.com, Hotels.com, or Expedia.
Where to Eat in La Fortuna
Best Overall – Mercadito Arenal
Mercadito Arenal is a relatively new gourmet food court in La Fortuna, offering tasty meals from a variety of restaurants and an exclusive Voodoo Mixology Bar. It is truly a spectacular place to hang out for couples as well as families. They have plenty of different food options ranging from tacos, sushi, burgers, pizzas, and more – so everybody in your group can find something! It is open every day from 12 pm – 9:45 pm.
Best Mexican food – Chipotle's
Chipotle's offers authentic Mexican cuisine combined with international and Costa Rican gastronomy influences. The menu represents bold indigenous flavors, herbs, local products, and peppers reminiscent of the different global cuisines.The interior décor has stunning murals that uplift this roadside restaurant to a charming dining experience. The owner, a trained chef in Mexico, spares no ingredients so you can taste the authenticity in the soft savory tacos and the mezcal in margaritas. It's one of the best restaurants in La Fortuna.
Best value-for-money (local soda) – Restaurante Terra Mia
Restaurante Tierra Mia is situated on a side street off of the main road, it's a quiet place and very comfortable. The mood here is quaint, casual, and authentic to the local surroundings outside. The Costa Rican food here is excellent—fresh ingredients with unmatched flavors.
Getting to La Fortuna without a Rental Car
If you don't have a rental car you can book a shuttle that will pick you up from your hotel in San Jose, costing approximately $37 USD – this will take 4 hours and 15 minutes.
Alternatively, you can catch a public bus from downtown San José from Terminal 7-10 bus station – this option costs as little as $5 USD (2,600 colones) each way. It departs every day at 8:40 am and it arrives at La Fortuna between noon and 1 pm.
Unfortunately, you can't buy your bus ticket online, and instead, you need to go to the bus terminal to purchase them – they operate on a first-come-first-served basis, so aim to get to the terminal as early as possible! We arrived over an hour early and there was already a huge line! The bus holds 50 people seated and 20 standing so it's important to be aware that you may have to stand for the journey.
Day 3: La Fortuna
Head to Arenal Volcano in the morning
On your first full day in La Fortuna, we recommend you wake up early and make the short 15-minute drive to Arenal Volcano National Park. This is one of the best things to do in La Fortuna, and exploring the park is an adventure that takes you to the volcano's base and slightly up its steep face. Along the way, you can enjoy the magnificent views and even see where the lava from the last major eruption oozed down the side of the volcano.
Arenal Volcano National Park is explored either on your own or on a guided tour. Without a tour, entry to the park is $15 USD for adults and $5 USD for children – it's one of the best cheap things to do in La Fortuna. Once in the park, you can wander the many different hiking trails, ranging in length. Be sure to get to the park when they open at 8 am so you have plenty of time to explore (you have other activities to on this day of your Costa Rica itinerary). We recommend allowing a half-day, or more specifically, 5-6 hours here.
If you're interested in a guided tour, this specific tour is a great option. It includes all your fees, water, transport, and a great guide. You'll learn a ton about the park and volcano! Plus, the guide is an expert when it comes to spotting wildlife, so who knows what you'll see!
Mistico Hanging Bridges in the Afternoon
After all that hiking, if you aren't too tired, it's time to head to Mistico Adventure Park. It's conveniently located only a few minutes from the National Park entrance. Here, you can walk across several hanging bridges in the jungle and admire all of the biodiversity of the rainforest.
You can choose to visit on a self-guided or guided tour but I recommend the guided tour so you can learn about the different plants and animals that are found here. Ticket prices for the self-guided experience for adults is $28 USD, teenagers (11-18) are $18 USD, the elderly cost $23 USD, and children are free.
If you want to go with a guide it costs $42 USD for adults, $32 USD for teens, $37 USD for elderly, $16 USD for childen ages 6 to 10, and infants are free. If you want to reserve your tickets in advance that have a flexible cancelation policy you can do so here for $48 USD.
It's also the perfect place to see monkeys and sloths in the wild in Costa Rica!
Of course, this is an optional add-on if you aren't already too tired. Alternatively, head back to town and do a little shopping or have a relax in the main square before you nighttime adventure!
Night Tour
Once you've refreshed in your hotel room after an epic morning and afternoon exploring, it's time to head out again for something really cool – a night walk and dinner tour in La Fortuna! It's one of the most unique things to do during your 7 days in Costa Rica!
Although La Fortuna is absolutely stunning during the day, it really comes alive at night! So, you have to do a night walk through the rainforest to see and appreciate all the critters that only come out after dark. This Rainforest Night Walk and Dinner tour is the same tour I did in La Fortuna with Ecoterra. The tour includes a 90-minute hike (more of a leisurely walk), a visit to a frog sanctuary, and ends with a Costa Rican dinner prepared on a wood-burning stove.
The easy trail goes around the mirrored lakes to a frog sanctuary where you can spot the red-eyed tree frog and the tiny dart frog. We saw so much wildlife, including a huge green lizard and even a bullet ant, which is known to have the most painful sting of any insect on the planet. Luckily, our guide kept us safe!
Day 4: La Fortuna
Tour or self-drive to Rio Celeste
Today, prepare to get up early (we recommend leaving before 7 am) and head to the stunning Rio Celeste – which is a 1 hour and 45-minute drive from La Fortuna, or 104 km (65 miles). You can drive yourself or book a tour which will pick you up from your accommodation in La Fortuna. This specific full-day tour to Rio Celeste is a top choice. It's highly rated and includes lunch, transport, and an expert guide.
Rio Celeste is famous for its bright blue color and has to be added to your Costa Rica itinerary! This natural phenomenon is caused by mixing two rivers that turn the water into a Gatorade blue color – I'm not joking! This happens because acidic and neutral waters combine, creating enough particle concentration to reflect light. It's similar to glacier lakes that reflect rock flour.
Rio Celeste is best explored by hiking the Rio Celeste Trail, which is 3 kilometers/1.9 miles each way. Along the way, you'll see Rio Celeste Waterfall, the Bubbling Hot Pot, and Tenidoros. Rio Celeste Waterfall is located around a 30-minute walk from the entrance, and you reach the waterfall via a stunning staircase that makes for some pretty spectacular photos.
Further along, you'll see the Borbollones or Bubbling Hot Pot. This part of the river is really hot, and you'll smell the sulfur before seeing it! Finally, you'll end your hike at the Teñideros, which is where the two rivers meet. Here, you can literally see the water turn blue as the streams meet – it's so cool! Teñideros is 3 kilometers (1.9 miles) from the entrance.
Parking at Rio Celeste costs 2,000 colones ($3.76 USD) per vehicle, and the park entrance fee is $12 USD for adults. Rio Celeste is open from 8 am to 4 pm, and it's best to visit early in the morning when it is less crowded. You need around 3 hours to hike the return trail and enjoy the waterfall.
Afternoon/evening at a hot springs
After an adventurous day at Rio Celeste, there is no better way to unwind than soaking in a relaxing hot spring! Fortunately, you will find plenty of hot spring options outside downtown La Fortuna.
Tabacón Hot Springs is one of my favorite hot springs in La Fortuna. It is well-known for its natural hot springs and pools that wind through a luscious garden, giving guests the sense of being in the heart of a jungle.
Within the property, you can find five different springs with mineralized, naturally heated water. The springs feed dozens of pools at temperatures ranging from 72 F to 105 F (22 C to 40 C), so no matter your preference, you will surely find the perfect pool.
For that luxury touch, the main area of the hot springs comes complete with a swim-up bar and a waterslide. Meanwhile, secluded pools in the lower section offer a spectacular view of the Arenal Volcano.
The Tabacon Hot Springs is located within the Tabacon Thermal Resort & Spa, one of the most luxurious non-all-inclusive resorts in the Arenal area.
This 4-in-1 tour includes a visit to the hanging bridges, La Fortuna Waterfall, a volcano hike as well as Tabacon Hot Springs. It's a full-day tour at 12 hours long but is highly recommended.
Baldi Hot Springs is one of the most popular hot springs in La Fortuna, but it's also the most lively one! Set amongst lush vegetation, this hot springs resort boasts 25 thermal water pools with temperatures ranging from 93°F to 152°F. It also features a massive jacuzzi that can hold up to 60 guests.
There are bustling pool/bar areas and massive water slides that cater to social gatherings. There's even an interactive kids' play zone within the property for families with small children, which is super convenient! With that said, these hot springs are probably not the best choice for those looking for a relaxing and peaceful experience.
So, if you're looking for a more intimate and genuine hot springs experience, then I think you'll fall in love with Titokú Hot Springs, which are located in Arenal, a 15-minute drive from La Fortuna. There are eight jacuzzi-style pools here that cascade down and lower in temperature as you get closer to the bottom.
The pools are nestled in beautifully landscaped gardens and are lit with multi-colored ambient lighting at night. A full-service bar is also on hand, so you can enjoy a glass of champagne while relaxing in the pools. For additional convenience, dressing rooms, showers, and lockers are available for guest use.
Day 5: Drive to Manuel Antonio
The drive from La Fortuna to Manuel Antonio is a long one at 221 km (137 miles) and will take 5 hours without stops. Therefore we recommend departing early so that you can get to Manuel Antonio in time for a gorgeous beach sunset.
Because the drive is so long, we don't recommend stopping much along the way, except for what we term to be "must-stops" – the Crocodile Bridge and lunch in the lovely town of Jaco.
Stop at the Crocodile Bridge
As we said, if you love wildlife and especially crocodiles, you must stop at the famous crocodile bridge during your 7 days in Costa Rica. The bridge is built over the Tarcoles River, which you will come across 3 hours into the drive (or 123 km/76 mi from La Fortuna).
The bridge got its name because the Tarcoles River that runs below it is home to one of the world's largest crocodile populations. This bridge crosses the river and is a popular gathering spot. Just park your car at one of the ends of the bridge and walk over to see the crocs in the wild.
When we visited, we saw over 15 crocodiles! Some were as big as 15 feet (4.6 meters) too. There's a popular sand bar where they like to hang out about halfway across the bridge, but you're basically guaranteed to see some – check out both sides of the bridge while you're here!
It's free to visit the Crocodile Bridge and is just a nice quick stop where you can stretch your legs for a minute. There are also shops and restaurants on one side of the bridge – get a fruit smoothie, they are delicious. It's a place where you can use the bathroom too.
Have lunch in Jaco
You'll need some good food to fuel you for the rest of your journey, so after the Crocodile Bridge, be sure to stop in the town of Jaco – a 25-minute drive away. I don't know about you, but I just love a good burger for lunch, and thankfully in the town of Jaco, there's an excellent burger joint.
Ridiculous Burgers on Av Pastor Diaz offers the biggest, hottest, meaty, and most expensive burger in Jaco Costa Rica, with nearly 50 burger options on the menu.
They sell amazing burgers from prime beef supplied by grass-fed animals on a nearby farm. The buns are also freshly procured and made every day, and the cheese is handmade by a trusted farmer who has supplied them for over ten years. The salads and vegetables are of the highest quality and are delivered daily with every detail planned to create a heavenly, delicious tall, rich burger. A burger here will cost you between $7 to $26 USD!
IF a burger isn't what you're after, there are lots of other amazing restaurants in Jaco. Jaco is one of the most touristic places in Costa Rica so you can choose from hundreds of restaurants. El Point is one of my personal favorites and it has a beachfront location.
Hot Tip: If you have an extra day or two to spare, add a stay in Jaco – there's lots to do in this quirky town including some fun ziplining tours.
Related Read: Jaco is one of the more budget-friendly places in Costa Rica – check out the best free things to do in Jaco while you're there!
Catch a sunset at the beach in Manuel Antonio
After you have arrived in Manuel Antonio and are all checked into your accommodation, then I recommend you head straight for the beach in time for sunset.
Espadilla Beach (aka North Espadilla Beach) is a stunning stretch of beach that is a 30-minute walk from town. It's a vibrant place to hang out during the day with lots of vendors walking the beach with local coconuts and other food and drinks! But we think it's most beautiful at night when the sky really puts on a show – think shades of pink and purple lighting up the sky.
If you don't have time to stop here tonight, do not worry, this is the main beach in Manuel Antonio, and it's almost guaranteed you'll visit at some time during your 7 days in Costa Rica. If you come here during the day, we recommend walking along the beach and finding "your vibe." Find a shady tree, check out some of the beach clubs, go for a surf or just enjoy the scenery.
Related Read: Check out the best Things to do in Manuel Antonio!
Where to Stay in Manuel Antonio
$$$ – Hotel La Mariposa
Standing on the town's highest point, Hotel La Mariposa treats guests to a majestic 180-degree view of the Pacific Ocean, the National Park, and even the neighboring town of Quepos. You can see the expansive blue for miles on end with no obstruction at all. La Mariposa has a lot more in store for its guests, too. With its wooden furniture and tropical decor, it's brimming with Costa Rican charm everywhere you look.
Prices here range between $328 and $527 USD a night. You can check availability and book Hotel La Mariposa online here on Booking.com, here on Hotels.com, or here on Expedia!
$$ – Millennium Manuel Antonio
If visiting the National Park is your main reason for coming to the town, there's no better hotel in Manuel Antonio than Millenium Manuel Antonio. This two-star hotel is legitimately just 25 meters away from the park entrance and five minutes on foot from Playa Espadilla. It is also conveniently located near supermarkets, restaurants, and bars. Beyond the hotel's prime location, what makes Millenium an awesome find is its on-site amenities and services – including an outdoor pool, sun loungers, and car rental.
The Basic Double Room here costs as low as $134 USD per night, while the Deluxe King Suite starts at $201 USD, both for double occupancy and inclusive of breakfast. You can book a room here on Booking.com, here on Hotels.com, or here on Expedia.
This is definitely one of the best hotels in Manuel Antonio town.
$ – Teva Jungle Hotel and Hostel
For something that's right in the town proper of Manuel Antonio, Teva Jungle Hotel and Hostel is easily one of the most budget-friendly accommodation providers.
You can pitch your own tent on the 20-hectare property for as low as $10 USD per night. And if rustic camping is not your thing, there are plenty of room options to choose from. The hotel has several private rooms ($40 to $110 USD per night) for those who want peace and quiet and lots of dorm beds ($25 to $35 USD per night) for those who like to meet new travel buddies. You can book Teva Jungle Hotel and Hostel here on Booking.com, here on HostelWorld, or here on Expedia.
Where to Eat in Manuel Antonio
For the best views – La Luna
La Luna Restaurant is snuggled atop the Gaia Hotel & Reserve in a clubhouse, just minutes away from Manuel Antonio National Park and the Pacific Ocean. The restaurant has a fantastic ocean view, and the surrounding rainforest is filled with wildlife.
Enjoy scrumptious Costa Rican cuisines combined with international choices, including low carbs options for those on a diet. You have plenty of dishes to try, like the Ginger and Panko-crusted Tuna (my favorite) in sesame salad dressing, Shrimp, Tequila-lime Scallops, and Tenderloin Steak, and tasty Mushroom Risotto for vegetarian selections.
Best for local cuisine – Agua Azul Cafe
Agua Azul Café is located on the main highway in a strip mall with an open parking lot. Perched on the first floor of the building, Cafe Agua Azul offers a fantastic view of the ocean and is considered by many as one of the best eateries in Manuel Antonio. The restaurant serves local cuisine inspired by fresh seafood. You can start with the Tuna Tostadas and finish with a large healthy Shrimp Salad! Prices here range from between $9 to $17 USD for a main dish.
Best Cafe – Emilio's Cafe
Everything about Emilio's Cafe is simply wonderful from the caring staff to the food, desserts, wine, and coffee. The café is situated behind Plaza Vista in central Manuel Antonio and it overlooks the Pacific Ocean, plus the food is all homemade. What we love is that Emilio, the owner often greets his guests in person.
Their bakery offers an array of fabulous pastries, especially the bagels and the flourless almond cookies! They also have different types of cheesecakes and other healthy brunch options. Try out the thick, juicy steaks if you prefer dinner for two. They also serve fresh fish and specials every night accompanied by fine wine and a live band playing. Prices here range from around $7 USD for breakfast, around $17 USD for a main at dinner.
Getting to Manuel Antonio without a Rental Car
If you don't have a rental car the next easiest way to reach Manuel Antonio is by booking a direct shuttle, like this one which costs $48 USD and will take 5.5 hours. Your driver will pick you up from any hotel in La Fortuna, which is handy!
Unfortunately, there is no direct bus from La Fortuna to Manuel Antonio, so you will need to take no less than 4 separate buses to get there, which will take approximately 9 hours and that's providing there are no delays!
The first bus is the La Fortuna to San Ramon bus which is 2 hours and will cost you $4 USD. The second bus is San Ramon to Puntarenas which is 1.5 hours and will cost you $3 USD.
The third bus is from Puntarenas to Quepos which is 2.5 hours and will cost you $5 USD.
And finally you will hop on the bus from Quepos into Manuel Antonio which will take just 15 minutes and is $1 USD.
Day 6: Manuel Antonio
Tour through Manuel Antonio National Park
Known as one of the most spectacular national parks in Costa Rica, Manuel Antonio National Park is a place you don't want to miss, which is why it has to be your first stop during your time in Manuel Antonio. While it isn't a huge park, it's the perfect size to explore in a couple of hours There are beautiful walking trails, lots of wildlife (including the adorable squirrel monkeys!), and stunning beaches to enjoy. It's one of our top choices for any Costa Rica itinerary!
What's great is that Manuel Antonio National Park is literally right next to Manuel Antonio town, so you don't have to spend any time really traveling here!
Throughout the park, there are many short hiking trails that lead through specific vegetation where you'll find lots of local species of wildlife. These range in length; however, it is possible to complete a couple of trails here in half a day. The longest trail is the Waterfall Trail and it's around 5.5 miles (9 km), and most are much shorter in that 1-mile (1.5 km) range.
The trails throughout the park are:
The Sloth Trail
The Mangrove Trail
The Waterfall Trail
Sendero Playa Espadilla Sur
Sendero Playa Manuel Antonio
Sendero Congos
Sendero Playa Gemelas
Sendero Punta Catedral
Sendero Miradores
Sendero Puerto Escondido
All trails are well marked and there are signs and maps everywhere so you won't get lost.
Our top tip for these trails is to walk them slowly, as the slower you go, the more chance you'll have at spotting wildlife like monkeys, macaws, sloths, snakes, and more!
There are also a couple of beaches within the park to enjoy. The best for swimming is Playa Espadilla Sur and Playa Manuel Antonio.
If you prefer visiting Manuel Antonio Park with a guide, there are many options for guided tours from Manuel Antonio that will take you through the park. This specific tour is the best option for those staying in Manuel Antonio town. The tour is only $30 USD and includes a 2-hour guided walk through the park. You'll meet your guide at the park entrance and explore, spotting a ton of wildlife and learning about the area. After the tour, you're free to enjoy the beaches and relax.
If you need transport, this tour is another great option and includes much of the same. It's also slightly longer at 3 to 4 hours.
Manuel Antonio National Park is open from 7 am to 4 pm Wednesday to Monday. Entrance tickets to the park, which cost $18.08 USD for adults and $5.65 for children, NEED to be purchased online in advance.
Parking is available near the entrance of the park and costs 2,000 to 4,000 colones ($3.76 to $7.50 USD) per day, depending on how close the parking area is to the entrance. This specific spot is really close.
Zipline
If you have the time (i.e. you haven't spent too many hours exploring the many awesome trails in Manuel Antonio National Park), then why not get the adrenalin pumping with a ziplining tour at El Santuario Adventure Park?
Manuel Antonio is home to the longest twin zipline in Costa Rica. Zoom through the treetops on a tandem zipline over 4,300 feet (1,310 meters)long! Other highlights here include six hanging bridges, 14 tree platforms, one double belay rappel, and 9 other double-anchored zip lines.
If you don't want to drive there yourself, consider this Manuel Antonio Canopy Tour ,which costs $90 USD, and includes your lunch, fruit snacks, water, and transport from Manuel Antonio. The tour is also more than just ziplining and lasts for 5 hours.
Evening sunset drinks at El Avion
El Avión is a famous restaurant in Costa Rica, and because of its location, it's also one of the best spots in Manuel Antonio to watch the sunset. In fact, this is a great, relaxing thing to do during your 7 days in Costa Rica!
This restaurant/bar has an interesting history that stretches way back to the eighties. In fact, the restaurant is home to a C-123 Fairchild cargo plane. It was established in 2000 and converted into two-level bars and a restaurant built in, around, and above the airplane with stunning views of the Manuel Antonio coastline below!
Enjoy casual dining, a wide-ranging menu, and views of incredible sunsets over the Pacific Ocean while sipping on an ice cold beer or a delicious cocktail. It's located a 3-minute or 17-minute walk from Manuel Antonio!
Day 7: Manuel Antonio
Head to the beach in the morning
For your last day in Manuel Antonio, we recommend starting with a nice, easy activity, and that is walking to Biesanz Beach and from there walking along to North Espadrilla Beach. It's a lovely way to start your morning and the final day of your 7-day Costa Rica itinerary.
Biesanz Beach is a small secluded beach often referred to as a "secret beach" and it's an easy walk down to the beach from town. The walk is mostly downhill on the way there (depending on where you start, that is), and you'll have to walk down a dirt trail to the beach. On the way, keep an eye out for monkeys – we saw around 15 in the trees here as well as toucans!
Alternatively, you can drive and park at the trailhead, but you'll still have to walk a few minutes to the beach through the jungle – this is what keeps Biesanz Beach so quiet!
Once at the beach, you can sit anywhere and relax. There are lounge chairs for rent as well as kayaks and snorkeling equipment. If you want to go snorkeling, they'll show you exactly where to go, and it's the same snorkeling spot we went on the sunset cruise. There is even a small bar on the beach selling fresh coconuts, soft drinks, beers, and cocktails.
The beach at Playa Biesanz is protected from ocean swells, so it's pretty calm but just watch out for rocks as there is a reef nearby.
Afterward, you can actually walk back up the dirt trail and road and walk down to the north end of North Espadilla Beach. Then, you can walk all the way to the national park and get the bus back up to town.
Sunset cruise in the afternoon
Are we saving the best for last? The final activity on your 7 days in Costa Rica is this epic sunset cruise! It's one of the best things we did in Manuel Antonio and it was lovely to relax and enjoy a few drinks out on the water.
This specific tour includes unlimited drinks, dinner, snorkeling, swimming, a really fun and knowledgeable guide, and a great crew. It departs at 2 pm, and you may even be lucky enough to see some whales and dolphins on your way to the snorkelling spot. After witnessing the colorful fish underwater, you will hop back on board to cruise the coastline around Manuel Antonio. As the sunsets tuck into a delicious dinner. Bliss!
I should note that the cruise is available both in the morning and afternoon for $95 USD and leaves from Quepos. You should book the cruise online in advance as there are limited spots available.
Costa Rica Travel Insurance
Always get travel insurance before you travel. This is especially true in Costa Rica because things are not very cheap here. Medical bills add up very quickly if you end up in hospital, not to mention, if you are a victim of theft, travel insurance will replace your items. Travel insurance isn't just a piece of mind, but to us, it's essential!
When we are going on a longer trip (more than a month) the insurance provider we always use is SafetyWing. Their travel medical insurance is very affordable at only $45 USD per every 4-weeks. The only thing to note is that the insurance must be purchased once you've left your home country – we typically buy it as soon as we land at the airport.
We've both personally used SafetyWing for different trips, and we've been reimbursed for countless expenses when we've fallen ill. SafetyWing even covered our flights back to Canada when the pandemic first happened (when last-minute flights before the borders closed were super expensive.)
It's safe to say that travel insurance has saved us thousands over the years!
What to Pack for a 7-day Costa Rica Itinerary
Quick-dry clothing – the tropical climate here means that downpours are common, so don't get caught out. Pack plenty of quick-dry clothes, materials like polyester, nylon, and merino wool are best
Microfiber towels – they dry much quicker than regular towels and don't take up too much space in your backpack
Universal travel plug – because you want to ensure all your chargers and electrical items will work here. It's worth noting that Costa Rica's power is 110 Volts, same as the U.S
Raincoat – as I mentioned, the weather here can be unpredictable so take a packable raincoat with you
Long socks & trousers – For the hikes and night walks we have mentioned here – long socks and trousers made from a breathable material will protect you from annoying mosquito bites and keep you cool
Comfortable walking shoes – choose a closed-toe shoe with a good grip sole for the hiking trails here, which can be rocky and muddy. Flip-flops are not recommended for the trails in Costa Rica
A waterproof camera – so it doesn't get ruined in a downpour and so that you can use it underwater (when you go snorkeling, waterfall-chasing, etc.). A great and cheaper alternative is a waterproof phone case
Power bank – keep everything fully charged with a handy power bank
Insect repellent – there are loads of mosquitoes in the coastal areas of Costa Rica, so to protect yourself, a repellent containing DEET is essential
Sunscreen – this is a must; the sun in Costa Rica is pretty strong, so we recommend packing SPF50 or SPF30 at the minimum
Sunglasses and a sun hat – again, these items are to protect you from the sun's strong rays here; our top tip is to pack two pairs of sunglasses (your favorite pair and a cheap pair to use on day trips, etc. when they are most likely to get lost)
Swimwear – ladies pack a couple of pairs of bikinis/swimsuits, and guys pack several swim shorts – Costa Rica is known for its epic beaches; after all
Beach cover up – pack a sarong or lightweight beach dress that you can easily throw on to enter a beach bar or restaurant
OTC (over-the-counter) medication – this includes painkillers, nausea tablets, hydration sachets, and sinus medication if you suffer with your sinuses, as these can be pricey in Costa Rica
Small first aid kit – with antibacterial wipes, self-adhesive gauze, instant cold pack, thermometer, scissors, and band-aids
Reusable water bottle – not only is it environmentally friendly, but the insulated versions will keep your drink cool – super-handy when you're on a long hike
Day bag – we recommend a 20-25 liter day bag to carry all your essentials when you go on hikes or are exploring a new city
Flashlight – pack a small torch with a high lumen count for sunrise or sunset hikes when you may be hiking in the dark or to use when there are power outages (which can happen in rural areas during the rainy season)
Headlamp – for the same reason as above, this option may be handier for some because it means you are hands-free
Getting Around Costa Rica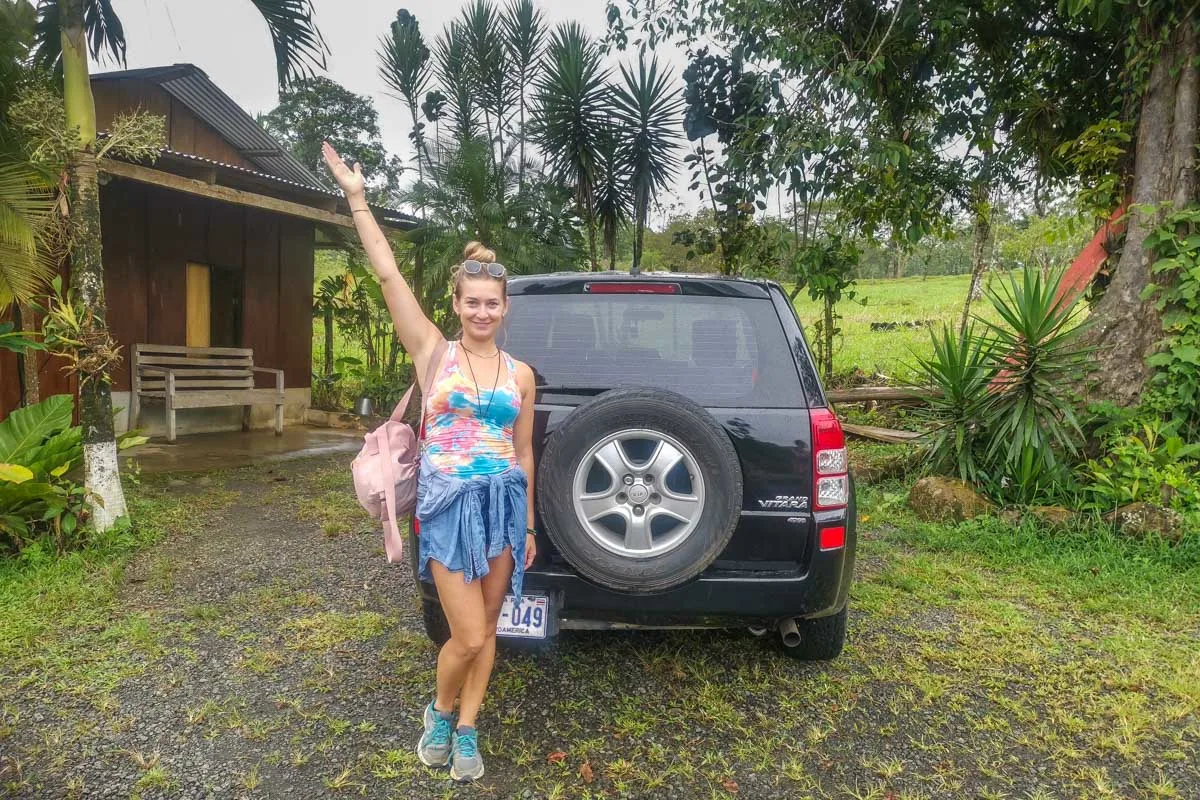 How you choose to get around Costa Rica is one of the biggest decisions you'll make when planning your holiday here! How you do it depends on your budget, travel style, and comfort level.
Renting a Car
Without a doubt, the number one way to explore Costa Rica is in a rental car. We book rental cars on the Discover Cars website as we have had good experiences with them in the past.
One of the things you need to watch for when renting a car in Costa Rica is the mandatory insurance that the government requires you to have. There are a lot of very cheap rentals that don't include this mandatory insurance (TPL) in the original booking price, but there are also ones that do. To avoid additional surprise charges when you pick up your rental car, be sure to rent a car that includes the mandatory insurance when you book.
Thankfully, on Discover Cars it's easy to tell apart the companies that include the mandatory insurance and those that don't. The trick is you can't pick any car on their website. In the picture below, you can see this rental car, with pick up in Jaco, includes the TPL. That means the mandatory insurance is included in the price. Any cover you get above that is extra.
Of course, I still suggest getting the full coverage offered by Discover Cars, which covers you even more.
You can browse cars on Discover Cars here.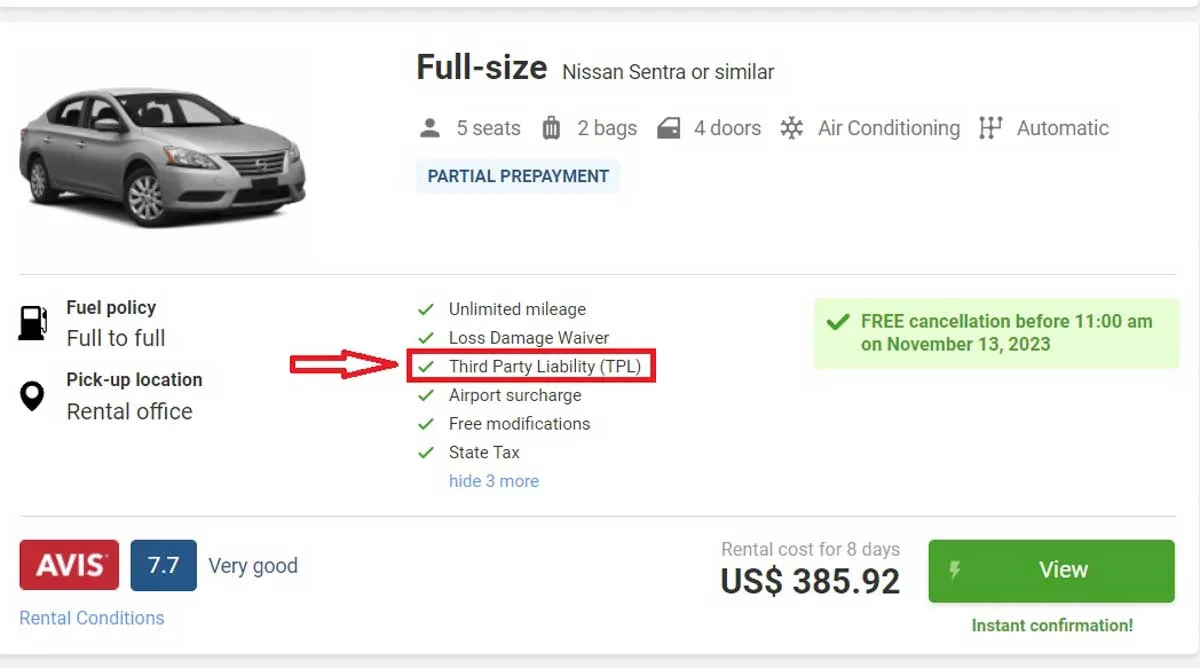 Adobe Rental Rent A Car is another rental company that we most often use in Costa Rica. We love them because Adobe has 15 offices around Costa Rica and delivers door-to-door around their offices at no extra cost. We also are pleased that all of their cars are new. In fact, they are never older than 2 years to the date. They are also the only company to include mandatory insurance and promise no hidden fees. You can get a free quote for a rental car from their website here.
Book Shuttles
If renting a car isn't in your budget, you don't feel comfortable driving in Costa Rica, or you just don't like driving, shuttles are the next best option. There are hundreds of shuttle routes available all over the country, and they are very affordable.
Shuttles in Costa Rica are specifically for tourists and often include pick up and drop off at your selected hotels and airports. The drivers also speak some English, and the vehicles have air conditioning. You'll also be guaranteed a seat when you book a shuttle (which isn't the case with the public bus system.)
To get the best price, use the website Bookaway. They compare all the offers and prices of shuttle companies in Costa Rica so you get the best price! Honestly, we have saved so much money using Bookaway!
You can search for shuttles online on Bookaway here.
Public Bus
Lastly, you can use the public bus system. On short journeys, such as from San Jose to La Fortuna or Uvita to Manuel Antonio, this system is great. However, the longer the journey the more hassle and time spent on a bus. It's undoubtedly best to save the public bus in Costa Rica for short and straightforward trips!
The public buses are definitely the cheapest way to get around Costa Rica, but they are not always very reliable and schedules often change without notice and delays are to be expected. The buses can also be very crowded and hot – so just be prepared!
It's also good to speak some Spanish if you plan on riding the public bus since most drivers and ticket booth operators don't speak English.
Invest in Travel Insurance
Paying out of pocket for trip interruptions or medical treatment will add to what might already be a stressful situation. We always travel with SafetyWing travel medical insurance.
The best part is that it costs only a fraction of what most insurance policies charge, which makes it perfect for digital nomads, long-term travelers (like us), and budget travelers. It only costs $45 USD per 4 weeks!
To start coverage, you must purchase it after leaving your home country. We usually purchase it as soon as we land at the airport.
Since using SafetyWing we've been reimbursed thousands of dollars when we've gotten sick. During the pandemic, they've even gone as far as to pay for our last-minute flights back to Canada from Colombia before the border closed!
You can click here to get a quote and read all the details!
Pura Vida!
I hope this 7-day Costa Rica itinerary has helped you plan your upcoming trip to this gorgeous country. I'm so excited for you to explore one of my favorite destinations in the world!
If you have any other questions about how best to spend 7 days in Costa Rica or traveling to Costa Rica in general, don't hesitate to reach out. Also, be sure to check out more of our in-depth guides including:
Is Costa Rica safe? Travel scams, safety advice & more
BEST breweries in Costa Rica that you'll love