The nearest major beach resort destination to San Jose, Costa Rica's capital, is Jaco. It sits in a wide cove with rocky points on either side. Its main strip runs along the beach and is bustling at all hours of the day, with surfside hotels, boutique shops, and a wide selection of dining options dotting the sand.
On top of its stunning beaches and distinct ambiance, Jacó boasts an active nightlife scene, making it ideal for travelers searching for drinks and dancing after dark. Jacó is also a popular choice for weekend getaways or special events like bachelor parties, so it has earned the reputation as one of the top party towns in the country.
Although there are a lot of hotel options in the busy Jaco area, from shared-room hostels to expensive suites, many tourists also choose to stay just outside of Jaco, where it's quieter and less congested. This makes traveling to and from the downtown area a bit of a hassle when you don't have a car. But at the same time, it is a lot more peaceful – it all depends on what you're looking for.
In this post, I'll be going over where to find the best hotels in Jaco (some of them are even the best hotels in Costa Rica!) I'll also tell you about all of the different areas to stay within Jaco city, as well as surrounding towns that are a little quieter and more off-the-beaten-path. This way, you'll easily be able to decide where to stay in Jaco based on the type of holiday you want to have!
What Are the Best Areas to Stay in Jaco, Costa Rica
If you're deciding where to stay in Jaco, you should know that there are four areas in and around town where you could book your hotels. The first two areas, North and South Jaco, are right along Jaco beach and the center of the action. South Jaco's coast has the best waves for those just learning to surf, while North Jaco's is better for those with more advanced skills.
Both neighborhoods are developed to welcome visitors, though, so expect to have some serious fun here. Many pubs and restaurants can be found in the vicinity, and the nightlife is vibrant. This is why North and South Jaco are so popular with the younger crowd.
If you prefer a more peaceful off-the-radar beach, head to Playa Hermosa. It's only ten minutes by car from Jaco, but it's quieter, housing only a few bars and restaurants and hotels. Unfortunately, the beach isn't really for swimming since the waves are pretty strong. But if you're a super-advanced surfer, Playa Hermosa is for you.
Playa Herradura, a quieter beach than Playa Hermosa, is another option. This is because the area doesn't have plenty of restaurants and bars and isn't a surfing spot due to the gentle waves. This makes it a must-visit for families and those who have no interest in surfing. Playa Herradura is still pretty accessible from Jaco, though, as it's only a ten to 20-minute drive, depending on where you're staying.
Keep reading to find out more detailed information about each of these four areas to stay in and around Jaco as well as the best hotels, holiday homes, and hostels in each!
About Staying in North Jaco
Located within ten minutes on foot from Johannes Dankers Park, North Jaco is your place to be if you're looking for that crazy Costa Rican nightlife. There are also tons of casinos, restaurants, and shopping spots here that you'll want to stay more than a week just to try them all out.
Another thing I love about staying in this area is the plethora of good value Jaco hotels. In fact, you can find one that suits your needs and budgets wherever you look.
The beach is worth talking about, too, especially if you're an intermediate surfer looking to better your skills. Since the waves are suitable for surfing, you'll indeed have the time of your life here.
Advantages to staying in North Jaco:
Vibrant nightlife, perfect for partygoers.
An excellent shopping spot.
Packed with restaurants and other various dining options.
Good waves for surfing.
Romantic beach to stroll in
Lots of choices for luxury accommodation.
A little fancier than South Jaco.
Disadvantages of staying in North Jaco:
Since the nightlife scene is alive and kicking, expect the area to be loud.
Lots of prostitution (legal in Costa Rica).
Very touristy with thick crowds during peek season.
Not the best beach for swimming.
Not many budget-friendly places to stay in.
Related Read: For an exciting adventure, why not consider joining one of the epic ATV tours in Jaco!
3 BEST Hotels in North Jaco
1. Best Western Jaco Beach All-Inclusive Resort – $$$
If you're looking for the best way to make the most out of your Jacó vacation, then look no further than Best Western Jacó Beach Resort. This is one of the best all-inclusive resorts in Costa Rica! It's a beachfront property for starters and boasts exciting amenities for visitors of all ages.
Bringing your kids on vacation? A games room and supervised kids' activities are located right on the property. If you prefer spending your time outdoors, you'll be glad to know that the hotel comes complete with tennis and volleyball courts at your disposal, too.
Want a more laid-back way to spend your time? Then take a dip in the outdoor pools or munch on some local and international cuisine at the hotel's El Puerto Restaurant, where you can also enjoy a panoramic view of the Pacific. Grab some mid-day snacks at the in-house El Almendro Bar and El Muelle Bar, and soak up the sun while downing your favorite cocktail.
When it comes to your suite, choose from 125 guestrooms, all of which are well-appointed with wireless internet, satellite TV, and tea and coffee making facilities. Another thing you'll surely love about staying at Best Western is how easy you'll get to enjoy everything that Jacó offers. Simply head to their tour desk, and they'll happily assist you with booking activities, from fishing trips to Canopy Adventures.
Hotel rooms here start at $192 USD per night for two persons, including meals and unlimited beverages except for alcoholic beverages.
You can check availability for the Best Western Jaco online here.
2. Crocs Resort & Casino $$
Sitting just 2.2 km (1.4 mi) away from Jaco Walk, the Croc's Casino Resort is 17 stories of pure luxury and fun framed by the beach on one side and the rainforest on the other. It is well-equipped with a wide array of amenities that you won't even think of leaving the property, except perhaps for a stroll on the beach or a visit to the town.
As soon as you wake up, you'll be greeted with a relaxing view of either the lush mountain or the expansive ocean. Make sure you book a room with a balcony, so you can enjoy your freshly made cup of coffee while soaking up the very first rays of the day.
Afterward, prepare yourself for a day of nothing but a luxurious resort experience. Get pampered as the 24-hour room service serves you breakfast before you hit the oceanfront pool or the beach. Any time you crave a cocktail, head to the poolside bar that's always ready to serve the most refreshing drinks.
Once you're done having your fun under the sun, try your luck at the Vegas-style casino, which comes complete with slot machines, table games, and a bonus view of the ocean. If that isn't your thing, you can always get some shopping done on the second floor. You can then end your day with a sumptuous meal at one of the four in-house restaurants before enjoying a mani/pedi or mud wrap at the full-service spa and beauty salon.
Croc's has 150+ air-conditioned guestrooms in three layouts: standard, deluxe, and junior suite, with rates starting at $270 USD.
You can check availability for the Croc's Resort & Casino online here.
3. Mirasol – $
If you're visiting Jaco with your family and don't want to break the bank booking luxurious hotels, don't worry. Hotel Mirasol has your back.
Offering family accommodation near the Planetarium Arcade, Hotel Mirasol comes complete with the standard amenities to make your stay as memorable as possible. Enjoy a swim in the outdoor pool or chill on the terrace while you update your Instagram profile. There is also a shared kitchen on the property should you want to prep your own meal.
Your room is also well-appointed with a TV, a dining area, and a private bathroom and is kept clean by friendly housekeepers.
But aside from Mirasol's homey amenities and rooms, what I really like about staying here is their tour desk. They will happily help you book your Jaco tours and point you to the best shops and restaurants in Jaco – ones that won't break the bank either! If you like making your own itinerary, Mirasol serves as the perfect base, too, since it's only 1.4 km (0.9 mi) away from Parque Recreativo Johannes Dankers and 5 km (3.1 mi) from Rainforest Adventures Jaco.
Room rates here only start at $60 USD per night making it one of the cheapest hotels in Jaco.
You can check availability for Hotel Mirasol online here.
About Staying in South Jaco
South Jaco may be less busy and prestigious than North Jaco, but what it lacks in touristy charm, it makes up for in its beaches and establishments. In fact, just a quick walk from your hotel will bring you to plenty of restaurants, bars, grocery stores, and shops. You can find some of the best hotels in Jaco here, along with budget-friendly hostels and accommodations.
If you're new to surfing and want to try it out, this area should be one of the places you should consider when considering where to stay in Jaco. This is because the waves here are small enough not to overwhelm you. South Jaco is also dotted with tons of surf camps to help you master the sport.
Advantages of staying in South Jaco:
Accommodations are more affordable.
Perfect for beginner surfers
It has a low-key vibe but still puts you close to bars and restaurants.
Waves are small enough for swimming.
Disadvantages of staying in South Jaco:
It can be loud in certain areas.
It has the same nightlife issues as North Jaco with prostitution when you get into town.
3 BEST Hotels in South Jaco
1. Hotel Club del Mar Oceanfront – $$$
Hotel Club del Mar Oceanfront is tucked away on the southern end of Jaco Beach, where you'll be far from the hustle and bustle of the town center. But aside from the more peaceful surroundings and the gorgeous view of the Pacific, what you'll immediately notice upon arriving at the hotel is its very 50s beachfront vibe. This property is styled in a contemporary way with a nice blend of local art and rustic wood throughout.
The beachfront apartment-style units here are equally as homey. Awaken your senses right from your balcony or patio as you drink your morning coffee and take in the beauty of the surrounding ocean and tropical forest. You also have a cable TV in your room for quiet nights relaxing.
After breakfast, you can try the surf lessons, zipline tours, and rainforest aerial tours hosted by the resort itself. The in-house tour desk can also help you plan other activities in the area like fishing and visiting the Carara and Manuel Antonio National Parks – two of the best national parks in all of Costa Rica!
If you don't feel like leaving the property to explore, you can just dip in the oceanfront pool and chill at the Tiki bar that serves food and beverages at the pool or on the beach. The hotel also features some lounge chairs on the beach where you can relax and waste your time away.
When it comes to the meals, Hotel Club del Mar Oceanfront's on-site restaurant is a definite must-try. Enjoy a varied selection of international dishes here, and never go home without trying the Costa Rican meals, especially the fresh local seafood! To cap off your day, indulge yourself in the luxurious world-class Spa Del Mar that offers a full menu of services.
A range of sizes and styles of guest rooms (small condos, apartments, and standard hotel rooms) are available at Hotel Club Del Mar Resort, making it perfect for families as well as couples. The average rate is $198 to 363 USD a night.
You can check availability for the Hotel Club del Mar Oceanfront online here.
2. Apartotel Girasol – $$
With its aesthetic wood furniture and tiles, tropical plants, and airy gauze curtains, staying at Apartotel Girasol feels like being in your own home while having the conveniences of a hotel at your disposal. This cozy accommodation provider sits just steps away from the beach and 200 meters (656 feet) away from Jaco Walk, making it one of the best centrally-located Jaco hotels for your vacation.
Each of the 16 units here is just as tastefully decorated with Caribbean-style rattan furniture. But aside from the homey aesthetic, your roomy suite also includes everything you need for a comfortable stay. You have a fully-equipped kitchenette, living area, complimentary high-speed internet, and my favorite amenity of all, your very own balcony or patio, where you can watch the gorgeous setting sun.
After spending the day out in Jaco, you can happily retreat in the hotel's outdoor pool or stroll across the beautiful tropical garden to the beach nearby. There's also an outdoor BBQ facility here should you want to have an intimate BBQ party with your family while relaxing in the pool.
Room rates start at an average of $100 USD per night. This is one of the best affordable hotels in Jaco with an ideal location if you ask me!
You can check availability for the Apartotel Girasol online here.
3. Room2Board Hostel – $
A boutique hostel and surf camp tucked away on the southern end of the beach, Room2Board is probably one of the best Jaco hostels. It boasts a social and friendly atmosphere, the kind that makes you feel like a part of the family from the moment you walk through the door. This makes Room2Board a favorite among solo travelers and backpackers alike offering budget dorm rooms.
While the rooms at this hostel are pretty basic, the hotel-like amenities and varied activities offered right on the property easily make up for it. Go on a quick movie date at the in-house movie theater, dip in the pool, or enjoy the romantic sunset on the rooftop while you down your cocktail and chill on the hammocks. Join your new friends for lunch at the on-site restaurant or cook your own meal in the communal kitchen if you like.
Room2Board also provides the necessary resources to get your vacation off to a flying start. Start perfecting your surf pose with the surf and SUP packages offered here, or get in touch with your inner peace in the yoga classes done daily. You can also just walk to the town center to get in on the action as it is just five minutes away on foot.
The rooms at Room2Board come as private, shared, or dorm-style. If you prefer rooms with a private bathroom, rates start at $70 USD per night. Meanwhile, beds in dorms range from $18 to $25 USD per night. There is an additional charge for air conditioning.
You can check availability and book Room2Board Hostel on either Booking.com or Hostelworld.
Related Read: While in the area, be sure to read all about the best tours in Jaco!
About Staying at Playa Hermosa
Nestled at the base of the Hermosa Hills, Playa Hermosa is not as busy and touristy as downtown Jaco, which is only ten minutes away by car. However, a growing number of tourists are choosing to stay here to be close enough to all the action that Jaco has to offer while also being at a much quieter beach location with less partying.
Apart from escaping the bustling downtown, travelers come to Playa Hermosa to surf, mainly when the waves are bigger. During this season, plan your visit to the beach on a weekday to avoid the weekend crowds that are sure to come in.
But even if you're not into surfing, visiting Playa Hermosa is still worthwhile, thanks to its stunning four-mile-long stretch of dark gray sand. Unfortunately, most of this area has little to no establishment, and the only restaurants, hotels, and surf shops available can be found in a small community on the northern end.
Note: There are a few "Playa Hermosas" in Costa Rica; this one is specifically located just south of Jaco.
Advantages to staying in Playa Hermosa:
In a quiet area
A few delicious restaurants around.
Has superb conditions for surfing.
Disadvantages of staying in Playa Hermosa:
Not a beach for swimming
There isn't a ton of choices for accommodation.
No nightlife
3 BEST Hotels in Playa Hermosa
1. Casa La Cima – $$$
Visiting Jaco with family but hate staying in stuffy hotel rooms? Then why not book an entire house?
Casa La Cima, nestled in the upscale neighborhood of Valle Perdido, is a three-bedroom and three-bathroom holiday home, perfect for a family of four. You have a spacious and comfortable living room to have movie nights in and a well-equipped kitchen for prepping all your meals.
Sitting just 5 miles (8 kilometers) away from downtown Jaco, this luxury residence makes it easy for you and your family to be away from the hustle and bustle yet close enough to visit whenever you like. But if you don't feel like going out, you won't regret having a staycation at Casa La Cima, too.
Right from your bedroom, you'll have amazing views of the unspoiled mountains of Playa Hermosa. And when you head outside to the garden, you'll be treated to a panoramic vista of the Pacific Ocean.
If you think that's all Casa La Cima has to offer, wait until you see its infinity pool that overlooks the town and provides you with that picture-perfect backdrop. Make sure to grab a book and enjoy a peaceful afternoon in the private deck, as well.
You can experience all of these amenities to yourself for as low as $254 USD per night – definitely a top-choice for a holiday home near Jaco if you ask me.
You can check availability for Casa la Cima online here.
2. Hotel Beachfront Vista Hermosa – $$
Hotel Beachfront Vista Hermosa may look like your typical hotel with its humbly furnished guest rooms. But what makes it one of the best hotels in Jaco is that it's super close to the beach. In fact, you're so close that you will wake up to the relaxing sound of the waves crashing the shore.
After munching on your complimentary breakfast (which, by the way, is one of my favorite things about this hotel), you can head to the outdoor pool area to cool off. Lay on the lounge chairs that face the ocean and take in the beauty of the surrounding tropical garden and the stunning Pacific. There is also a spa center, sun deck, and restaurant right on the property for your convenience.
If you're up for some wet action, just approach one of the surf instructors of the hotel for some lessons. The waves can be pretty big in this area, so you can practice with your surfboard to your heart's content. For a more laid-back activity, you can try hiking and horseback riding on site or stroll along the private beach.
The rooms start at only $138 USD a night.
You can check availability for Hotel Beachfront Vista Hermosa online here.
3. Wipeout Hostel – $
While Wipeout Hostel isn't a luxury hotel that puts you within five steps of the beach, it is still one of the best places to consider when thinking of where to stay in Jaco. Sure, your rooms can be pretty basic with air-conditioning and a shared bathroom. But what gives Wipeout its charm is its great location that sets you 6 km (3.7 mi) out of the craziness of the town center.
You will also be within walking distance to the best beachfront pubs, restaurants, and minimarts in the area. What's more, Hermosa Beach is a quick 15-minute walk away, where you can enjoy a less crowded beach experience with breathtaking sunrises and sunsets.
Another thing I love about Wipeout is how easy it is to meet other people. Just grill some pork in the BBQ facility by the outdoor pool, and you'll find yourself chatting with other guests in no time. There is also a shared lounge and kitchen on the property, where you can hang out with your newfound friends.
Wipeout offers dorm rooms for as low as $30 USD or private rooms for $50 USD per night, inclusive of an American breakfast. They also offer dorm beds which are some of the cheapest in Jaco and area!
You can check availability and book Wipeout Hostel on Hostelworld.
Related Read: Visiting Jaco on a budget? Check out the best free and cheap things to do in Jaco!
About Staying in Playa Herradura
Just a 20-minute drive north of Jaco is a secluded cove called Playa Herradura, famed for its rocky beach and super calm waves. Unlike the nearby areas of Hermosa and Jacó, Playa Herradura is a quieter spot with a more laid-back vibe, where families with kids can enjoy the beach without the worry of harsh waves.
But aside from being a family-friendly destination, Playa Herradura also serves as home to some of the best luxury hotels in Jaco. This makes it a go-to location for luxurious travelers seeking a secluded beach getaway. The area is pretty safe, too, although don't expect to find many dining options.
Another upside of staying at this horseshoe-shaped beach is how close you'll be to the equally stunning beaches of Playa Blanco and Playa Mantas. However, if you only travel by public transport, it can be a hassle as you'll have to wait for buses that only run every hour. This destination is best for those with their own rental car.
Advantages of staying in Playa Herradura:
A swimming beach perfect for families with kids.
Plenty of luxury accommodation to choose from.
Safer and more peaceful compared to downtown Jaco.
Disadvantages of staying in Playa Herradura:
Not a lot of restaurants and shops around
You'll need a car if you want to visit Jaco and the other nearby beaches.
Not suitable for budget travelers since accommodations are usually expensive.
Not ideal for surfing due to gentle waves.
3 BEST Hotels in Playa Herradura
1. Los Sueños Marriott Ocean & Golf Resort – $$$
Indulge in sophistication and style with a night at the deluxe Los Suenos Marriott Ocean & Golf Resort. Secluded in the beautiful rainforest of Playa Herradura, this luxury hotel pampers you with everything you need for a memorable holiday.
Your roomy accommodation includes cable TV, coffee and tea maker, and even a mini-fridge for your convenience. Select suites will also treat you to stunning views and hammocks right in the comfort of your room for that island-style experience.
But while the rooms are definitely worth talking about, it's the amenities of Los Suenos where it's really at. Go on a stroll on the intimate private beach or tee off on the on-site golf course. If you'd rather not spend your day out in the sun but still want to get some exercise, the Sibö Fitness Center offers free group exercise classes that you might want to try. Feel free to go running on the jogging trail, too, or organize a friendly game of volleyball or tennis.
Taking the whole family with you? Bring the little ones to the in-house kids' club while you treat yourself to an entire day of full-service treatment at the spa. You can also unwind at one of the four bars and lounges on the property.
When mealtime comes around, the hotel's six delectable restaurants are ready to quench your appetite. Of course, it can be hard to pick which one to go to for lunch, but if you want that casual, buffet-style Costa Rican eating experience, I recommend dining at the Hacienda Kitchen at least once. For a different experience, try the 18 & Green steakhouse's classic meat and seafood meal.
You can experience all these amenities and more for as low as $213 USD/night.
Check availability for Los Suenos Marriott Ocean and Golf Resort and book on Booking.com online here.
2. CR Los Sueños Condos – $$
If it's a luxurious accommodation tucked away in a private community that you're after, then CR Los Sueños Condos is just what you need. Whether you're looking for a cozy fairway one-bedroom or a roomy two- or three-bedroom unit, these condos will accommodate your vacation needs.
Not only will your condo rental come complete with private bathrooms and fully-equipped kitchen and dining areas, but it will also be nestled within a gated and guarded neighborhood. Talk about safety and security at its finest! What's more, you'll have your own balcony to enjoy the surrounding views in.
Inside the community, you can find a swimming pool, hot tub, and day spa where you can waste your day away. You won't have to head to the town center for dining, too, as you'll have access to 12 different restaurants onsite!
The condos vary in size and price, but you can book a one-bedroom apartment for around $300 USD per night.
You can check availability for the CR Los Suenos Condos online here.
3. Las Brisas – $$
A family-run hotel set in a lush tropical garden, Las Brisas is your perfect definition of home away from home. As soon as you walk in through the gate, you'll notice its warm, welcoming vibe that draws you in right away.
Your suite is just as cozy as it is furnished and decorated with some wooden accents. There is even a cable TV in the seating area for your entertainment needs and a well-appointed kitchen for prepping your meals in.
Outside your room, you can enjoy a dip in the outdoor pool and whirlpool and gather with friends at the in-house rancho bar. If you're up for some adventure outside of the property, Las Brisas can easily take care of this for you, too.
Just approach the staff, and they'll happily arrange an Adventure Tour for you, whether that's a trip to the fishing charters, surf lessons, zip-lining, or scuba diving. After your fun-filled day, you'll head back to the hotel and enjoy a pampering massage right inside your room.
Starting at $136 USD per night, accommodations at Las Brisas range from spacious one-bedroom junior suites to three-bedroom, two-bathroom villas.
You can check availability for Las Brisas online here.
4 Must-Do Activities in Jaco
Surfing – Costa Rica is one of the best destinations in the world for surfing! But big waves can be intimidating for beginners – this is why Jaco is excellent for those learning how to surf. The waves around Jaco Beach are strong and consistent but not too powerful if you're completely new to surfing. If you're completely new to surfing, take a class like this two-hour surfing lesson to learn the ropes.
Ride in the aerial tram – Ride in a tram up above the trees and take in the views as you spot plenty of wildlife (especially monkeys and birds.) It's a scenic but exhilarating way to see the jungle and the views are spectacular. Thrill-seekers can book the Aerial Tram ride and zipline combo as I did for something a little more exciting. This experience includes the tram ride mentioned above before you get geared up to tackle 10 fun ziplines.
Ride an ATV – Taking an ATV through the Costa Rican rainforest is such a great way to cover a lot of ground while enjoying a fun ride. This two-hour ATV tour starts in Jaco, where you'll get instructions from your guide on how to operate an ATV. Then you'll drive on your ATV outside the city over rugged mountain terrain, through knee-deep water, past a small waterfall, and then end with a stop to appreciate the panoramic view of the Pacific Ocean, Nicoya Peninsula, and the Agujitas Mountains. It's one of the best ATV tours in Jaco!
Visit Tortuga Island – The small island of Tortuga is the ideal island getaway from Jaco. One of the best tours from Jaco is visiting Tortuga Island, but it's important to know that a decent amount of travel is involved. That's why it's super important to book a tour that offers a speed boat such as this one. The tour includes transport from Jaco to Punta Arenas with a stop at the Tarcoles River to see the crocodiles – it's one of the best things to do in Costa Rica!
Getting Around Costa Rica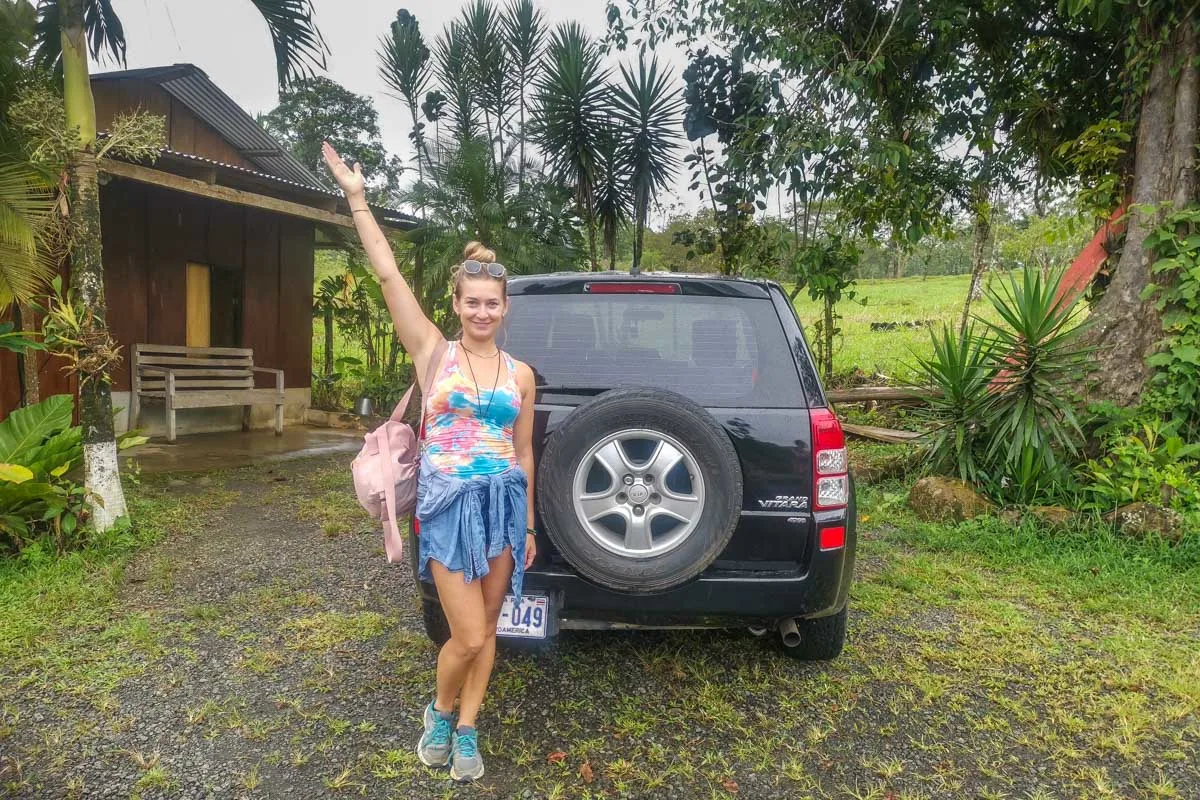 How you choose to get around Costa Rica is one of the biggest decisions you'll make when planning your holiday here! How you do it depends on your budget, travel style, and comfort level.
Renting a Car
Without a doubt, the number one way to explore Costa Rica is in a rental car. We book rental cars on the Discover Cars website as we have had good experiences with them in the past.
One of the things you need to watch for when renting a car in Costa Rica is the mandatory insurance that the government requires you to have. There are a lot of very cheap rentals that don't include this mandatory insurance (TPL) in the original booking price, but there are also ones that do. To avoid additional surprise charges when you pick up your rental car, be sure to rent a car that includes the mandatory insurance when you book.
Thankfully, on Discover Cars it's easy to tell apart the companies that include the mandatory insurance and those that don't. The trick is you can't pick any car on their website. In the picture below, you can see this rental car, with pick up in Jaco, includes the TPL. That means the mandatory insurance is included in the price. Any cover you get above that is extra.
Of course, I still suggest getting the full coverage offered by Discover Cars, which covers you even more.
You can browse cars on Discover Cars here.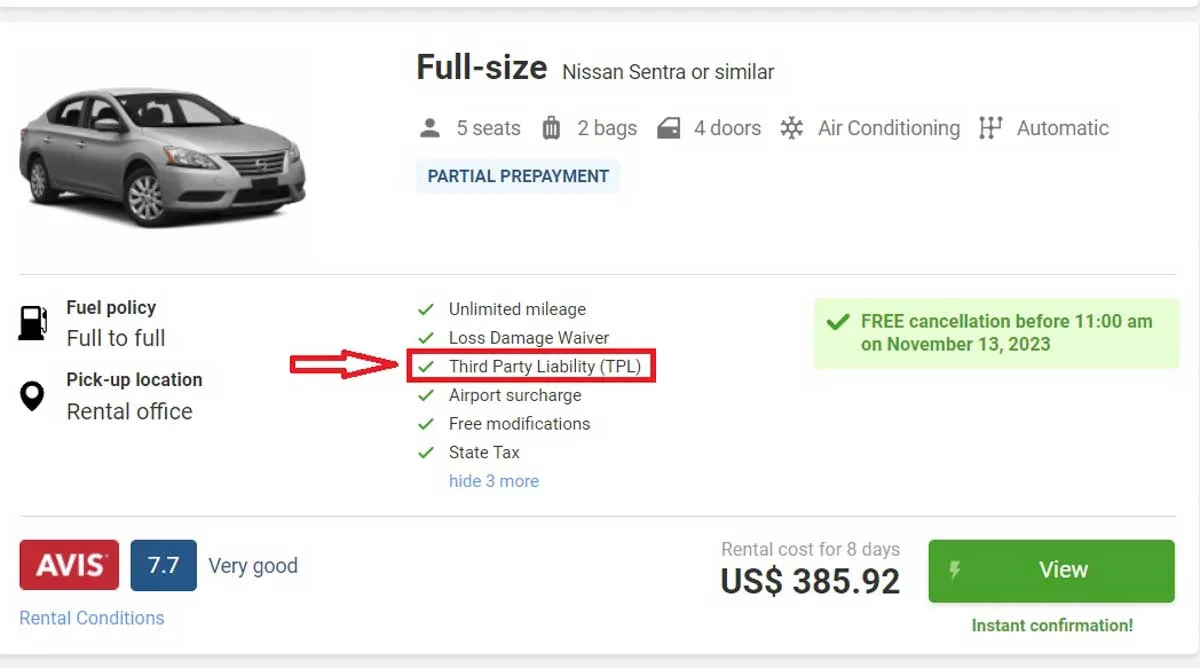 Book Shuttles
If renting a car isn't in your budget, you don't feel comfortable driving in Costa Rica, or you just don't like driving, shuttles are the next best option. There are hundreds of shuttle routes available all over the country, and they are very affordable.
Shuttles in Costa Rica are specifically for tourists and often include pick up and drop off at your selected hotels and airports. The drivers also speak some English, and the vehicles have air conditioning. You'll also be guaranteed a seat when you book a shuttle (which isn't the case with the public bus system.)
To get the best price, use the website Bookaway. They compare all the offers and prices of shuttle companies in Costa Rica so you get the best price! Honestly, we have saved so much money using Bookaway!
You can search for shuttles online on Bookaway here.
Public Bus
Lastly, you can use the public bus system. On short journeys, such as from San Jose to La Fortuna or Uvita to Manuel Antonio, this system is great. However, the longer the journey the more hassle and time spent on a bus. It's undoubtedly best to save the public bus in Costa Rica for short and straightforward trips!
The public buses are definitely the cheapest way to get around Costa Rica, but they are not always very reliable and schedules often change without notice and delays are to be expected. The buses can also be very crowded and hot – so just be prepared!
It's also good to speak some Spanish if you plan on riding the public bus since most drivers and ticket booth operators don't speak English.
Invest in Travel Insurance
Paying out of pocket for trip interruptions or medical treatment will add to what might already be a stressful situation. Not to worry, SafetyWing is here to help!
This affordable travel and medical insurance is perfect for digital nomads, long-term travelers, and remote workers. The best part is that it only costs $45 USD per 4 weeks.
To start coverage you must purchase it after leaving your home country. We usually purchase it as soon as we land at the airport.
Since using SafetyWing we've been reimbursed thousands of dollars when we've gotten sick. During the pandemic, they've even gone as far as to pay for our last-minute flights back to Canada before the border closed!
Pura Vida!
Jaco is a thriving tourist destination with a plethora of things to see and do. The ideal base for foodies, surfers, and beach bums, this coastal town is a place to spend your holiday weekend. ​Hopefully, this guide has made it easier for you to find the best hotel in Jaco to make your stay more worthwhile.
If you liked this blog, I'm sure you'll enjoy a few of our other blogs including:
The BEST Hot Springs in La Fortuna