This blog may contain affiliate links. Read our disclosure policy for more info.
Costa Rica is well known for its sprawling national parks and nature reserves filled with magnificent wildlife and unique flora. In fact, over 28% of the country is protected, which is one reason Costa Rica is known as an eco-tourism mecca.
Visiting at least a few of Costa Rica's 28 national parks is a must, and these parks are without a doubt some of the best things to do in the country. But with so many national parks to choose from, where should you go?
Well, this will depend on which part of the country you plan to visit. However, to help plan your trip, here are the 16 best national parks and nature reserves in Costa Rica. This guide includes all the info you need to enjoy some of Costa Rica's best natural attractions!
Don't have time to read the full article? Here are our absolute favorite national parks in Costa Rica!
Explore Arenal Volcano National Park's unique volcanic landscape on this guided tour.
See one of the world's largest open volcanoes at Poás Volcano National Park.
Take this night hike in Manuel Antonio National Park, one of the most biodiverse areas in the country.
Go on this snorkeling tour to explore the reef at Caño Island Biological Reserve.
Admire the bright blue waters of Rio Celeste at Tenorio Volcano National Park.
The Best National Parks in Costa Rica
1. Arenal Volcano National Park
Location: Near La Fortuna
Entrance Fee: $15 USD
Advanced Booking Required?: No
Arenal Volcano National Park is undoubtedly one of the best national parks in Costa Rica. Exploring the park is an adventure that takes you to the volcano's base through the lush jungle that thrives from the volcanic minerals.
Along the way, you can enjoy the magnificent views and even see where the lava from the last major eruption oozed down the side of the volcano.
Arenal Volcano National Park is located just outside the adventure town of La Fortuna, around 3 hours from San Jose. The park can be explored either on your own or on a guided tour. Without a tour, entry to the park is $15 USD for adults and $5 USD for children.
Once in the park, you can wander the many different hiking trails, ranging in length. Be sure to keep an eye out for birds – many of the 850 species in Costa Rica are found here. If you can, get to the park when they open at 8 am. The first people on the trails have a better chance of spotting wildlife!
I personally visited Arenal Volcano National Park on a tour simply because I love having a guide to learn all about the volcano. Also, I'm no good at spotting wildlife – I literally walk right past them!
If you just want to explore Arenal as I did, this specific tour is a great option. It includes all of your fees, water, transport, and a great guide. You'll learn a ton about the park and volcano and maybe even see a sloth!
With that said, those short on time should instead book a combination tour. This full-day tour visits not only Arenal National Park but also La Fortuna Waterfall, a butterfly garden, Maleku Indian village, and the free hot spring river. It hits many of La Fortuna's highlights in one tour and is top-rated. Plus, alcohol is included! Just make sure you are fit before you sign up for this excursion because there is a lot of trekking involved.
2. Poás Volcano National Park
Location: Central Costa Rica, about a 1.5-hour drive from San Jose
Entrance Fee: $15 USD
Advanced Booking Required?: Yes. The best time slots book well in advance during the busy season.
Poás Volcano is one of the world's largest open volcanoes, dropping at a whopping thousand feet below and stretching over a mile in diameter. The active volcano had its last eruption in September 2019, and visiting Poas Volcano National Park is a bucket list experience! It's one of the best volcanoes to visit in Costa Rica!
Visiting the volcano is easily done on a day trip from San Jose or Alajuela, with tours running from both and a bus running from Alajuela.
Once at the volcano, you'll watch a short video about Poás Volcano National Park and get some safety information (this is an active volcano!)
With your hard hat on your head, you'll then enjoy a short 500-meter (1,640 feet) walk that leads out to a viewpoint on the edge of the crater. From there, you can stare into the crater's sulphuric acid lake. You get a total of 20 to 30 minutes at the crater before returning to the visitor center.
Within the park, there used to be a hiking trail to Laguna Botos visitors could enjoy. However, it is temporarily closed – be sure to check before your visit!
Poás Volcano is best visited in the early morning or afternoon due to cloud cover. Also, while the weather may appear warm in San Jose, the temperatures at the volcano are much lower, so bring a jacket to help keep you warm.
To access the park, you NEED to buy your tickets online and pick your visiting date and precise time for your entry. Once you arrive at the park, ensure you have your ID and entry permits at hand. If you don't, you will be turned away and need to purchase your tickets from a nearby shop at a premium (security at Poas will tell you where.)
If you don't have a car or would prefer a guide, you can join this guided Poás Volcano tour from San Jose. The tour includes a visit to Poás Volcano Crater and La Paz Waterfall Gardens, which begins with a romantic breakfast at the Doka Coffee Estate, followed by a tour of the coffee estate. All entrance fees covered in the cost of the tour and breakfast and lunch are included.
3. Manuel Antonio National Park
Location: The Pacific Coast near the city of Quepos
Entrance Fee: $18 USD
Advanced Booking Required?: Yes.
I must say, Manuel Antonio National Park is the most stunning national park in Costa Rica. This sprawling coastal area, filled with tons of biodiversity and natural beauty, is Costa Rica's smallest national park.
There are several short hiking trails within the park, including "The Sloth Trail," where you have a good chance of seeing two and three-toed sloths. Other trails lead to spectacular viewpoints over the coastline or pristine beaches and mangroves. Some wildlife you should expect to see includes snakes, monkeys, sloths, macaws, and more.
The park sits on the doorstep of the small town of Manuel Antonio (2.5 hours from San Jose) and is only a short drive from the city of Quepos. It's best to stay in Manuel Antonio to explore the park, which you can do on your own or on a tour from Manuel Antonio.
This specific tour is the best option for those staying in Manuel Antonio town. The tour is only $30 USD and includes a 2-hour guided walk through the park. After, explore at your own pace and enjoy the pristine beaches. However, don't just visit during the day. This jungle night tour is awesome, and Andre is talented at spotting critters in the dark!
Manuel Antonio National Park is open from 7 am to 4 pm every day except Tuesday. Entrance tickets to the park, which cost $18.08 USD for adults and $5.65 for children, NEED to be purchased online in advance. When booking, you need to select the day that you're visiting. This is beacuse the park has limited tickets available every day. If you are booking a tour, check if it includes your entrance ticket or not. Be sure to bring ID with you to the park (the same ID used to purchase your ticket.)
Related Read: Don't miss the best restaurants in Manuel Antonio and the best places to stay during your visit!
Why We Book Tours with Viator
Viator is a trusted online booking system for tours around the world! We almost always book our tours using Viator for a couple of reasons:
Free cancellation on most tours – Most of the tours on Viator allow you to cancel and get a full refund up to 24 hours in advance. This is handy in case plans change, or if booking an outdoor activity, the weather forecast is looking grim.
Reserve now and pay later – You can secure your spot on some of the most popular tours well in advance and not pay until closer to the day of the tour.
Pay in your chosen currency – Avoid costly international transaction fees by choosing to pay in your home currency.
Peace of mind – When booking with tour operators you find in person on the street or in small booking offices, you are often promised one thing and given another. This online platform holds tour operators accountable with a written description of inclusions as well as the opportunity for customers to leave reviews.
Check out the Viator website here!
4. Caño Island Biological Reserve
Location: Off the Pacific Coast near Drake Bay
Entrance Fee: None.
Advanced Booking Required?: No
One of the best places to go snorkeling or diving in Costa Rica is Caño Island Biological Reserve. This small island is located off the coast of Drake Bay but can also be visited from Uvita and Sierpe too.
Tours to Caño Island Biological Reserve involve taking a boat out to the island where you can either snorkel or dive. The reef here is filled with wildlife, and during my tour, I got to swim with turtles, sharks, and a huge variety of fish.
You can both snorkel or scuba dive around the island, but visitors are no longer allowed to step foot on the island itself. The best place to start your tour is Drake Bay, and from there, the island is only a 40-minute boat ride away.
This particular tour from Drake Bay is limited to 16 people and includes all of your equipment and a local lunch on the island.
From Uvita and Sierpe, you'll need to take an extra-long boat ride through the mangroves (and a short shuttle from Uvita,) but for keen divers or snorkelers, the trip is well worth it!
Caño Island Biological Reserve is a special place to dive or snorkel in Costa Rica and a must-visit for ocean enthusiasts!
5. Marino Ballena National Park
Location: In Uvita
Entrance Fee: $6 USD
Advanced Booking Required?: No
Without a doubt, the number one thing to do in Uvita is to visit Marino Ballena National Park and enjoy a walk out to the famous "Whale Tail".
Marino Ballena National Park is a small marine and coastal national park that protects this gorgeous coastline. The shape of the sandbar in the park is completely natural and very fitting to the area considering Marino Ballena National Park is one of the best places to go whale watching in Costa Rica. With an aerial view at low tide, you can see this sandbar looks exactly like a whale's tail – hence the name.
From Uvita or Dominical, you can easily visit the national park and the Whale Tail. For the best expereince, you should aim to visit the park at around low tide when you can actually walk onto the Whale Tail.
Although the Whale Tail is the main attraction, the beach itself is also spectacular. In fact, you can spot lots of wildlife in the coastal rainforest area and find secluded places to relax and enjoy a swim.
After you've explored the beach, it's time to see the marine park. On this incredible whale watching tour in Marino Ballena National Park, you head out on a boat in search of these majestic creatures. For over 3 hours, you'll explore the coastline, heading out as far as Caño Island. Of course, you need to visit Costa Rica at the right time of year to see whales.
The entrance to the park is $6 USD for adults, and local guides wait at the entrance to the park in case you want to do a tour. Expect to pay around $40 USD per person for a guided tour, but this price is entirely negotiable depending on group size.
Marino Ballena National Park is open every day from 7 am to 4 pm. Tickets to the park can be bought directly at the park entrance gates in Uvita – no need to book in advance!
Related Read: Check out the best areas to stay in Uvita and hotels.
6. Tenorio Volcano National Park (Rio Celeste )
Location: Guanacaste (1.5 hours from La Fortuna, 1.5 hours form Liberia)
Entrance Fee: $12 USD
Advanced Booking Required?: No
Tenorio Volcano National Park is a small national park located in the Guanacaste region of Costa Rica. The most popular attraction in this park is Rio Celeste – a Gatorade blue river and waterfall well known as one of the most spectacular waterfalls in Costa Rica.
Rio Celeste is famous for its bright blue color. This natural phenomenon is caused by the mixing of two rivers that literally turns the water blue – I'm not joking! This happens because acidic and neutral waters combine, and they create enough particle concentration to reflect light. It's similar to glacier lakes that reflect rock flour.
Rio Celeste is explored by hiking the Rio Celeste Trail within Tenorio Volcano National Park. The trail is 3 kilometers/1.9 miles each way. The main highlight in the park is Rio Celeste Waterfall. It's arguably the most beautiful waterfall in Costa Rica and is located around a 30-minute walk from the entrance.
Further along, you'll see the Borbollones or Bubbling Hot Pot. This part of the river is really hot, and you'll smell the sulfur before you see it! This comes from the nearby Tenorio Volcano, which is a dormant volcano.
Finally, you'll end your hike at the Teñideros, which is where the two rivers meet. Here, you can literally see the water turn blue as the streams meet – it's so cool! Teñideros is 3 kilometers (1.9 miles) from the entrance.
You can choose to either do a tour to Rio Celeste from La Fortuna or Liberia, or visit on your own. Visiting on your own is easy. Just be sure to leave La Fortuna or Liberia before 7 am so you can get to the park entrance before it gets really busy.
Tenorio Volcano National Park is open daily from 8 am to 4 pm.
If you need to book a tour, this specific full-day tour to Rio Celeste from La Fortuna is a top choice. It's highly rated and includes lunch, transport, and an expert guide.
7. Negritos Biological Reserve (Tortuga Island)
Location: Off the coast near Montezuma
Entrance Fee: None.
Advanced Booking Required?: No
The small island of Tortuga is the ideal beach getaway in Costa Rica. Together with Alcatraz Island, the area makes up the Islas Negritos Biological Reserve. It's home to fantastic snorkeling, some of the best white sand beaches in the country, and good vibes! It's no surprise that these tours are considered some of the best in Costa Rica!
Tours to Tortuga Island are very popular from Jaco, Montezuma, Paquera, Punta Arenas, Santa Teresa, Playa Herradura and even the city of San Jose.
On tours to Tortuga, you'll take a boat ride out to the Islas Negritos Biological Reserve and take in the fantastic views along the way. Then it's off to two snorkeling spots within the reserve to swim with turtles, sharks, and lots of fish. The snorkeling here is the best I have seen in Costa Rica – even better than Caño Island!
Afterward, the boat drops you on Tortuga Island for a delicious lunch and plenty of drinks (beers, juice, and pop.) You'll have a few hours to relax, play volleyball, kayak, or drink lots of coco locos. Overall, it's really an enjoyable day out and one of the best tours in Costa Rica!
Islas Negritos Biological Reserve is one reserve you need to visit if you enjoy a mix of wildlife and fun activities.
Related Read: Read about the other fun things to do in Paquera if you're heading that way!
8. Corcovado National Park
Location: Osa Peninsula between Drake Bay and Puerto Jimenez
Entrance Fee: $15 USD (often included in your tour price as a guide is required to enter the park)
Advanced Booking Required?: Yes but organized by your guide.
Corcovado National Park certainly isn't the most popular national park in Costa Rica, but it's the most important. In fact, Corcovado National park is home to 2.5 to 3% of the world's biodiversity, which is huge! It's the best place to see a huge variety of Costa Rica's wildlife, including big cats and tapirs.
The park is most commonly visited from Puerto Jimenez and Drake Bay – two remote towns on the Osa Peninsula. It's important to note, that because of Corcovado's national importance, you can only visit the park with a registered guide – so a guided tour is essential.
From Puerto Jimenez, you can take this day tour to the La Leona Ranger Station to enjoy the hiking trails and wildlife with a guide. There is also this three-day tour that includes a stay at the ranger station – it's the best way to see wildlife!
From Drake Bay, this full-day guided tour is a great option. It involves taking a boat from Drake Bay to Sirena Ranger Station and walking the trail network there. During my visit, we saw every species of monkey in Costa Rica, lots of rare birds, jaguar footprints, rodents, and other wildlife, including snakes. You can also do an overnight tour, which I regret not doing!
Although not as popular, tours leave from Uvita too. This specific tour visits the San Pedrillo Ranger Station, where you'll enjoy a hike through the park in search of wildlife.
Overall, Corcovado National Park is the best national park to visit for those who came to Costa Rica to see wildlife. Bird watchers and animal photographers love this place!
9. Tortuguero National Park
Location: Caribbean Coast
Entrance Fee: $15 USD
Advanced Booking Required?: No
Tortuguero National Park is a really special part of the country as it's one of the most important nesting sites for sea turtles. The park has a huge stretch of beach where 20,000 green sea turtles come every year to nest – the largest colony of turtles on the globe. The highlight here is seeing thousands of turtles nesting on the beach, which happens at different times throughout the year (July to October is best), and exploring the national park.
Tortuguero itself is an area that can only be accessed by boat or plane. It's one of the most remote national parks in Costa Rica. Because of the park's remote location, it is preserved and protected, so it's known as one of the wildest national parks in the country.
If you're not planning to stay in the area, it's a great day trip from San Jose. You can take a 30-minute plane ride from San Jose or a three-hour bus ride to Cariari, Caño Blanco, or La Pavona, followed by a one-hour boat ride. Another great option is booking this tour that includes transportation, so you're all set to explore this incredible area. It's a long day (12 hours) but worth it.
Those with more time can actually make the trip to Tortuguero to stay a few nights. Once you're here, savor this truly unique location by taking in one (or more!) of the amazing tours offered here.
You can canoe or kayak through the wetlands and be sure to keep an eye out for sloths and monkeys. There are also night tours where you'll explore the park to see all the amazing critters who only come out after dark.
And, of course, there are tours dedicated to seeing the turtles who call this park home. You can easily spend a few days here exploring the park and all the activities Tortuguero has to offer.
10. Rincon de la Viejo National Park
Location: 35 minutes from Liberia, 2 hours from Tamarindo
Entrance Fee: $17 USD
Advanced Booking Required?: No
Rincón de la Vieja Volcano National Park is another volcanic national park located just over 2 hours from Tamarindo and only 35 minutes from Liberia. It's famous for the park's volcanic attractions, waterfalls, and adventure tours.
Those with their own vehicle can drive out to the Rincón de la Vieja and enjoy one or many of the hiking trails through the park. These include the trail to the Las Pailas (boiling mud pots.) This is an easy walk that takes around 20 minutes each way. Another cool hike is the Catarata La Cangreja trail, leading to a breathtaking waterfall. This trail is around 3 miles (4.8 km) each way.
Rincón de la Vieja Volcano National Park is also where you'll find the Rio Negro Hot Springs as well as adventure centers offering horseback riding, ziplining, and tubing. One of the most popular adventure combo tours is the Guachipelin Adventure Volcano tour that includes all three acticites, with departures from most towns in Guanacaste such as Tamarindo, Playa Flamingo, Playa Conchal, Liberia, and more.
There are also guided hiking tours, such as this guided hiking tour from Tamarindo and this guided hiking tour from Liberia. These are more for those interested in the national park's history, flora, and fauna, not the offered activities.
Entry to Rincón de la Vieja Volcano National Park costs $17 USD for adults and $5.60 for children (often included with tours) and is open from 8 am to 3 pm, Tuesday to Sunday.
11. Cahuita National Park
Location: Caribbean Coast near Puerto Viejo and Puerto Limon
Entrance Fee: By donation (Recommend $5 USD)
Advanced Booking Required?: No
Cahuita National Park is a beautiful area near Puerto Viejo best known for the coral reefs and the more than 500 species of fish that live in them. The park itself was created to protect the reefs as well as the mangrove and tropical rainforest here. It's free to enter, but donations ($5 USD recommended) are encouraged for park upkeep.
If you want to explore Cahuita by land, there's a long trail that winds through the forest. This is a great area to spot sloths and monkeys! In fact, it's one of the best places to see sloths in Costa Rica.
There are a few beautiful beach areas as well – keep an eye out for which ones allow swimming. Snorkeling is allowed, but only with a certified guide to ensure the coral is protected. There are even two different shipwrecks here in the shallow water you can see while snorkeling.
You can drive yourself to Cahuita National Park, and it's a really popular thing to do from Puerto Viejo – you're only 15 minutes away! If you're staying around Puerto Limon, it's about a 45-minute drive along the coast. From San Jose, this is a longer trip of around 4 hours. If you don't have a rental car, buses leave San Jose daily for Cahuita, so that's another option.
If you're interested in tours with transportation, this tour goes from Puerto Viejo to Cahuita National Park. You'll have a professional naturalist tour guide to help you spot animals, including white-faced monkeys, snakes, raccoons, and more. It also includes a visit to Cahuita's hidden waterfall, where you can take a swim.
This full-day tour from Puerto Limon also includes a stop at Cahuita National Park. It includes a short city tour of Limon, a covered boat cruise down the Tortuguero Canals, a visit to the Chiquita banana plantation, and a one-hour hike through the park.
Related Read: Heading to Cahuita, read our guide about where to stay in Puerto Viejo and the best restaurants!
12. Monteverde Cloud Forest Biological Preserve
Location: Santa Elena, in central Costa Rica
Entrance Fee: $25 USD
Advanced Booking Required?: No
One of the best reserves in Costa Rica is Monteverde Cloud Forest. As the name suggests, this tropical forest is full of low-hanging clouds and mist. It's one of the rarest habitats in the entire world and 10% of the flora in Monteverde is only found here.
Monteverde Cloud Forest is located about halfway in-between San Jose and Liberia near the town of Santa Elena. If you're coming from either of those places, it's around a three-hour drive. While the cloud forest is the main draw, plan to spend a few days here to explore all the other things to do in Monteverde.
Once here, there's a $25 USD admission to pay at the entrance gate. The park opens at 7 am, and get here early as often there's a line-up by 8 am. Once inside, you are free to explore the network of trails here that covers about 8 miles (13 kilometers). One of the best trails is the Sendero Trail which leads to a suspension bridge – a great place to spot some of the many birds that live here. It's also one of the best hanging bridges in the Monteverde region.
If you want to learn more about the cloud forest and all the animals inside it, I recommend booking a tour. The guides on these tours are amazing at spotting animals like monkeys, sloths, and birds that you might have walked right by.
This private tour allows you to explore the forest at your own pace with an expert guide. Your chances of spotting rare birds are greatly increased and you'll learn a ton. Or, for a totally different experience, book a night walk through the forest to see all the animals that wake up at night – about 80% of the mammals here!
Related Read: While here, be sure to check out all the best restaurants in Monteverde!
13. Santa Elena Cloud Forest Reserve
Location: Santa Elena (near Monteverde)
Entrance Fee: $16 USD
Advanced Booking Required?: No
While the Monteverde Cloud Forest is the most well-known, it's not the only cloud forest in Costa Rica! The Santa Elena Cloud Forest Reserve is smaller and tends to be less busy but is equally as beautiful and located right next to Monteverde.
The Santa Elena Cloud Forest has 12 kilometers (7.5 miles) of trails filled with viewpoints (including a great observation tower) and stunning scenery of the lush rainforest. You'll find similar plants and animals as the other cloud forest as the misty clouds create the perfect habitat for thousands of species. If you're lucky, you might spot a spider monkey, which is unique to this specific cloud forest. Also, keep an eye out for hundreds of different types of orchids.
The Santa Elena Cloud Forest is operated by the local community with all entrance fees going to protecting the reserve and funding education in Monteverde. Admission is $16 USD for adults and $7 USD for kids.
There's an easy way to get here as a local bus from Santa Elena town goes to the cloud forest every day at multiple times throughout the morning and early afternoon for only $2 USD per person. You can also drive here, but there are a few steep hills, and it isn't paved, so it's best to attempt with an SUV or 4×4.
Santa Elena Cloud Forest is open from 7 am to 4 pm every day.
14. Irazu Volcano National Park
Location: 1.5-hour drive from San Jose
Entrance Fee: $15 USD
Advanced Booking Required?: Yes.
In the province of Cartago, to the east of San José, you will find the Irazu Volcano. This is Costa Rica's highest volcano that is still active!
Like Poas Volcano, it's best to visit in the morning due to cloud cover that makes seeing the crater impossible.
It's very accessible to get there, and you can rent a car or take a bus. If you enjoy hiking, this is also a great place since the volcano has its own national park with trails and amenities like a cafeteria, parking, toilets, and picnic areas.
The entrance of the national park is $15 USD and its opening hours are from 8 am to 4 pm. You need to buy your entrance ticket online in advance on the SINAC website. If you go on a tour, most include this entrance fee.
You can also book a half-day tour to visit the volcano and include transportation and snacks! This tour will stay 3 hours at the volcano.
15. Palo Verde National Park
Location: About an hour from Liberia
Entrance Fee: $12 USD
Advanced Booking Required?: No
This national park is one of the best spots to see wildlife – especially birds. Spanning more than 45,000 acres, Palo Verde is one of the most densely populated areas of migratory birds in all of Central America.
During the rainy season, floodwaters from the Tempisque River create huge marshes here that attract all types of birds. Then in the dry season (typically from December to May), the marshes shrink to form smaller pockets of water throughout the park. It's best to plan a visit here during the dry season as roads can be completely impassable after heavy rains.
To see the most wildlife, find one of the smaller bodies of water and just sit and wait. You'll likely spot lots of birds and may even be lucky enough to see some howler monkeys or capuchin monkeys. Or head out on the 20-meter (66 feet) boardwalk at Laguna Palo Verde – another great place to see the animals that call this park home.
To get here, it's about an hour's drive from Liberia – you'll follow the main Inter-American highway to the city of Bagaces and then turn onto a gravel road, following that for about 20 kilometers (12 miles) to the entrance of the park. You can also take a bus to Bagaces and then Uber or taxi down the gravel road to the park.
16. Carara National Park
Location: 30-minute drive from Jaco
Entrance Fee: $10 USD
Advanced Booking Required?: No
Located only a short 30-minute drive from Jaco is the stunning Carara National Park. This is your best opportunity for walking pristine trails through the jungle. It's the most northern Pacific coastal rainforest in Costa Rica and also the closest national park to Jaco.
The word "Carara" actually translates from the indigenous Huetar language meaning "River of lizards." So naturally, you can expect to see plenty of reptiles here, including crocodiles!
You can easily visit the park on your own if you drive yourself to the entrance gates. The park does have an entrance fee of $10 USD for foreigners (a discounted rate is available for Costa Ricans.) It is open daily from 8 am to 4 pm from May to November, and then from 7 am to 4 pm from December to April.
If you visit on your own, this is certainly one of the cheapest national parks. You can still easily spot wildlife too. Just look for the groups with their eyes in the canopy. It's a good indication there's something to see and most of the time, they are more than happy to share the experience.
Another option is to visit on a guided tour from Jaco. The benefits to this are having transport organized as well as an experienced tour guide by your side in the park. Tour guides are experts when it comes to spotting wildlife, and they offer a wealth of knowledge.
This particular tour is one of the best options out there and is a half-day, 3 to 5-hour long tour that includes your entrance fee and transport. It was also really cheap at $30 USD for the group tour (they also offer private tours for $50 USD per person.)
Getting Around Costa Rica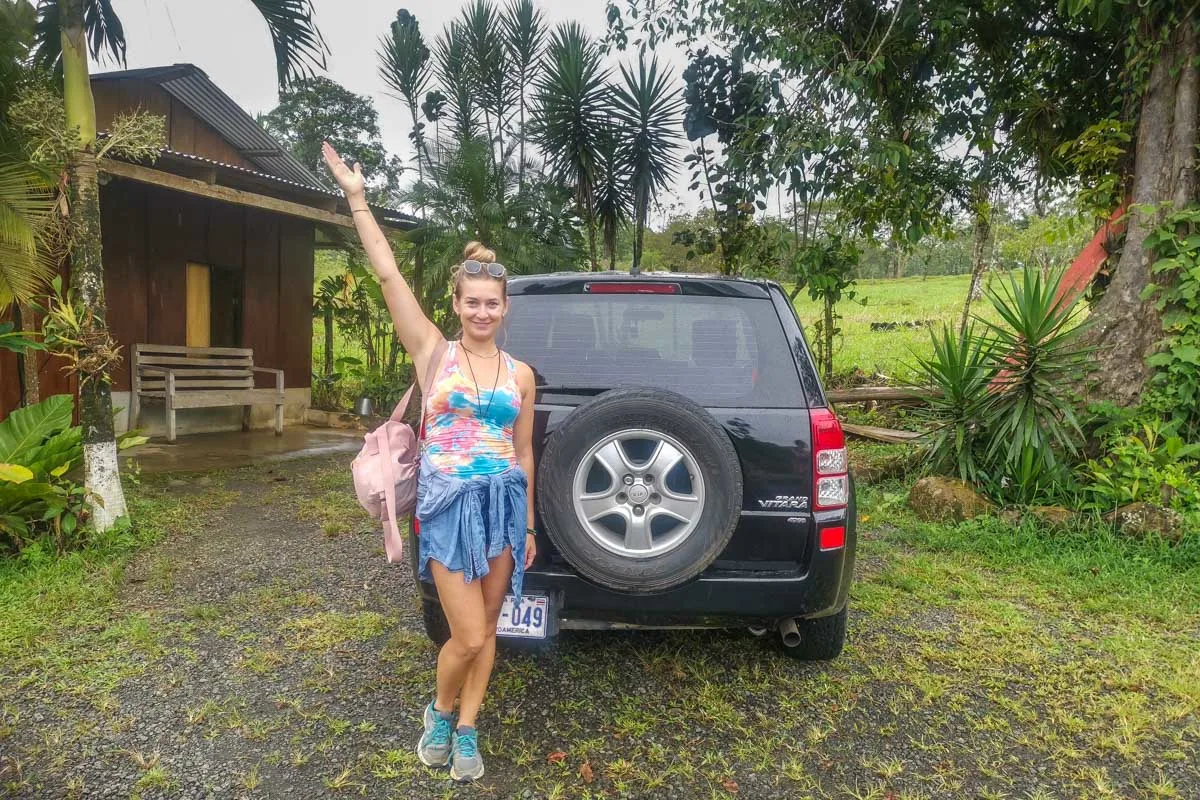 How you choose to get around Costa Rica is one of the biggest decisions you'll make when planning your holiday here! How you do it depends on your budget, travel style, and comfort level.
Renting a Car
Without a doubt, the number one way to explore Costa Rica is in a rental car. We book rental cars on the Discover Cars website as we have had good experiences with them in the past.
One of the things you need to watch for when renting a car in Costa Rica is the mandatory insurance that the government requires you to have. There are a lot of very cheap rentals that don't include this mandatory insurance (TPL) in the original booking price, but there are also ones that do. To avoid additional surprise charges when you pick up your rental car, be sure to rent a car that includes the mandatory insurance when you book.
Thankfully, on Discover Cars it's easy to tell apart the companies that include the mandatory insurance and those that don't. The trick is you can't pick any car on their website. In the picture below, you can see this rental car, with pick up in Jaco, includes the TPL. That means the mandatory insurance is included in the price. Any cover you get above that is extra.
Of course, I still suggest getting the full coverage offered by Discover Cars, which covers you even more.
You can browse cars on Discover Cars here.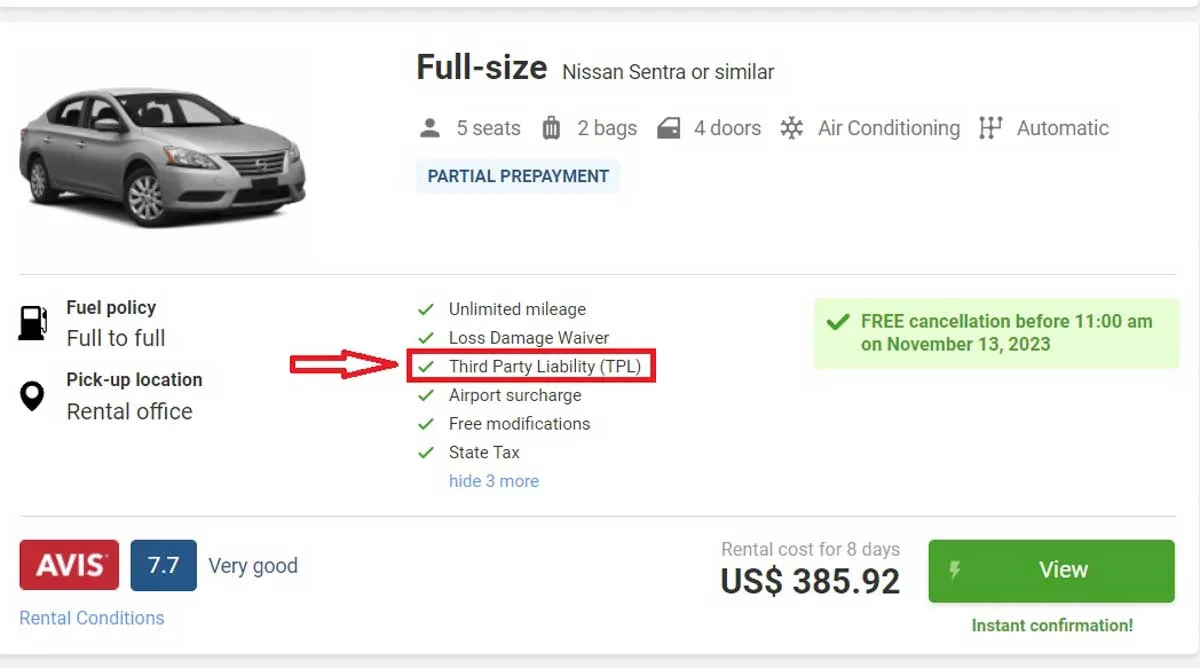 Adobe Rental Rent A Car is another rental company that we most often use in Costa Rica. We love them because Adobe has 15 offices around Costa Rica and delivers door-to-door around their offices at no extra cost. We also are pleased that all of their cars are new. In fact, they are never older than 2 years to the date. They are also the only company to include mandatory insurance and promise no hidden fees. You can get a free quote for a rental car from their website here.
Book Shuttles
If renting a car isn't in your budget, you don't feel comfortable driving in Costa Rica, or you just don't like driving, shuttles are the next best option. There are hundreds of shuttle routes available all over the country, and they are very affordable.
Shuttles in Costa Rica are specifically for tourists and often include pick up and drop off at your selected hotels and airports. The drivers also speak some English, and the vehicles have air conditioning. You'll also be guaranteed a seat when you book a shuttle (which isn't the case with the public bus system.)
To get the best price, use the website Bookaway. They compare all the offers and prices of shuttle companies in Costa Rica so you get the best price! Honestly, we have saved so much money using Bookaway!
You can search for shuttles online on Bookaway here.
Public Bus
Lastly, you can use the public bus system. On short journeys, such as from San Jose to La Fortuna or Uvita to Manuel Antonio, this system is great. However, the longer the journey the more hassle and time spent on a bus. It's undoubtedly best to save the public bus in Costa Rica for short and straightforward trips!
The public buses are definitely the cheapest way to get around Costa Rica, but they are not always very reliable and schedules often change without notice and delays are to be expected. The buses can also be very crowded and hot – so just be prepared!
It's also good to speak some Spanish if you plan on riding the public bus since most drivers and ticket booth operators don't speak English.
The BEST Things to do in Costa Rica
While there are so many fun things to do in Costa Rica, a couple of specific attractions and activities stand out amongst the rest. They are:
Explore Volcanoes
There are some impressive (and beautiful!) volcanoes that you'll want to check out while you're here.
Poas Volcano is known for its bright blue crater lake. Poas Volcano is most commonly visited on a day trip from San Jose. This Poas Volcano tour from San Jose is one of the best you can do since it also includes a visit to the La Paz Waterfall Gardens as well as a coffee farm.
Arenal Volcano is also one of Costa Rica's top attractions. Arenal Volcano is located closest to the town of La Fortuna. You can book this full-day tour from La Fortuna that takes you to the volcano to hike, the famous La Fortuna Waterfall and even a hanging bridge – it's a full day of adventure!
Chase Waterfalls
La Fortuna Waterfall is one of our favorite waterfalls in all of Costa Rica. You can easily visit it on this full-day tour in La Fortuna that also visits hot springs.
Rio Celeste is another beautiful waterfall that is famous for its bright blue water. Rio Celeste is a popular attraction to visit from Guanacaste Province and this particular tour includes transport from there. Alternatively, you can book this tour from La Fortuna or this tour from San Jose.
See the wildlife
Costa Rica is the place for wildlife lovers! One of the best places to see lots of animals in their wild habitat is at Manuel Antonio National Park. With the help of a guide you will see plenty of birds, monkeys, and even sloths! This particular tour is super popular and also has amazing reviews, so you really can;t go wrong.
There are also lots of wildlife rescue centers around the country that are worth visiting. The Jaguar Rescue Center in Puerto Viejo is one of our favorites as well as Rescate Wildlife Rescue Center in San Jose where you can book this private tour.
Invest in Travel Insurance
Paying out of pocket for trip interruptions or medical treatment will add to what might already be a stressful situation. We always travel with SafetyWing travel medical insurance.
The best part is that it costs only a fraction of what most insurance policies charge, which makes it perfect for digital nomads, long-term travelers (like us), and budget travelers. It only costs $45 USD per 4 weeks!
To start coverage, you must purchase it after leaving your home country. We usually purchase it as soon as we land at the airport.
Since using SafetyWing we've been reimbursed thousands of dollars when we've gotten sick. During the pandemic, they've even gone as far as to pay for our last-minute flights back to Canada from Colombia before the border closed!
You can click here to get a quote and read all the details!
Pura Vida!
With so many beautiful national parks to explore in Costa Rica, it's no wonder nature lovers like myself flock here. The best part is, by supporting this area of tourism, you tell not only Costa Rica, but other nearby nations that protecting flora and fauna is important!
Thanks so much for checking out our blog! As you can tell, we pour our hearts and souls into this blog and hope you enjoyed reading. If you did, then stick around and read some more. What's the hurry? Pura Vida!
Best things to do in Costa Rica
The best hot springs in La Fortuna