Costa Rica is truly one of the most beautiful countries on the planet. This small Central American country is well known for its abundance of wildlife, natural attractions, fun activities, and friendly people. It is not only the most developed country in Costa Rica but also the safest.
This makes Costa Rica a popular place for tourists!
Bailey and I first visited Costa Rica back in 2017 and have been coming back ever since – we even lived there at one stage. We have done some pretty cool activities during that time, most of which I'll never forget.
To help other travelers, we have come up with the 50 best things to do in Costa Rica. This list includes lots of specific activities in Costa Rica, top tours (including multi-day tours) as well as general activities with info about where to enjoy them.
So, if you're planning on visiting Costa Rica for the first time or returning again, this blog on the best things to do in Costa Rica is perfect for you!
Fun Things to do in Costa Rica
1. Explore Manuel Antonio National Park
Manuel Antonio National Park is one of the best national parks in Costa Rica. This sprawling coastal area is filled with tons of biodiversity and natural beauty.
Within the park, there are several short hiking trails including "The Sloth Trail," where you have great chances of seeing two and three-toed sloths. Other trails lead to spectacular viewpoints over the coastline or to pristine beaches and mangroves. Some wildlife you should expect to see includes snakes, monkeys, sloths, macaws, and more.
The park sits on the doorstep of the small town of Manuel Antonio (2.5 hours from San Jose) and is only a short drive from the city of Quepos. It's best to stay in Manuel Antonio to explore the park, which you can do on your own or on a guided tour from Manuel Antonio.
This specific tour is the best option for those staying in Manuel Antonio town. The tour is only $25 USD and includes a 2-hour guided walk through the park. However, don't just visit during the day. This jungle night tour is awesome too, and Andre is talented at spotting critters in the dark!
Manuel Antonio National Park is open from 7 am to 4 pm every day. Entrance tickets to the park, which cost $18.08 USD for adults and $5.65 for children, NEEDS to be purchased online in advance. When booking, you need to select the day that you're visiting. This is beacuse the park has limited tickets available every day. If you are booking a tour, check if it includes your entrance ticket or not.
Check out the best things to do in Manuel Antonio, where I have lots of detailed info about visiting the park. Also, don't miss the best restaurants in Manuel Antonio during your visit!
2. Visit an animal rescue center
Costa Rica has worked really hard to protect its local wildlife. However, there are still issues that lead to animals needing help. Luckily, all over Costa Rica you'll find non-for-profit organizations rescuing these animals and rehabilitating them for release.
Visiting one of the many animal rescue centers in Costa Rica is a great way to support the cause (your entrance fee goes directly to helping the animals) and see some really cool animals for yourself that are elusive in the wild. You can see baby sloths, jaguars, pumas, monkeys, crocodiles, snakes, and more.
Some of the best wildlife rescue centers in Costa Rica are:
Jaguar Rescue Center – Located in Puerto Viejo, this is my overall favorite wildlife rescue center. Tours to the center cost $22 USD and include an in-depth look at the different animals, including their baby sloth program. You can also volunteer here, which is very popular.
Rescate Wildlife Rescue Center – Rescate is located on the outskirts of San Jose and is a cool thing to do in the city. The property is huge, and on a self-guided tour, you'll get to see just about all of Costa Rica's wildlife! Only 2% of the animals here stay for life, which is fantastic! Entry is $30 USD for adults and $15 USD for kids.
Kids Saving the Rainforest Wildlife Rescue Center and Sanctuary – If you're visiting Manuel Antonio, this rescue center should be high on your bucket list. The non-profit rescue center was created in 1999 to help protect the diverse wildlife of Costa Rica. They do this by rehabilitating wildlife, scientific research, and promoting conservation and reforestation. Tours at the center cost $60 for adults, $45 for children under 12, and are free for children under the age of 3.
Alturas Wildlife Rescue Center – This non-profit wildlife rehabilitation center, located near Uvita and Dominical, has the goal of releasing every animal they rescue. This involves treating animals in their veterinary clinic and slowly training animals to live in the wild again. It's a costly but rewarding process that saves thousands of animals. Tours through Alturas cost $25 USD for adults and only $15 USD for children.
Sibu Wildlife Sanctuary – This small wildlife rescue center is located in Nosara (one of my favorites town to surf in Costa Rica) and, like the centers above, is focused on rescuing and rehabilitating wildlife. Guided tours of the center are $60 USD.
3. Stare into Poás Volcano
Poás Volcano is one of the world's largest open volcanoes, the crater drops a whopping thousand feet below and stretches over a mile in diameter. The active volcano had its last eruption in September 2019, but it is closely monitored so that visitors are safe. From the viewing area, you'll be able to look right into the volcano crater – a unique experience that is easily one of the best things to do in Costa Rica.
Visiting Poas Volcano is easily done on a day trip from San Jose or Alajuela, with tours running from both and a bus running from Alajuela.
Once at the volcano, you'll watch a video about Poás Volcano and get some safety information. With your hard hat on your head, you'll then enjoy a short 500-meter hiking trail that leads out to a viewpoint on the edge of the crater. You get a total of 20 to 30 minutes at the crater before returning to the visitor center.
Poás Volcano is best visited in the early morning or afternoon due to cloud cover. Also, while the weather may appear warm in San Jose, the temperatures at the volcano are much lower, so bring a jacket to help keep you warm.
To access the park, you NEED to buy your tickets online and pick your visiting date and precise time for your entry. Once you arrive at the park, ensure you have your ID and entry permits at hand. If you don't, you will be turned away and need to purchase your tickets from a nearby shop at a premium (security at Poas will tell you where.)
If you don't have a car or would prefer a guide, you can join this guided Poás Volcano tour from San Jose. The tour includes a visit to Poás Volcano Crater and La Paz Waterfall Gardens, which begins with a romantic breakfast at the Doka Coffee Estate, followed by a tour of the coffee estate.
Related Read: There are some really beautiful hotels located very close to the airport in San Jose – read all about them!
4. Learn to surf
Costa Rica is well known as a top surf destination. With great beginner, intermediate, and advanced waves, it's become a great place to both learn and fine-tune your skills. Although you can surf on both coastlines, the most popular coastline to surf is the Pacific Coast of Costa Rica.
Surfing is popular in most coastal towns, beginning as south as Uvita and going as far north as Jaco on the inland coast. Places such as Dominical and Playa Hermosa are very popular.
After Jaco, you'll need to travel across the Gulf of Nicoya to Santa Teresa. Those wanting to learn should add Santa Teresa to the top of their list. It's Santa Teresa is a vibrant town with amazing restaurants, great surf schools, and also lots of fun things to see and do. From there, you can surf the entire coastline to the north, with some of the most popular surf beaches being Tamarindo, Playa Grande, and the famed Witch's Rock.
Witch's Rock is a beach break for intermediate and advanced surfers. Getting there is a bit tricky, but there are tours from Tamarindo. Keen surfers should speak to locals for transport, and if you want to spend a few days surfing, the beach break is located at Naranjo Beach. People often camp here so they can surf.
Another surf beach with just as much hype is Nosara. Surfing is easily the most popular thing to do in Nosara, and the entire town caters to surfers. After your surf, be sure to check out some of the best restaurants in Nosara – it's a foodie paradise!
5. Go whale watching
Seeing whales in the wild is a dream for many travelers, including myself. Although Costa wasn't the first place I saw whales, it was the first place I saw a baby whale swimming with its mother. It was such a surreal experience that happened on my way to Corcovado National Park from Puerto Jimenez (a remote town on the southern coast.)
The good news is that you don't have to travel all the way to Puerto Jimenez to see whales in Costa Rica. In fact, whale watching tours can be done all up the Pacific Coast, including from Drake Bay, Uvita, Manuel Antonio, Jaco, Tamarindo, in the Gulf of Nicoya, and in the Gulf of Papagayo. The trick is to pick the right time of year!
In Costa Rica, the two whale watching seasons run from December to March and July to October when the whales come to give birth in the calm waters. However, the best months to visit Costa Rica for whale watching are January to February and July to September.
If you're visiting during this time, be sure to book a whale watching tour and enjoy this memorable activity in Costa Rica!
6. Hike to Nauyaca Waterfalls
The most beautiful waterfall in Costa Rica is Nauyaca Waterfalls. These two spectacular waterfalls are a combined 197 feet tall (60 meters) and are surrounded by lush rainforest and wildlife. This place is a must-visit if you plan on visiting Uvita, Dominical, or Manuel Antonio.
Dominical is the closest town to the entrance, it's only a 15-minute drive to the ticket office from town. The ticket office is where you'll need to buy your entrance ticket ($12 USD at the office or $10 USD online). Then, it's another 1.2-mile drive (2 kilometers) to the parking lot, where you'll begin the hike to the base of the waterfall.
The trail from the parking lot is 4 kilometers (2.5 miles) each way along a dirt road, and it's best to visit in the morning, as it's a hot walk in the afternoon sun. Thankfully, once you arrive at the waterfall, you'll quickly forget the hike.
My recommendation is to visit the top waterfall first to check out the view and then walk down the bottom for a swim (the top isn't for swimming.) Make sure you spend lots of time enjoying the water, it's so beautiful.
Related Read: Dominical is the town closest to Nauyaca Waterfalls, learn about all of the best hotels in Dominical!
7. Explore Caño Island
One of the best snorkeling and dive sites in Costa Rica is Caño Island Biological Reserve. This small island is located off the coast of Drake Bay but can also be visited from Uvita and Sierpe too.
Tours to Caño Island Biological Reserve involve taking a boat out to the island where you can either snorkel or scuba dive. The reef here is filled with wildlife, and during my tour, I got to swim with turtles, sharks, and a huge variety of fish.
You can both snorkel or scuba dive around the island, but visitors are no longer allowed to step foot on the island itself. The best place to start your tour is Drake Bay, and from there, the island is only a 40-minute boat ride away. In fact, tours to Caño Island are considered one of the best things to do in Drake Bay.
From Uvita and Sierpe, you'll need to take an extra-long boat ride through the mangroves (and a short shuttle from Uvita,) but for keen divers or snorkelers, the trip is well worth it!
Caño Island Biological Reserve is my second favorite place to dive or snorkel (number one is mentioned further on in this blog) in Costa Rica and a must-do for ocean enthusiasts!
8. Take a trip to La Fortuna Waterfall
It should come as no surprise that La Fortuna Waterfall is one of the top attractions in Costa Rica. This stunning 230 foot (70 meter) waterfall shoots out from a tall cliff into a powerful pool below that's surrounded by lush forest. Visiting is nothing short of breathtaking.
Visiting La Fortuna Waterfall is easily done without a tour. You can get a taxi or drive yourself from La Fortuna town to this parking lot, where you'll pay the entrance fee and begin hiking. The trail is well maintained and leads down to the waterfall via lots of concrete steps. It only takes 15 minutes to get down but a little longer on the way up – it's 500 steps!
Once at the bottom, you can get some great pictures and swim in the pool below the waterfall, or visit the calmer pools downriver for a more relaxing swim. The water is cold but super refreshing, and the entire area is gorgeous.
We spent around 1 hour at the waterfall before "enjoying" the 30-minute walk back up. This walk takes some people much longer, so be prepared and take your time. Keep an eye out for wildlife too. We saw lots of toucans during our visit.
Entrance to La Fortuna Waterfall is $18 USD, and you can purchase them at the gate or here online in advance and skip the line (it's the same price.)
If you don't have transport or would prefer a guide, there are some great La Fortuna Waterfall tours that also include epic extras. My pick is this guided tour of La Fortuna Waterfall. For $91 USD, you'll get to hike near the stunning Arenal Volcano, take a swim in La Fortuna Waterfall's cool waters, and then visit a natural hot spring – which you get to enjoy with a cocktail in hand. It's a popular tour with hundreds of 5-star reviews that you can book online here!
Visiting La Fortuna Waterfall is one of the best things to do in La Fortuna, so don't miss it!
9. Explore Marino Ballena National Park
Without a doubt, the number one thing to do in Uvita is to visit Marino Ballena National Park and enjoy a walk out to the famous "Whale Tail".
Marino Ballena National Park is a small marine and coastal national park that protects this gorgeous coastline. The shape of the sandbar in the park is completely natural and very fitting to the area considering Uvita is one of the best places to go whale watching in the country. With an aerial view at low tide, you can see this sandbar looks exactly like a whale's tail – hence the name.
From Uvita, you can easily visit the national park and the Whale Tail. For the best experience, you should aim to visit the park at around low tide when you can actually walk onto the Whale Tail.
Although the Whale Tail is the main attraction, the beach itself is also spectacular. In fact, you can spot lots of wildlife in the coastal rainforest area and find secluded places to relax and enjoy a swim.
The entrance to the park is $6 USD for adults, and local guides wait at the entrance to the park in case you want to do a tour. Expect to pay around $40 USD per person for a guided tour, but this price is entirely negotiable depending on group size.
After you've explored the beach, it's time to see the marine park. On this incredible whale watching tour in Marino Ballena National Park, you head out on a boat in search of these majestic creatures. For over 3 hours, you'll explore the coastline heading out as far as Caño Island.
Marino Ballena National Park is open every day from 7 am to 4 pm. Tickets to the park can be bought directly at the park entrance gates in Uvita and do not need to be purchased in advance.
10. See the blue water of Rio Celeste
Costa Rica is home to lots of rivers, but few are as beautiful as Rio Celeste. Located around 1.5 hours north of La Fortuna, this natural attraction is one of the best things to do in Costa Rica.
Rio Celeste is famous for its bright blue color. This natural phenomenon is caused by the mixing of two rivers that literally turns the water Gatorade blue – I'm not joking!
This happens because acidic and neutral waters combine, and they create enough particle concentration to reflect light. It's similar to glacier lakes that reflect rock flour.
Rio Celeste is explored by hiking the Rio Celeste Trail, which is 3 kilometers/1.9 miles each way. The main highlight at Rio Celeste is Rio Celeste Waterfall – it's arguably the most beautiful waterfall in Costa Rica and is located around a 30-minute walk from the entrance.
Further along, you'll see the Borbollones or Bubbling Hot Pot. This part of the river is really hot, and you'll smell the sulfur before you see it!
Finally, you'll end your hike at the Teñideros, which is where the two rivers meet (pictured above). Here, you can literally see the water turn blue as the streams meet – it's so cool! Teñideros is 3 kilometers from the park entrance.
You can choose to either do a tour to Rio Celeste from La Fortuna or visit on your own. Visiting on your own is easy. Just be sure to leave La Fortuna before 7 am so you can get to the park entrance before it gets really busy.
If you need to book a tour, this specific full-day tour to Rio Celeste is a top choice. It's highly rated and includes lunch, transport, and an expert guide.
11. Day trip to Tortuga Island
The small island of Tortuga is the ideal beach getaway in Costa Rica. Together with Alcatraz Island, the area makes up the Islas Negritos Biological Reserve. It's home to fantastic snorkeling, white sand beaches, and good vibes!
Tours to Tortuga Island are very popular from Jaco, Montezuma, Paquera, Punta Arenas, Santa Teresa, Playa Herradura and even the city of San Jose. You can only reach Tortuga Island with a tour, and these are all full-day trips.
On tours to Tortuga, you'll take a boat ride out to the islands and take in the fantastic views along the way. Then it's off to two snorkeling spots to swim with turtles, sharks, and lots of fish. The snorkeling here is the best I have seen in Costa Rica – even better than Caño Island!
Afterward, the boat drops you on Tortuga Island for a delicious lunch and plenty of drinks (beers, juice, and soda.) You'll have a few hours to relax, play volleyball, kayak, or drink lots of coco locos. Overall, it's really an enjoyable day out and one of the best tours in Costa Rica!
12. Navigate a canyon to reach La Leona Waterfall
If you're going to be anywhere in the Guanacaste Province of Costa Rica, seeing La Leona Waterfall is a must. This is an easy day trip of around 1 to 2 hours from Tamarindo, Playa Coco, and Playa Flamingo. You're even closer (around 20 minutes!) if you're in Liberia, making it one of the top things to do in Liberia.
Visiting La Leona Waterfall requires a tour because you need to navigate a canyon to reach it. You can do this by driving to one of the tour offices near the waterfall, such as Guanaverde Experiences. From here, you can do tours of the waterfall for $30 USD. The tour through Guanaverde Experiences is top-rated and includes all the equipment needed, including a dry bag to take your camera or phone.
13. Go hiking in Arenal Volcano National Park
Arenal Volcano is the showpiece of La Fortuna, Costa Rica. While you're here, you can't miss seeing the volcano up close. A visit to Arenal Volcano National Park is one of the best things to do in La Fortuna and will take you to the base of the volcano and slightly up the steep face. The views here are incredible!
You can explore Arenal Volcano National Park on your own or on a tour. It's $15 USD admission for adults and $5 for children to get into the park. Once inside, you can hike on the many trails, see the lush forest, and even spot where lava flowed down the volcano when it last erupted in 2010.
Come early in the morning (they open at 8 am) before the heat of the day sets in, so you have plenty of time to explore before they close at 4 pm.
If you would prefer to join a guided tour, this afternoon Arenal Volcano tour includes a hike on the west side of the volcano taking you across gorgeous hanging bridges. It also includes a visit to a swimming hole beneath a waterfall. Then you'll visit a museum and take a dip in the natural Tabacon Hot Springs – one of the best hot springs in La Fortuna!
For a longer tour, I suggest this private hiking adventure to spend a full day in Arenal Volcano National Park. You'll explore narrow jungle trails, climb over huge lava rocks, jump in an emerald green lake for a swim, and relax in natural hot water pools.
14. Relax in hot springs
Costa Rica is well known for its volcanoes that have showered the countryside in volcanic ash rich in minerals – it's one of the reasons the country is so green! Another benefit of these volcanoes is the hot springs they create.
The best place to enjoy these hot springs is in La Fortuna around Arenal Volcano. There are so many different hot springs to visit in La Fortuna; you could visit a different one every day for weeks! There are a variety of hot springs for all budgets, from luxurious resorts to family-friendly pools and even natural hot springs.
One of the most popular hot springs in La Fortuna is Tabacón Hot Springs. The pools here are surrounded by a gorgeous tropical garden. The water temperatures range from 72 F to 105 F (22 C to 40 C), and the main area has a swim-up bar and waterslide. I love the incredible view of the Arenal Volcano from the secluded pools in the lower section. If you're staying at the resort, access to the hot springs is free, or if you aren't a guest, you can purchase a day pass with dinner or lunch for $89 USD, or with both for $110.
For families, I recommend checking out Los Lagos Hot Springs. The passes here are reasonable at $16 USD and include admission to hot and cold pools and wildlife exhibits on-site. The large pools here are fed by crystalline rainforest springs and are surrounded by colorful plants and flowers. There are also fun waterslides, waterfalls, and a faux volcano.
Baldi Hot Springs is one of the most developed and visited hot springs in La Fortuna, not to mention the most lively one! Set amongst lush vegetation, this hot spring resort boasts 25 thermal water pools with temperatures ranging from 93°F to 152°F (doesn't it sound dreamy?!). It also comes complete with a massive jacuzzi for up to 60 guests.
15. See wildlife in Corcovado National Park
Corcovado National Park certainly isn't the most popular national park in Costa Rica, but it's the most important. In fact, Corcovado National park is home to 2.5 to 3% of the world's biodiversity, which is huge! It's the best place to see a huge variety of Costa Rica's wildlife, including big cats and tapirs.
The park is most commonly visited from Puerto Jimenez and Drake Bay.
From Puerto Jimenez, you can take this day tour to the La Leona Ranger Station to enjoy the hiking trails and wildlife with a guide. There is also this three-day tour that includes a stay at the ranger station – it's the best way to see wildlife!
From Drake Bay, this full-day guided tour is a great option. It involves taking a boat from Drake Bay to Sirena Ranger Station and walking the trail network there. During my visit, we saw every species of monkey in Costa Rica, lots of rare birds, jaguar footprints, rodents, and other wildlife, including snakes. You can also do an overnight tour, which I regret not doing!
Although not as popular, tours leave from Uvita too. This specific tour visits the San Pedrillo Ranger Station, where you'll enjoy a hike through the park in search of wildlife.
Overall, Corcovado National Park is the best national park to visit for those who came to Costa Rica to see wildlife. Bird watchers and animal photographers love this place!
16. Go scuba diving/snorkeling
Snorkeling and diving are two of my favorite activities in the water, and Costa Rica is the perfect place to enjoy them! I mentioned Caño Island and Tortuga Island above, but there are lots of other amazing places to snorkel and dive in Costa Rica:
Santa Teresa
A really popular dive site and one of the best is just off the coast of Santa Teresa. Here you can dive with a huge variety of ocean life such as sharks, rays, lobsters, crabs, and depending on the time of year, giant manta rays (January to April) and humpback whales (August to September!) You'll also have the chance to see giant schools of tuna! Iguana Divers is the best company to choose in Santa Teresa, and they know all the best spots!
Tamarindo/ Guanacaste
The Catalina Islands and Bat Islands are another two dives sites with lots to see. Known as one of the best things to do in Tamarindo, the Catalina Islands are home to an abundance of sea life suited to diving and snorkeling. You can do this Catalina Island Diving Tour and dive with turtles, manta rays, small reef sharks, and lots of fish.
For a more adventurous dive, head to the Bat Islands. This is a fantastic opportunity for Advanced Open Water certified divers to challenge themselves and swim with large sharks. The tour includes two dives, one at Bat Island (where the bull sharks are) and the second near Playa del Coco, where you can see manta rays, turtles, and other ocean life.
Of course, there are many more dive sites across the country including Refugio Nacional Gandoca-Manzanillo (Puerto Viejo) and Cocos Islands – known as one of the best dive sites globally for diving with large animals.
17. Explore downtown San Jose
San Jose isn't usually at the top of everyone's Costa Rica bucket list, but as someone who once lived in San Jose, I find that such a shame. San Jose offers a unique experience in Costa Rica and a chance to see stunning architecture, learn about some history, visit a few museums, and even eat at some pretty amazing restaurants. The city is the country's capital, after all!
One of the best things to do in San Jose when you arrive is to join a tour of the city. You can either do paid tours such as this one or the free walking tour that is on most days. Another fun thing to do is to take a tour of the National Theater of Costa Rica. Tours cost only $6 USD, and before or after, you can enjoy a coffee at the onsite cafe – they have some delicious coffee!
San Jose also provides a base to explore the surrounding area on day trips. You can enjoy tours to Poas Volcano, La Paz Waterfall Garden, and the Britt Coffee Tour.
San Jose is often the start or finish of a trip in Costa Rica, so get out and explore – it's one of the best things to do in Costa Rica!
18. Visit the Crocodile Bridge
Seeing crocodiles was never on my Costa Rica to-do list, however, after enjoying some of the best things to do in Jaco, I stumbled upon the Crocodile Bridge over Tarcoles River.
Tarcoles River is home to one of the world's largest crocodile populations. These are saltwater crocodiles and some are well over 15 feet (5 meters) long!
This bridge is located around 30 minutes north of Jaco and crosses over the Tarcoles River, and is a popular gathering spot (I think it's because the locals feed the crocodiles from the bridge.) Just park your car at one end of the bridge and walk over to see the huge crocodiles in the wild.
When we visited, we saw over 15 crocodiles! There's a popular sand bar where they like to hang out halfway across the bridge, but you're guaranteed to see some!
Another fun way to get up close and learn about crocs is on a crocodile cruise like this one. You'll get to explore the Tarcoles River on a guided boat tour, spotting crocodiles, reptiles, and birds along the way. The boat also serves Costa Rican coffee and refreshments.
19. Go ziplining
Ziplining is one of those activities you can do in just about every tourist town in Costa Rica. The mountains and rainforests are perfect for this adventure activity, and I've done some awesome tours.
Although you can zipline in most towns, not all are created equal. To help you choose, I'll list the best places to zipline in Costa Rica in order of my preference:
Monteverde: Monteverde comes in at number one simply because the cloud forests and mountains here make the ziplining that much better. On top of that, if you book this ziplining tour, you'll get to enjoy Costa Rica's longest zipline at 5,220 feet or almost 1 mile (1.59 kilometers!) This is easily one of the best things to do in Monteverde!
La Fortuna: Next has to be La fortuna! Like Monteverde, the central valley area provides the best place to go ziplining. In fact, this specific ziplining tour has you soaring right over the top of La Fortuna Waterfall!
Manuel Antonio: If you're traveling as a couple or just want to experience ziplining with friends, then go ziplining in Manuel Antonio. In the foothills of Manuel Antonio is Central America's longest dual zipline at 4,300 feet or 0.8 miles (1.3 kilometers.)
Jaco: The last place I really loved ziplining was in Jaco. Although the ziplines in Jaco are not as long as the ones mentioned above, the views of the ocean and available tours make it a great option. But, instead of just going ziplining, combine a few activities and join this ATV, zipline, and waterfall tour – it's great value and so much fun!
20. Go whitewater rafting
I've been whitewater rafting all over the world, including in Futaleufú – well known as one of the top 3 rivers to whitewater raft in the world. Even though my standards are relatively high, I loved whitewater rafting in Costa Rica. It's without a doubt one of the best adventure activities in Costa Rica!
I've personally done two tours, one down the Pacuare River and the other down the Tenorio River. I loved both and certainly got the adrenaline rush I signed up for! Of course, these aren't the only two rivers you can whitewater raft. In fact, most tourist destinations offer some form of whitewater rafting. Below are a few of the best rivers and where you can do tours from.
San Jose, Puerto Viejo, and Puerto Limon: The Pacuare River is one of the most well-known rivers in Costa Rica. Tours here typically leave from either San Jose, Puerto Viejo, or Puerto Limon. Although a fantastic river, tours from San Jose are really long (12 hours) and require a lot of driving. For that reason, it's best to only do tours from Puerto Viejo (just over 2 hours driving each way) or Puerto Limon.
Guanacaste (Tamarindo, Playa Flamingo, Playa Coco): From the Guanacaste Region and Monteverde, rafting tours are popular down the Tenorio River. The river is known for having lots of class III and IIII rapids. Tours from Tamarindo and the nearby beach towns are the most popular with this specific tour leaving from all locations.
La Fortuna: La Fortuna is surrounded by rivers and as such, there are plenty of whitewater rafting options from here. The most popular with families is this white water rafting tour down the Balsa River, which has class II and III rapids. For more experienced rafters, you can do tours such as this one down the Rio Sarapiqui or Rio Toro. These are class III and IIII rivers and some of the best in Costa Rica.
21. Visit Tortuguero National Park
Tortuguero National Park is a really special part of the country as it's one of the most important nesting sites for sea turtles. The park has a huge stretch of beach where 20,000 green sea turtles come every year to nest – the largest colony of turtles on the globe! The highlight here is seeing thousands of turtles nesting on the beach, which happens at different times throughout the year (July to October is best).
Tortuguero itself is an area that can only be accessed by boat or plane. It's one of the most remote Costa Rica tourist attractions. The beauty here is because it is preserved and protected, so it's known as one of the wildest national parks in the country.
If you're not planning to stay in the area, it's a great day trip from San Jose. You can take a 30-minute plane ride from San Jose or a three-hour bus ride to Cariari, Caño Blanco, or La Pavona followed by a one-hour boat ride. Another great option is booking this tour that includes transportation, so you're all set to explore this incredible area. It's a long day (12 hours) but worth it.
Those with more time can actually make the trip to Tortuguero to stay a few nights. Once you're here, savor this truly unique location by taking in one (or more!) of the amazing tours offered here.
You can canoe or kayak through the wetlands, keeping an eye out for sloths and monkeys. There are night tours where you'll explore the park to see all the amazing critters who only come out after dark. And of course, there are tours dedicated to seeing the turtles who call this park home. You can easily spend a few days exploring the park and all the activities Tortuguero has to offer.
22. See bioluminescent plankton
There are only a few places in the world where the ocean seems to glow in the dark, and Costa Rica is one of them! The amazing bioluminescent plankton float just under the surface and flash bright blue as you pass by. The light show by these tiny critters is used to scare off predators and help them find food.
These creatures are so tiny that a single drop of water can contain thousands. Together, they create this magical phenomenon that looks like thousands of blue, glowing stars – definitely a Costa Rica bucket list activity! The best areas to see bioluminescent plankton are in the waters around Paquera Bay and the Gulf of Nicoya. Another hot spot is around Puerto Jiménez.
One of the best ways to see the plankton is by gliding above them in a kayak. As you float across the water, every time you dip your paddle in, it will create bursts of sparkling light around you. This kayak tour (and what I did) gives you a full hour to explore Paquera Bay under the stars. This is one of the best places to go kayaking in Costa Rica and seeing the bioluminescent plankton below and the stars above you is honestly incredible.
Another option to see them is by boat. This boat tour leaves from the small beach next to the ferry dock in Paquera. Partway through the tour, they anchor the boat so you can get out and swim amongst the glowing light.
Puerto Jiménez is another popular spot to view these amazing creatures. This sunset tour includes kayaking while the sun sinks below the horizon. Then, once it's dark, you'll get to snorkel to see what bioluminescence looks like underwater. I actually did this tour and got to see dolphins too!
While the bioluminescence can be seen year-round in Costa Rica, if you can, try to go in the few days after a full moon. The darker sky helps you see more of this amazing sight as the water lights up.
23. Explore mangroves
Mangroves can be found all over Costa Rica. These special forests are made up of a variety of shrubs and trees and can be found where any river meets the ocean. Mangroves are some of the best spots to see wildlife, including hundreds of types of birds, sloths, and monkeys. You typically won't have to travel far to explore a mangrove swamp in Costa Rica. Here are some of the most popular places in Costa Rica to go on a mangrove tour:
Drake Bay: The Sierpe Terraba Mangrove Forest is the largest in the country. It's around the Drake Bay, Sierpe, and Uvita area. You can rent a kayak or boat or take a river safari tour to explore the waterways through the trees. This is a fun way to see many animals including capuchin monkeys, squirrel monkeys, macaws, iguanas, crocodiles, and sloths in Costa Rica.
Manuel Antonio: Near Quepos and the Manuel Antonio National Park, there are thousands of acres of protected mangrove forest. On this tour, you can take a kayak out on the water to paddle peacefully through the shade of the mangroves and spot all different kinds of animals.
Tamarindo: Not far from the beaches of Tamarindo, you can escape the crowds by exploring the mangroves of Las Baulas National Park. Take a boat tour to beat the heat and enjoy the shade as you explore the vast network of the forest.
Puerto Jimenez: Puerto Jiménez is close to the winding mangrove forests inside the Preciosa Platanares Wildlife Refuge. There are 70-foot tall mangrove trees here, and it's best to explore the winding river by kayak. You'll have a guide to help you spot animals and snacks after you finish paddling.
22. Bird watching
It goes without saying that bird watching is one of the most popular things to do in Costa Rica. The country is well known for its beautiful bird species that include scarlet macaws, toucans, hummingbirds, quetzals, and more. The best part is that there really isn't a town in Costa Rica you can't go bird watching.
One of the most popular places is Monteverde – especially for those who want to see the rare and beautiful quetzals. Bird watching tours in Monteverde are best done in Curi Canchi Nature reserve and this tour is a great option.
If you love macaws you're in luck. They can be seen all over the country but no place is better than Puerto Jimenez! We saw them daily in our hotel and around town even getting as close as a few meters.
Other great places to go bird watching includes Manuel Antonio, Carara National Park in Jaco, Uvita, Dominical, and more.
24. Explore Rincon de la Viejo National Park
Rincón de la Vieja Volcano National Park is another volcanic national park located just over 2 hours from Tamarindo and only 35 minutes from Liberia.
Those with their own vehicle can drive out to the Rincón de la Vieja and enjoy one or many of the hiking trails through the park. These include the trail to the Las Pailas (boiling mud pots.) This is an easy walk that takes around 20 minutes each way. Another cool hike is the Catarata La Cangreja trail, leading to a breathtaking waterfall. This trail is around 3 miles each way.
Rincón de la Vieja Volcano National Park is also where you'll find the Rio Negro Hot Springs as well as adventure centers offering horseback riding, ziplining, and tubing. One of the most popular adventure combo tours is the Guachipelin Adventure Volcano tour, with departures from most towns in Guanacaste including Tamarindo, Playa Flamingo, Playa Conchal, Liberia, and more.
There are also guided hiking tours, such as this guided hiking tour from Tamarindo and this guided hiking tour from Liberia. These are more for those interested in the national park's history, flora, and fauna, not the offered activities.
Entry to Rincón de la Vieja Volcano National Park costs $17 USD for adults and $5.60 for children without a tour and is open from 8 am to 3 pm, Tuesday to Sunday.
25. See sea turtles
One of the most amazing creatures in Costa Rica is the sea turtle. Hundreds of thousands of sea turtles come to the beaches every year to lay their eggs. Seeing turtles in Costa Rica should definitely be on your bucket list!
While different species of sea turtles can be found across the country, the two best areas to spot them are Tortuguero National Park and Ostional Wildlife Refuge.
While in Tortuguero National Park, you can spot turtles on your own while exploring, however, to view turtle nesting sites, you'll need to book this tour. Most nesting sites are protected and can only be visited with a guide. This ensures you won't disturb the animals. Plus, turtles only lay eggs at night, so having a guide to assist you in the dark is helpful too!
There are also peak times of the year to visit where you're more likely to see the turtles nesting. In Tortuguero, the nesting season for green sea turtles is from July to October and from February to June for leatherback sea turtles. While I missed the nesting season during my December visit, I did see baby turtles make their way to the ocean. It was a really special moment.
The Ostional Wildlife Refuge is located on the Nicoya Peninsula near Nosara. Here you'll find Ostional Beach where olive ridley sea turtles come to lay their eggs in an annual event known as "arribada". Only nine locations on the globe see these turtles arrive by the thousands and this is one of them!
You can come anytime during the year, but the peak time to visit is in September and October. You can book tours in Nosara for around $60 USD and they will be able to let you know if the turtles are nesting.
26. Go fishing
Anyone reading this who enjoys fishing as much as I certainly won't want to skip a fishing charter in Costa Rica. Not only can you do fishing charters all along the coast, but the fish love to bite!
There are two main types of fishing charters in Costa Rica. The first is inshore tours, which typically only head out as far as 5 miles and aim to catch fish such as tuna, roosterfish, mahi-mahi, jack crevalle, bigeye trevally, needlefish, barracuda, and snapper. Although prices range, expect to pay between $250 to $450 USD for a half-day tour for up to 5 people.
The second option is offshore tours, which head out much farther and are full-day tours. On these, you can go for all the fish above as well as big game fish such as sailfish and marlin. These tours cost around $700 USD per boat.
The best places to go fishing in Costa Rica are Santa Teresa, Jaco, Uvita, Tamarindo and Manuel Antonio/ Quepos.
27. Enjoy a sunset cruise
Cruising the coast on a sailboat or catamaran is such a fun way to enjoy a beautiful day in Costa Rica. I did my first catamaran cruise in Manuel Antonio after getting a bit of national park fatigue (and a sore neck from looking up.) It turned out to be such a fun day out, and although the tours call themselves "sunset cruises", they are so much more.
The tour I did in Manuel Antonio set sail around 2 pm as we enjoyed the breathtaking coastal scenery and a few drinks (it's an open bar!) We searched for wildlife such as dolphins and whales before going snorkeling, jumping off the boat, and using the waterslide. Our boat had great people on board, and the drinks were flowing until dinner. As we enjoyed our dinner, the sun began to set, and we headed close to the shore to spot birds feeding in the forest – we even saw scarlet macaws!
If that doesn't sound like a great afternoon out, I don't know what will!
Sunset cruises are popular in a few places in Costa Rica. Another one of the top destinations is Tamarindo, which has one of the top-rated sunset cruises in Costa Rica (also leaves from Playa Coco). It's a very similar cruise to Manuel Antonio's and includes an open bar and meal.
28. Hike in Cahuita National Park
Cahuita National Park is a beautiful area near Puerto Viejo best known for the coral reefs and the more than 500 species of fish that live in them. The park itself was created to protect the reefs as well as the mangrove and tropical rainforest here. It's free to enter, but donations are encouraged for park upkeep.
If you want to explore Cahuita by land, there's a long trail that winds through the forest. This is a great area to spot sloths and monkeys!
There are a few beautiful beach areas as well – keep an eye out for which ones allow swimming. Snorkeling is allowed, but only with a certified guide to ensure the coral is protected. There are even two different shipwrecks here in the shallow water you can see while snorkeling.
You can drive yourself to Cahuita National Park, and it's a really popular spot from nearby Puerto Viejo – you're only 15 minutes away! If you're staying around Puerto Limon, it's about a 45-minute drive along the coast. From San Jose, this is a longer trip of around 4 hours. If you don't have a rental car, buses leave San Jose daily for Cahuita, so that's another option.
If you're interested in tours with transportation, this tour goes from Puerto Viejo to Cahuita National Park. You'll have a professional naturalist tour guide to help you spot animals, including white-faced monkeys, snakes, raccoons, and more. It also includes a visit to Cahuita's hidden waterfall, where you can take a swim.
This full-day tour from Puerto Limon also includes a stop at Cahuita National Park. It includes a short city tour of Limon, a covered boat cruise down the Tortuguero Canals, a visit to the Chiquita banana plantation, and a one-hour hike through the park.
29. Eat local food
One of the best things to do in Costa Rica is eating! The food here is delicious and known for using fresh ingredients from fruits and vegetables to seafood. The cuisine in Costa Rica is influenced by Spanish, African, and Indigenous cultures.
While you're here, try the traditional dish called a "Casado". It isn't one food, but a variety of foods all served together or "married" together since the word Casado means "marriage." It typically has rice, beans, some type of meat like chicken or fish, and then a salad. It can also come with sides like fried plantains, avocado, tortillas with cheese, or even vegetable stew. There are so many different takes on the Casado, but all are guaranteed to fill you up for a relatively reasonable price.
Don't forget to try the Gallo Pinto while you're here. This is one of the most famous dishes in Costa Rica! The main ingredients are rice and beans, and then they are mixed with other foods like red peppers, cilantro, onions, and Salsa Lizano to give it a bit of spice. It sounds simple, but it's really tasty. You can even have this for breakfast alongside a couple of eggs and tortillas.
Some other popular dishes to try include Arroz con Leche, Sopa Negra, and Patacones.
30. Go on a night walk
While the country is beautiful during the day, many of Costa Rica's wildlife comes alive at night. There are so many animals who live in the many rainforests that only come out once the sun disappears. In fact, about 80% of the mammals here are nocturnal.
If your heart is set on seeing many of the animals who call this place home, consider going out at night. Having a guide is a good idea for this as they know just where to look and can spot animals in the dark that you may have missed.
This night walk in Monteverde will take you through the Monteverde Wildlife Refuge. If you're lucky, you'll spot many different animals, big and small, including sloths, foxes, frogs, and maybe even some sleeping birds.
I particularly enjoyed this Rainforest Night Walk and Dinner tour in La Fortuna. You get a 90-minute hike through the forest, a visit to a frog sanctuary, and it ends with a traditional dinner prepared on a wood-burning stove. We saw a huge green lizard and even a bullet ant, which has the most painful sting of any insect in the world – luckily, we kept our distance! The meal after the hike was one of the best local meals I had!
You can also spend two hours exploring the rainforest around Manuel Antonio with this night walk. It starts in a green cathedral-like forest with beautiful butterflies before entering the pitch-black jungle filled with the sounds of insects and frogs. You'll get the chance to see and photograph tree frogs, snakes, colorful insects, and more.
31. See a sloth
One of my favorite activities in Costa Rica is spotting sloths! They can be found all over the country in national parks, wildlife rescue centers, or even in towns.
Sloths are most common in the wild in places like Puerto Viejo, Manuel Antonio, Uvita, Tortuguero, Dominical, and around the Osa Peninsula. You may spot them snoozing in palm trees at the beach or climbing trees along the side of the road. Sloths very rarely come down to the ground, so look up!
Sloths are pretty predictable creatures, so the locals here often know exactly where they like to hang out. If you want a better chance of seeing a sloth, take a tour while you're in a national park or wildlife reserve, and often your guide can take you right to one!
Some of the best sloth watching tours are in La Fortuna. There's a great area to see lots of sloths known as Sloth's Territory. You can take an observation hike through the property along La Havana River. Two and three-toed sloths make their home here. The tour includes a guide and a professional telescope to help see the sloths up close. I have done this tour and enjoyed it, we even saw poison dart frogs.
For a full day experience, this tour leaves from San Jose for Tenorio Volcano National Park. You can see the incredible Rio Celeste with its gorgeous blue waters and visit the Sloth Sanctuary.
In Guanacaste National Park, guided tours offer the chance to see sloths in the wild. There's also a waterfall, butterfly garden, and a visit to a coffee and banana plantation included.
32. Enjoy the nightlife
Costa Rica has an electric nightlife created by both locals and tourists. Although I am personally not much of a party-goer, I do enjoy a few beers after a day of exploring and found Costa Rica perfect for this.
Not only will you often find live music at bars and restaurants, but with pretty relaxed street drinking laws, people tend to just hang out in the town square or on the beach. One of my favorite street parties was in Montezuma! On top of that, lots of hostels around the country have fun bars with live music and games.
A great hostel to check out for a party is Selina. They have multiple locations around Costa Rica, including in Puerto Viejo, Manuel Antonio, La Fortuna, Monteverde, Santa Teresa, Nosara, San Jose, and Tamarindo. When I lived in La Fortuna, I spent lots of time at the Selina having a few beers!
33. Walk the hanging bridges in La Fortuna
If you want to get amongst the treetops to spot wildlife, I highly suggest visiting the Mistico Hanging Bridges while in La Fortuna. The hanging bridges are located on a large property that a local family privately protects. Although not a national park, you'll find just as much wildlife here as you would in places such as Manuel Antonio.
In the park, there are 14 bridges that you can visit, with 6 of them being hanging bridges. The trail through the forest is 3.2 kilometers/2 miles long, and although the 6 hanging bridges are the main attraction, there's lots more to see. I loved the two viewpoints of Arenal Volcano. My favorite spot was behind the restrooms at the ticket office!
Tours at Mistico Hanging Bridges can be done self-guided or on a tour from La Fortuna. On a self-guided tour, the entrance to the Mistico Hanging Bridges is $26 USD for adults, $16 for teens, and kids under 10 go free! You are then free to explore at your own pace, and 2 hours is more than enough time.
If you want to do a guided tour, I highly suggest this specific tour with Mistico. They know the property well and know exactly where to find wildlife such as sloths, monkeys, snakes, and more. It's a 2.5 hour guided walk that includes transport from La Fortuna, your entrance ticket, and an expert guide for only $45 USD.
34. Visit Monteverde Cloud Forest
One of the best Costa Rica activities is exploring the Monteverde Cloud Forest. As the name suggests, this tropical forest is full of low-hanging clouds and mist. It's one of the rarest habitats in the entire world and is truly a must-see.
The Monteverde Cloud Forest is located about halfway in-between San Jose and Liberia. If you're coming from either of those places, it's around a three-hour drive. While the cloud forest is the main draw, plan to spend a few days here to explore all the other things to do in Monteverde (the town here is called Santa Elena.)
Once here, there's a $25 USD admission to pay at the entrance gate. The park opens at 7 am, and get here early as often there's a line-up by 8 am. Once inside, you are free to explore the network of trails here that covers about 8 miles (13 kilometers). One of the best trails is the Sendero Trail which leads to a suspension bridge – a great place to spot some of the many birds that live here.
If you want to learn more about the cloud forest and all the animals inside it, I recommend booking a guided tour. The guides on these tours are amazing at spotting animals like monkeys, sloths, and birds that you might have walked right by.
This private tour allows you to explore the forest at your own pace with an expert guide. Your chances of spotting rare birds are greatly increased and you'll learn a ton. Or, for a totally different experience, book a night walk through the forest to see all the animals that wake up at night – about 80% of the mammals here!
35. ATV tour
Riding an ATV through Costa Rica is so much fun! You can cover a lot of ground while exploring and get to certain areas you just couldn't reach in a car.
ATV tours are offered throughout the country, so wherever you're based, it's likely an option. However, my favorite areas to ride an ATV through are Tamarindo and La Fortuna. Don't be intimidated either, it can be your first time on an ATV and you'll still have fun. Tours are great options if you don't have much experience as you'll get instructions and advice before you head out.
In Tamarindo, you can take an ATV to see a variety of beaches on this beach adventure tour. You'll kick up sand, cross a river, and have some great mountain views. Keep an eye out for rare trees that this area is known for including Guanacaste, pochote, and teak.
In La Fortuna, taking an ATV out for a spin is also one of the best things to do. You can ride an ATV right next to Arenal Volcano! Prepare to get muddy on this volcano ATV tour where you'll see impact craters from the volcano's last eruption, a river with volcanic mud, and Arenal Lake. This is without a doubt my favorite place to ATV!
36. Go canyoning
Canyoning is an outdoor adventure sport that combines navigating through obstacles, including canyons and rivers, and rappelling down waterfalls. It's one of the best things to do in Costa Rica as the country is known for all the incredible obstacle courses created by Mother Nature.
While there are places to go canyoning all over the country, without a doubt, the BEST place is La Fortuna. If you're around Jaco, that's also another good option. You'll need to book a tour for this to ensure you have the right safety equipment and guide to the area.
In La Fortuna, explore the Lost Canyon on this tour. You'll rappel down a 150-foot cliff known as "Big Boy" and drop into a natural swimming pool at the bottom. Then, you'll descend into the Lost Canyon to explore a 200-foot cliff and waterfall. The tour also includes lunch and transportation for under $100 USD.
In Jaco, I loved this action-packed canyoning tour. You'll take a short hike into the canyon and jump-start the adventure with a zipline above a waterfall. Then you'll rappel down four different waterfalls, scramble over rocks and boulders and finish with more ziplining. It's all based on a beautiful 800-acre property where you're likely to spot monkeys, toucans, and scarlet macaws along the way.
37. Coffee tour
While you're in Costa Rica, make sure you stop for a cup of coffee. Costa Rica is famous for its coffee. The country produces more than 1.5 million bags of coffee every year that is shipped all over the world! But while you're here, you can enjoy a fresh cup of coffee with coffee beans grown probably not far from where you're sitting.
If you travel across Costa Rica, you'll see the coffee fields covering the hillsides. The majority of the country's coffee is grown in the Cartago, Alajuela, Puntarenas, Heredia, and San José regions. Thanks to ideal growing conditions – volcanic soil, good climate, and high altitude, the coffee is top-notch.
Most of the coffee here (almost 90%) is grown by small farmers. One of the best things to do in Costa Rica is to get the freshest cup of coffee and learn about this important crop on a coffee tour.
Coffee tours are offered all over Costa Rica, so you're sure to find one near where you're staying. Here are a few great options by location:
38. Chocolate tour
Chocolate is a favorite sweet treat of mine and I'm not alone – around one billion people eat chocolate every day! In Costa Rica, cocoa beans and chocolate have a long history. Cacao beans were sacred to the Indigenous people here and even used as currency. The beans were also made into a special drink for ceremonies and celebrations.
Today, cacao beans are still a very important crop in Costa Rica. There are lots of different farms that offer chocolate tours throughout the country. You'll have a chance to learn about the origins of chocolate and taste some (easily the best part!)
By far, the best chocolate tour I've been on is at the Rancho Raices de Osa in Puerto Jimenez. We toured the beautiful property to see the chocolate-making process from start to finish. We learned about organic farming, got the chance to try the cacao along the way at every stage, and even snack on some fresh fruit. Then, we made our own chocolate and finished off with a refreshing cacao face mask.
In other parts of the country, this tour in La Fortuna and this tour in Manuel Antonio both take place at cocoa plantations. If you're in the San José area, visit Botánica Chocolate to sample different cacao recipes from ancient cacao beverages to the chocolate we love today.
39. Eat freshly-caught seafood
As a foodie, I love trying out different restaurants, and Costa Rica has some amazing ones. The country has two coastlines – Pacific and Caribbean – so seafood is one of the specialties for sure. You know if it's local seafood, it's going to be fresh!
Wherever you are in the country, don't leave without trying some ceviche. It's perfect for a hot day, and you'll find it in most restaurants. This seafood dish combines diced cubes of raw fish that are tossed with a citrus juice like lemon or lime. The reaction of the citrus marinade with the seafood helps tenderize the fish and adds flavor.
In San Jose, there are many great restaurants to try, but my favorite for seafood was Jürgen's. It's a fine dining place with a fantastic ambiance and superb service. We loved the Pulpo (octopus) a la Parrilla and Salmon al la Plancha – both were cooked to perfection.
I also loved the beachside restaurant Playa de Los Artistas in Montezuma. It's considered one of the top restaurants, and it's among my favorites in Montezuma. The menu is tailored to whatever fresh and local ingredients they have on hand, with a focus on seafood. I recommend the seared tuna with sour and sweet sauce and toasted cacao and mint, or the octopus in red wine.
If you're visiting Jaco, be sure to check out El Point. It's one of the best restaurants in Jaco and their tuna with mango chutney is so delicious!
40. Drink delicious craft beer
The craft beer industry is booming in Costa Rica with breweries popping up across the country. This is great news for craft beer lovers like me. There's nothing quite like enjoying a cold one in paradise!
One of the biggest names in microbrewing is Costa Rica Craft Brewing. They are based out of San José, but you'll find their beers widely distributed. The two most popular drinks are their Libertas Tropical Golden Ale and La Sequa Red Ale.
My favorite spot for craft beer in Jaco is at PuddleFish Brewery. They have a rotating selection of beers on tap, but the mango pale ale and strong IPA were great when we popped in. They also offer tours so you can see the brewing process and try a few samples to figure out what you like.
In Tamarindo, pay a visit to Volcano Brewing Co. Have a drink at the beachside restaurant and pub that often has live music and plenty of sunshine. I had lunch here too and highly recommend the pulled pork sandwich paired with an IPA or a Pale Ale – I tried both, and they were delicious.
I was thrilled to see a brewery open in Nosara when I was last there. Guiones Brew Co is making a name for themselves with a few great beers on tap (especially their IPA) and excellent wood-fired pizzas. It gets busy here for supper, so book in advance to secure a table.
In the small town of Montezuma is Butterfly Brewing Co. they are located amongst the forest and all their beer is delicious!
41. Wander La Paz Waterfall Gardens
For an incredible day trip from San Jose, the La Paz Waterfall Gardens are less than an hour from the city center. It feels like stepping into another world with lush forest, five different waterfalls, and picturesque hiking trails among both rain and cloud forest.
The property also houses the biggest butterfly garden in the world; an animal sanctuary with jungle cats, sloths, monkeys, a hummingbird garden, a frog pond; and a trout lake where you can catch your own fish for lunch!
You can drive yourself here in a rental car and it's best to come early in the day. You'll want a few hours to explore while the park is open from 8 am to 5 pm. If you want to skip the line, you can purchase a ticket in advance. Admission is $49 USD per adult and $33 USD for children.
If you don't have a car, this guided tour includes transportation from San Jose as well as the entrance fee. You'll also have a tour guide to navigate the trails with you and help you spot amazing wildlife that might be hiding in the trees.
La Paz Waterfall Gardens is close to the Poas Volcano, so it's worth visiting both on the same day! You can also drive yourself to the volcano and I recommend doing this first to have the best chance of clearer weather earlier in the day. Or, join this guided tour that includes Poas Volcano and La Paz Waterfall Gardens to easily have the chance to see both!
42. Stay in a luxury treehouse
Sleeping among the treetops was, and still is, a highlight of my travels through Costa Rica. Imagine mornings waking to the sound of birds, watching hummingbirds feed, or even sloths passing by – you never know what you might see!
Some of the best treehouse hotels in Costa Rica are:
TreeHouse Lodge – This gorgeous hotel is located just outside of Puerto Viejo in Punta Uva. Their treehouse bungalow is so cool and often fully booked up. Expect to live amongst a living tree with spectacular views of the forest!
Finca Bellavista – This next hotel is actually a community of treehouses located near Piedras Blancas National Park. They have some really cool treehouses, including the El Castillo Mastate, which is 30 meters off the ground!
Topos Tree House – Located in Cahuita, this one-of-a-kind two-bedroom treehouse is the perfect treehouse experience. It's very common to see sloths from the house as well as monkeys!
Hotel Costa Verde – This cool hotel in Manuel Antonio has amazing rooms that include a cockpit cottage (an old plane) room among the treetops.
Nayara Tented Camp – This luxury treehouse hotel is located in La Fortuna with magnificent views of Arenal Volcano. The rooms sleep up to four people and come with their own private infinity pool. This is luxury!
43. Visit Irazu Volcano
In the province of Cartago, to the east of San José, you will find the Irazu Volcano. This is Costa Rica's highest volcano, and it's still active!
It's very accessible to get to Irazu, and you can rent a car or take a bus. If you enjoy hiking, this is also a great place since the volcano has its own national park with trails and amenities like a cafeteria, parking, toilets, and picnic areas. The entrance of the national park is $15 USD and its opening hours are from 8 am to 4 pm.
You can also book a half-day tour to visit the volcano which includes transportation and snacks! This tour will stay 3 hours at the volcano. Plus, on the way back, it will also stop to tour the Basilica de Los Angeles in Cartago, the Costa Rican Cathedral of la "virgencita" (the patron saint of Costa Rica to whom the Costa Ricans pay homage every August during its pilgrimage.)
44. Enjoy a beach day
Who doesn't love a day at the beach? Costa Rica is home to some of the best beaches in Central America! The white sand is often lined with lush jungle, and spending the day down at the beach is one of the best things to do in Costa Rica.
My favorite beaches to just relax are on the Caribbean side in Puerto Viejo. There are clam bays here where you can just lay back and relax in the ocean drinking fresh coconuts. Another place with breathtaking beaches is Manuel Antonio. Both inside and outside of the national park, the beaches are spectacular! When choosing where to stay in Manuel Antonio – I love choosing a hotel near the beach!
Of course, the beaches are beautiful everywhere in Costa Rica including Uvita, Dominical, Jaco, Santa Teresa, Tamarindo, and more. You name a place on the coast, and I guarantee there's a great beach nearby!
45. Go on a hike
It's safe to say you'll do a lot of walking in Costa Rica if you want to explore some of the best attractions – many of which I have mentioned above! However, just in case the hikes above, such as Rio Celeste, La Fortuna Waterfalls, or Nuayaca Waterfalls aren't enough, there are some other cool hikes to enjoy.
Mantra Trail La Chimba – Located just outside San Jose, this beautiful 5-kilometer hiking trail takes you through the coffee plantations to a giant hand made of wood that overlooks the valley. The trail opens at 5:30 am and costs $12 USD to hike.
Cerro Chirripó, Parque Nacional Chirripó – Cerro Chirripo is Costa Rica's highest peak and on a multi-day hike you can literally stand on top of Costa Rica. Sitting at 12,533 feet (3,820 meters) above sea level, hiking Cerro Chirripo begins from the town of San Gerardo de Rivas. It's best suited to advanced hikers.
Bajos del Toro Waterfall Hike – The Bajos del Toro Waterfall hike is a beautiful trail located 2 hours from San Jose in Bajos del Toro. The 1.3-mile (2.1 kilometers) loop track is moderately difficult and leads to the stunning Bajos del Toro Waterfall. Entry is $14 USD for adults and $7 USD for children.
46. Take a cooking class
As you'll quickly discover, the food in Costa Rica is SO good. The best way to take the tastes of the country home with you is by learning how to cook Costa Rican food.
I did a cooking class with a local lady in Puerto Viejo and it was amazing! You get one-on-one instruction and get to eat your creations – how good is that?
There are lots of options for cooking classes across the country, but these are a few different options.
47. SUP
SUP or stand-up paddleboarding is a fun way to explore the coastline of Costa Rica while also staying active. Rentals are also relatively cheap, usually costing around $10 USD per hour depending on where you are.
Three of my favorite places to SUP in Costa Rica are Manuel Antonio, Puerto Viejo, and Samara! In fact, in Samara, the waves are perfect if you have ever wanted to try SUP surfing – it's actually one of the best things to do in Samara! Afterward, be sure to check out the best restaurants in Samara and before you go, the best hotels!
Related read: If you're planning on driving in Costa Rica, be sure to read our guide before renting a car in Costa Rica!
48. Farm-to-table dinner experience
One of the best meals I enjoyed in Costa Rica was at a small mountainside restaurant in Uvita called Oasis Uvita. They offer an epic farm-to-table dinner experience and the chef creates an amazing meal based on what's available and fresh! The restaurant offers 3 or 4-course meals and the food is delicious. On top of that, the location is perfect!
Farm-to-table dining experiences are becoming more popular throughout Costa Rica and you can now do them in places such as Hacienda Okhra in Santa Teresa, Farm to Table Escondido in Monteverde, and La Casa in Nosara.
49. Visit Montezuma Waterfalls
Montezuma Waterfalls is one of the few free waterfalls you can visit in Costa Rica.
You can easily walk to Montezuma Waterfalls from town and hike the somewhat confusing trail (read our things to do in Montezuma blog for more info) to explore the waterfall. The lower falls are the easiest to get to and involve walking along the right-hand side of the river for 20 minutes until you reach the waterfall. Although easy to get to, the lower falls are not the best place to enjoy a swim.
Although visiting Montezuma Waterfall is free, there is a 1,000 colones fee (cash only) to use the trail up to the upper waterfalls. Be sure to bring suitable footwear and be prepared to get them wet.
Please note: There is a free traill from the lower falls to the upper falls too. But it is dangerous to climb, and 1,000 Colones ($1.60) is not worth your life, so please take care!
50. Drive the "Waterfall Trail"
If you're looking for some adventurous waterfalls to explore, head down the waterfall trail between San Jose and La Fortuna. I have to be honest though, I made this name up myself but trust me, this is one epic road trip!
The road is actually Highway 708, it starts about a 1.5-hour drive outside of San Jose city limits near a town called Bajos del Toro. The highway runs between Parque Nacional Juan Castro Blanco and Parque Nacional Volcán Poás. Once you pass Bajos del Toro, you will drive a route that allows you to stop at several different waterfalls. They are all privately owned so the entrance fees vary, however, they are much cheaper than the more developed popular waterfalls all over the country.
We visited a few of them and our favorite was called Pozo Azul. Here, we paid 3,000 Colones (around $5 USD) each and walked to a viewpoint over the top of a huge waterfall. We then climbed to the bottom of the waterfall for an even more spectacular view. This involves navigating loose rocks and a steep climb – but that's what we loved about it!
The entire time we were there we only saw a handful of other people. It's definitely more of an off-the-beaten-path destination.
Other waterfalls in the area include Catarata del Toro, Tesoro Escondido Waterfall, and Cataratas Las Gemelas. However, this trip isn't just about the waterfalls, the road is stunning and stop at La Terraza del Café de Logan for a coffee on the way.
Tip: This road connects San Jose with La Fortuna, so you can choose to drive this route if you're headed that way. Keep in mind, you should have a reliable car to drive this route. It travels along steep cliffs through gorgeous mountain towns. Pozo Azul is also home to a campsite and restaurant.
Getting Around Costa Rica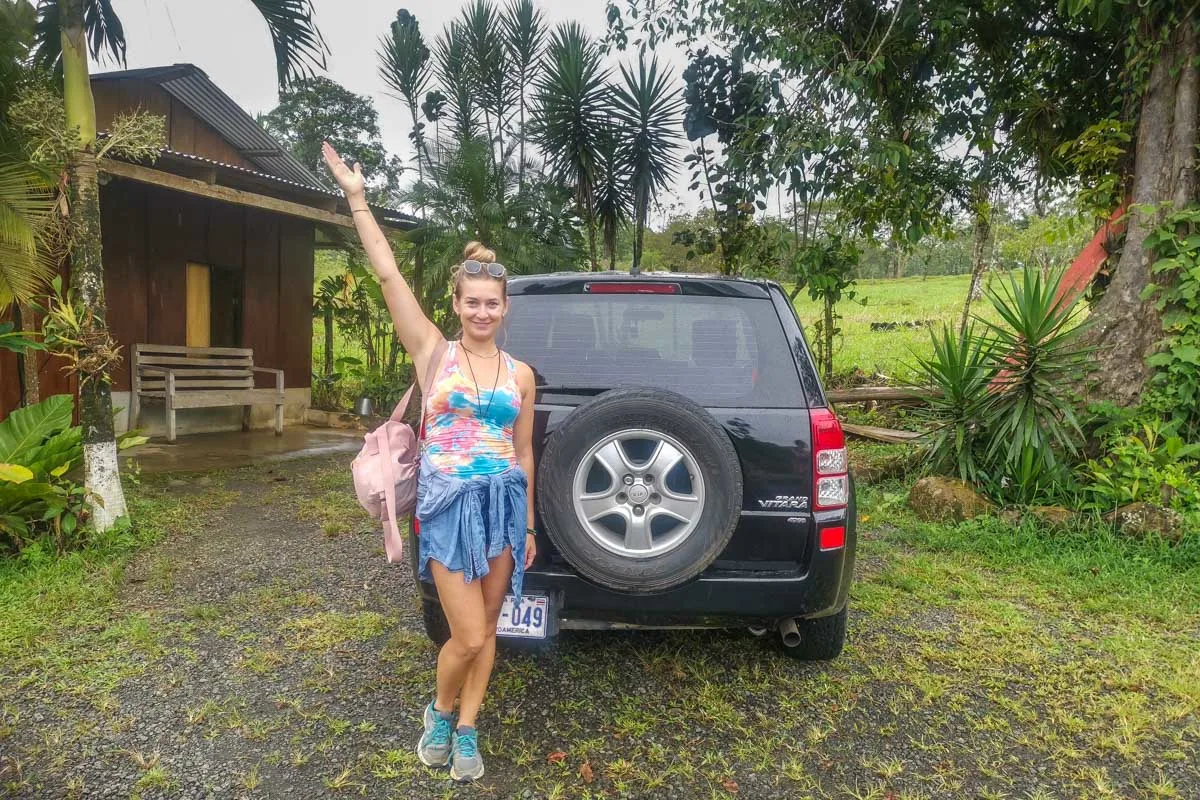 How you choose to get around Costa Rica is one of the biggest decisions you'll make when planning your holiday here! How you do it depends on your budget, travel style, and comfort level.
Renting a Car
Without a doubt, the number one way to explore Costa Rica is in a rental car. We book rental cars on the Discover Cars website as we have had good experiences with them in the past.
One of the things you need to watch for when renting a car in Costa Rica is the mandatory insurance that the government requires you to have. There are a lot of very cheap rentals that don't include this mandatory insurance (TPL) in the original booking price, but there are also ones that do. To avoid additional surprise charges when you pick up your rental car, be sure to rent a car that includes the mandatory insurance when you book.
Thankfully, on Discover Cars it's easy to tell apart the companies that include the mandatory insurance and those that don't. The trick is you can't pick any car on their website. In the picture below, you can see this rental car, with pick up in Jaco, includes the TPL. That means the mandatory insurance is included in the price. Any cover you get above that is extra.
Of course, I still suggest getting the full coverage offered by Discover Cars, which covers you even more.
You can browse cars on Discover Cars here.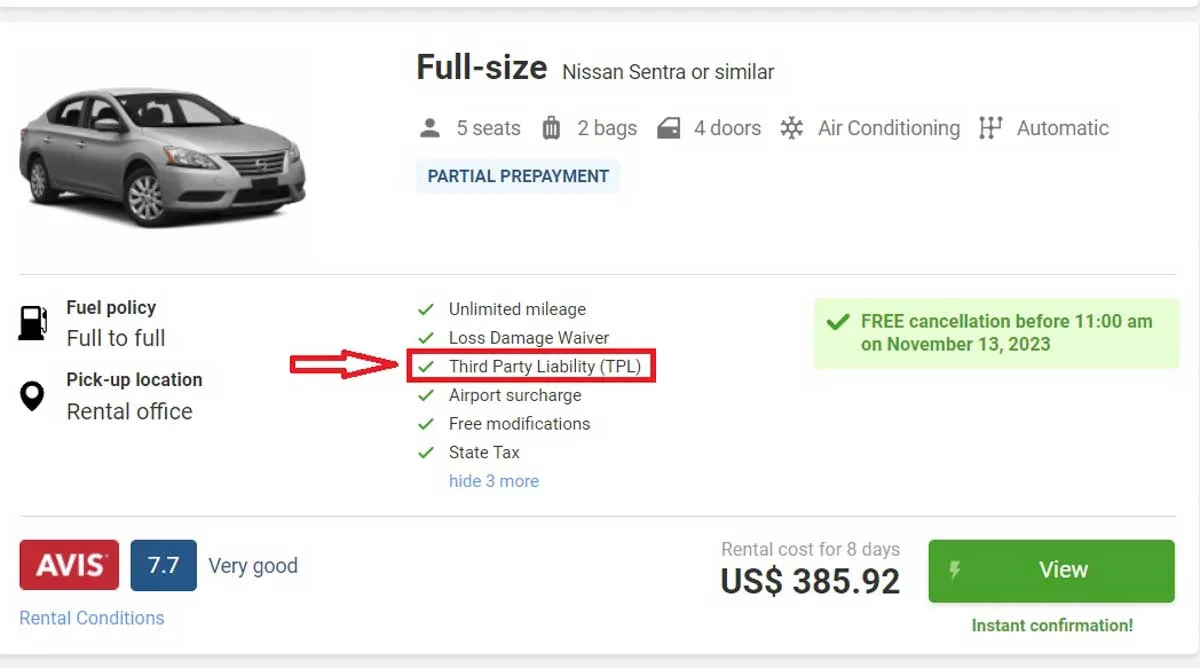 Book Shuttles
If renting a car isn't in your budget, you don't feel comfortable driving in Costa Rica, or you just don't like driving, shuttles are the next best option. There are hundreds of shuttle routes available all over the country, and they are very affordable.
Shuttles in Costa Rica are specifically for tourists and often include pick up and drop off at your selected hotels and airports. The drivers also speak some English, and the vehicles have air conditioning. You'll also be guaranteed a seat when you book a shuttle (which isn't the case with the public bus system.)
To get the best price, use the website Bookaway. They compare all the offers and prices of shuttle companies in Costa Rica so you get the best price! Honestly, we have saved so much money using Bookaway!
You can search for shuttles online on Bookaway here.
Public Bus
Lastly, you can use the public bus system. On short journeys, such as from San Jose to La Fortuna or Uvita to Manuel Antonio, this system is great. However, the longer the journey the more hassle and time spent on a bus. It's undoubtedly best to save the public bus in Costa Rica for short and straightforward trips!
The public buses are definitely the cheapest way to get around Costa Rica, but they are not always very reliable and schedules often change without notice and delays are to be expected. The buses can also be very crowded and hot – so just be prepared!
It's also good to speak some Spanish if you plan on riding the public bus since most drivers and ticket booth operators don't speak English.
Invest in Travel Insurance
Paying out of pocket for trip interruptions or medical treatment will add to what might already be a stressful situation. Not to worry, SafetyWing is here to help!
This affordable travel and medical insurance is perfect for digital nomads, long-term travelers, and remote workers. The best part is that it only costs $45 USD per 4 weeks.
To start coverage you must purchase it after leaving your home country. We usually purchase it as soon as we land at the airport.
Since using SafetyWing we've been reimbursed thousands of dollars when we've gotten sick. During the pandemic, they've even gone as far as to pay for our last-minute flights back to Canada before the border closed!
Pura Vida!
Costa Rica isn't one of the best places to visit in the world for no reason. The above activities and attractions in Costa Rica, along with the friendly faces and safe environment together, make this country one of my favorites!
Thanks so much for reading! I hope you enjoyed this guide to the best things to do in Costa Rica. It's truly one of the most enjoyable blogs I have written, and I am sure you have lots of great ideas for your upcoming trip! If you did enjoy this guide, then be sure to check out more of our in-depth guides to Costa Rica, such as:
11 Things You NEED To Know About Shuttles in Costa Rica
Is Costa Rica Expensive? Cost of Traveling to Costa Rica