Costa Rica is truly the land of spectacular waterfalls. All over the country, you can find stunning waterfalls surrounded by lush forests and wildlife. It's no wonder visiting Costa Rica's waterfalls is considered one of the best things to do in the country!
If you've always dreamed of swimming with a cascading waterfall behind you or hearing the roar of the falls as you walk through a rainforest, Costa Rica is for you! Wherever you are in the country, there are likely some beautiful waterfalls nearby. Some of Costa Rica's best waterfalls are very easy to find, and others will require a guide or a tour to take you.
But where are the BEST waterfalls? Well, I can tell you from experience there are a ton (too many to list), however, here are the 18 best waterfalls in Costa Rica!
Where are the Best Waterfalls in Costa Rica
The above map shows where in Costa Rica you will find the absolute best waterfalls. So, if you've already picked your destination in Costa Rica, you can easily see which incredible waterfalls are nearby!
Related Read: Learn about the best time to visit Costa Rica if you want to chase waterfalls, chill at the beach, or simply avoid crowds of tourists!
The Best Waterfalls in Costa Rica
1. Nauyaca Waterfalls
The most beautiful waterfalls in Costa Rica are the Nauyaca Waterfalls. These two spectacular waterfalls are a combined 197 feet tall (60 meters) and are surrounded by lush rainforest and wildlife. This place is a must-visit if you plan on visiting Uvita, Dominical, or Manuel Antonio.
Dominical is the closest town to the entrance, it's only a 15-minute drive to the ticket office. The ticket office is where you'll need to buy your entrance ticket ($12 USD at the office or $10 USD online). Then, it's another 1.2-mile drive (2 kilometers) to the parking lot, where you'll begin the hike to the base of the waterfall.
The trail from the parking lot is 4 kilometers (2.5 miles) each way along a dirt road, and it's best to visit in the morning, as it's a hot walk in the afternoon sun. Thankfully, once you arrive at the waterfall, you'll quickly forget the hike.
My recommendation is to visit the top waterfall first to check out the view and then walk down the bottom for a swim (the top isn't for swimming.) Make sure you spend lots of time enjoying the water, it's so beautiful.
If you don't want to walk the 4 kilometers or have mobility issues, there are other options available. The first is to take a tour in the back of a truck. This costs $32 USD on top of your entry ticket. The other option is to take a horse, and this option costs $80 USD. You can book these options online in advance or at the ticket office.
Nauyaca Waterfalls is open from 7 am, and you cannot begin the trail after 2 pm.
Related Read: Heading to Dominical? Check out the best places to stay in Dominical both in town and nearby!
2. Rio Celeste Waterfall
Costa Rica is home to lots of waterfalls, but few are as unique as Rio Celeste Waterfall. Located around 1.5 hours north of La Fortuna, this natural attraction is located in Tenorio National Park – one of the best national parks in Costa Rica.
Rio Celeste waterfall is famous for its bright blue color. This natural phenomenon is caused by the mixing of two rivers that literally turns the water Gatorade blue – I'm not joking!
This happens because acidic and neutral waters combine, and they create enough particle concentration to reflect light. It's similar to glacier lakes that reflect rock flour.
Rio Celeste waterfalls is explored by hiking the Rio Celeste Trail, which is 3 kilometers/1.9 miles each way. The main highlight is the Rio Celeste Waterfall – it's arguably the most beautiful waterfall in Costa Rica and is located around a 30-minute walk from the entrance.
Further along the trail, you'll see the Borbollones or Bubbling Hot Pot. This part of the river is really hot, and you'll smell the sulfur before you see it!
Finally, you'll end your hike at the Teñideros, which is where the two rivers meet (pictured above). Here, you can literally see the water turn blue as the streams meet – it's so cool! Teñideros is 3 kilometers from the park entrance.
You can choose to either do a tour of Rio Celeste Waterfall from La Fortuna or visit on your own. Visiting on your own is easy. Just be sure to leave La Fortuna before 7 am so you can get to the park entrance before it gets really busy.
If you need to book a tour from La Fortuna, my pick is this specific full-day tour to Rio Celeste from La Fortuna. It's highly rated and includes lunch, transport, and an expert guide.
3. El Tigre Waterfalls Monteverde
The El Tigre Waterfalls are a collection of beautiful waterfalls and one of the best attractions in Monteverde. This area is named after the Jaguars (that the locals called "El Tigre") that live in this forest. Now, it's the site of an amazing hike where you can see waterfalls and volcanoes!
The El Tigre Waterfalls Monteverde tour includes a combination of hiking, swimming, and horseback riding. The tour is self-guided to start, which means you can take your time. Drive to the El Tigre Waterfalls parking lot (less than a half-hour from Santa Elena) and enter the reception area. You'll get a map and instructions to start the hike.
The 3.2 miles (5.2 kilometers) trail will pass by four different waterfalls across nine bridges, including hanging bridges and natural tree bridges, and has a beautiful viewpoint to see four volcanoes. Once you reach the end of the trail, a guide will be waiting with horses for horseback riding and then a lunch to follow.
Make sure you wear good shoes for hiking as this trail has lots of uphill and slippery sections. Also, bring a rain jacket!
Entrance to the El Tigre Waterfalls is $29 USD for adults and $19 for those under 18 years old without a tour. The trail is open every day from 7:30 am to 1:30 pm.
Related Read: After your hike, be sure to check out all the best restaurants in Monteverde as well as the Monteverde Cloud Forest!
4. Montezuma Waterfall
Montezuma Waterfalls is one of the few free waterfalls you can visit in Costa Rica. Located in the town of Montezuma, this is one waterfall that involves some adventure.
You can easily walk to Montezuma Waterfalls from town and hike the somewhat confusing trail (read our things to do in Montezuma blog for more info) to explore the waterfall. The lower falls are the easiest to get to and involve walking along the right-hand side of the river for 20 minutes until you reach the waterfall. Although easy to get to, the lower falls are not the best place to enjoy a swim.
Instead, find the trail that leads to the second and third waterfall. This is where you'll find the best swimming spots. The picture above is taken at the infinity pool above the first waterfall. This is the most beautiful place to swim!
Although visiting Montezuma Waterfall is free, there is a 1,000 colones fee (cash only) to use the trail up to the upper waterfalls. Be sure to bring suitable footwear and be prepared to get them wet.
Please note: There is a free trail from the lower falls to the upper falls too. But it is dangerous to climb, and 1,000 Colones ($1.60) is not worth your life, so please take care!
5. La Fortuna Waterfall
It should come as no surprise that La Fortuna Waterfall is one of the best waterfalls in Costa Rica. This stunning 230-foot (70-meter) waterfall shoots out from a tall cliff into a powerful pool below that's surrounded by lush forest. Visiting is nothing short of breathtaking.
Visiting La Fortuna Waterfall is easily done without a tour. You can get a taxi or drive yourself from La Fortuna town to this parking lot, where you'll pay the entrance fee and begin hiking. The trail is well maintained and leads down to the waterfall via lots of concrete steps. It only takes 15 minutes to get down but a little longer on the way up – it's 500 steps!
Once at the bottom, you can get some great pictures and swim in the pool below the waterfall, or visit the calmer pools downriver for a more relaxing swim. The water is cold but super refreshing, and the entire area is gorgeous.
We spent around 1 hour at the waterfall before "enjoying" the 30-minute walk back up. This walk takes some people much longer, so be prepared and take your time. Keep an eye out for wildlife too. We saw lots of toucans during our visit.
Entrance to La Fortuna Waterfall is $18 USD, and you can purchase them at the gate or here online in advance and skip the line (it's the same price).
If you don't have transport or would prefer a guide, there are some great La Fortuna Waterfall tours that have epic extra activities. I recommend joining this guided tour. For $91 USD, you'll get to hike near the stunning Arenal Volcano, take a swim in La Fortuna Waterfall's cool waters, and then visit a natural hot spring – which you get to enjoy with a cocktail in hand. It's a popular tour with hundreds of 5-star reviews that you can reserve online here!
Visiting La Fortuna Waterfall is one of the best things to do in La Fortuna, so don't miss it!
6. Llanos de Cortes Waterfall
This stunning waterfall is like a wide, flowing curtain of water pouring over the rocks. If you get here, you'll want to take lots of pictures – it's one of those perfect Instagram photos. Llanos de Cortez Waterfall is located about halfway in-between Liberia and Montenegro and about a 40-minute drive from either place. It's also a great trip if you're staying in the Guanacaste area.
To get here, you'll follow Highway 1 before turning off onto a secondary road where you'll come to the official entrance gate. Admission is $7 USD for adults and $4 USD for children, and parking here in a large lot close to the falls is included with this fee. The waterfall is open daily from 8 am until 4 pm – but getting here earlier is better.
To reach the falls, you'll head down a trail of steep concrete steps for a short walk of under five minutes. Then the falls immediately come into view, and wow! This spectacular waterfall is surrounded by lush forest, with the centerpiece of the water tumbling down the rocks into the shallow pool below.
Swimming and wading are great here, and you can get close enough to the falls to feel the mist on your face. There's also a small beach area here with soft sand that you can sit on.
7. La Leona Waterfall
Getting up close to one of Costa Rica's most hidden waterfalls is something you have to do while you're here and is one of the top Liberia activities. But sometimes waterfalls can be difficult to find, or the roads are too rough for a rental vehicle, so it's nice to take the guesswork out of it with a tour like the La Leona Waterfall Hike.
This three-hour excursion follows the jungle trails around the Rincon de la Vieja Volcano to the stunning La Leona Waterfall. The highlight is swimming right near the waterfall and grabbing a few pictures here too!
What's great about this tour is you also get some bonus stops like at a local café for coffee and fruit before the hike and then a visit to the Poza La Pipa – a secluded swimming area with turquoise-blue waters where the Blanco and the Colorado rivers cross through.
Unfortunately, you can only visit La Leona Waterfall on a tour as you need to navigate a canyon to reach the waterfall. With that said, the tour above costs only $30 USD!
8. La Paz Waterfall Gardens
For an incredible day trip from San Jose, the La Paz Waterfall Gardens are less than an hour from the city center. It feels like stepping into another world with lush forest, five different waterfalls, and picturesque hiking trails among both rain and cloud forest.
The property also houses the biggest butterfly garden in the world; an animal sanctuary with jungle cats, sloths, monkeys, a hummingbird garden, a frog pond; and a trout lake where you can catch your own fish for lunch! However, the highlights to me are the waterfalls – especially La Paz Waterfall (pictured above.)
You can drive yourself here in a rental car and it's best to come early in the day. You'll want a few hours to explore while the park is open from 8 am to 5 pm. If you want to skip the line, you can purchase a ticket in advance. Admission is $49 USD per adult and $33 USD for children.
If you don't have a car, this guided tour includes transportation from San Jose as well as the entrance fee. You'll also have a tour guide to navigate the trails with you and help you spot amazing Costa Rican wildlife that might be hiding in the trees.
La Paz Waterfall Gardens is close to the Poas Volcano, so it's worth visiting both on the same day! You can also drive yourself to the volcano and I recommend doing this first to have the best chance of clearer weather earlier in the day. Or, join this guided tour that includes Poas Volcano and La Paz Waterfall Gardens to easily have the chance to see both!
9. Uvita Waterfall
The best place to cool off in Uvita isn't actually the beach. It's at Uvitas best waterfall, conveniently called Uvita Waterfall.
Uvita Waterfall is located just on the outskirts of town and can be reached by taxi from almost anywhere in town for under $5 USD. Once there, you can swim in a pristine river with beautiful cascades and, of course, the main attraction, Uvita Waterfall.
Climb to the top of the waterfall and slide down the natural slide if you dare (pictured below.) It's scary at first but so much fun. If you prefer to relax, walk downstream a little and swim in the larger pools. There are boardwalks around the and even platforms to jump off. Uvita Waterfall is beautiful and my favorite place to visit in Uvita!
You can enter Uvita Waterfall at two different entrances. The first is the lower entrance along the road, and this costs 2,000 Colones. The entrance here is best for those with a vehicle and with your ticket you can visit a small butterfly garden too.
The second entrance is slightly further up the road and only costs 1,500 Colones. You need to walk down a steep and slippery path from this entrance, and there is very limited parking. It's less than a $1 cost difference between them, so I prefer the lower entrance for convenience's sake.
Although not the largest waterfall in Costa Rica, Uvita Waterfall is well worth visiting and the perfect place to spend a few hours in paradise!
10. El Pavon Waterfall
If you enjoy exploring off-the-beaten-path waterfalls, then you'll love El Pavon Waterfall. Located a 25-minute drive south of Uvita, this gorgeous waterfall is surrounded by lush rainforest. The waterfall is easy to identify because of the round boulder wedged in the middle of the falls – so unique!
The waterfall is only small but it's the perfect place for a swim – especially since you'll likely be the only person there.
El Pavon Waterfall is very easily accessible because there is no hike to the waterfall – an added bonus! You can swim in the pool below the waterfall or head downstream to other natural pools. The water is really cold, but there's nothing more refreshing than swimming in crystal clear freshwater!
El Pavon Waterfall is free to visit. Getting here takes around 25 minutes from Uvita, and you do not need a 4wd to access the waterfall.
11. Pozo Azul Waterfalls
If you're looking for some adventurous waterfalls to explore, skip the La Paz and La Fortuna Waterfalls and head to what we like to call "The Waterfall Trail". Okay, so this isn't an actual name of anything, but it should be since there is a road just on the outskirts of San Jose that is literally full of waterfalls to explore!
The road is actually Highway 708, it starts about a 1.5-hour drive outside of San Jose city limits near a town called Bajos del Toro. Once you pass Bajos del Toro, you will drive a route that allows you to stop at several different waterfalls – one I love is Pozo Azul!
Pozo Azul is a privately owned property with 6 waterfalls on it including Pozo Azul Waterfall which is 580-feet tall (175 meters!) Here, we paid 3,000 Colones (around $5 USD) each and walked to a viewpoint over the top of Pozo Azul- via a cable car across the river! We then climbed to the bottom of the waterfall for an even more spectacular view. This involves navigating loose rocks and a steep climb – but that's what we loved about it!
Afterward, we made our way back stopping at the other waterfalls on the way. The waterfall pictured above was just one of them!
The entire time we were there we only saw a handful of other people. It's definitely more of off-the-beaten-path waterfalls in Costa Rica.
You can find the exact location of Pozo Azul here. Unfortunately, there are no tours that I know about operating from San Jose to this area, so you will have to rent a car and drive yourself. Be aware, the road is narrow with steep cliff edges so you should be a confident driver. Also, never drive this route in the dark, and be sure to rent a 4wd.
Tip: This road connects San Jose with La Fortuna, so you can choose to drive this route if you're headed that way.
12. Bajos del Toro Waterfall
The Bajos del Toro area in Costa Rica has some absolutely beautiful hidden waterfalls to explore. At the top of the list is the Bajos del Toro Waterfall, also known as the Catarata del Toro, which tumbles 400 feet into an old volcano crater. The translation of the name is "waterfall of the bull," and this impressive sight is worth the hike to get here!
Bajos del Toro waterfall is located in a small town of the same name. It's about halfway in between San Jose and La Fortuna and will require around a 1.5-hour drive from both of those cities. This small town doesn't have public transportation or taxis, so you'll need to drive yourself here or join a tour. The entrance fee is $14 USD for adults and $7 USD for kids. It's open every day except Sunday from 7 am to 5 pm.
Once here, you'll quickly get your first view of the waterfall! There are a couple of benches to sit at to soak in the view. But, if you want to get up close to this waterfall for an even better view (which you totally do!), there's a bit of hike involved.
Take the 1.3 miles (2 kilometers) main trail through the lush cloud forest until you reach a set of concrete stairs. You'll need to climb these steep steps (a couple hundred of them!) to reach the base of the waterfall. Listen for the roar of the water as you get closer! After all that, you're treated to the spectacular view of water rushing down hundreds of feet into the crater.
If you don't want to worry about transportation, joining a tour like this one from San Jose is a great way to see Bajos del Toro. You'll have a guide who will show you multiple waterfalls in the area – you'll even have the chance to swim in one!
13. Los Chorros Waterfalls
Near the town of Grecia is a pair of waterfalls known as the Los Chorros Falls or the Jets of Grecia. This dazzling duo sends water pouring over the side of the tall cliffs surrounded by lush jungle. These are hidden gems as they are a bit out of the way but worth a visit if you're in the Central Valley area of Costa Rica.
The falls are located about 20 minutes from Grecia and about 40 minutes from San Jose. Los Chorros Falls is inside the private Los Chorros Municipal Recreation Park. As of 2021, there is a sign here indicating the park is closed. However, you can still enter, but it is at your own risk as the trails won't be maintained. You'll need to pay for parking with a local, and typically, they let you enter the park via their yard for a small fee.
Once inside the park, there's a short hike to the first waterfall. It's about a 15-minute walk as you descend into the forest following a dirt road that turns into a trail. The trail then opens up into a flatter section with picnic tables. Then, the first waterfall, known as Catarata Zamora, comes into view. The waterfall sends a stream down 130 feet into a pool at the bottom. It's so powerful that you might even get a misty breeze from the falls as you approach!
The natural pool is great for wading or swimming in, typically during the dry season. If you're here during the dry season, you might also be able to venture to the second fall, Catarata Prendas, by taking a short walk through the river. If it's the rainy season or it has rained recently, be aware that the river you have to cross may be too high or flowing too fast for this.
14. Oropendola Waterfall
The impressive Oropendola Waterfall has deep, turquoise-colored water cascading down 82 feet. This waterfall is located in Guanacaste, about 40 minutes from Liberia, and an easy day trip from places like Tamarindo, Playa Flamingo, or Playa Hermosa.
The Oropendola Waterfall is right beside the Rincón de la Vieja National Park – one of the best national parks in Costa Rica. The waterfall itself is on land owned by the Hacienda Guachipelin hotel, so you'll need to buy tickets from the hotel's front desk or online. Tickets are $32 USD per adult and $21 per child, and the price includes lunch.
You'll still need to check-in at the front desk even if you buy tickets online to get a wristband to enter the trail. The waterfall is open every day from 8:30 am to 4:30 pm, and getting here earlier is better as the total number of visitors is limited each day.
It's about a 15-minute hike along the trail to the waterfall, and it isn't too difficult, so kids can come along for this one. Right before you reach the waterfall, there's a hanging bridge over the top of the river. This neat bridge slants down and actually has stairs built into it to descend the last few feet before you reach the falls.
Head to the viewing platform to get a stunning up-close view of Oropendola Waterfall. The natural minerals in the volcanic soil give the water here a rich blue color that almost doesn't seem real! If it's the rainy season (May to November), this will probably be as close as you can get. However, if you're visiting in the dry season, the water will be calm enough that you can swim here.
While you're in this area, it's worth booking a combo tour that includes some of the best attractions, including this waterfall, the national park, and the Rio Negro Hot Springs. A tour takes care of all the entrance fees you'll need and includes a guide to show you the sights like the active volcano, bubbling mud pits, swimming at the waterfall, and hot springs and can help you spot wildlife along the way.
15. Belen Waterfall
The most popular waterfall near Sámara is Belen Waterfall. Located around 25 minutes from Sámara by car, the waterfall is a refreshing place to cool off.
We visited the falls in December, and the entire waterfall was flowing. There were even some small pools at the top of the waterfall to relax in. It was a beautiful place to spend a few hours.
With that said, I have heard that Belen Waterfall is not overly enjoyable towards the end of the dry season around April. Without the rain, the waterfall becomes stagnant, and algae bloom. Unfortunately, there were some algae during our visit, so it's best to keep your head above the water.
The waterfall does get quite busy on weekends, but you can visit with very few people around during the week. If you don't have your own car, you'll need to rent a scooter or ATV in Samara, take the bus or organize a tour/taxi.
Once there, a guy charges everyone 1,000 Colones for "parking" regardless of whether you took the bus or not.
Finding the waterfall is pretty easy with Google Maps. You can find its location here. Just be sure to keep an eye out for the sign on your right as you get really close to the waterfall. We drove too far, thinking the sign was for another waterfall (silly us) and it would be tough to turn around in a car on the narrow road.
Related read: Afterward, check out all the best restaurants in Samara!
16. Diamante Waterfall and Cave
One of the lesser-known waterfalls in Costa Rica is Diamante Waterfall and Cave. This is actually Costa Rica's tallest waterfall at over 600 feet, and hidden behind the falls is a small cave that you can spend the night in. The waterfalls is closest to Dominical and Uvita.
The waterfall and cave are on private land, so you can't visit without a tour, which turns most people off this hidden attraction. However, for those who do venture out to Diamante Waterfall and Cave, you'll get an off-the-beaten-path experience you're bound to love.
Day tours to the waterfall start at $69 USD and include a hike to the waterfall, a delicious lunch, and transport. The hike to the waterfall is moderately challenging due to the 800-meter elevation gain, and you'll undoubtedly sweat a lot! The tour leaves at 8:30 am and arrives back at around 3:30 pm.
For an even more memorable experience, an overnight tour is a cool option. These cost $129 USD and include your night's accommodation and three tasty meals. This tour leaves at 8:30 am and arrives back the next day at 11 am.
Related Read: Check out our list of the absolute best tours in Costa Rica!
17. BriBri Waterfalls
In Costa Rica's Limón Province, there's a series of gorgeous hidden waterfalls to explore. They are located near the small Indigenous town of BriBri, and the falls themselves are about 3.5 hours from San Jose but only 15 minutes away from Puerto Viejo.
The first waterfall is known as Volio Waterfall as it's close to the town of Volio. It is harder to find (truly a hidden waterfall!), so you may need a guide to help you. Typically, a guide will meet you in the parking lot near the end of Calle La Union after you've paid the 2000 colones parking fee.
From there, you'll cross two rivers by foot before finding a short trail through the jungle that leads to the waterfall. The waterfall itself looks like something out of a storybook, with water cascading down 50 feet in a hidden jungle cove.
One of the main waterfalls around here is called the BriBri Sparkling Waterfall. This stunning waterfall has a warm natural pool at the bottom, perfect for swimming. It's really easy to get to as it's just off Highway 36. Look for the sign with the waterfall's name on it and park in the lot for 2000 colones. It's a quick five-minute hike down to the falls, where you can enjoy the view and a nice swim.
Two Waters Waterfall, also known as the BriBri Hidden Waterfalls, is a small waterfall that spills into a really pretty natural pool. While the waterfall isn't the largest, there's a beautiful area to swim. It's also typically quiet, so you can take time to relax. To get here, you'll follow Highway 36 until you see a sign indicating the entrance to the waterfalls. There's a parking fee and entrance fee of 1000 colones per person, and then it's only a five-minute walk to the falls.
18. Jaco Waterfalls
Costa Rica truly is the land of waterfalls! You have to visit a few while you're in Jaco to take some amazing photos and go swimming with the cascading water behind you.
While there are lots of waterfalls around Jaco, they can be hard to find on your own (or on private land) and get to – especially in Jaco! Even I, an avid waterfall finder, decided to join a tour in Jaco. The best tour to experience it all is this 10 Hidden Waterfalls experience.
This tour includes a professional guide who will help you see 10 different waterfalls throughout the Las Monas Rainforest. After the initial 15-minute hike, expect to see a new waterfall every 150-300 feet! You'll also get the chance to swim in natural pools and jump from the top of a waterfall. It's such a fun experience that makes you feel rejuvenated and in touch with nature.
Another option combines riding an ATV with seeing waterfalls in this action-packed half-day tour. It starts in the mountains behind Jaco, and you'll see everything from waterfalls, rivers, and rainforest to the countryside and small villages. This tour even offers a yummy lunch and some fishing fun at a small pond with tilapia fish.
Getting Around Costa Rica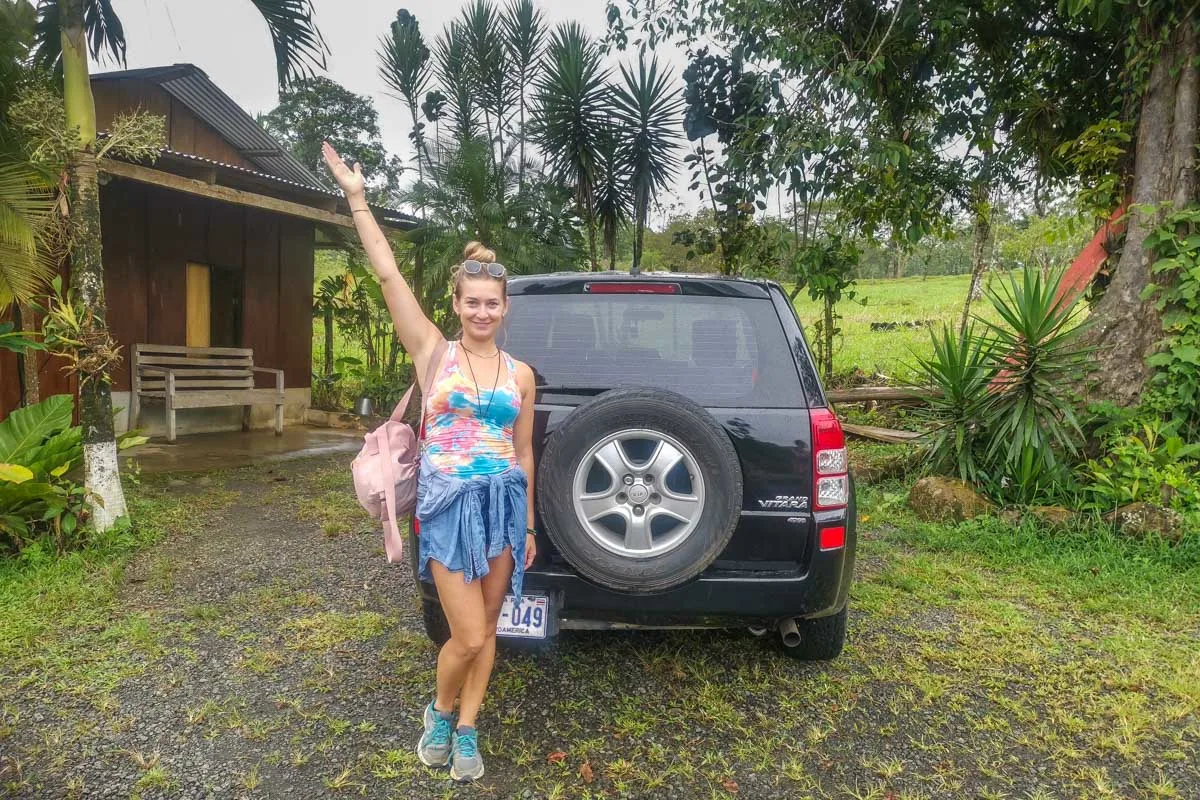 How you choose to get around Costa Rica is one of the biggest decisions you'll make when planning your holiday here! How you do it depends on your budget, travel style, and comfort level.
Renting a Car
Without a doubt, the number one way to explore Costa Rica is in a rental car. We book rental cars on the Discover Cars website as we have had good experiences with them in the past.
One of the things you need to watch for when renting a car in Costa Rica is the mandatory insurance that the government requires you to have. There are a lot of very cheap rentals that don't include this mandatory insurance (TPL) in the original booking price, but there are also ones that do. To avoid additional surprise charges when you pick up your rental car, be sure to rent a car that includes the mandatory insurance when you book.
Thankfully, on Discover Cars it's easy to tell apart the companies that include the mandatory insurance and those that don't. The trick is you can't pick any car on their website. In the picture below, you can see this rental car, with pick up in Jaco, includes the TPL. That means the mandatory insurance is included in the price. Any cover you get above that is extra.
Of course, I still suggest getting the full coverage offered by Discover Cars, which covers you even more.
You can browse cars on Discover Cars here.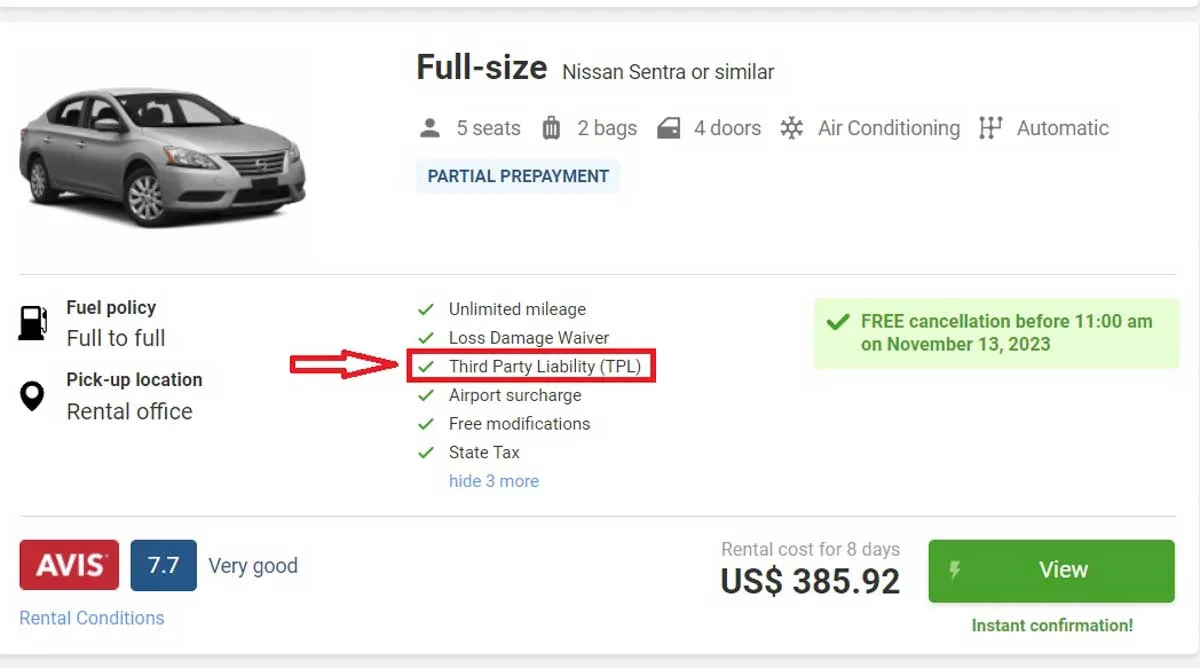 Book Shuttles
If renting a car isn't in your budget, you don't feel comfortable driving in Costa Rica, or you just don't like driving, shuttles are the next best option. There are hundreds of shuttle routes available all over the country, and they are very affordable.
Shuttles in Costa Rica are specifically for tourists and often include pick up and drop off at your selected hotels and airports. The drivers also speak some English, and the vehicles have air conditioning. You'll also be guaranteed a seat when you book a shuttle (which isn't the case with the public bus system.)
To get the best price, use the website Bookaway. They compare all the offers and prices of shuttle companies in Costa Rica so you get the best price! Honestly, we have saved so much money using Bookaway!
You can search for shuttles online on Bookaway here.
Public Bus
Lastly, you can use the public bus system. On short journeys, such as from San Jose to La Fortuna or Uvita to Manuel Antonio, this system is great. However, the longer the journey the more hassle and time spent on a bus. It's undoubtedly best to save the public bus in Costa Rica for short and straightforward trips!
The public buses are definitely the cheapest way to get around Costa Rica, but they are not always very reliable and schedules often change without notice and delays are to be expected. The buses can also be very crowded and hot – so just be prepared!
It's also good to speak some Spanish if you plan on riding the public bus since most drivers and ticket booth operators don't speak English.
Invest in Travel Insurance
Paying out of pocket for trip interruptions or medical treatment will add to what might already be a stressful situation. Not to worry, SafetyWing is here to help!
This affordable travel and medical insurance is perfect for digital nomads, long-term travelers, and remote workers. The best part is that it only costs $45 USD per 4 weeks.
To start coverage you must purchase it after leaving your home country. We usually purchase it as soon as we land at the airport.
Since using SafetyWing we've been reimbursed thousands of dollars when we've gotten sick. During the pandemic, they've even gone as far as to pay for our last-minute flights back to Canada before the border closed!
Pura Vida!
These are only some of the amazing waterfalls in Costa Rica! Aren't they beautiful? It should come as no surprise that one of the things Costa Rica is most known for is its waterfalls!
I hope you have a few ideas of some beautiful places to visit on your trip or add to your Costa Rica bucket list! If you're planning a trip here, check out our list of all the best things to do in Costa Rica. Happy traveling and check out these blogs below:
Things to do in Manuel Antonio