Known as one of the most spectacular national parks in Costa Rica, Manuel Antonio National Park is a place you don't want to pass by.
While it isn't a huge park, it's the perfect size to explore in a day. There are beautiful walking trails, lots of wildlife (including the adorable squirrel monkeys!), and stunning beaches to enjoy.
Visiting this national park is one of the best things to do in Manuel Antonio town, and it's easy to see why. The sprawling area is a mixture of rainforests and beaches that are full of animals, birds, and plants. You'll have the chance to see monkeys, sloths, macaws, snakes, frogs, and more. It's a different experience every time you go!
The park is simple to get to and close to the small town of Manuel Antonio, so it's easy to base yourself in the area for a few days.
Whether you're hiking along "The Sloth Trail" (and hopefully seeing a few sloths!) or spending some time relaxing on the beaches here, you'll want to be prepared so you can make the most of your time. We've put together this Manuel Antonio National Park guide, so you're prepared and will have the best time once you arrive.
1. About Manuel Antonio National Park
Manuel Antonio National Park was established in 1972 as a way to protect this area of rainforest and all the animals inside. Back then, there were concerns about development overtaking it, so establishing the park ensured the area would remain as it is.
It's the smallest national park in the country but one of the most popular. The park gets around 150,000 visitors every year! Visitors are limited daily though, which is why you should buy a ticket in advance (more details on that below.)
The park is filled with rainforests, mangroves, and beaches. There are incredible hiking trails and some of the most beautiful beaches in all of Costa Rica inside the park.
The animals and birds who live here will be one of the highlights of your visit, depending on what you spot! There are sloths, LOTS of monkeys, reptiles, and birds galore.
2. Where is Manuel Antonio National Park
Manuel Antonio National Park is located along Costa Rica's Central Pacific coast. It's about an hour's drive from Uvita and three hours from San Jose, making it a great day trip from San Jose!
The park is very close to the small towns of Manuel Antonio and Quepos. The park is literally right next to Manuel Antonio town and less than a 10-minute drive away from Quepos. If you're staying in the area, most hotels are situated between the park and Quepos around the town of Manuel Antonio. Check out our hotel recommendations at the end of this Manuel Antonio National Park guide!
3. How much does it cost to visit Manuel Antonio National Park?
Admission to visit the park is $18.08 USD per adult and kids aged 2 to 11 are $5.65 USD. Make sure you read below on how to purchase tickets in advance, as this is a MUST.
You can also book guided tours like this one. But be aware that some tours do not include the entrance fee, so you'll be paying that either way.
Also, the park warns about people along the road leading here that will try to sell you entrance tickets, tours, or parking – they are not connected to the park in any way, so don't buy anything from them!
4. Do you need to book your ticket to Manuel Antonio in advance?
Yes!! I can't stress this enough. Don't show up and try to buy a ticket on-site as you'll end up disappointed. Tickets MUST be purchased in advance online here.
When you book, you'll select the day you're visiting. This is because the park only sells limited tickets for each day. The ticket is good for the whole day, but once you're in the park, you can't come and go and use the same ticket. So plan to spend the day here to get the most value!
If you go the guided tour route, double-check to see if it includes admission or not. If it doesn't, you'll need to purchase a ticket in advance, just like if you're coming on your own.
When you arrive at the park, bring whatever documentation you used to purchase your tickets – like photo ID or a passport that matches the name on the ticket. This is very important.
5. When is the best time to visit Manuel Antonio?
If you want the greatest chance of sunshine and warm days the best time to visit Costa Rica and Manuel Antonio National Park is from December to April. This is the dry season during Costa Rica's summer months. It's also the most popular time to visit, so expect more tourists and crowds. Book as far ahead as you can.
Things tend to be less expensive and not as crowded during the rainy season from May to November. Going to the park from May to August is still a good time – you'll have fewer crowds to deal with and typically the rain comes in the afternoons. I'd avoid September-November as these tend to be the rainiest months.
Once you're here, mornings are the best time to come to Manuel Antonio National Park. It's cooler first thing in the morning and the animals and birds in the park tend to be a bit more active than in the afternoons.
Come right for when the park opens at 7 am or shortly after and you'll have the best chance to see the park before it gets busy. Then, hit up one of the beaches in the afternoon to cool off!
6. Manuel Antonio National Park hours
Manuel Antonio National Park is open daily from 7 am to 4 pm and closed on Tuesdays.
It's also open on holidays like Christmas, New Year's, and Easter (unless they fall on a Tuesday). But if you're planning to visit on a holiday or weekend, arrive as early as possible – preferably right when the park opens.
7. Is there parking at Manuel Antonio National Park?
Yes, there are private parking lots outside of Manuel Antonio National Park where you can pay for parking. The closer you park, the more expensive it will be.
Because there's no official parking lot for the national park, you should drive close to the entrance of the park and then you'll see parking lots with spots available for 2,000 to 4,000 colones per day. This specific spot is really close. If you can find on-street parking in the area, it will be free.
Make sure to drive close to the park entrance and not pay anyone for parking on the road to get there. There will be people trying to sell you overpriced parking that you need to avoid.
8. Can you visit Manuel Antonio Park without a tour?
Yes, you can! All you have to do is buy a normal entrance ticket and explore. You'll likely get a trail map you can follow as you look for animals in the park and enjoy a hike.
I will say that if it's your first time in the park or it's really important to you to see a variety of Costa Rican wildlife, a guided tour is the way to go. The guides here know where to look for animals and birds and will probably point out lots of critters you would have missed.
A lot of the guides here also use a scope (basically a powerful telescope) that you can use on a tour to see animals up close – like a sloth or a monkey hiding up in the treetops. Guides are also really good at telling you the history of the area and giving you more information about the critters here, so you'll learn lots.
You don't need a tour to enjoy the beaches here, so I recommend having a guided tour in the morning and then enjoying the beaches for the rest of the day on your own.
9. What are the hiking trails in Manuel Antonio National Park?
Hiking in Manuel Antonio National Park on its rainforest hiking trails is the best way to see some of the animals here. There are 10 hiking trails and all of them are really walkable – there are some with stairs, but nothing too strenuous.
In fact, I recommend walking them all if you can! The longest trail is the Waterfall Trail and it's around 5.5 miles (9 kms) and most are much shorter in that 1-mile (1.5 kms) range.
The trails throughout the park are:
The Sloth Trail
The Mangrove Trail
The Waterfall Trail
Sendero Playa Espadilla Sur
Sendero Playa Manuel Antonio
Sendero Congos
Sendero Playa Gemelas
Sendero Punta Catedral
Sendero Miradores
Sendero Puerto Escondido
All trails are well marked and there are signs and maps everywhere so you won't get lost.
10. How long does it take to explore Manuel Antonio National Park?
Because it's best to come in the mornings, you can easily spend an entire day here. I'd say you need at least half a day (4 hours) to really explore the park and walk along some of the trails.
If you want to extend your time here, grab lunch at the café inside the park and then head to one of the beaches for the afternoon. If you want to get in a couple of good hours at the beach, you can stay in the park for the entire day. Just a note that the beaches close around 3 pm and everyone has to leave the park by 4 pm, so plan accordingly.
11. What wildlife can you see in Manuel Antonio National Park?
One of the best things to do in Manuel Antonio National Park is to check out all the amazing wildlife here. There are literally hundreds of different types of animals, birds, insects, and reptiles you can spot! This national park is famous for its biodiversity and a wide variety of critters.
You'll most likely see a lot of monkeys! There are three different types of monkeys in the park – howler, white-faced, and the endangered squirrel monkeys. This is one of only a few places in the world you can see squirrel monkeys in the wild.
Sloths are also common in the park – both two-toed and three-toed sloths. If you're lucky enough to see a baby sloth, they are so incredibly cute! Keep your eyes in the tree tops to spot them, sloths are notoriously hard to see since they camouflage so well and move so little.
Also keep an eye out for toucans, parrots, hummingbirds, and butterflies. And don't forget to look down! You might spot red-eyed tree frogs, tiny crabs like the orange Halloween crabs, or snakes.
12. Can you swim in Manuel Antonio National Park?
Yes, and you should! The beaches are one of our favorite places inside the park. They are just perfect. You'll find soft sand to sink your feet into and lots of room.
The most popular beach in the park is Playa Manuel Antonio. The water is calm here and a gorgeous shade of turquoise blue. Be sure to swim to the far side (left if you're facing the water) as this is where there is no reef. There are lots of almond trees for shade, so it's easy to spend a few hours here. It can get busy, so if you walk over to Playa Espadilla Sur, that's typically less busy and still a great spot for swimming or sun tanning.
If you're looking for a more hidden beach, head to the secluded Playa Gemelas. It's a bit rockier here, but it's actually two small beaches that combine into one. It's about a 20-minute hike from the main beaches, so it's never as busy! Just be aware of the rip currents here, so don't swim too far out.
Related Read: If you're hoping for some great surfing in Costa Rica, head to Espadilla Beach in Manuel Antonio town. The waves here are calm, so it's perfect for beginners.
13. Is there food in Manuel Antonio National Park?
There is no outside food allowed in the park. Your bags are searched when you enter and any food or snacks you packed will be taken away.
This is mostly because of the animals like monkeys and raccoons who like to dig into people's bags and steal food. It isn't good for them and you don't want them grabbing your stuff either!
However, there is a café in the park that sells food like, pizza, sandwiches, cakes, fruit, chips, and drinks. These aren't the highest of quality, and I highly suggest having a big meal before you enter the park.
You can bring a refillable water bottle with you – just not a single-use plastic one as those are banned in this park. If you need to fill up your water bottle, the café can help you with that.
14. What should I bring to Manuel National Park?
Make sure you bring ID for entry into the park that is the same as on your ticket! You'll also need some money (cash is best) and then some other essentials like water in a refillable water bottle, sunscreen, bug spray, and a camera.
Make sure to wear good walking shoes like runners if you want to hike. If you're just heading to the beach and doing the main trail, sandals are okay. It does get really humid in the park, so shorts and a t-shirt will help keep you cooler. It can rain here (even in the dry season), so also pack a light rain jacket.
If you're going to the beach while you're here, make sure to have a bathing suit, towel, and sunglasses. You can't bring any beach umbrellas or chairs, so travel light!
To carry everything, I recommend a waterproof backpack. This way if it rains, all your gear is still nice and dry.
15. Facilities in Manuel Antonio National Park
The facilities in the park are minimal, but there's enough so you can stay all day comfortably.
There are washrooms at the main entrance and a few other spots around the park, showers and changing rooms near the main beach, a café for food, a small shop, and some water refill stations.
16. Is Manuel Antonio suitable for kids/families?
Yes, kids will have a great time at Manuel Antonio National Park! The trails are flat and not too difficult, so little ones can tag along and help you spot wildlife. The beaches are also great for kids with the calm waves.
NOTE – Keep kids (and yourself!) away from the manchineel tree. Also known as a "beach apple" or "little apple of death" tree (I'm not kidding!!), these are common in the park, especially along the beaches and you might see the tiny green apples on the ground. The trees are toxic and extremely dangerous – don't touch any part of the tree or eat its fruit. There are signs throughout the park warning of the tree, but because kids can venture off, keep them close as you explore the park.
17. Should I hire a guide to explore the park?
If you're traveling on a budget or prefer to explore on your own, you can save money by not hiring a guide. It's still really enjoyable to wander along the hiking trails by yourself and see what animals you can spot.
However, if seeing more wildlife and knowing what exactly you're seeing is high on your list, hire a guide. You'll not only see more; you'll learn a ton about the park and its creatures along the way. The guides here are passionate about what they do and they know some of the popular spots where animals (like sloths!) hang out. You'll also get the chance to use the guide's telescopes to spot animals far away that you would have totally missed seeing.
I recommend hiring a guide or booking a guided tour for the morning. You'll see the most animals in the mornings and then once your tour is done, you're free to explore the park on your own or head to the beach.
Tip: We recommend booking your guide in advance online. This way you can read reviews and ensure you will get a quality experience!
18. How do you get to Manuel Antonio National Park entrance from Manuel Antonio or Quepos?
Our favorite way to get around is by renting a car in Costa Rica. While an SUV is nice to have if you're planning on driving around any backroads, if you're sticking to main roads and heading to the national park, it isn't necessary.
The drive from Manuel Antonio to the national park is 10 minutes and possibly even shorter, depending on where your hotel is. From Quepos, the drive is around 18 minutes to the park entrance. Taxis are also an option from both Manuel Antonio and Quepos and should cost between $5-10 USD each way.
If you want to avoid paying for parking or don't have a rental car, you can easily take the bus from Quepos to Manuel Antonio National Park. You'll head to the bus station in Quepos or you can wait at a bus stop along the hill in Quepos if you're staying at a hotel there. The bus is around 335 colones (.50 USD) for a one-way ticket.
The buses run about every half hour from 5:30 am until 9:30 pm and will take you through the town of Manuel Antonio and close to the park entrance – but not right to it. The bus drops off near the beach at a roundabout. You'll walk about 5 minutes to the entrance and it is well-signed here so you won't get lost!
19. The difference between Manuel Antonio National Park and Manuel Antonio town
While they share a name, Manuel Antonio National Park and Manuel Antonio town are different. The small town is on the cliffs near the park and is about 15 minutes from the larger city of Quepos.
Manuel Antonio town literally borders the national park and is a great place to stay if you want to be based in this area for a while. The town is built on a hillside and is full of wildlife – I think I've seen almost as many animals like sloths, monkeys, and toucans in town as I have in the national park!
There are also some nice beaches in Manuel Antonio that are not in the national park. These are great because they are free to get to and you don't have to leave by a certain time – so stay for the sunset!
While you're in town, check out all the amazing restaurants in Manuel Antonio. You'll find places to eat with awesome food, ocean views, and great cocktails. I love having the buffet breakfast at Rico Tico Jungle Grill right when they open at 6:30 am so I'm all fueled up for a day at the national park.
20. What are the best things to do in Manuel Antonio National Park?
There's a huge variety of activities to do in Manuel Antonio National Park! The top activity is the simplest – just walking around! Start your visit here with a guided tour or explore by yourself without a guide along the trails to spot monkeys, sloths, poison dart frogs, butterflies, and many other critters!
Swimming is also fun inside the park at one of the beaches. The water here is beautiful and the sand is super soft. Some of the best beaches in Costa Rica are found here. It's a good way to relax after a busy morning of hiking.
Another way to see the national park from a different angle is with a boat or snorkeling cruise. This catamaran tour passes by the national park to give you great views but has the added perks of being on a boat like suntanning, snorkeling, taking a dip in the Jacuzzi, and spotting animals in the water like dolphins and turtles. The tour is $86 USD per person and includes lunch and transportation.
Related read: Don't stop your adventure at Manuel Antonio National Park! Keep exploring the country to see all the incredible things to do in Costa Rica.
21. What are the best tours of Manuel Antonio National Park?
One of the best ways to see Manuel Antonio National Park is with a tour. You'll have the extra perk of an experienced guide to show you around and make sure you get the most out of your time here.
For guided tours from Manuel Antonio that include transportation, this half-day guided nature tour pairs you up with a naturalist guide who will point out animals and plants and explain the biodiversity of the park. It's under $65 USD and includes transport from all hotels in the Quepos and Manuel Antonio area.
If you have a rental car or are taking the bus, there's no need to worry about a tour with transportation. Instead, book a small-group guided tour for a more personal experience with a maximum number of eight people allowed. This means you'll have more time to look through the spotting scope at animals you find along the way and can ask lots of questions. It's only $28 USD per person, which doesn't include the park entrance fee.
If seeing sloths is high on your list, book a sloth tour of Manuel Antonio National Park. Your guide will make sure you see lots of sloths as well as other critters. You'll have the chance to take lots of amazing photos as you wander through the park. This tour is $70 USD per person.
See the park come alive in the dark with a night tour. Many of the amazing animals inside Manuel Antonio National Park are nocturnal, so this jungle night tour is a whole new experience – even if you've already visited during the day. It's under $60 USD and includes transportation and a tour guide.
Explore the coastlines of Manuel Antonio National Park from the comforts of a luxury catamaran. On this catamaran tour, you'll pass by the national park, small islands and get the chance to swim in the bay or go down the waterslide attached to the boat! It's $86 USD for this little getaway that includes transportation.
Related Read: Manuel Antonio is one of the places we suggest that you visit even if you only have one week in Costa Rica!
Getting Around Costa Rica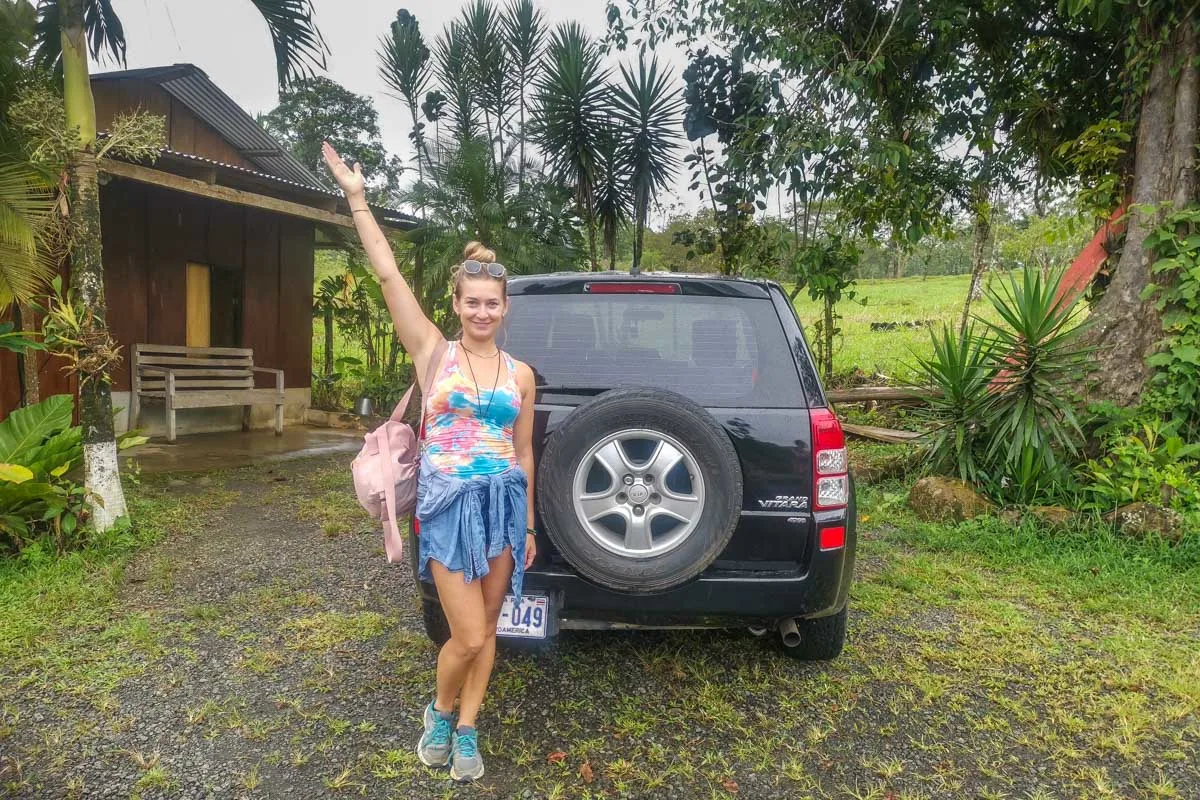 How you choose to get around Costa Rica is one of the biggest decisions you'll make when planning your holiday here! How you do it depends on your budget, travel style, and comfort level.
Renting a Car
Without a doubt, the number one way to explore Costa Rica is in a rental car. We book rental cars on the Discover Cars website as we have had good experiences with them in the past.
One of the things you need to watch for when renting a car in Costa Rica is the mandatory insurance that the government requires you to have. There are a lot of very cheap rentals that don't include this mandatory insurance (TPL) in the original booking price, but there are also ones that do. To avoid additional surprise charges when you pick up your rental car, be sure to rent a car that includes the mandatory insurance when you book.
Thankfully, on Discover Cars it's easy to tell apart the companies that include the mandatory insurance and those that don't. The trick is you can't pick any car on their website. In the picture below, you can see this rental car, with pick up in Jaco, includes the TPL. That means the mandatory insurance is included in the price. Any cover you get above that is extra.
Of course, I still suggest getting the full coverage offered by Discover Cars, which covers you even more.
You can browse cars on Discover Cars here.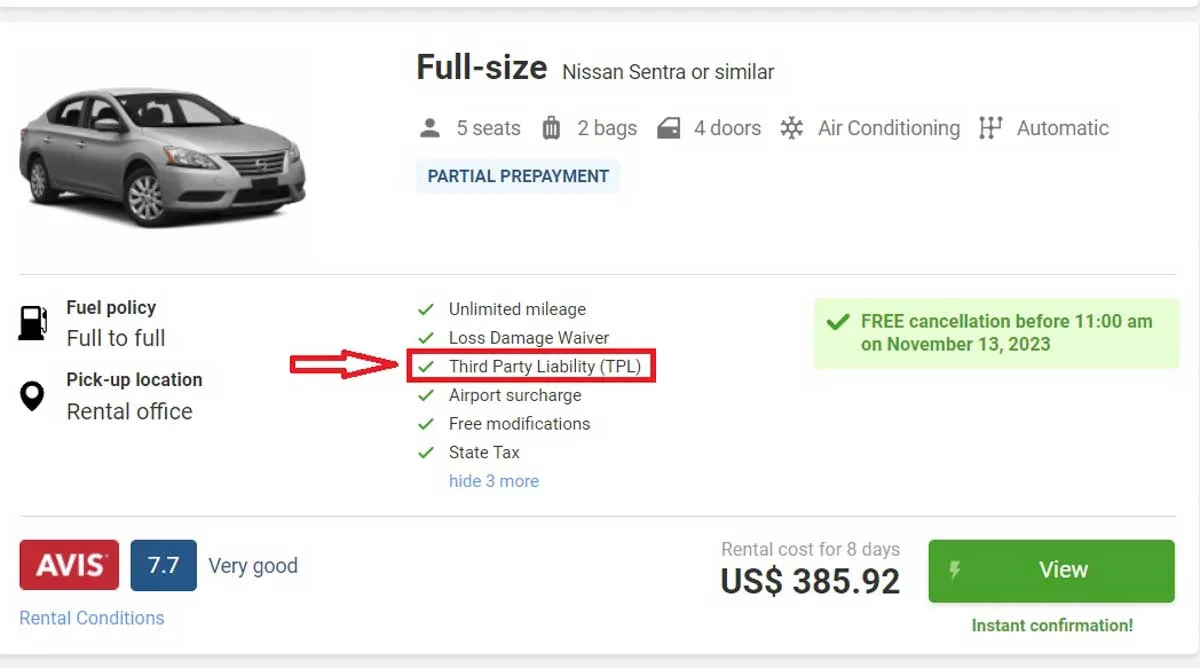 Book Shuttles
If renting a car isn't in your budget, you don't feel comfortable driving in Costa Rica, or you just don't like driving, shuttles are the next best option. There are hundreds of shuttle routes available all over the country, and they are very affordable.
Shuttles in Costa Rica are specifically for tourists and often include pick up and drop off at your selected hotels and airports. The drivers also speak some English, and the vehicles have air conditioning. You'll also be guaranteed a seat when you book a shuttle (which isn't the case with the public bus system.)
To get the best price, use the website Bookaway. They compare all the offers and prices of shuttle companies in Costa Rica so you get the best price! Honestly, we have saved so much money using Bookaway!
You can search for shuttles online on Bookaway here.
Public Bus
Lastly, you can use the public bus system. On short journeys, such as from San Jose to La Fortuna or Uvita to Manuel Antonio, this system is great. However, the longer the journey the more hassle and time spent on a bus. It's undoubtedly best to save the public bus in Costa Rica for short and straightforward trips!
The public buses are definitely the cheapest way to get around Costa Rica, but they are not always very reliable and schedules often change without notice and delays are to be expected. The buses can also be very crowded and hot – so just be prepared!
It's also good to speak some Spanish if you plan on riding the public bus since most drivers and ticket booth operators don't speak English.
Invest in Travel Insurance
Paying out of pocket for trip interruptions or medical treatment will add to what might already be a stressful situation. Not to worry, SafetyWing is here to help!
This affordable travel and medical insurance is perfect for digital nomads, long-term travelers, and remote workers. The best part is that it only costs $45 USD per 4 weeks.
To start coverage you must purchase it after leaving your home country. We usually purchase it as soon as we land at the airport.
Since using SafetyWing we've been reimbursed thousands of dollars when we've gotten sick. During the pandemic, they've even gone as far as to pay for our last-minute flights back to Canada before the border closed!
Thanks for reading!
Manuel Antonio National Park is among my favorite national parks in Costa Rica. The scenery is stunning and I love that I can get a rainforest hike and a beach day in the same place! The park is surrounded by such a beautiful area too, that we love hanging around here for a few days to explore.
I hope you found this guide to Manuel Antonio National Park helpful before your upcoming visit.
If you have any other questions about this park or traveling to Costa Rica in general, don't hesitate to reach out. Also be sure to check out more of our in-depth guides including:
MUST-VISIT Volcanoes in Costa Rica
COMPLETE Guide to Visiting La Leona Waterfall