This blog may contain affiliate links. Read our disclosure policy for more info.
Planning your honeymoon is an enormous task – trying to find somewhere that pleases both you and your new spouse is no easy feat. Plus, you have to take into account your budget, the travel distance, whether there are activities available you both can do there, and if there are suitable accommodation options!
It all gets a little mind-boggling, especially when you have a wedding to plan too!
Well, allow me to do the hard work for you and introduce you to what I think is one of the best honeymoon destinations in the world – Costa Rica! The home of 'Pura Vida' has it all, from stunning beaches and lush jungle scenery to gigantic volcanoes! Costa Rica truly is one of the most beautiful countries we've ever visited!
I've spent quite a lot of time in Costa Rica, even living there for a period, so creating this guide to planning the most romantic Costa Rica honeymoon was easy for me! I've covered everything you'll need for an epic honeymoon, from the top honeymoon resorts in the country (including all-inclusive resorts and beachfront resorts!), to the most romantic things to do, and even a mini-guide on the best areas to stay for couples!
I'm certain that this blog post is going to get you REALLY excited about your romantic honeymoon in Costa Rica!
Don't have time to read the full article? One of our top suggestions for a honeymoon getaway is Baldi Hot Springs Hotel & Spa in La Fortuna. The property is beautiful with 25 thermal pools surrounded by lush gardens. It's the perfect romantic setting! Book a room online in advance here on Booking.com.
Why Choose Costa Rica for your Honeymoon?
Luxurious resorts, golden sand beaches fringed with palm trees, volcanoes, gushing waterfalls, and a plethora of romantic activities make Costa Rica a no-brainer for any couple that loves to mix relaxing beach days with adventure.
Yep, you can choose to relax on a beach one day, and the next go ziplining through the treetops or get your adrenalin pumping on an ATV tour. No matter what you love to do as a couple, you're sure to be able to enjoy it in Costa Rica!
Another bonus is that it's a short distance from the U.S., and there are plenty of reasonable flight options available! Add that to the mix heaps of gorgeous hotels, excellent restaurants, and romantic activities, and you've got yourself one of the most desirable honeymoon destinations in the world!
So, whether you want your honeymoon to be a relaxing vacation, or adventurous and heart-pumping – or both – Costa Rica is the perfect spot for you.
10 BEST Honeymoon Resorts/Hotels in Costa Rica
Let;s face it, choosing where you stay in Costa Rica for your honeymoon is one of the most important parts! You need to choose the most unique, beautiful, and romantic hotel to make your honeymoon memorable.
Luckily, there are plenty of these in Costa Rica. Even if you're on a tighter budget, you can find a gorgeous honeymoon hotel in Costa Rica. Check our favorite picks below:
Located a mere two-minute drive to Ecoglide Arenal Park, the Baldi Hot Springs Hotel & Spa in La Fortuna provides you with more than just your standard hotel amenities. It boasts 25 thermal pools with crystalline waterfalls, lush gardens, and air-conditioned suites – it shouldn't be a surprise that this is one of the very best hotels in the La Fortuna region.
You can find four restaurants on the property serving free buffet breakfast and a mix of organic, vegetarian, and international dishes. There are also four bars, with some located by the pools. If you want to pamper yourself and your loved one, head to the hotel's spa and wellness center, that will ease away your stress with full-service spa treatments.
The Baldi Hot Springs Hotel offers upscale rooms well-appointed with free Wi-Fi, a flat-screen cable TV, and even a mini-bar. You also have your own bathroom, complete with complimentary toiletries.
You can stay here for as low as $365 USD/night. You should secure your room at Baldi Hot Springs Resort online in advance to avoid missing out.
Featuring a sprawling property, Hotel Arenal Springs Resort & Spa is set roughly 7 km (4.3 mi) outside of La Fortuna town. Although, you probably will never want to leave the resort since it has so much to offer, from its thermal-water pools and spa to its elegant restaurant and swim-up sushi bar.
You can find an on-site restaurant offering buffet services, along with à la carte meals. Other facilities available on the property include a tour desk, free parking, and a yoga deck. If you're coming here with your partner, the restaurant and hot springs will be great places to hang out in, thanks to their romantic vibes.
But what I love about the property is that it is spread out and dotted with well-appointed bungalows with contemporary accents. The rooms here come with a flat-screen cable TV, air conditioning, a mini-bar, a covered outdoor seating area, and my favorite feature: a view of the volcano out front. Stone walls, skylights, and several tropical plants also provide a distinctive flair to the private bathrooms.
The king suite even features a huge stone bathtub – perfect for couples honeymooning in Costa Rica!
For a one-night stay, you can expect to pay at least $350 USD. Some rooms, depending on the features, may cost more. You can check availability and prices at Hotel Arenal Springs Resort & Spa online here.
Hotel Club del Mar Oceanfront is tucked away on the southern end of Jaco Beach, where you'll be far from the hustle and bustle of the town center. But aside from the more peaceful surroundings and the gorgeous view of the Pacific Ocean, what you'll immediately notice upon arriving at the hotel is its very 50s beachfront vibe. This property is styled in a contemporary way with a nice blend of local art and rustic wood throughout.
The beachfront apartment-style units here are equally as homey. Awaken your senses right from your balcony or patio as you drink your morning coffee and take in the beauty of the surrounding ocean and tropical forest. You also have a cable TV in your room for quiet nights relaxing.
After breakfast, you can try the surf lessons, zip line tours, and rainforest aerial tours hosted by the resort itself. The in-house tour desk can also help you plan other activities in the area like fishing and visiting the Carara and Manuel Antonio National Parks – two of the best national parks in all of Costa Rica!
If you don't feel like leaving the property to explore, you can just dip in the oceanfront pool and chill at the Tiki bar that serves food and beverages at the pool or on the beach. The hotel also features some lounge chairs on the beach where you can relax and waste your time away.
When it comes to the meals, Hotel Club del Mar Oceanfront's on-site restaurant is a definite must-try. Enjoy a varied selection of international dishes here, and never go home without trying the Costa Rican meals, especially the fresh local seafood! To cap off your day, indulge yourself in the luxurious world-class Spa Del Mar that offers a full menu of services – even for couples!
A range of sizes and styles of guest rooms (small condos, apartments, and standard hotel rooms) are available at Hotel Club Del Mar Resort, making it perfect for families as well as couples. The average rate is $250 USD a night.
You can check availability for the Hotel Club del Mar Oceanfront online here.
Related Read: Learn about the other incredible Jaco hotels here!
Looking for a luxurious way to experience the natural beauty of Costa Rica? Then come to Rancho Pacifico in Uvita – it's one of the best hotels in all of Costa Rica.
This high-end adult-only eco-hotel is truly a luxury paradise as it sits right on Uvita's rain-forested hilltops, offering privacy and commanding views of the Whale's Tail in Marino Ballena National Park that you won't find anywhere else.
While staying here, you will jumpstart your day with a gourmet breakfast made with fresh ingredients, many of which are sourced from the hotel's own gardens. Combine this with views of the ocean from the hotel's open-air restaurant – pure luxury!
After breakfast, put on your hiking boots and explore the rainforest through the hiking trails on the property. If that isn't your style, then feel free to just relax in the infinity pool while you watch the waves crashing on the coast far below. From there, you won't have to walk far for lunch as you can treat yourself to a delectable selection of dishes right by the pool. The in-house spa, which offers a variety of treatments in a quiet rainforest setting, is also just a quick walk away.
Spend the remainder of your day hiding away in your room before grabbing a drink during the bar's happy hour. Once the sun finally sets, you will dig into a sumptuous four-course dinner specially prepared by the chefs.
Finally, you'll end the day with a walk in the moonlight back to your villa. Speaking of villas, you can choose from a variety of accommodation types at Rancho Pacifico to suit your needs and budget. Every unit comes complete with king-size beds, luxury linens, and unmatched ocean views bordered by the tropical landscape.
But if you truly want to be pampered, then you should book a luxury villa – nothing quite says 'honeymoon' like it. Here, you can enjoy a private plunge pool or in-ground hot tub, spacious living areas and decks, a well-equipped kitchenette, and even private entrances! The best part is that the villas are the closest to the main clubhouse, cabana, and pool areas, so you're always just a few steps away from the amenities.
Rancho Pacifico features three distinct types of rooms: Luxury Villas, Rainforest Treehouses, and Modern Suites. The Villas start at $695 USD, the Treehouses from $620 to $695, and the Suites for $545 per night. Every reservation includes a complimentary breakfast, a full a la carte menu with fresh juices, and the renowned Costa Rican coffee.
You can check availability and book Racho Pacifico Boutique Hotel online here!
Set just steps away from the ocean, Hotel Nantipa is Santa Teresa's definition of a true beachfront vacation. This luxurious accommodation offers you nothing but a trip worth remembering. After all, with private bungalows and easy access to the beach, what's not to love about this boutique hotel?
Walking into your bungalow (which, by the way, is framed by tastefully landscaped flora for privacy), you'll immediately notice its interiors inspired by Costa Rica's coastline. Photos of the beach hang on the wall, and the furnishings have a wooden touch to them. You'll also enjoy the modern amenities found inside the rooms, such as a smart TV, air conditioning, Wi-Fi, and mini-bar.
My favorite part of the bungalow, though, is definitely the patio, where you can take in the ocean, pool, or garden view before heading out to start your day. Imagine having a coffee with your loved one here – bliss!
From your room, head to the hotel's in-house restaurant, Manzú, which sits on the beach and provides you with a panoramic view of the ocean and the sunset. Grab your à la carte breakfast and try out one of the unique cocktails offered here that mixes Costa Rican tropical fruits with local liqueurs. After having your fill, unwind by the large pool while you mingle with the other guests.
You can find Hotel Nantipa on the northern end of Playa Carmen. Bungalows start at $472 to $588 USD.
Check availability and book Hotel Nantipa online in advance here.
Related Read: Hotel Nantipa is one of the best hotels in Santa Teresa, read about the others here!
Nothing beats a beachside vacation that takes you away from rowdy and noisy kids. This is exactly what you'll find in Vista del Alma, an adults-only boutique resort sitting on a mountaintop in South Santa Teresa.
There are three things that you'll definitely love about staying in Vista del Alma. The first one is its super idyllic location. Since it's tucked away on a mountaintop overlooking the Pacific, you'll be treated to views of the sunset that are definitely to die for. The beach is still pretty close to you, though. You'll only need to walk for four minutes, and you'll find yourself in the splashing waves.
The second thing that will make you fall in love with this boutique hotel is the villas. I cannot stress this enough, but Vista del Alma's luxurious villas are the perfect base for your honeymoon or romantic vacation! Right from the comfort of your bed, you'll enjoy wide-open ocean views.
If you want something more luxurious, pick a room with a furnished balcony and chill in the private pool or jacuzzi while watching the sunset. There is also a personal chef ready to serve you a unique cuisine, so you don't have to prep it yourself. Other en-suite amenities at your disposal include an espresso machine, smart TV, mini bar, and fully equipped kitchen.
The third, but definitely not least, thing you'll love about Vista del Alma is its top-notch amenities. Pose for some Instagrammable photos at the terrace that overlooks the beach. Want a break from the scorching heat? Dip in the outdoor pool or book one of the spa treatments in the comfort of your villa.
You can also join the yoga session in the yoga deck facing the ocean to connect with your inner peace.
If you're up for some adventure, you can have the staff organize a tour specifically for you. Just tell them what kind of vacation you want to experience, and they'll tailor-fit a daily schedule of activities to match your expectations.
At Vista del Alma, you have nine villas to choose from, with rates ranging from $390 to $850 USD per night.
You can check availability and book Vista del Alma Boutique Hotel online in advance here.
Sitting a mere five-minute walk from the Playa Guiones near Nosara, The Gardens Hotel provides you with everything you need and more for a relaxing beachside vacation where you won't need to lift a finger!
As soon as you step into this boutique eco-friendly hotel, you will be welcomed with the staff's warm smiles and a complimentary drink. However, things do not end there. A quick tour of the property will bring you to a large saltwater lap pool, one of the largest out of all of the hotels in Nosara. Enjoy a quick dip here without worrying about sunburns as the pool is shaded by towering palm trees. Right next to the pool is a rancho packed with lounge chairs and hammocks, where you can curl up with a good book.
If you're up for an adventure, simply ask the front desk for a bicycle that you can use to explore the nearby areas for free! Of course, there are plenty of things to do nearby, too. Grab your surfboards and hit the waves or join the hotel's turtle tour – one of the best things to do in Nosara.
Back at the property, fill your tummy with delicious farm-to-table dishes at the on-site restaurant, El Local. This restaurant and brewpub not only serves the best organic meals but also treats you to craft beers and kombucha on tap, from midday to dinner. The grass-fed burgers and tuna sashimi served here are legendary, so don't skip out on those. You can catch special musical events at El Local on Thursdays and Saturdays, too, including visiting DJs and local live music.
Finally, end your day with a moonlit walk back to your room. The Gardens Hotel comes with 11 cozy bungalows and suites tucked away in the tropical garden to give you the ultimate privacy. You'll have your own outdoor area here, complete with seating and hammocks where you can laze around and watch the howler monkeys passing by overhead. Other amenities you can find in your room include a fridge and coffee service.
Your stay at The Gardens Hotel already includes an organic breakfast, complimentary use of bikes, and welcome drinks. For double occupancy, Bungalows start at $195 to $221 USD, Deluxe Rooms for $266, and Suites for $383. There is a $20 charge per extra guest. Up to two children (i.e. up to 8 years old) stay free in the parents' room.
You can check availability and book The Gardens Hotel online here!
Want to truly immerse yourself in nature while on vacation in Nosara? Then there's nothing better than staying at Hotel Boutique Lagarta Lodge. This stunning beachfront property is one of the country's top eco-lodges. It's tucked away between two rivers on the hotel-owned 90-acre nature reserve, giving you that sense of exclusivity and luxury blended into one property.
But what does staying in Lagarta Lodge truly means for you?
Well, for starters, you're just steps away from the sprawling flora and fauna of the hotel's Reserva Biológica. Take nature excursions here and get to know more about Costa Rica's natural resources. Being close to the Rio Nosara and Rio Montaña also means easy access to boat tours! Glide through the waters as you take in the beauty of the mangrove forests and the wildlife living there.
Too lazy to go exploring? You can always just chill in the jacuzzi or one of the two infinity pools set on the well-kept gardens of the property. The hotel's open-air Gecko Lounge is also open to cure your boredom. Grab the drink of choice here and walk around the small art exhibition showcasing a collection from the Maleku tribe. Did I mention that the lounge overlooks the ocean too?
For a more breathtaking view of the sunset, climb the on-site Tower Mirador, where more of the sea awaits you. A quick walk from the tower will take you to Spa Vista Manglares, where you can get pampered with a relaxing massage while enjoying the sound of the surrounding forest. There are yoga decks and rooms on the property, too, if you want to culminate your inner peace.
Finally, don't forget to drop by the Chirriboca Restaurant to dig into the best Costa Rican delights while taking in the panoramic ocean views. If this isn't romantic enough for you, you can always ask for a more intimate setting in the hotel's very private wine cellar.
When you get to your room, you'll be treated to more of Nosara's lush foliage. From your private balcony, enjoy the view of the garden, forest, and ocean and a fresh cup of coffee courtesy of your en-suite coffee maker. The rooms' interiors are worth noting, too, having been tastefully decorated with stylish teak furniture and nature-inspired art.
This is easily one of the best honeymoon hotels in Costa Rica.
At Hotel Boutique Lagarta Lodge, you have four room categories to choose from: the Jungle Suites overlooking the jungle, the Panorama Suites opening up to the ocean, the Flor Blanca Suites featuring both the ocean and its lush surroundings, and the Motmot Suites offering breathtaking views at the resort's highest point. Rates range from $249 to $461 per night.
You can check availability and book Hotel Boutique Lagarta Lodge online here!
Standing on the town's highest point, La Mariposa in Manuel Antonio treats guests to a majestic 180-degree view of the Pacific Ocean, the National Park, and even the neighboring town of Quepos. You can see the expansive blue for miles on end with no obstruction at all. This makes it a perfect backdrop for your photos (believe me, the pictures you'll take here will be the highlight of your Instagram feed).
La Mariposa has a lot more in store for its guests, too. With its wooden furniture and tropical decor, it's brimming with Costa Rican charm everywhere you look. There are also top-notch amenities and services you can find right on the property.
Among them are two infinity pools, where a panoramic vista of the ocean is waiting; a spa center, where you'll get pampered with soothing body treatments; a pool bar to quench your thirst for cocktails; a complimentary beach shuttle for easy access to Biesanz Beach; and concierge services for days when you're up for an adventure.
My favorite amenity is definitely the large infinity pool, but I personally think the hotel's open-air Le Papillon Restaurant is the next best thing. Serving both international and Costa Rican cuisines, Le Papillon combines exceptional views with sumptuous dishes to create an unmatched gastronomic experience. Make sure to grab a seat on the alfresco dining terrace, so you can enjoy the views while digging into your food.
Apart from the amenities, I'm sure you'll love the rooms. Save for the Standard Rooms, they all feature floor-to-ceiling glass doors that open to your balcony or terrace that look out to the jungle and the ocean. If you really want to splurge, stay at the Honeymoon Suite on the upper floor. This spacious room comes complete with a living room and an oversized jacuzzi on the deck overlooking the gorgeous Pacific.
Prices here range between $150 and $350 USD a night. You can check availability and book Hotel La Mariposa online here!
Azura Beach Resort blends luxury with seclusion to give you a relaxing and kid-free getaway while staying in Samara. An all-inclusive and adults-only resort, Azura Beach Resort sits right at the end of Samara Beach, a little bit far from the town center itself. But while it may not be as close to the downtown area as you hope, its location is well worth the visit.
You see, once you arrive in Azura, you will be treated to the breathtaking view of the golden coast and the blue waters of the Pacific. So head immediately to the shore for a romantic picnic at the hotel's picnic area or soak in the sun on one of the loungers by the outdoor pool. Feel free to take your relaxation up a notch, too, with a pampering body treatment at the on-site spa suite.
If you'd rather do something more active, there's also a 24-hour fitness center right on the property to help you get those gains. You can even rent a bicycle on-site, so you can explore the area at your own pace.
Every mealtime, the hotel's restaurant will treat you to some of Costa Rica's finest dishes while you enjoy the panoramic view of the Pacific right in front. Indulge yourself in multiple culinary experiences from breakfast to dinner, complete with unlimited premium beverages.
At the end of the day, retreat to your luxurious suite, well-appointed with complimentary minibar items, cable TV, coffee machine, and spa-inspired luxury bathroom. You'll also have access to a private balcony or terrace with a relaxing view of the hotel's lush garden or the picturesque Pacific Ocean sunset.
For a staycation with a bit more oomph, book the plunge pool suite, where a private plunge pool awaits you. There's also a swim-up suite up for grabs, where you easily swim up to the hotel's river pool.
Azura Beach Resort comes with a total of 75 suites in different lodging categories. A night's stay can cost you about $375 to $636 USD.
You can check availability and book Azura Beach Resort online here!
Related Read: Samara is a good choice for honeymooners, you can read about the best things to do in this beach town here!
The MOST Romantic Things to do in Costa Rica on your Honeymoon
1. Enjoy a sunset cruise
Cruising along Costa Rica's stunning coast on board a luxury catamaran or sailboat is the perfect way to spend a memorable honeymoon day. Sunset cruises are popular in most of the coastal regions of Costa Rica, and some of the top spots to do a sunset cruise include Tamarindo and Manuel Antonio.
We did a sunset cruise in Manuel Antonio, and it was one of the most romantic things we did during our time in Costa Rica. Our boat set sail at 2 pm, and it also includes some of the best spots to go snorkeling! What's great too is that it's an open bar – so you can help yourself to an ice-cold beverage as you drink in the breathtaking views and keep your eyes peeled for turtles, dolphins, and even whales!
Your snorkeling stop will be at Biesanz Beach, where you will swim among tropical fish in the crystal-clear waters. But the best part is that as we ate our delicious dinner (which is included in the price, by the way), the sun began to set, and our Captain took us close to the shore so we could see native birds, such as scarlet macaws feeding in the forest!
If you're staying in Tamarindo or Playa del Coco, this sunset cruise on a spacious catamaran is a great choice. It includes an open bar, a snorkel stop, and as you head back into Tamarindo, you will get the chance to watch a spectacular tropical sunset. This particular trip departs from both Tamarindo and Playa del Coco!
2. ATV Tour
Adventurous couples are going to love this fast-paced activity, and although riding an ATV through a jungle and across rivers doesn't sound like the most romantic thing to do – it's sure to get your heart pumping, and you're guaranteed to talk about this day for years to come!
And the good thing is that no matter where you're staying in Costa Rica, there's likely an ATV tour nearby! I will say, though, that my favorite regions to ride an ATV are Jaco, La Fortuna, and Tamarindo! If you're a newbie to the sport, there's no need to be scared; you'll still have a lot of fun because you'll be given a detailed safety briefing before heading out on your high-powered vehicle!
If you're staying in Tamarindo, one of the best ATV tours on offer is this beach adventure tour. You'll take in epic mountain views along the ride, cross a river and you're pretty much guaranteed to get dirty as you kick up sand and dirt as you zoom through the track.
In La Fortuna, believe it or not, you can ride an ATV right next to Arenal Volcano! Prepare to get muddy on this volcano ATV tour, where you'll come across a river with volcanic mud, the stunning Arenal Lake, and even impact craters from the volcano's last eruption! Dare I say La Fortuna is one of my favorite places in the world to ATV (and I've done many ATV tours!)
3. Enjoy a day at the beach!
Everyone loves a beach day, and what better country to have a full day sunning yourself than Costa Rica – home to some of the best beaches in Central America, if not the whole world! The beaches here are often fine white sand beaches fringed by lush green jungle – making for a pretty perfect setting!
In fact, spending the day at the beach is one of the best things to do on a honeymoon in Costa Rica.
My favorite beaches are on the Caribbean side of Costa Rica, specifically in Puerto Viejo. There are plenty of calm bays here where you can sunbathe with a good book, drink fresh coconuts, and swim in crystal-clear waters. In fact, a beach day here is my idea of heaven! Another region with stunning beaches is Manuel Antonio – both in and out of the famed national park here!
Of course, because Costa Rica is known as a coastal paradise, as you can imagine, the beaches are beautiful up and down both coasts. Some of my top choices for beachy areas include Dominical, Uvita, Jaco, Tamarindo, Santa Teresa, and more.
4. Explore Caño Island
If you're staying in Drake Bay, Uvita, or Sierpe, then you simply have to spend one day of your honeymoon at Caño Island Biological Reserve because this small island is one of the best diving and snorkeling sites in the country! The reef surrounding the island is filled with marine life, such as colorful tropical fish, turtles, and reef sharks!
And because it's such a popular thing to do in the region, as you can guess, there are lots of tours to Caño Island!
Interestingly, although you can scuba dive and snorkel around the island, you are not allowed to step foot on the island because it's a protected area. Cano Island is only a 40-minute boat ride from Drake Bay, and this particular tour is a fantastic option if you're staying in the region. In fact, it's considered one of the best things to do in Drake Bay.
Whereas if you're based in Uvita or Sierpe for your Costa Rica honeymoon, then a lengthy but scenic boat ride through the mangroves (and a short bus journey from Uvita) is necessary to reach the island. But, if you're the type of couple who loves to explore the underwater world on vacation, there's no better place to do it than in the waters surrounding this tiny island!
Why We Book Tours with Viator
Viator is a trusted online booking system for tours around the world! We almost always book our tours using Viator for a couple of reasons:
Free cancellation on most tours – Most of the tours on Viator allow you to cancel and get a full refund up to 24 hours in advance. This is handy in case plans change, or if booking an outdoor activity, the weather forecast is looking grim.
Reserve now and pay later – You can secure your spot on some of the most popular tours well in advance and not pay until closer to the day of the tour.
Pay in your chosen currency – Avoid costly international transaction fees by choosing to pay in your home currency.
Peace of mind – When booking with tour operators you find in person on the street or in small booking offices, you are often promised one thing and given another. This online platform holds tour operators accountable with a written description of inclusions as well as the opportunity for customers to leave reviews.
Check out the Viator website here!
5. Go on a night walk
Now, for a truly unique honeymoon activity in Costa Rica, a guided night walk to see nocturnal critters is a must!
A night walk is a truly memorable experience in Costa Rica, especially if you're an animal lover (like me) because would you believe over 80% of the mammals in Costa Rica are nocturnal – meaning they only come out at night! Therefore, your best chance of seeing the creatures I listed above (like sloths, tree frogs, lizards, etc.) is at night!
One of the best places for a night walk is in Monteverde, where you can do a night walk through the Monteverde Wildlife Refuge to see the many nocturnal animals that call this center home – expect to see foxes, frogs, sloths, and various bird species.
Or, if you're staying in La Fortuna, then you can't miss this Rainforest Night Walk and Dinner tour. The tour involves a 90-minute walk through the forest, where you will see plenty of animals like the famous sloth, lizards, and the super-unique bullet ant, and a stop at a frog sanctuary. Plus, you'll end the tour with a delicious traditional meal! We did this tour recently and absolutely loved it – the dinner was so tasty, too!
And finally, one of the top tours from Manuel Antonio is a two-hour tour of the rainforest at nightfall on this night walk. You'll start off in a green cathedral-like forest where you'll be amazed by beautiful butterflies flying above you, and then it's time to enter the dark jungle so keep your eyes peeled for colorful insects, snakes, tree frogs, and more!
6. Explore La Fortuna Waterfall
Couples who hike together stay together – isn't that how the saying goes?! And what better hike to do as a newlywed couple than the short but stunning hike into La Fortuna Waterfall?
As the name suggests, this giant 230-foot (70-meter) waterfall is located on the outskirts of La Fortuna town. And it's so photogenic – the water shoots out from a tall cliff into the deep blue pool below and is surrounded by lush forest. Honestly, you have to see it in person to truly appreciate its beauty!
To reach the falls from La Fortuna town, you can get a taxi or drive yourself if you have a rental car to this parking lot, where you'll need to pay an entrance fee of $18 USD. The trail is pretty easy and is well maintained, but the falls are only accessible via a whopping 500 steps – which is very manageable on the way down but can be quite the workout on the way back up!
Once you reach the waterfall, take lots of couple selfies, and swim in the pool below the falls – but beware, the water is very cold, but it's sure to wake you up! There are some calmer pools to swim in downriver if you wish!
Related Read: La Fortuna Waterfall is one of the best cheap things to do in La Fortuna, read about the others and some free activities here!
7. Take a cooking class
As you'll quickly come to learn, Costa Rican food is so delicious! And what better way to take a taste of Costa Rica home with you than by learning how to cook some of your favorite Costa Rican dishes in a cooking class?
Cooking together is also such a romantic thing to do, so that's why it's one of our top honeymoon activities in Costa Rica!
There are many options for cooking classes across the country, but some of the best-rated are listed below –
8. Farm-to-table dinner experience
I heard a saying recently – "food is symbolic of love when words are inadequate," and I think it's so true, food really is the way to most people's hearts! So, it's only right I include another awesome food-related activity on this list of the best honeymoon activities in Costa Rica!
One of the most unique things to do for foodies during their time in Costa Rica is to book a farm-to-table dining experience. This means that the chef uses the freshest locally grown produce in his/her dishes. This type of experience is becoming more and more popular across the country, and you can now book it in places like Farm to Table Escondido in Monteverde, La Casa in Nosara, and Hacienda Okhra in Santa Teresa.
In fact, one of the best dinners I've had in Costa Rica was in Uvita – at a tiny mountainside eatery called Oasis Uvita. Not only were the views epic, but the food was some of the most memorable I've ever tasted. Because it's a farm-to-table restaurant, all the dishes are seasonal, and the chef only uses the freshest ingredients! You can choose from 3 or 4-course meals here!
9. Go whale watching
Whales are abundant in Costa Rican waters, and there are two whale watching seasons here. The first is from December to March, and the second is from July to October! So, if seeing whales up close and in the wild is on your bucket list, then honeymooning in Costa Rica at this time is a no-brainer!
One of the best places to see whales in Costa Rica is in the waters between Corcovado National Park and Puerto Jimenez, and when I did a tour there, I was lucky enough to see a baby whale swimming with its mother!
But the good news is that you don't have to be staying in Puerto Jimenez to see these magnificent creatures. In fact, whale watching tours can be done all up the Pacific Coast, including from Drake Bay, Uvita, Jaco, Manuel Antonio, and Tamarindo.
10. Chocolate tour
Chocolate is one of the most popular sweet treats in the world, and would you believe that approximately one billion people eat this delicious treat every day? It's also considered an aphrodisiac, making a chocolate tour during your honeymoon in Costa Rica, the perfect activity for newlyweds!
Cacao beans were considered sacred to the indigenous people in Costa Rica, and, once upon a time, it was even used as currency. Cacao beans were also ground down to make a yummy drink (similar to hot chocolate) which was used for celebrations and ceremonies!
Many different farms offer chocolate tours throughout Costa Rica, and on one of these tours, you'll have the chance to learn about the history of chocolate here and end with the best part – a tasting session!
The best chocolate tour I've been on in the country was at the Rancho Raices de Osa in Puerto Jimenez. We were given a tour of this stunning property during our time there and could see the chocolate-making process from beginning to end. We learned about their organic farming processes, tried the cacao at every stage of its production into chocolate, and even snacked on some fresh fruit. Then, we made our own chocolate, and the tour ended very happily – with a refreshing cacao face mask.
In other parts of the country, this tour in Manuel Antonio and this tour in La Fortuna both take place at cocoa plantations. If you're in the San José area, be sure to visit Botánica Chocolate to taste different cacao recipes, from ancient cacao drinks to the chocolate we love today.
11. Stay in a luxury treehouse
Imagine waking up in a gorgeous treehouse among the treetops during your honeymoon in Costa Rica – watching hummingbirds feed on the branches near you, listening to peaceful birdsong, and, if you're lucky, watching sloths pass by your window!
Luckily, there are plenty of gorgeous treehouse hotels in Costa Rica. I've listed some of the best ones below –
Finca Bellavista – Best described as a community of treehouses located near Piedras Blancas National Park. Here, you can stay in a treehouse called the El Castillo Mastate, which is a whopping 30 meters off the ground!
TreeHouse Lodge – This gorgeous hotel is situated in Punta Uva, which is just outside Puerto Viejo. The treehouse bungalow here is unique and offers an amazing forest view. But it's often booked out well in advance, so be sure to book it well in advance!
Hotel Costa Verde – Located in Manuel Antonio, this hotel has some quirky rooms, including a cockpit cottage (which is actually an old plane) located among the treetops.
Topos Tree House – This two-bedroom option is situated in Cahuita, and it's common to see sloths and monkeys from the large treehouse!
Nayara Tented Camp – And lastly, this luxury treehouse hotel is located in La Fortuna and offers breathtaking views of Arenal Volcano. Their rooms sleep up to four people and come with their own private infinity pool!
12. Drive the "Waterfall Trail"
I must be honest with you, I made up the name "the waterfall trail" myself, but this road trip between San Jose and La Fortuna is one awesome drive filled with some seriously breathtaking waterfalls. And if you're a couple who loves to hike, then this is an ideal honeymoon activity!
The road is, in fact, called Highway 708, and it begins a 1.5-hour drive outside the San Jose city limits near Bajos del Toro. The route starts at Parque Nacional Juan Castro Blanco and ends at Parque Nacional Volcán Poás. But, as soon as you pass by Bajos del Toro, this section of the highway is home to several different waterfalls. It's worth noting that they are all privately owned, so the entrance fees vary.
We were lucky enough to visit a couple of them during our time in Costa Rica, and our favorite – Pozo Azul, costs 3,000 Colones (around $5 USD) to access. There's an epic viewpoint here which looks over the top of the huge waterfall. You can also climb to the bottom of the falls for an even better view, but the hike down does involve a steep climb and scrambling across loose rocks, so a reasonable level of fitness is required.
And the best part – we only came across a handful of people during our few hours there, so this waterfall is definitely a hidden gem! Which we love!
Other waterfalls in the area include Tesoro Escondido Waterfall, Catarata del Toro, and Cataratas Las Gemelas.
Related Read: See some of the other incredible waterfalls in Costa Rica here!
13. Day trip to Tortuga Island
The small island of Tortuga is the definition of a beach paradise and is one of the best places in Costa Rica to go snorkeling. It's one of my favorite islands in the world, and thanks to its glistening white sand beaches and laid-back vibes, it's the perfect spot to spend a relaxing day with your new spouse!
Tours to Tortuga Island are very popular from Jaco, Paquera, Montezuma, Santa Teresa, Punta Arenas, Playa Herradura, and even the city of San Jose. But you can't reach the island on your own – the only way you can access the island is on a full-day guided tour.
These tours involve a scenic boat ride and a stop at two snorkeling spots where you'll get the chance to swim with sharks, turtles, and colorful tropical fish! I must admit the snorkeling here is even better than that at Cano Island, which I mentioned earlier!
After all the snorkeling, your captain will drop you off on the island for a yummy lunch served with lots of drinks. You'll have a few hours here to chill out and sunbathe, or if you're feeling a little more energetic, you can try out kayaking or even a game of volleyball. Without a doubt, these are some of the best tours in Costa Rica!
Related Read: Visiting Tortuga Island is one of the best things to do from the city of Puntarenas – read about all the other attractions in the area!
14. Relax in hot springs
After all of the wedding planning and celebration, you deserve to treat yourselves to a spa day or, in this case, a relaxing day at one of Costa Rica's best hot springs!
Costa Rica, as you know, is home to many volcanoes, and one of the big benefits of these natural wonders is the magnificent natural hot springs they create!
La Fortuna is the area with the most hot springs, and that's because of its location surrounding Arenal Volcano. There are heaps of hot springs you can visit in La Fortuna, and in fact, you could visit a different hot spring every day for weeks – there are that many! But the great thing is there's a hot spring in La Fortuna for every budget – from super-luxurious to budget-friendly natural hot springs!
One of the most well-known hot springs in La Fortuna is Tabacón Hot Springs. The water temperatures in the pools range from 72 F to 105 F (22 C to 40 C), and they are surrounded by a lush tropical garden. The main area has a waterslide and a swim-up bar, and I just love the awe-inspiring view of Arenal Volcano from the quieter pools in the lower section. If you're staying at the resort, access to the hot springs is complimentary, or you can purchase a day pass for $81 USD or a day pass with dinner or lunch for $149 USD.
For families, I recommend visiting Los Lagos Hot Springs. The passes here are a great price at only $18 USD, and that includes entry to the hot and cold pools as well as the wildlife exhibits on-site. The large pools here are fed by crystalline rainforest springs and are surrounded by colorful plants. And kids love the waterslides, waterfalls, and the cool faux volcano.
Baldi Hot Springs is another one of the most-visited hot springs in the area! It's situated amidst lush vegetation and features 25 thermal water pools with temperatures ranging from 93°F to 152°F! It also features a HUGE jacuzzi that can fit up to 60 people.
15. See sea turtles
Many tourists come to Costa Rica especially to spot sea turtles, especially to witness them laying their eggs on some of the beaches here. Seeing this unique experience should definitely be added to your Costa Rica honeymoon itinerary!
Different species of sea turtles can be seen across the country; the two best regions to see them are Ostional Wildlife Refuge and Tortuguero National Park.
In Tortuguero National Park, you can see turtles without a guide, but, to see the turtle nesting sites, you'll need to book this tour. That's because the nesting sites are protected and can only be visited with a guide, as this makes sure that tourists won't disturb the turtles.
There are turtle nesting seasons here and the season to view green sea turtles is from July to October, and you can see leatherback turtles between February and June.
While the Ostional Wildlife Refuge is situated near Nosara on the Nicoya Peninsula, on Ostional Beach here, you'll see olive ridley sea turtles lay their eggs in a yearly event called "arribada." Amazingly, this is one of just nine places in the world where you can see these turtles arrive by the thousands!
The peak time to visit Ostional beach is in September and October. Tours from Nosara cost approx. $60 USD.
8 BEST Honeymoon Destinations in Costa Rica
1. La Fortuna
If you're an adventurous couple who would prefer to explore volcanoes, hot springs, and waterfalls instead of beaches on your honeymoon, then La Fortuna is the place for you! It's the perfect spot for adrenalin junkies with plenty of highly recommended adventure tours like this caving tour through Venado Caves and whitewater rafting on offer from this small town!
The town itself has a laid-back vibe with an abundance of great restaurants, fun bars, and souvenir stores. But it's the surrounding lush jungle scenery that really is the town's major drawcard – it's so photogenic! The Mistico Hanging Bridges (pictured above) are one of my top suggestions for this area! It's also fun to take a sloth tour in La Fortuna since there are so many sloths that like to hang around here.
Located in the central valley of Costa Rica, it's known for being the gateway to Arenal Volcano National Park, and from pretty much every part of town, you can see the volcano looming above you! La Fortuna is also popular with tourists thanks to its mild climate, it's known for being "hot all year" here, and the temperature varies between 71 Fahrenheit (22 Celsius) to 93 Fahrenheit (34 Celsius.)
La Fortuna is easily accessible from the biggest airport in Costa Rica – Juan Santamaria International Airport in San Jose. It's 114 km/71 mi or just under 2.5 hours' drive from this well-serviced airport!
Related Read: Check out the best restaurants in La Fortuna here!
2. Jaco
If you're the type of couple that loves a good party, then the "party town" of Jaco may be a good spot to base yourself during your honeymoon in Costa Rica. In fact, this small coastal city is known as one of the top party destinations in Costa Rica! Couples visit here from across the world to experience the relaxing beach life during the day and the vibrant nightlife when darkness falls!
Located on Costa Rica's Pacific Coast, Jaco is also known for its epic surfing, with Playa Jaco ideal for beginners and Playa Escondida a 20-minute drive from town, a challenging surf spot only suitable for experts! Also, considering Jaco is just a 1.5-hour drive from San Jose International Airport, so, it's ideal for those couples who don't fancy a long transfer from the airport. It's also just under a 10-minute drive to another lovely beach – Playa Hermosa, which is a popular place to go snorkeling and scuba diving in Costa Rica!
The best time of year to visit Jaco is between December and early March, as it's the hottest and driest time of year, with temperatures averaging 91 Fahrenheit (33 Celsius.)
Related Read: If you're going to base yourself in Jaco you should read about the best restaurants in Jaco here!
3. Tamarindo
The beachy town of Tamarindo, situated along Costa Rica's Pacific Coast, is one of the most-visited regions in the country, thanks to its abundance of beautiful beaches, mild weather, excellent hotels, great restaurants, and a vibrant/fun atmosphere. And it certainly shouldn't be overlooked as a honeymoon destination!
In fact, for many couples, it's ideal for a short getaway because it's so close to Liberia International Airport at just 68 km/42 mi or an hour and 20-minute drive away. It's easy to spend a few days here at the beginning of your honeymoon in Costa Rica before venturing to other regions! Tamarindo is also considered one of the safest parts of the country, which I think is an important factor when choosing a honeymoon destination!
Although many couples visit Tamarindo to unwind after a hectic couple of months of wedding planning, it's worth noting that there are plenty of awesome activities available in this fun town. Such as this sunset cruise which includes an open bar, water sports, and a meal. Plus, you can choose a morning or afternoon departure. While if you tire of Tamarindo beach, why not hop over to the less-crowded Playa Grande next door? This stunning beach is separated from Tamarindo by a river, and you must take a cheap water taxi to reach it, but you'll be glad you made the short journey here because you'll feel as though you have the beach to yourself!
4. Nosara
Small authentic beach towns like Nosara are what truly put Costa Rica on the tourist map. Yep, this secluded coastal community is hard to get to yet breathtakingly beautiful, and that's what makes it such a perfect honeymoon destination in Costa Rica! In fact, I can't think of a better place to "get away from it all" than Nosara!
Located on the Nicoya Peninsula and a 2.5 hour (118 km/73 mi) drive from Liberia International Airport, I will add that in recent years the town has changed from an off-the-beaten-path surf spot to a vibrant tourist town! So the fact that it's a little busier than other secluded beach resorts in Costa Rica may turn some couples off, but in its defense, it offers epic year-round surfing conditions, is very safe, and has plenty of awesome hotels and restaurants!
Plus, it's one of the best sunset spots in Costa Rica, and every evening the beach here is lined with both tourists and locals who come here to watch the sun sink into the ocean and the talented surfers catching their last waves of the day! Aim to get to the beach an hour before sunset, grab a drink from one of the beach bars and enjoy this special moment with your new spouse!
5. Uvita
A true hidden gem, Uvita, a small town on the Pacific Coast of Costa Rica, boasts stunning beaches, abundant wildlife, and super-friendly locals. Located on the doorstep of the breathtaking Manuel Antonio National Park, Uvita is one of the top up-and-coming tourist spots in Costa Rica. So, if you'd like to experience a more unique honeymoon, then Uvita is ideal for you!
And despite the fact the town is known as an undiscovered gem, there are still lots of cool and fun things to do here, from exploring the gorgeous El Pavon Waterfall, where you can take a refreshing swim in the pool beneath the falls or head downstream to explore several other natural pools! But, the most popular thing to do in Uvita is visit Marino Ballena National Park and stroll out to the famous "Whale Tail." This sandbar looks exactly like a whale's tail at low tide, but the shape can only be seen properly from high up above.
Juan Santamaría International Airport in San Jose is the closest airport to Uvita. From the airport, you can reach Uvita in 3 hours. In comparison, Liberia Airport is over a 4-hour drive away.
Related Read: Check out the best places to stay in Uvita here, there are some incredibly romantic options on this list!
6. Monteverde
Monteverde translates to "Green Mountain," and as soon as you set foot in this lush area, you'll understand where it's got its name! The unique selling point of this region is the cloud forests located here. As their name hints, these unique forests are where clouds and mist hang low within a tropical rainforest, they are some of the rarest habitats in the world, and various weird and wonderful animals and plants call these forests home!
In fact, you will find over 100 different types of mammals, 400 bird species of Costa Rica, and a whopping 1,200 types of reptiles and amphibians! So, as you can probably guess, Monteverde is a popular choice with animal-loving couples!
Other than the cloud forests, you can spend your honeymoon in Monteverde ziplining at 100% Aventura Park, drinking craft beer at Monteverde Brewing Co, drinking the freshest cup of coffee ever on a coffee tour, or enjoying an amazing meal in a glass treehouse at the San Lucas Treetop Dining Experience!
It's worth noting that Monteverde is a district in the Puntarenas province of Costa Rica, and the main town here is Santa Elena, which is where most tourists stay!
Also, the weather here is a lot different from the other honeymoon destinations I've listed here, so be sure to pack appropriately for cold nights and rainy days. Because this region is situated over 4,250 feet (1,300 meters) above sea level and receives over 100 inches of rain annually – it's essential to take plenty of warm waterproof clothing with you! Temperatures in Monteverde hover around 24°C (75°F) most of the year and drop significantly at night!
And due to its remote location, it's a pretty long trek from either of the two international airports in Costa Rica! It's a 3-hour drive from San José International Airport and a 2-hour drive from Guanacaste Airport in Liberia.
7. Santa Teresa
One of the best and most popular surfing destinations in Costa Rica is the small coastal town of Santa Teresa. The well-known surf beach here attracts surfers from all over the world and what's great is that there's a beach here for every ability! So, surf-loving couples are sure to have this vibrant town on their radar!
But even if you're not a surf fan, you're in luck; this laidback town is so much more than a surf destination; it's a bustling beach resort with plenty of restaurants, Cafes, beach clubs with lots of things to do, like practicing yoga to taking a boat trip to Tortuga Island to exploring Montezuma Waterfalls!
It's worth noting that the whole town is essentially one long street (approx. 3 km/1.9 mi long) without sidewalks that runs from South Santa Teresa to North Santa Teresa. The road has recently been paved, which means less dust but it's still not recommended to walk along this stretch of road as it can be dangerous therefore renting an ATV is the best option for exploring Santa Teresa!
As surf towns in Costa Rica go, Santa Teresa is pretty remote. It's located on the Nicoya Peninsula and is a lengthy 6-hour drive from San Jose (and the International Airport there), and the journey includes an hour ferry journey. While from Liberia International Airport it's not much shorter at 5 hours!
8. Manuel Antonio
And finally, ending on a high with another one of the most beautiful and most-visited towns in the country – Manuel Antonio, which is within easy access to the stunning national park of the same name – Manuel Antonio National Park! It's also just a 15-minute drive from the larger city of Quepos.
I'll admit that Manuel Antonio is one of my favorite places in Costa Rica, and I think it's an ideal place to base yourself on your Costa Rica honeymoon! It boasts the best of Costa Rica's wildlife, natural beauty, and delicious food. In fact, in the town itself, you may be lucky enough to see sloths, monkeys, and toucans (like I did!) Plus it's really easy to get around via local bus or taxi!
There are plenty of fun honeymooners-friendly activities that can be enjoyed from the town, too, like this romantic sunset cruise, walking to the secret Biesanz Beach, or exploring the hidden Nauyaca Waterfalls!
However, I should add that it's a long drive to here from the two international airports in the country – with Liberia International Airport 266 km/165 mi (4 hours and 20-minute drive) away and San Jose International Airport closer at 155 km/96 mi (2.5 hours) away!
In short, Manuel Antonio is a stunning town with the perfect mix of restaurants, bars, and hotels with plenty of nature mixed in.
The BEST Things to do in Costa Rica
While there are so many fun things to do in Costa Rica, a couple of specific attractions and activities stand out amongst the rest. They are:
Explore Volcanoes
There are some impressive (and beautiful!) volcanoes that you'll want to check out while you're here.
Poas Volcano is known for its bright blue crater lake. Poas Volcano is most commonly visited on a day trip from San Jose. This Poas Volcano tour from San Jose is one of the best you can do since it also includes a visit to the La Paz Waterfall Gardens as well as a coffee farm.
Arenal Volcano is also one of Costa Rica's top attractions. Arenal Volcano is located closest to the town of La Fortuna. You can book this full-day tour from La Fortuna that takes you to the volcano to hike, the famous La Fortuna Waterfall and even a hanging bridge – it's a full day of adventure!
Chase Waterfalls
La Fortuna Waterfall is one of our favorite waterfalls in all of Costa Rica. You can easily visit it on this full-day tour in La Fortuna that also visits hot springs.
Rio Celeste is another beautiful waterfall that is famous for its bright blue water. Rio Celeste is a popular attraction to visit from Guanacaste Province and this particular tour includes transport from there. Alternatively, you can book this tour from La Fortuna or this tour from San Jose.
See the wildlife
Costa Rica is the place for wildlife lovers! One of the best places to see lots of animals in their wild habitat is at Manuel Antonio National Park. With the help of a guide you will see plenty of birds, monkeys, and even sloths! This particular tour is super popular and also has amazing reviews, so you really can;t go wrong.
There are also lots of wildlife rescue centers around the country that are worth visiting. The Jaguar Rescue Center in Puerto Viejo is one of our favorites as well as Rescate Wildlife Rescue Center in San Jose where you can book this private tour.
Getting Around Costa Rica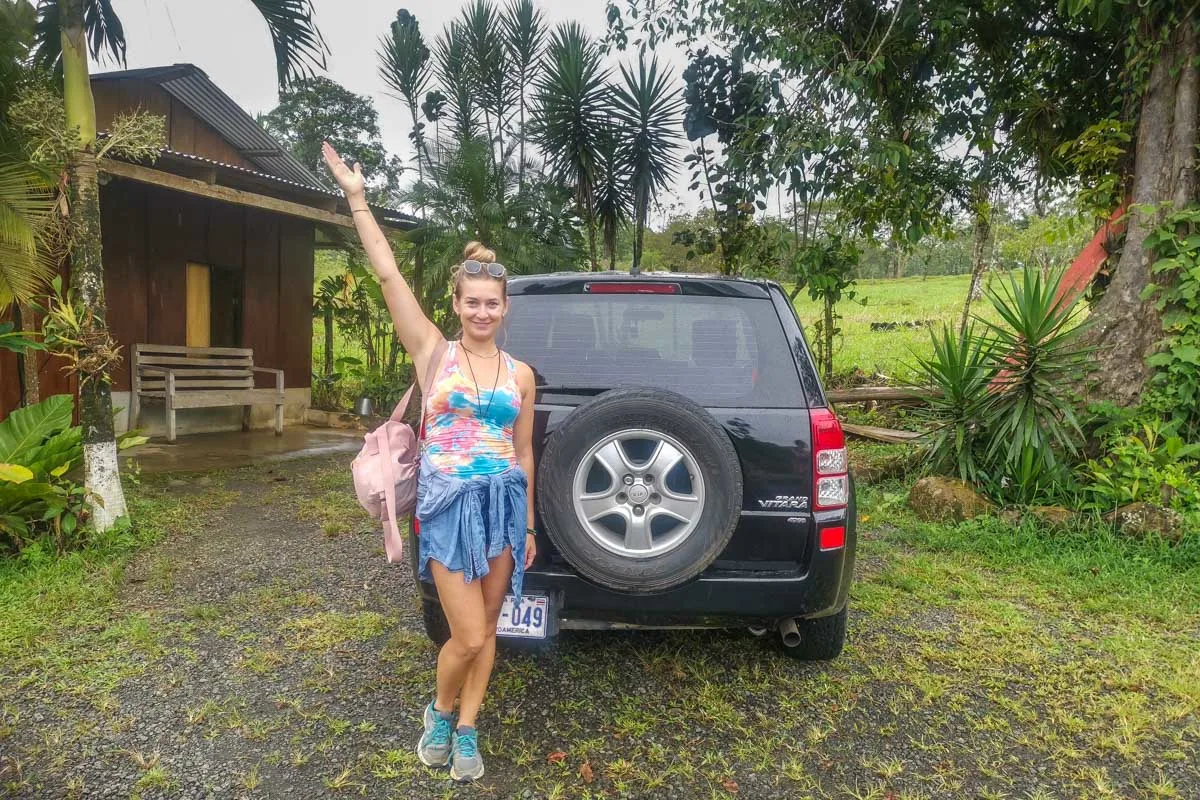 How you choose to get around Costa Rica is one of the biggest decisions you'll make when planning your holiday here! How you do it depends on your budget, travel style, and comfort level.
Renting a Car
Without a doubt, the number one way to explore Costa Rica is in a rental car. We book rental cars on the Discover Cars website as we have had good experiences with them in the past.
One of the things you need to watch for when renting a car in Costa Rica is the mandatory insurance that the government requires you to have. There are a lot of very cheap rentals that don't include this mandatory insurance (TPL) in the original booking price, but there are also ones that do. To avoid additional surprise charges when you pick up your rental car, be sure to rent a car that includes the mandatory insurance when you book.
Thankfully, on Discover Cars it's easy to tell apart the companies that include the mandatory insurance and those that don't. The trick is you can't pick any car on their website. In the picture below, you can see this rental car, with pick up in Jaco, includes the TPL. That means the mandatory insurance is included in the price. Any cover you get above that is extra.
Of course, I still suggest getting the full coverage offered by Discover Cars, which covers you even more.
You can browse cars on Discover Cars here.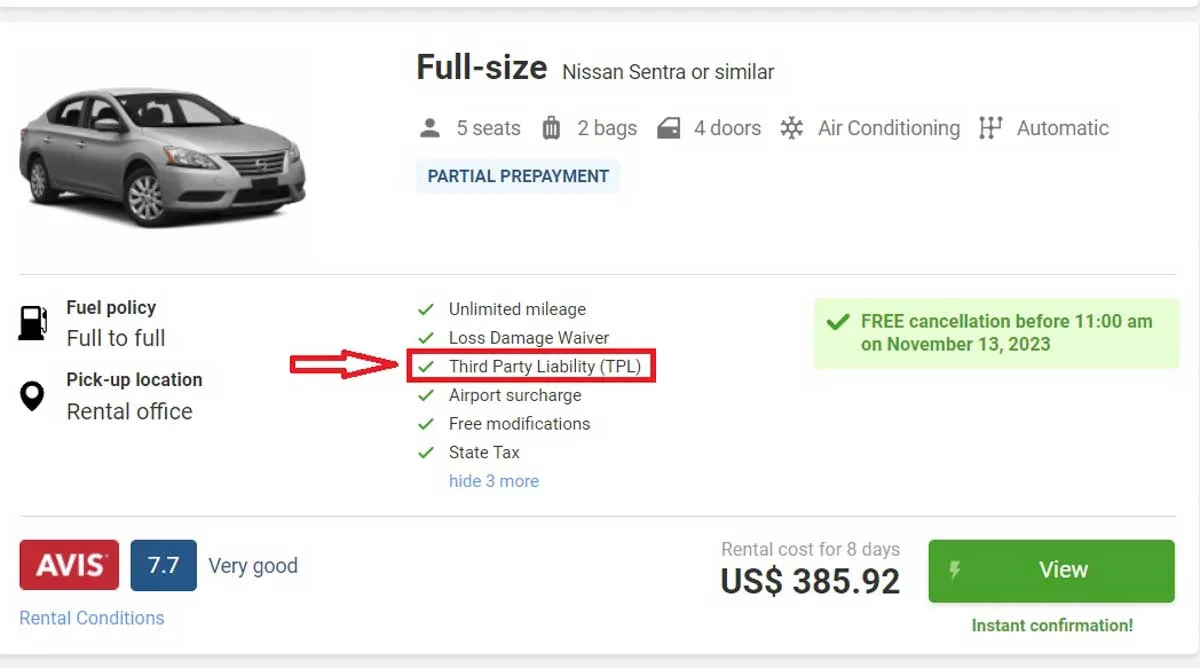 Adobe Rental Rent A Car is another rental company that we most often use in Costa Rica. We love them because Adobe has 15 offices around Costa Rica and delivers door-to-door around their offices at no extra cost. We also are pleased that all of their cars are new. In fact, they are never older than 2 years to the date. They are also the only company to include mandatory insurance and promise no hidden fees. You can get a free quote for a rental car from their website here.
Book Shuttles
If renting a car isn't in your budget, you don't feel comfortable driving in Costa Rica, or you just don't like driving, shuttles are the next best option. There are hundreds of shuttle routes available all over the country, and they are very affordable.
Shuttles in Costa Rica are specifically for tourists and often include pick up and drop off at your selected hotels and airports. The drivers also speak some English, and the vehicles have air conditioning. You'll also be guaranteed a seat when you book a shuttle (which isn't the case with the public bus system.)
To get the best price, use the website Bookaway. They compare all the offers and prices of shuttle companies in Costa Rica so you get the best price! Honestly, we have saved so much money using Bookaway!
You can search for shuttles online on Bookaway here.
Public Bus
Lastly, you can use the public bus system. On short journeys, such as from San Jose to La Fortuna or Uvita to Manuel Antonio, this system is great. However, the longer the journey the more hassle and time spent on a bus. It's undoubtedly best to save the public bus in Costa Rica for short and straightforward trips!
The public buses are definitely the cheapest way to get around Costa Rica, but they are not always very reliable and schedules often change without notice and delays are to be expected. The buses can also be very crowded and hot – so just be prepared!
It's also good to speak some Spanish if you plan on riding the public bus since most drivers and ticket booth operators don't speak English.
Invest in Travel Insurance
Paying out of pocket for trip interruptions or medical treatment will add to what might already be a stressful situation. We always travel with SafetyWing travel medical insurance.
The best part is that it costs only a fraction of what most insurance policies charge, which makes it perfect for digital nomads, long-term travelers (like us), and budget travelers. It only costs $45 USD per 4 weeks!
To start coverage, you must purchase it after leaving your home country. We usually purchase it as soon as we land at the airport.
Since using SafetyWing we've been reimbursed thousands of dollars when we've gotten sick. During the pandemic, they've even gone as far as to pay for our last-minute flights back to Canada from Colombia before the border closed!
You can click here to get a quote and read all the details!
Thanks for reading!
Phew, now that turned out to be a whopper of a blog post, didn't it?! Armed with all of the above information, I just know that you'll have an incredible honeymoon in Costa Rica! I'm a little jealous, to tell you the truth, because I am itching to return to this magical country soon!
Thanks so much for reading! I hope this blog has helped plan your upcoming honeymoon to Costa Rica by showing you all the best places to stay and things to do! If it has, then browse around some more, we have so many blogs to help plan your Costa Rica adventure, such as:
Best things to do in Jaco, Costa Rica
Things you NEED to know about Shuttles in Costa Rica
FREE and cheap things to do in Santa Teresa