Manuel Antonio is easily one of the most visited towns in Costa Rica. Not only does it sit on the doorstep of the breathtaking Manuel Antonio National Park, but it's also a fun tourist town with lots of things to do and epic tours to try.
In fact, Manuel Antonio is easily one of my favorite places to visit, and I always enjoy my time there. It's the perfect place to show off Costa Rica's wildlife, natural beauty, and excellent cuisine. Basically, it's got it all!
For first-time or returning visitors, it can be hard to know what to do in Manuel Antonio. This is because there is such a big spotlight on the national park. However, with most visitors only spending one day in the national park, how else should you spend your time?
Well, in this blog, I'll share the best things to do in Manuel Antonio so you can not only explore the park but other fantastic attractions in the area!
About Manuel Antonio, Costa Rica
Manuel Antonio is a small town that borders Manuel Antonio National Park. The town is located only 15 minutes from the larger city of Quepos.
Manuel Antonio is the preferred area to stay in because of the area's beauty and the fact you can easily access the park and nearby beaches. I would only recommend staying in Quepos for budget travelers as there are cheaper places to stay and lots of local restaurants.
Much of Manuel Antonio is built on the hillside, with a small portion of the town down at the beach. Despite this, it's really easy to get around with the local bus or taxis.
You can see lots of wildlife throughout the town including sloths, toucans, and monkeys. In fact, I've almost seen more wildlife around the town than I have in the national park.
Overall, Manuel Antonio is a beautiful town with the perfect mix of restaurants, bars, and hotels with plenty of nature mixed in. It's certainly one of the most beautiful towns in Costa Rica.
Things to do in Manuel Antonio, Costa Rica
1. Visit Manuel Antonio National Park
It should come as no surprise that the number one thing to do in Manuel Antonio is to visit Manuel Antonio National Park. This sprawling area filled with tons of biodiversity and natural beauty is often called Costa Rica's best national park.
Exploring here can be done on one of the tours from Manuel Antonio or on your own without a tour. Just follow the signs and marked trails.
Hiking in Manuel Antonio National Park
Throughout the park, there are many short hiking trails that lead through specific vegetation where you'll find lots of local species of wildlife. These range in length; however, it is possible to complete all of the trails on the map below in one day. Or, just choose a couple of trails and walk at a slow pace (the slower you go, the more chance you'll have at spotting wildlife!)
Along the way, you'll spot monkeys, macaws, sloths, snakes, and other wildlife. It's a great way to spend a day, and even those without a guide should see wildlife.
The trails throughout the park are:
The Sloth Trail
The Mangrove Trail
The Waterfal Trail
Sendero Playa Espadilla Sur
Sendero Playa Manuel Antonio
Sendero Congos
Sendero Playa Gemelas
Sendero Punta Catedral
Sendero Miradores
Sendero Puerto Escondido
Along with the above trails, there are also a couple of beaches within the park to enjoy. The best for swimming is Playa Espadilla Sur and Playa Manuel Antonio.
Manuel Antonio National Park Tours
If you prefer visiting Manuel Antonio Park with a guide, there are many options for guided tours through the park. This specific tour is the best option for those staying in Manuel Antonio town. The tour is only $30 USD and includes a 2-hour guided walk through the park. You'll meet your guide at the park entrance and explore, spotting a ton of wildlife and learning about the area. After the tour, you're free to enjoy the beaches and relax.
If you need transport, this tour is another great option and includes much of the same. It's also slightly longer at 3 to 4 hours.
If you already plan on exploring during the day, consider also doing a night tour through the park. This is when many of the most interesting reptiles come to life including lots of snakes, poisonous frogs, and lizards. This jungle night tour is only $49 USD and it's awesome, and Andre is talented at spotting critters in the dark!
General Info About Visiting Manuel Antonio National Park
Manuel Antonio National Park is open from 7 am to 4 pm every day. Entrance tickets to the park, which cost $18.08 USD for adults and $5.65 USD for children, NEED to be purchased online in advance. When booking, you need to select the day that you're visiting. This is beacuse the park has limited tickets available every day. If you are booking a tour, check if it includes your entrance ticket or not. You don't need to purchase your ticket in advance if it does.
When you arrive at the national park, you will need the document that you used to purchase your tickets (photo ID or passport), and you are not allowed to bring food into the park. They search bags at the entrance gates; however, food is available to be purchased at the park cafe.
Parking is available near the entrance of the park and costs 2,000 to 4,000 colones ($3.80 to $7.55 USD) per day depending on how close the parking area is to the entrance. This specific spot is really close.
2. Relax on a sunset sail
One of the best things I did in Manuel Antonio was a sunset sailing tour. After a few days doing lots of wildlife activities, I was ready to sit back, relax and enjoy a few drinks out on the water.
The tour I did was fantastic and included unlimited drinks, dinner, snorkeling, swimming, a really fun and knowledgeable guide, and a great crew. We set off at 2 pm and spent the first-hour enjoying drinks and looking for whales and dolphins. Unfortunately, we didn't get to see any on our tour, but you may be luckier than me.
Afterward, we visited a really cool snorkel spot and jumped in the water to explore. We saw lots of fish and had some fun with the onboard slide. Then, we cruised the coastline around Manuel Antonio and got to see lots of birds, including macaws. As the sunset, we enjoyed our dinner before heading back to port.
Overall it's one of the best ways to spend a few hours in Manuel Antonio!
The cruise is available both in the morning and afternoon for $95 USD and leaves from Quepos. You should book the cruise online in advance as there are limited spots available.
3. Los Campesinos Reserve and Lodge
Los Campesinos is a small privately-owned nature reserve and lodge that's rather unknown to most visitors in Manuel Antonio. The reserve is located just 25 kilometers (15.5 miles) from Quepos within lush mountains areas and similar fauna to Manuel Antonio National Park. In total, Los Campesinos is home to 35 hectares of forest, both primary and secondary.
On a visit to Los Campesinos, you'll need to drive yourself from Manuel Antonio for around 1 hour along a bumpy mountain road (4WD recommended). Once you arrive, you can either choose to explore the area on your own or join a guided tour.
Entrance to Los Campesinos is $13 USD without a tour, and there are a few different trails you can explore on the property. One of the trails visits one of the longest hanging bridges in Costa Rica, another takes you across a valley on a cable car, and the last trail leads to a viewpoint overlooking Manuel Antonio National Park!
After you're done hiking in the reserve, you can enjoy a local lunch on the property!
If you would prefer to do a tour, Los Campesinos offers horseback riding tours starting from $44 USD, a medicinal plant tour for $10 USD, a village tour of a local community for $20, as well as guided hikes along their trails.
Los Campesinos is also a cool place to spend a night or two on your trip. You'll have backdoor access to the reserve and get such an authentic Costa Rican expereince unheard of in many tourist towns.
The reserve is open from 8 am to 3 pm during the week, and 8 am to 5 pm on the weekends. Because this activity is so off the beaten path, it's best to contact them prior to your visit using their Whatsapp : (506) 8705 0395 or email: [email protected].
4. Walk to Playa Biesanz
Biesanz Beach is a small secluded beach often referred to as a "secret beach" in Manuel Antonio. Those staying in Manual Antonio can easily walk down to the beach from town.
The walk is mostly downhill on the way there, and you'll have to walk down a dirt trail to the beach. On the way, keep an eye out for monkeys – we saw around 15 in the trees here as well as toucans!
Once at the beach, you can sit anywhere and relax. There are lounge chairs for rent as well as kayaks and snorkeling equipment. If you want to go snorkeling, they'll show you exactly where to go, and it's the same snorkeling spot we went on the sunset cruise. There is even a small bar on the beach selling fresh coconuts, soft drinks, beers, and cocktails.
The beach at Playa Biesanz is protected from ocean swells, so it's pretty calm but just watch out for rocks as there is a reef nearby.
Afterward, you can actually walk back up the dirt trail and road and walk down to the north end of North Espadilla Beach. Then, you can walk all the way to the national park and get the bus back up to town. It's a fantastic walk!
5. Nauyaca Waterfalls
The most beautiful waterfall I have ever seen in Costa Rica is the Nauyaca Waterfalls. These two spectacular waterfalls are a combined 197 feet tall (60 meters) and are surrounded by lush rainforest and wildlife. But, with that said, you have to do a little work to get there.
From Manuel Antonio, it's a 50-minute drive to the ticket office, and this is where you'll need to buy your entrance ticket ($12 USD at the office or $10 USD online). Then, it's another 1.2-mile drive (2 kilometers) to the parking lot, where you'll begin the hike to the base of the waterfall.
The trail from the parking lot is 4 kilometers (2.5 miles) each way along a dirt road. If you don't visit first thing in the morning, it's a hot trek with plenty of hills. However, once you arrive at the waterfall, you'll quickly forget the hike.
My recommendation is to visit the top waterfall first to check out the view and then walk down the bottom for a swim (the top isn't for swimming.) Make sure you spend lots of time enjoying the water, it's so beautiful.
If you don't want to walk the 4 kilometers (2.5 miles) or have mobility issues, other options are available. The first is to take a tour in the back of a truck. This costs $32 USD on top of your entry ticket. The other option is to take a horse, which costs $80 USD. You can book these options online in advance or at the ticket office.
Nauyaca Waterfalls is open from 7 am, and you cannot begin the trail anytime after 2 pm. If you don't have your own vehicle, you can join this guided tour instead.
6. Day trip to Uvita and Dominical
While exploring Nauyaca Waterfalls, consider making the quick trip to either Dominical, Uvita, or both!
Dominical is a super small town that's really close to Nauyaca Waterfalls, and on your way back to Manuel Antonio, you drive right past the town. Pop into Fuego Brewery for a delicious craft beer and lunch. Or, head down to the beach for a surf. There is so much to do in Dominical, and it's one of the most underated surf towns in Costa Rica!
Uvita is a slightly further drive south, around 35 minutes from Dominical. However, from Uvita, you can access Parque Nacional Marino Ballena, home to the famous "Whales Tale." Depending on when you visit, you can spot whales from the shore within the park. Next, take a short drive and visit Uvita Waterfall. For only $2 USD and enjoy the gorgeous scenery!
7. Enjoy the activities on North Espadilla Beach
Espadilla Beach (aka North Espadilla Beach) is a stunning stretch of beach that needs to be enjoyed during your visit to Manuel Antonio. It's a vibrant place to hang out with lots of vendors walking the beach with local coconuts and other food and drinks!
As the main beach in Manuel Antonio, it's almost guaranteed you'll visit. However, I do want to suggest taking a walk along the beach and finding "your vibe." Find a shady tree, check out some of the beach clubs, go for a surf or just enjoy the scenery. Regardless, the beach should be explored because there is so much more to North Espadilla Beach than the southern area near Manuel Antonio National Park!
8. Enjoy drinks and food with an ocean view at Buru
After a long day walking every trail in Manuel Antonio National Park (yes, we do a lot of exploring for the blog,) we desperately needed some food. So we stumbled upon a restaurant on the beach called Buru.
Although not the cheapest place in town, the tuna steak was so amazing. A huge fresh junk of tuna cooked to perfection was our meal of choice, and we loved it. This is certainly one of the best restaurants in Manuel Antonio; however, for some reason, they're not rated that high on Tripadvisor.
Regardless, it's a great place for a beer and to people watch!
9. Learn about coffee and chocolate on a tour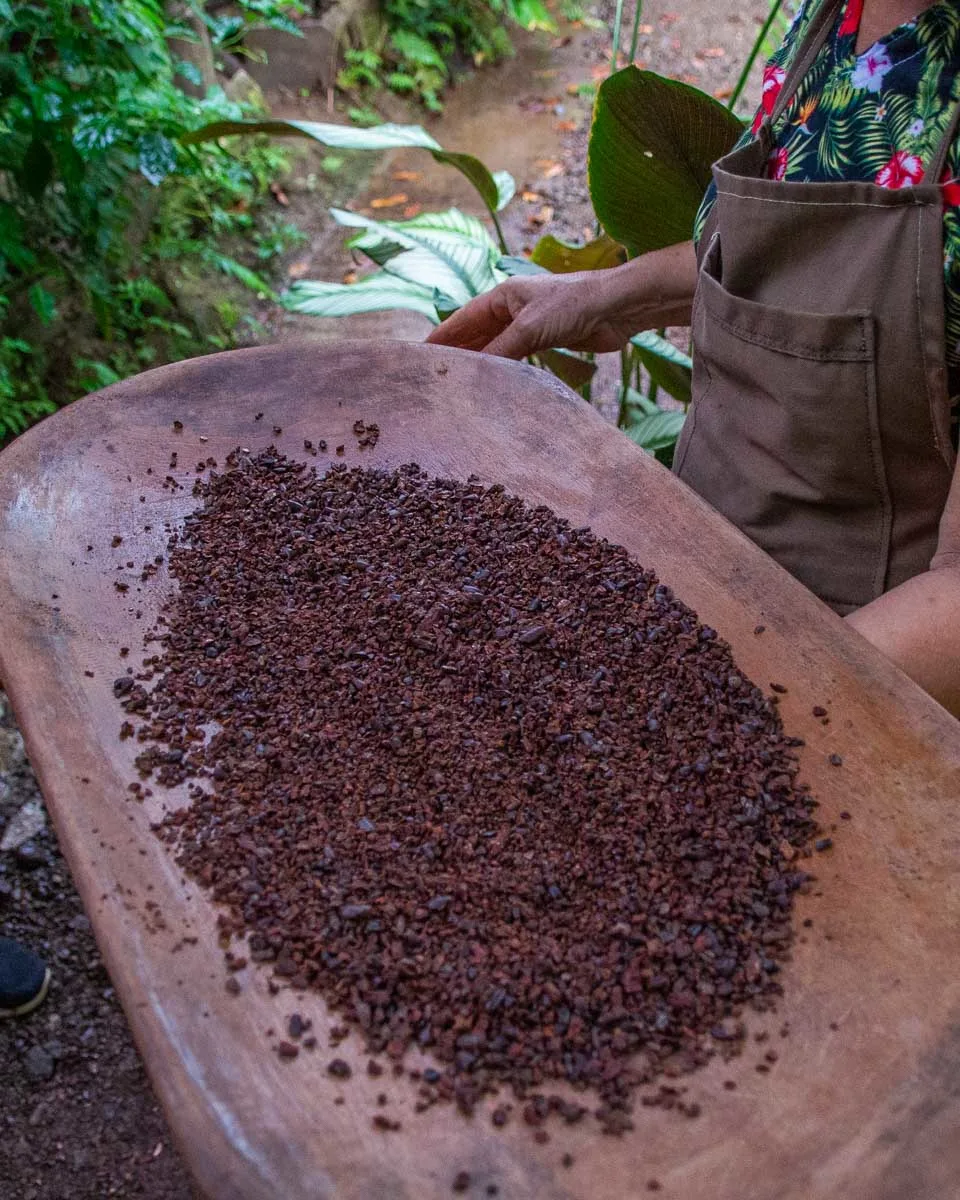 Coffee and chocolate are two of my favorite things. So, it should come as no surprise I just had to join this top-rated coffee and chocolate tour in Manuel Antonio!
The tour teaches you about the historical importance of cacao as well as the entire process of making chocolate. The best part is you get to sample the cacao and chocolate along the way. The way they make the chocolate is a traditional method, and it's a lot of hard work!
Next, you'll dive into the coffee! This is a fantastic expereince because they explain the entire process as well as make at Café-Chorreado – a traditional way of making coffee in Costa Rica.
If you haven't done a chocolate or coffee tour in Costa Rica, this is one of the best things to do in Manuel Antonio! You should book the tour online in advance for $60 USD to secure your spot.
10. Explore the Pez Vela Marina in Quepos
One of the more surprising places I visited while in Manuel Antonio was Pez Vela Marina in Quepos. Before our cruise, we met at the marina, and after seeing how beautiful it was, Bailey and I decided to return.
We headed down a few hours before sunset and did a little shopping before heading to Double Hook Sports Bar for a great view, some seriously cheap happy hour drinks (I think we paid $4 for two margaritas), and a fun time. There was a football game on, and many ex-pats from the area enjoyed the game. It was a really entertaining afternoon.
Although slightly out the way, the marina complex is an upscale, modern outdoor mall with great restaurants and the perfect place to watch the sunset! It's located in the heart of Quepos, so only a few minutes from Manuel Antonio. You can get there easily on the public bus or by taxi.
11. Kids Saving the Rainforest Wildlife Rescue Center and Sanctuary
Want to support a great cause and see a huge variety of exciting wildlife!? Well, then a visit to the Kids Saving the Rainforest Wildlife Rescue Center and Sanctuary is a must!
The non-profit wildlife rescue center was created in 1999 to help protect the diverse wildlife of Costa Rica. They do this by rehabilitating wildlife, scientific research, and promoting conservation and reforestation. They rescue over 100 animals every year, and currently, only 50 over the centers lifetime, remain on the property full-time.
You will need to drive yourself from Manuel Antonio to KSTW. It's around a 25-minute drive, and tours at the center cost $60 USD for adults $45 USD for children under 12, and are free for children under the age of 3. Be sure to book your tour before you go, as they cannot accommodate walk-ins.
On the tour, you'll learn all about their conservation and rehabilitation efforts as well as see a ton of wildlife such as five types of monkeys, including Squirrel Monkeys, Spider Monkeys, White Faced Monkeys, Tamarins, and Marmosets. Of course, they also have sloths!
The KSTW tours are available every day except Mondays, and they start at either 9 am, 11 am, or 2 pm and last for 1.5 hours. Afterward, there is a place to swim on the property.
12. Visit the Farmers Market in Quepos
Some of the freshest produce in Costa Rica is sold at the famous Quepos Farmers Market. Although the market is more of an attraction for locals, I dare visitors to get away from the touristic atmosphere of Manuel Antonio and expereince a local market.
The Quepos Farmers Market is on every Friday (12 pm to 8:30 pm) and Saturday (6 am to 12 pm.) You can buy tons of products within the market, such as exotic fruits and vegetables, local crafts, cheese, bread, ice cream, and lots of cooked food. There's so much to try, and you'll get to see an authentic Costa Rican market!
You'll find the market along the Malecon in Quepos, and you can easily get the bus there from Manuel Antonio or a cheap taxi.
13. Visit the Rainmaker Park Hanging Bridges & Waterfalls
Manuel Antonio National Park is not the only place you can see a wide variety of wildlife in Manuel Antonio. Truth be told, there's a lot more wildlife outside the park than in it! One of the best places to prove my point is at the Rainmaker Hanging Bridges.
Located 30 minutes from Manuel Antonio, this off-the-beaten-path conservation park is home to tons of wildlife spread out over the 2,000 hectares (5,000 acres) property. The highlights are walking across the hanging bridges that navigate the lush vegetation, spotting wildlife, and the beautiful waterfalls you can swim in.
You can reach the Rainmaker Hanging Bridges without a 4wd, and entrance to the park costs $23 USD (including tax) for a self-guided tour and $74 USD (including tax) for a guided tour. If you need transport, consider booking this guided tour from Manuel Antonio that includes transport for only $85 USD.
14. Damas Island Mangrove Kayak Tour
The mangroves in Costa Rica are one of the most important ecosystems for wildlife. I myself have done countless mangrove tours in Costa Rica, and I love getting amongst this unique environment filled with some very interesting species.
The Damas Island Mangroves are located only 20 minutes from Manuel Antonio, and you can choose to either do a boat tour or a relaxing kayaking tour. I prefer kayaking in Costa Rica simply because you get closer and deeper into the mangrove's root system.
On the tours, you can see lots of monkeys, sloths, anteaters, and a huge variety of birds. Both tours are relatively cheap and include your lunch as well as transport and an expert guide.
Overall this is a relaxing way to see more of Costa Rica's biodiversity and one of the best activities in Manuel Antonio!
15. Eat healthy food Manuel Antonio Falafel Bar
My favorite place to go for lunch in Manuel Antonio is, without a doubt, Manuel Antonio Falafel Bar. This trendy restaurant serves up delicious food, including fresh falafel and shawarma.
The huge plates are delicious, but my favorite is the pitas. Choose your filling and then stuff it with as many salads as you want. They also have fantastic smoothies!
A meal at Manuel Antonio Falafel Bar costs around $9 USD, but the portion sizes are very generous, and the food quality is top-notch! Seriously, visit the best falafel bar in Costa Rica and thank me later!
16. Go Ziplining
Did you know that Manuel Antonio is home to the longest twin zip line in Costa Rica? Well, on this Manuel Antonio Canopy Tour, you'll get to zoom through the treetops on a tandem zipline over 4,300 feet long (1,300 meters)! You can race your friends and enjoy the expereince together, which is incredible!
The best part is that zipline is just one of the highlights of this fantastic tour. Other highlights include six hanging bridges, 14 tree platforms, one double belay rappel, and 9 other double-anchored zip lines.
The tour does cost $90 USD, which is expensive compared to other zipline tours around Costa Rica, but it includes your lunch, fruit snacks, water, and transport from Manuel Antonio. The tour is also more than just ziplining and lasts for 5 hours. In my opinion, it's much better than paying $60 USD for a quick 1-hour ziplining tour.
If you are planning on ziplining in Costa Rica, the lush forest around Manuel Antonio is perfect for ziplining. The only place better would be La Fortuna or Monteverde. Once you get further north, the forest is much dryer – especially during the busy season from December to April.
17. Parasailing
Parasailing in Manuel Antonio is arguably the best way to take in the fantastic views of this gorgeous coastline. Parasailing tours leave from the southern end of North Espadilla Beach, right across from Buru Restaurant.
Tours cost $237 USD for groups of two, which was too expensive for me given that I have done parasailing in other places such as Mexico. However, if you haven't been parasailing before, I will admit Manuel Antonio would be a fantastic place to do so – just imagine the views of the rainforest, beaches, and mountains!
18. Go sea kayaking or SUP
If you're an active person who maybe doesn't drink all too much, then the sunset cruise may be a little overpriced, considering it includes unlimited drinks. Luckily, a sea kayaking in Manuel Antonio is great for active travelers like me (although I enjoy lots of cocktails too!)
The tour is 4 hours long in total; however, that only includes a 2.5-hour paddle as well as 30 minutes to enjoy the provided refreshments. The kayaking is incredibly scenic, and you can spot lots of birds along with the cliff faces. Once you're in the water, expect to see lots of fish, including colorful pufferfish and sometimes even turtles.
If you want even more of a challenge, the SUP tours in Manuel Antonio are also really fun! This 3-hour tour takes you along the coast to explore secluded beaches, swim and challenge yourself on a SUP!
Both tours are the perfect way to admire the scenery and stay active on your trip in Manuel Antonio!
19. Learn to surf at Playa Espadilla Norte
Manuel Antonio is not a great place for experienced surfers; however, it's perfect for beginners! The waves are small and light, which is ideal for new surfers – especially if you're not overly confident in the ocean!
You can do surf lessons on Playa Espadilla Norte, which is one of the best beaches in all of Costa Rica! There are two options when it comes to booking a lesson. The first is to simply head to the beach and negotiate with one of the surf rental stalls on the beach. Here, you should pay around $50 to $60 USD, and they'll likely only include your board rental.
The second option, and my recommendation, is to book a more formal lesson with a highly reviewed company. This specific surf lesson costs $70 USD; however, it includes your board rental, a long sleeve rash shirt, hotel pickup, fruit, water, and even coconut water.
All up, it's a 3-hour surf lesson, and you'll learn both on the beach and in the water. The best part is the tour has 224 five-star reviews, so you don't have to roll the dice on the beach!
Related Read: If you're an advanced surfer, be sure to head to Nosara, Costa Rica for some epic waves!
20. Eat at El Avion
If you like good views to enjoy with your food like me, you need to take a trip up to El Avion. This mountainside restaurant 150 meters high (492 feet) has an uninterrupted view of the ocean and surrounding landscape.
On top of that, there is an old military plane inside the restaurant! Yep, you read that correctly. This is a really nice touch – especially if you're traveling with kids.
The food itself is also delicious. Bailey and I had ceviche to start, a really juicy burger, and a whole fried fish – we share every meal (is that weird?) Overall, it's a great place to enjoy a meal – my only regret is not going at sunset as I can imagine that it's beautiful!
21. Join one of the best ATV tours in Costa Rica
I mentioned Rainmaker Park above as a cool place to go for a walk in search of wildlife and fantastic views. However, an even better, more thrilling way to explore the park is on an ATV tour.
This ATV rainforest tour takes you all the way from Manuel Antonio up into the jungle at Rainmaker Park to have the experience of a lifetime. Zoom through the rainforest and mud as you view the scenery and have a great time. It's fun, exciting and you'll get wet! Along the way, there is a place to enjoy a swim in a freshwater pool, so bring your swimmers!
For $80 USD per person the tour includes your transport, lunch, snacks, water, and hopefully an awesome guide as we had in Manuel Antonio! I love ATVing and recommend it to everyone who visits Costa Rica!
22. Go whitewater rafting
Manuel Antonio is an ideal place to go whitewater rafting in Costa Rica. Not only is the scenery some of the most beautiful but there are plenty of rivers to choose from.
Those looking for a real adrenaline rush need to do a tour down the Naranjo River. This specific tour tackles class III and IV rapids along a 7-mile (11.3 km) section of the Naranjo River. It's an exciting adventure that will thrill even the most adventurous. Unfortunately, you do have to be over the age of 10 to join this tour.
If you're after more of a family adventure with some excitement but not too much, this class II and III white water rafting tour is a great alternative. Children as young as 6 can join this tour, and the tour also travels with a safety kayaker – hence why it's slightly more expensive!
23. Have a fun day on a waterfall repelling and adventure tour
One of the best ways to escape the heat in Manuel Antonio is to join a combination tour at one of the nearby adventure parks.
ADR Adventure Park is one of the best and home to tons of adventure activities, including waterfall repelling, zip lines, gorgeous swimming areas, and even a Tarzan swing. It's the ultimate day out!
On a tour to ADR Adventure Park, you'll get to experience all the park's highlights and have a fantastic time. The tour is one of the most highly reviewed in Manuel Antonio, with 190 five-star reviews on TripAdvisor. The tour is a little pricey at $146 USD; however, it lasts for 6 hours includes lunch, transport, snacks, and a professional guide.
24. Horseback riding
Ok, let me start this next activity in Manuel Antonio by saying Bailey is highly allergic to horses. For that reason, I don't go horseback riding very often; however, I know so many people love horses, so I needed to include it. That way, you horse-lovers don't miss out!
A few horseback riding tours are available in Manuel Antonio, including short rides along the beach. However, I would caution doing the tours along the beach as the horses are not treated very well. Instead, join one of the longer, more exciting tours on a ranch where the horses have a vast area to explore and get plenty of rest.
This specific horseback riding tour is one of the best-rated options. The tour begins with pickup from your hotel, where you'll be taken out to a small ranch to meet your horse. The tour then rides around 6 miles (9.7 km) to a hidden waterfall. You'll then be able to enjoy a swim and some time with your horse before riding back. Lunch is included in the tour and an English-speaking guide.
The reviews on this tour speak for themselves, and I carefully selected them based on that.
25. Try your luck at fishing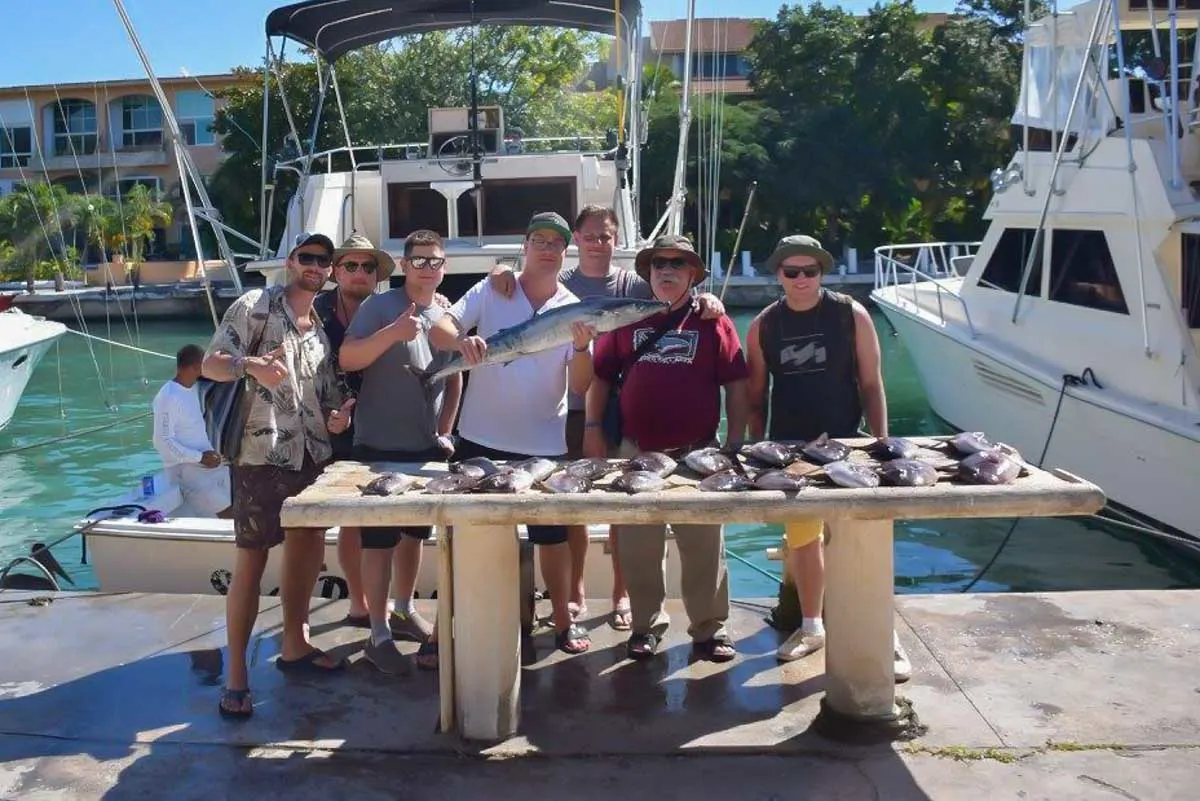 Have you been fishing in Costa Rica yet? If you love fishing as much as I do and answered no, what have you been doing?!
The fishing in Costa Rica is world-class, with huge schools of tuna swimming just off the shore. Of course, you can also go out deep and get yourself Blue Marlin, Black Marlin, Striped Marlin, Sailfish, and even Billfish!
Fishing charters leave from the Pez Vela Marina in Quepos, and there are a to of different companies to choose from.
JP Sports Fishing is a great choice if you want to go offshore (out deep). Their tours aren't cheap at $1,300 for a full day per boat, but they fish with top-of-the-line equipment and know these waters better than anyone! And ask yourself, what's that dream sailfish worth to you!?
If you want to fish inshore for things like tuna, snapper, wahoo, and dorado, I'd suggest going elsewhere in Costa Rica. You can catch plenty of these fish from smaller panga fishing boats, and tours are much cheaper. If you really want to go in Manuel Antonio, JP Sports Fishing offers these tours, but they are $850 USD for a half-day!
Related Read: In-shore fishing is one of the best things to do in Santa Teresa, Costa Rica!
Where to Stay in Manuel Antonio, Costa Rica
There are tons of different hotels to choose from when deciding where to stay in Manuel Antonio.
One of the best budget-friendly places to stay in Manuel Antonio is Selina. Selina has hostels all over Costa Rica and the world. They always offer an ideal place to stay with clean rooms, a great bar, and a social atmosphere. In Manuel Antonio, Selina is no different, and the hostel comes with a huge pool, restaurant and bar, private rooms, and dorm rooms.
You can book Selina on Hostelworld or Booking.com.
For the medium-budget traveler, my top choice is Hotel Villas Lirio (pictured above.) This gorgeous hotel is reasonably priced but has some very luxurious features such as an outdoor pool, tropical manicured gardens, an included breakfast, and a restaurant.
The hotel is also located in the heart of Manuel Antonio and is only meters from the main road where to bus down to the beach and national park goes (it's a 1-minute drive or a short walk.) Be sure to book it in advance as it is often fully booked.
Those who enjoy staying in a beautiful hotel and don't mind paying for it, have to check out Parador Resort and Spa. This place does tick a lot of boxes! It's only a short walk to the beach, has fantastic panoramic views thanks to its elevated location, and has two infinity pools. The hotel is surrounded by rainforest, so there's tons of wildlife around too. It's more around the $350 USD+ per night mark, but is great for a luxury getaway! You can check availability and book on Booking.com.
Invest in Travel Insurance
Paying out of pocket for trip interruptions or medical treatment will add to what might already be a stressful situation. Not to worry, SafetyWing is here to help!
This affordable travel and medical insurance is perfect for digital nomads, long-term travelers, and remote workers. The best part is that it only costs $45 USD per 4 weeks.
To start coverage you must purchase it after leaving your home country. We usually purchase it as soon as we land at the airport.
Since using SafetyWing we've been reimbursed thousands of dollars when we've gotten sick. During the pandemic, they've even gone as far as to pay for our last-minute flights back to Canada before the border closed!
Getting Around Costa Rica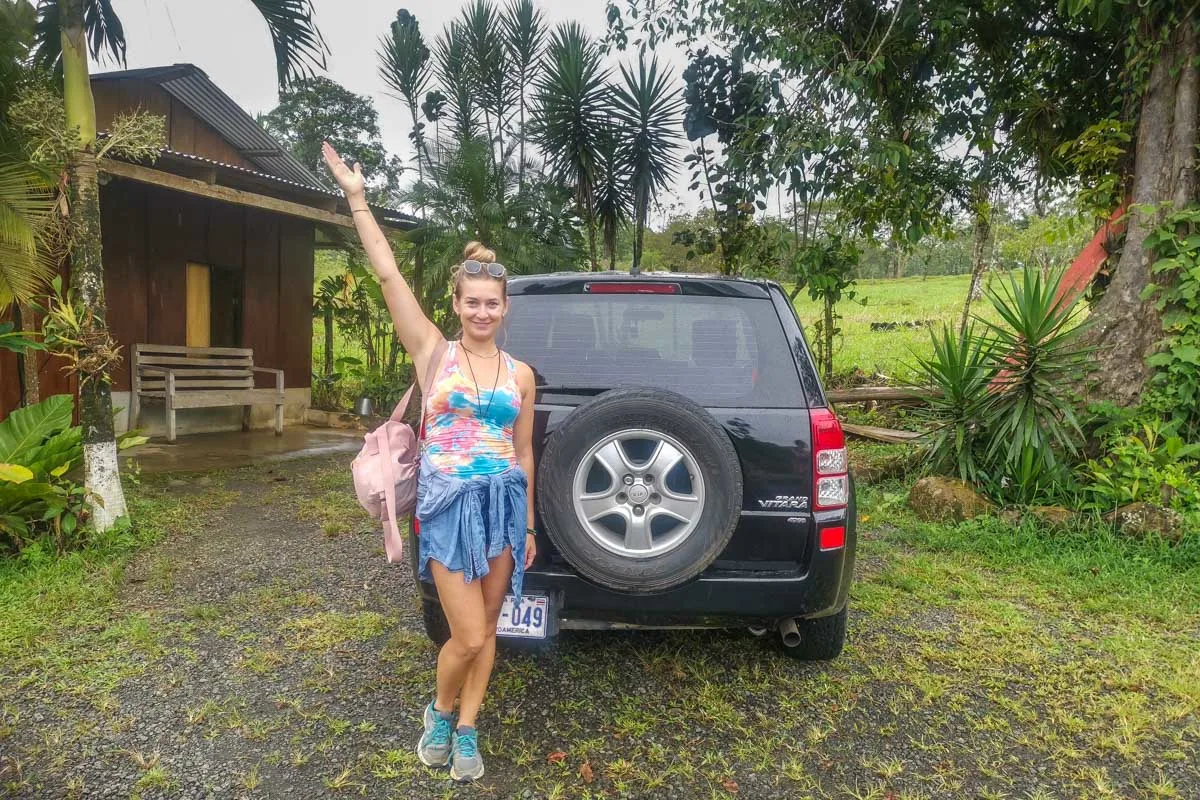 How you choose to get around Costa Rica is one of the biggest decisions you'll make when planning your holiday here! How you do it depends on your budget, travel style, and comfort level.
Renting a Car
Without a doubt, the number one way to explore Costa Rica is in a rental car. We book rental cars on the Discover Cars website as we have had good experiences with them in the past.
One of the things you need to watch for when renting a car in Costa Rica is the mandatory insurance that the government requires you to have. There are a lot of very cheap rentals that don't include this mandatory insurance (TPL) in the original booking price, but there are also ones that do. To avoid additional surprise charges when you pick up your rental car, be sure to rent a car that includes the mandatory insurance when you book.
Thankfully, on Discover Cars it's easy to tell apart the companies that include the mandatory insurance and those that don't. The trick is you can't pick any car on their website. In the picture below, you can see this rental car, with pick up in Jaco, includes the TPL. That means the mandatory insurance is included in the price. Any cover you get above that is extra.
Of course, I still suggest getting the full coverage offered by Discover Cars, which covers you even more.
You can browse cars on Discover Cars here.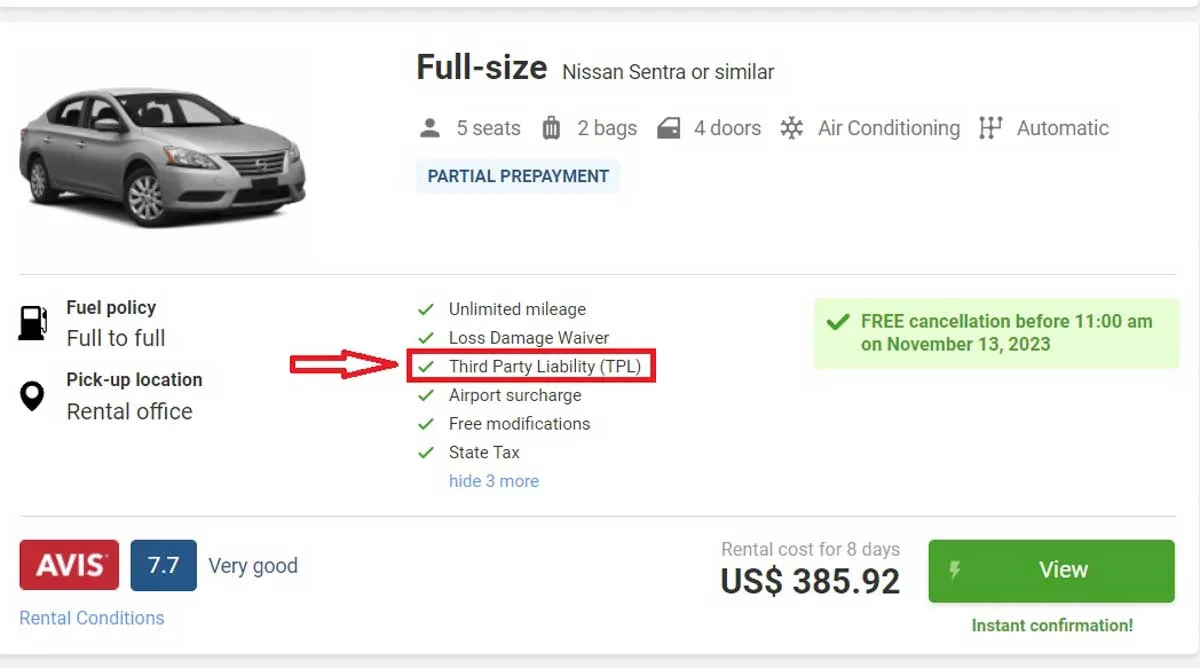 Book Shuttles
If renting a car isn't in your budget, you don't feel comfortable driving in Costa Rica, or you just don't like driving, shuttles are the next best option. There are hundreds of shuttle routes available all over the country, and they are very affordable.
Shuttles in Costa Rica are specifically for tourists and often include pick up and drop off at your selected hotels and airports. The drivers also speak some English, and the vehicles have air conditioning. You'll also be guaranteed a seat when you book a shuttle (which isn't the case with the public bus system.)
To get the best price, use the website Bookaway. They compare all the offers and prices of shuttle companies in Costa Rica so you get the best price! Honestly, we have saved so much money using Bookaway!
You can search for shuttles online on Bookaway here.
Public Bus
Lastly, you can use the public bus system. On short journeys, such as from San Jose to La Fortuna or Uvita to Manuel Antonio, this system is great. However, the longer the journey the more hassle and time spent on a bus. It's undoubtedly best to save the public bus in Costa Rica for short and straightforward trips!
The public buses are definitely the cheapest way to get around Costa Rica, but they are not always very reliable and schedules often change without notice and delays are to be expected. The buses can also be very crowded and hot – so just be prepared!
It's also good to speak some Spanish if you plan on riding the public bus since most drivers and ticket booth operators don't speak English.
Invest in Travel Insurance
Paying out of pocket for trip interruptions or medical treatment will add to what might already be a stressful situation. Not to worry, SafetyWing is here to help!
This affordable travel and medical insurance is perfect for digital nomads, long-term travelers, and remote workers. The best part is that it only costs $45 USD per 4 weeks.
To start coverage you must purchase it after leaving your home country. We usually purchase it as soon as we land at the airport.
Since using SafetyWing we've been reimbursed thousands of dollars when we've gotten sick. During the pandemic, they've even gone as far as to pay for our last-minute flights back to Canada before the border closed!
Pura Vida!
With the list above, it's no wonder Manuel Antonio is one of my favorite places to visit in Costa Rica. From the national park to the awesome tours, Manuel Antonio really has it all, as cliche as it sounds!
Thanks so much for reading! I hope this blog has helped plan your upcoming trip to Manuel Antonio by showing you all the best things to see, eat and do. If it has, then browse around some more, we have so many blogs to help plan your Costa Rica adventure, such as:
ULTIMATE Costa Rica Bucket-List
Best Restaurants in Manuel Antonio