Costa Rica is a real nature lover's paradise, and the stunning scenery and warm beaches makes visiting this place a dream for any traveler. So when trying to make a list of the absolute best beaches in Costa Rica, it was pretty hard to choose among them. If I'm being honest, I would say almost all of the beaches in Costa Rica are pretty impressive.
In fact, spending a day at any of the many iconic beaches is one of the best things to do in Costa Rica. But by narrowing it down, we came up with a list of 21 top places you absolutely need to visit if you're a beach lover and visiting Costa Rica.
Visiting the Best Beaches in Costa Rica
The first thing you need to know before you continue reading is that Costa Rica has two coasts: the Pacific Coast and the Caribbean coast. You might think, "a beach is just sand and water, it makes no difference." Oh, but it does (believe me)!
If you have the time and budget, visit both sides, please! Choose a couple of beaches from the west and a couple from the east based on your interests and ideal vacation activities. You should also consider the time of year you're visiting Costa Rica to ensure you get the best beach weather!
If you're into surfing, you'll find excellent beaches on both sides (but the Tamarindo area is probably my favorite). If you're into laying down with a piña colada in one hand and a book in the other, there's also a big range of options for you.
In the end, the goal for everyone is the same: to have fun, relax, and enjoy the GORGEOUS landscapes Costa Rica beaches have to offer.
The Best Beaches in Costa Rica
1. Espadilla Beach (Manuel Antonio)
Location: In Manuel Antonio Town and National Park
Swimming?: Yes!
Surfing?: Yes, but not one of the most popular surf beaches in Costa Rica
Why we love it: A HUGE white sand beach with a secluded area in the national park free from vendors.
Espadilla Beach is one of the most beautiful beaches in Costa Rica. It is located on the Central Pacific coast of Costa Rica in Manuel Antonio National Park. Its white sand, crystal-clear water, and calm environment catch one's attention as soon as you arrive at the place. Plus, its rainforest vegetation provides a lot of shade for you to hide from the sun at peak hours.
One thing that's important to understand about Espadilla Beach is that it is actually broken up into two different beaches that are separated by jungle/mangroves: North Espadilla Beach and South Espadilla Beach. North Espadilla Beach is located in Manuel Antonio town, outside of the national park boundaries. Whereas South Espadilla Beach is located within the national park boundaries. This means you must walk to South Espadilla Beach and pay the national park entrance fee.
The reason why South Espadilla Beach is such an attractive place to visit is that it is part of one of the most popular national parks in Costa Rica – Manual Antonio National Park. This means that it's really well taken care of, it's tourist-friendly, it preserves an amazing flora and fauna, and, most importantly it isn't commercialized at all. You won't find any vendors, stores, or restaurants here. All you'll have is sand and water, and complete tranquility!
This is in stark contrast to North Espadilla Beach which is full of life and activities! Go paragliding, try surfing, and get a few cocktails at one of the delicious beachside restaurants – it's a lively place.
An important thing to know about Espadilla Beach is that you need to be careful when going for a swim. Try not to go too deep as there might be some big, rough waves. There is no lifeguard on duty at either North or South Espadilla Beach.
Note: To access South Espadilla Beach, you will need to pay for the national park's fees. Adults pay around $18 USD and children around $6 USD. You need to book your entry to the national park online in advance since daily visitor numbers are limited. Don't forget your sunscreen and bottle of water for hydration!
2. Tamarindo Beach
Location: In the town of Tamarindo in Guanacaste
Swimming?: Yes, some areas have strong waves though
Surfing?: Yes! A great beach for learning to surf.
Why we love it: Fun and vibrant beach with lots of restaurants, bars, and activities.
Located on Costa Rica's North Pacific coast in the busy tourist town of Tamarindo, Tamarindo Beach is one of the most lively beaches in the country. You can easily spend a full day here enjoying the beach activities, exploring the beach's surrounding nature, and munching on some delicious food. If you have the chance to stay a couple of nights in Tamarindo in one of the many hotels, I recommend you take the opportunity and visit Tamarindo Beach multiple times over the course of your stay.
There's a lot to do in Tamarindo town and on Tamarindo Beach too. Since it's so close to La Baula National Park, this gorgeous place offers one of the widest and most beautiful marine ecosystems in Costa Rica. If you like aquatic adventures, you must definitely go snorkeling or scuba diving. Believe me, the feeling of seeing a sea turtle swimming near you is absolutely mesmerizing!
Tamarindo Beach is also a great spot for surfing, regardless of your level. This is actually what makes it one of the most attractive sites for international tourists. If you're an amateur, you can pay for a surfing lesson starting at $50 USD (for about 2 hours). Or, you can just rent a surfboard and go on your own.
The beach has pretty nice facilities, and I was impressed with the services and attention to customers. Plus, the food is pretty good too! You can choose among a bunch of walking-distance restaurants that offer both local food and international food. There are some restaurants located right on the beach, so you can enjoy a meal and a drink with your toes in the sand!
At night you'll find lots of beach clubs and bars with music and drinks. Head to Tamarindo Beach for sunset and take advantage of the cheap Happy Hours. Then, stay until well after dark. Many of the bars on the beach have dance floors and DJs, especially on the weekends. It's an excellent place if you're a party person!
3. Guiones Beach (Nosara)
Location: In Nosara in Guanacaste
Swimming?: Yes, but the waves can be strong.
Surfing?: Absolutely! This is one of the top surf spots in the country.
Why we love it: The surf! The sunsets! Lack of restaurants and vendors on the beach.
Located also on the North Pacific coast on the top of the Nicoya Peninsula, Guiones Beach was once a secluded place only known by locals and surfers. Nowadays, it's a well-known paradise where surfers go all year round, and also a magnificent place for couples and families to vacation.
If you are a fan of sunsets like me, you definitely have to visit Guiones Beach. It's unbelievable how the area goes from excitement and movement to total relaxation and even silence when the sun is about to set. It's almost like the infinite shades of yellow and orange, mixed with the golden water, make everyone go into zen mode.
Another great thing about Guiones Beach is the fact that even during the summer, when there are a lot of tourists, you will still feel so much peace and tranquility, particularly after midday. This is ideal for those who just want a beach to relax on and be able to chill a bit and not be so overwhelmed with the crowds and activity. There are no beachside restaurants at Guiones Beach, and you'll have to walk a couple of minutes from the beach for any amenities.
If you are at all into surfing, this is the right spot for you! It doesn't matter if you are an experienced surfer or a beginner, there are all kinds of waves, and even body surfing can be a lot of fun. You can rent a pretty nice board for $15 USD and just ride the waves and float. You can also wait for the low tide and go for a long swim in its warm water, then go for a drink or a quick bite in one of the several restaurants nearby.
The road to the beach is pretty rough for a small car, but no worries, you'll get there. I noticed that many frequent travelers to Guiones Beach tourists prefer renting a 4×4 vehicle to travel in and using it also to explore some of the other secluded beaches nearby.
Guiones Beach is located near Nosara, which is a remote area of Costa Rica. With that said, the area is gaining popularity for that reason alone, not to mention the chilled-out, hippy vibes in the area and world-class surfing. This is, after all, probably the best out of all of the places to go surfing in Costa Rica.
Related Read: Want to spend some time at Guiones Beach? Then you should check out our blog about where to stay in Nosara before you go!
4. Samara Beach (Samara)
Location: Samara town on the Pacific Coast
Swimming?: Yes, it is a calmer beach on the Pacific
Surfing?: Yes, but small waves that are better for beginners.
Why we love it: Relaxing vibe and the perfect beach for swimming. Super family-friendly!
I can't stop talking about the beaches on the Nicoya Peninsula – they are simply amazing! Samara Beach is another paradise filled with surprises and excitement; it's easily one of my favorite beaches in Costa Rica, for sure!
Surf is definitely a big deal on the northwest coast, and this beach is no exception. With that said, the waves at Samara Beach are generally calmer than the other beaches nearby (like Guiones), which makes it a perfect spot for beginners. The waves are also calm enough for those who just want to swim.
Along Samara Beach, you'll find plenty of surf shops renting boards and offering lessons. You can also rent paddleboards and kayaks. Horseback riding is popular on this beach, as is just lounging under an umbrella. A few different restaurants/bars line Samara Beach and offer chairs in the sand for free with the purchase of food and drinks. To me, Samara Beach offers the perfect mix of activities and facilities with a calm and peaceful atmosphere.
Samara Beach is located in the town of Samara. You can easily book a hotel in Samara and walk to the beach every day. While the beach is the main attraction in this small town, there are also lots of other fun things to do in and around Samara.
If you happen to visit Costa Rica in the rainy season, you are in for a treat. There's a waterfall near Samara (a 25 minutes drive) with a unique atmosphere that attracts many locals and tourists. With freshwater, natural shade from tall trees, and the lovely sounds of nature, you will feel a deep connection with your surroundings. And you should definitely pay a visit to the Belen Waterfall. You won't regret it!
Costa Rica is full of beautiful wildlife, and one of the best ways to enjoy it is by taking a tour. The Werner Sauter Biological Reserve is the perfect place to see the cutest monkeys you'll ever see, not to mention a fair amount of colorful birds. At the top of the reserve, you will be able to enjoy a terrific view of Samara Beach. The guided tour ($45 USD) includes transportation (a quick tip: don't wear sandals or flip-flops, choose regular hiking shoes instead).
5. Conchal Beach (Brasilito or Playa Flamingo)
Location: Northern Costa Rica, on the Pacific Coast
Swimming?: Yes!
Surfing?: Not typically.
Why we love it: Picture-perfect calm bay.
If you head north to the coast in Guanacaste, you will find Conchal Beach located not far from the town of Brasilito (but many visit from the Playa Flamingo area as well.) Here, it doesn't matter where you point your camera – the combination of green, white, and turquoise will make you feel like the best photographer in the world!
The water here is much calmer than some of the other beaches in the area and is one of the perfect places for snorkeling. However, if you feel like really taking the day off, get a massage on the beach. The prices range from $15 to $30 USD, and you'll be as good as new afterward. If you are planning on spending the whole day at this beach, I recommend you bring your own food and drinks (there aren't many options available nearby).
Who doesn't love jet skis? Well, at Conchal Beach, you can arrange a guided tour to explore the bay on a jet ski and get to see the coastline from a unique perspective, for about $190 USD per adult. They will suggest you bring your snorkel gear to enjoy the wildlife of the area. I got to watch stingrays and turtles, but they mentioned there's whale watching, too, depending on the time of the year.
If adrenaline is your thing, you can go on an ATV tour for $90 USD and have a blast for 2 hours on Conchal Beach and the surrounding jungle. This is a guided tour, and you'll get to see other amazing beaches like Flamingo or Brasilito. The tour guide will stop at the best locations for you to take the best pictures you'll ever take with a tropical view. As always, remember to bring sunscreen and a bottle of water.
6. Dominical Beach (Dominical)
Location: Dominical, not far from Uvita on the Pacific Coast
Swimming?: Yes, but watch for strong waves and currents.
Surfing?: Not typically.
Why we love it: The town of Dominical around this beach is one of a kind!
Out of all of the amazing beaches on Costa Rica's Pacific Coast, Dominical Beach has to be one of my favorites. Dominical Beach is the center of one of the most interesting hippie towns in the world, also called Dominical. The vibe of this place is unbelievable, and not for nothing, it's filled with ex-pats who simply fell in love with it and couldn't leave. It's not just the beach itself that makes Dominical special, but the community around it as well as the nature including luscious jungle and plenty of wildlife.
Surfing is one of the most popular things to do in Dominical, which is the main draw card for people from all over the world to move there. But besides surfing, the sunsets at Dominical Beach are impressive every single night. The people of Dominical all visit the beach each evening to watch the sky light up with all the colors of the rainbow.
Besides the beach, in Dominical you will also encounter live music, farmer markets, organic food, eco-friendly souvenirs, and happy people all around. Not only that, but Dominical Beach is home to TONS of delicious cafes and restaurants for you to grab a bit to eat in between swims.
For animal lovers like me, the Alturas Wildlife Sanctuary will be a fantastic experience. Its mission is to rehabilitate rescued animals, especially those who were captured and sold as pets. The macaws and toucans are mesmerizing, but the sloths and monkeys will definitely melt your heart.
The tour of the sanctuary takes 1.5 hours and the entrance is $25 USD for adults and $15 USD for kids. This non-profit uses the money from entrance fees to save thousands of animals every year!
After a tour of the sanctuary, go catch the sunset and spend a relaxing evening at Pozo Azul, a small waterfall 10 minutes away from Dominical Beach. Swimming in fresh water after several days at the beach is truly a fantastic experience.
Related Read: One of the best waterfalls in all of Costa Rica, Nauyaca Falls, is located only a couple of minutes from Dominical Beach!
7. Dominicalito Beach (Dominical)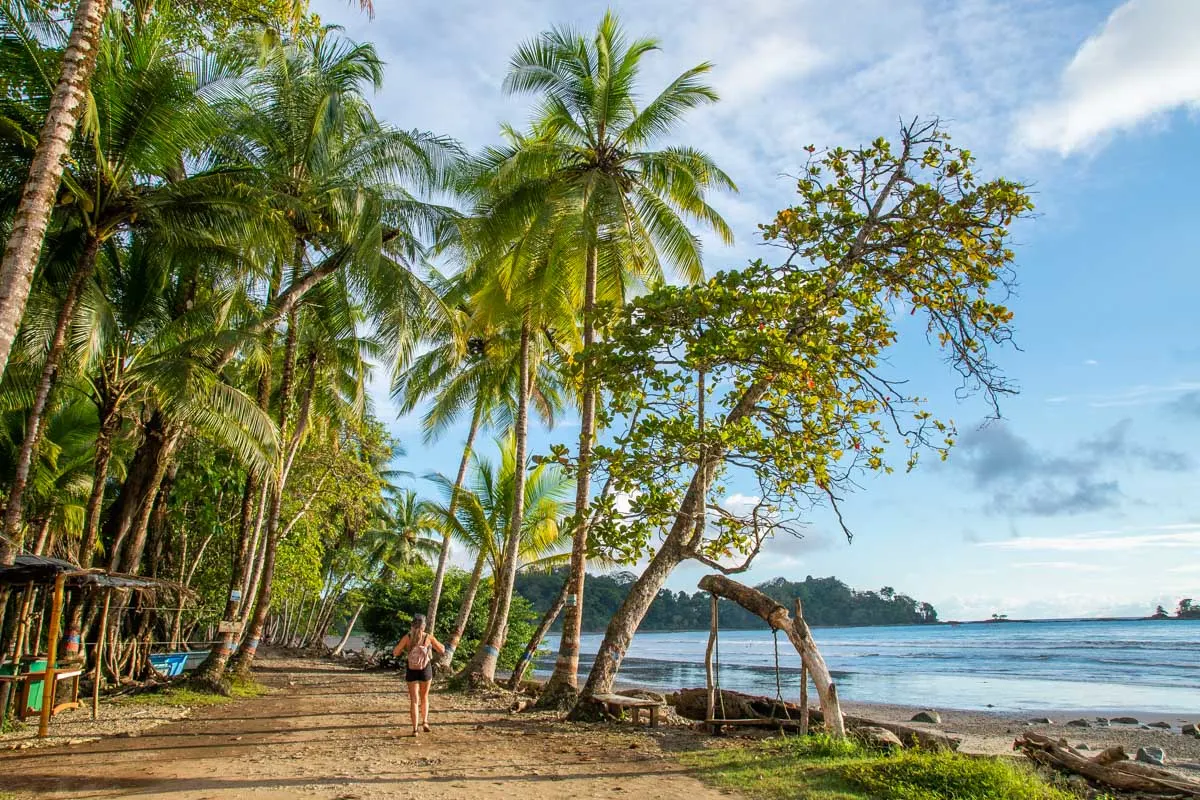 Location: A few minutes away from Dominical
Swimming?: Yes
Surfing?: Yes! A very popular spot for surfing.
Why we love it: A huge beach without many people. More of an off-the-beaten-path beach that very few tourists visit.
Within walking distance from Pozo Azul and a few minutes' drive from the town of Dominical, you'll find Dominicalito Beach. The jungle merges beautifully with the beach here, so there's plenty of shade. You can rent a cozy cabin with A/C near the ocean (or camp right there on the beach), eat fresh ceviche, and sit on the rocks to watch the sunset.
Dominicalito Beach is never very busy, which makes it a relaxing place to visit. Go for a walk and find your own stretch of sand without another person in sight. To me, this sets Domincalito Beach apart from many of the other beaches in Costa Rica mentioned in this blog. It's quiet, never busy, and the perfect place to escape for some relaxation.
Dominicalito Beach stretches about 1 km long, and normally it isn't very crowded. There are paid bathrooms and showers, paddleboard rentals, and fishing trips available every day for any fishing enthusiast. If you simply wish to stay and relax on the beach, you will find it very tranquil and serene.
8. Uvita Beach (Marino Ballena National Park/Uvita)
Location: The Pacific Coast in the town of Uvita
Swimming?: Yes.
Surfing?: Sometimes, in certain areas.
Why we love it: The unique Whale Tail that you can walk on during low tide.
Near Dominical Beach is the town of Uvita and Marino Ballena National Park – where you'll find the stunning Uvita Beach. If you love adventure, this is the beach for you! To get to Uvita Beach, you'll need to enter Marino Ballena National Park. The entrance is only $6 USD, and it's definitely worth it even if you simply go to Uvita Beach to relax on the sand for a couple of hours. Simply pay the entrance fee on arrival at the beach's entrance.
Since it's located within a national park, Uvita Beach is super peaceful and not commercial at all. You won't find vendors here, restaurants, shops, or anything – just waves crashing on the golden sand. For that reason, you should bring your own water and snacks when visiting the beach.
The main attraction at Uvita Beach is the "Whale's Tail" (pictured above.) An aerial view of this sandbar at low tide showcases a shape exactly like a whale tail! This is ironic because this area is also known as one of the best places to go whale watching in Costa Rica.
If you want to walk out on the Whale's Tail, you should visit Uvita Beach at low tide. During high tide, the sandbar disappears completely.
Besides just relaxing on the beach and walking on the Whale Tail, there are a few other ways you can enjoy the ocean around Uvita Beach. From the beach, whale watching tours are popular (depending on the time of the year.) The tour we did was $90 USD per person with snacks and snorkeling equipment included. The 4-hour tour takes you to the perfect place to spot whales and dolphins in the bay, so make sure you bring your camera with you. This tour usually gets booked quickly, so I recommend booking your spot in advance. It is one of the best things to do in Uvita, after all.
The calm waters at the coast of Uvita are perfect for fishing too, and for $140 USD, you can take a 5-hour tour and catch some big specimens while having a cold beer offshore. These tours are wildly popular and some of the top-rated in the country, and even if you are inexperienced, the guidance and equipment they provide will make you feel like a pro. The company that offers both of these tours in Uvita is called Bahia Aventuras.
Uvita is also full of ex-pats and surfers from all over the world, so the vibe is quite happy and welcoming for tourists. Some of the coolest and most unique hotels are located in Uvita as well! It's definitely one of my favorite places in Costa Rica.
9. Montezuma Beach (Montezuma)
Location: Montezuma town on the Nicoya Peninsula
Swimming?: Yes!
Surfing?: No.
Why we love it: Calm waters, epic sunsets, and the chance to see turtles. We also love Chicos bar on the beach!
There are so many beaches in Costa Rica that most of them won't feel packed with tourists even during high season (with some exceptions, of course). Montezuma Beach is in a cute little town (also called Montezuma) that doesn't receive that many tourists. It's getting more and more popular, though, so if you really like to visit places without too many people, I would suggest going ASAP.
Like many other villages on the Nicoya Peninsula, it was almost a secret for a long time, but with such amazing views and the pristine Montezuma Beach, it's finally getting some well-deserved attention.
Head to Montezuma Beach to relax on the sand and go for a swim. The water here is calm, and perfect for relaxing. If you want to surf, you'll have to go to a different beach like Santa Teresa, as Montezuma Beach is just too calm.
In the evenings, you might be lucky to watch a turtle release here! There is a turtle conservation center on Montezuma Beach that releases baby turtles into the ocean on most days at about 4 pm. The exact times do change so be sure to ask at your accommodation or at shops around town to find out more info.
Montezuma Beach is also the perfect place to watch the sunset. Grab a towel and head to the beach to see the sky light up – absolutely stunning!
At Montezuma Beach, the fun doesn't end after the sunset! During the night, you will still find people in the sand under the night sky, around bonfires, drinking, and dancing. Live music is also a great attraction for locals and tourists. At Chicos Bar right on the beach, different musicians play every afternoon, and it's the perfect place to sit and have a refreshing drink with a lovely view of the beach.
To best enjoy Montezuma Beach, you should plan to spend a couple of nights in the town of Montezuma. There are lots of great places to stay in Montezuma, but it's important to note that many hotels are somewhat far from the beach. Everything in Montezuma is pretty spread out, so the best way to move around in Montezuma is by ATV. You can rent one in town for about $60 USD for 24 hours.
Related Read: Check out all of the best restaurants in Montezuma!
10. Jaco Beach (Jaco)
Location: The city of Jaco on the Pacific Coast
Swimming?: Yes!
Surfing?: Yes!
Why we love it: It's a huge beach with tons of things to do.
Right in the middle of the Pacific Coast, the small city of Jaco is the party beach destination of Costa Rica. Jaco Beach is the main beach in the city, and it stretches all along the coastline. From pretty much anywhere in Jaco, Jaco Beach is only a short walk away. Great sunsets and even better surfing are an important part of Jaco Beach.
Jaco Beach is one of the most versatile beaches in Costa Rica. It is 4 km (2.5 miles) long, so different areas of the beach are best for different activities. Want to learn to surf? No problem, there is an area with perfect beginner waves! Want to swim? There is a calm section too! Want to party? There are plenty of beach bars to choose from! There's seriously something for everyone at Jaco Beach, you just need to know where to look!
For an unbelievable view of Jaco Beach, you must hike up to El Miro. It takes less than half an hour to get to the top, where the views of Jaco are unbelievable.
For the most romantic sunset over the ocean you'll ever see, you can visit Villa Caletas, a stunning hotel located 400 meters above sea level. It's one of the most famous attractions in the area and, in fact, one of the best things to do in Jaco. For that reason, we recommend you get there early to find a spot – it gets quite busy!
At night, the city of Jaco comes alive as people retreat from the beach and make their way into the city center. There are all kinds of clubs, bars, and tasty restaurants in Jaco. If you feel like dancing and drinking under the stars, Jaco Blu Beach Club stays open past midnight with great drinks and even better music. If you feel like pulling an all-nighter, Le Loft is open late for delicious cocktails, shows during the weekends, and themed nights for extra fun.
Related Read: Let us help you decide where to stay in Jaco with the best hotels and areas to choose from!
11. Hermosa Beach (near Jaco Beach)
Location: A few minutes from Jaco on the Pacific Coast
Swimming?: No.
Surfing?: Yes, but mostly for advanced surfers.
Why we love it: Watching talented surfers and a chilled-out vibe
There are multiple beaches in Costa Rica named "Hermosa Beach", but the one we are talking about here is next to Jaco Beach. This is one of the favorite beaches in Costa Rica for advanced surfers. The waves here are pretty strong, and swimming is not advised (and even prohibited) as it can be dangerous. It's also not recommended for beginner surfers due to the huge waves.
Hermosa Beach is a pretty chill and beautiful spot to visit, a lot more relaxed that Jaco Beach, where you can watch a surfing competition (in case you're not confident about your own surfing skills). Plus, you'll enjoy a magnificent sunset at the end of the day. This is not the most family-friendly beach, so we really only recommend this if you're into surfing.
Alternatively, there are a couple of small restaurants and hotels on the beach here that offer a relaxed, fun vibe. Our personal favorite place is called Vida Hermosa Bar and Restaurant – they have amazing cocktails. On weekends, you'll often find live music or DJs here too!
With that said, Hermosa Beach is most often a very calm and quiet place. Since it's not a swimming beach, not a lot of people come here. So if peacefulness is what you're looking for, then this is a place you cannot miss!
12. Tortuga Beach (Isla Tortuga)
Location: Tortuga Island in the Pacific Ocean
Swimming?: Yes!
Surfing?: No.
Why we love it: Breathtaking scenery, great snorkeling, calm swimming bays.
If you're in Jaco, Montezuma, Punta Arenas, or Santa Teresa, then you should definitely join a tour to Tortuga Island and visit Tortuga Beach. Since it is on an island, the only way to get to Tortuga Beach is on a tour with a boat.
Tortuga Island is part of Negritos Islands Biological Reserve, which means well-protected flora and fauna. The diversity of animals and plants in this place is absolutely mesmerizing. Tortuga Beach's white sand and turquoise water will leave you open-mouthed from the moment you arrive. To get there, you can hire a full-day tour for about $250 USD per person, a catamaran day trip for about $200 USD per person, or hop on a charter plane tour for about $350 USD per person.
The beach is surrounded by a luscious forest with trails to go hiking. The waves are not rough, so you can also do some snorkeling, kayaking, and swimming. And if you're one of those who just prefer to have a calm and relaxing time, there are umbrellas you can rent for a small fee where you can spend the day eating and drinking. You'll also find plenty of food and drinks (rum cocktails served in coconuts are my favorite!) on the island.
If you ask me, to spend a perfect day in Tortuga Beach you simply need to go snorkeling or scuba diving. It's totally worth it once you get to see all the marine life this place has to offer. Seeing octopuses, dolphins, and manta rays in their natural environment is a whole new level of excitement!
13. Santa Teresa Beach (Santa Teresa)
Location: Santa Teresa on the Nicoya Peninsula
Swimming?: Yes!
Surfing?: Yes! A top surf beach in Costa Rica!
Why we love it: Great surfing and fun vibes at the beach bars.
Circling back to the Nicoya Peninsula, I feel the need to talk a little bit about Santa Teresa Beach, located in the small town of Santa Teresa. Like most small towns on the Pacific Coast, it has such a welcoming vibe. Up until recently, a dirt road ran through the middle of town making it muddy in the rainy season and dusty in the dry season. But now, this road is paved and makes beach access easy!
Like most beach towns in Costa Rica, most of the best things to do in Santa Teresa revolve around enjoying the beach! There's everything from surfing lessons and fishing tours to fantastic beachside restaurants and a pretty active nightlife (think of bonfires on the sand!)
I had a particularly great time at Vista de Olas Hotel one morning. You can visit their Sunset Lounge without staying at the hotel and enjoying a magnificent view of Santa Teresa's beach. You only need to order drinks, and you can stay as long as you want. The other option is to pay $24 USD in advance for drinks, and it includes infinity pool access, which is definitely worth it.
There are many clubs, hotels, and restaurants in the area. You won't have any trouble finding great food in Santa Teresa. After asking around a couple of places for a nice place to eat, we decided to go to Eat Street, a place several people mentioned. Opened from 7 am to 11 pm, it offers all kinds of foods and drinks all day long. From continental breakfast, burritos, and coffee to burgers, noodles, and poke bowls, this place has it all.
There are also tons of amazing hotels and hostels to choose from in Santa Teresa. This is a tourist town, after all, so there are plenty of different accommodation options to choose from – some even right on the beach!
Related Read: Many people say Santa Teresa is an expensive town, which is true, but there are some fun free activities in Santa Teresa too!
14. Hermosa Beach (Santa Teresa)
Location: About a 10-minute drive from Santa Teresa
Swimming?: Yes.
Surfing?: Yes, great beginner waves!
Why we love it: Huge beach that isn't commercialized.
Only 10 minutes away (by car) from Santa Teresa is Playa Hermosa. The sand is pretty flat, so you will probably find some people playing beach sports, but even if you are not into that, there's plenty of space to make sure you don't get hit by a ball. With gentler waves and warm water, Playa Hermosa is also a nice place to go for a swim.
At low tide, small ponds form, perfect for little kids to play. It's without a doubt a family beach, but you will have to bring your own food and drinks since there are no bars or restaurants. You truly feel like you are in the middle of nature, and that's my favorite thing about Playa Hermosa.
This beach is also a popular spot for beginner surfers. The sunsets here are also especially spectacular. It is a much quieter beach than Santa Teresa Beach, which is its main drawcard.
If you have a small car, you will have to take it slow to get to the beach from Santa Teresa along a dirt road. On the other hand, if you rent an ATV ($45 USD/day), the dirt road will be a blast once you get the hang of it. You can also grab a taxi from Santa Teresa to Playa Hermosa.
15. Flamingo Beach
Location: Northern Costa Rica, on the Pacific Coast
Swimming?: Yes.
Surfing?: Not typically.
Why we love it: Super picturesque and one of the quieter beach destinations.
Playa Flamingo is located along Costa Rica's northern coast in the Guanacaste province. The beach here is about 1 mile long (1.6 km) and it's a beautiful swimming beach. The curved bay here gives some unique views of the coastline as well. The ocean water is typically crystal-clear and has soft waves. Of course, that can change, so always use caution while swimming.
There are also trees along the beach for shade, but make sure you're cautious here as there are some manchineel trees, which are a type of poisonous apple. Don't let the sap from any leaves, bark, or apples touch your skin as it can cause painful blisters and a rash.
There's development on either end of Playa Flamingo with a variety of stores, restaurants, and places to stay. The north side of the beach is typically busier as it's closer to hotels and condos in the area. Walk over to the south side for a quieter experience.
The town itself is just a short walk from the beach and is mostly perched on the hillside looking south to Flamingo Beach or north to Potrero Beach. It's a small town, but there's everything needed to comfortably base yourself here for a few days.
There are lots of different activities you can do at Flamingo Beach, but without a doubt, one of my favorite experiences there was catching the sunset in a catamaran one afternoon. For $95 USD per person, the 4-hour catamaran tour includes an open bar, snacks, the use of kayaks, and snorkel equipment.
If you want to exercise, you can rent a paddleboard ($20 USD per hour), row throughout the beach, and enjoy some amazing views over the turquoise water.
You can't visit Flamingo Beach without stopping by Coco Loco restaurant for a drink. If you feel like trying something new, their very own Coco Loco cocktail is, without a doubt, the best coconut cocktail I've ever had. They are open from 11 am to 9 pm, and the food is pretty good too. There aren't many other options available right there on the beach, so it's best if you bring along some snacks just in case the restaurant gets too crowded.
16. Playa Colorada (Drake Bay)
Location: Drake Bay on the Osa Peninsula
Swimming?: Yes.
Surfing?: No.
Why we love it: Tons of biodiversity around both on land and in the water.
Playa Colorada is the main beach in the town of Drake Bay. Drake Bay is located in the most biodiverse area in all of Costa Rica called the Osa Peninsula. This beach is right on the doorstep of Corcovado National Park, which to be honest, is the main attraction in the area. Most people base themselves in a hotel in Drake Bay and then visit Corcovado from there on a day trip.
Visiting Corcovado National Park will be one of the wildest experiences of your life. It takes approximately 9 hours to complete the tour through the rainforest; that's why departures from Drake Bay are at 6 am. Tours to Corcovado most often depart from Playa Colorada by boat to take you to the national park where you will hike in search of wildlife.
But after a long day hiking in the national park, you'll be happy to be back in Drake Bay and can enjoy Playa Colorada and all it has to offer! Relax on the golden sand, eat at a beachside restaurant, go for a swim (it is a very calm bay), or enjoy some of the nature trails near the beach.
17. Ostional Beach (Ostional Wildlife Refuge)
Location: Not far from Nosara
Swimming?: Not in the wildlife refuge.
Surfing?: No.
Why we love it: The chance to see turtles in Costa Rica – and lots of them!
Costa Rica has so many great places to visit and so many things to do that when someone asks me what my favorite experience was, I have to take a minute. However, I always end up thinking about the same day at Ostional Beach. If you visit Costa Rica between August and November, you have to book a tour and go see the arribada (where many turtles come onto the sand to lay their eggs!)
It's hard to explain the sight of hundreds of turtles coming out from the sea, all at once, first thing in the morning, to lay their eggs. The whole scenery is magnificent, and the memory will get stuck with you forever. The tours usually include just the transportation to and from the beach for around $60 USD per person, but if you really want to make the best out of the experience, you can book a private tour with the Wildlife Conservation Association for around $150 USD per person).
If you miss the months of the arribada and visit the area at another time, you can definitely catch some turtles laying their eggs one morning or one night or even see the babies hatching and running to the sea for the first time. Ask around your hotel, and they will probably recommend the best day to make the trip to the beach. With a little bit of luck, you'll get to witness a true miracle of nature.
Ostional Beach is easily accessed from Nosara, and this is where most tours depart from. However, there are some tours that also depart from Tamarindo.
18. Punta Uva Beach
Location: The Caribbean Coast near Puerto Viejo
Swimming?: Yes!
Surfing?: No.
Why we love it: Super calm, crystal-clear water for swimming.
Punta Uva Beach is located on Costa Rica's Caribbean coast, on the southeast side of the country. Its name is translated as "grape beach," and it comes from the sea grape trees that surround the beach.
This is one of the best beaches in Costa Rica to visit with kids. The beach is protected by a reef, which makes its waves pretty calm. It's a very safe place to take young children and relax with your family and swim. The environment is also quiet and pretty chill, which we truly enjoyed!
There are only a few restaurants near the beach, keeping it nice and quiet. I recommend bringing some of your own snacks and water just in case they are closed.
You can either stay at one of the few hotels near Punta Uva Beach or visit from the popular nearby town of Puerto Viejo. Most people visit Punta Uva on a day trip from Puerto Veijo, and you can easily drive or bike ride there. The last time I went to Punta Uva I rode a bike that I rented for a few dollars in Puerto Viejo, and it made for a fun, active day out!
19. Puerto Viejo de Talamanca Beach
Location: Puerto Viejo
Swimming?: In some areas during certain conditions.
Surfing?: Yes.
Why we love it: The location right in Puerto Veijo town makes it super easy to access.
Puerto Viejo de Talamanca Beach is the main beach in the town of Puerto Viejo, on Costa Rica's Caribbean Coast.
This is one of those beaches with golden sand and crystal-clear water. If you're an experienced surfer, then you definitely have to visit Puerto Viejo de Talamanca Beach. This is not a beach for swimming, though, due to the strong current. You can also use this spot to relax under a tree shadow and watch others surf.
If you decide to visit Puerto Viejo de Talamanca Beach, then you'll find a variety of activities to do around town there too. You can go snorkeling, scuba diving, bodyboarding, and kayaking. If you prefer to explore the mountain, you can rent a bike or just go hiking. Or you can also go horseback riding on the beach, which we absolutely loved.
Horseback riding in Puerto Viejo de Talamanca costs about $30 USD per hour. I swear it feels like a movie! But if you've had enough sand for a day, you can grab a bite or have a beer in a restaurant nearby- there are a great variety of restaurants within walking distance from the beach. During the weekend, you will have plenty of options that stay open late too. If you're on this beach, definitely stop by Puerto Pirata Tiki Bar to enjoy a cold cocktail and organic Ayurvedic-inspired Caribbean food by the beach. Their huevos rancheros is delicious too!
There are also lots of great hotels and hostels to stay at in Puerto Viejo. In fact, this town is becoming one of the most popular places to visit in Costa Rica!
20. Playa Blanca (Cahuita National Park)
Location: Cahuita National Park on the Pacific Coast
Swimming?: Yes, but you cannot disturb the coral.
Surfing?: No.
Why we love it: Very peaceful, white sand, amazing flora and fauna all around.
The white sand and crystal-clear waters, plus the palm trees and the surrounding forest, make this one of the best beaches in Costa Rica. Playa Blanca is located in Cahuita National Park, which is why you'll see its surroundings very much preserved. Playa Blanca is simply pristine!
Although Playa Blanca is part of a national park, you are not obliged to pay an entrance fee. However, they do ask for a contribution that goes to the maintenance of the place. I do encourage you to contribute to the preservation of this paradise. The beach is open from 8 am to 4 pm, and they are pretty strict with the schedule, so make sure you get there on time.
You must hike to Playa Blanca, which is an adventure in itself! On your hike, you'll likely spot a huge variety of wildlife. When we were last in Cahuita National Park, we saw Howler monkeys, sloths, a viper, and a huge tarantula! It's actually one of the best places to see sloths in Costa Rica!
Since Playa Blanca is located within the national park, there is no accommodation located right on this beach. Most people choose to stay in the nearby towns of Cahuita, Puerto Viejo, or even Puerto Limon and visit the beach on a day trip.
21. Tortuguero Beach
Location: Northern Costa Rica, on the Caribbean Coast
Swimming?: No.
Surfing?: No.
Why we love it: Turtles!
This beautiful Caribbean beach is famous for being an important nesting point for sea turtles. Although you can't swim in the ocean, the view is still spectacular enough to spend the day having a drink on the sand or taking a walk on the beach. Plus, seeing nesting turtles is a bucket-list experience for most people!
Tortuguero National Park is one of the coolest National Parks in Costa Rica, and is a must if you visit the area. The entree fee is $15 USD, and you can go hiking on your own, or you can pay the additional $25 USD for a guided tour, which I highly recommend. The tour guides are something else! They make you feel more connected to your surroundings by pointing out every last detail of the flora and fauna of the park. They are all super friendly and welcoming and happy to share all the information they know about the turtles and the surrounding area.
Even more exciting is the night tour for $30 USD per person. At night, you can't go out on your own because there are several species of venomous snakes and poisonous frogs, and it can be dangerous. However, you can take a guided tour with a professional guide as a safer option for exploring the area. You will definitely be amazed by the number of interesting animals you will find! There are so many things to see and do in Tortuguero; you could easily spend a few days here.
If you happen to visit Tortuguero between July and October (nesting season), you can book special tours to watch sea turtles lay their eggs and hide them under the sand. It's a magical experience that will stay with you forever. Tours go from $60 USD per person (transportation only) to $110 USD with a guide that will tell you all about the various species of sea turtles you will spot on the beach.
Getting Around Costa Rica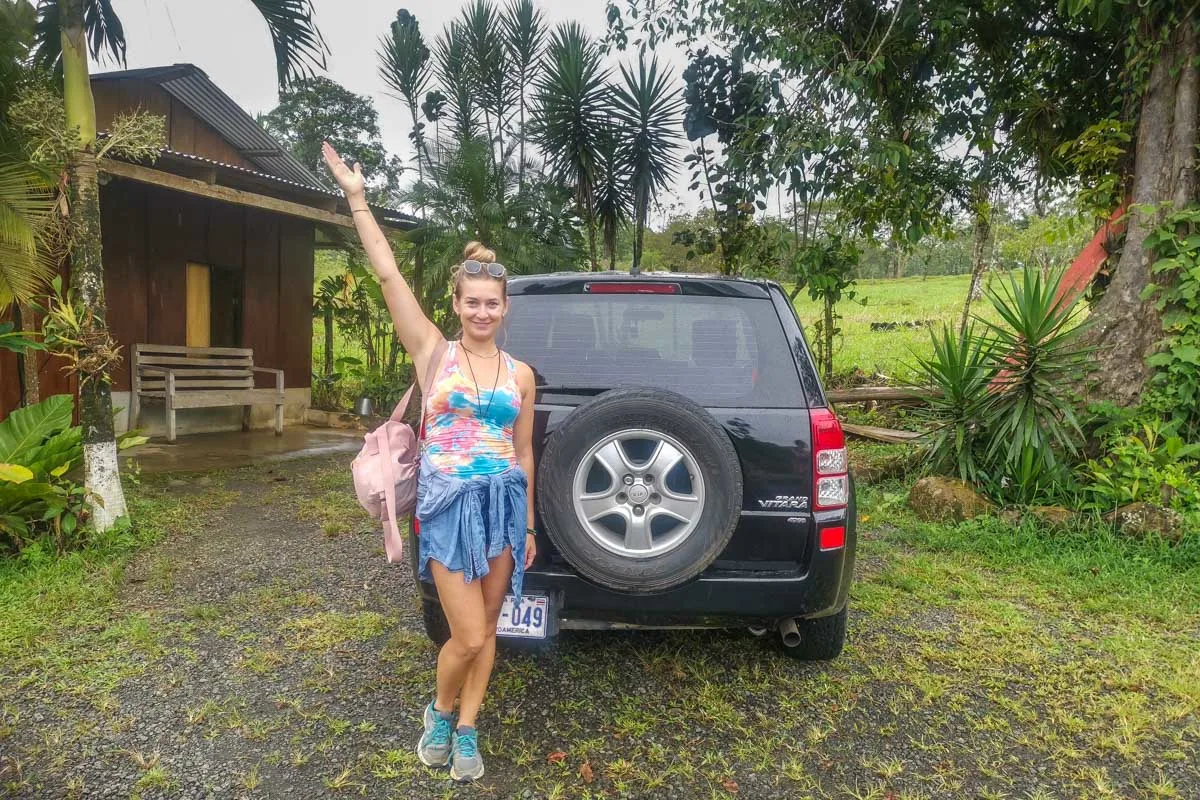 How you choose to get around Costa Rica is one of the biggest decisions you'll make when planning your holiday here! How you do it depends on your budget, travel style, and comfort level.
Renting a Car
Without a doubt, the number one way to explore Costa Rica is in a rental car. We book rental cars on the Discover Cars website as we have had good experiences with them in the past.
One of the things you need to watch for when renting a car in Costa Rica is the mandatory insurance that the government requires you to have. There are a lot of very cheap rentals that don't include this mandatory insurance (TPL) in the original booking price, but there are also ones that do. To avoid additional surprise charges when you pick up your rental car, be sure to rent a car that includes the mandatory insurance when you book.
Thankfully, on Discover Cars it's easy to tell apart the companies that include the mandatory insurance and those that don't. The trick is you can't pick any car on their website. In the picture below, you can see this rental car, with pick up in Jaco, includes the TPL. That means the mandatory insurance is included in the price. Any cover you get above that is extra.
Of course, I still suggest getting the full coverage offered by Discover Cars, which covers you even more.
You can browse cars on Discover Cars here.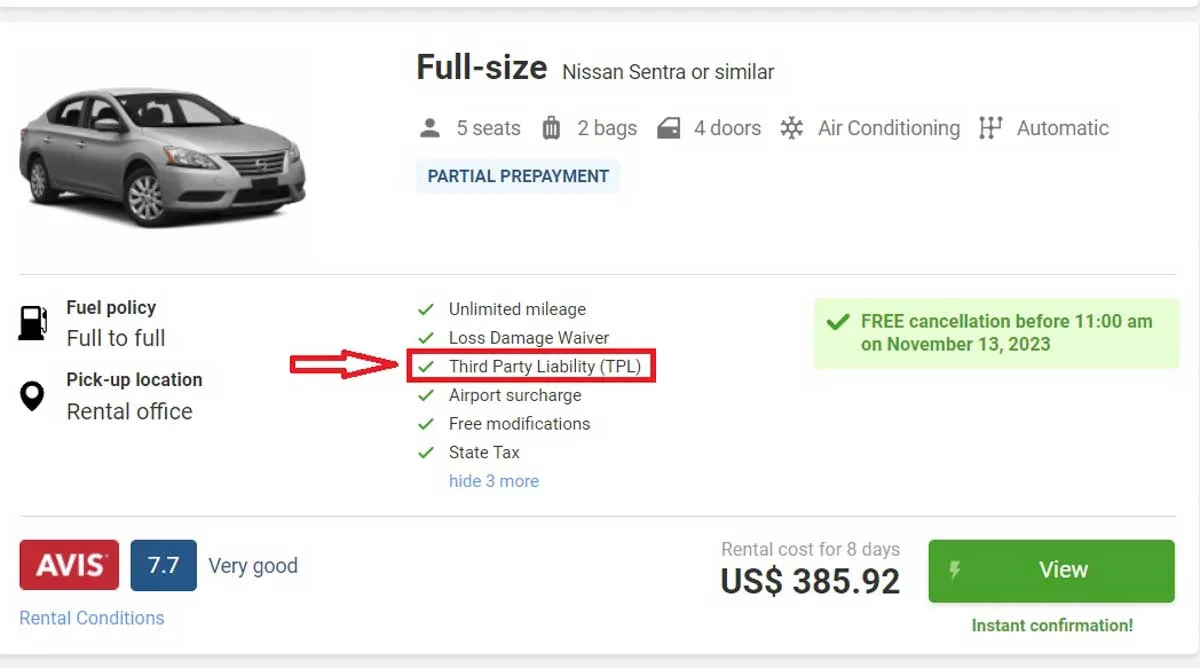 Book Shuttles
If renting a car isn't in your budget, you don't feel comfortable driving in Costa Rica, or you just don't like driving, shuttles are the next best option. There are hundreds of shuttle routes available all over the country, and they are very affordable.
Shuttles in Costa Rica are specifically for tourists and often include pick up and drop off at your selected hotels and airports. The drivers also speak some English, and the vehicles have air conditioning. You'll also be guaranteed a seat when you book a shuttle (which isn't the case with the public bus system.)
To get the best price, use the website Bookaway. They compare all the offers and prices of shuttle companies in Costa Rica so you get the best price! Honestly, we have saved so much money using Bookaway!
You can search for shuttles online on Bookaway here.
Public Bus
Lastly, you can use the public bus system. On short journeys, such as from San Jose to La Fortuna or Uvita to Manuel Antonio, this system is great. However, the longer the journey the more hassle and time spent on a bus. It's undoubtedly best to save the public bus in Costa Rica for short and straightforward trips!
The public buses are definitely the cheapest way to get around Costa Rica, but they are not always very reliable and schedules often change without notice and delays are to be expected. The buses can also be very crowded and hot – so just be prepared!
It's also good to speak some Spanish if you plan on riding the public bus since most drivers and ticket booth operators don't speak English.
Invest in Travel Insurance
Paying out of pocket for trip interruptions or medical treatment will add to what might already be a stressful situation. Not to worry, SafetyWing is here to help!
This affordable travel and medical insurance is perfect for digital nomads, long-term travelers, and remote workers. The best part is that it only costs $45 USD per 4 weeks.
To start coverage you must purchase it after leaving your home country. We usually purchase it as soon as we land at the airport.
Since using SafetyWing we've been reimbursed thousands of dollars when we've gotten sick. During the pandemic, they've even gone as far as to pay for our last-minute flights back to Canada before the border closed!
Pura Vida!
Costa Rica has some of the most stunning beaches in Central America, and now I'm sure you can see why! The Costa Rican coastline stretches for over 1200 miles, and there are many different types of beaches to choose from, so whether you are looking for a beach to relax on, or one that is more active, you're guaranteed to enjoy one (or many) of the beaches on this list.
If you're planning a visit to Costa Rica and are looking for some guidance on things to do, where to stay, and what explore in the area, check out some of these related posts:
30 EPIC Things to Do in La Fortuna
Where to Stay in Santa Teresa, Costa Rica