This blog may contain affiliate links. Read our disclosure policy for more info.
Montezuma, located at the southern end of the Nicoya Peninsula, is often described as a small village where time stands still. Until the 1980s, it was a remote fishing village. Now, it has become a (somewhat) popular tourist destination for those looking to just relax.
However, having been spared from mass tourism, it is characterized by its alternative and artistic wave. It is the perfect place to stay to visit other nearby attractions like Cabo Blanco National Reserve, Tortuga Island, or Malpais and Santa Teresa Beaches. Surfing is also a popular activity in the area along with yoga or wellness retreats.
I mean, Montezuma is beautiful with so many fun things to do, it really is no surprise that you're thinking of spending some time here. But there's just one question – where's the best place to stay in Montezuma?
For such a small town, there are a surprisingly large number of hotels in Montezuma to choose from. There are a lot of places to stay that are spread out around Montezuma. In fact, many of the best hotels in Montezuma aren't in town at all, and are a good ten-minute drive away from town or more! However, the tranquility you'll experience here will be unmatched.
Whether you choose to stay near the beach or just outside of town, both options have pros and cons.
In this article, we will help you decide where to stay in Montezuma as well as recommend the best hotel options near the sea in town, or outside the village of Montezuma.
In any case, Montezuma is definitely a place to go if you visit Costa Rica and I hope you will enjoy your stay!
Don't have time to read the full article? Montezuma village is the best area to stay in if you want to be near the beach and within walking distance of great restaurants. Our top hotel recommendation in Montezuma is Hotel Nya, a 4-star hotel that's just 150 meters from the beach. You can check prices and availability for Hotel Nya on Booking.com here, Hotels.com here, and Expedia here!
Getting around Montezuma
Before we get into the best places to stay in and around Montezuma, I wanted to quickly touch on how you can get around the area as this is an important factor when deciding on an area to base yourself.
Montezuma village/town is small, so small you can easily walk around it. With that said, lots of the best places to stay in Montezuma are outside of the village, in which case having your own transport is necessary.
If you have a rental car already, then great, you're all set! If not, a car is a good idea. A 4×4 is also recommended since the roads are not great around Montezuma.
Alternatively, many people rent ATVs (quads) for the duration of their stay in Montezuma. Depending on how many days you rent for, ATVs cost between $60-85 USD per day. They are a great way to get around town and your best option if you don't have a rental car.
If you don't want to have your own transport, then I highly recommend staying at a hotel right in the village near Montezuma Beach (Playa Montezuma.) For those traveling on a budget, this is the most common choice. Read more on the best hotels in Montezuma village that you can choose from!
Stay in Montezuma Village/Town
The village of Montezuma is small but characterized by its picturesque and colorful walls. It offers a wide variety of local, vegan, and organic products for sale at the local market and restaurants.
Montezuma village is located right on the edge of Montezuma Beach (Playa Montezuma). So, if you want to stay close to the beach, then staying right in the village is a safe choice.
Downtown, besides some hotels and restaurants, you will find a few clothing stores, one or two small supermarkets, an ATM, a church, and a football field.
on the weekends, you will find the main plaza gets quite busy full of people enjoying a couple of drinks. There is also one popular bar in town located here.
Advantages of staying in Montezuma Village:
You will be close to stores, some of the best restaurants in Montezuma, and the beach.
If you don't have your own transportation, it's not an issue as you will be within walking distance to everything you need.
You will be very close to Montezuma Beach.
Disadvantages of staying in Montezuma Village:
It can be pretty noisy.
You may deal with a bit of traffic.
Parking can sometimes be a little difficult to find.
BEST Hotels in Montezuma Village (near the beach!)
$$$ – Hotel Nya
Hotel Nya is a 4-star hotel only 150 meters from the beach, an ideal location if you ask me. The décor blends into the greenery of its tropical garden. It has a large outdoor swimming pool and a restaurant. If you want an intimate and upscale environment while staying right in town, this place is for you.
The style of the rooms is modern and neat. They are very comfortable and well-equipped. All rooms at Hotel Nya have air conditioning, a hair dryer, an electric kettle, a strongbox, a WiFi connection, and some of them, a mini-bar. Breakfast is included with all rooms. A la carte services, such as wellness activities and yoga classes, are also available.
Hotel Nya offers a wide range of accommodation types. Prices start at $165 USD per night for two people and go up to $299 USD depending on whether you choose a room with a queen-size or king-size bed. You can also opt for having a room with a balcony.
Japanese-style quadruple rooms with bunk beds or classic family rooms are also available from $320-390 USD per night.
I would have to say the standouts for this hotel in Montezuma are the quality of the service, the central location, and the comfortable rooms. The pool and distance to the beach are a huge plus for me too!
You can check prices and availability for Hotel Nya on Booking.com here, Hotels.com here, and Expedia here!
$$ – Hotel El Jardin
This hotel, surrounded by a beautiful garden, is located in downtown Montezuma only a few meters away from the beach. Hotel El Jardin is a great deal for couples, families, or friends. The two big outdoor swimming pools (yes, not one, but two pools!) and a jacuzzi are definitely a perk.
The hotel offers 16 rooms with a warm and rustic design. Rooms are very spacious with air conditioning and a mini-fridge.
Economic double rooms start at $64 USD per night. The prices go up to $111 USD per night for a deluxe double bedroom with a balcony. Triple, quadruple bedrooms and a bungalow with a fully equipped kitchen are also available.
Past guests recommended this place for its location, beautiful surroundings, and refreshing pools. However, if you are traveling by car, keep in mind that this hotel doesn't offer a private parking space.
You can check the availability at Hotel El Jardin on Booking.com here, on Hotels.com here, and on Expedia here.
$ – Luz en el Cielo Eco-B&B/Hostel
Luz en el Cielo Hostel and B&B is located a bit out of the city center, but only 650 meters away from the beach and town. It offers a healthy organic breakfast every morning made with local products. This place is awesome if you are traveling with friends or solo since they have dorm beds available.
The rooms are rustic and spacious. Prices are pretty affordable, starting at $27 USD per night and per person in a 4 or 6 mixed dorm. A 6-bed private ensuite is also available at $143 USD per night – this is ideal for a group of friends.
The perks of this hostel, besides the affordable price, include the chance to meet great people, including the friendly staff, a delicious breakfast, clean rooms, and the relaxing jungle vibe. You really can't beat it when it comes to an excellent budget place to stay within walking distance to Montezuma.
Luz en el Cielo often books up in advance. You should secure your room in advance on either Hostelworld or Booking.com.
Stay in the Jungle Surrounding Montezuma (Outskirts of Montezuma)
Many hotels in Montezuma are actually located outside of town in the jungle, offering a peaceful escape.
Most people rent ATVs during their stay in Montezuma. This is a good option if you decide to stay outside of town. You will also have more freedom to get around and visit other nearby beaches or attractions.
Advantages of staying on the outskirts of Montezuma:
Staying just outside of Montezuma will allow you to avoid crowds, noise, and enjoy a quieter stay.
In addition, if you are in the hills, you will have a magnificent view of the ocean.
More chances to see wildlife.
Plenty of hotels that offer good value for money.
Disadvantages of staying on the outskirts of Montezuma:
Keep in mind that if you don't have your own car, you will most likely have to walk, rent a bike, or ask for a car ride to get around.
In addition, if you are planning to go out at night, roads can be dark and taxis may not always be readily available.
Distance away from restaurants, shops, and bars.
Many hotels are quite far from the beach.
BEST Hotels around Montezuma (outside of town)
$$$ – Casitas Sollevante
These casitas, or tiny houses, are 800 meters from downtown Montezuma. However, its strategic position facing the sea offers a breathtaking view. Plus, the distance is still walkable for most, making it a hotel offering the best of both worlds – close to amenities but a peaceful nature escape!
Surrounded by a tropical garden, Casitas Sollevante offers a unique outdoor infinite pool and jacuzzi. Just imagine a sunset here!
It also has its own snack bar where breakfast is served every morning and tropical cocktails in the afternoon. Yoga classes, massages, and tours are available for an extra fee. This is a perfect place for a relaxing and peaceful stay with your loved one.
Double rooms start at about $123 USD per night for two people. All the rooms are spacious, with a view of the garden and the sea.
Rooms are also very well equipped with air conditioning, a mini-fridge, a security box, an electric kettle and, outdoor furniture. Apartments and villas have one or two bedrooms and have a fully equipped kitchen with a dining area.
The best part about staying here just has to be the views! The friendly staff and the delicious food also make this hotel one of the best places to stay in Montezuma.
One thing to note is that there is an unpaved road to the property so, make sure you have an appropriate vehicle to get there.
You can browse all of the different units you can choose from and book Casitas Sollevante on Booking.com here, on Hotels.com here, and on Expedia here.
$$ – Hotel La Cascada
This hotel is 500 meters outside Montezuma beach and 400 meters from the Montezuma Cascade (Montezuma Waterfall). So while it has offers the tranquility of being outside of town, you're actually within walking distance too – bonus!
Hotel La Cascada resembles a big wooden chalet offering a warm atmosphere. It has common areas like a shared kitchen and a big living room. Here you will have the chance to lie down on a hammock, eat, chat, or exercise! Being able to cook your own meals can also be a huge budget-saver and convenience. We also enjoy preparing our own dinner with a glass of wine from time to time.
You will also have the opportunity to enjoy breakfast and all kinds of local dishes and fruity juices at their restaurant.
Rooms are simple and rustic, but affordable and clean. It offers standard twin rooms starting at $60 USD and quadruple rooms at $72 USD per night. Family rooms or suites are also available for three or four guests starting at $90 USD per night. All rooms have a private bathroom, free toiletries, air conditioning, and WiFi.
Past guests rave about the friendly staff, the quietness, and the laid-back atmosphere.
You can check availability and prices for Hotel La Cascada here on Booking.com, here on Hotels.com, and here on Expedia.
$ – Luminosa Montezuma Hostel
Luminosa Montezuma Hostel is located just in front of Palmeras Beach, located a 10-minute walk from Montezuma Beach. It has direct access to Palmeras Beach, so you can leave your room and directly put your feet in the water! This is a great affordable option if you are traveling with friends or alone since they offer both dorms and group rooms.
Palmeras Beach is gorgeous. You will enjoy swimming in its natural swimming pools, but be careful, it is very rocky.
The rooms are simple but neat. There are three mixed dorms (3-10 beds) at $15 USD the night. There is also one 3 bed private room that is also $15 USD. Linen and towels are included during your stay.
The hostel also offers a fully equipped shared kitchen, free coffee in the morning, and free WiFi all day. Laundry facilities and a bike rental service are other perks of this place.
Guests have enjoyed the relaxing and laid-back vibe, the direct access to the beach and, the ocean views.
You can book Luminosa Montezuma Hostel online on either Hostelworld or Booking.com.
Getting to Montezuma
First, getting to Montezuma can take a while, but you will not regret going.
You can take a direct bus from San José that will drop you in Montezuma downtown, near the football field (a 5-hour journey approximately). You can also get to Jaco, and then take a taxi-boat directly to Montezuma from there.
Shared shuttles are also available to Montezuma from other popular destinations including San Jose, Santa Teresa, Samara, Nosara, and more.
By car, the ride will take around 4.5 hours. First, 2 hours to get to Puntarenas where you will take a ferry for 2 additional hours. This ferry will drop you in Paquera on the Nicoya Peninsula, just 1 hour away from Montezuma.
Related Read: If you're planning on visiting Jaco, be sure to read our blog about where to stay in Jaco and the best hotels before you go!
4 Must Do Activities in Montezuma
Visit Tortuga Island: The small island of Tortuga is the ideal beach getaway from Montezuma. Together with Alcatraz Island, the area makes up the Islas Negritos Biological Reserve. It's home to fantastic snorkeling, white sand beaches (some of the best beaches in Costa Rica), and lots of coconuts! From Montezuma, tours to Tortuga Island cost only $70 USD and include lunch, snacks, drinks, and your snorkeling equipment. We went with Zuma Tours and can highly recommend them.
Visit Montezuma Waterfalls: Montezuma Waterfalls are one of the few free waterfalls you can visit in Costa Rica. The best part is, a day exploring the three waterfalls is epic and one of the best things to do in Montezuma! You can easily walk to Montezuma Waterfalls from town and hike the somewhat confusing trail to explore the waterfall.
Visit the local craft brewery Butterfly Brewing Co: Montezuma has its very own brewery! That was music to my ears when I first arrived, and I immediately went to check it out. Located not far from town, Butterfly Brewing Co. is surrounded by nature with a beautiful outdoor balcony overlooking lush forest. They had four beers on tap during my visit, and I loved them all. The IPA and Pale Ale are especially good. The brewery also serves food; however, Bailey and I only stopped in for a few beers.
Go surfing: As with just about every coastal town in Costa Rica, you can surf in Montezuma. Unfortunately, Montezuma Beach is not a great beach for surfing. However, if you grab your board and hike to Playa Grande, you can enjoy uncrowded waves. The waves at Playa Grande are mainly suited to beginners, and there are actually surf schools in the area that offer lessons. This specific surf lesson lasts for three hours and begins in Montezuma.
They'll guide you along the trail to Playa Grande before teaching you the basics. You get a two-hour lesson in the water, including fruit snacks. There is also this one-week surf school that includes accommodation, some meals, and surf lessons for $900.
Getting Around Costa Rica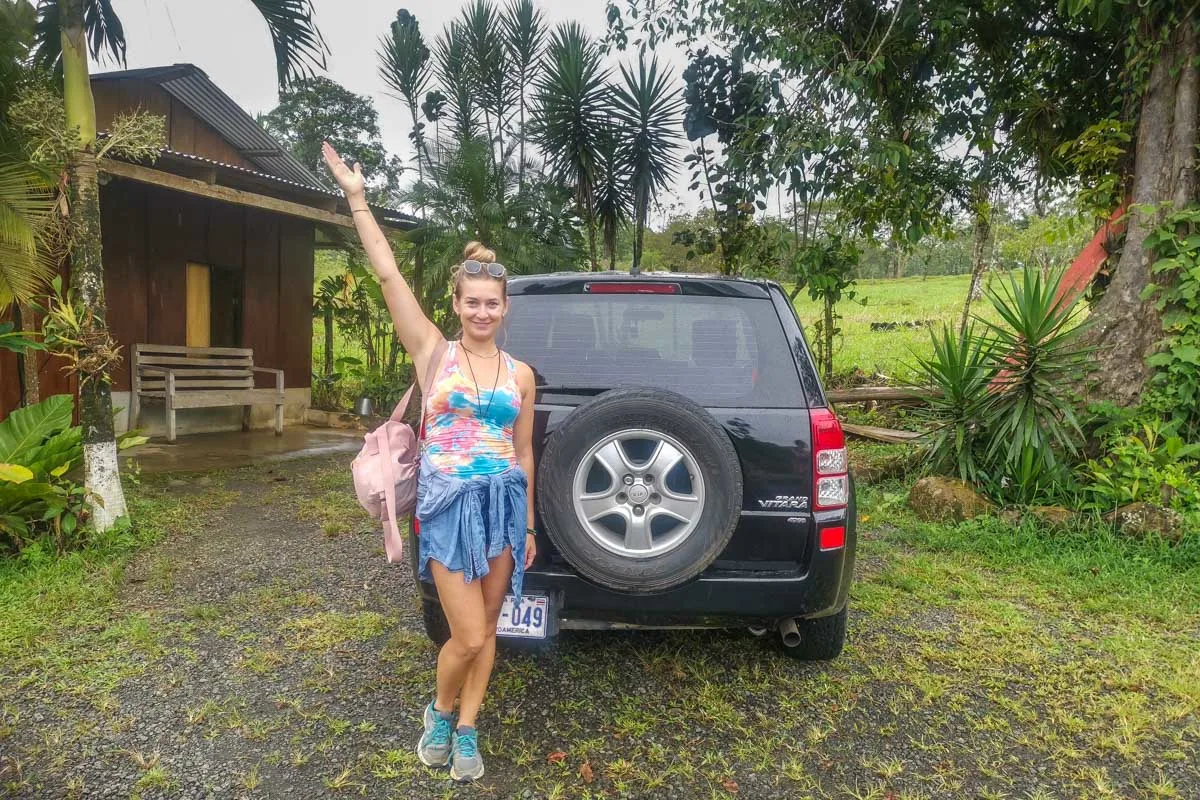 How you choose to get around Costa Rica is one of the biggest decisions you'll make when planning your holiday here! How you do it depends on your budget, travel style, and comfort level.
Renting a Car
Without a doubt, the number one way to explore Costa Rica is in a rental car. We book rental cars on the Discover Cars website as we have had good experiences with them in the past.
One of the things you need to watch for when renting a car in Costa Rica is the mandatory insurance that the government requires you to have. There are a lot of very cheap rentals that don't include this mandatory insurance (TPL) in the original booking price, but there are also ones that do. To avoid additional surprise charges when you pick up your rental car, be sure to rent a car that includes the mandatory insurance when you book.
Thankfully, on Discover Cars it's easy to tell apart the companies that include the mandatory insurance and those that don't. The trick is you can't pick any car on their website. In the picture below, you can see this rental car, with pick up in Jaco, includes the TPL. That means the mandatory insurance is included in the price. Any cover you get above that is extra.
Of course, I still suggest getting the full coverage offered by Discover Cars, which covers you even more.
You can browse cars on Discover Cars here.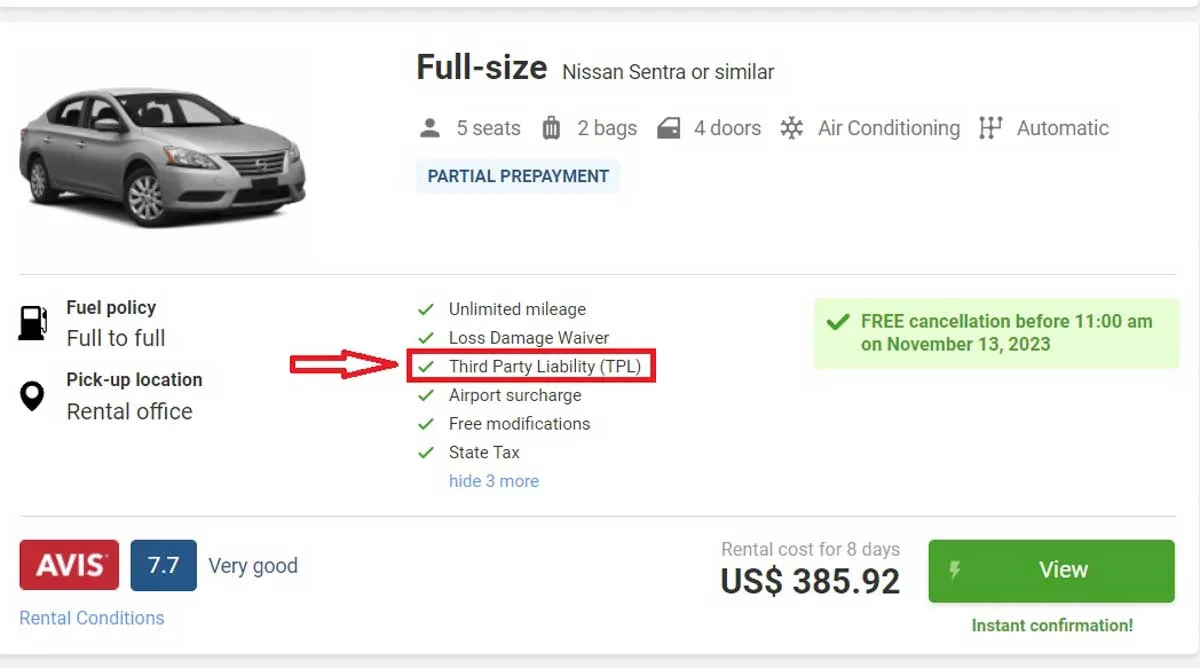 Adobe Rental Rent A Car is another rental company that we most often use in Costa Rica. We love them because Adobe has 15 offices around Costa Rica and delivers door-to-door around their offices at no extra cost. We also are pleased that all of their cars are new. In fact, they are never older than 2 years to the date. They are also the only company to include mandatory insurance and promise no hidden fees. You can get a free quote for a rental car from their website here.
Book Shuttles
If renting a car isn't in your budget, you don't feel comfortable driving in Costa Rica, or you just don't like driving, shuttles are the next best option. There are hundreds of shuttle routes available all over the country, and they are very affordable.
Shuttles in Costa Rica are specifically for tourists and often include pick up and drop off at your selected hotels and airports. The drivers also speak some English, and the vehicles have air conditioning. You'll also be guaranteed a seat when you book a shuttle (which isn't the case with the public bus system.)
To get the best price, use the website Bookaway. They compare all the offers and prices of shuttle companies in Costa Rica so you get the best price! Honestly, we have saved so much money using Bookaway!
You can search for shuttles online on Bookaway here.
Public Bus
Lastly, you can use the public bus system. On short journeys, such as from San Jose to La Fortuna or Uvita to Manuel Antonio, this system is great. However, the longer the journey the more hassle and time spent on a bus. It's undoubtedly best to save the public bus in Costa Rica for short and straightforward trips!
The public buses are definitely the cheapest way to get around Costa Rica, but they are not always very reliable and schedules often change without notice and delays are to be expected. The buses can also be very crowded and hot – so just be prepared!
It's also good to speak some Spanish if you plan on riding the public bus since most drivers and ticket booth operators don't speak English.
Invest in Travel Insurance
Paying out of pocket for trip interruptions or medical treatment will add to what might already be a stressful situation. We always travel with SafetyWing travel medical insurance.
The best part is that it costs only a fraction of what most insurance policies charge, which makes it perfect for digital nomads, long-term travelers (like us), and budget travelers. It only costs $45 USD per 4 weeks!
To start coverage, you must purchase it after leaving your home country. We usually purchase it as soon as we land at the airport.
Since using SafetyWing we've been reimbursed thousands of dollars when we've gotten sick. During the pandemic, they've even gone as far as to pay for our last-minute flights back to Canada from Colombia before the border closed!
You can click here to get a quote and read all the details!
Pura Vida!
Now you should be all set to decide where to stay in Montezuma. There are so many amazing hotels in Montezuma, you really are spoiled for choice. If you choose any of the ones I mentioned above then you're sure to be impressed!
I hope you found our blog helpful. You probably will find our blog about the best things to do in Montezuma super useful too! Be sure to have a look around our website for more in-depth guides about exploring Costa Rica or check out these few below.
Things to know about going whale watching in Costa Rica
Best coffee tours in Costa Rica