This blog may contain affiliate links. Read our disclosure policy for more info.
The Nicoya Peninsula is the largest peninsula in Costa Rica and includes two of the most visited provinces in the country – Guanacaste and Puntarenas. Its popularity lies in the fact it's one of the top surf destinations in Costa Rica, and it exudes a laid-back, hippie vibe that so many people flock to so as to escape from the real world.
On this stretch of the Pacific Coast, there are miles upon miles of sandy beaches, charming surf towns, and epic activities like ziplining, scuba diving, fishing, and horseback riding. And did I mention the world-class surfing here? If you're big into surfing, you just have to visit the Nicoya Peninsula!
To help you plan your upcoming vacation to the Nicoya Peninsula, here are 7 of the most popular towns to visit on the peninsula and 15 of the best activities. I've also included a detailed guide on the region, including the best hotels to stay at and how to easily get around the peninsula.
Don't have time to read the full article? Santa Teresa is one of the most popular spots to visit in the Nicoya Peninsula. We recommend staying at Santa Teresa Surf Vista Villas, a gorgeous hotel with breathtaking views. Santa Teresa is famous for its surf breaks, which you can also enjoy after taking a surf lesson – like this highly-rated one.
About the Nicoya Peninsula
The Nicoya Peninsula is one of only five Blue Zone areas globally, which means that people here live the longest and are among the healthiest people in the world. This healthy, laid-back lifestyle attracts thousands of visitors every year to this 121-kilometer-long (75-mile) stretch of land on the Pacific Coast of Costa Rica.
This area includes Guanacaste and Puntarenas provinces and is notorious for epic surf, chilled-out beach towns, and fun adrenalin-pumping activities like ziplining and ATVing.
Some noteworthy towns here include Santa Teresa, Nosara, and Samara – all large towns with lots of restaurants, hotels, and activities.
Nosara is a more upmarket town with a great surf beach (Playa Guiones), and it's also known worldwide as a great place to practice yoga.
Santa Teresa attracts a younger crowd, and as a result, it's a great place to party and surf – some of the best waves in Costa Rica can be caught at "Suck Rock" or Playa Hermosa near the town.
In contrast, the small town of Samara has a more hippie vibe and is home to the gorgeous and secluded Playa Izquierda.
Some smaller towns on the Nicoya Peninsula include Montezuma, Paquera, Playa Ostional and Manzanillo.
Without a doubt, the Nicoya Peninsula is one of the most popular destinations home to some of the best things to do in Costa Rica.
Getting around the Nicoya Peninsula
Most tourists come to the Nicoya Peninsula from San Jose, the closest large city to the peninsula and where the San Jose International Airport is located. With that said, you can also access the Nicoya Peninsula from Liberia with the distance being very similar.
The fastest way to get to the Nicoya Peninsula from San Jose and Liberia is to hop on a short flight from either airport to Tambor Airport, and these flights operate several times per day and will take just 30 minutes. The flights are operated by Sansa Air – Costa Rica's domestic air carrier. Expect to pay around $120 USD for each flight one way. Please note, Tambor Airport is located in the south of the Nicoya Peninsula and is the only airport in the area.
If you have a rental car, you can easily drive to the Nicoya Peninsula from San Jose; you will need to go on Route 27 for two hours to Puntarenas and then hop on an hour-long ferry to Paquera. Adobe Cars is my go-to car rental service in Costa Rica and they have a pick up location in San Jose!
Once in Paquera, head to the town of your choice. If you don't have a rental car, you can hire a private driver or catch a cab, but this can be costly!
This shuttle from San Jose is a great option to take you anywhere on the Nicoya Peninsula from San Jose International Airport. It also operates up and down the peninsula, so you can book it to get between the towns here; it's comfortable, reliable, and reasonably priced.
From Liberia, you can do the same. This specific shuttle will take groups from Liberia Airport to most locations on the Nicoya Peninsula including Santa Teresa, Samara, and Nosara.
Once you've arrived on the Nicoya Peninsula, you will notice that the roads here are in bad condition, and so if you want to drive yourself, you will need to rent a 4WD car. Alternatively, there's a daily shuttle service between the towns here that is operated by Tropical Tours Shuttles (based in Santa Teresa); you can check availability and prices on their website. I have used them a lot, and they are reliable!
For getting around each town, there are known locally as 'collectivos,' a shared taxi system typically operated in a small bus or minivan. They are sparse in some smaller towns like Montezuma and Paquera but are readily available in Santa Teresa, Samara, and Nosara.
It's worth noting that most of the towns here are small, so they are easily navigated on foot or you can rent a scooter/ ATV. This is my personal choice when visiting as it's super convenient!
Public buses operate on the hour between Santa Teresa and Cobano and Montezuma and Cobano, stopping several times along the way. There is also a public bus between Samara and Nosara, which is easy to use. When traveling between towns such as from Montezuma to Nosara though, these routes are very complex and take a lot of time, so taking a shuttle is best.
Remember, even though a place looks close on a map, many of the coastal roads cross rivers and are not commonly used. For this reason, please plan ahead and reach out if you have any questions about specific routes.
Best Time to Visit the Nicoya Peninsula
The best time to visit the Nicoya Peninsula for a relaxing holiday is during the dry season from December to April. During this time, the weather is beautiful and the towns are filled with visitors.
Of course, this means you must book your trip in advance – especially accommodation. You should also consider making dinner reservations at popular restaurants over the Christmas and New Year periods.
The wet season on the Nicoya Peninsula runs from May until November, and this is known as the best time to surf. It is also much cheaper to visit the Nicoya Peninsula during this time!
For more info, check out my guide on the best time to visit Costa Rica.
Most Popular Places to Visit on the Nicoya Peninsula
1. Montezuma
Montezuma is a small town yet to break onto the busy tourist trail in Costa Rica. Although it still receives a healthy dose of tourism, Montezuma has held onto much of its authentic laidback Costa Rican vibe compared to Santa Teresa, Samara, or even Nosara. This makes it a great place to visit!
Despite being such a small village, Montezuma offers some great things to do. These include tours to spectacular islands, beautiful waterfalls, and even two nature reserves nearby!
One of the most popular things to do from Montezuma is to go on a day trip to Tortuga Island, a small island within the Islas Negritos Biological Reserve. It's home to fantastic snorkeling, white sand beaches, and many coconuts! Tortuga Island is just a 45-minute boat ride from Montezuma. The boat journey is so scenic, and you'll be spoiled with fantastic views (you'll also get to see Cocalito Falls!)
The snorkeling here is the best I have seen in Costa Rica – even better than Caño Island! After this, the boat drops you on Tortuga Island for a delicious lunch and plenty of drinks (beers, juice, and pop.) You'll have a few hours to relax, play volleyball, kayak, or drink many coco locos.
Another fantastic day trip from Montezuma is to visit the stunning (and free) Montezuma Waterfall. In fact, this is one of the few free waterfalls you can see in Costa Rica. It's an easy walk from town to the falls.
One of the most relaxing things to do in Montezuma is simply to chill on Montezuma Beach, the main beach in the town. During the day, it's filled with beachgoers, and at sunset, it feels like the entire town is on the beach. And at night, people party around bonfires until the early hours. It's easily one of my favorite beaches in all of Costa Rica!
After you're done exploring, there are plenty of great restaurants to check out in Montezuma including one of the best Italian restaurants in Costa Rica!
Montezuma is the perfect place for the laid-back hippy type who want very little traffic, chilled vibes, and limited services. I personally love Montezuma – it is a highlight of the Nicoya Peninsula!
Where to Stay in Montezuma
Luminosa Montezuma Hostel – $
For budget travelers, Luminosa Montezuma Hostel is the top choice in town. Although located a short walk from town, the hostel is right on the beach in a beautiful area of Montezuma.
Rooms options include both shared dorms and private rooms. Rates begin at $30 USD/night. You can book the hostel on Hosteworld here or Booking.com here.
Hotel Cabinas Mar Y Cielo – $$
Another great place to stay is Hotel Cabinas Mar Y Cielo which falls into the low to medium budget category. Again this hotel is located right on the beach, and their rooms come with sea views which I love
All of the rooms have private bathrooms. Rates begin at $72 USD/night. You can make reservations online here on Booking.com.
For more info, check out our guide on where to stay in Montezuma!
2. Santa Teresa
This small coastal town is built along Santa Teresa Beach – which is notorious in the surfing world. In fact, it attracts thousands of surfers every year!
With that said, Santa Teresa is so much more than just a surf town. These days it's the ideal place for a beach getaway with lots of cafes, restaurants, and beach clubs. On top of that, there are a ton of awesome things to do in Santa Teresa, and these include exploring nature reserves to practicing yoga!
The entire town lines one long street that stretches from South Santa Teresa to North Santa Teresa. Walking from one end to the other is a challenge. In fact, the entire street is over 3 kilometers (1.8 miles) long. However, there are no sidewalks, so walking along the highway can be dangerous and not overly pleasant. This is why renting an ATV or side by side has become the best way to get around Santa Teresa.
You can pretty much surf all up and down the coast at Santa Teresa. High tide is always the best time which is also when it's most crowded. A few popular surf breaks include "Suck Rock," across from Red Palm Villas and Resort.
A small point break I love is located to the south of town near Mal Pais. To find it, drive to this point and then walk right along the beach. You'll eventually come to a small secluded bay. Here you can paddle out and surf the wave that hugs the rocks to the left of the bay. This point break is only surfable at high tide, but you can often surf here without the crowds.
For those with experience, there are so many places to rent surfboards in town so bringing your own board is optional. If you'd prefer to learn from a professional, this specific lesson is top-rated in Santa Teresa and comes with go pro photos/ video, your board rental, and a rash guard UPF 20+.
Overall, Santa Teresa is a trendy town that's often packed with tourists. Although it still has a laid back vibe it is certainly getting busier each year, and to be honest, this has turned me off visiting recently.
Where to stay in Santa Teresa
Lost Boys Hostel – $
For budget travelers, I love Lost Boys Hostel. They have reasonably cheap dorm rooms, but the hostel is fantastic! Huge pool, restaurant, kitchen, treehouse, and friendly atmosphere. On top of that, they host a ton of events and tours. The location is also central, so you're not too far from anything.
Rates for a dorm start at about $36 USD per night. You can check availability and book on Hostelworld here.
Santa Teresa Surf Vista Villas – $$
Those with a larger budget can find some really great hotels in Santa Teresa. If you don't mind being up on a hill, Santa Teresa Surf Vista Villas is such a gorgeous hotel because of the breathtaking views. They have a pool overlooking the ocean and offer yoga classes.
The rooms are also clean and comfortable – especially for the price! Rates begin at $77 USD/night. You can reserve a room in advance here on Booking.com, here on Hotels.com, or here on Expedia.
For more info, check out my guide on the best places to stay in Santa Teresa!
3. Samara
The sleepy coastal town of Sámara is often the go-to choice for a family getaway on the Nicoya Peninsula. The town is rather quiet and very safe which I love. It's also a great place to try your hand at surfing. That's because Sámara's rather protected bay means the swells here are much calmer than nearby towns such as Nosara and Santa Teresa.
On top of that, Sámara is home to tons of amazing things to see and do. A short drive out of town has you exploring waterfalls in the mountains, and on a short trip out to sea, you can snorkel with marine life or enjoy a cocktail on a sunset cruise. Sámara really is a top choice!
Although Sámara Beach is much calmer than other surf towns, there are still some waves to surf. The best part is that beginners can relax and enjoy the surf a lot more because the waves in Sámara are smaller and much lighter.
The best time to surf in Sámara is at high tide, and during this time, the water is busy – especially if the high tide is at sunset! If you're an experienced surfer, you can rent surfboards on the beach.
A hidden gem in Samara is Izquierda Beach, a 45-minute walk from the town. The beach is typically people-free and what's super-cool about this beach is that when the tide goes out, there are lots of little tidal pools to swim in and relax in.
If you love waterfalls, I highly recommend visiting Belen Waterfall, which is around 25 minutes from Sámara by car. There are some small pools at the top of the waterfall to relax in, and it's a beautiful place to spend a few hours.
On the beach in Samara, you'll find tons of fantastic restaurants and beach clubs. The town certainly focuses on local produce and you can really tell with the fresh ingredients.
I personally love visiting Samara and enjoy the small-town feel with very little traffic. It's one of those places you can visit barefoot and still explore!
Where to stay in Samara
Las Mariposas – $
If you're on a budget, there are many options, but not many are good. Las Mariposas is my top choice, with its location only 100 meters from the beach. The hostel has a great atmosphere for meeting other travelers and is suited for the social backpacker.
Rates begin at $33 USD/night.You can book this place here on Hostelworld or here on Booking.com.
Hotel Entre Dos Aguas – $$
If you consider yourself a mid-range traveler, then I actually have a great choice for you (catering to couples and families). Hotel Entre Dos Aguas is a rustic hotel with simple amenities on a beautiful property. Perfect for those who want a true Costa Rican stay.
Rates begin at $60 USD/night. You can book a room at Hotel Entre Dos Aguas here on Booking.com.
For more info, check out our guide on the best places to stay in Samara!
4. Nosara
Over the years, Nosara has changed from an off-the-beaten-path surf break to a bustling tourist town a little more bougie these days than hippy. Of course, this won't suit everyone because the cost of staying in Nosara can be expensive. However, with epic surf almost all year round and a safe environment for visitors, Nosara is a top destination for surfers, families, couples, groups, and, well, everyone!
The number one reason people started coming to Nosara in the first place was because of the beach breaks at Guiones Beach. There are both left and right waves on Guiones, and with 7 kilometers of beach, there's plenty of space for everyone.
There are waves to surf all year round. However, the best time to surf in Nosara is from March to November. This also happens to be the low season, so avid surfers enjoy the lower prices and lack of people. If you're a new or inexperienced surfer, it's best to do a lesson in Nosara. The swells here can be large, and having a guide with you, at least on your first time, is a great idea. As you can imagine, the town is filled with surf schools.
One of my favorite beaches along this coastline is Playa Pelada which lies to the north of Guiones Beach. Here, there are tidal pools to the north of the beach and a blowhole to the south that shoots water into the air and makes a lot of noise.
The best spot in Nosara to refuel for the day ahead is at Destiny Cafe. This popular cafe serves up delicious breakfast and brunch meals with local ingredients and unique twists. It's the best restaurant in Nosara in my opinion!
On the other hand, if you're looking for an amazing place to enjoy a meal or sunset drink in town, look no further than La Luna. The restaurant has an oceanfront location on the south end of Playa Pelada; that's stunning!
Nosara certainly doesn't have the hippy backpacker vibe like Santa Teresa and Montezuma, it's a high-end destination and to me, rather expensive. For this reason, my visits are usually short but I still absolutely love the town!
Where to stay in Nosara
It's important to remember that you want to stay near Playa Guiones, not in Nosara. The town of Nosara is not near the beach and is also not where all the best restaurants and shops are. They are all in a small downtown area near the beach.
Selina Nosara – $$
For budget travelers, stay at Selina Nosara. Although this hostel pushes into the medium-priced category, it's worth spending the extra money. The hostel has a beautiful pool and tons of free activities every day. This is without a doubt the nicest hostel I have ever seen!
Rates begin at $68 USD/night for two guests. You can book this hostel on Booking.com here, Hostelworld here, Hotels.com here, or Expedia here.
The Sunset Shack – $$$
Your options are much better for those with a little more to spend. My top choice is The Sunset Shack for around the $250 USD a night price range. The hotel is perfectly located, close to the beach, and has a pool.
The property is an old-school surf camp, which gives it a fun atmosphere. You can check availability and book a room online here on Booking.com, here on Hotels.com, or here on Expedia.
There are lots more places to stay so if you want more suggestions, check out our where to stay in Nosara blog.
5. Paquera
Paquera is a small town on the southernmost tip of the Nicoya peninsula and has made its name by being the place from which many tourists catch the ferry to the Puntarenas. It's a pity that most tourists just pass through this authentic Costa Rican town as, despite its small size, there's a surprising amount of awesome activities on offer here.
From visiting nearby Isla Tortuga to exploring remote beaches and fishing, there's an activity for every type of traveler here in Paquera.
Paquera is the closest (and the cheapest) place to hop on a tour to the famed Isla Tortuga, aka Tortuga Island. As detailed earlier, this small island is home to white-sand beaches and some of the best snorkeling in Costa Rica – you're likely to see angelfish, moray eels, needlefish, and even spotted eagle rays. This particular snorkeling tour is highly recommended, and the boat departs from Playa Paquera (the main beach in town) and costs $50 USD per person.
Playa Organos is an isolated, hard-to-reach gem of a beach an 18-minute drive from Paquera. The beach doesn't have many facilities, there are no toilets and just two small shacks on the beach, but it's stunningly beautiful and a great spot for a swim thanks to the clear, calm waters!
Fishing is a popular activity here, and you can catch huge fish like sailfish, marlin, and tuna in the waters surrounding the town. In fact, booking a tour is the only way to try offshore fishing, and these leave the Paquera ferry landing at 7 am daily. For those with a keen interest in fishing, it's a must-do!
If you want to enjoy a unique experience, consider joining a bioluminescent plankton tour. These are famous in Paquera and can't be done in many towns around Costa Rica. It's one of the best things to do in Paquera!
Where to stay in Paquera
El Gecko Hotel – $
For budget travelers, El Gecko Hotel is a social place to stay with a large garden with BBQ facilities and a lovely shared lounge. Some of the rooms even have a small kitchenette and fridge, so it's a great option if you plan on spending a few nights in Paquera.
Rates begin at $35 USD/night. You can book it on Hostelworld here, Booking.com here, Hotels.com here, or Expedia here.
Eco Boutique Hotel Vista Las Islas Reserva Natural – $$
If you're after a more luxurious option in Paquera, then why not consider Eco Boutique Hotel Vista Las Islas Reserva Natural, which has an infinity pool, private beach access, and views of the Gulf of Nicoya and the surrounding mountains. Accommodation here is bungalow-style and is spacious (all rooms come with a private balcony too!)
Rates begin at $158 USD/night. You can book a room here on Booking.com, here on Hotels.com, or here on Expedia.
6. Playa del Ostional
Playa del Ostional is home to one of the most amazing wildlife phenomena in Costa Rica. An arribada, as it's called, is when hundreds of turtles come to shore to dig and lay their eggs on a beach at once. Playa del Ostional is a 20-minute drive (9.9 km) from the town of Nosara and people typically only visit for the day.
From Nosara, you can join a tour to the reserve for $60 USD per person. These leave very early in the morning or after dark and visit the beach during the arribada. You can literally see hundreds, if not thousands, of turtles at the same time. It's one of the best experiences in Costa Rica! However, these tours pretty much only include transport to and from the beach. You can easily book these tours when you arrive in town; there is no need to book in advance.
However, if you want to learn (in-depth) about the turtles and the arribada, book your tour with the Wildlife Conservation Association. Their tour involves talking with an expert about the phenomena, transport, and a guided tour on the beach. This costs $150 USD but is the best experience available.
Additionally, Playa Ostional is a popular surfing beach, and some nice waves can be caught here!
Where to stay in Ostional
Cabinas Arribadas – $
There are limited accommodation options in Playa Ostional, but Cabinas Arribadas is a great, reasonably-priced option just 700 meters from the beach. It also features a restaurant, a large garden, and a shared lounge. The rooms here are shared dorm-style.
Rates begin at $70 USD/night for two guests. You can check availability and book online here on Booking.com.
Villas Punta India – $$
Another option is Villas Punta India which is a little further from the beach (a 12-minute walk away), the villas here are spacious and stylish, and there's also an outdoor pool and restaurant.
All of the villas have a terrace where you can enjoy the views. Rates begin at $95 USD/night. You can check availability and book online here on Booking.com, here on Hotels.com, or here on Expedia.
7. Manzanillo
Located just a 20-minute drive away from Santa Teresa, Manzanillo is known for its beautiful white sand beach as well as its snorkeling and scuba diving opportunities. It's a popular spot with locals and doesn't attract too many tourists – which I think is a shame because it's one of the best beaches on the Nicoya Peninsula, in my opinion.
At low tide, it's best to avoid the water at Manzanillo beach because there are many rocks and an exposed coral reef. But at this time, you can walk over the rocks to a shallow lagoon, which is a great spot for snorkeling. If you want to swim, then head to calmer waters 10 km (6.21 mi) north at Playa Ario. Along the way, you will come across the Caletas Ario Wildlife Reserve, a unique area that protects sea turtles.
There's a small beachside restaurant here; that's a great spot to watch the sunset from. A kilometer away from the beach is a small village called Belo Horizonte, which has two grocery stores.
Where to stay in Manzanillo
CalaMocha Lodge – $$
There aren't any hotels in Manzanillo, but there is a lovely lodge near the village of Belo Horizonte called CalaMocha Lodge. It's a 4-star property with an outdoor pool, and each room has a private balcony. It tends to close at certain times of the year, so it's best to check availability well in advance.
Rates begin at $121 USD/night. You can book a room here on Booking.com.
15 Best Things to do on the Nicoya Peninsula
1. Go surfing
Surfing is one of the most popular things to do on the Nicoya Peninsula, and there is certainly no shortage of surf spots. One of the best is Santa Teresa which is a well-known surf beach with great waves all year round. Surfers from all over the world come for the laidback lifestyle, cheap rentals, and pumping surf breaks.
Some of the best surf breaks in Santa Teresa include what is known locally as "Suck Rock". Another good surf spot close by to this is La Lora, which can get very busy at high tide. For beginners or those less-than-confident on a board, check out Playa Hermosa for some gentle waves, or consider this specific lesson is top-rated in Santa Teresa. Renting a surfboard from Santa Teresa town costs $10 USD for 24 hours.
72 kilometers (45 miles) from Santa Teresa (a 2-hour drive away) is Sámara Beach, where there are much calmer waves to be caught. It's the perfect place for beginner surfers, in my opinion. You can easily rent boards on the beach; a 1-hour rental starts at $4 USD per hour and $15 USD for the entire day. But, high-performance boards cost more. It's best to go surfing in Samara at high tide but beware; it can be really crowded.
Another top surfing destination on the Nicoya Peninsula is Guiones Beach, a 17-minute drive (7.4 km) from the town of Nosara. Here, surfers from around the world descend upon this 7 km (4.3 mi) stretch of beach to enjoy the left and right waves. You can easily rent a surfboard in town and prices are similar to other towns on the peninsula, and start from $10 USD for 24 hours.
And finally, from the town of Montezuma, it's best to head further north to Playa Grande or to the south to Playa Cabuya. That's because the main beach in Montezuma town is very rocky and not suitable for surfing. If you don't have your own board with you you can rent one from Playa Grande or Montezuma beach.
Regardless, surfing should certainly be at the top of your Nicoya Peninsula bucket list!
2. Visit Tortuga Island
Tortuga Island is one of the top destinations in all of Costa Rica and is an incredibly popular day-trip option for tourists to the Nicoya Peninsula. Tortuga Island (also known as Isla Tortuga) is one of the best snorkeling and diving spots we've ever visited! It's a must-visit for nature-lovers when visiting the Nicoya Peninsula!
Montezuma is, in my opinion, one of the best places to join a tour to the island because of its close proximity to Tortuga Island. It's only a 45-minute boat ride away! The tour includes stops at not one but two snorkeling spots – where you can get up close to turtles, sharks, and tropical fish. On the tour, you will be treated to lunch on the island, and you can play volleyball or go kayaking before heading back to Montezuma.
You can also easily visit Tortuga Island from Paquera and Santa Teresa. As a matter of fact, the closest town to the island is Paquera, and many of the tours from here are great value for money. A popular guided tour option is this one from Paquera; it's a small group tour and costs from $55 USD per person – allow up to 6 hours for this tour.
If you want to try scuba diving on this magnificent island, then, be sure to book a tour with Zuma Tours, their tours leave from Montezuma Beach.
3. Explore the Montezuma Waterfalls
Montezuma Waterfalls is one of a small number of free waterfalls you can visit in Costa Rica. You can easily walk to Montezuma Waterfalls from Montezuma town. There are three waterfalls here (lower, middle, and upper). The lower falls are the easiest to get to and involve walking along the right-hand side of the river for 20 minutes until you reach the waterfall. Although easy to get to, the lower falls are not the best place to enjoy a swim.
Instead, walk back the way you came from the base of the lower falls around 100 feet (30 meters) and cross the river (you can do so over some rocks.) On the other side, you'll see some ropes and eventually some steps. Walk up these steps, always keeping right whenever two directions appear. This brings you to the upper waterfalls and a great place to enjoy a swim. But this still isn't the best place to swim!
From the top, you want to climb down to the middle waterfall, which is to the right. If you walk to the far side of the river, you'll see ropes that help guide you down. It's not a hard climb, but those with mobility issues should not attempt it. Once down the bottom, you'll be in a gorgeous infinity pool above the lower falls! It's so beautiful!
Although visiting Montezuma Waterfall is free, there is a 1,000 colones ($1.90 USD) fee (cash only) to use the trail up to the upper waterfalls. Be sure to bring suitable footwear and be prepared to get them wet.
I should note that a day trip to the falls is also one of the most popular things to do from the nearby town of Santa Teresa (a 40-minute drive away). You can reach the falls from Santa Teresa either by bus or ATV and trust me, it's worth the effort!
4. Go fishing
If you're a fan of fishing, then the Nicoya Peninsula is the perfect spot in Costa Rica – in the waters here, you can expect to catch anything from tuna, mahi-mahi, wahoo, and snapper! The offshore fishing opportunities here are world-class.
The fishing on the Nicoya Peninsula is year-round, but the best months are between December and April for sailfish, and tuna and mahi-mahi are more commonly caught from September to January.
One of the best things to do from Santa Teresa is to go on a fishing trip because you can catch some huge fish like the ones mentioned above. What's great too is how cheap it is – you can expect to pay $40 USD per person. This particular tour is an inshore fishing charter for only $300 USD for up to 6 people. That means with a full crew, it's about $50 USD per person! Your captain will know what fish to go for depending on the time of year, currents, and tides.
Paquera is another ideal spot to go on a fishing tour; here, you can fish both the waters of Cabo Blanco and Quepos. Most of the fish are caught by trawling, and the abundance of fish can be found 20-35 miles from the shore.
Why We Book Tours with Viator
Viator is a trusted online booking system for tours around the world! We almost always book our tours using Viator for a couple of reasons:
Free cancellation on most tours – Most of the tours on Viator allow you to cancel and get a full refund up to 24 hours in advance. This is handy in case plans change, or if booking an outdoor activity, the weather forecast is looking grim.
Reserve now and pay later – You can secure your spot on some of the most popular tours well in advance and not pay until closer to the day of the tour.
Pay in your chosen currency – Avoid costly international transaction fees by choosing to pay in your home currency.
Peace of mind – When booking with tour operators you find in person on the street or in small booking offices, you are often promised one thing and given another. This online platform holds tour operators accountable with a written description of inclusions as well as the opportunity for customers to leave reviews.
Check out the Viator website here!
5. Practice Yoga
Yoga is not only good for building strength and stretching out your sore muscles from surfing, but it's also incredibly relaxing. I myself love yoga and do it as often as I can when visiting the Nicoya Peninsula. Both Santa Teresa and Nosara offer plenty of different yoga classes; I've tried yoga in both these towns and highly recommend trying this relaxing sport for yourself!
In Santa Teresa, hostels such as Selina (both the north and south locations) offer classes for $15 USD. These are great if you're just looking for a cheap drop-in class. Another studio that offers drop-in classes is Horizon Hotel & Yoga Center. A single session is $15 USD, and they have a class at 9 am. They also have a rooftop studio, so the views are breathtaking!
If you want a more intimate experience, Monkey Adventures Surf SUP Yoga offers private lessons as well as SUP Yoga and silk classes. Expect to pay around $90 USD for these classes.
Those looking to immerse themselves in yoga should check out some of the retreats in Santa Teresa. Believe Surf & Yoga Santa Teresa is one of the most popular, and they offer very reasonable packages, such as their four-night all-inclusive package for only $450 USD. They also have a budget 7-night retreat for $550 USD (based on one person.)
The town of Nosara is known as a health and wellness hub, and yoga studios are dotted all over Nosara. There is a range of programs, from drop-in classes to full-on yoga retreats and even yoga courses.
Nalu Studio is an excellent option if you're just a part-time yogi like myself. They have regularly scheduled community classes almost every day. They also have breathwork, meditation, and fitness classes. All classes cost $20 USD for drop-ins.
If you're more serious about yoga, Bodhi Tree Yoga Resort offers regular yoga retreats that last for a week. They certainly aren't cheap, but they include your lodging, three meals a day, and 2 to 3 yoga sessions per day. They also have daily classes open to the public.
Regardless of your experience or passion for yoga, you can find a class in either Santa Teresa or Nosara to suit your needs!
6. See wildlife in Cabo Blanco Nature Reserve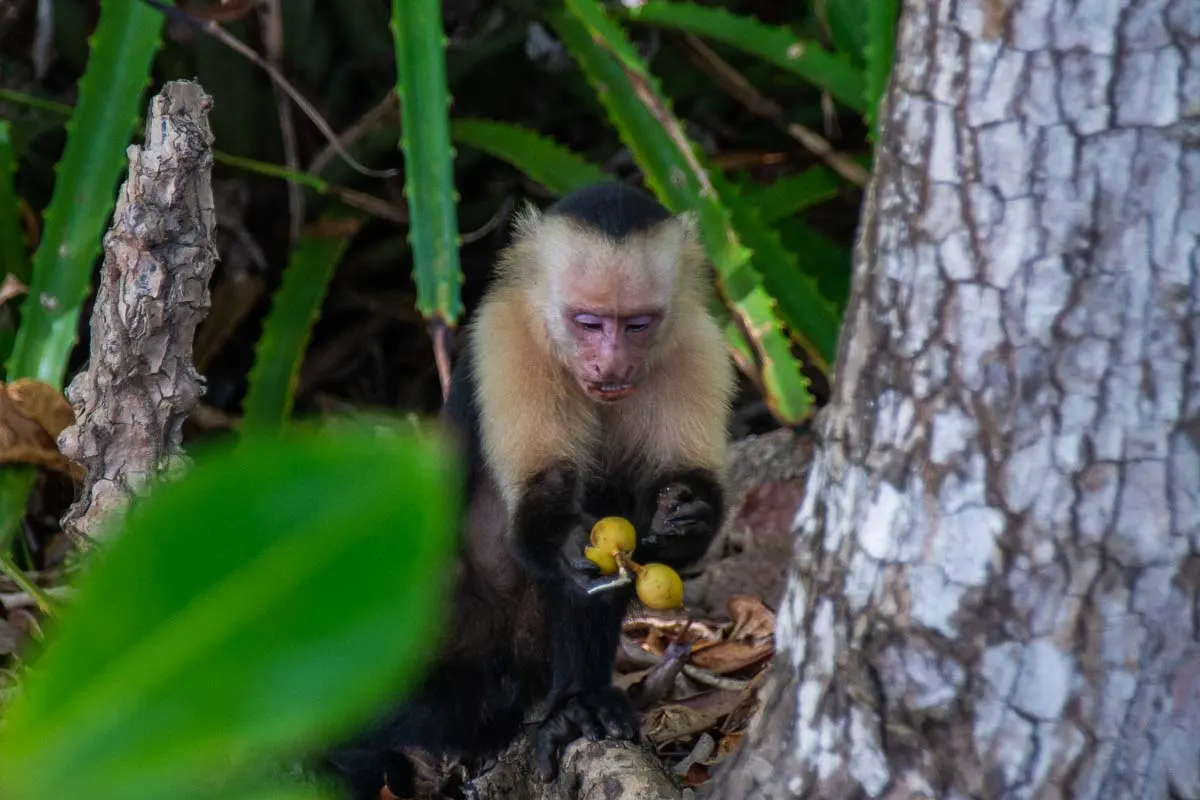 Did you know that Reserva Natural Cabo Blanco is the first-ever protected area in Costa Rica? The nature reserve was created by Nicolas Wessberg (from Sweden) and Karen Mogensen (from Denmark).
Cabo Blanco is located a short drive or bus ride from Santa Teresa or Montezuma in the town of Cabuya. You can easily get there by public bus, or if you have an ATV, you can drive.
You can explore the reserve via two hiking trails. The first one is the Danes Trail which leads through the forest in a loop not far from the ranger station. The trail is only 1.2 miles long (2 kilometers).
The second is the more popular Sueco Trail. The Sueco Trail is the main reason to visit the park, and it's a 3.1 mile (5 kilometers) walk from the ranger station to Playa Cabo Blanco (10 kilometers/6.2 miles return). The trail takes just over an hour each way.
Along both trails, you can see various wildlife, including monkeys, bats, butterflies, birds, ants, and lizards. It's also home to lots of wildflowers and beautiful trees. Wildlife lovers will be in paradise at Cabo Blanco Nature Reserve.
It costs $12 USD to visit the park, and it's open from 8 am to 2 pm Wednesday to Sunday (closed Mondays and Tuesdays.)
7. Go ziplining
One of the most unique and fun ways to take in the scenery and get amongst the wildlife on the Nicoya Peninsula is on a ziplining tour. You can try out this fast-paced activity from Santa Teresa, Nosara, and Montezuma!
One of the best ziplining adventures on the peninsula is located near the town of Santa Teresa; in fact, it's just a 10-minute drive away from the town. Imagine soaring high above the treetops with epic views of the ocean! That's exactly what you get on this eight-cable ziplining tour with Zuma Tours.
The tour includes eight ziplines; would you believe one of the ziplines here is over 500 meters (1,640 feet) long! The ziplines can go pretty fast; you're sure to get your adrenalin fix here. The best part is that the ziplining costs only $55 for adults and $50 USD for children without transport. If you need a ride to Mal Pais, add $15 USD to each person (it's cheaper to get a taxi!) The tour is also suited to all ages, and no previous experience is required.
Alternatively, if you're staying in the town of Nosara you can easily join a canopy tour from here. On this tour, operated by Miss Sky, you'll get to see Nosara from above and explore the dense jungle that occupies the mountainsides. This particular tour is the longest in the world at 11 kilometers (6.8 miles). You'll do 21 ziplines on the tour that are on average 500 meters (1,640 feet) long. The tour also includes a stop at a waterfall and finishes with a zipline into a five-story building. Prices start from $75 USD per adult and $50 USD for children aged between 5-12.
And finally, in the hills of Montezuma lies a nine-wire ziplining course operated by Sun Trails. On this tour, you'll travel above the treetops with magnificent views and the chance to see wildlife such as monkeys. It also includes a stop at Montezuma Waterfall (upper falls) to cool down for 30 minutes. The tour is top-rated and easily one of the best things to do in Montezuma. What's great too is that it costs just $50 USD per person.
If you haven't been ziplining in Costa Rica yet, the Nicoya Peninsula offers the perfect chance to try out this unique sport!
8. Scuba diving
There's some awesome diving on the Nicoya Peninsula, and that's coming from someone who's dived in some of the best sites around the world. In my opinion, it's best to base yourself in the town of Santa Teresa if you want to try out this unique sport. You can also go scuba diving at Tortuga Island!
Santa Teresa is certainly an underrated dive town. There are some of Costa Rica's best dive sites around Santa Teresa just waiting to be explored!
There are two distinct seasons in Santa Teresa when it comes to ocean life. The first is from January to April, when you have a great chance of seeing huge manta rays. The other (and my favorite) is August to September when you can see humpback whales. Of course, all year round, you can swim with sea turtles, reef sharks, stingrays, and huge schools of fish.
Iguana Divers is the best company in Santa Teresa to dive with, and the dive sites they take you to are "secret spots," so no one else will find them without a GPS. They only take out small groups (around six divers), and two dive masters come with the group to lead the way. A standard two-tank dive costs $125 USD with Iguana Divers.
Similarly, you can easily add on diving to your Tortuga Island tour – the dive spots here are excellent! Expect to see a ton of marine life and explore areas much deeper than the snorkel sites. If you're a keen diver be sure to book with Zuma Tours, their dive tours include everything you would expect from a scuba diving tour and one dive costs $150 USD. The tour lasts from 9 am to 4 pm, and departs from Montezuma Beach.
9. Horseback riding
If you want a really special experience on the Nicoya Peninsula, then exploring nature with a beautiful animal is a great shout. For highly-recommended horseback adventure, check out Ollie's Adventures horseback riding tours in Santa Teresa. And although they operate from Santa Teresa, they can take you anywhere on the southern tip of the Nicoya Peninsula, including Mal Pais, Hermosa, and Montezuma.
They offer a range of tours from 1 hour to 4+ hours, and their cheapest tour starts at only $68 USD. You can choose to have a relaxing ride on the beach, through the jungle, on a farm, or all three. It's the perfect way to explore and meet a new friend! The best part is Ollie looks after his horses really well. In fact, they work one month on one month off, giving them ample rest.
Another great place to try out horseriding is from the town of Nosara, as the entire area is filled with trails used to navigate the mountains, rivers, and dense jungle.
On this horseback riding tour, you'll head off with your newfound friend and explore the area for 1 hour. Along the way, you'll cross rivers, spot monkeys, and even take the horses for a shower afterward.
10. Party
The Nicoya Peninsula tends to attract a young and vibrant bunch of travelers from all over the world. Three of the best' party towns' in the region are Santa Teresa, Montezuma and Nosara. There are plenty of places to party in these vibrant towns!
On Wednesday and Saturday nights in Santa Teresa, Disco Bar La Brosy is the place to be. This local dive bar/ club packs out with locals and visitors who come to mingle and let their hair down. The bar isn't fancy, but they usually have live DJs and cheap drinks.
There's also a weekly jungle party in Santa Teresa that's usually held on Saturday nights. This epic party is held up in the mountains with live DJs. Literally, everyone in town goes, and it's so much fun. Info on its exact location and day changes, so you need to check with other travelers or local surf instructers for up-to-date details.
Other than that, the sunset parties at the beach clubs in Santa Teresa are also perfect. My favorite is Banana Beach (I mention below) because the drinks are reasonably priced, and the music is excellent. The beach clubs usually get quiet after dinner time, so be prepared to go elsewhere and save the late nights for Wednesday or Saturday.
In Nosara, the best place to party is at the Selina Hostel, which was supposedly a 5-star resort in its heyday. You can stay the night here (rooms are quite costly for a hostel) or buy a day pass for $20 USD. It's a pretty lively place to hang out and relax. Grab yourself some drinks from the bar, splash in the pool, or just relax and enjoy the sunshine. A day at Selina is a really fun time!
And finally, there is a misconception that Montezuma isn't a party place. Although that might be true during the week, some say that the party is better on weekends than in Santa Teresa! The number one party place is Chico's Bar, located right in the center of town; it has become the busiest place on weekends and has the best dance party!
If you're turned off by the price of drinks at Chico's, fear not; you can always party in the plaza (out the front of Chico's). In fact, the plaza often has more of the atmosphere I prefer on a night out. More laid back with lots of conversation and cheap beers that you can buy from the supermarket just up the road.
11. Drink craft beer
I just love craft beer and was excited to learn about the awesome breweries that have recently opened on the Nicoya Peninsula, including in the towns of Nosara, Montezuma, and Samara.
Guiones Brew Co. is located in Nosara, and although they usually only have a few beers on tap, what they do, they do well. Of course, my favorite is the IPA, but they also have a tasty Pale Ale. Guiones Brew Co. is known for its wood-fired pizzas too. They only cost $14 USD and are full of flavor – perfect with a craft beer. Guiones Brew Co. opens at 4 pm. However, nothing really happens until 5 pm (Pura Vida), so don't expect to order food much before then.
You can sit at the bar, which has limited seating, without a booking. But if you want a table during the busy season, it's best to book in advance.
Butterfly Brewing Co. near the Montezuma Waterfall is another great brewery on the peninsula. The beer here is really good, and they have a beautiful elevated deck surrounded by greenery. They typically have four beers on tap; I loved the IPA and Pale Ale especially. The brewery also serves food. Also, be sure to bring cash as they do not accept credit or debit cards.
2 Gringos Artisan Brewing is located in Sámara right in the middle of town. 2 Gringos is one of the best breweries I have visited in Costa Rica. On tap, you'll find a huge selection of beers, and during my visit, there were over 24 on offer! They ranged from hoppy IPAs, crisp pilsners, and fruity sours. Seriously, there is so much to choose it will take you a while to read about them all! I should note that 2 Gringos Brewing tasting room is located in Coco's Mexican Restaurant, so you can eat delicious tacos while you drink beer – it's a win-win!
12. Rent an ATV and explore
The Nicoya Peninsula is spread along 121 kilometers (75.2 miles) and the main road here travels from south to north – the most popular way to get around here is on an ATV. The freedom an ATV brings means you can explore hidden beaches, enjoy a day trip to a waterfall, and visit some awesome craft breweries.
You can rent an ATV from most of the towns on the peninsula; for example, in Santa Teresa, an ATV will set you back around $70 USD for 24 hours, but it does get cheaper the longer you rent one. A seven-day rental will only cost $50 USD per day. Pacific Dirt Road Quad Rentals and Tours is a good place to get your rental in Santa Teresa, and they also have side by sides and motorcycles. It's a great option if you want to get to places like Montezuma Waterfall and Cabo Blanco easily.
In the town of Samara, you can rent a scooter from El Cactus Scooter Rental for $35 USD for 24 hours. Hiring one is a good idea if you want to drive the short hour-long road from here to Nosara (there is a shallow river crossing) or drive something a little more suited to the mountain roads around Sámara.
An ATV rental in Montezuma costs $85 USD for 24 hours. With an ATV in Montezuma not only can you drive out to Cacalito Falls, Santa Teresa, and Cabuya, but it's also helpful in visiting the brewery and other restaurants further away from town. There are numerous vendors in Montezuma town to rent an ATV from.
While in Nosara, I recommend renting your ATV from Monkey Quads to visit some of the town's most popular sights including Mala Noche Waterfall and Pilas Blancas Waterfall. You can book on a guided tour with these guys too, which is a great option if you don't feel confident driving an ATV on your own.
To rent an ATV, you will need either an international license or a local license from your home country, as well as a credit card for the deposit. They'll supply you with a helmet, and it's also recommended to have sunglasses or goggles for the dust.
13. Go see the turtles at Playa del Ostional
Seeing turtles in Costa Rica is definitely a highlight! Thousands of turtles visit the Pacific coast every month to lay eggs on the pristine beaches, and visitors can see both adults laying eggs and babies hatching.
It will come as no surprise to you then that one of the most popular things to do on the Nicoya Peninsula is to go watch the turtles lay their eggs at Playa del Ostional.
Hundreds if not thousands of turtles come to shore to lay their eggs during the rainy season here, a week before a new moon. During this season, it happens once, if not twice a month. This phenomenon is known locally as an arribada!
From Nosara, you can book a tour to Playa del Ostional for $60 USD per person. These tours just include transport and not a tour guide nor food etc. There are lots of tour companies in town that sell these tours.
Alternatively, if you're after a more comprehensive tour, consider booking with the Wildlife Conservation Association, which also departs from the town of Nosara. Their tour includes return transport and a guided tour of the beach with a knowledgeable guide. This costs $150 USD per person plus a flat fee of $35 USD.
From Samara, you can book on this specific tour which visits one of three beaches – Playa del Ostional, Playa Camaronal, or Playa Corozalito to witness the turtles!
I should also mention that you can see turtles elsewhere on the Nicoya Peninsula at ASVO Sea Turtle Hatchery, less than 1 kilometer (.62 mile) from Montezuma town. At 4 pm daily you can watch baby turtles be released into the ocean. It's a fantastic experience.
14. Go boutique shopping
Don't come to the Nicoya Peninsula with a full suitcase; you need to leave room to bring stuff back! The boutique shopping in both Nosara and Santa Teresa is some of the best in Costa Rica, and there are a ton of local designers showcasing beautiful clothing and products in both towns.
Some of the best places to go boutique shopping in Santa Teresa are Pacific Wolf Factory, Brazilian Bikinis, and Santa Swimwear. There are also lots of other stores popping up every week, so take a walk down the main road and do some shopping! A great spot is near Selina Santa Teresa North.
Nosara, on the other hand, is filled with small boutique shops that sell clothing you probably wouldn't expect to see in a small beach town. I loved shopping at WLDFLWRS, which is connected to the brewery in town. Some other great places to shop include Love Nosara and MaderArte. These boutique stores are certainly not cheap, but the quality is high. The best part is, you'll be able to take something unique home with you!
I should also mention that despite not being as large as Nosara and Santa Teresa, there are still plenty of boutique shops in Sámara. Gypsy Boutique Sámara is one of my favorites and I purchased a gorgeous woven bag from here. Another cool place for handmade jewelry is located in the small food court where you'll find Rosa (a really good restaurant, by the way.) Unfortunately, it's not on Google maps, so just walk to Rosa to find it.
15. See Bioluminescent plankton
Paquera Bay is one of only a couple of places in the world where you can see bioluminescence at any time of the year. On this tour, you can witness this amazing sight up close on a boat tour after dark. You will spend an hour at gorgeous Isla Cedros before heading off to swim or snorkel in the glowing waters. It's truly a bucket-list experience! This tour is very reasonable and costs $40 USD per person. It lasts over 2 hours.
From the town of Paquera, you can join this hour-long unique kayaking tour in the dark, which will allow you to get up close to bioluminescence, which is essentially glowing algae on the surface of the water. It's so magical because each time you put your paddle in the water, the water will sparkle with bursts of light. This cool tour is operated by Bahia Rica Guided tour is suited to first-time or experienced kayakers. It's a small group with a limit of just 10 people.
Getting Around Costa Rica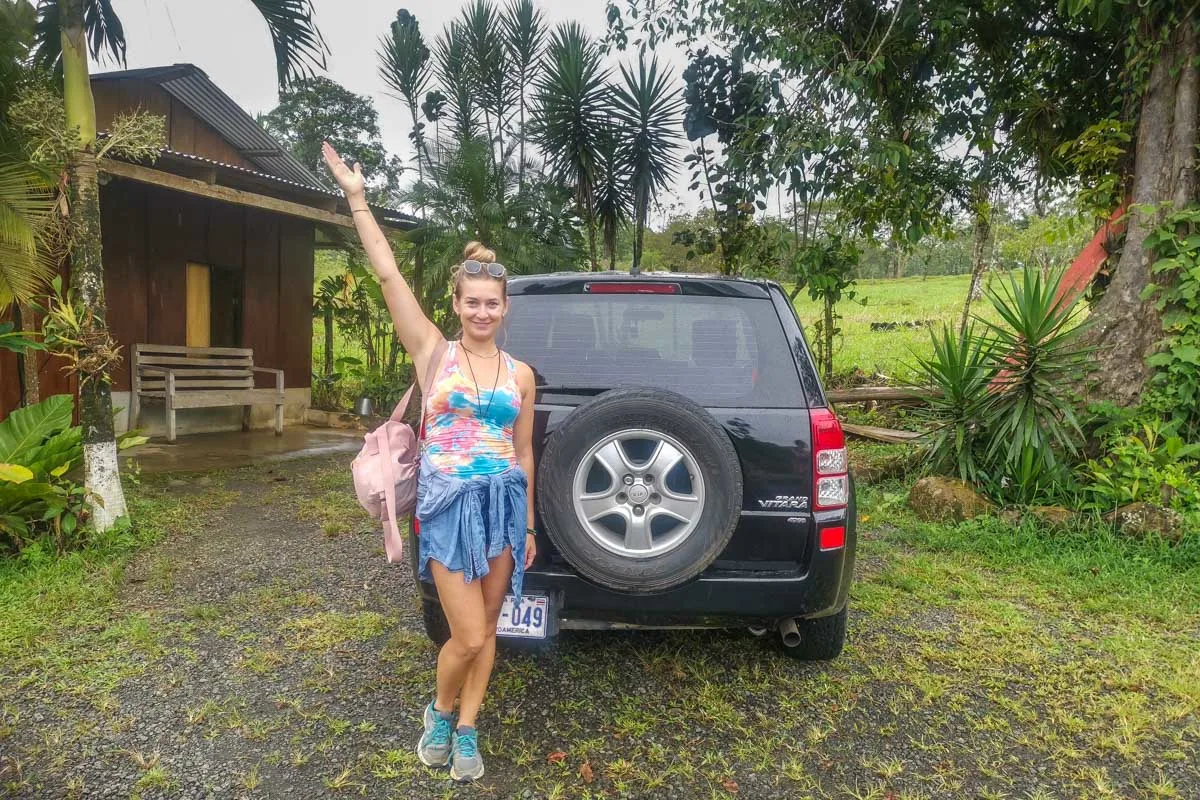 How you choose to get around Costa Rica is one of the biggest decisions you'll make when planning your holiday here! How you do it depends on your budget, travel style, and comfort level.
Renting a Car
Without a doubt, the number one way to explore Costa Rica is in a rental car. We book rental cars on the Discover Cars website as we have had good experiences with them in the past.
One of the things you need to watch for when renting a car in Costa Rica is the mandatory insurance that the government requires you to have. There are a lot of very cheap rentals that don't include this mandatory insurance (TPL) in the original booking price, but there are also ones that do. To avoid additional surprise charges when you pick up your rental car, be sure to rent a car that includes the mandatory insurance when you book.
Thankfully, on Discover Cars it's easy to tell apart the companies that include the mandatory insurance and those that don't. The trick is you can't pick any car on their website. In the picture below, you can see this rental car, with pick up in Jaco, includes the TPL. That means the mandatory insurance is included in the price. Any cover you get above that is extra.
Of course, I still suggest getting the full coverage offered by Discover Cars, which covers you even more.
You can browse cars on Discover Cars here.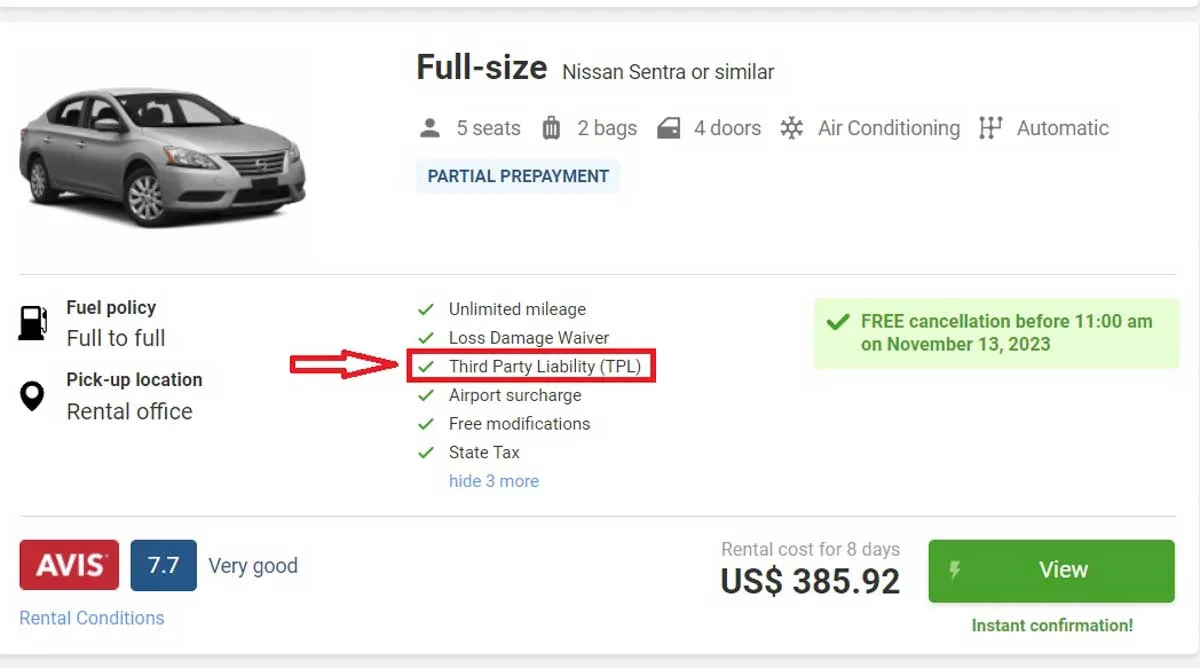 Adobe Rental Rent A Car is another rental company that we most often use in Costa Rica. We love them because Adobe has 15 offices around Costa Rica and delivers door-to-door around their offices at no extra cost. We also are pleased that all of their cars are new. In fact, they are never older than 2 years to the date. They are also the only company to include mandatory insurance and promise no hidden fees. You can get a free quote for a rental car from their website here.
Book Shuttles
If renting a car isn't in your budget, you don't feel comfortable driving in Costa Rica, or you just don't like driving, shuttles are the next best option. There are hundreds of shuttle routes available all over the country, and they are very affordable.
Shuttles in Costa Rica are specifically for tourists and often include pick up and drop off at your selected hotels and airports. The drivers also speak some English, and the vehicles have air conditioning. You'll also be guaranteed a seat when you book a shuttle (which isn't the case with the public bus system.)
To get the best price, use the website Bookaway. They compare all the offers and prices of shuttle companies in Costa Rica so you get the best price! Honestly, we have saved so much money using Bookaway!
You can search for shuttles online on Bookaway here.
Public Bus
Lastly, you can use the public bus system. On short journeys, such as from San Jose to La Fortuna or Uvita to Manuel Antonio, this system is great. However, the longer the journey the more hassle and time spent on a bus. It's undoubtedly best to save the public bus in Costa Rica for short and straightforward trips!
The public buses are definitely the cheapest way to get around Costa Rica, but they are not always very reliable and schedules often change without notice and delays are to be expected. The buses can also be very crowded and hot – so just be prepared!
It's also good to speak some Spanish if you plan on riding the public bus since most drivers and ticket booth operators don't speak English.
Invest in Travel Insurance
Paying out of pocket for trip interruptions or medical treatment will add to what might already be a stressful situation. We always travel with SafetyWing travel medical insurance.
The best part is that it costs only a fraction of what most insurance policies charge, which makes it perfect for digital nomads, long-term travelers (like us), and budget travelers. It only costs $45 USD per 4 weeks!
To start coverage, you must purchase it after leaving your home country. We usually purchase it as soon as we land at the airport.
Since using SafetyWing we've been reimbursed thousands of dollars when we've gotten sick. During the pandemic, they've even gone as far as to pay for our last-minute flights back to Canada from Colombia before the border closed!
You can click here to get a quote and read all the details!
Thanks for reading!
The stunning Nicoya Peninsula truly is the best choice when it comes to holiday destinations in Costa Rica.
Thanks so much for visiting Costa Rica Travel life. I hope this ultimate guide to the Nicoya Peninsula has helped you better understand this unique area. I am just so excited for you to visit this stunning region!
Please browse around our website; I'm sure you'll find lots of more useful information!
Best hot springs in La Fortuna
Fun things to do in Jaco, Costa Rica