This blog may contain affiliate links. Read our disclosure policy for more info.
Many people find that some of the most popular destinations don't live up to their reputation when traveling Costa Rica. That's why I love Montezuma.
Montezuma is a small town yet to break onto the busy tourist trail in Costa Rica. Although it still receives a healthy dose of tourism, Montezuma has held onto much of its authentic laidback Costa Rican vibe when compared to Santa Teresa, Samara, or even Nosara. This makes it a great place to visit (but don't shout that too loud!)
Despite being such a small village, Montezuma offers some great things to do. These include tours to spectacular islands, beautiful waterfalls, and even two nature reserves nearby! Honestly, the secret of Montezuma won't last forever.
For those lucky enough to visit, here are the 20 best things to do in Montezuma! Note, I've also included some important general info for visiting like where to stay and getting there, so you can plan your entire trip easily right here.
Don't have time to read the full article? Check out our list of absolute favorite things to do in Montezuma:
Spend the day on Tortuga Island.
Hang out in the sun on Montezuma Beach.
Swim in the natural pool at Montezuma Waterfall.
Learn to surf at Playa Grande.
Brush up on your Spanish skills with a 2-hour Spanish class.
Things to do in Montezuma, Costa Rica
1. Visit Tortuga Island
The small island of Tortuga is the ideal beach getaway from Montezuma. Together with Alcatraz Island, the area makes up the Islas Negritos Biological Reserve. It's home to fantastic places to snorkel, white sand beaches, and lots of coconuts!
Tours to Tortuga Island are very popular from Jaco and San Jose. However, both destinations above involve a long trip out to the island – especially the day trips from San Jose. So for that reason, Montezuma is the best place to join a tour because of its close proximity to Tortuga Island.
On tours to Tortuga from Montezuma, you'll take a 45-minute boat ride out to the islands and take in the fantastic views along the way (you'll also get to see Cocalito Falls!) Then it's off to two snorkeling spots to swim with turtles, sharks, and lots of fish. The snorkeling here is the best I have seen in Costa Rica – even better than Caño Island!
Afterward, the boat drops you on Tortuga Island for a delicious lunch and plenty of drinks (beers, juice, and pop.) You'll have a few hours to relax, play volleyball, kayak, or drink lots of coco locos. Overall, it's really an enjoyable day out!
From Montezuma, tours to Tortuga Island cost only $80 USD and include lunch, snacks, drinks, and your snorkeling equipment. We went with Zuma Tours and can highly recommend them. Although you don't need to book online in advance, I would book sooner rather than later as spots do fill up. Costa Rica's tourism grows every year, and those traveling over Christmas and New Year or Spring Break should consider booking at least a week out.
Related Read: If you're headed to Jaco, check out our blog about where to stay in Jaco, it explains all the different areas and the best hotels to choose from!
2. Visit Montezuma Waterfalls
You'll likely visit a lot of waterfalls in Costa Rica, and one thing they all share is an entrance fee! From La Fortuna Waterfall to Nauyaca Falls, you'll need to bring your wallet.
However, Montezuma Waterfalls is one of the few free waterfalls you can visit in Costa Rica. The best part is, that a day exploring the three waterfalls is epic and one of the best things to do in Montezuma!
You can easily walk to Montezuma Waterfalls from town and hike the somewhat confusing trail (read carefully below) to explore the waterfall. The lower falls are the easiest to get to and involve walking along the right-hand side of the river for 20 minutes until you reach the waterfall. Although easy to get to, the lower falls are not the best place to enjoy a swim.
Instead, walk back the way you came from the base of the lower falls around 100 feet (30 meters) and cross the river (you can do so over some rocks.) On the other side, you'll see some ropes and eventually some steps. Walk up these steps, always keeping right whenever two directions appear. This brings you to the upper waterfalls and it's a great place to enjoy a swim. But this still isn't the best place to swim!
From the top, you want to climb down to the middle waterfall, which is to the right. If you walk to the far side of the river, you'll see ropes that help guide you down. It's not a hard climb, but those with mobility issues should not attempt it. Once down the bottom, you'll be in a gorgeous infinity pool above the lower falls! It's so beautiful!
Although visiting Montezuma Waterfall is free, there is a 1,000 colones ($1.90 USD) fee (cash only) to use the trail up to the upper waterfalls. Be sure to bring suitable footwear and be prepared to get them wet.
Please Note: There is a free trail from the lower falls to the upper falls too. But it is dangerous to climb, and 1,000 Colones ($1.90) is not worth your life, so please take care!
Related Read: If you love waterfalls as much as we do then check out our guide on the best waterfalls in Costa Rica.
3. Hang out at Montezuma Beach
Montezuma Beach is the main beach in Montezuma and a great place to relax and hang out. During the day, it's filled with beachgoers. At sunset, it feels like the entire town is on the beach. And at night, people party around bonfires until the early hours. There's always something happening at Montezuma Beach!
There are two areas of the beach which are separated by some rocks. The small beach area on the right (if you're facing the ocean) is the calmest area to swim in and where I spent most of my time. There are no big waves or currents here, and it's a safe place to swim.
The beach area on the left is much larger, but there can be big swells here are strong currents, so it's best to stay out of the water unless you're a strong swimmer.
Please note: Montezuma Beach is not a surf beach like you may have read in other travel blogs. There are lots of rocks around, and the waves are not ideal for surfing – there are many other better places for surfing in Costa Rica. People surf further north at Playa Grande or to the south at Playa Cabuya.
4. Watch the daily turtle release
One of the things I love about Montezuma is how much conservation there is in the area. For visitors, this means you can enjoy much more wildlife than in other beach towns around Costa Rica. One of the coolest experiences is the daily turtle release on Montezuma Beach.
Every day at 4 pm (providing turtles hatched that day), the conservation project releases baby turtles into the ocean. You can then watch them walk to the ocean – which can take a while.
The release happens on the northern side of Montezuma Beach at ASVO Sea Turtle Hatchery and is easy to find. From town, walk towards Playa Grande along Montezuma Beach until you reach the rocks at the very end of the beach. The turtle nesting area is inland from here (you'll see a small hut.) At 4 pm, there is usually a crowd of people at the hut.
Please Note: The time of the turtle release can change. So, ask your hotel for an updated time. For example, it was 4 pm in December.
5. Party at Chico's Bar or the plaza
Despite being a small town, Montezuma has a very young population, and on weekends, it's a great place to party.
The number one party place in Montezuma is Chico's Bar. Located right in the center of town, Chico's Bar becomes the busiest place on weekends and has the best dance party in town. If you go out in Montezuma, you'll likely end up at Chico's at least once in the night!
If you're turned off by the price of drinks at Chico's, fear not, you can always party in the plaza (out the front of Chico's). In fact, the plaza often has more of the atmosphere I prefer on a night out. More laid back with lots of conversation and cheap beers that you can buy from the supermarket just up the road.
There is a misconception that Montezuma isn't a party place. Although that might be true during the week, some say that the party is better on weekends than in Santa Teresa!
6. Visit the local craft brewery Butterfly Brewing Co.
Montezuma has its very own brewery! That was music to my ears when I first arrived, and I immediately went to check it out.
Located not far from town, Butterfly Brewing Co. is surrounded by nature with a beautiful outdoor balcony overlooking lush forest. They had four beers on tap during my visit, and I loved them all. The IPA and Pale Ale are especially good. The brewery also serves food; however, Bailey and I only stopped in for a few beers.
There used to be a butterfly garden connected to the brewery. However, it was closed on our last visit. It looked like it required some major repairs before it opens again. Please let us know if it's open during your visit!
Butterfly Brewing Co. is a short drive, or walk, out of town. However, if you walk, be prepared for a climb up the hillside and a well-deserved beer once you arrive. Also, be sure to bring cash as they do not accept credit or debit cards.
Related Read: For all of the beer lovers out there you can uncover our favorite breweries in Costa Rica here!
7. Enjoy live music
Montezuma is a hippie beach town filled with talented musicians. So, it's no wonder that one of the best activities in Montezuma is to enjoy live music from local artists.
The best place to go is easily Chicos Bar. In the afternoons, you can sit in the outdoor area on the beach and listen to live music with great food and drinks. Every day we were in town, they had new artists on, and they were all awesome!
On weekends, another place that often has live music is Organico.
8. Visit Cabuya
To the south of Montezuma sits a small coastal town yet to be discovered by many. However, a visit to Cabuya is a very popular thing to do in Montezuma for a few reasons.
Not only does Cabuya sit on the doorstep of Reserva Natural Cabo Blanco, but it's also home to a few good surf breaks and the Cabuya Island Cemetary. You can walk out to the island at low tide and enjoy the spectacular views. Although not worth the trip alone, it's a unique activity.
Afterward, take a walk through the town. A visit to Panaderia Cabuya Cafeteria is a must for a coffee and treat. If you surf, be sure to bring a surfboard with you. There are a few spots near the town that are suitable for all skill levels.
Of course, a trip to Cabuya needs to be paired with a visit to Reserva Natural Cabo Blanco. So read below for more on that!
Getting there: A direct bus from Montezuma to Cabuya leaves several times a day. Ask your hotel for up-to-date times as they change. You can also take a taxi, but that will likely cost you around 10,000 colones ($19 USD) each way.
9. Hike in Reserva Natural Cabo Blanco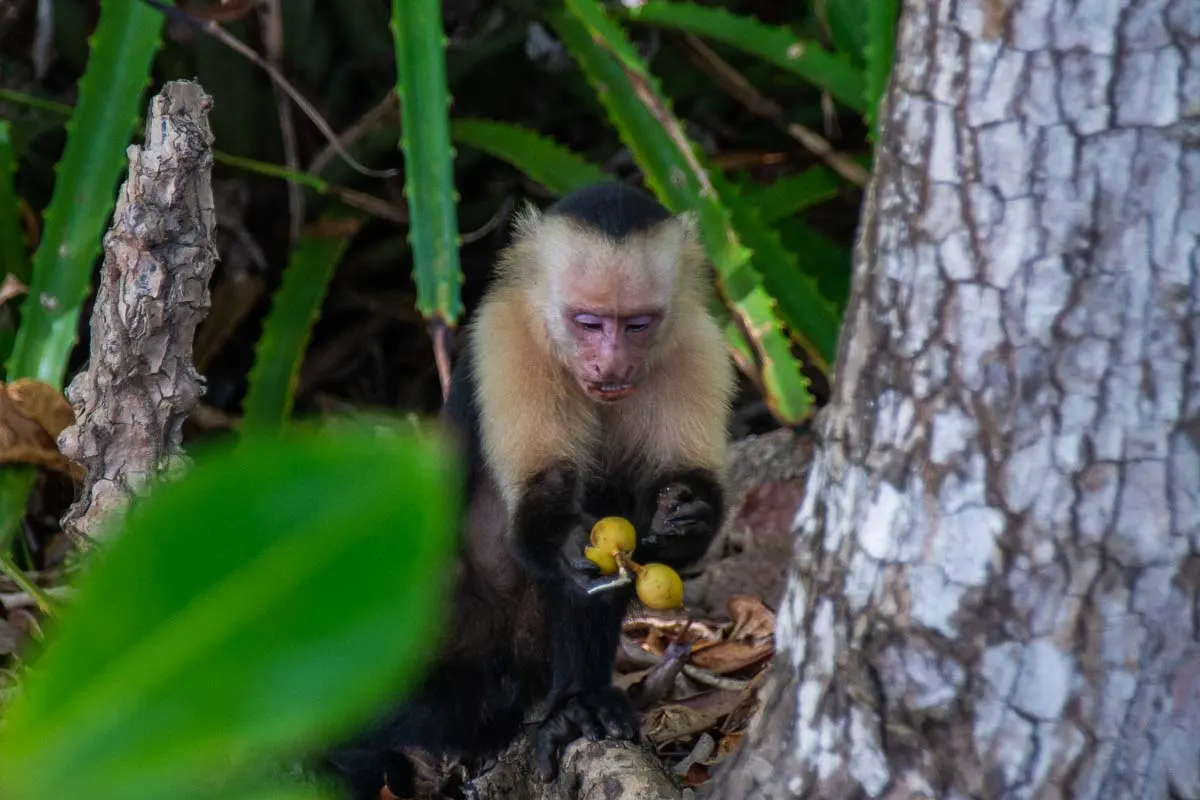 Reserva Natural Cabo Blanco is a very special place in Costa Rica. The reserve was started by Nicolas Wessberg (from Sweden) and Karen Mogensen (from Denmark) and was the first-ever protected area in Costa Rica.
Within the reserve, you can enjoy one of two hiking trails. The first is called the Danes Trail and leads through the forest in a loop not far from the ranger station. The trail is only 1.2 miles long (2 kilometers) and is a popular side trip for visitors.
The second is the more popular Sueco Trail. The Sueco Trail is the main reason to visit the park, and it's a 3.1 mile (5 kilometers) walk from the ranger station to Playa Cabo Blanco (10 kilometers return). The trail takes just over an hour each way.
Along both trails, you can see a wide variety of wildlife including monkeys, bats, butterflies, birds, ants, and lizards. It's also home to lots of wildflowers and beautiful trees. Wildlife lovers will be in paradise at Cabo Blanco Nature Reserve!
It costs $12 USD to visit the park, and it's open from 8 am to 2 pm Wednesday to Sunday (closed Mondays and Tuesdays.) To get there via public transport, catch the bus from Montezuma to Cabuya.
More on Nicolas and Karen: Nicolas and Karen were responsible for the huge shift from farming and mining to conservation – saving some of the most important natural areas in Costa Rica. In fact, Nicolas lost his life to local farmers and gold miners while surveying the Osa Peninsula to campaign for its protection. The Osa Peninsula is now home to Corcovado National Park, a park with a whopping 3% of the world's biodiversity and the most important national park in Costa Rica. Their story is truly amazing!
10. Go to the Saturday Organic Market
Every Saturday in Montezuma, a small organic market comes to life near the beach. The market is located across from the Plaza de Fútbol de Montezuma and is on in the mornings until lunchtime.
Come here to pick up some fresh organic fruits and vegetables, healthy treats, fresh coconuts, and even jewelry and clothing. The market is a vibrant show of local works and is very popular.
11. Visit Cocalito Falls and Cocalito Beach
Montezuma is home to another well-known waterfall; however, very few get to visit. Cocalito Falls is a unique waterfall because it drains into the ocean over a cliff. The waterfall is located on the north end of Cocalito Beach – a secluded, empty, and stunning beach.
If you have an ATV or rental car, then you should definitely visit! It's around a 30-minute drive from Montezuma, and you can park in a parking lot only a short 5-minute walk above the falls. You can then climb down some of the rocks to get a better view of the waterfall and even relax at the beach.
Unfortunately, those without a car need to walk. This is what we did and although a beautiful walk along the beach, it takes 2 hours each way! The trail travels along the ocean, and you'll pass lots of amazing beaches along the way as well as local villages. It's a great experience for the more adventurous.
If you plan on walking, it's best to leave at least 6 hours before or 2 hours after high tide. This gives you more room to walk along the beach. Also, bring 1.5 liters of water per person, snacks, and appropriate footwear (I would wear shoes but also bring flip flops.) To begin the trail, start walking north along Montezuma Beach. The trail is easy to spot from there.
12. Go surfing
As with just about every coastal town in Costa Rica, you can surf in Montezuma. Unfortunately, Montezuma Beach is not a great beach for surfing. However, if you grab your board and hike to Playa Grande, you can enjoy uncrowded waves.
The waves at Playa Grande are mainly suited to beginners, and there are actually surf schools in the area that offer lessons. This specific surf lesson lasts for three hours and begins in Montezuma. They'll guide you along the trail to Playa Grande before teaching you the basics. You get a two-hour lesson in the water, including fruit snacks. There is also this one-week surf school that includes accommodation, some meals, and surf lessons for $900.
The more experienced surfers should either head to Cabuya or Santa Teresa, where the surf is bigger and more consistent. In Cabuya, there are uncrowded point breaks that are considered local secrets.
Related Read: Surfing is also one of the best things to do in Nosara, Costa Rica as well as Santa Teresa, Costa Rica.
13. Walk along the beach to Reserva Natural Absoluta Nicolas Wessberg
Although walking all the way to Coicalito Falls won't be on everyone's Montezuma bucket list, taking the short but peaceful stroll to Reserva Natural Absoluta Nicolas Wessberg is a must. From Montezuma, it takes around 30 minutes to reach the reserve, and along the way, there are plenty of places to stop.
A special stop is Piedra Colorada. This is where the river meets the sea, and there are some small pools people swim in as well as an inukshuk garden. As you walk here, keep an eye out for wildlife, and be sure to stop and read the information boards.
These explain the park's history, and the last one, located on the border of Reserva Natural Absoluta Nicolas Wessberg, talks about the life of Nicolas and Karen. This is actually their land and was donated to the government of Costa Rica.
Although you can see turtles hatch on the reserve, you are not allowed on the beach there between 6 pm and 6 am. This is to ensure we don't disturb the turtles. There are large turtle nests that volunteers protect all along the beach at night.
If you want to walk further, you can also visit Romelia Wildlife Refuge. But if you go that far, you may as well keep going to Cocalito Falls.
14. Rent and explore on an ATV
A popular way to get around Montezuma is on an ATV. Not only can you drive out to Cacalito Falls, Santa Teresa, and Cabuya, but it's also helpful to visit the brewery and other restaurants further away from town.
An ATV rental in Montezuma costs $85 USD for 24 hours. It's best to book your rental in town to get a cheaper deal, but getting a rental in advance is a good idea over the Christmas period!
15. Go ziplining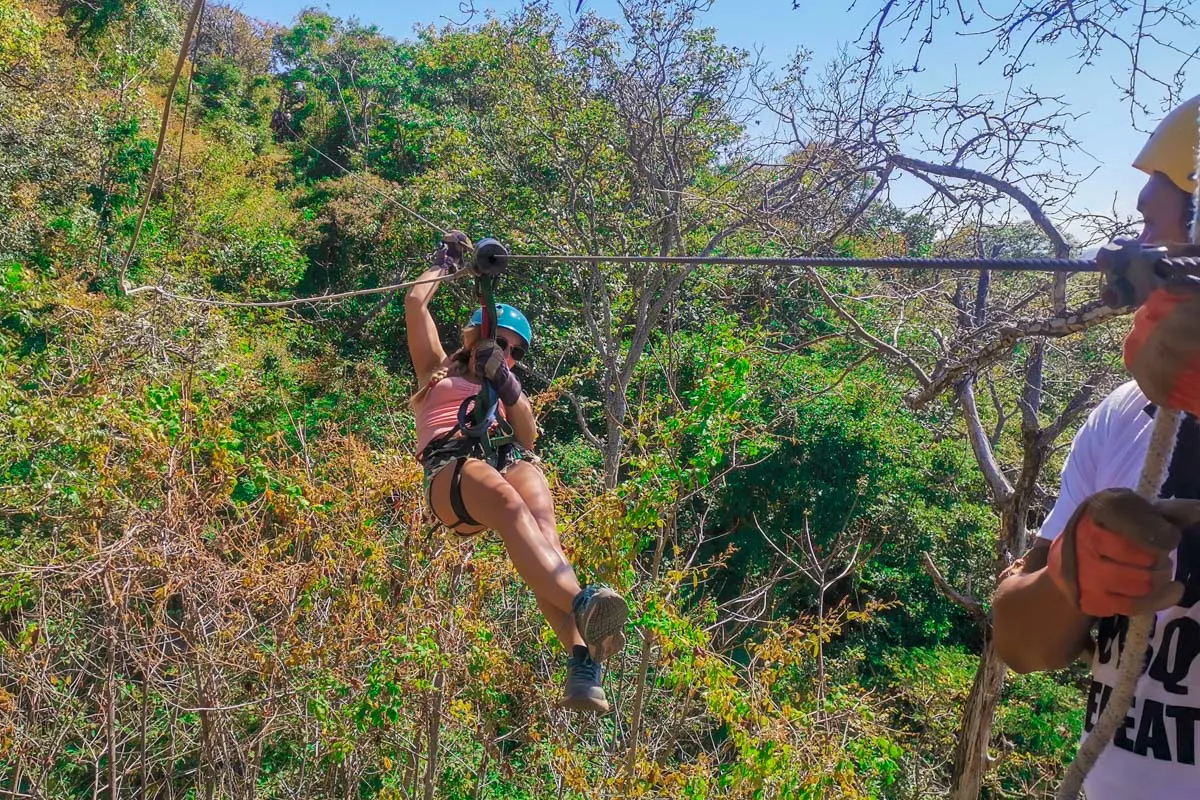 In the hills of Montezuma lies a nine-wire ziplining course operated by Sun Trails. You'll travel above the treetops with magnificent views and the chance to see wildlife such as monkeys.
Their tour also includes a stop at Montezuma Waterfall (upper falls) to cool down for 30 minutes. The tour is top-rated and easily one of the best things to do in Montezuma.
Sun Trails also offers other tours such as a bioluminescent tour, a waterfall hike, a cable park for kids, and more!
They are open daily from 8 am to 5:30 pm except on Sundays when they close at 5 pm.
16. Visit Santa Teresa
Santa Teresa is a busier, more touristic town located around 40 minutes from Montezuma. Although it's popular to stay in Santa Teresa, accommodation in the town is often fully booked or out of a traveler's price range. So, why not explore Santa Teresa for the day from Montezuma!
You can drive to Santa Teresa in around 40 minutes if you have a vehicle. Be sure to use Waze (not Google Maps), so you take the right way and take your time, the road is bumpy, and a 4WD is required!
You can also take the bus to Santa Teresa, and this costs around $1,350 Colones ($2.50 USD.) From the bus stop in Montezuma, get the bus going to Cóbano. The bus stops in Cóbano and is timed to meet with the bus that travels from Cóbano to Santa Teresa. It's super easy!
17. Learn Spanish
Learning Spanish is an awesome way to get more out of your trip to Costa Rica or other Spanish-speaking countries. It takes you from tourist to traveler and opens up so many opportunities during your trip – trust me! I learned Spanish in Bolivia, and although I am not fluent, I can get to know people and navigate Costa Rica with ease.
You can join this 2-hour Spanish class for only $49 USD in Montezuma and begin learning or fine-tuning your skills. It includes coffee, tea, and all your worksheets. Although you won't be fluent after a lesson, you'll have a lot more travel Spanish up your sleeve!
Why We Book Tours with Viator
Viator is a trusted online booking system for tours around the world! We almost always book our tours using Viator for a couple of reasons:
Free cancellation on most tours – Most of the tours on Viator allow you to cancel and get a full refund up to 24 hours in advance. This is handy in case plans change, or if booking an outdoor activity, the weather forecast is looking grim.
Reserve now and pay later – You can secure your spot on some of the most popular tours well in advance and not pay until closer to the day of the tour.
Pay in your chosen currency – Avoid costly international transaction fees by choosing to pay in your home currency.
Peace of mind – When booking with tour operators you find in person on the street or in small booking offices, you are often promised one thing and given another. This online platform holds tour operators accountable with a written description of inclusions as well as the opportunity for customers to leave reviews.
Check out the Viator website here!
18. Eat at a local soda
Montezuma is a great place to try local Costa Rican food. We ate at three excellent sodas in Montezuma with meals that cost less than $4 USD.
My favorite of the three was Soda Tipica Las Palmeras. Located a short walk out of town, the restaurant sits on a hill with amazing views. You'll also have a good chance of seeing monkeys swing from the trees around you. I loved everything I had there, including the seafood pasta and chicken curry.
My second favorite was Balcon Del Mar. Their casados are terrific – especially the chicken in sauce! Last but certainly not least was Soda la Naranja. I often came here for breakfast because of their central location.
19. Go scuba diving (an add-on for Tortuga Island)
If you're a keen diver, don't just snorkel on your Tortuga Island tour. Although the snorkeling spots are good, the dive spots are even better. Expect to see a ton of marine life and explore areas much deeper than the snorkel sites. It's truly one of the best places to go scuba diving in Costa Rica!
Zuma Tours includes everything the typical trip does and one dive for $150 USD.
20. Enjoy authentic Italian at Pizzeria CHELLO
By a mile, my favorite of all of the restaurants in Montezuma was Pizzeria CHELLO. This authentic Italian restaurant serves up delicious food in the center of town at affordable prices.
Their specialty is wood-fired pizza. All of them are good, but the Suprema was my favorite. If you love pasta, try the ravioli. It's delicious and freshly made by a local guy in Montezuma.
Bookings are not required at Pizzeria CHELLO, but the restaurant does get busy around 7 pm, so you may have to wait for a table.
Where to Stay in Montezuma, Costa Rica
Montezuma has a lot of ideal places to stay including a lot of destination hotels. What I mean by that is hotels with a destination that alone makes them worth staying. Of course, those without a vehicle will need something in town, but there are plenty of those too.
Luminosa Montezuma Hostel – $
For budget travelers, Luminosa Montezuma Hostel is the top choice in town. Although located a short walk from town, the hostel is right on the beach in a beautiful area on Montezuma. You'll get direct access to Palmeras Beach.
All the rooms are basic but tidy and neat. A one-night stay in a shared dorm is around $15 USD. You can book the hostel on Hosteworld or Booking.com.
Hotel Cabinas Mar Y Cielo – $$
Another great place to stay is Hotel Cabinas Mar Y Cielo which falls into the low to the medium budget category. Again this hotel is located right on the beach, and their rooms come with sea views which I love. There are plenty of restaurants and bars located within walking distance as well.
All the rooms and apartments come with fans and refrigerators. Plus, you can also enjoy views of the ocean from your balcony in most rooms. Prices typically start at $90 USD per night. You can check availability for Hotel Cabinas Mar Y Cielo on Booking.com here.
Casitas Sollevante – $$$
If you're a luxury traveler, I would suggest Casitas Sollevante. The hotel has a beautiful pool with an incredible view and is located in a mountain setting a little out of town.
All of the rooms have views of the garden and the sea. Each room is well-equipped with air-conditioning, a mini-fridge, and outdoor furniture, which is perfect for enjoying all the amazing scenery. A double room for two people begins at $123 USD per night. You can book a room at Casitas Sollevante on Booking.com here, on Hotels.com here, and on Expedia here
Getting to Montezuma, Costa Rica
First, getting to Montezuma can take a while, but you will not regret going.
You can take a direct bus from San José that will drop you in Montezuma downtown, near the football field (a 5-hour journey approximately). You can also get to Jaco and then take a taxi-boat directly to Montezuma from there. Public buses also run regularly from Santa Teresa (but you will have to change buses in Cobano.)
Shared shuttles are also available to Montezuma from other popular destinations including San Jose, Santa Teresa, Samara, Nosara, and more.
By car, the ride will take around 4.5 hours from San Jose. First, 2 hours to get to Puntarenas where you will take a ferry for 2 additional hours. This ferry will drop you in Paquera on the Nicoya Peninsula, just 1 hour away from Montezuma.
Getting Around Costa Rica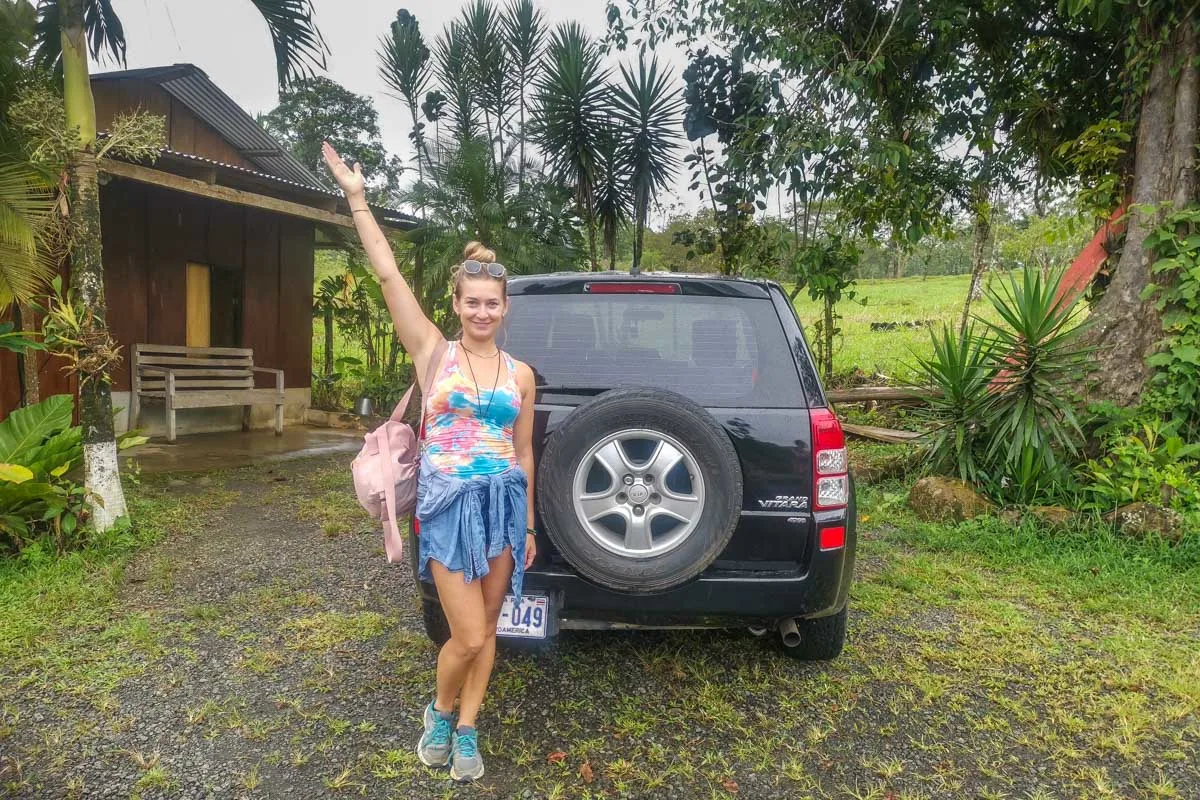 How you choose to get around Costa Rica is one of the biggest decisions you'll make when planning your holiday here! How you do it depends on your budget, travel style, and comfort level.
Renting a Car
Without a doubt, the number one way to explore Costa Rica is in a rental car. We book rental cars on the Discover Cars website as we have had good experiences with them in the past.
One of the things you need to watch for when renting a car in Costa Rica is the mandatory insurance that the government requires you to have. There are a lot of very cheap rentals that don't include this mandatory insurance (TPL) in the original booking price, but there are also ones that do. To avoid additional surprise charges when you pick up your rental car, be sure to rent a car that includes the mandatory insurance when you book.
Thankfully, on Discover Cars it's easy to tell apart the companies that include the mandatory insurance and those that don't. The trick is you can't pick any car on their website. In the picture below, you can see this rental car, with pick up in Jaco, includes the TPL. That means the mandatory insurance is included in the price. Any cover you get above that is extra.
Of course, I still suggest getting the full coverage offered by Discover Cars, which covers you even more.
You can browse cars on Discover Cars here.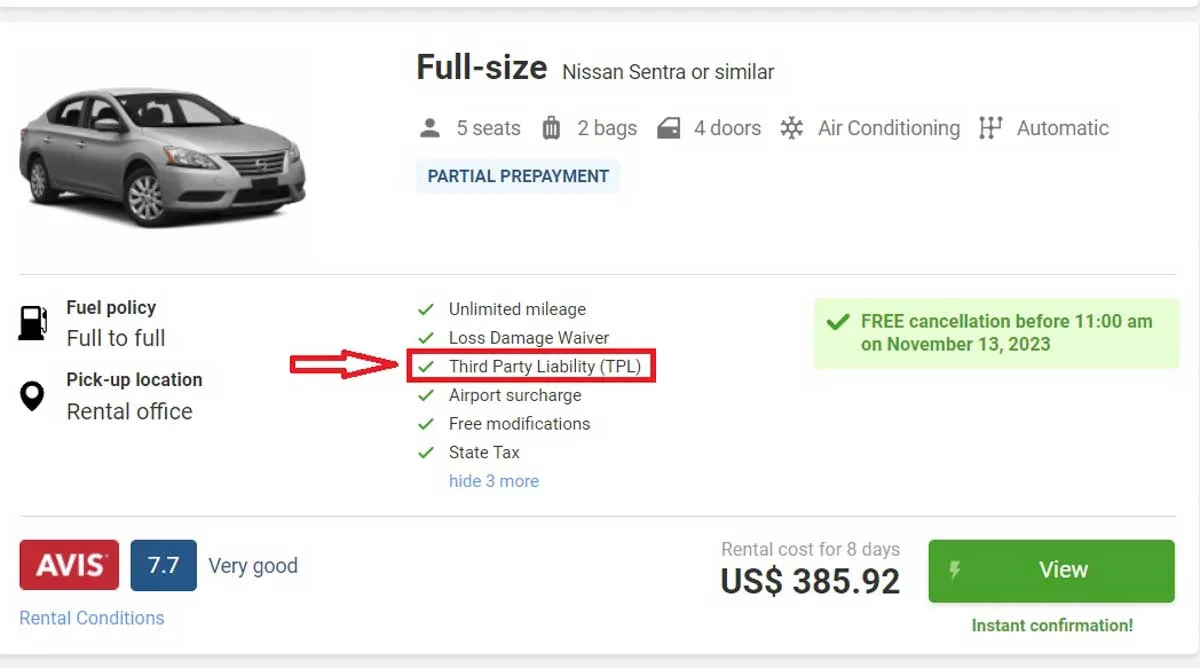 Adobe Rental Rent A Car is another rental company that we most often use in Costa Rica. We love them because Adobe has 15 offices around Costa Rica and delivers door-to-door around their offices at no extra cost. We also are pleased that all of their cars are new. In fact, they are never older than 2 years to the date. They are also the only company to include mandatory insurance and promise no hidden fees. You can get a free quote for a rental car from their website here.
Book Shuttles
If renting a car isn't in your budget, you don't feel comfortable driving in Costa Rica, or you just don't like driving, shuttles are the next best option. There are hundreds of shuttle routes available all over the country, and they are very affordable.
Shuttles in Costa Rica are specifically for tourists and often include pick up and drop off at your selected hotels and airports. The drivers also speak some English, and the vehicles have air conditioning. You'll also be guaranteed a seat when you book a shuttle (which isn't the case with the public bus system.)
To get the best price, use the website Bookaway. They compare all the offers and prices of shuttle companies in Costa Rica so you get the best price! Honestly, we have saved so much money using Bookaway!
You can search for shuttles online on Bookaway here.
Public Bus
Lastly, you can use the public bus system. On short journeys, such as from San Jose to La Fortuna or Uvita to Manuel Antonio, this system is great. However, the longer the journey the more hassle and time spent on a bus. It's undoubtedly best to save the public bus in Costa Rica for short and straightforward trips!
The public buses are definitely the cheapest way to get around Costa Rica, but they are not always very reliable and schedules often change without notice and delays are to be expected. The buses can also be very crowded and hot – so just be prepared!
It's also good to speak some Spanish if you plan on riding the public bus since most drivers and ticket booth operators don't speak English.
Invest in Travel Insurance
Paying out of pocket for trip interruptions or medical treatment will add to what might already be a stressful situation. We always travel with SafetyWing travel medical insurance.
The best part is that it costs only a fraction of what most insurance policies charge, which makes it perfect for digital nomads, long-term travelers (like us), and budget travelers. It only costs $45 USD per 4 weeks!
To start coverage, you must purchase it after leaving your home country. We usually purchase it as soon as we land at the airport.
Since using SafetyWing we've been reimbursed thousands of dollars when we've gotten sick. During the pandemic, they've even gone as far as to pay for our last-minute flights back to Canada from Colombia before the border closed!
You can click here to get a quote and read all the details!
Pura Vida!
As you can see from the list above, Montezuma has no shortage of amazing things to see and do. This sleepy beach town is actually a vibrant place filled with unique activities and attractions that make it worth visiting.
Thanks so much for reading! I sincerely hope you found this blog helpful. If you did, then check out more of Costa Rica Travel Life. We have so much more content for you to check out including some related reads below:
Fun things to do in Jaco, Costa Rica