If you love wildlife and outdoor adventures, then La Fortuna is hands down one of the best places to visit in Costa Rica.
In fact, we loved La Fortuna so much that we moved here! When we lived here, we had so much fun exploring its waterfalls, caves, and rainforests, as well as doing epic adventures like canyoning, hiking the base of the Arenal Volcano, and taking on some of the best whitewater rafting in Costa Rica!
Basically, La Fortuna is a paradise for those who are outdoor enthusiasts, as some of the best tours in Costa Rica are located right here! Whether you want to take a night walk through the rainforest to spot wildlife, go ziplining, or explore on an ATV, there are a ton of incredible tours in La Fortuna.
We've narrowed it down to our top 12 tours to help you decide what you want to get up to in La Fortuna so that you'll enjoy this amazing place as much as we did!
Our TOP PICKS for Tours in La Fortuna
If you don't have time to read the entire blog, we've got you covered with our top tours to choose from. Consider them the best of the best!
Best overall tour of La Fortuna:
To see all the highlights La Fortuna has to offer, this full-day tour is one you can't pass up! You'll see (and swim at!) the stunning La Fortuna Waterfall before visiting a butterfly garden and hiking to the base of Arenal Volcano. Finishing off the day at some of the famous natural hot springs really is the cherry on top. It's insanely good value too at $91 USD per person including all fees, lunch, and transportation. It was so good, we would book this exact tour again!
Best adventure tour:
If you're craving a bit of adventure in La Fortuna, this action-packed tour is for you! The first stop is climbing up a secret canyon before you strap in and tackle a rappelling course including a zipline. The best parts are the four waterfall descents where you actually rappel through the water! The tour is fun for the whole family with ages 5 and up welcome and the $119 USD cost includes hotel transfers and lunch when you book online here.
Best wildlife tour:
Seeing sloths in the wild is actually pretty challenging – they really blend in! We opted for this sloth-watching tour to an area near La Fortuna called Sloth's Territory. Spoiler alert: There are lots of sloths here! But you can spot plenty of other creatures including frogs, hummingbirds, and parrots! The small group tour is capped at 10 people and we learned a ton from our guide. It's only $35 USD, so book the tour here and cross seeing a sloth in Costa Rica off your bucket list!
Why Book a Tour in La Fortuna?
We find booking tours in La Fortuna makes exploring the area so much easier. There are some public bus services or shuttles in the area but they're not always great for sightseeing. That means choosing tours that include transport makes life so much easier and saves time.
It's also safer to join a tour than to explore independently. La Fortuna is one of the safest towns in Costa Rica and when we lived here, we felt perfectly safe during the day. However, if you're a first-time visitor to Costa Rica then it's a good idea to join a tour so that a local guide can show you around and teach you the ins and outs of navigating the area safely.
Tours in La Fortuna also allow you to explore places you wouldn't be able to otherwise. You can discover all of the best off-the-beaten-path places and trust us, La Fortuna is home to some amazing ones! Plus, joining activities like whitewater rafting tours and rainforest walks gives you access to hidden spots you wouldn't be able to get to on your own.
We also love taking tours in La Fortuna because you learn much more about the area's culture, landscape, and biodiversity. We were captivated by the lush jungle and vast amount of wildlife. The guides are great at spotting animals and giving unique information about the ecosystem. You don't get the same insight when you visit on your own, so if you love nature and wildlife as much as we do, you'll get a lot more out of a tour than an independent visit.
La Fortuna itself is also a fun city to hang out in. You can explore the cute downtown shops, dine in the many delicious restaurants, and enjoy the fun nightlife scene! There are also tons of great hotels and resorts in La Fortuna, so you'll feel relaxed and rejuvenated amongst all of your outdoor adventuring!
What are the Best Tours in La Fortuna, Costa Rica?
1. Full-day Arenal Volcano, La Fortuna Waterfall, and Hot Springs
Visiting the Arenal Volcano is definitely one of the best things to do (and a great cheap activity in La Fortuna!). In fact, many people come here just to visit one of the must-see volcanoes of Costa Rica! However, La Fortuna has lots to offer beyond the famous volcano, which is why we think this full-day tour is so fantastic.
The first stop of the day is La Fortuna Waterfall, a famously powerful 70-meter (230-foot) tall waterfall that gushes from a cliff into an emerald pool below. It's absolutely beautiful and you can take a refreshing swim either below the waterfall or further downstream, so bring your swimwear!
You'll also visit a butterfly garden near the entrance to the falls, and we also saw lots of toucans when we went!
Of course, the day's main event is visiting the Arenal Volcano. You get to hike to the base of the volcano and a little way up its face, and you'll get to see lava from the 1968 eruption up close! It's illegal to hike to the summit of the Arenal Volcano but don't worry, you get incredible views from the base. You'll see the surrounding jungle and lava fields, as well as the beautiful Lake Arenal.
I do think that visiting the Arenal Volcano with a guide makes a difference. I chose to go as part of a tour rather than visiting independently because I wanted to learn more about the volcano, and I'm so glad I did!
The tour also includes a visit to the Maleku Cultural Resource Center to learn about the Maleku people, who are one of the eight Indigenous groups in Costa Rica.
The final stop of the day is at some natural hot springs, where you can relax in warm, mineral-rich waters as you sip on a complimentary cocktail. There are tons of great hot springs in La Fortuna, stopping at one on this tour is a perfect introduction so hopefully, you can explore more during your vacay!
This tour is a good fit if you don't have a lot of time in La Fortuna and want to see as much as possible. La Fortuna Waterfall, the Arenal Volcano, and visiting hot springs are all high on our list of the best things to do in La Fortuna, and this tour lets you cover them all in just one day.
At $91 USD per adult, we also think that this tour is fantastic value for money because it includes hotel pickup and drop off, all admission fees, your guide, lunch, and alcoholic beverages! Plus, it lasts for 11 hours, you really can't get an inclusive tour for this cheap anywhere else! You can book this incredible day exploring La Fortuna online here.
Related Read: Make the most of your time in Costa Rica by taking a multi-day tour! You will be able to get into nature to experience cloud forests, secluded beaches, and stunning volcanoes!
2. Balsa River Whitewater Rafting
Whitewater rafting is SO much fun and La Fortuna is an ideal place to do it. It's close to some great rafting rivers, including Balsa, which is perfect for first-timers. In fact, Costa Rica has the best whitewater rafting in all of Central America. Whitewater rafting can be a bit nerve-wracking if you haven't done it before, which is why we recommend this rafting tour out of La Fortuna.
It's a half-day experience that takes you to Class II and III rapids, which are fun and challenging but still great for beginners. The guides are super friendly and give you lots of instruction beforehand, and then you'll go on a 10-kilometer (6-mile) trip along the river, with a swim stop along the way.
I also love how you get a different perspective of the beautiful Costa Rican landscape from the river, it is an entirely new experience!
The 5-hour tour costs $68 USD per person and travelers aged 5 and up can participate, so this activity is suitable for families, too. You get snacks along the way and a traditional Costa Rican lunch at the end, and round-trip transport from your hotel is included, too. Be sure to book this experience in advance, as it's popular for a reason!
If you're still anxious about rafting, just think "If a 5-year-old can do it, I can do it." You can go whitewater rafting all over the world but the quality of rafting in La Fortuna is hard to beat, so this is definitely a fantastic place to do it!
If your goal is finding amazing white water rafting, the best time to visit Costa Rica is actually during the rainy season, from June to October. The rivers are at their fullest and fast-flowing, which means you're in for some epic rafting!
3. Hanging Bridges, La Fortuna Waterfall, and Arenal Volcano Hike
This award-winning tour is the ultimate adventurous day out in La Fortuna! Lace up your hiking boots and prepare for some trekking, because you'll take three different hikes to three of the best places to visit in Costa Rica.
You start by heading to Arenal Volcano National Park for a 2.5-hour hike to the base of the volcano. We thought the coolest part of the hike was visiting a lava field! Our guide told us all about the major eruption that took place in 1968 and we had some time to take in amazing views of the park.
We also love that this includes a La Fortuna Waterfall tour for another (shorter) hike and a swim in the pool below its powerful stream. If you're not a strong swimmer, there are also some pools a little further downriver that have calm water, so you won't miss out. The water temperature is on the cooler side, but that's exactly what you need in the warm, humid, Costa Rican climate!
And finally, you head to the Mistico Hanging Bridges for a 3.2-kilometer (2-mile) forest hike that takes you across 14 bridges, six of which are hanging bridges. This is an amazing place to see Costa Rica's iconic wildlife including tropical birds, sloths, and monkeys, and your guide will help you to spot them.
This tour is another good option if you don't have long in La Fortuna and you're someone who likes to be active. Your step count will be through the roof by the end of the day, plus you'll get to cross three epic locations off of your Costa Rica itinerary! It costs $163 USD per person including all of your transport, admission fees, and lunch. You can book this 9-hour tour online here!
4. Canyoning and Waterfall Rappelling Tour
This is a fantastic adventure tour full of canyoning and waterfalls! Our first stop was heading into the rainforest in a 4×4 and then climbing up a secret canyon. I felt like I was in an action movie! Don't worry though, unlike in the movies you'll be harnessed in and your guide will coach you, so it's totally safe and an exciting experience!
Once you've completed the climb, you tackle a rappelling course that includes a monkey drop, which is basically where you descend via a zipline like a monkey. It's so much fun!
The course also includes four waterfall descents where you actually rappel through the flowing water, so wear clothes you don't mind getting wet!
You can do this tour whether or not you have any rappelling experience. It's great for beginners but the course is so much fun that you can still enjoy it even if it's your 50th time going rappelling, as each location is a little different.
I'll say that you do work up quite an appetite during this adventure, so luckily the tour ends at a ranch house where you'll eat a traditional local lunch. It usually consists of homemade tortillas and salsa, with fresh tropical juice to quench your thirst, or coffee if you need an energy boost after all that activity.
The tour costs $119 USD per person including transport from your hotel and lunch. This tour is family friendly and kids as young as 5 can participate. If canyoning, rock climbing, rappelling, and waterfall exploring sound like a good day to you, I highly recommend booking this tour!
Related Read: A trip to Costa Rica isn't complete until you experience its beautiful coast. While in one of the many great beach towns, you can experience some of the best snorkeling in Costa Rica!
5. Specialty Coffee and Chocolate Tour
Costa Rica is known for many things and top among them are chocolate and coffee! Costa Rica exports about 90% of its coffee and is the 13th largest coffee producer in the world. It's also known for its high-quality cacao beans, so a coffee and chocolate tour is a must-do activity when you visit Costa Rica!
We love this specialty coffee and chocolate tour because it takes you to a family-run farm, so it's a fantastic way to support local industry. It's also a super informative and engaging tour, and you get so many samples along the way. I couldn't believe how much better coffee and chocolate both taste when they're fresh!
During the tour, we got to see the intense process of cultivating coffee beans and turning them into a product that's ready to ship. The tour even gets hands-on at various points of the process, so you too have a hand in the coffee and chocolate production!
Even if you're not a coffee drinker, it's so cool to learn about how coffee goes from bean to cup, and it's a great insight into Costa Rica's agricultural practices. Coffee is a world-wide industry and I found it fascinating to get a glimpse into the process.
The tour costs $43 USD per person, including transport and TONS of tastings of tea, coffee, chocolate, and sugarcane. It lasts for 2.5 hours so it's not too long and you can choose to go at 8 am, 10 am, 12:30 pm, 2 pm, or 3 pm. You can book this tasty experience online here!
6. Ziplining
Ziplining is always a blast, but it's even better when you get to soar through the rainforest canopy and over the stunning La Fortuna Waterfall, which is exactly what this ziplining tour offers. In fact, it's the only tour that includes this stunning aerial view!
You'll also get amazing views of the Arenal and Cerro Chato volcanoes and spot lots of wildlife as you fly through the trees. There are 12 different ziplines in total and it's quite an active tour since you need to hike to the first zipline and between some of the others.
After you've finished the zipline course, you'll visit the Maleku Cultural Resource Center for a more relaxed activity. Here, you'll learn about the Indigenous Maleku people and their deep connection to the land and rainforest. The Center exists to preserve the rich Maleku culture and educate visitors about its art, customs, and history.
The tour costs $84 USD and is scheduled to last for 2.5 hours. It includes round-trip transportation from your hotel, safety equipment, all admission fees, and your guide. It doesn't include food or drink but there will be some available to buy along the way, so make sure to bring some cash.
La Fortuna and Monteverde are my two favorite places to go ziplining in Costa Rica, so I definitely think that this experience is worth it! You can reserve this tour in advance here.
Why We Book Tours with Viator
Viator is a trusted online booking system for tours around the world! We almost always book our tours using Viator for a couple of reasons:
Free cancellation on most tours – Most of the tours on Viator allow you to cancel and get a full refund up to 24 hours in advance. This is handy in case plans change, or if booking an outdoor activity, the weather forecast is looking grim.
Reserve now and pay later – You can secure your spot on some of the most popular tours well in advance and not pay until closer to the day of the tour.
Pay in your chosen currency – Avoid costly international transaction fees by choosing to pay in your home currency.
Peace of mind – When booking with tour operators you find in person on the street or in small booking offices, you are often promised one thing and given another. This online platform holds tour operators accountable with a written description of inclusions as well as the opportunity for customers to leave reviews.
Check out the Viator website here!
7. Sloths Watching Tour through Sloth's Territory
La Fortuna is one of the best places in Costa Rica to spot sloths. Seeing a sloth in the wild is actually harder than you think! We love sloths, so obviously we couldn't pass up the opportunity to see them on this sloth-watching tour!
The tour takes you to an area just outside of La Fortuna known as Sloth's Territory where you'll see lots of two and three-toed sloths, as well as plenty of other wildlife. You'll explore the reserve on foot but we found it really easy to walk around, and you get to visit the on-site organic farm at the end for some fresh fruit.
This tour really is a must for wildlife lovers because you get to see so much when you explore Sloth's Territory. You can spot opossums, red frogs, hummingbirds, parrots, porcupines, and so much more! We loved our experience and we learned SO much from our guide.
It costs $35 USD per person including snacks and entry to the sloth reserve. You will need to get yourself here, but if you're renting a car in Costa Rica, it's only a 10-minute drive. This tour is capped at 10 people, so you get more of a personalized experience and have time to ask lots of questions. It's under 2 hours long so you can easily do another short tour on the same day, as there are lots of times to choose from.
If seeing a sloth is on your Costa Rica bucket list, this tour is your golden ticket! Book this tour online here and get excited to see these cute and curious creatures.
8. Mistico Park Hanging Bridges Guided Tour
Visiting the Mistico Hanging Bridges is one of the best ways to see wildlife in La Fortuna. They're located in a large, private park and you can actually see as much wildlife here as you do in places like Manuel Antonio National Park.
Yep, it's THAT good!
This 3-hour tour takes you to Mistico Park to explore via the bridges. There are 14 of them in total, and eight are ground-level while six are hanging bridges. Your guide will lead the way and point out lots of amazing wildlife and teach you more about the local ecosystem.
One thing we love about the Mistico Park hanging bridges is that you get amazing views of the Arenal Volcano. The birds here are also incredible. You can see rainbow-beak toucans, orange-bellied trogons, and crested guans, among many other types of tropical birds.
We have been to Mistico Park with and without a guide, and we really found it valuable to have one! They have such a deep knowledge of the rainforest and wildlife, so not only did we see more but we also walked away with a better understanding of this beautiful country.
The tour costs $48 USD per person if you drive yourself, or $73 USD if you choose to include round-trip transport. The tour also includes entrance fees to the park and your amazing guide! There are multiple departure times to select from, so you can choose one that best fits your schedule. Book this tour online here!
9. ATV Tour
ATV tours are always a blast but we think that this one's even more fun than usual! On this La Fortuna ATV tour, you get to drive around a private farm right next to Arenal Volcano National Park, which is one of Costa Rica's best national parks if you ask me!
You'll check out old impact craters, as well as visit Arenal Lake and a volcanic mud river. You can even use the mud on your skin and get a free spa treatment!
Before you head out, you get a quick lesson on how to drive the ATVs and you'll drive a practice circuit first to make sure you're good to go. The tour then starts by taking you across open plains so that you'll feel confident by the time you reach the fun trails.
Then, you'll tear around all the trails, exploring the terrain and enjoying great views of the Arenal Volcano in the distance. It's so much fun, but you should wear clothes you don't mind getting dirty because you're definitely going to be muddy by the end!
Another great thing about this tour is that you can spot lots of wildlife, like monkeys and sloths, along the way as you go through the forest.
The tour costs $105 USD per person, including hotel pick-up and drop-off, a safety helmet, and bottled water along the way to keep you hydrated. Children 13 years and older are welcome to join and this tour accommodates up to 14 travelers. It lasts for around 2 hours and you can choose to go in the early morning, late morning, or afternoon.
If you're looking for an adrenaline-pumping activity while in La Fortuna, you need to book this tour because it is sure to deliver!
Related Read: If ATVing piques your interest, you'll love these ATV tours out of Jaco. Jaco is only 3 hours from La Fortuna, so make this your next stop and check out even more epic tours and excursions.
10. Full-Day Rio Celeste Tour From La Fortuna
Rio Celeste is easily one of the most beautiful rivers in Costa Rica (and probably the world) because it's so blue it almost looks fake! You really do have to see it to believe it.
The river is in Tenorio Volcano National Park, 68 km (42 mi) from La Fortuna. It really is a must-visit when you're in town and this Rio Celeste tour will take you on a full-day exploration.
Your guide will lead you on a 3 km (1.8 mi) trek to Rio Celeste and help you spot wildlife along the way. You'll visit Rio Celeste Waterfall, which I think is the most scenic waterfall in the entire country – and that's saying something!
After the waterfall, you'll come across a hot part of the river, which is known as Los Borbollones (the Bubbling Hot Pot). Your guide will explain the natural phenomenon behind why this happens, although you might need to cover your nose because the water smells very strongly of rotten eggs – don't worry, it's just the sulfur!
The trek ends at Teñideros, which is the point where you see the water change from clear to that shocking shade of blue. Then, you turn back and return to the entrance before heading for lunch at a local restaurant, which is included in the price of the tour.
This 8-hour tour costs $89 USD, including transport from La Fortuna. You definitely don't have to be a pro hiker to do the trek but you should be reasonably fit and healthy. Book this experience here to see the stunning Rio Celeste up close!
11. Rainforest Night Walk and Authentic Costa Rican Dinner
Costa Rica is famed for its wildlife and many of the most fascinating creatures can only be seen at night! But of course, you probably don't want to go wandering into the rainforest by yourself after dark.
Fortunately, you can join this rainforest night walk and spot all of the amazing nocturnal creatures hiding in the trees, including bats, birds, and snakes. Plus, you get to visit a frog sanctuary and see red-eyed tree frogs and glass frogs. Where else will you be able to have this experience!?
Red-eyed tree frogs are one of the most iconic creatures in Costa Rica and glass frogs are amazing to see because of their translucent skin.
I did this tour and absolutely loved it! I saw so many creatures and our guide was so helpful in pointing out lots of animals I might have otherwise missed. And while Monteverde is well-known for its night tours and incredible nocturnal creatures, we thought our tour in La Fortuna was just as good.
The guided trek lasts for about 1.5 hours, with the whole tour being about 4 hours. After your trek, you'll head to a local spot for a traditional Costa Rican dinner prepared on a wood-burning stove. This is a really nice end to the evening and I loved the food!
The tour costs $65 USD per person and includes hotel pickup and drop off, lanterns and flashlights, bottled water, and your dinner. It was such an amazing experience and I think it's a fantastic way to spend an evening in La Fortuna! You can book this unique night tour online here.
Related Read: For a totally unique experience, you can stay in one of the many treehouse hotels in Costa Rica.
12. Venado Caves Underground Experience
I think the Venado Caves are a really underrated thing to do in La Fortuna. The caves aren't a huge tourist attraction and relatively few visitors to La Fortuna get to experience them, so if you want to get off the beaten path this really is the ultimate way to do it.
I had so much fun when I went, and it's definitely one of the most adventurous activities around!
I did this 4-hour tour which took us on a subterranean expedition through the caves. You enter through a large cavern and then explore smaller caverns, grottoes, and chambers. In fact, some of the holes between the caves are a very tight squeeze, but you can skip some of these if you're not comfortable.
You also see some very interesting (and to be honest, slightly spooky) creatures along the way, like bats and big spiders.
This experience definitely isn't for the faint of heart but you're accompanied by an expert guide who will encourage you and make you feel safe. It's such a good way to challenge yourself and honestly, you get an amazing sense of achievement afterwards. Children 8 and up are welcome to join this exciting adventure.
The tour costs $79 USD including transport, all caving equipment, towels, bottled water, and fresh fruit snacks afterward. It really is an incredible experience and I promise you won't forget it in a hurry! You can book this caving experience online here.
Other Activities to do While You're in La Fortuna
There are even more amazing tours we could have listed out of La Fortuna, so we wanted to add some additional activities in case you're looking for more! With so many unique things to do in La Fortuna, you'll never be bored.
Visit Lake Arenal – As the largest lake in Costa Rica, the best way to explore it is by getting out on the water. You can have an active afternoon by taking a stand-up paddleboard (SUP) tour or a relaxing evening on a sunset cruise.
Hike to Hule Lagoon – If you're looking to hike along the rim of a volcano, through the rainforest, and to a stunning lagoon, you must check out Hule Lagoon. The easiest way to reach it is with this full-day tour. It is a 1.5-hour drive, then 3-4 hours of guided hiking, followed by lunch! This is one of my top day trips out of La Fortuna.
Where to Stay in La Fortuna, Costa Rica
Because La Fortuna is such a big tourist town, there are a ton of amazing places to stay. One of the go-to budget options is Selina La Fortuna. I've stayed in Selina hostels around the world and this is a great one. It has a fun party atmosphere and a great co-working space where we spent a lot of time. You can also book on Booking.com or Hostelworld.com for the best rate.
La Fortuna Natural Green is another budget option suited to those who prefer to avoid hostels. They offer small chalets a short walk or drive from town. Rooms on Booking.com include free breakfast and start at $75 USD.
Those with a medium budget should check out Casa Luna Hotel & Spa. I stayed here on my first visit to La Fortuna and loved it. The property is beautiful, with a large pool and four hot tubs surrounded by nature. They also include a delicious breakfast at the $170 USD room rate. Casa Luna is located a short drive from town and can be booked online here.
Those with a luxury budget can wake up to views of Arenal Volcano! The Volcano Lodge is set at the foot of Arenal Volcano. It has hot springs and a lush, tropical garden on the property where you can see lots of the beautiful birds of Costa Rica, including hummingbirds! Rooms here typically start at $200 USD per night.
For arguably the most luxurious hotel in La Fortuna, check out The Springs Resort & Spa at Arenal. While the rooms don't come cheap ($600 USD+), it's a bucket list place to stay that's perfect for visiting Costa Rica on a honeymoon! There's also a resort-style pool, a fitness center, a swim-up bar, hot tubs, and a spa and wellness center.
For more in-depth info on the areas to stay in La Fortuna, check out our blog on where to stay in La Fortuna!
Getting Around Costa Rica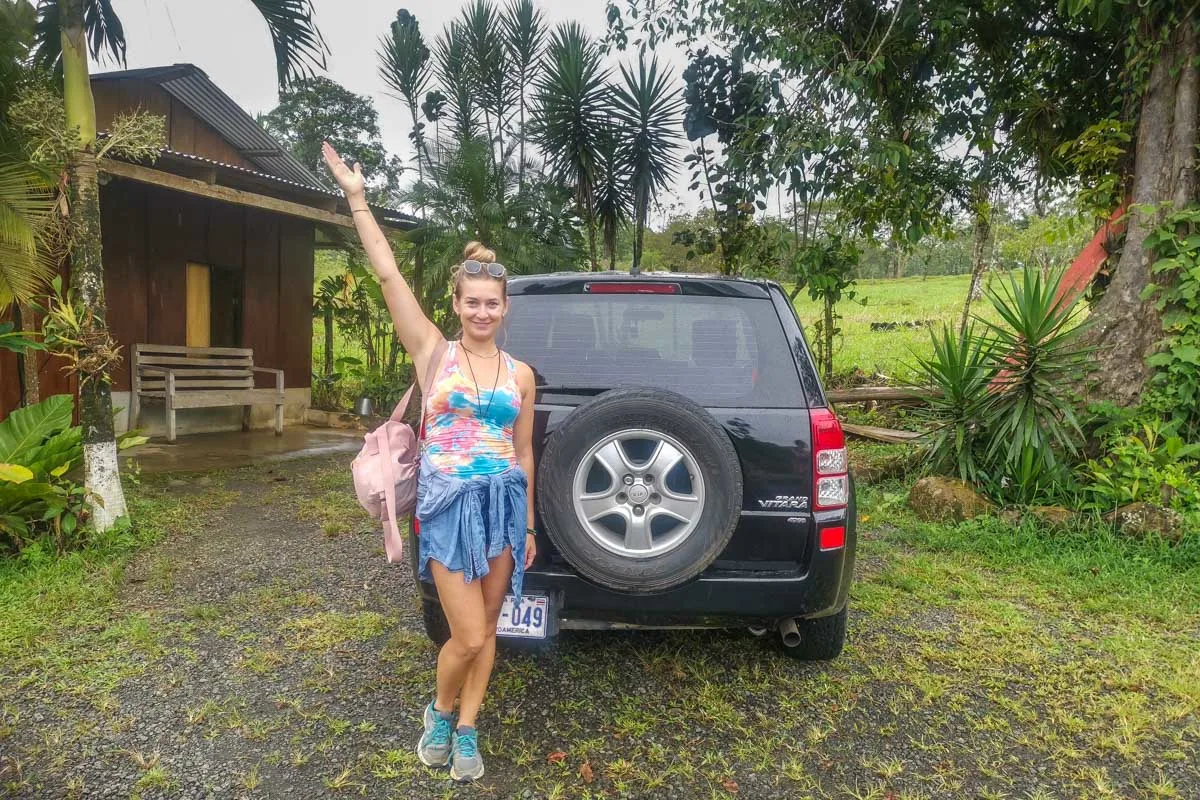 How you choose to get around Costa Rica is one of the biggest decisions you'll make when planning your holiday here! How you do it depends on your budget, travel style, and comfort level.
Renting a Car
Without a doubt, the number one way to explore Costa Rica is in a rental car. We book rental cars on the Discover Cars website as we have had good experiences with them in the past.
One of the things you need to watch for when renting a car in Costa Rica is the mandatory insurance that the government requires you to have. There are a lot of very cheap rentals that don't include this mandatory insurance (TPL) in the original booking price, but there are also ones that do. To avoid additional surprise charges when you pick up your rental car, be sure to rent a car that includes the mandatory insurance when you book.
Thankfully, on Discover Cars it's easy to tell apart the companies that include the mandatory insurance and those that don't. The trick is you can't pick any car on their website. In the picture below, you can see this rental car, with pick up in Jaco, includes the TPL. That means the mandatory insurance is included in the price. Any cover you get above that is extra.
Of course, I still suggest getting the full coverage offered by Discover Cars, which covers you even more.
You can browse cars on Discover Cars here.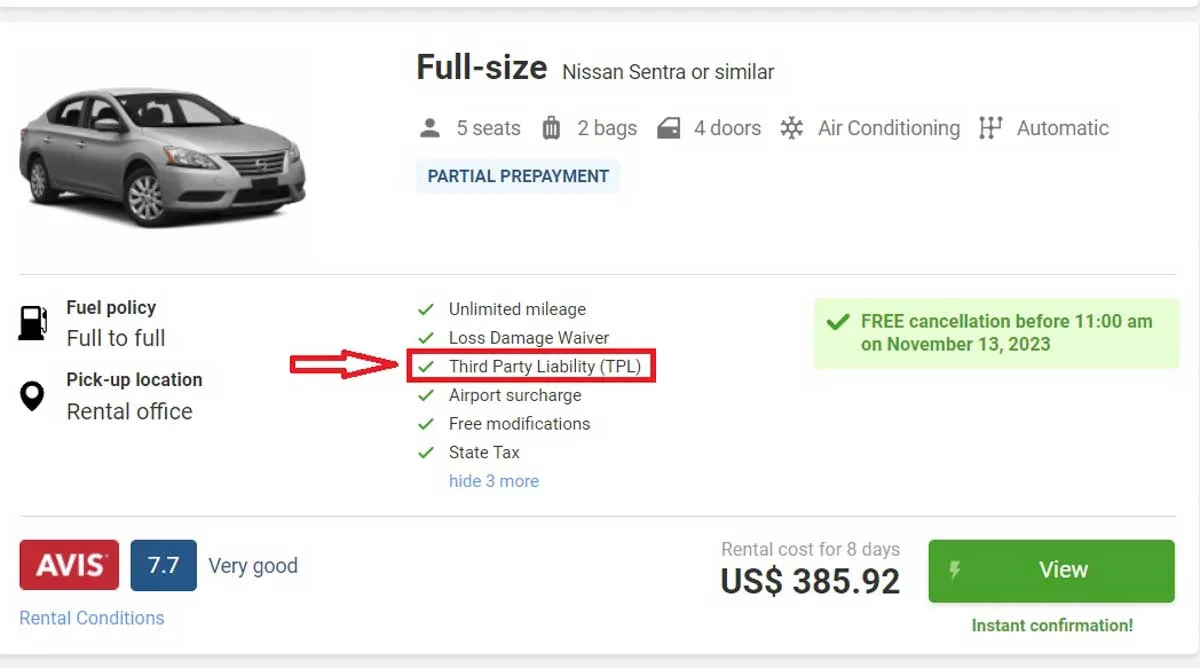 Book Shuttles
If renting a car isn't in your budget, you don't feel comfortable driving in Costa Rica, or you just don't like driving, shuttles are the next best option. There are hundreds of shuttle routes available all over the country, and they are very affordable.
Shuttles in Costa Rica are specifically for tourists and often include pick up and drop off at your selected hotels and airports. The drivers also speak some English, and the vehicles have air conditioning. You'll also be guaranteed a seat when you book a shuttle (which isn't the case with the public bus system.)
To get the best price, use the website Bookaway. They compare all the offers and prices of shuttle companies in Costa Rica so you get the best price! Honestly, we have saved so much money using Bookaway!
You can search for shuttles online on Bookaway here.
Public Bus
Lastly, you can use the public bus system. On short journeys, such as from San Jose to La Fortuna or Uvita to Manuel Antonio, this system is great. However, the longer the journey the more hassle and time spent on a bus. It's undoubtedly best to save the public bus in Costa Rica for short and straightforward trips!
The public buses are definitely the cheapest way to get around Costa Rica, but they are not always very reliable and schedules often change without notice and delays are to be expected. The buses can also be very crowded and hot – so just be prepared!
It's also good to speak some Spanish if you plan on riding the public bus since most drivers and ticket booth operators don't speak English.
Invest in Travel Insurance
Paying out of pocket for trip interruptions or medical treatment will add to what might already be a stressful situation. Not to worry, SafetyWing is here to help!
This affordable travel and medical insurance is perfect for digital nomads, long-term travelers, and remote workers. The best part is that it only costs $45 USD per 4 weeks.
To start coverage you must purchase it after leaving your home country. We usually purchase it as soon as we land at the airport.
Since using SafetyWing we've been reimbursed thousands of dollars when we've gotten sick. During the pandemic, they've even gone as far as to pay for our last-minute flights back to Canada before the border closed!
Pura Vida!
La Fortuna is the perfect launch point for outdoor exploration! It's full of natural beauty with volcanoes, waterfalls, and wildlife plus adrenaline-pumping activities like whitewater rafting, ziplining, and canyoning. This makes La Fortuna the ideal destination for adventurous travelers, and tours are the best way to see it all. I know that we fell in love with this part of Costa Rica, so I can't recommend visiting here enough!
I hope you found this blog helpful as you plan your next tour out of La Fortuna. But don't let this be the only part of Costa Rica you visit! Check out some of our guides to our favorite areas and activities:
15 BEST All-Inclusive Resorts in Costa Rica (Our Unbiased Opinion!)
31 BEST Things to do in Tamarindo, Costa Rica
How to Get from San Jose to La Fortuna