Small beach towns are what put Costa Rica on the map. These secluded, often hard to get to, communities are the perfect place for visitors to come and escape. And one of the best is Nosara!
Nosara, Costa Rica is located on the Nicoya Peninsula, and over the years the town has changed from an off-the-beaten-path surf break to a bustling tourist town a little more bougie these days than hippy.
Of course, this won't suit everyone. I mean, the cost of staying in Nosara is undoubtedly not cheap. However, with epic surf almost all year round and a safe environment for visitors, Nosara is a top destination in Costa Rica for surfers, families, couples, groups, and well, everyone!
To help plan your upcoming visit to Nosara, here are all the best things to do in Nosara, as well as other info you need to know before you go!
Things to do in Nosara
1. Enjoy stunning beach sunsets
During your stay, you'll notice the town gets really quiet in the afternoon. This is your cue to grab your things, a few drinks, your camera, and head to the beach.
At sunset, the beach in Nosara is lined with visitors and locals who come to watch the sunset and the talented surfers. It's without a doubt the best time to be on the beach!
Come down an hour before sunset and find a spot on the beach. Then, with a drink in hand you can relax, laugh, and just soak up the moment. Or, go for a swim/surf!
The busiest section of the beach is to the north, out the front of Nosara Beach Villas. To avoid the crowds, head south towards Baker's Beach Entrance.
2. Surf, surf, and surf some more
The number one reason people started coming to Nosara in the first place was because of the beach breaks at Guiones Beach. There are both left and right waves on Guiones, and with 7 kilometers (4.3 miles) of beach, there's plenty of space for everyone.
There are waves to surf all year round. However, the best time to surf in Nosara is from March to November. This also happens to be the low season, so avid surfers enjoy the lower prices and lack of people.
Intermediate to advanced surfers can either bring their own board or rent them in town for around $15 USD to $20 USD per day for a high-performance board. There are also weekly rentals available if you're staying a while.
If you're a new or inexperienced surfer, it's best to do a lesson in Nosara. The swells here can be large, and having a guide with you, at least on your first time, is a great idea. As you can imagine, the town is filled with surf schools.
Agua Tibia Surf School is a great school for beginners. They have some of the best instructors in town, especially if you get Dany! The only negative is their location in South Nosara. If you want a good surf school closer to North Nosara, Nosara CR Surf School is another top-rated school.
You can also opt to book this 1-hour private surf lesson online that comes highly rated.
I also feel compelled to let newcomers know about the stingrays at Guiones Beach. Although getting stung is rare and not deadly, they do happen. You can easily avoid this by walking into the water with a "ski shuffle." This prevents you from accidentally stepping on one (the only reason you'll get stung) and lets them know you are nearby.
Certain times of the year are worse than others, but December 2021 was particularly a bad year. Although painful, you can quickly treat the affected area with hot water (which kills the venom) and then visit the local doctor just in case.
Related Read: Check out our complete guide to surfing in Costa Rica!
3. Go see the turtles at Playa del Ostional
Playa del Ostional is home to one of the most amazing wildlife phenomena in Costa Rica. An arribada, as it's called, is when hundreds of turtles come to shore to dig and lay their eggs on a beach at once. The event happens in the rainy season, around one week before a new moon.
Visitors to Nosara can join tours to the reserve for around $60 USD. These leave very early in the morning or after dark and visit the beach during the arribada. You can literally see hundreds, if not thousands, of turtles all at once. It's one of the best experiences in Costa Rica!
We missed the turtles laying eggs by two days during our most recent visit. However, we did get to see babies hatch and walk to the ocean. Most tour companies will tell you there is no point going when the adult turtles aren't there, but we insisted because even seeing the babies is a great experience too!
There are lots of tour companies in town that sell group tours to Ostional Beach for $60 USD per person. However, these tours pretty much only include transport to and from the beach. If this is what you want to do, book when you arrive.
However, if you want to learn (in-depth) about the turtles and the arribada, book your tour with the Wildlife Conservation Association. Their tour involves talking with an expert about the phenomena, transport, and a guided tour on the beach. There is a $150 USD flat fee and an additional charge of $35 USD per person but is the best experience available.
4. Coffee and brunch at Destiny Cafe
For most, mornings in Nosara will begin with either an early morning surf or a slow start after a few too many drinks. Regardless, the best place to refuel for the day ahead is at Destiny Cafe.
Destiny Cafe serves up delicious breakfast and brunch meals with local ingredients and unique twists. It's all the food you drool over on Instagram that you never know where to find.
I loved the Destiny Eggs Nest (pictured above), which was spiraled sweet potato with poached eggs and hollandaise sauce! Bailey's go-to was the Truffle Avo Toast or the eggs benny. However, everything looked amazing. They also have delicious shakes, smoothie bowls, juices, and coffee.
If you plan on going around brunch, you won't be the only one. There is often a line out the door at Destiny Cafe, so if you can, go early. With that said, the service is excellent, and you usually don't have to wait longer than 10 or 15 minutes. As you see all the delicious food come out though, this can feel like a lifetime!
5. Explore other beaches around Nosara
Guiones Beach is the most popular beach in Nosara and one of the best in Costa Rica, but there are other beaches to explore nearby. Some even have their own unique features that you need to check out.
The first is Playa Pelada which sits to the north of Guiones Beach. This is my favorite beach to enjoy a walk along because there is a lot more to see. For example, there are tidal pools to the north of the beach and a blowhole to the south that shoots water into the air and makes a lot of noise.
The ocean currents can be strong at Playa Pelada, but a lifeguard tower watches Playa Pelada and Nosara. There are also some great places to enjoy a meal or drink at Playa Pelada that have ocean views. Olga's Beach Bar is one, and it's not badly priced for its location. My favorite, though, is next on this list!
Further to the north is Playa Nosara. This beach is often completely empty, and even surfers tend to stay away.
To the south, you have some small beaches that you can walk to at low tide. Playa Rosada is an absolutely gorgeous beach about 40 minutes walking from the tourist area of Nosara. You can reach the beach around low tide, but be sure to leave before the tide comes in again. This beach is also known as Pink Beach as the sand is a light hue of pink (more on that on number 21 in this blog.)
Slightly further is Playa Cuarzo, which is home to the best tide pools (at low tide) in the area.
You can go even further south if you have a car and check out Playa Garza. A reef protects this beach, so it's the best place to swim in the area. There's a small town here with some local restaurants and shops. It's certainly a lot different from the vibe in Nosara.
Related Read: Another great beach town nearby is Samara! The beach here is calmer, perfect for swimming and relaxing, and there are plenty of things to do in Samara.
6. Sunset dinner or drinks at La Luna
If you're looking for an amazing place to enjoy a meal or sunset drink in Nosara, look no further than La Luna. The restaurant has an oceanfront location on the south end of Playa Pelada that's stunning! La Luna also has amazing decor that's luxurious but simple.
Of course, the main reason you're coming to dinner is to enjoy delicious food, in fact, La Luna is one of the best restaurants in Nosara. Thankfully, La Luna serves top-notch food from falafel, seafood, tacos, pizza, ceviche, and more. To go along with your meal, try some of the cocktails. My favorite is the passion mojito!
Prices at La Luna are reasonable for the service and quality. Expect to pay around $25 USD for a main and $6 to $7 USD for a cocktail. If you want to visit for a sunset dinner, be sure to book in advance on their Facebook page or via phone.
7. Hike through Nosara Biological Reserve
Nosara Biological Reserve is a small nature reserve owned and protected by the Lagrata Lodge on the north end of town near Nosara Beach. The area is home to lots of wildlife, and bordering the reserve is the Rio Nosara which provides the ideal habitat for wildlife to thrive. The entire protected area is just under 90 acres, and trails navigate the whole reserve.
A visit to Nosara Biological Reserve costs $6 USD for nonguests of the hotel, and for hotel guests, it's free. For that, you get a map of the trails and information about the reserve. They also have an option for a guided tour which costs extra depending on group size.
You can see hundreds of species of wildlife along the trails, including howler monkies, anteaters, iguanas, and armadillos. The best time to visit is early in the morning when the majority of the wildlife is most active. It's also a cooler time of the day!
8. Drink craft beer at Guiones Brew Co.
I was so excited when Guiones Brew Co. opened in Nosara. I just love craft beer, and it's the one thing Nosara was missing. Although they usually only have a few beers on tap, what they do, they do well.
Of course, my favorite is the IPA, but they also have a tasty Pale Ale. Guiones Brew Co. is known for its wood-fired pizzas too. They only cost $12 USD and are full of flavor – perfect with a craft beer.
Guiones Brew Co. opens at 4 pm. However, nothing really happens until 5 pm (Pura Vida), so don't expect to order food much before then. You can sit at the bar, which has limited seating without a booking. But if you want a table during the busy season, it's best to book in advance.
9. Stretch out at yoga
Yoga is synonymous with Nosara and is one of the best things to do. Known as a health and wellness hub, yoga studios are dotted all over Nosara. There is a range of programs, from drop-in classes to full-on yoga retreats and even yoga courses.
Nalu Studio is an excellent option if you're just a part-time yogi like myself. They have regularly scheduled community classes almost every day. They also have breathwork, meditation, and fitness classes. All classes cost $20 USD cash for drop-ins.
If you're more serious about yoga, Bodhi Tree Yoga Resort offers regular yoga retreats that last for a week. They certainly aren't cheap, but they include your lodging, three meals a day, and 2 to 3 yoga sessions per day. They also have daily classes open to the public
Regardless of your experience or passion for yoga, you can find a class in Nosara to suit your needs!
10. Zipline/canopy tour
When it comes to exploring Nosara, most people think of the beaches. But, what about the mountains? On a canopy tour, you'll get to see Nosara from above and explore the dense jungle that occupies the mountainsides.
The most popular tour in Nosara is the canopy tour with Miss Sky. Their canopy tour is the longest in the world at 11 kilometers (6.8 miles). You'll do 21 ziplines on the tour that are on average 500 meters (1,640 feet) long. The tour also includes a stop at a waterfall and finishes with a zipline into a five-story building.
If you're going to do a canopy tour in Costa Rica, do it in Nosara, Costa Rica.
Related Read: Zipling is such a popular activity in Costa Rica – check out our guide on the best places to go ziplining in Costa Rica
11. Mala Noche Waterfall Tour
While on the topic of the mountains, let's talk about Mala Noche Waterfall! This refreshing waterfall is located within the mountains of Nosara and is the perfect place to cool off.
The best way to explore Mala Noche is with Monkey Quads on their ATV tour. You'll ride up through the mountains and to the waterfall before jumping from the falls and cooling off in the pool below. It's a fun way to spend the day!
Monkey Quads also rent ATVs so you can also just rent an ATV for the day and explore the waterfall on your own. Just ask them for directions and a map because the waterfall is not on Google Maps.
12. Horseback riding
Horseback is without a doubt one of the most popular things to do in Nosara. The entire area is filled with trails used to navigate the mountains, rivers, and dense jungle. In fact, many of the small coastal villages in Costa Rica began as farming towns, and horses played an essential role in that.
On this horseback riding tour, you'll head off with your newfound friend and explore the area for 1 hour. Along the way, you'll cross rivers, spot monkeys, and even take the horses for a shower afterward.
It's a fun and exciting experience, and they even have ponies for kids as well as all the safety gear required. Most importantly, you'll ride horses who are really well cared for and groomed.
Unfortunately due to Bailey's extreme allergies, we don't usually go horseback riding. It's actually scary when her skin flares up!
13. Walk up to Mirador Hermosa Nosara
While exploring Nosara, I stumbled upon a viewpoint that lies between Playa Guiones and Playa Pelada. Called Mirador Hermosa Nosara, the short but steep walk up the cliff at sunset makes for a great place to relax and enjoy the views.
You can easily reach the viewpoint from town simply by walking to Playa Guiones and walking as far north along the beach until a huge rock wall greets you. Once there, you'll be able to spot the steep pathway to the top.
Please be aware that the trail to the top is steep, and there is a cliff face on the other side. So, this is not suited to those with mobility issues or kids.
14. Rent a golf buggy
One of the best ways to get around Nosara is in a golf buggy. Although Nosara is a small town, you still need to do a lot of walking along dusty roads. So to save time and do something fun, people rent golf buggies for their stay.
Unfortunately for us, we never plan ahead enough and always miss out on a rental – they are that popular. However, if you're currently planning your trip, you can rent gold buggies from Nosara Paradise Rentals, Nosara Prime, Limo Dan, and more.
A rental starts at $65 USD per day for a four-person golf buggy. They also have weekly prices of $50 USD per day. As I mentioned above, you need to book in advance during the busy season as golf buggies are very popular.
15. Have a pool day at Selina
The Selina Hostel in Nosara is one of the nicest hostels in the world. Rumor has it the property used to be a 5-star resort that closed down, and now it's Costa Rica's most popular (and expensive) hostel. We didn't stay at the Selina simply because the price for a room was a bit lofty for our taste but we did visit to use the pools for the day.
A day pass at Selina costs $20 USD, and because it's a hostel, it's a pretty lively place to hang out and relax. Grab yourself some drinks from the bar, splash in the pool, or just relax and enjoy the sunshine. A day at Selina is a really fun time!
16. Stay in a luxury hotel or villa in the jungle
One of the things I love about Nosara is the ability to disappear into the mountains and become completely surrounded by nature. The best part is you don't have to sacrifice comfort to do so.
A few hotels in Nosara are surrounded by dense jungle with magnificent ocean views. So, why not split your time between the beach and the jungle and book a few nights away from the beach?
Tierra Magnifica Boutique Hotel is my top choice when it comes to jungle getaways. The hotel is absolutely gorgeous, and the views are unmatched. Relax in the pool or pamper yourself at the spa – regardless, you'll love your stay here.
If you're traveling with a larger group and want more privacy, Villa Gullwing is a great option. This Airbnb-style home can sleep up to nine people, has a private pool, and has ocean views.
Don't worry if you're on a budget either. I have a great option that's surprisingly cheap! Villa Mango B&B is such a beautiful hotel, and rooms here cost around $110 USD per night (way too cheap!) For that, you get ocean views, a small pool, and an exceptional breakfast included!
17. Visit Pink Sand Beach (Playa Rosada)
One of the more unique things to do in Nosara is this awesome tour out to a beautiful beach by boat. Pink Beach is one of the world's few pink sand beaches, and tours with Tico Tours Nosara take you there via boat to snorkel, relax in tide pools, and take photos of the pink sand.
I mentioned the beach above (Playa Rosada) as a great place to visit from Nosara. The tour basically takes you there via boat instead of having to walk, and you'll also get a guide.
The tour is overpriced, in my opinion. I prefer to visit places on my own. However, I understand some don't want to hassle of worrying about tide times and walking through the heat to the beach.
18. Go boutique shopping
Nosara is filled with small boutique shops that sell clothing you probably wouldn't expect to see in a small beach town. During our stay, Bailey did a lot of shopping. To be honest, I don't blame her. Everywhere we went, there was shopping to be done.
In fact, while I enjoyed a craft beer, Bailey shopped at WLDFLWRS, which is connected to the brewery. Some other great places to shop include Love Nosara, and MaderArte. These boutique stores are certainly not cheap, but the quality is high. The best part is, you'll be able to take something unique home with you!
19. Go snorkeling in San Juanillo Bay
One of the best places to go snorkeling near Nosara is a small bay called San Juanillo Bay. The bay is home to a coral reef home to lots of aquatic life such as pufferfish, turtles, fish, sharks, and eels. The water is known for its great visibility, and tours to the San Juanillo are very popular.
Tico Tours Nosara is one of the more popular companies that run tours to San Juanillo. On an ATV, you'll drive out to the beach before jumping in the water to explore with your guide. Spot lots of wildlife, enjoy the gorgeous white sand beach, and even sip fresh coconuts.
Overall it's a great day out that I loved. This is easily one of the best things to do in Nosara. The tour costs $100 USD per person and an extra $50 USD for another person (shared ATV.)
If you want to save money, you can also rent your snorkeling gear in town from The Frog Pad and get a taxi or drive yourself out to the beach. It's a 35-minute drive.
20. Eat at Gabi's Place
If you're traveling with a group who often can't decide where to eat, then take them to Gabi's Place. Gabi's is an open-air food court located in Nosara. There are seven restaurants in Gabi's, and they cover many different cuisines including vegan, Italian, steak, local Costa Rican, sushi, and seafood.
Head to Soda La Barra for a typical Casado for $5 USD or spoil yourself with a steak at La Brasa. Regardless, even the pickiest of eaters can find something here. Then, bring your meal back to the same table and eat together!
21. Eat vegan food
Nosara is a fantastic place for vegans. Around town, there are many great places to eat vegan food, and even those who usually shy away should give some of these restaurants a try.
One of the most popular vegan restaurants in Nosara is LuvBurger. Their menu is entirely plant-based, and as the name suggests, they have lots of burgers!
Another similar restaurant is Naked Foods. The food here is really good and they have a great mix of bowls, burgers, falafel, and even a "fillet no fish."
Lastly, try Symbiosis for vegan tacos, burritos, and even pad thai. They're located in the food court called Gabi's Place (mentioned above), so even if your friends aren't vegan, they have other options too!
Where to Stay in Nosara, Costa Rica
Before you decide where to stay in Nosara, let's clear one thing up. You want to stay near Playa Guiones, not in Nosara. The town of Nosara is not near the beach and is also not where all the best restaurants and shops are. They are all in a small downtown area near the beach.
For budget travelers, stay at Selina Nosara. Although this hostel pushes into the medium-priced category, it's worth spending the extra money. The hostel has a beautiful pool and tons of free activities every day. This is without a doubt the nicest hostel I have ever seen! You can book this hostel on Booking.com or Hostelworld.
If you're really on a budget and don't mind staying away from the beach, Hostel Nicoa is a good option.
Your options are much better for those with a little more to spend. My top choice is The Sunset Shack for around the $250 USD a night price range. The hotel is perfectly located, close to the beach, and has a pool.
Suppose you're a luxury traveler. Luckily for you, there are a lot of hotels in this price range in Nosara. The Gilded Iguana is really one of the best if you want a resort-style stay close to the beach with luxury amenities. Another good option is Moana Surf Resort which has ocean view rooms!
Read our blog about the best hotels in Nosara for more detailed info!
Getting Around Costa Rica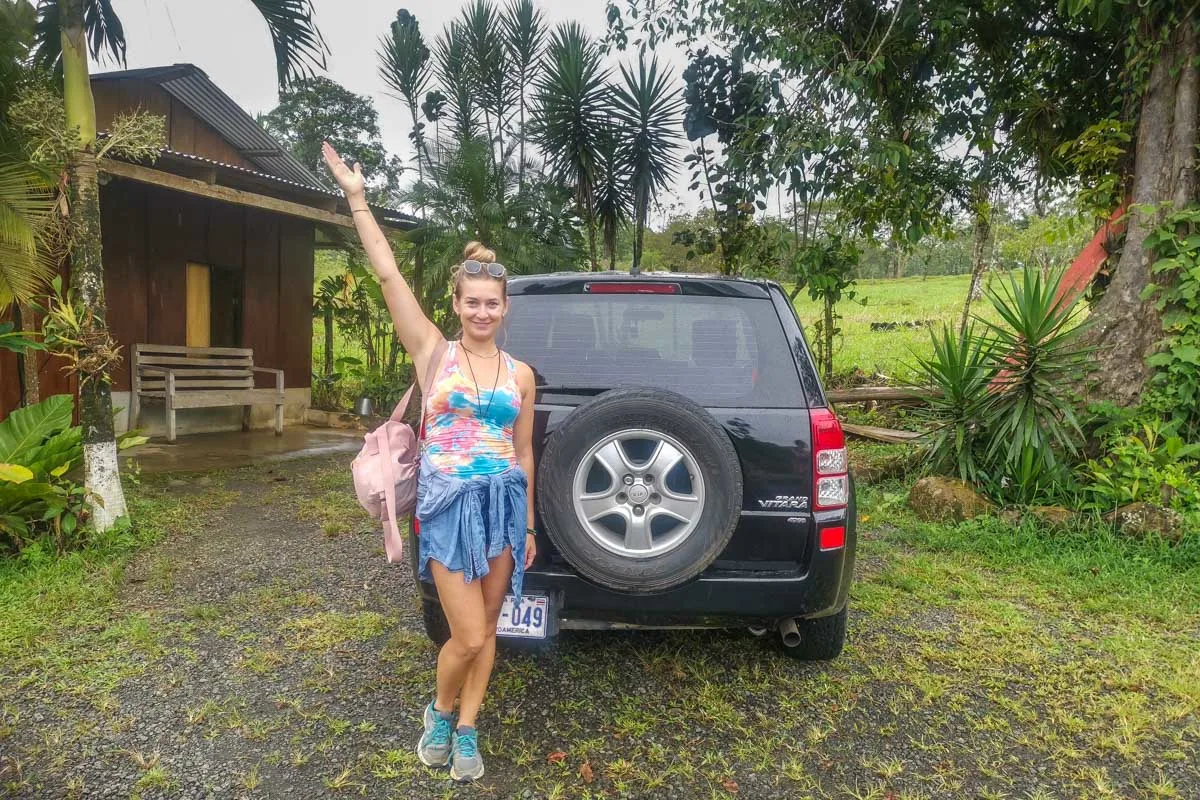 How you choose to get around Costa Rica is one of the biggest decisions you'll make when planning your holiday here! How you do it depends on your budget, travel style, and comfort level.
Renting a Car
Without a doubt, the number one way to explore Costa Rica is in a rental car. We book rental cars on the Discover Cars website as we have had good experiences with them in the past.
One of the things you need to watch for when renting a car in Costa Rica is the mandatory insurance that the government requires you to have. There are a lot of very cheap rentals that don't include this mandatory insurance (TPL) in the original booking price, but there are also ones that do. To avoid additional surprise charges when you pick up your rental car, be sure to rent a car that includes the mandatory insurance when you book.
Thankfully, on Discover Cars it's easy to tell apart the companies that include the mandatory insurance and those that don't. The trick is you can't pick any car on their website. In the picture below, you can see this rental car, with pick up in Jaco, includes the TPL. That means the mandatory insurance is included in the price. Any cover you get above that is extra.
Of course, I still suggest getting the full coverage offered by Discover Cars, which covers you even more.
You can browse cars on Discover Cars here.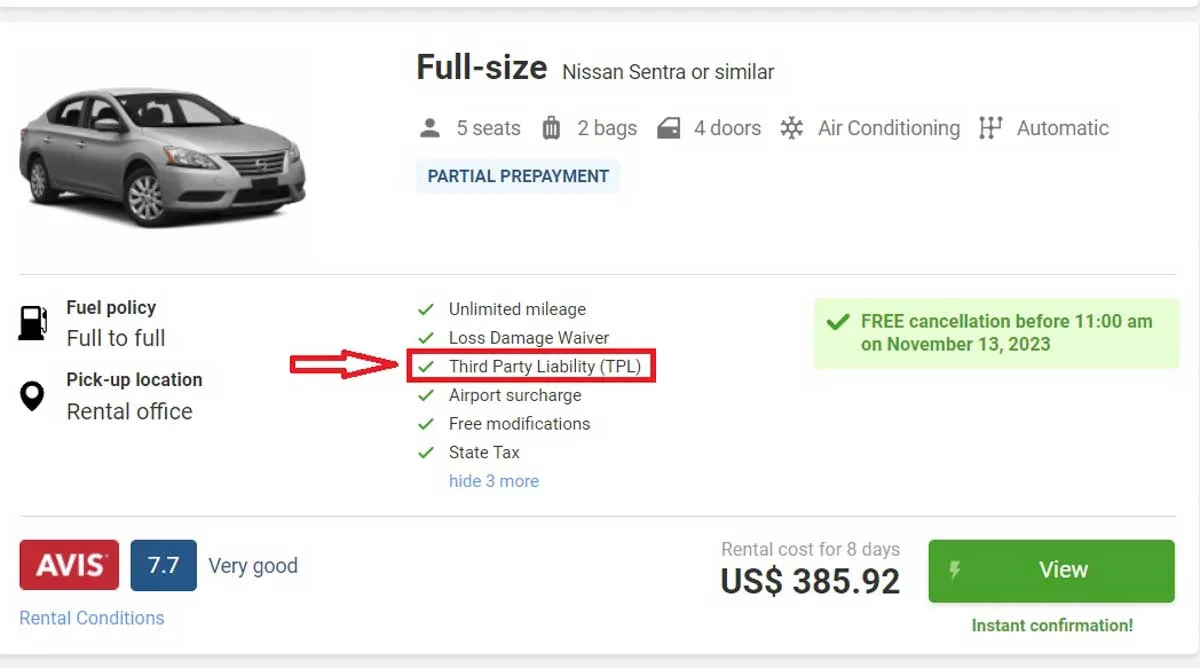 Book Shuttles
If renting a car isn't in your budget, you don't feel comfortable driving in Costa Rica, or you just don't like driving, shuttles are the next best option. There are hundreds of shuttle routes available all over the country, and they are very affordable.
Shuttles in Costa Rica are specifically for tourists and often include pick up and drop off at your selected hotels and airports. The drivers also speak some English, and the vehicles have air conditioning. You'll also be guaranteed a seat when you book a shuttle (which isn't the case with the public bus system.)
To get the best price, use the website Bookaway. They compare all the offers and prices of shuttle companies in Costa Rica so you get the best price! Honestly, we have saved so much money using Bookaway!
You can search for shuttles online on Bookaway here.
Public Bus
Lastly, you can use the public bus system. On short journeys, such as from San Jose to La Fortuna or Uvita to Manuel Antonio, this system is great. However, the longer the journey the more hassle and time spent on a bus. It's undoubtedly best to save the public bus in Costa Rica for short and straightforward trips!
The public buses are definitely the cheapest way to get around Costa Rica, but they are not always very reliable and schedules often change without notice and delays are to be expected. The buses can also be very crowded and hot – so just be prepared!
It's also good to speak some Spanish if you plan on riding the public bus since most drivers and ticket booth operators don't speak English.
Invest in Travel Insurance
Paying out of pocket for trip interruptions or medical treatment will add to what might already be a stressful situation. Not to worry, SafetyWing is here to help!
This affordable travel and medical insurance is perfect for digital nomads, long-term travelers, and remote workers. The best part is that it only costs $45 USD per 4 weeks.
To start coverage you must purchase it after leaving your home country. We usually purchase it as soon as we land at the airport.
Since using SafetyWing we've been reimbursed thousands of dollars when we've gotten sick. During the pandemic, they've even gone as far as to pay for our last-minute flights back to Canada before the border closed!
Pura Vida!
Wow, what a list of awesome things to do in Nosara, Costa Rica. Honestly, it's no wonder this is one of the top beach destinations in the country. It's beautiful!
I hope this guide has helped plan your upcoming stay and you have all the information on activities in Nosara you need! If you do, be sure to check out more of Costa Rica Travel Life – we have so many blogs for you to read including a few favorites:
Where to Stay in Samara, Costa Rica
Guide to Visiting Santa Teresa, Costa Rica