One of the best places to see the pristine water and beautiful beaches of the Nicoya Peninsula is in the city of Paquera, Costa Rica.
Besides having some of the most gorgeous beaches in Costa Rica, there are nature reserves, and tons of the best activities Costa Rica has to offer from whale watching, hiking, snorkeling, and fishing, to dining out at a great restaurant, Paquera has everything you need for a fantastic vacation!
This Costa Rican city is located in the province of Puntarenas. There's a daily ferry that you can take from the port town of Puntarenas. People usually take that ferry to visit Paquera and popular beaches nearby like Montezuma, Santa Teresa, or Malpais.
If you are already traveling in the Guanacaste region or in the north part of the country, Paquera is a great option to plan a stop at. It's best if you rent a car to visit the area, but there are also daily buses from San José to Paquera.
Once you're here, Paquera has that calm and beachy feel to it – Pura Vida at its best! You'll want to spend a couple of nights here so you can really soak it in and don't rush. We love this part of Costa Rica because there are lots of hotels, restaurants, and activities for every budget.
To help you out with planning your getaway to Paquera, we've put together the 11 best things to do! Whether you pick a few activities off this list or do them all, you'll have an amazing time finding out all part of Costa Rica has to offer. This is your ultimate guide to visiting Paquera, Costa Rica!
The BEST Things to do in Paquera, Costa Rica
1. Bioluminescent tour
If you have always dreamed of seeing bioluminescent plankton, Paquera is one of only a few places in the world where you can view this phenomenon all year round.
This is truly a bucket list activity where the ocean glows in the dark as the bioluminescent plankton float under the surface and flash a brilliant blue as you pass by. The light show from these tiny critters helps them find food and scare off predators.
One of the best places in Costa Rica to see them is in the waters around Paquera Bay. The water will look like it has thousands of glowing, blue stars within it – so you just have to experience it up close!
The easiest way to have this magical experience for yourself is with a tour. I loved this bioluminescent kayaking tour, where you get to gently glide above the plankton in Paquera Bay. Every time you dip your paddle in the water, it creates this sparkling light around you. With the stars twinkling above and the bioluminescent plankton in the water, it's this incredible experience I can't even describe. Plus, it's only $36 USD, so super affordable too!
Another way to see the plankton up close without having to paddle is with this boat tour. You'll set off at sunset from the small beach next to the ferry dock in Paquera. Once it's dark, you'll get an hour to swim and snorkel in Paquera Bay right next to the glowing light of the plankton. It's only $35 USD and with a maximum of six people, it's a really personal experience too.
Both tours start around the ferry dock in Paquera but don't include transportation. However, you can easily walk or take a taxi if needed if you're staying in Paquera. I recommend booking these tours in advance as they are smaller groups, so you want to make sure you're guaranteed a spot! Plus, this is easily one of the most popular things to do in Paquera and one of the main reasons people stay the night here.
2. Curú Wildlife Refuge
Curú Wildlife Refuge is a spot to see some amazing wildlife in a protected area and go hiking on the trails or explore the beaches and bays nearby.
Curú was Costa Rica's first private National Wildlife Refuge in 1983. It's evolved into a sustainable development project to protect the animals nearby as well as their important habitats like mangroves, forests, and coral reefs. While exploring here, you might see white-faced monkeys, spider monkeys, scarlet macaws, deer, raccoons, and iguanas.
This refuge is located only a 15-minute drive from Paquera or there's a bus from Paquera that stops right in front.
If you are just interested in spending the day, you can pay the admission fee of $15 USD. You can also add on a horseback riding tour for another $15 USD. Once you're in the park, there are many trails to hike around, and you will be able to visit the beaches of Playa Curu, Playa Colorada, and Playa Quesera – which are all beautiful!
The refuge is open to the public from 7 am to 4 pm daily. If you would like to stay longer (and past 4 pm), this is also an eco-tourism location with affordable packages including accommodation and food. A one-night stay with meals for 2 adults, costs around $120 USD. This gives you more time to explore and appreciate the beauty of this area.
3. Tortuga Island
The small island of Tortuga or Isla Tortuga is a great little beach getaway close to Paquera. The waters here are that gorgeous shade of turquoise blue and so clear, it has some of the best snorkeling I've done in the whole country!
Tortuga and the nearby Alcatraz Island are part of the Islas Negritos Biological Reserve, which is one of the best nature reserves in Costa Rica.
Besides the incredible snorkeling spots, if you're craving a beach day, the main beach here is just a beautiful place to lay around and relax. Or you can walk through the rainforests here too and see what animals you can spot.
Because this is an island, booking a tour is the way to go. This Isla Tortuga snorkeling tour takes you out on a boat to the small island where you'll enjoy incredible views of some dramatic rock formations … if you're lucky, your boat captain will take the boat right through the hole in the rock known as Rainbow Rock or Arco Iris!
With all the snorkeling gear and lifejackets included, you'll be able to jump right into the water to snorkel among a volcanic reef. Keep an eye out for turtles, angelfish, rays, and lots of fish. Then, you'll trade in the snorkeling mask for sunglasses and head to the beach on Tortuga Island for some relaxation and refreshments. The tour is $50 USD and leaves from Los Organos, a beach about a 10-minute drive from downtown Paquera.
If you're elsewhere in Costa Rica, tours to Tortuga Island are also very popular from Jaco, Montezuma, Puntarenas, Santa Teresa, Playa Herradura, and even the city of San Jose.
4. Visit Playa Organos
Playa Organos is one of the best beaches near Paquera and a hidden gem if you're looking for a quieter beach.
Located about 10 minutes from town, it's not too crowded and you'll mostly find locals on this little beach. While you're on the beach, splash around in the ocean or kick back, relax and get a tan while lying on the sand. It's really close to a nearby wildlife refuge, so you'll also see monkeys hanging out in the trees along the beach!
I love the view of the mountains from this beach and it actually faces Isla Tortuga, so you can see the island in the distance. You can even catch a boat to the island right from this beach – it's about a 15-minute ride.
Playa Organos has an ecological blue flag award from the Ministry of the Environment for its cleanliness and eco quality, so you know it's a good spot!
5. Go fishing
If you like fishing, the Nicoya Peninsula right around Paquera is a great place for it. You don't need to be an expert to catch something, which is great for beginners or even kids!
You can fish all year round, but depending on the season, some species will be more abundant than others. For example, marlin is more common during the rainy season, and mahi-mahi or tuna from September to January.
The offshore fishing opportunities here are simply world-class, so to experience it for yourself, book a private fishing charter for you and three other people. You'll spend a full day (10 hours) out on the water to see what you can catch. The tour includes all the fishing gear, bait, equipment, and food and drinks you'll need.
Because it's a private tour, the cost is a bit higher at $810 USD – but if you split the cost with your friends and family on the boat, it's not too bad. The tour picks you up at the Paquera ferry landing around 6 am and drops you off at 5 pm, just in time to enjoy the sunset on the beach.
Related read: Sportfishing is also a lot of fun if you're looking for things to do in Playa Flamingo, Guanacaste!
6. Visit Playa Pochote and Playa Tambor
For a beach day trip to not one but two amazing beaches, head just out of town for the day!
Playa Pochote and Playa Tambor are located side-by-side about 20 minutes from Paquera. The entrance to the beaches is right off the main road, so it's easy to find and access without the need for a 4×4 vehicle.
What I love is how long of a stretch of beach this is! You can walk along the sand for what feels like forever, which is just beautiful.
These beaches are wilder and less crowded with macaws, deer, and monkeys nearby. I recommend staying on the northern side of the beach if you're hoping for a quieter experience as there are more tourists the closer you get to Playa Tambor and the popular resort there.
The waves are really calm here and the water stays shallow for quite a while, so it's great for swimming and wading. There is a mangrove nearby since the River Pochote flows into the ocean on this beach. You can kayak along the mangrove or bring some food for lunch at the picnic tables here.
7. Snorkeling tour
The snorkeling in Costa Rica is incredible and the pristine waters near Paquera are no exception. I love seeing the underwater world that exists here just beyond the shore!
To feel like you're snorkeling inside an aquarium (there are really THAT many amazing creatures!), book a snorkeling tour with Bahia Rica. It leaves from the Paquera ferry landing and takes you to snorkeling spots around the Isla Negritos or Isla Tortuga area.
You'll spend lots of time snorkeling in the warm tropical waters with all the gear and instruction you need to have a great time. If you're lucky, you may even spot a turtle or two!
What's great about this tour is it also includes a stop at another nearby island to see the endangered spider monkeys who live there. The guides on this tour know these monkeys so well, they'll tell you stories about individual monkeys and their antics!
The tour is $52 USD per person with a minimum booking of four people or $82 USD for 2-3 people. The boat only takes a maximum of 10, so you're guaranteed a small group for the experience.
8. Whale and dolphin watching
If you're trying to figure out the best time to visit Costa Rica, consider coming here for the peak whale watching season! There are around 25 different species of whales and dolphins who call the waters around Costa Rica home throughout the year.
While you can spot dolphins and whales basically year-round, the best time to come is typically from July to November. This is when humpback whales migrate from Antarctica and raise their babies around Costa Rica. The secondary whale watching season is from December to March.
The best way to see these incredible animals is to get out on the water with this dolphin and whale watching tour. Your boat is often escorted out to the ocean by friendly spotted and bottlenose dolphins as you head out to deeper waters to find whales.
Have your camera ready and if you're lucky, you'll see a humpback whale jump out of the water or maybe even a momma whale swimming alongside her baby, touching fins to show affection (awww!!).
While whale and dolphin sightings aren't guaranteed, this tour has access to an established network of local fishermen, tour boats, and researchers who keep tabs on the creatures. Your captain will be constantly communicating with other boats by radio to hopefully get you close to whatever animals are out at that time.
This four-hour tour is only available during peak whale watching season from August to November and is $75 USD per person.
Related read: For some of the best whale watching in the country, head to Uvita, Costa Rica!
9. Eat delicious seafood at Restaurante Lizz Seafood Macho
After a long day on the water around Paquera doing snorkeling, whale watching, or fishing, there's nothing better than finishing your day at a great restaurant. Our recommendation is Restaurant Lizz Seafood Macho. Its central location makes it easy to drive or walk to if you're staying in Paquera.
This is the number one restaurant in Paquera, where you will find not only seafood specialties but also delicious traditional Costa Rican food and veggie options. It's a charming little restaurant with a relaxed atmosphere that has been a staple in this community for 25 years.
Two of my favorite dishes here are fish ceviche and patacones, but their menu is pretty huge! You also can't miss trying some of their Costa Rican specials like the famous Casados, which I also love.
The food they serve is so fresh, and the presentation is great too. If you're not in the mood for a full meal, there's coffee and dessert like the incredible homemade passion fruit cheesecake.
The restaurant is open every day from 11 am to 10 pm. The prices are pretty affordable too, so you can eat here more than once!
10. Cocalito Falls
Up for an adventure to a stunning beach with a unique waterfall? Then pay a visit to the amazing Cocalito Falls!
This is one of the best waterfalls in Costa Rica as it's so unique with water tumbling over a cliffside into the ocean below.
The falls can be found about 35 minutes from Paquera at the north end of Cocalito Beach. The beach here is secluded, peaceful, and absolutely stunning, so plan to stay here for a while!
If you're driving, there's a parking lot about a 5-minute walk above the falls. You'll need to climb down some of the rocks to get a better view of the waterfall and relax at the beach.
It is possible to walk here along a trail from Montezuma Beach, but be aware that it's a 2-hour hike each way! The trail is along the ocean, so the scenery is great, just make sure to leave at least 6 hours before or 2 hours after high tide so you have more room along the beach.
11. Day trip to Montezuma
Just a short drive away from Paquera lies the small town of Montezuma. This is one of my favorite places in the country because of its authentic laidback Costa Rican vibes. While tourists come here, it doesn't have that touristy feel to it.
You can get to Montezuma from Paquera very easily. The bus takes around two hours, and by car or taxi, plan for 45 minutes to an hour, depending on road conditions.
The beach in Montezuma is charming so you can spend the day there relaxing and swimming. You can also go visit the Montezuma Waterfall, which is a 15-minute walk from the village. This is one of the area's biggest attractions because the falls are awesome, and you can swim there, which is always a thrill.
This is one of the few free waterfalls in Costa Rica, but bring along 1,000 colones (cash only) to access the trail up to the upper waterfalls. It can be a bit confusing to find where to go, so check out our things to do in Montezuma blog for detailed info!
In Montezuma, you can learn how to surf at the calmer waves at Playa Grande or one of the surf schools in the area. This specific surf lesson in Montezuma is three hours long and will get you standing up on a board in no time! After that, you'll want to check out all the amazing surf spots in Costa Rica.
While you're here, check out some of the best restaurants in Montezuma. I love Tierra Y Fuego which is known around here as "a small slice of Italy in the jungle" and has excellent calzones, pasta, pizza, and lasagna. Or eat local Costa Rican dishes with a view of the ocean at Chico's Playa Bar Restaurante. They have great live music too!
Cabuya Island and the Cabo Blanco Nature Reserve are two other interesting spots to visit that are not very far from Montezuma. You can walk to the island during low tide to see the old cemetery there. Or there's a public bus that can take you right to the entrance of Cabo Blanco from Montezuma.
Cabo Blanco was the first ever protected area in all of Costa Rica! It's an important seabird sanctuary and has a tropical forest with 150 different species of trees. You can hike through two trails on the nature reserve for the small admission fee of $12 USD. It's open Wednesday to Sunday from 8 am to 4 pm.
Note: Montezuma is also a great destination on its own, so you could plan to spend a night or here two. If so, check out our guide on the best hostels and hotels in Montezuma before you go!
Where to Stay in Paquera, Costa Rica
Once you're taken in by the charm of Paquera, you'll want to stay a while. It's a nice village to base yourself in for a bit as you explore the Nicoya Peninsula. While it is a smaller center, there are still lots of options for accommodations to suit every budget. These are our top picks!
For a home away from home, this small property is run by a local family in the residential area of Paquera. The owners are super nice and provide a delicious breakfast daily. There's also a shared kitchen available. It's a cozy place that's really affordable with rooms ranging from $15-30 USD per night.
For private rooms that are almost like mini-apartments, Hotel Alemar is a great choice. This is a nice place for families with lots of space, free parking, WiFi, and a nice pool and BBQ area. There's also air conditioning, so you can cool off after a day at the beach. The restaurant here is good too with an excellent chef and really generous portions. The rates here are around $50-60 USD a night.
Enjoy amazing views over the Gulf of Nicoya from your private, furnished balcony. This beautiful hotel is located at the top of a hill, only five minutes from the ferry port. There's an infinity pool and awesome pool bar, private beach access, and spacious rooms with rain showers. There's even a hotel restaurant serving traditional and international food when you get hungry. Rooms here start at $150 USD per night.
Getting Around Costa Rica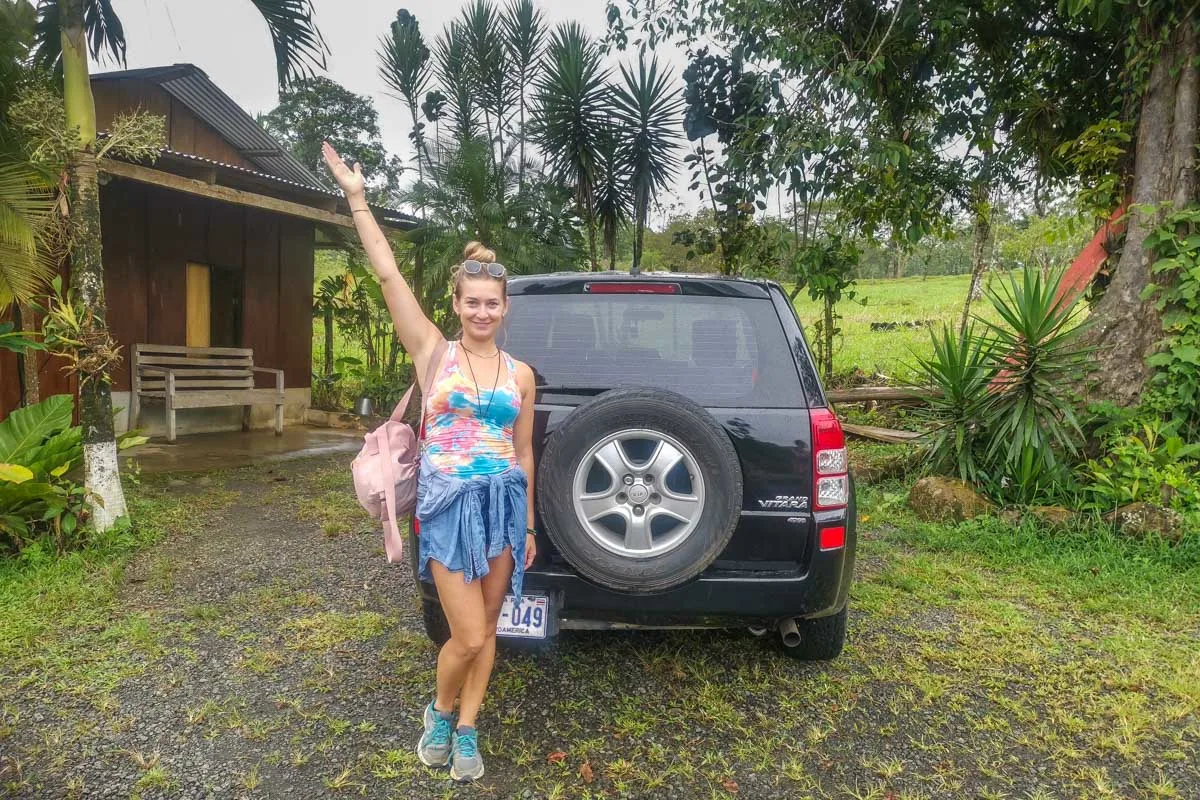 How you choose to get around Costa Rica is one of the biggest decisions you'll make when planning your holiday here! How you do it depends on your budget, travel style, and comfort level.
Renting a Car
Without a doubt, the number one way to explore Costa Rica is in a rental car. We book rental cars on the Discover Cars website as we have had good experiences with them in the past.
One of the things you need to watch for when renting a car in Costa Rica is the mandatory insurance that the government requires you to have. There are a lot of very cheap rentals that don't include this mandatory insurance (TPL) in the original booking price, but there are also ones that do. To avoid additional surprise charges when you pick up your rental car, be sure to rent a car that includes the mandatory insurance when you book.
Thankfully, on Discover Cars it's easy to tell apart the companies that include the mandatory insurance and those that don't. The trick is you can't pick any car on their website. In the picture below, you can see this rental car, with pick up in Jaco, includes the TPL. That means the mandatory insurance is included in the price. Any cover you get above that is extra.
Of course, I still suggest getting the full coverage offered by Discover Cars, which covers you even more.
You can browse cars on Discover Cars here.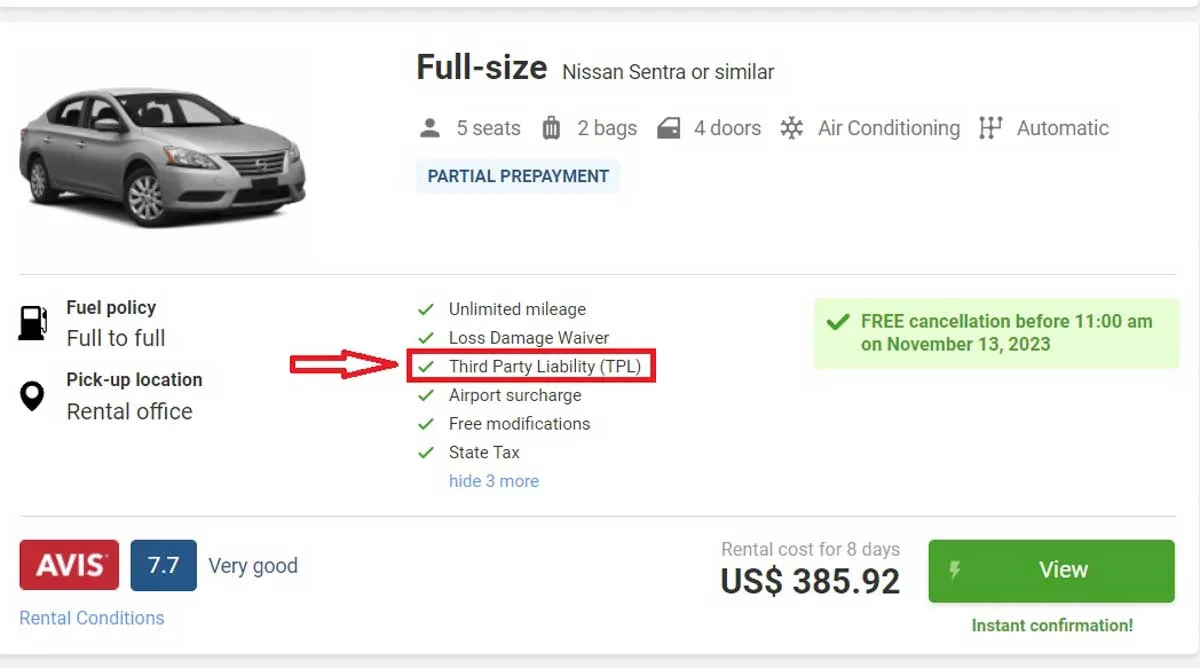 Book Shuttles
If renting a car isn't in your budget, you don't feel comfortable driving in Costa Rica, or you just don't like driving, shuttles are the next best option. There are hundreds of shuttle routes available all over the country, and they are very affordable.
Shuttles in Costa Rica are specifically for tourists and often include pick up and drop off at your selected hotels and airports. The drivers also speak some English, and the vehicles have air conditioning. You'll also be guaranteed a seat when you book a shuttle (which isn't the case with the public bus system.)
To get the best price, use the website Bookaway. They compare all the offers and prices of shuttle companies in Costa Rica so you get the best price! Honestly, we have saved so much money using Bookaway!
You can search for shuttles online on Bookaway here.
Public Bus
Lastly, you can use the public bus system. On short journeys, such as from San Jose to La Fortuna or Uvita to Manuel Antonio, this system is great. However, the longer the journey the more hassle and time spent on a bus. It's undoubtedly best to save the public bus in Costa Rica for short and straightforward trips!
The public buses are definitely the cheapest way to get around Costa Rica, but they are not always very reliable and schedules often change without notice and delays are to be expected. The buses can also be very crowded and hot – so just be prepared!
It's also good to speak some Spanish if you plan on riding the public bus since most drivers and ticket booth operators don't speak English.
Invest in Travel Insurance
Paying out of pocket for trip interruptions or medical treatment will add to what might already be a stressful situation. Not to worry, SafetyWing is here to help!
This affordable travel and medical insurance is perfect for digital nomads, long-term travelers, and remote workers. The best part is that it only costs $45 USD per 4 weeks.
To start coverage you must purchase it after leaving your home country. We usually purchase it as soon as we land at the airport.
Since using SafetyWing we've been reimbursed thousands of dollars when we've gotten sick. During the pandemic, they've even gone as far as to pay for our last-minute flights back to Canada before the border closed!
Pura Vida!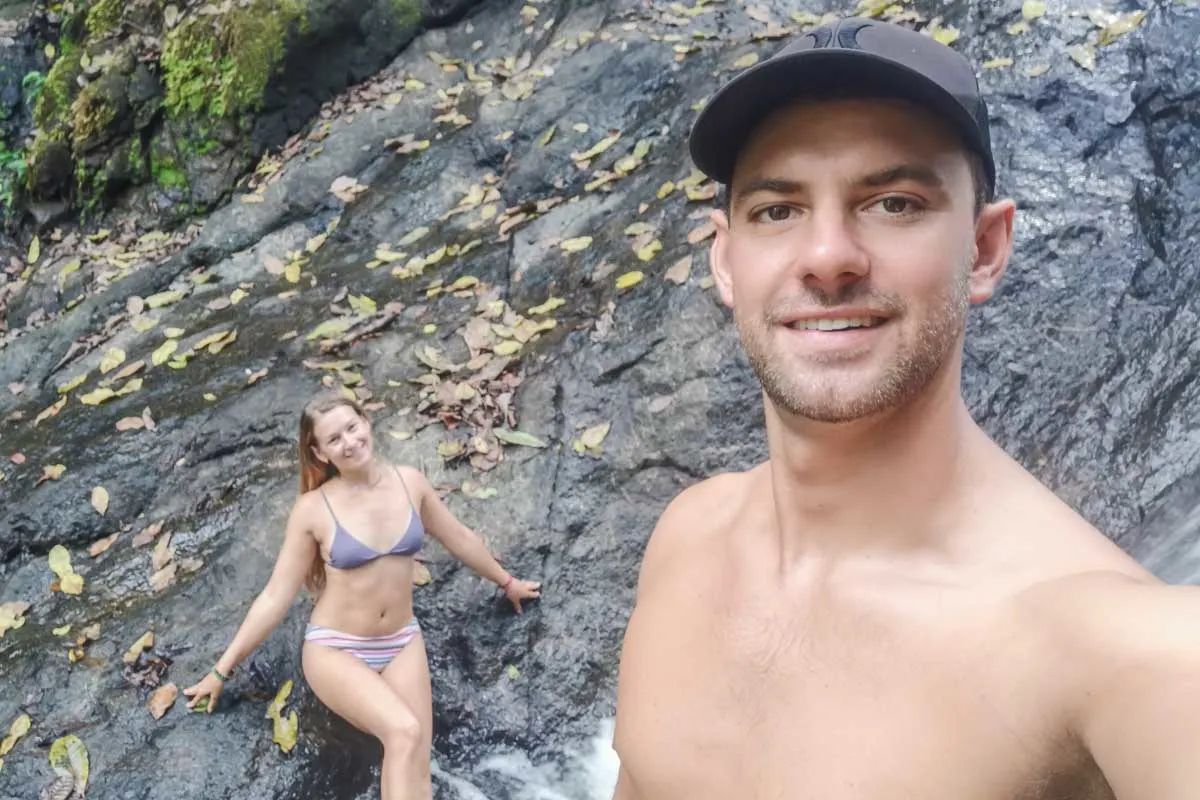 Paquera is a small town you don't need to worry about getting bored in! It's a fantastic stop in the Nicoya Peninsula area – whether you want to visit for a night or two or just the day. The nature refuges, beaches, and of course the bioluminescent plankton make it an unforgettable stop while exploring Costa Rica.
I hope you enjoyed this guide to some of the best things Paquera has to offer. If you did, make sure to browse around and look at more of our in-depth guides to Costa Rica including:
Is Costa Rica Safe? Travel Scams, Safety Advice & More
7 MUST-VISIT Volcanoes in Costa Rica
21 Things you NEED to know before visiting Manuel Antonio National Park