This blog may contain affiliate links. Read our disclosure policy for more info.
Costa Rica is known for its lush rainforests full of sloths and monkeys, but it also has some of the most amazing marine wildlife we've seen! The tropical waters of Costa Rica's Pacific Coast attract dolphins, sea turtles, sting rays, and my favorite – whales. So if you're hoping to go whale watching, Costa Rica is a great choice!
In fact, Costa Rica falls along the migratory paths of both northern and southern humpback whales. This means the country has the longest humpback whale season in the world! These ocean giants come here to live, breed, and raise their young. So, your chances of spotting them are pretty high in Costa Rica.
On our visits, we were so lucky to have several whale and dolphin sightings. There's nothing quite like watching these playful creatures jump through the water! And if they have calves by their side, it feels even more special.
However, there were some things we wished we had known before we went. So to help you out, I've created this handy guide based on our experience. Keep reading for everything you need to know about whale watching in Costa Rica (plus the best places to go!).
Don't have time to read the full article? Costa Rica falls into two different humpback whale migration paths, so it's a great place to see whales. Between December and April, humpbacks migrate up north. Then, you can also see humpbacks going south between late July and the beginning of November. The best way to see the whales is on a boat–like this whale-watching tour at Marino Ballena National Park.
1. What types of whales can you see in Costa Rica?
A few different types of whales pass through the waters of Costa Rica, including humpback whales (the most sought-after type!). These impressive large whales are a sight unlike any other. Adult humpback whales weigh up to 40 metric tons (44 US tons) and are between 46-56 feet (14-17 meters) long.
Costa Rica is one of the most famous places for seeing these playful giants since it's along the migratory paths of both northern and southern hemisphere whales. The area welcomes California humpbacks, Antarctic humpbacks, and North Atlantic St Lawrence humpback whales.
Although not as common, you can also see other types of whales in Costa Rica. The large Bryde's Whales can sometimes make an appearance because they enjoy the area's warm tropical waters. And on rare occasions, you might also catch a glimpse of orca whales or pilot whales in these waters. Both pilot whales and orcas are actually members of the dolphin family but often get misclassified as whales due to their large size.
2. When is the best time of year to go whale watching in Costa Rica?
I love whale watching in Costa Rica because there are so many opportunities to see them throughout the year. This area is part of two different humpback whale migration paths – making whale-watching season extra long!
Between December and April, humpbacks migrate up north. You can see humpbacks migrating south between late July and the beginning of November. Since whales are near Costa Rica about two-thirds of the year, your chances of visiting during the whale-watching season are high!
However, your chances are highest between August and early October when whale numbers peak in Costa Rica. During this time, humpbacks come to mate, give birth, and nurse their calves. These whales are most prominent in the southern Pacific region of the country but can be found all along the Pacific coast. And if you really want to up your chances of spotting a whale, the Osa Peninsula and the Golfo Dulce have the highest numbers of whales.
Although it's a small town, there's plenty to do in Uvita, including whale watching. It's known for its stunning 2-mile (3.2 km) white sand beach and is one of the best places to visit in Costa Rica to see humpback whales. These incredible creatures can be seen during both whale-watching seasons in this area.
When I stayed in Uvita, I discovered the town has an annual Whale and Dolphin Festival. This festival takes place during peak season in early September. There isn't a ton of information about the festival in English, but you'll notice lots of tours and events happening during this time – which is no surprise seeing how your chances of seeing whales are incredibly high!
Related Read: If you visit Uvita, check out some of my favorite restaurants! You'll be treated to stunning views, delicious food, and relaxing vibes.
3. Where are the best places to go whale watching in Costa Rica?
Marino Ballena National Park (Uvita)
Uvita is a small town located along Costa Rica's South Pacific coast. It has 9 miles (15 km) of coastline that looks like it's straight out of a postcard!
It's also home to Marino Ballena National Park. When you look at the map, you'll notice this park has a sandbar peninsula resembling a 'Whale Tail' – which is fitting given that this is arguably the best place in the country for whale sightings! Seeing it on the map made me smile, but there's nothing like seeing it in person!
While Uvita may not be big, it's one of the top tourist destinations in Costa Rica. And what I love about this small Costa Rican beach town is that its waters are protected. As such, whales can safely explore and even come close to the shore!
The waters in this area are full of life, with many opportunities to witness Costa Rica's must-see wildlife. You have a good chance of spotting Bryde's whales (false killer whales), turtles, dolphins, and of course, the humpback whale.
Although you might spot some whales from the shore, I highly recommend joining a tour! You'll be more likely to see these fascinating creatures and can also learn much more about them from your guide.
We really enjoyed this Marino Ballena National Park combo tour. Over 3 hours, we sailed along the ocean and saw dolphins, turtles, and several bird species. We also saw about 6 or 7 whales jumping and showing off their fins. Our guides were incredibly friendly, and you could tell they loved the whales just as much as us.
We went when the water was warmer so we were able to jump in and snorkel the surrounding reefs. Uvita is one of the best snorkeling areas in Costa Rica, so this alone was incredible! While the official whale watching season runs in their cooler months (August to April), we found the ideal time to go is between August and October.
Tours begin at 8:30 am and 1 pm daily. It costs $95 USD which covers entry to the national park, all the equipment (including snorkeling gear), insurance, and a refreshment. It's a great deal and a stunning location – so book your ticket online here!
Osa Peninsula
Costa Rica's Osa Peninsula is one of the most popular whale-watching areas in the country. Most whale species are present in this area throughout the entire year. Because of this, it has one of the longest seasons for watching whales in the world (July – November and December – March).
But what I love about visiting the Osa Peninsula is that I don't just see whales here. It's home to many different dolphin species, including bottlenose, spinner, spotted, rough-toothed, and common dolphins.
The most popular site in the Osa Peninsula for whale watching tours is Drake Bay. Mother humpbacks frequent these calm waters to nurse and raise their young. So don't be surprised if you see some cute calves as well!
Drake Bay
This dolphin and whale watching tour in Drake Bay was one of the most memorable tours in Costa Rica I've been on! It was even featured on Animal Planet and National Geographic. On the 6-hour tour, you'll sail the bay, spotting dolphins and whales. What I especially love about this tour is there's a hydrophone onboard so you can hear the sounds these animals make underwater.
This tour is great for families, friends, couples, or even solo! It's the perfect balance of action and relaxation. You'll have the option to snorkel and spot animals close up or relax onboard. You also get a yummy lunch, with vegetarian options available.
The $133 USD price covers your snorkeling gear, a professional guide and marine biologist, lunch, and safety gear. The tour starts at 8 am at the main beach in Drake Bay, but you can also get hotel pickup if needed. To take advantage of this great deal, check availability and book online here!
Golfo Dulce
Golfo Dulce is on the other side of the Osa Peninsula. This eastern side of the peninsula is yet another great location for spotting whales and dolphins. Since it's a gulf, it's more protected and sheltered which makes it a popular area for whales to birth and raise their calves.
This Gulf Experience tour has you cruising the bay on a motorboat. Since it's easy to maneuver, you can get really close to the animals. However, this tour is centered on dolphins and birdlife rather than whale watching. That doesn't necessarily mean you won't see whales though!
The 3-hour tour picks up from Puerto Jimenez at 10 am. You'll be provided fresh fruit and water, dry bags, and a local guide for just $62 USD. This is one of the better deals out there – so if you're interested in seeing dolphins, book your spot online here!
Related Read: The Osa Peninsula is also a beautiful place to stay a few nights (or more!). Check out the best hotels and locations in Puerto Jimenez here.
Tortuga Island
If you're looking for super chilled vibes, Tortuga Island is the place for you. When I visited, it felt like a deserted island full of lush green rainforests and white sandy beaches.
Tortuga is Spanish for turtle, and this island's name showcases all the beauty that lies under the water here. Aquatic adventures like snorkeling, scuba diving, and whale watching are just a few of the fun activities on Tortuga Island!
There are no residents of Isla Tortuga so you won't find any houses or hotels here. However, it's very a popular day trip destination from the nearby towns. If you're looking to visit Tortuga Island, you can take a boat from areas such as Puntarenas or Jaco – and be sure to keep an eye on the water as you sail! We were lucky enough to see several dolphins jumping along our way.
Since this area is part of whale migratory paths, you might spot whales in these sheltered waters (especially between August and September). But tours always increase your chances since guides know where whales tend to hang out.
Puntarenas to Tortuga Island
If you are in Puntarenas, this Tortuga Island full-day tour is a great option. You'll sail from Puntarenas Beach to Tortuga Island, and see spider monkeys, dolphins, and the stone arch. The boat also stops just before the island, so you can snorkel and spot even more marine life. The snorkeling was my favorite part since the water felt so calm, yet untouched!
The tour also includes a tasty lunch. When we went, we had fresh ceviche (although chicken is available for non-seafood fans). The $115 USD tour price also covers nonalcoholic beverages and snorkeling gear. However, since it is a semi-private tour, you do need at least 4 people to book.
Tours leave at 8:30 am and if you want to escape to a remote island for the day, book your tour online here!
Jaco to Tortuga Island
If you are staying in Jaco and feeling adventurous, go for this Isla Tortuga full-day tour! They'll pick you up around 7 am for a fun-filled day. You'll see crocodiles, spider monkeys, and hopefully dolphins or whales!
When I did this tour, our first stop was at the Tarcoles Bridge (aka Crocodile Bridge). These aren't your average crocodiles either, and they're famous for their size! We also stopped at the Isla Negritos to see the monkeys before sailing to Tortuga Island. Here, we went snorkeling followed by a delicious lunch on the beach.
The tour costs $115 USD, but the ground transportation between Jaco and Puntarenas is an extra $25 USD. This tour includes lunch, nonalcoholic drinks, snorkeling gear, and guides who will show you all the best places to snorkel. This tour requires a minimum of 4 people booking together, so check your options and book online here!
San Jose to Tortuga Island
There are some amazing tours out of San Jose. But if you want to experience Tortuga Island, book this full-day tour from San Jose. You can request pickup from several locations in San Jose or en route to Puntarenas. From there, you'll hop aboard your boat to start the adventure!
You'll have amazing views as you sail to the island. Once on Tortuga Island, you can relax, swim, sunbathe, or snorkel on a private beach. Beverages, breakfast, lunch, and transport are included. However, snorkeling gear costs extra so I recommend bringing your own if you can!
The 10-12 hour tour starts as early as 5 am and costs $133 USD – which isn't bad considering you get meals and snacks. So if you want to escape the city for a day, pick a date and book your tour here!
Paquera
Paquera, on the southeastern tip of the Nicoya Peninsula, is a popular vacation spot in Costa Rica. There are many fun things to do in Paquera! And although it's not a well-known whale-watching area, it does fall into whale migratory paths.
The best times to spot whales are between August and October and December and April. And on this whale and dolphin-watching tour, guides will know exactly where to find them. We loved this tour because the guides were very friendly and knowledgeable about the area. Plus, the small-group atmosphere made it easier to engage and ask questions.
This 4-hour tour is available from August through November and leaves from the ferry landing at 9 am. All you need is sunscreen, a hat, water shoes, and a camera! If you tend to get seasick, let your guides know and they'll give you some medicine before heading out.
The cost for this tour is $75 USD per person for groups of 4 or more and jumps to $105 USD per person if only booking for 2 or 3 people.
Samara
While Playa Sámara doesn't have a huge reputation for whales, it does sit along the migratory path of humpbacks. Sailors and snorkelers have frequently spotted humpbacks and dolphins without even looking for them – a very welcomed surprise! So if you want to relax amongst beautiful marine life, I recommend taking a trip to Sámara!
And if you're looking for a way to see as much marine life as possible, check out this dolphin snorkeling tour. When we went, we visited many great areas in the bay and even saw a whale! But my favorite part of this tour near Samara was simply cruising in the panga (an artisan fishing boat) and taking in the views of the Sámara coastline. And if you want to travel in style, you can upgrade to a catamaran.
This tour includes snorkeling near the Isla Chora National Wildlife Refuge (the perfect area to see loads of marine life!). You also get refreshments and roundtrip transport from Sámara or Carillo. The 3-hour tour begins at 8 am and costs just $58 USD.
So if you're in this area, I highly recommend booking this snorkeling tour!
Tamarindo
The whale season in Tamarindo is short but sweet! While there are plenty of things to do in Tamarindo year-round, your best chances to see whales are in August and September.
During these months, there are several dedicated dolphin and whale watching tours. But, I think it's more fun to see these creatures on a snorkeling or diving trip!
On this sailing cruise, you'll board a 40-foot (12-meter) catamaran to explore the waters of Tamarindo Bay. What I love about this tour is it covers everything! There's a fully stocked bar, a light meal, and lots of water toys (pool noodles, SUPs, kayaks, and snorkeling gear).
We decided to paddle board while which was a lot of fun. We also saw a ton of marine life snorkeling around the boat. The tour was capped off with an absolutely stunning sunset (making this like a bonus sunset cruise!) we watched from the boat. A perfect end to an incredibly enjoyable day!
Overall, it's a beautiful and incredibly luxurious way to see these whales and dolphins. Tours pick up at 1 pm from El Chiringuido Restaurant, which is pretty convenient if you're staying in Tamarindo town.
What's also amazing is this 5-hour tour was only $85 USD which is a great value for such an experience. To take advantage of this awesome opportunity, pick a date and book your tour here!
Related Read: If you're spending a few days in this area, read about the best restaurants in Tamarindo! There are some tasty spots overlooking the bay which I'd highly recommend.
Manuel Antonio National Park
Manuel Antonio National Park is on the central Pacific coast of Costa Rica. I love visiting this area because the lush rainforest runs right into the white sandy beach – it feels like a tropical paradise.
It also makes a great day trip from Uvita because it's just 43 miles (70 km) north. Many people visit Manuel Antonio National Park to explore all the wildlife in the jungle – but it's also a great area for marine wildlife! And if you're specifically looking for whales, you should visit in August or September.
When I came here, I tried this half-day Sunset Sails snorkeling and sailing tour. I loved that this tour was geared more towards vacation luxury than simply whale watching (although you will likely see a lot of marine life too).
You'll get picked up from your hotel in Manuel Antonio and taken aboard the beautiful boat in Marina Pez Vela. On our tour, the crew was very friendly serving up unlimited cocktails, good music, and a delicious lunch onboard.
We got a chance to see bigger wildlife like dolphins, turtles, and, of course, humpback whales. My favorite part of the experience was snorkeling near Biesanz Beach where we saw a ton of colorful fish and even a sea turtle!
You can choose from a 9 am or 2 pm departure time. We opted for the afternoon tour and got to enjoy watching the sunset on the water (which completely made the experience). For $95 USD (including a meal and open bar), this 4-hour tour feels like a steal! So if you're looking for luxury but on a budget, book this tour online here.
Playa Flamingo
Playa Flamingo is an up-and-coming destination for whale-watching tours. Whales are only a recent phenomenon in this area so there are fewer tours offered here. But aside from tours, Playa Flamingo is a water sports paradise with some of the best sunsets I've seen!
When visiting Playa Flamingo, you can enjoy the pink-tinted sand and the dolphins that frequent the waters. And between July and September, you can spot the whales passing through the area. While there aren't many dedicated whale-watching tours, you can see them by booking a snorkel or sailing tour.
This half-day exclusive snorkel adventure tour lasts 4 hours. During this time, you'll visit 2 different snorkel spots to swim with a variety of colorful tropical fish. While whales aren't the focus of this cruise, you might get lucky and spot whales, dolphins, and sea turtles. My favorite memory from the tour was the "Beluga Jump" from the top of the boat!
The tour costs $90 USD including snacks and snorkel equipment. It leaves from Playa Flamingo Beach at 8 am only on Monday, Wednesday, and Saturdays. It's a really fun way to start your day, so check availability and book your tour here!
Why We Book Tours with Viator
Viator is a trusted online booking system for tours around the world! We almost always book our tours using Viator for a couple of reasons:
Free cancellation on most tours – Most of the tours on Viator allow you to cancel and get a full refund up to 24 hours in advance. This is handy in case plans change, or if booking an outdoor activity, the weather forecast is looking grim.
Reserve now and pay later – You can secure your spot on some of the most popular tours well in advance and not pay until closer to the day of the tour.
Pay in your chosen currency – Avoid costly international transaction fees by choosing to pay in your home currency.
Peace of mind – When booking with tour operators you find in person on the street or in small booking offices, you are often promised one thing and given another. This online platform holds tour operators accountable with a written description of inclusions as well as the opportunity for customers to leave reviews.
Check out the Viator website here!
4. Who can go whale watching in Costa Rica?
Whale watching is generally a safe and fun activity for all ages. Since many tours involve relaxing on a boat while taking in the scenery, everybody from infants to seniors and anyone in between will love the experience.
If bringing small children, I recommend checking with the tour operator before booking to ensure they have the correct-sized life jackets. Also, if you choose tours that offer snorkeling or diving, you'll need to be reasonably fit and meet the minimum age requirements.
5. Do you need a tour to see whales in Costa Rica?
It's possible to see whales from the shore in some beach towns. However, chances are slim since they like to hang out in deeper water. When I was in Uvita, I did see a whale from the shore, but it was too far away to be an amazing sight.
If seeing whales is important to you, I highly recommend booking a dedicated whale-watching or snorkeling tour. These allow you the best view of these giants in their natural habitat. Tour guides are experts in the area and know where whales like to hang out, making sightings much more likely – and impressive!
6. How much do whale watching tours in Costa Rica cost?
Whale watching tours in Costa Rica vary greatly in price. It depends on where you're booking from and what your trip includes. On average, whale watching tours cost between $80 to $100 USD. Most commonly, these tours include boat tours with guides, snorkel equipment, and onboard refreshments.
Related Read: If you're planning your budget and curious about prices, read more about the cost of traveling in Costa Rica here.
7. Will you see other wildlife on a whale watching cruise?
The star of the show will certainly be the giant humpback whales, and if you're lucky, their young! But, the waters are full of much more marine life other than just whales.
Tourists often see false orcas, also known as Bryde's Whales, in Costa Rica. These waters are also home to many dolphin species including pilot whales and the highly loved bottlenose dolphins. Dolphins are so popular in the area, many boat tours will be marketed as whale and dolphin watching tours.
When boating and snorkeling in these waters, you also have a high chance of spotting rays, sea turtles, and even the occasional octopus. And whenever I go snorkeling through these colorful coral reefs, I'm always impressed by all the beautiful tropical fish!
8. Are whale watching tours in Costa Rica eco-friendly?
Costa Rica does a lot to ensure their wildlife and ecosystems are protected. That being said, I always recommend looking into the specific tour company to ensure that their practices are as environmentally friendly as possible.
Most tours pass through protected land and ocean reserve areas, meaning that animals are well safeguarded.
In order for a tour to be deemed ethical, the whales must come to you rather than your boat chasing them down. No tour should ever allow you to jump in the water with dolphins or whales, and you should never touch these animals. I also encourage you to be as eco-friendly as possible by wearing reef-safe sunscreen in the water and putting garbage in trash cans.
Boat tours still omit emissions into the water, increasing our environmental footprint. But overall, whale watching tours are one of the most nonintrusive and environmentally friendly ways to interact with these beautiful giants.
Related Read: Check out the best ecolodges in Costa Rica that combine sustainability with an amazing place to stay!
9. How long are whale watching cruises typically?
Most whale watching tours in Costa Rica are half-day tours lasting around 4 – 5 hours.
We've tried many different cruises in the area and found that half-day tours are a great amount of time. It allows you a leisurely sail while looking for whales and dolphins. And, if your tour includes it, enough time to jump in the water and snorkel some great coral reefs.
There are longer full-day tours available as well, but most times these include lengthy ground transportation to and from the water. We realize this might be necessary if you're coming from more inland destinations. But in the end, you're probably spending the same amount of time on the water.
10. What should you wear/bring whale watching in Costa Rica?
As the whale watching season in Costa Rica is so long, you can go almost year-round. What you should wear and bring depends on the time of year and the tour activities.
I always recommend wearing a bathing suit with light clothing on top. It can get windy on the water, so if you're prone to getting cold, bring extra layers. If you're visiting during the rainy season or you expect sea spray (which is more common on smaller boats), bring a rain jacket.
Since you'll spend a few hours on the water, make sure to bring sun protection such as a hat, sunglasses, and reef-safe sunscreen.
I also highly recommend bringing a camera – trust me you're going to want to remember your experience! Smartphone cameras will do, but if you have a professional camera, this is your chance to use it! You'll have a decent amount of time above the water where you can snap photos of whales breaching or dolphins jumping in the boats wake.
11. Is going whale watching in Costa Rica worth it?
Yes! We loved our experience whale watching in Costa Rica and felt it was well worth the time and money. Seeing the sheer size of humpback whales is so humbling. Plus, Costa Rica is a common area for moms and calves to hang out which is such a beautiful sight.
Whale watching is one of the most breathtaking wildlife encounters we've ever experienced. Humpback whales put on quite the show in the water. Great communicators, the whales often sing songs below that can be heard from miles away. And there is nothing like watching the humpbacks play through the water, breach the surface, and show off their fins.
But to get the most for your money, we recommend half or full-day tours. You'll feel more relaxed on the water and have a higher chance of seeing marine life. And if your tour offers snorkeling or a day trip through a new area, you'll get even more for your money.
So if you're traveling here, we highly suggest adding whale watching to your Costa Rican itinerary!
The BEST Things to do in Costa Rica
While there are so many fun things to do in Costa Rica, a couple of specific attractions and activities stand out amongst the rest. They are:
Explore Volcanoes
There are some impressive (and beautiful!) volcanoes that you'll want to check out while you're here.
Poas Volcano is known for its bright blue crater lake. Poas Volcano is most commonly visited on a day trip from San Jose. This Poas Volcano tour from San Jose is one of the best you can do since it also includes a visit to the La Paz Waterfall Gardens as well as a coffee farm.
Arenal Volcano is also one of Costa Rica's top attractions. Arenal Volcano is located closest to the town of La Fortuna. You can book this full-day tour from La Fortuna that takes you to the volcano to hike, the famous La Fortuna Waterfall and even a hanging bridge – it's a full day of adventure!
Chase Waterfalls
La Fortuna Waterfall is one of our favorite waterfalls in all of Costa Rica. You can easily visit it on this full-day tour in La Fortuna that also visits hot springs.
Rio Celeste is another beautiful waterfall that is famous for its bright blue water. Rio Celeste is a popular attraction to visit from Guanacaste Province and this particular tour includes transport from there. Alternatively, you can book this tour from La Fortuna or this tour from San Jose.
See the wildlife
Costa Rica is the place for wildlife lovers! One of the best places to see lots of animals in their wild habitat is at Manuel Antonio National Park. With the help of a guide you will see plenty of birds, monkeys, and even sloths! This particular tour is super popular and also has amazing reviews, so you really can;t go wrong.
There are also lots of wildlife rescue centers around the country that are worth visiting. The Jaguar Rescue Center in Puerto Viejo is one of our favorites as well as Rescate Wildlife Rescue Center in San Jose where you can book this private tour.
Getting Around Costa Rica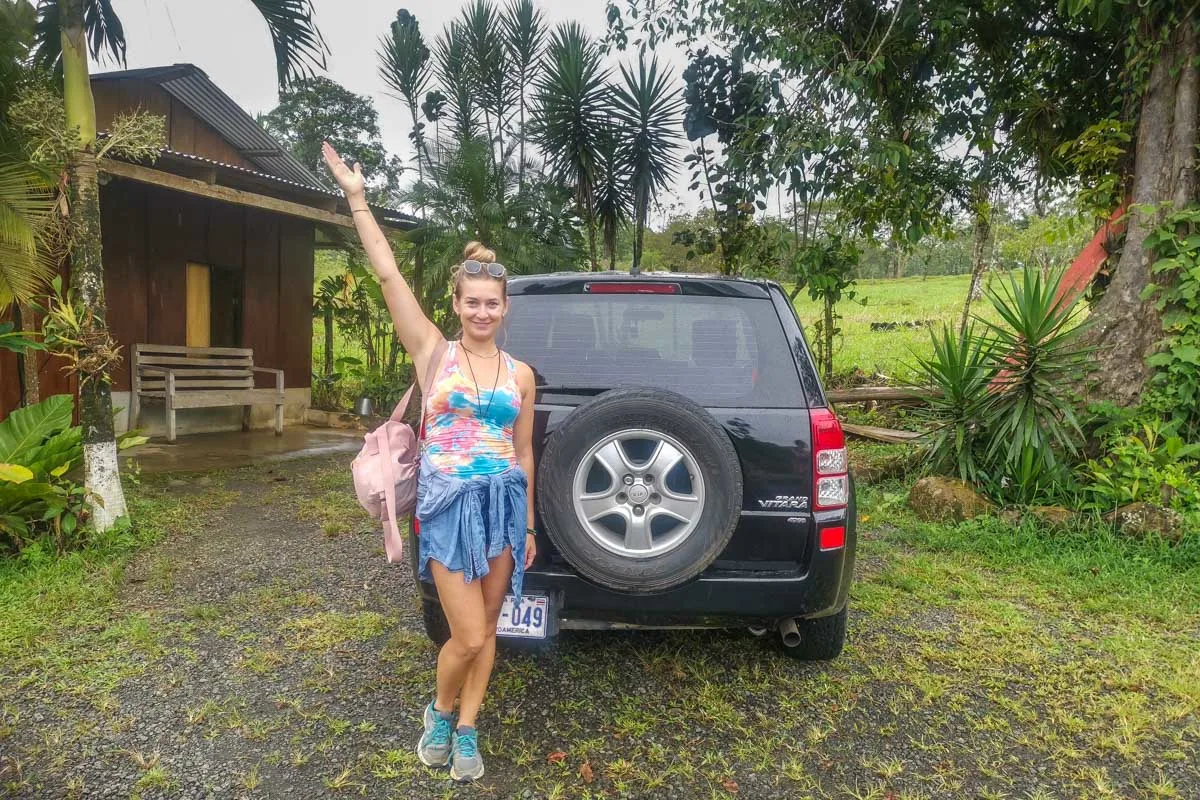 How you choose to get around Costa Rica is one of the biggest decisions you'll make when planning your holiday here! How you do it depends on your budget, travel style, and comfort level.
Renting a Car
Without a doubt, the number one way to explore Costa Rica is in a rental car. We book rental cars on the Discover Cars website as we have had good experiences with them in the past.
One of the things you need to watch for when renting a car in Costa Rica is the mandatory insurance that the government requires you to have. There are a lot of very cheap rentals that don't include this mandatory insurance (TPL) in the original booking price, but there are also ones that do. To avoid additional surprise charges when you pick up your rental car, be sure to rent a car that includes the mandatory insurance when you book.
Thankfully, on Discover Cars it's easy to tell apart the companies that include the mandatory insurance and those that don't. The trick is you can't pick any car on their website. In the picture below, you can see this rental car, with pick up in Jaco, includes the TPL. That means the mandatory insurance is included in the price. Any cover you get above that is extra.
Of course, I still suggest getting the full coverage offered by Discover Cars, which covers you even more.
You can browse cars on Discover Cars here.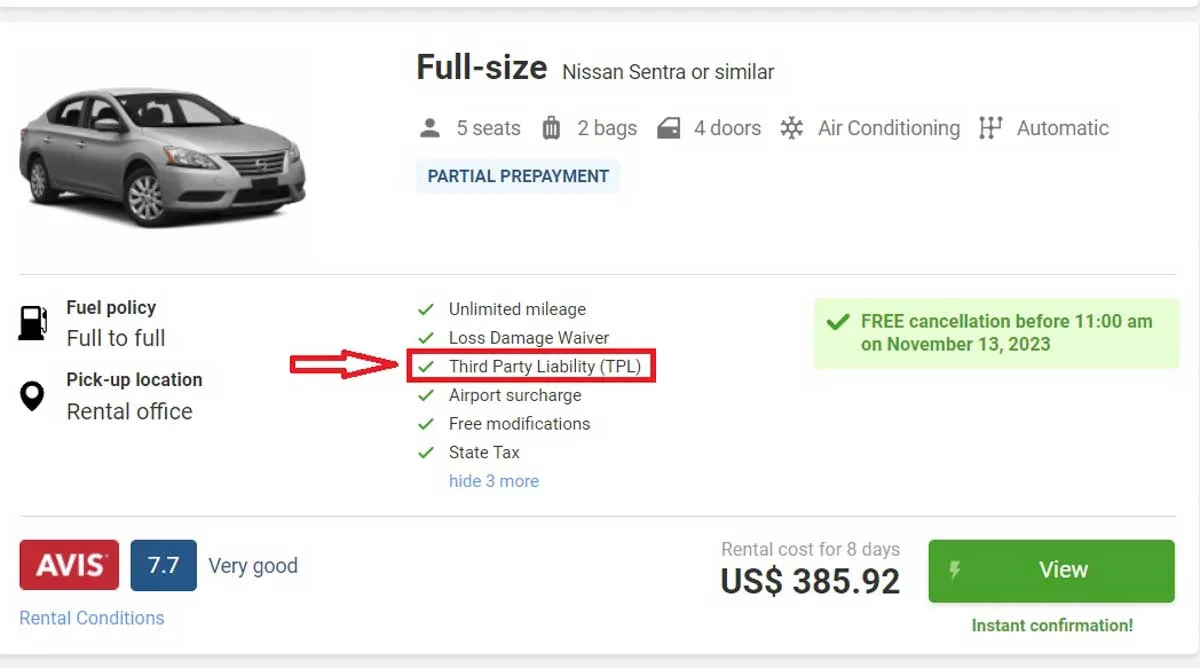 Adobe Rental Rent A Car is another rental company that we most often use in Costa Rica. We love them because Adobe has 15 offices around Costa Rica and delivers door-to-door around their offices at no extra cost. We also are pleased that all of their cars are new. In fact, they are never older than 2 years to the date. They are also the only company to include mandatory insurance and promise no hidden fees. You can get a free quote for a rental car from their website here.
Book Shuttles
If renting a car isn't in your budget, you don't feel comfortable driving in Costa Rica, or you just don't like driving, shuttles are the next best option. There are hundreds of shuttle routes available all over the country, and they are very affordable.
Shuttles in Costa Rica are specifically for tourists and often include pick up and drop off at your selected hotels and airports. The drivers also speak some English, and the vehicles have air conditioning. You'll also be guaranteed a seat when you book a shuttle (which isn't the case with the public bus system.)
To get the best price, use the website Bookaway. They compare all the offers and prices of shuttle companies in Costa Rica so you get the best price! Honestly, we have saved so much money using Bookaway!
You can search for shuttles online on Bookaway here.
Public Bus
Lastly, you can use the public bus system. On short journeys, such as from San Jose to La Fortuna or Uvita to Manuel Antonio, this system is great. However, the longer the journey the more hassle and time spent on a bus. It's undoubtedly best to save the public bus in Costa Rica for short and straightforward trips!
The public buses are definitely the cheapest way to get around Costa Rica, but they are not always very reliable and schedules often change without notice and delays are to be expected. The buses can also be very crowded and hot – so just be prepared!
It's also good to speak some Spanish if you plan on riding the public bus since most drivers and ticket booth operators don't speak English.
Thanks for reading!
Costa Rica is a hub for marine life and one of the best places to go whale watching. If you're visiting this beautiful country, you won't want to miss this amazing opportunity! We hope this guide has helped you plan your whale watching experience and find the right tour for you. There are so many tours in Costa Rica, and whale watching is one of our favorites!
If you found this article useful, check out our other Costa Rica blogs. We visit this country frequently and love sharing what we've learned. Below, we've included some recent articles you might enjoy! Thanks for reading and happy travels!
BEST hot springs in Costa Rica
BEST all-inclusive resorts in Costa Rica (our unbiased opinion!)