If you ask anyone who frequently visits Costa Rica to surf, what's the most popular place to visit, it's almost guaranteed they'll mention Santa Teresa. This small coastal town stretches along Santa Teresa Beach – a well-known surf beach with great waves all year round. Surfers from all over the world come for the laidback lifestyle, cheap rentals, and pumping surf breaks.
But it's not just the experienced surfers who love Santa Teresa, beginners looking to learn (like myself) also visit to practice their skills.
With that said, Santa Teresa is so much more than just a surf town. These days it's the ideal place for a beach getaway with lots of cafes, restaurants, and beach clubs. On top of that, there are a ton of awesome things to do in Santa Teresa. These include exploring nature reserves to practicing yoga!
To help plan your upcoming visit, here are the 21 best things to do in Santa Teresa, Costa Rica, and other tips for visiting, such as where to stay! This is your ultimate guide to visiting Santa Teresa!
About Santa Teresa, Costa Rica
Santa Teresa is a remote surf town on the Nicoya Peninsula in Costa Rica. Compared to other surf towns, it isn't easy to get to, which is why it's becoming so popular.
The entire town lines one long street that stretches from South Santa Teresa to North Santa Teresa. Walking from one end to the other is a challenge. In fact, the entire street is over 3 kilometers (1.8 miles) long. This makes choosing a central place to stay important!
Thankfully, the main road in Santa Teresa is now paved, which means a lot less dust. However, there are no sidewalks, so walking along the highway can be dangerous and not overly pleasant. This is why renting an ATV or side by side has become the best way to get around Santa Teresa.
From San Jose, it takes around 6 hours to reach Santa Teresa, which includes an hour-long ferry ride across the Gulf of Nicoya (you can take your car.) From Liberia, expect the journey to take around 5 hours.
Overall, visiting Santa Teresa is a must for those who love to surf or just want a fun beach vacation!
Things to do in Santa Teresa, Costa Rica
1. Visit Tortuga Island
One of the most popular and best tours you can do from Santa Teresa is to Tortuga Island. This pristine island is well known around Costa Rica, and you can actually do tours from Montezuma, Jaco, and even San Jose.
Together with Alcatraz Island, Tortuga Island makes up the Islas Negritos Biological Reserve. It's home to world-class snorkeling and diving, white sand beaches, and lots of fresh coconuts!
Tours to Tortuga Island from Santa Teresa begin with a short 40-minute drive to the small town of Montezuma. The boats leave from the beach, making a 45-minute boat journey out to the islands. Along the way, you'll take in fantastic views of the coastline. You'll also get to see Cocalito Falls!
After the scenic boat ride, it's off to two snorkeling spots to swim with turtles, sharks, and lots of fish. The snorkeling here is the best I have seen in Costa Rica – even better than Caño Island! We saw a group of small sharks, turtles, and lots of pufferfish on our trip.
Afterward, the boat drops you on Tortuga Island for a delicious lunch and plenty of drinks (beers, juice, and pop.) You'll have a few hours to relax, play volleyball, kayak, or drink lots of strong coco locos. Overall, it's one of the best tours I have done in Costa Rica!
From Santa Teresa, tours to Tortuga Island cost around $99 USD for adults and $65 USD for children. That includes lunch, snacks, drinks, and your snorkeling equipment. A few companies offer tours, and some may be cheaper. However, we thoroughly enjoyed our tour with Zuma Tours (we are in no way affiliated with them.)
If you plan on visiting Tortuga Island during the high season (December to March), it's best to book a few days in advance at the very least. Over Christmas, I'd allow more time.
Related Read: Visiting Tortuga Island is also one of the best day trips from San Jose.
2. Surf, surf, and surf some more
I think I speak for most when I say surfing is arguably the number one thing to do in Santa Teresa. Surfing put Santa Teresa on the map and turned a once small village into a tourist mecca.
For those with expereince, there are sooo many places to rent surfboards in town that bringing your own board is optional. A 24-hour surfboard rental costs a pretty standard $10 USD for 24 hours, but weekly and monthly rentals are available too.
Once you have your board, you can pretty much surf all up and down the coast. High tide is always the best time which is also when it's most crowded. A few popular surf breaks include "Suck Rock" which is slightly northwest from Paraiso Azul. Next to Suck Rock is also another cool spot called La Lora, which gets very crowded but is well known as a consistent break.
A small point break I love is located to the south of town near Mal Pais. To find it, drive to this point and then walk right along the beach. You'll eventually come to a small secluded bay. Here you can paddle out and surf the wave that hugs the rocks to the left of the bay. This point break is only surfable at high tide, but you can often surf here without the crowds.
If you're just looking for some gentle surf without having to worry about rocks, head to Playa Hermosa. The surf here is okay at high tide and great for learning.
For those just learning to surf, it's best to get yourself a lesson in Santa Teresa before going off on your own. Lessons cost around $60 USD for 90 minutes, and it's best to check reviews before booking any lesson.
This specific lesson is top-rated in Santa Teresa and comes with go pro photos/ video, your board rental, and a rash guard UPF 20+. It also has 43 five-star reviews, which means you know you'll get a good lesson. Trust me on this, having a lousy lesson can turn you off surfing!
Another place I can personally recommend is El Gato Rojas Surf School and Hostel. I never had a lesson with them, but my friends did, and it's one of the best I have seen. Lots of training out of the water, and the instructors were really knowledgeable and friendly (very important!)
Related Read: Santa Teresa Beach is one of the best beaches in Costa Rica – read about all of the others around the country!
3. Visit Playa Hermosa
Even if you don't surf, you should take a trip down to Playa Hermosa. This large sprawling beach has lots of room for beachgoers to relax and enjoy the sunshine. With smaller swells and fewer rocks, it's also ideal for swimming.
I spent sunset down at Playa Hermosa one afternoon and really enjoyed the beach. The flat sand is ideal for beach volleyball or other sports, and because there are fewer people, you can have a great game of beach football!
Playa Hermosa is located a 10-minute drive from Santa Teresa (depending on where you are), so be sure to either organize a lift back with a taxi or get their number so you can call when you're ready to leave.
4. Visit Montezuma Waterfalls
Montezuma Waterfalls is one of the only waterfalls in Costa Rica without an entrance fee. This makes it super unique, not to mention it is such a beautiful place to explore.
Montezuma Waterfall is actually three waterfalls, and you can swim in some of the nicest pools if you do a little hiking first. It's a little confusing, so be sure to read our guide on the best things to do in Montezuma, which includes tons of info on finding the trail to the upper waterfalls.
Make sure you allow a few hours for this activity as there is a short hike to the waterfalls. I should also mention that exploring some of the pools is not suited to kids or those with mobility issues. Instead, stick to the lower waterfall, which is the largest!
As the name suggests, Montezuma Waterfall is located in the town of Montezuma, around 40 minutes from Santa Teresa. You can get there either by bus or ATV, but trust me, it's worth the effort! If you do decide to go, don't just explore Montezuma Waterfall, make a day trip off it, which is next on this list!
5. Day Trip to Montezuma
If I'm being honest, I much prefer Montezuma to Santa Teresa. I just love the laid-back atmosphere of Montezuma as well as the lack of traffic – it's so peaceful!
So, don't miss the chance to discover a new holiday destination in Costa Rica and enjoy a day trip to paradise. Head over first thing in the morning with the bus and be sure to visit Montezuma Waterfall first and foremost.
Afterward, you can easily walk from the waterfall up to the local brewery called Butterfly Brewing Co. The beer here is really good, and they have a beautiful elevated deck surrounded by greenery.
If you still have energy, enjoy a walk along the beach towards Reserva Natural Absoluta Nicolas Wessberg. This beautiful reserve is free to visit and home to lots of wildlife, including monkeys. On your way back, stop at the ASVO Sea Turtle Hatchery at 4 pm and watch baby turtles be released into the ocean. It's a fantastic expereince.
There's lots more to do in Montezuma than what first meets the eye!
6. Have a drink with a view at Sunset Lounge (Vista de Olas)
Want the best vantage point to watch the sunset or enjoy the breathtaking views of Santa Teresa's coastline? Then you NEED to head up to the Sunset Lounge at Vista de Olas!
This stunning hotel sits perched on the mountainside with uninterrupted views of the coast. Although you can stay at the hotel, they also allow visitors to the Sunset Lounge with the purchase of drinks for free. Even better, if you pay $24 USD (which you get to use at the bar and restaurant), you can also swim in the infinity pool with arguably the best view in Santa Teresa!
Seriously, there is no better place to have yourself a pool day and enjoy the delicious food and hand-crafted cocktails. The Sunset Lounge is a hidden gem in Santa Teresa very few get to visit!
7. Go fishing
I love fishing in Costa Rica and go often. However, I had no plans to go fishing in Santa Teresa. That is until I found out how cheap it was!
For context, I usually pay around $90 to $120 USD per person for an inshore fishing tour in Costa Rica. That's 3 hours of fishing, all your equipment, fruit, and a few drinks. However, in Santa Teresa, you can go on this inshore fishing charter for only $300 USD for up to 6 people. That means with a full crew; it's just over $50 USD per person!
So I decided to go one morning because, for $50 USD, I'd likely bring home enough fish to pay for the tour. And that's just what we did!
At 6:30 am, we headed out from Mal Pais a few nautical miles, and within minutes we were landing tuna. The entire trip involved passing fishing rods around the boat as we landed more fish. All up, we ended the day with 12 tuna, which fed us for the next three days! We even finished the tour with some fresh raw tuna at the dock.
Although the day we went, the tuna were biting, you can also catch mahi-mahi, wahoo, snapper, roosterfish, and more. Your captain will know what fish to go for depending on the time of year, currents, and tides.
Overall a fantastic day out well worth money and one of the best things to do in Santa Teresa!
8. Party!!!
Santa Teresa attracts a young crowd of international visitors from all around the world. With everyone on holiday, there are plenty of places to party in Santa Teresa!
On Wednesday and Saturday nights, Disco Bar La Brosy is the place to be. This local dive bar/ club packs out with locals and visitors who come to mingle and let their hair down. The bar isn't fancy, but they usually have live DJs and cheap drinks.
While in town, be sure to inquire about the weekly jungle party that's usually on Saturday nights. This epic party is held up in the mountains with live DJs. Literally, everyone in town goes, and it's so much fun. Info on its exact location and day changes, so you need to check with other travelers or local surf instructers for up-to-date details.
Other than that, the sunset parties at the beach clubs are also perfect. My favorite is Banana Beach (I mention below) because the drinks are reasonably priced, and the music is excellent. The beach clubs usually get quiet after dinner time, so be prepared to go elsewhere and save the late nights for Wednesday or Saturday.
9. Beachfront drinks at Banana Beach
As the sun sets, the place to be is at one of the beach clubs around Santa Teresa. As I mentioned above, my favorite and the most popular is Banana Beach Bar & Restaurant.
This outdoor bar and restaurant is located on Santa Teresa Beach and is beautifully decorated with lots of outdoor couches and seating. The drinks at Banana Beach are much cheaper than the other bars around, which means it attracts a larger crowd and party. Be sure to try some of the cocktails – they have a delicious passionfruit margarita!
Come for drinks a few hours before sunset and say goodbye to the day in style. If you get there early enough, you may be able to get a front-row seat – although it is challenging during the high season!
Banana Beach won't be for everyone, so if you'd prefer fancier sit-down drinks, head to Uma Santa Teresa or Manzú Beachfront Restaurant (one of the best restaurants in Santa Teresa!)
10. Practice Yoga
Yoga is not only good for building strength and stretching out your sore muscles from surfing, but it's also incredibly relaxing. I myself love yoga and do it as often as I can.
In Santa Teresa, hostels such as Selina (both the north and south locations) offer classes for $15 USD. These are great if you're just looking for a cheap drop-in class. Another studio that offers drop-in classes is Horizon Hotel & Yoga Center. A single session is $15 USD, and they have a class at 9 am and a sunset session at 5 pm. They also have a rooftop studio, so the views are breathtaking!
If you want a more intimate expereince, Monkey Adventures Surf SUP Yoga offers private lessons as well as SUP Yoga and silk classes. Expect to pay around $90 USD for these classes.
Those looking to immerse themselves in yoga should check out some of the retreats in Santa Teresa. Believe Surf & Yoga Santa Teresa is one of the most popular, and they offer very reasonable packages such as their four-night all-inclusive package for only $450 USD. They also have a budget 7-night retreat for $550 USD (based on one person.)
11. Cabo Blanco Nature Reserve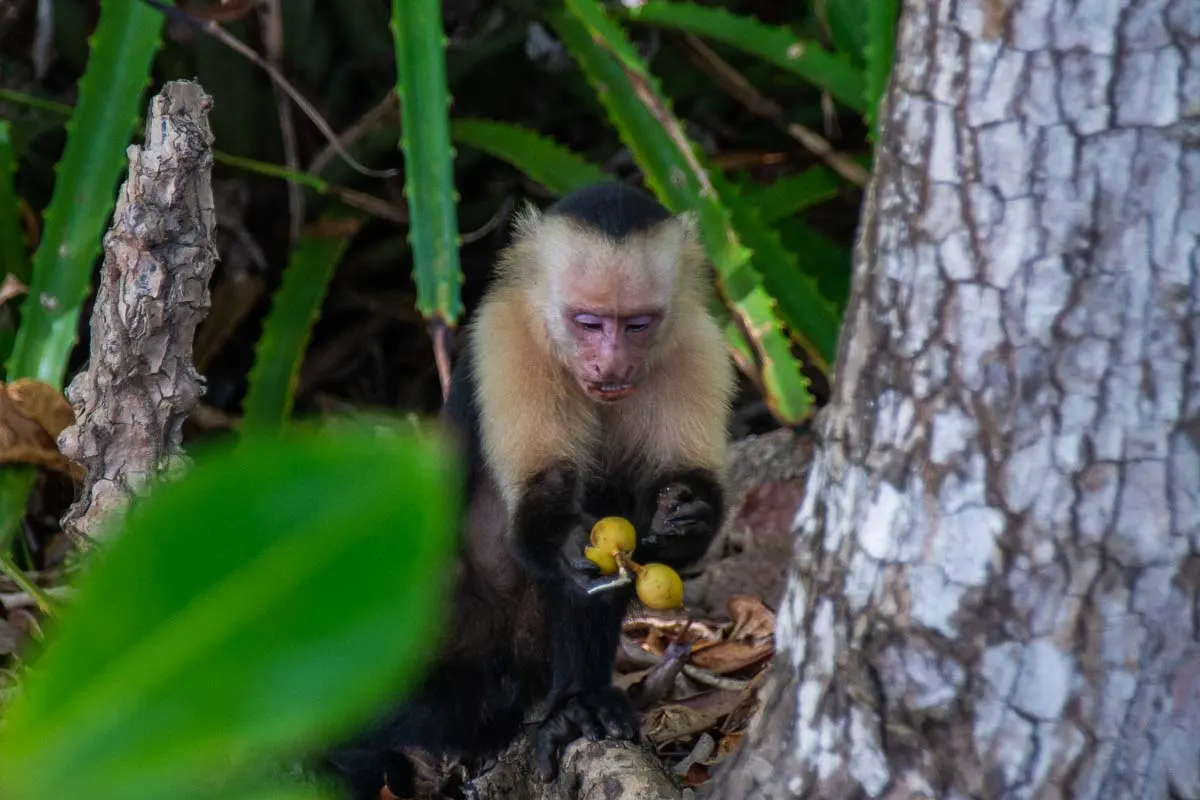 Reserva Natural Cabo Blanco is a very special place in Costa Rica. The nature reserve was created by Nicolas Wessberg (from Sweden) and Karen Mogensen (from Denmark) and was the first-ever protected area in Costa Rica – pretty cool, right?!
Cabo Blanco is located a short drive or bus ride from Santa Teresa in the town of Cabuya. You can easily get there by public bus, or if you have an ATV, you can drive.
Within the reserve, you can explore via two hiking trails. The first is called the Danes Trail and leads through the forest in a loop not far from the ranger station. The trail is only 1.2 miles long (2 kilometers) and is a popular side trip for visitors.
The second is the more popular Sueco Trail. The Sueco Trail is the main reason to visit the park, and it's a 3.1 mile (5 kilometers) walk from the ranger station to Playa Cabo Blanco (10 kilometers return). The trail takes just over an hour each way.
Along both trails, you can see various wildlife, including monkeys, bats, butterflies, birds, ants, and lizards. It's also home to lots of wildflowers and beautiful trees. Wildlife lovers will be in paradise at Cabo Blanco Nature Reserve.
It costs $12 USD to visit the park, and it's open from 8 am to 2 pm Wednesday to Sunday (closed Mondays and Tuesdays.)
12. Enjoy incredible sunsets
The sunsets in Santa Teresa are some of the best in Costa Rica. With the town's west-facing beach, you get a front-row seat every afternoon, and there's no better place to enjoy it than at the beach.
Come down and enjoy the most magical time of the day and watch the local surfers put on a show. It's a fun and vibrant time that should be experienced as much as possible.
Related Read: Another surf destination in Costa Rica that has amazing sunsets is Dominical – read all about it in our guide to visiting!
13. Visit the outdoor "food court" at Eat Street
Traveling with friends or family can mean finding a place to eat that satisfies everyone can be hard. Luckily, Santa Teresa has its own upscale food court called Eat Street!
Eat Street is home to four restaurants and one bar that serves everything from sweets, smoothie bowls, poke bowls, burgers, burritos, snacks, and cocktails. It's your one-stop shop for the whole group, and the best part is, you can eat together!
I highly recommend the Poke bowls made with fresh tuna from the local fisherman. Or, if you love Asian cuisine, the prawn noodle bowl is so tasty!
14. Go boutique shopping
Don't come to Santa Teresa with a full suitcase; you need to leave room to bring stuff back! The boutique shopping in Santa Teresa is some of the best in Costa Rica, and there are a ton of local designers showcasing beautiful clothing and products in town.
I picked myself up a beautiful hemp bag while there are I love it! On top of that, it's unique, and I know I won't find anyone else wearing it!
Some of the best places to go boutique shopping in Santa Teresa are Pacific Wolf Factory, Brazilian Bikinis, and Santa Swimwear. There are also lots of other stores popping up every week, so take a walk down the main road and do some shopping! A great spot is near Selina Santa Teresa North.
15. Eat amazing Italian food at Restaurante Al Chile Viola
If you ask anyone who lives in Santa Teresa where to get the best Italian food in town, they'll most likely say Restaurante Al Chile Viola. I actually found this place thanks to a friend who had lived in Santa Teresa for two years before my first visit, and what a great recommendation.
Restaurante Al Chile Viola serves up authentic Italian cuisine using fresh local ingredients. Chef Emiliano and his lovely wife Luz do a fantastic job, and all their pasta, bread, and sauces are homemade.
They are well known for their pizza, and I personally love the "Santa Teresa" that comes with fresh octopus, prawns, cherry tomatoes, and olives. If you love seafood, be sure to try the grilled octopus with a pumpkin sauce – it's mind-blowingly tasty! All of their pasta is also delicious so you can't go wrong at Al Chile Viola.
Restaurante Al Chile Viola also runs a cooking class for those interested. I believe it's on Saturdays, but this can change, so it's best to reach out prior to your visit.
Trust me; this will be one of your favorite restaurants in Santa Teresa!
16. Visit Mal Pais
The hustle and bustle of Sanat Teresa can get a little overwhelming sometimes. When it does, get a cab or take a long walk down to the sleepy fishing village of Mal Pais.
Mal Pais is tiny, and there is very little traffic creating a relaxing vibe with a few cool places to explore. Be sure to walk down to the beach; Playa Mal Pais is often completely empty. Afterward, visit La Esquinita Coffee & Deli to have a tasty brunch or lunch. The food here is really good and the coffee even better!
17. Hire an ATV and explore
Santa Teresa is spread along one single road that travels from south to north. This makes getting around on foot challenging, and hence the most popular way to get around is on an ATV.
The freedom an ATV brings means you can explore hidden beaches, enjoy a day trip to Montezuma, and even just visit the best restaurants in town – which can often be miles apart.
You can rent an ATV in Santa Teresa for around $70 USD for 24 hours, but it does get cheaper the longer you rent one. For example, a seven-day rental will only cost $50 USD per day.
To rent an ATV, you will need either an international license or a local license from your home country, as well as a credit card for the deposit. They'll supply you with a helmet, and it's also recommended to have sunglasses or goggles for the dust.
There are a lot of rental shops in town, and it doesn't really matter who you rent from. However, Pacific Dirt Road Quad Rentals and Tours is a good place, and they also have side by sides and motorcycles.
18. Go ziplining
One of the most unique and fun ways to take on the views and get amongst the wildlife in Santa Teresa is on a ziplining tour. Imagine soaring high above the treetops with epic views of the ocean! That's exactly what you get on this eight-cable ziplining tour with Zuma Tours.
The tour includes eight ziplines with one over 500 meters (1,640 feet) long! You'll get some high-speed and more than enough adrenaline. The best part is that the ziplining costs only $55 USD for adults and $50 USD for children without transport – it's one of the cheapest activities in Santa Teresa.
If you need a ride to Mal Pais, add $15 USD to each person (it's cheaper to get a taxi!) The tour is also suited to all ages, and no previous experience is required.
If you haven't been ziplining yet in Costa Rica, this is the perfect chance and easily one of the best things to do in Santa Teresa.
19. Go scuba diving
I have dived in a few locations around Costa Rica, including Cano Island and Bat Island, and I must say, Santa Teresa is an underrated dive town. There are some of the best dive sites in Costa Rica around Santa Teresa just waiting to be explored!
There are two distinct seasons in Santa Teresa when it comes to ocean life. The first is January to April when you have a great chance of seeing huge manta rays. The other (and my favorite) is August to September, when you can see humpback whales. Of course, all year round, you can swim with sea turtles, reef sharks, stingrays, and huge schools of fish.
Iguana Divers is the best company in town to dive with, and the dive sites they take you to are "secret spots," so no one else will find them without a GPS. They only take out small groups (around six divers), and two dive masters come with the group to lead the way. A standard two-tank dive costs $125 USD with Iguana Divers.
If you love to dive, don't miss this activity in Santa Teresa!
20. Horseback riding
If you want a really special expereince exploring nature with a beautiful animal, then check out one of Ollie's Adventures horseback riding tours.
They offer a range of tours from 1 hour to 4+ hours, and their cheapest tour starts at only $45 USD. You can choose to have a relaxing ride on the beach, through the jungle, on a farm, or all three. It's the perfect way to explore and meet a new friend!
The best part is Ollie looks after his horses really well. In fact, they work one month on one month off, giving them ample rest. What often turns me off from joining horse tours is their treatment, so this is great to know!
21. Enjoy the best breakfast at The Somos Cafe
Last but certainly not least is my favorite breakfast and brunch spot in Santa Teresa. This cafe is gorgeous, and relaxing in their garden with a hot coffee is my favorite thing in Santa Teresa after a morning surf.
Somos Cafe serves lots of great meals, including vegan options. However, my go-to is the breakfast burrito. Another good choice is the Thai omelet or even the Acai bowl. Ah, it's all so good!
Somos Cafe is open for brunch from 8 am till 2 pm and also dinner from 6 pm to 10 pm, although I'm ashamed to say I've never been for dinner!
Where to Stay in Santa Teresa, Costa Rica
Choosing a place to stay is hard! Thankfully, that's because there are so many great places to stay in Santa Teresa. In fact, if you book well enough in advance, you can stay at some epic hotels in gorgeous locations. However, leave it too late, and you'll be lucky to find a hostel bed for less than $70 USD. The lesson is, book ahead!
For budget travelers, I love Lost Boys Hostel. They have reasonably cheap dorm rooms, but the hostel is fantastic! Huge pool (pictured above), an excellent restaurant (the pizza is fire!), kitchen, treehouse, and friendly atmosphere. On top of that, they host a ton of events and tours. The location is also central, so you're not too far from anything.
Those with a larger budget can find some really great hotels in Santa Teresa. If you don't mind being up on a hill, Santa Teresa Surf Vista Villas is such a gorgeous hotel because of the breathtaking views. They have a pool overlooking the ocean and offer yoga classes. The rooms are also clean and comfortable – especially for the price!
If you want to spoil yourself but still want to keep your nightly stay under $500 USD, check out Vista del Alma Boutique or The Green House, Santa Teresa. Both are villas in the mountains but still not far from the beach. Both have pools, modern rooms, and spectacular views.
Those on a luxury budget will love Villa Makai Santa Teresa. This gorgeous luxury home sleeps up to six people comes with a private pool and one of the best views in town. On top of that, you are only a 10-minute walk from the beach!
For a more detailed guide on all of the different areas you can stay and the best hotels, check out our blog about where to stay in Santa Teresa.
Getting Around Costa Rica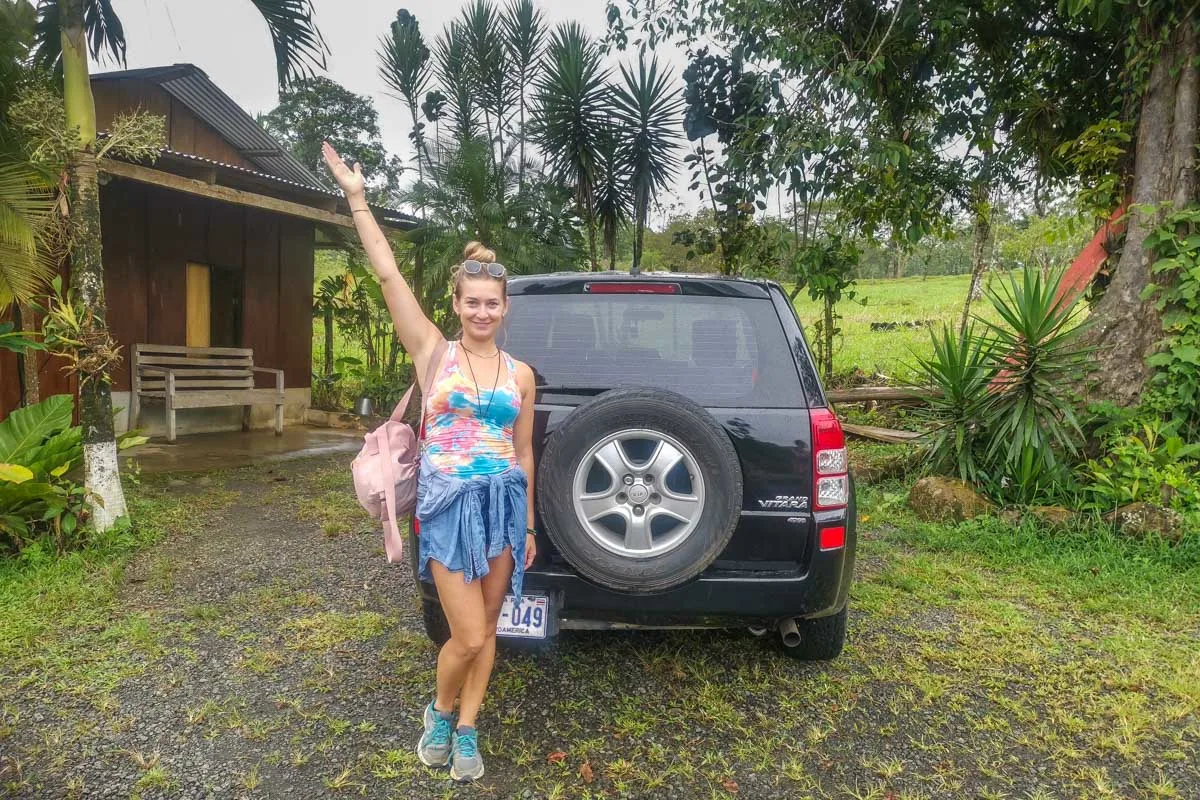 How you choose to get around Costa Rica is one of the biggest decisions you'll make when planning your holiday here! How you do it depends on your budget, travel style, and comfort level.
Renting a Car
Without a doubt, the number one way to explore Costa Rica is in a rental car. We book rental cars on the Discover Cars website as we have had good experiences with them in the past.
One of the things you need to watch for when renting a car in Costa Rica is the mandatory insurance that the government requires you to have. There are a lot of very cheap rentals that don't include this mandatory insurance (TPL) in the original booking price, but there are also ones that do. To avoid additional surprise charges when you pick up your rental car, be sure to rent a car that includes the mandatory insurance when you book.
Thankfully, on Discover Cars it's easy to tell apart the companies that include the mandatory insurance and those that don't. The trick is you can't pick any car on their website. In the picture below, you can see this rental car, with pick up in Jaco, includes the TPL. That means the mandatory insurance is included in the price. Any cover you get above that is extra.
Of course, I still suggest getting the full coverage offered by Discover Cars, which covers you even more.
You can browse cars on Discover Cars here.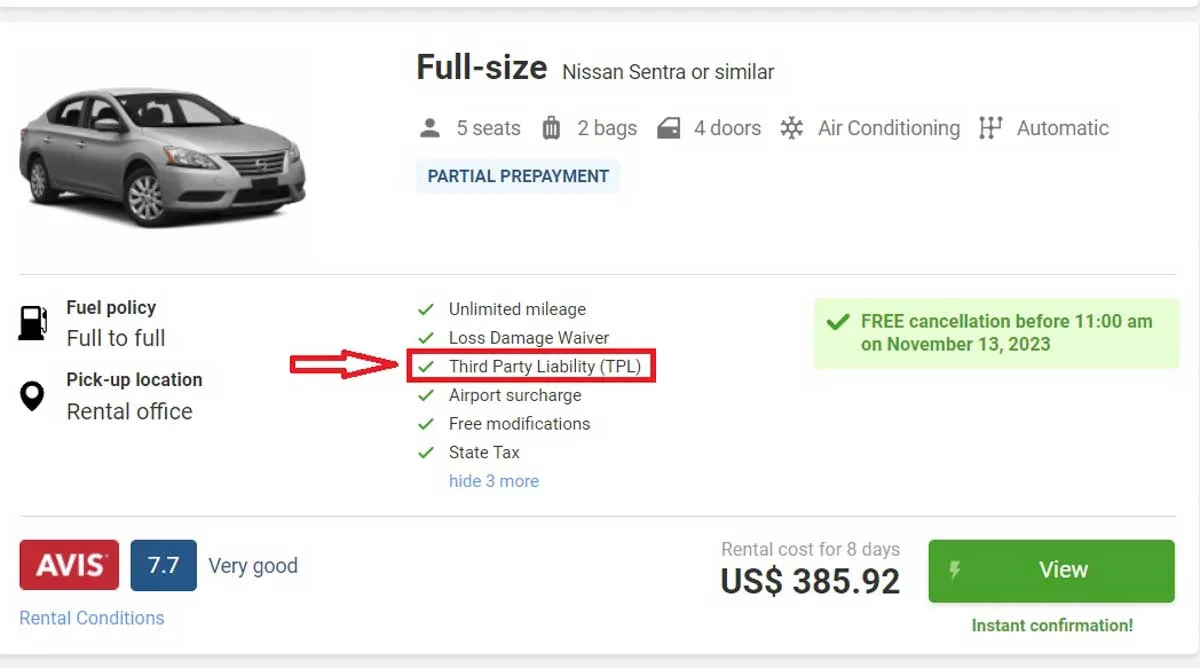 Book Shuttles
If renting a car isn't in your budget, you don't feel comfortable driving in Costa Rica, or you just don't like driving, shuttles are the next best option. There are hundreds of shuttle routes available all over the country, and they are very affordable.
Shuttles in Costa Rica are specifically for tourists and often include pick up and drop off at your selected hotels and airports. The drivers also speak some English, and the vehicles have air conditioning. You'll also be guaranteed a seat when you book a shuttle (which isn't the case with the public bus system.)
To get the best price, use the website Bookaway. They compare all the offers and prices of shuttle companies in Costa Rica so you get the best price! Honestly, we have saved so much money using Bookaway!
You can search for shuttles online on Bookaway here.
Public Bus
Lastly, you can use the public bus system. On short journeys, such as from San Jose to La Fortuna or Uvita to Manuel Antonio, this system is great. However, the longer the journey the more hassle and time spent on a bus. It's undoubtedly best to save the public bus in Costa Rica for short and straightforward trips!
The public buses are definitely the cheapest way to get around Costa Rica, but they are not always very reliable and schedules often change without notice and delays are to be expected. The buses can also be very crowded and hot – so just be prepared!
It's also good to speak some Spanish if you plan on riding the public bus since most drivers and ticket booth operators don't speak English.
Invest in Travel Insurance
Paying out of pocket for trip interruptions or medical treatment will add to what might already be a stressful situation. Not to worry, SafetyWing is here to help!
This affordable travel and medical insurance is perfect for digital nomads, long-term travelers, and remote workers. The best part is that it only costs $45 USD per 4 weeks.
To start coverage you must purchase it after leaving your home country. We usually purchase it as soon as we land at the airport.
Since using SafetyWing we've been reimbursed thousands of dollars when we've gotten sick. During the pandemic, they've even gone as far as to pay for our last-minute flights back to Canada before the border closed!
Pura Vida!
Santa Teresa is, without a doubt, one of the most popular beach destinations in Costa Rica. And with the amazing list above, why wouldn't it be?
I hope this guide on the best things to do in Santa Teresa has helped plan your upcoming visit. If it has, check out more of our blog, we have so much to share with you. Some blogs you may like are:
Things to do in Nosara, Costa Rica