Everyone who visits Costa Rica comes back raving about the lush tropical rainforests, waterfalls, and gorgeous sandy beaches. But it's not just the stunning landscapes – in fact, the rich, delicious cups of Costa Rican coffee are just as memorable!
The coffee here is some of the best I've ever tasted in the entire world! Perfect growing conditions paired with the love and care Costa Ricans put into growing their coffee are just part of why I think this coffee tastes SO good. But don't just take my word for it, see and taste for yourself!
During your travels around the country, you'll likely see stretches of coffee fields growing on the hillsides. So carve out some time in your Costa Rican itinerary to stop and tour one of the plantations. You'll not only get a cup of coffee (or two!) but see the entire process of where that great cup of coffee started. Plus, you'll get your caffeine fix for whatever other activities in Costa Rica you might have planned that day!
We've narrowed down our list to include the absolute best coffee tours in Costa Rica. These are coffee plantations you don't want to miss out on visiting! So grab a cup of coffee and read on.
History of Coffee in Costa Rica
Coffee has been a major part of the Costa Rican economy since the late 1700s. The Arabica coffee plant was first introduced in Costa Rica's Central Valley region – right around San Jose – because the growing conditions were just right. There's rich soil, a high altitude, and cooler temperatures. This allows coffee plants to grow and mature more slowly which leads to a complex and better-tasting flavor.
The Costa Rican Government soon realized how lucrative the coffee trade could be and began to offer free land to coffee farmers. By the 19th Century, Costa Rican coffee production exploded, surpassing most of Costa Rica's other exports like tobacco, sugar, and cacao.
Now one of the things Costa Rica is known for is its delicious, flavorful, and perfectly roasted beans – they're internationally recognized as some of the best coffee beans in the world. Even today, the country can't keep up with the demand for this exceptional coffee. The country produces around 1.5 million bags of coffee every year, but that's still only about 1% of all the coffee produced in the world.
During our stay in Costa Rica, we couldn't get enough of the bold, delicious flavor of the coffee here. Plus, we loved that most of the coffee is grown sustainably and on small, fair-trade farms.
Needless to say, touring a coffee plantation is one of the best tours in Costa Rica – whether you're a coffee drinker or not!
What is a coffee plantation?
A coffee plantation is basically a farm where coffee plants are grown. They are scattered throughout the country, especially in the fertile Central Valley region. You'll likely see the green and brown coffee fields all along the hillsides if you're driving around Costa Rica!
Coffee comes from a shrublike tree that's usually planted on a slope to discourage erosion. The rolling hills of Costa Rica are a perfect location for the coffee trees to thrive.
Each coffee plantation has its own style and methods, and the conditions of the soil can affect the flavor of the bean – much in the same way that wine from different regions tastes unique.
On coffee plantations in Costa Rica, all the coffee is picked by hand! It's the only coffee-producing country that does this! Harvest season runs from October to March when the coffee cherries are picked – so if you are visiting during this time, you might get to see the harvest in action.
The seeds (or beans) of the coffee fruit are then harvested and dried at the plantation where they are bagged and stored for future roasting. After roasting, the beans are ready to be enjoyed by coffee lovers around the world.
What makes coffee in Costa Rica so good?
There's nothing quite like a good cup of coffee … except maybe when you're enjoying it on vacation in Costa Rica – am I right?! Part of the reason Costa Rican coffee is coveted around the world is due to its exceptional flavor.
This flavor starts early in the coffee-growing process thanks to the perfect mix of growing conditions. The volcanic soil is full of minerals and nutrients. That paired with a higher altitude (so the plants grow and mature more slowly) and a moderate to warm climate with lots of rain makes for the perfect recipe. Every year the temperatures only vary by about 10 degrees and there are only two seasons – rainy and dry. It's not only why coffee thrives here, but it also means there are so many great times of year to visit Costa Rica!
While taking coffee tours and exploring the different coffee plantations, we also saw the love and care Costa Ricans put into growing their coffee. Around 90% of the coffee here is grown on small farms by local farmers. They have so much pride in what they do and the final product is incredible!
Throughout Costa Rica, there are eight coffee-growing regions and each of them produces a unique flavor profile. These flavors of the beans will vary significantly from region to region – from sweet and citrusy to dark and heavy and even chocolaty.
The eight coffee regions in Costa Rica are:
Valle Occidental
Tres Rios
Turrialba
Brunca
Orosi
Tarrazu
Valle Central
What type of coffee is produced in Costa Rica?
Costa Rican coffee is 100% Arabica which is recognized as the highest quality coffee bean. They aren't easy to grow, but they thrive here and produce the most flavorful coffee blends.
Costa Rica is the only country in the world where they don't allow the production of anything less than 100% Arabica coffee beans. It's actually illegal to produce any other type of coffee! This ensures every single harvest is of the highest quality.
The coffee made from these beans is smooth and full of flavor. And based on our experience, Costa Rican coffee is certainly among the best in the world!
We couldn't get enough of it, and we weren't alone. In the airports, you'll see hundreds of travelers from around the world stocking up on bags upon bags of Costa Rican coffee beans to take home with them as a flavorful souvenir.
Why should you do a coffee tour in Costa Rica?
While having a cup of coffee at a local restaurant or picking up a bag of coffee at the airport on your way home is great, there's something special about seeing where it all starts. Coffee production in Costa Rica has become an art, and the skill of growing and harvesting coffee has been passed down for generations. Coffee is a crucial aspect of Costa Rican culture and the economy.
The high standards of coffee production and the small, family-operated plantations allow local farms to thrive and encourage them to love their land and live sustainably.
Coffee tours invite you into that process and show you the unique history and culture that surrounds coffee production within the country. On a coffee tour, you will see the entire process, from growing the plants, to harvesting and drying the berries, to roasting the beans.
Some tours are more historically based, while others focus on hands-on experiences – such as picking or roasting the beans. Whichever one you choose, these tours are a great way to connect with Costa Rican locals who love what they do. It's so fun and interesting, plus they are in beautiful settings around the country. You'll leave with a greater understanding of the entire process, and probably a nice caffeine buzz to boot!
What are the best coffee tours in Costa Rica?
With so many coffee tours offered around Costa Rica, it can be difficult to choose which plantation to tour. During our stay in Costa Rica, we did quite a few tours and drank A LOT of coffee. We've narrowed down our list to include only our absolute favorites – the best of the best when it comes to Costa Rican coffee tours!
1. Costa Rican Coffee and Chocolate Crafting Experience (La Fortuna)
If you're visiting La Fortuna, after taking in the epic La Fortuna Waterfall and the Arenal Volcano, stick around the area for a little while and consider taking this Costa Rican coffee and chocolate tour. It's perfect for both coffee lovers and chocolate lovers – and I'm both!
The North Fields Cafe farm is a small family-owned plantation, and you'll have the opportunity to learn about every single step of the coffee-making process, from planting to taking a sip of warm, delicious coffee. In addition to coffee, they also grow cacao, so you'll have the opportunity to prepare and taste chocolate as well.
If tasting coffee and chocolate isn't enough, there's even a special sugar cane tasting included. It's a really thorough tour from La Fortuna with great information and the guides are super friendly and willing to answer any questions you have along the way.
The tour itself lasts 2.5 hours and you can choose from a morning or afternoon option, depending on when you want to have your coffee! Hotel pick-up is also offered if you're staying in the La Fortuna area. The tour is only $43 USD and is a popular one, so it can sell out! Make sure you book online for your travel dates so you'll have a guaranteed spot on this coffee tour.
Related Read: While you're in La Fortuna, make sure to check out the amazing hanging bridges and some of the top hot springs around. This area is a great base to enjoy some of the best Costa Rica has to offer!
2. Coffee Experience with Poas Volcano and La Paz Waterfall Garden (San Jose)
This coffee experience tour is close to San Jose, where the country's main international airport is, so it's a perfect add-on to your trip right when you arrive, or just before you depart. It's a full-day tour that includes some cool extras like a trip to the famous La Paz Waterfall, a hike at Poas Volcano, and a coffee-tasting experience at the Doka Coffee Estate.
This is a group tour, and you'll depart around 6 am – perfect for those early birds, who love a good cup of coffee to start the day! You'll be picked up from your San Jose hotel and head straight to the Doka Coffee Estate. You'll enjoy a tasty breakfast which is included as part of the tour before embarking on a journey through the plantation.
We love that this tour includes insights into the traditional process of coffee growing and roasting. It's very hands-on and you'll have plenty of opportunities to participate before savoring a delicious sample of the coffee from the plantation.
After the coffee tour, you'll head to Poas Volcano where you can hike the trail and take in the views of the epic crater. You'll learn about the unique ecosystem and enjoy the region for about two hours.
Afterward, you'll depart for the La Paz Waterfall Gardens where you can wander along the winding trails through the beautiful natural settings. You'll likely spot wildlife like tropical birds, butterflies, and monkeys as well as countless plants. The rumbling river and the beautiful waterfall round out this incredible tour. It's a great option for travelers who want to see it all or anyone planning a honeymoon in Costa Rica!
The tour is $158 USD and includes absolutely everything including two meals, entrance fees, and transportation. For a day full of adventures and great coffee, make sure to book your spot online here!
Related Read: While in San Jose, don't miss exploring the National Theater of Costa Rica! You can even have great coffee at the cafe here!
3. Poas Volcano and Starbucks coffee farm (San Jose)
Starbucks addicts look no further than this unique tour which allows you to see the roots of your favorite Starbucks drink. The huge Starbucks Hacienda Alsacia plantation is a contrast to some of the small family-run farms on our list – but if you're a Starbucks lover the experience can't be beat.
This tour picks up at your hotel and lasts between 10-12 hours so it's an all-day affair. First, you'll head straight to Poas Volcano where you will have the opportunity to walk around and explore the cloud forest and volcano.
Admission to the volcano is included in the tour and it's one of the best volcanoes in Costa Rica, so you'll definitely want to see it! The hiking trail to the observation deck over the crater here is short and mostly along an access road that should take about 15 minutes. Then enjoy the view of the crater of this super active volcano – it's erupted 39 times since 1828!
Then, you'll head to the big commercial coffee farm purchased by Starbucks. It is their first (and so far, only) coffee farm. It's located right at the base of the volcano, and they invite guests to rediscover coffee here. It's very educational and there is a cool visitor center to explore. In addition to growing coffee, Starbucks is doing a lot of research about the farming practices at this location.
This full-day tour can be booked online through Viator and will give you bragging rights whenever you order coffee from your local Starbucks at home!
Why We Book Tours with Viator
Viator is a trusted online booking system for tours around the world! We almost always book our tours using Viator for a couple of reasons:
Free cancellation on most tours – Most of the tours on Viator allow you to cancel and get a full refund up to 24 hours in advance. This is handy in case plans change, or if booking an outdoor activity, the weather forecast is looking grim.
Reserve now and pay later – You can secure your spot on some of the most popular tours well in advance and not pay until closer to the day of the tour.
Pay in your chosen currency – Avoid costly international transaction fees by choosing to pay in your home currency.
Peace of mind – When booking with tour operators you find in person on the street or in small booking offices, you are often promised one thing and given another. This online platform holds tour operators accountable with a written description of inclusions as well as the opportunity for customers to leave reviews.
Check out the Viator website here!
4. Doka Estate Coffee Tour (San Jose)
We really loved the Doka Estate coffee plantation and our experience there on the tour we mentioned earlier. But if you don't want to commit to a full-day version, this Doka Estate coffee tour is a great shorter option. The tour only lasts about 1.5 hours and hotel pick-up is included from the San Jose area in the $96 USD cost.
During this tour, you'll learn about coffee as well as the production of sugar cane – another important Costa Rican export. The guides here are so knowledgeable about the entire coffee process, so feel free to ask questions! It's also really hands-on as you follow how the perfect coffee bean is created from planting until roasting.
You'll also get the chance to wander through the working sugar mill where you can see how sugar cane is transformed into sugar and molasses.
After your formal tours are done, you'll have time to explore the butterfly garden on the property. There are hundreds of mini bonsai trees here along with a rainbow of orchids and of course butterflies!
With this tour so close to San Jose, it's a good day trip from San Jose if you're looking to get out of the city and explore a bit. If a coffee tour is on your to-do list, but you have a tight schedule, then book this short and sweet tour online!
5. Tio Leo Coffee (Guanacaste)
If you're staying in the gorgeous Guanacaste region (and trust us, you should!) consider this awesome coffee plantation tour at Café Tio Leo! This tour is one of the most affordable options at $39 USD per person, and a great way to experience the tasty beans that come from this region.
Tours are offered in the morning at 8 am and in the afternoon at 1 pm daily. If you're here during the summer (November-April), there are also evening tours starting at 4 pm. Tours last about 3 hours and they pack a lot in! You will need to get yourself here though, so consider renting a car to make the drive.
Tio Leo coffee is produced and harvested on the slopes of the Poas Volcano. It's about 4,500 feet (1,370 meters) above sea level and the soil is rich in minerals and nutrients. You'll be able to stroll around the coffee plantation to see the plants up close before you watch the coffee roasting process. There's also a chocolate tour, sugar cane extraction, cooking class, and plenty of snacks!
Because you'll be walking around the plantation, make sure you wear good walking or hiking shoes (no sandals!), a hat, and long pants. It's also a good idea to bring some sunscreen and bug spray along.
You can check the availability of the tours and book online via their website. Each tour accommodates a maximum of 12 people, so it's a smaller group that won't make you feel lost in the crowd.
Related Read: If you're in Guanacaste, don't miss seeing some of the best beach towns in the country! I'm talking about Samara, Tamarindo, and Playa Flamingo on the country's famous gold coast.
6. Coffee and Chocolate Tour (Manuel Antonio)
Manuel Antonio is one of the premier destinations in Costa Rica and easily one of our favorites. Along with the incredible Manuel Antonio National Park, you can also experience some of the region's delicious coffee on this coffee tour.
After you're picked up from where you're staying in Manuel Antonio or Quepos, this tour includes both coffee and chocolate-making experiences so it's a great option even if you don't love coffee. The guides here are wonderful – they aren't reading a script, just sharing their passion for this country and what it produces.
You get to try a traditional Aztec hot chocolate, coffee, and if you're lucky even a cocktail made with ginger and sugar cane syrup! The chocolate tastings are a highlight too if you love chocolate as much as me! The orange-mint chocolate is especially good.
The tour is only $60 USD which is a fantastic deal for all it includes, making it one of the best Manuel Antonio tours on offer. You can choose either a morning or afternoon tour that will last 2-3 hours so you'll still have plenty of time to hit the beach or check out some of the great restaurants in Manuel Antonio after you're done!
This chocolate and coffee tour in Manuel Antonio can be easily booked online with Viator.
7. Don Juan Coffee and Chocolate Tour (Monteverde)
While Monteverde is most famous for its Cloud Forest, this region also makes some excellent coffee! The Don Juan Coffee tour is offered by a family-run business that will take you through the entire coffee-making process.
Over the two-hour tour, you'll get an insight into coffee, chocolate, and sugarcane. You'll learn how coffee goes from a seed planted in the ground to being harvested by hand and then turned into a delicious cup of coffee.
Then chocolate lovers rejoice – you get a full chocolate tour too! You'll get to see cacao plants up close and may even have the chance to grind cacao beans to make your own chocolate bar. After the demonstration, you'll get to taste different varieties of melt-in-your-mouth chocolate including dark chocolate, milk chocolate, and white chocolate.
Monteverde is known for being rainy, but luckily all the trails here are paved with cement – so no mud! It also means if you're traveling with a stroller or wheelchair, the paths can easily accommodate that.
I loved this tour and thought it was one of the top things to do in Monteverde! It was the perfect combo of being both fun and informative as we learned so much about all the work that goes into making these yummy treats.
You can book the tour online on the Don Juan website for $36 USD for adults and $10.50 USD for kids.
Related Read: While in the area, consider joining one of the best night tours in Monteverde to see nocturnal wildlife!
Getting Around Costa Rica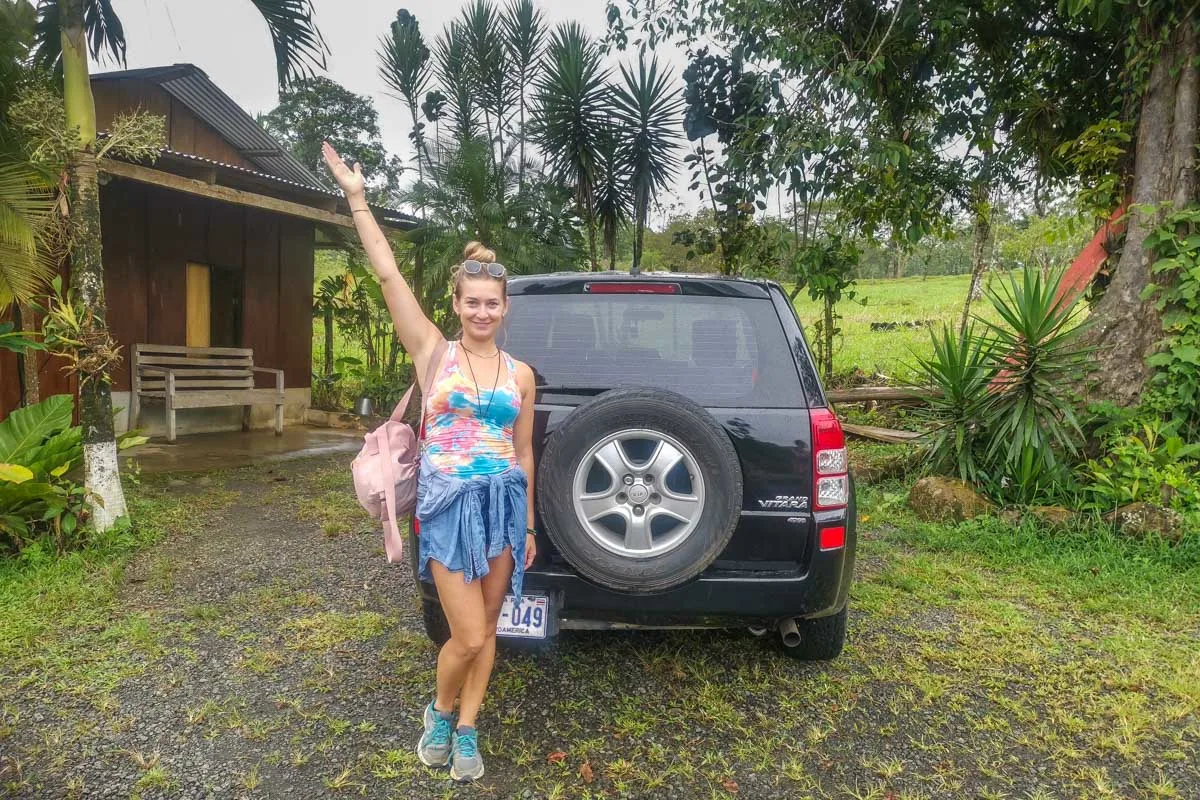 How you choose to get around Costa Rica is one of the biggest decisions you'll make when planning your holiday here! How you do it depends on your budget, travel style, and comfort level.
Renting a Car
Without a doubt, the number one way to explore Costa Rica is in a rental car. We book rental cars on the Discover Cars website as we have had good experiences with them in the past.
One of the things you need to watch for when renting a car in Costa Rica is the mandatory insurance that the government requires you to have. There are a lot of very cheap rentals that don't include this mandatory insurance (TPL) in the original booking price, but there are also ones that do. To avoid additional surprise charges when you pick up your rental car, be sure to rent a car that includes the mandatory insurance when you book.
Thankfully, on Discover Cars it's easy to tell apart the companies that include the mandatory insurance and those that don't. The trick is you can't pick any car on their website. In the picture below, you can see this rental car, with pick up in Jaco, includes the TPL. That means the mandatory insurance is included in the price. Any cover you get above that is extra.
Of course, I still suggest getting the full coverage offered by Discover Cars, which covers you even more.
You can browse cars on Discover Cars here.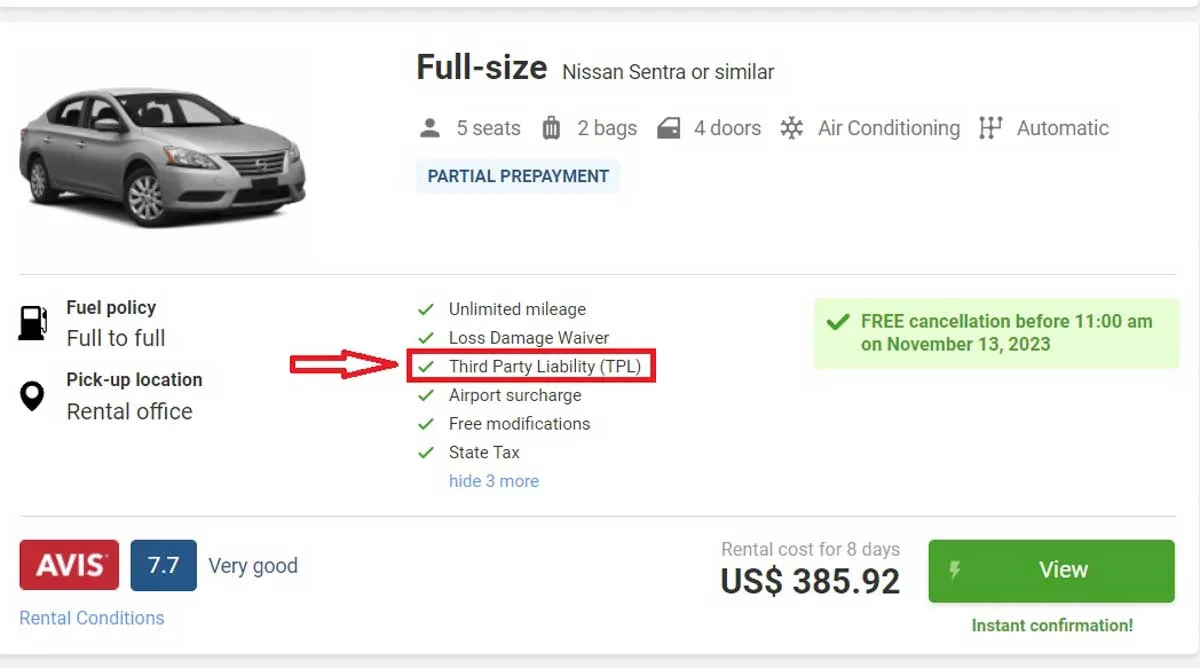 Book Shuttles
If renting a car isn't in your budget, you don't feel comfortable driving in Costa Rica, or you just don't like driving, shuttles are the next best option. There are hundreds of shuttle routes available all over the country, and they are very affordable.
Shuttles in Costa Rica are specifically for tourists and often include pick up and drop off at your selected hotels and airports. The drivers also speak some English, and the vehicles have air conditioning. You'll also be guaranteed a seat when you book a shuttle (which isn't the case with the public bus system.)
To get the best price, use the website Bookaway. They compare all the offers and prices of shuttle companies in Costa Rica so you get the best price! Honestly, we have saved so much money using Bookaway!
You can search for shuttles online on Bookaway here.
Public Bus
Lastly, you can use the public bus system. On short journeys, such as from San Jose to La Fortuna or Uvita to Manuel Antonio, this system is great. However, the longer the journey the more hassle and time spent on a bus. It's undoubtedly best to save the public bus in Costa Rica for short and straightforward trips!
The public buses are definitely the cheapest way to get around Costa Rica, but they are not always very reliable and schedules often change without notice and delays are to be expected. The buses can also be very crowded and hot – so just be prepared!
It's also good to speak some Spanish if you plan on riding the public bus since most drivers and ticket booth operators don't speak English.
Invest in Travel Insurance
Paying out of pocket for trip interruptions or medical treatment will add to what might already be a stressful situation. Not to worry, SafetyWing is here to help!
This affordable travel and medical insurance is perfect for digital nomads, long-term travelers, and remote workers. The best part is that it only costs $45 USD per 4 weeks.
To start coverage you must purchase it after leaving your home country. We usually purchase it as soon as we land at the airport.
Since using SafetyWing we've been reimbursed thousands of dollars when we've gotten sick. During the pandemic, they've even gone as far as to pay for our last-minute flights back to Canada before the border closed!
Pura Vida!
Whether you're sipping on a coffee before starting your day or looking for tge freshest cup of coffee you've EVER tasted right on a coffee plantation, Costa Rica is an incredible place to get your caffeine fix. I hope this guide to the best coffee tours and coffee plantations in Costa Rica has helped you pick which one to visit!
If you're looking for more experiences to add to your Costa Rican getaway, make sure to have a look around our other blogs! Or check out these popular reads below:
Is Costa Rica Safe? Travel Scams, Safety Advice & More
9 BEST Tours of Costa Rica (Multi-Day Guided Tours) & How to Pick One!