Montezuma is a sleepy Costa Rican town located on the Nicoya Peninsula. It sits in a small bay that bathes in the Pacific Ocean – it's beautiful.
In the past, Montezuma was a fishers' village, but its heavenly beaches attracted more and more tourists to the area. Since then, it's become a popular destination for its alternative and laid-back vibe, attracting yoga, surf, and nature lovers.
Montezuma is also a perfect place to stay to visit some nearby natural parks like the National Reserve Cabo Blanco. The park was the first protected area in the country back in the 60s, and that is now a world-known field study for scientists.
As with any developing town in Costa Rica, restaurants have followed the visitor and there are now some pretty amazing places to eat in Montezuma too.
To help you enjoy the best restaurants in Montezuma, we have created this list of the 10 best restaurants you need to try!
Restaurants in Montezuma
1. Tierra Y Fuego
Location: In the foothills of Montezuma, an 11-minute drive from town
Price range: $12 for pasta with pesto, $15 for a mixed grill
Come here for: Italian food
Takes reservations: Yes
Tierra Y Fuego is known around Montezuma as "a small slice of Italy in the jungle," and I can't agree more. In the hills of Montezuma and owned by Italians, Tierra Y Fuego's wooden décor melts in the greenery of the tropical jungle that surrounds it. It's a perfect place for those who enjoy a quieter atmosphere in a charming and laid-back setting.
Their meals are succulent, and the portions are generous. They have a stone wood-fired oven in which they cook their pizzas and other traditional meals like lasagna. For starters, I love bruschetta, which is toasted bread with diced tomato, salt, basil, and, of course, a good-quality olive oil. You can also try their mix of Italian appetizers or "Antojos" with fresh cheeses, veggies, and delicatessen.
Their main dishes are pasta, grilled meats, fish, and pizza. There are also vegan and vegetarian options. I recommend you taste their calzone, an Italian oven-baked folded pizza. You can fill it with the ingredients you want, and it's delicious. If you prefer pasta, you should know theirs is 100% homemade, so try it!
Finally, one thing I like about this place is their offer of desserts. You will find some traditional ones like Tiramisu and Pannacotta and more authentic options, like their "Chocolate Salami." This dessert is a dough of cacao, crushed biscuits, butter, eggs, and sometimes some alcohol like rum. The dough is rolled, made into a "salami" form, and let rest. Once it's done, you cut some thin slices and enjoy it with a cup of espresso!
Tierra Y Fuego is open from 5 pm to 10 pm Wednesday through to Sunday and you can view their menu here.
2. Soda Típica Las Palmeras
Location: At Palmera's Beach
Price range: $5 to $10
Come here for: Cheap, authentic Costa Rican dishes
Takes reservations: No
Distinguished by a typically painted cartwheel at its entrance, Soda Tipica Las Palmeras invites you to taste its authentic Costa Rican meals. The place is simple, but its location near the sea is a magnificent spot to relax and pause after a trip to the beach.
Las Palmeras is open from 10 am to 8 pm so you can have a late breakfast, lunch, or an early dinner. Their dishes are affordable, generous, and nicely served on top of a plantain leaf on a wooden plate.
I recommend you to try their empanadas for breakfast or as a snack in the afternoon. They're a fried patty made with cornflour and filled with cheese, refried beans, or meat – usually chicken or ground beef.
For lunch, you can try a Casado – a typical Costa Rican dish consisting of beans, rice, salad, vegetables, fried plantain, and meat. They also have a lot of seafood dishes and pasta. Or if you love curry, be sure to try theirs. They are full of flavor and come perfectly seasoned!
Finally, for dessert, they make delicious banana bread with ice cream. Don't forget to order a homemade natural juice to accompany your meal!
Soda Tip Lal Palmeras is open from 10 am to 8 pm every day except Wednesday.
3. Sano Banano Restaurant
Location: In front of Montezuma Beach, near the soccer field.
Price range: $3 for eggs and toasts, $13 for a fresh fish filet
Come here for: Healthy food
Takes reservations: Yes
Sano Banano Restaurant is part of a 3 stars beachside hotel in Montezuma. Inside they have a beautiful open terrasse with a water fountain and many tropical plants and trees, making it a great place to chill.
The atmosphere is also fun and colorful. Indeed, the restaurant is pretty animated. They usually organize seasonal live music, movie nights, and many other activities. It's a perfect spot to hang out with family and friends. They even have a happy hour from 3 pm to 6 pm!
The menu is health-minded and tasty. They use fresh, local, and natural ingredients and offer a wide choice of alternatives for vegetarians, vegans, and those who are gluten intolerant. Open all day, you can have breakfast, lunch, and dinner.
I recommend trying their banana pancakes for breakfast or their "huevos rancheros." This dish is with fried eggs, refried beans, a tomato spicy sauce, and sour cream. It's one of my favorites and those who have traveled to Mexico will likely of had it before!
For lunch or dinner, they have plenty of options. From soups, salads, sandwiches, burritos to Costa Rican classics, like Casados and fresh seafood. My go-to is the chicken with pineapple rum sauce. It's one delicious meal with such great flavors. Another favorite of mine is their Thai curry. You'll forget you're in Costa Rica when you taste this flavorful Thai dish!
Their desserts are also delicious and I recommend you try their artisan homemade chocolates with a cup of Costa Rican coffee!
Sano Banano Restaurant is open from 7 am to 9:30 pm and you can view their menu here.
4. Playa de los Artistas
Location: at "Los Artistas" beach.
Price range: $7 for a chipotle hummus with corn tortillas, $16 for a red snapper
Come here for: Mediterranean food
Takes reservations: yes
Playa de los Artistas is a great beachside restaurant offering Mediterranean food and it's consistently voted the number one restaurant in Montezuma. The décor is rustic and laid-back. At night, they lighten the dinner tables with candles, making the atmosphere intimate and romantic.
The menu frequently changes since they work with fresh and local ingredients, but their specialty is seafood.
The dishes are original and nicely served. I recommend their seared tuna with a sour and sweet sauce, toasted cacao and mint, or with a strawberry sauce, green peppers, lemon, and poppy seeds! It's a huge mix of aromas in your mouth and one of the more creative meals you can have in Montezuma. Their octopus in red wine and on turmeric polenta is also famous around town.
If you're vegetarian, they also have some options for you. Opt for the white beans with kale and smoked Chile, spinach, and date quiche, or a chipotle hummus with corn tortillas.
Overall, Playa de los Artistas is one of my favorite restaurants in Montezuma for a romantic meal. Take your loved one here and thank me later!
Playa de los Artistas is currently only open from 12 pm to 4 pm (I hope they extend their hours again soon)!
5. Pizzeria CHELO
Location: Montezuma downtown, in front of "El Jardin" hotel.
Price range: $12 for pizza or pasta
Come here for: Italian food
Takes reservations: Not usually
Pizzeria CHELO is an Italian restaurant where you will enjoy great pizzas and many other dishes like homemade pasta, salads, bruschetta, seafood, and meats.
Prices are a little higher than the average restaurant in Montezuma, but the food is high quality and the portion sizes are generous. For starters, I love focaccia, with is a baked pizza dough with olive oil and rosemary leaves. Or, try the empanadas – they are so good!
If you like pizzas, you will find classic ones like ham and cheese or Caprese (fresh tomato, mozzarella, and basil). They are wood-fired and it's actually what the restaurant is famous for.
If you prefer pasta (like me), they serve the ever-popular Bolognese or pesto spaghetti and daily lasagna that changes over the season. Personally, I always get the ravioli which is made by a local Italian. They are like little pillows of goodness and the sauce is so fresh! For seafood lovers, I recommend trying their shrimps with coconut and curry sauce.
Pizzeria CHELO also has lots of drink options such as sangria, cocktails, and craft beers to accompany your meal. Or, get yourself some wine!
Pizzeria CHELO is open from 12:30 pm to 9:30 pm every day except Wednesday. They are located in the heart of Montezuma and if you plan on eating around 7 pm, you may need to wait for a table. So, get there early! You can view their menu here.
Related read: Love Italian? Then check out the best restaurants in Santa Teresa.
6. Chico's Playa Bar Restaurante
Location: at Montezuma Beach, near Sano Banano
Price range: $5.5 for a Casado, $11 for shrimps in sauce
Come here for: Authentic Costa Rican food and fresh seafood dishes.
Takes reservations: No
Chico's Playa Bar Restaurante is just in front of the ocean at Playa Montezuma with a fantastic view. The place is simple, but prices are pretty affordable, and you will enjoy local and authentic Costa Rican food plus international dishes.
For less than $6, you can order a Casado with fish, chicken, or beef. They also offer grilled meats and seafood. I suggest you try their different "ceviche." The original version is made with diced raw fish marinated in lemon juice and spices. However, they also have shrimp or mixed seafood ceviche and a version with "palmito" or the palm heart, which is also tasty. They also offer fresh salads, pasta, and vegetarian alternatives.
Finally, don't forget to accompany your dish with natural fruit juice. One of my favorites is Guanabana juice. In English, it's called "soursop," and it's a tropical fruit with white flesh and green skin with sharp points. It's just delicious!
Aside from the food, you come to Chico's to party and enjoy the location, which is right in town and on the beach. Chico's is also one of the best places to listen to live music. They play right on the beach, and you can enjoy a beer or cocktail while supporting and enjoying local artists from the area. It's actually one of the best things to do in Montezuma!
Chico's Playa Bar Restaurante is open from 11 am to 10 pm every day.
7. Ylang Ylang Restaurant
Location: At Ylang Ylang Beach Resort, near Piedra Colorada beach
Price range: $8 for banana pancakes, $24 mixed seafood grill
Come here for: Healthy and alternative meals
Takes reservations: Yes
This restaurant is inside the Ylang Ylang Beach Resort. The hotel sits in a lush jungle right in front of the beach but far enough from the crowd of Playa Montezuma and is one of the best hotels to stay in Montezuma. It's a privileged destination for couples looking for a romantic setting to celebrate their wedding.
Ylang Ylang Restaurant is open from 7 am to 8 pm and their food is locally sourced and mainly organic. Their approach is healthy and personalized, offering vegan, gluten-free, and raw options when needed. However, keep in mind that they serve chicken and seafood dishes, but not red meat or pork.
Their menu is very varied. For breakfast, you can have omelets, fruits, pancakes or a typical Costa Rican breakfast including rice, beans, tortillas, plantain, cheese, and scrambled eggs.
For lunch and dinner, the offer is also huge. Their cuisine is a fusion of different influences. From sushi to pasta and burritos, there is a dish for every palate and occasion, but always with an alternative and healthy twist. They also offer romantic dinners right on the beach so inquire if you want to spoil your loved one!
You can view Ylang Ylang Restaurant's menu here.
8. Cocolores
Location: Montezuma Beach
Price range: $5.5 for fried corn tortillas with beans, $21 for jumbo shrimps
Come here for: Fish and Seafood.
Takes reservations: Yes
Cocolores is another beachside restaurant and bar, just in front of the beach of Montezuma, that offers delicious food in a charming and laid-back setting. Their international menu is very varied. For starters, you will find some classics in the area, like ceviche or fried corn tortillas with refried beans.
For the main course, they have a lot of different pasta like Bolognese, carbonara, and shrimp spaghetti. In fact, the two owners are Italian so you know they do this cusuine well!
They also offer seafood and fresh fish options with original sauces like "curry and banana," "vodka and orange juice," or "cognac." Mexican fajitas and oriental kebabs are also on the menu!
If you are vegetarian, they have no meat alternatives and a wide variety of salads like the classic Caprese and Greek. Prices are good, and the portions are generous.
I really enjoy their cocktails too. Such a nice way to watch the sunset along the coast with their famous mojita in hand! The ambiance alone makes this one of the best restaurants in Montezuma.
Cocolores is open from 5 pm to 10 pm every day except Monday.
9. Ubin by Keilor Sanchez
Location: Montezuma downtown, behind the Catholic church
Price range: $40 for a three-meal course
Come here for: Beautiful and delicate meals
Takes reservations: Yes
If you are looking for a fancier and upscale experience, this is the place to eat in Montezuma. Ubin by Keilor Sanchez is a modern, elegant, spacious restaurant nestled in the Nya Hotel, a boutique accommodation.
It serves gastronomic and creative cuisine. Each dish is carefully and beautifully presented and, of course, delicious. This is no surprise since chef Keilor Sanchez is a well-renowned cook in the country, influenced by his Costa Ricans origins but also passionate about French and Italian cuisine.
The menu changes depending on the season, and a reservation is necessary. They also have a large offer of wines and cocktails and most of the dishes, including the bread and pasta, are homemade.
10. Balcon del Mar
Location: Montezuma downtown, near the soccer field.
Price range: $6 for chicken fajitas, $13 for tenderloin beef
Come here for: everything!
Takes reservations: No
Balcon del Mar is a simple and authentic soda restaurant, just a few meters away from the ocean. It's in a two-floor wooden structure with a beautiful view above the street. From the balcony, you will then enjoy a fantastic atmosphere that is relaxed, and the prices here are affordable.
Their menu is just huge! They offer all kinds of dishes: meats, fish, seafood, spaghetti, sandwiches, salads, appetizers, fajitas. You name it; they have it! They even make some original creations like tenderloin beef with orange sauce or breaded shrimps with coconut. The portions are generous, so make sure you have a good appetite when you go.
I've tried lots from Balcon del Mar, and I am a regular of their Casado, which is one of the cheapest in town. However, I love getting their whole fried fish for a fancier meal. The portion is huge!
Balcon del Mar also makes a really good breakfast that's almost cheaper than making it yourself. So come for the classic Costa Rican breakfast of pico de Gallo, fried plantain, eggs, and cheese.
4 Must Do Activities in Montezuma
Visit Tortuga Island: The small island of Tortuga is the ideal beach getaway from Montezuma. Together with Alcatraz Island, the area makes up the Islas Negritos Biological Reserve. It's home to fantastic snorkeling, white sand beaches (some of the best beaches in Costa Rica), and lots of coconuts! From Montezuma, tours to Tortuga Island cost only $70 USD and include lunch, snacks, drinks, and your snorkeling equipment. We went with Zuma Tours and can highly recommend them.
Visit Montezuma Waterfalls: Montezuma Waterfalls are one of the few free waterfalls you can visit in Costa Rica. The best part is, a day exploring the three waterfalls is epic and one of the best things to do in Montezuma! You can easily walk to Montezuma Waterfalls from town and hike the somewhat confusing trail to explore the waterfall.
Visit the local craft brewery Butterfly Brewing Co: Montezuma has its very own brewery! That was music to my ears when I first arrived, and I immediately went to check it out. Located not far from town, Butterfly Brewing Co. is surrounded by nature with a beautiful outdoor balcony overlooking lush forest. They had four beers on tap during my visit, and I loved them all. The IPA and Pale Ale are especially good. The brewery also serves food; however, Bailey and I only stopped in for a few beers.
Go surfing: As with just about every coastal town in Costa Rica, you can surf in Montezuma. Unfortunately, Montezuma Beach is not a great beach for surfing. However, if you grab your board and hike to Playa Grande, you can enjoy uncrowded waves. The waves at Playa Grande are mainly suited to beginners, and there are actually surf schools in the area that offer lessons. This specific surf lesson lasts for three hours and begins in Montezuma.
They'll guide you along the trail to Playa Grande before teaching you the basics. You get a two-hour lesson in the water, including fruit snacks. There is also this one-week surf school that includes accommodation, some meals, and surf lessons for $900.
Related Read: Hading to Jaco, Costa Rica? Check out the best restaurants in Jaco!
Getting Around Costa Rica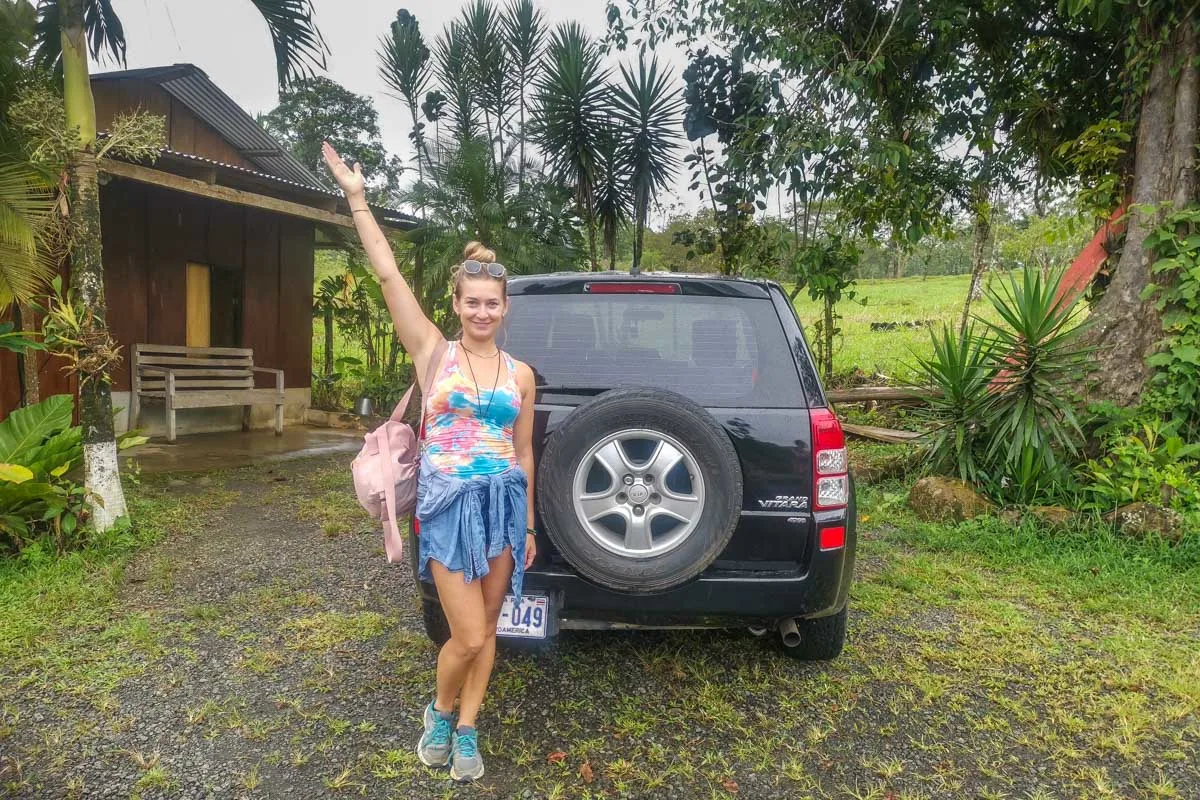 How you choose to get around Costa Rica is one of the biggest decisions you'll make when planning your holiday here! How you do it depends on your budget, travel style, and comfort level.
Renting a Car
Without a doubt, the number one way to explore Costa Rica is in a rental car. We book rental cars on the Discover Cars website as we have had good experiences with them in the past.
One of the things you need to watch for when renting a car in Costa Rica is the mandatory insurance that the government requires you to have. There are a lot of very cheap rentals that don't include this mandatory insurance (TPL) in the original booking price, but there are also ones that do. To avoid additional surprise charges when you pick up your rental car, be sure to rent a car that includes the mandatory insurance when you book.
Thankfully, on Discover Cars it's easy to tell apart the companies that include the mandatory insurance and those that don't. The trick is you can't pick any car on their website. In the picture below, you can see this rental car, with pick up in Jaco, includes the TPL. That means the mandatory insurance is included in the price. Any cover you get above that is extra.
Of course, I still suggest getting the full coverage offered by Discover Cars, which covers you even more.
You can browse cars on Discover Cars here.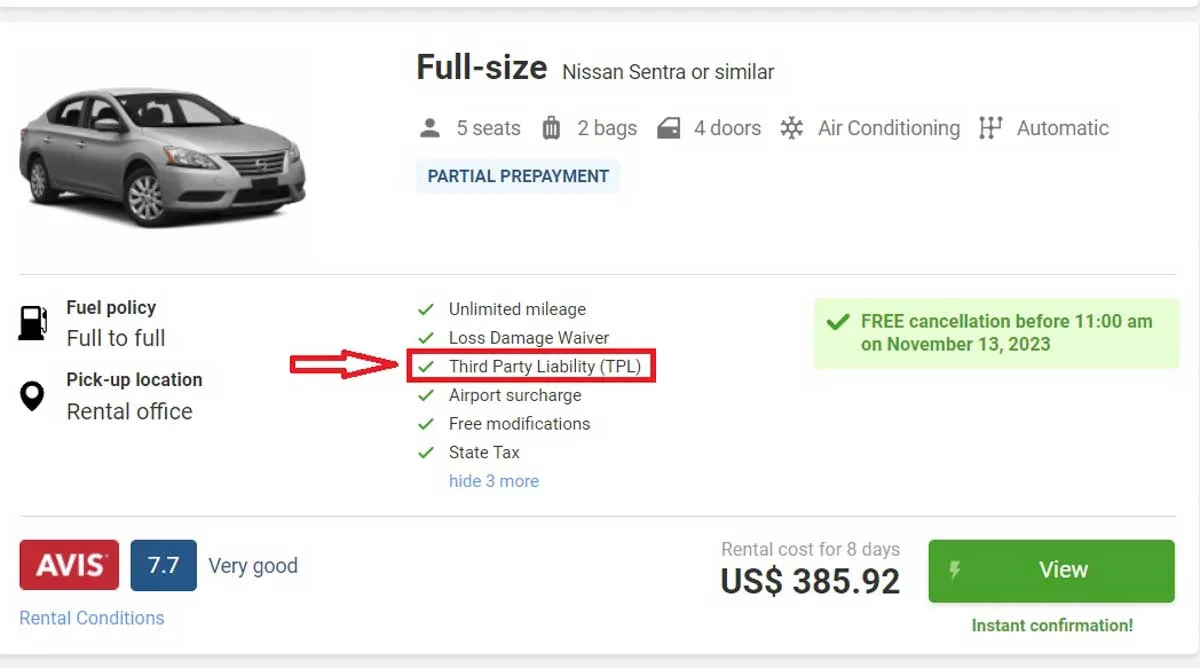 Book Shuttles
If renting a car isn't in your budget, you don't feel comfortable driving in Costa Rica, or you just don't like driving, shuttles are the next best option. There are hundreds of shuttle routes available all over the country, and they are very affordable.
Shuttles in Costa Rica are specifically for tourists and often include pick up and drop off at your selected hotels and airports. The drivers also speak some English, and the vehicles have air conditioning. You'll also be guaranteed a seat when you book a shuttle (which isn't the case with the public bus system.)
To get the best price, use the website Bookaway. They compare all the offers and prices of shuttle companies in Costa Rica so you get the best price! Honestly, we have saved so much money using Bookaway!
You can search for shuttles online on Bookaway here.
Public Bus
Lastly, you can use the public bus system. On short journeys, such as from San Jose to La Fortuna or Uvita to Manuel Antonio, this system is great. However, the longer the journey the more hassle and time spent on a bus. It's undoubtedly best to save the public bus in Costa Rica for short and straightforward trips!
The public buses are definitely the cheapest way to get around Costa Rica, but they are not always very reliable and schedules often change without notice and delays are to be expected. The buses can also be very crowded and hot – so just be prepared!
It's also good to speak some Spanish if you plan on riding the public bus since most drivers and ticket booth operators don't speak English.
Pura Vida!
Montezuma may be a sleepy beach town, but there's certainly no shortage of amazing places to eat. The hardest part is picking where to eat each night!
I hope this guide has help narrow down your choices and you get to enjoy a few of the restaurants on this list. If it has, be sure to check out more of our detailed blogs such as: