In the heart of the Guanacaste province in Costa Rica is the city of Liberia. It's nicknamed La Ciudad Blanca (the white city) for the white gravel once used on the city's roads and the whitewashed buildings around town.
Chances are you may find yourself here during your trip as it has one of only two international airports in Costa Rica. This is an excellent starting point for your vacation – even if you don't plan to stay right in the city.
Liberia really is a gateway to the amazing beauty of Costa Rica as it's centrally located with a lot of different easy day trips nearby. Whether you find yourself here at the start of your trip or at the end, there's plenty to keep you busy to fit in one more adventure.
To help plan your trip, I've put together a list of my favorite things to do in Liberia. It includes everything from tours to seeing one of the most spectacular waterfalls in Costa Rica, a mini-African safari, great spots for craft beer, and an incredible art gallery – all within easy driving distance from Liberia. Hopefully, this gives you some ideas for planning your own epic Costa Rican adventure.
11 Best Things to do in Liberia, Costa Rica
1. Rincón de la Vieja Volcano
Around an hour and 15 minutes away from Liberia (60 km/37 miles) is the incredible Rincón de la Vieja Volcano National Park. As the name suggests, it is home to the Rincón de la Vieja Volcano – an active volcano! But the huge park (35,000 acres!) is also home to hot springs, waterfalls, and hiking trails.
One of the best ways to see this area is with a full-day adventure tour. This tour includes transportation and incredible activities like ziplining through the tree canopy, stunning waterfalls, horseback riding, water sliding, a spa visit complete with a mud bath and hot springs, and even lunch!
If you plan to do some hiking, I recommend the short 20-minute trail to the Las Pailas (boiling mud pots) – a cool feature of the area where the mud is so hot it actually bubbles in small pools! Another good hike is the Catarata La Cangreja trail (about 3 miles each way) which leads to a beautiful waterfall.
The park is open Tuesday-Sunday (closed Mondays) and costs $17 USD for adults and $5.60 USD for kids – if you don't have a tour booked. While you can explore this park on your own, tours are quite popular here.
Related read: Visiting Rincón de la Vieja Volcano National Park is also one of the best things to do in Tamarindo.
2. Parque Mario Cañas Ruiz
In the center of the Old Town area of Liberia is Parque Mario Cañas Ruiz. Look for the gazebo with a red roof and a white-stone fountain!
This is a fun place to be to get a feel for the area with street vendors and food trucks, and there's often live music on the central stage. It's a popular spot for locals and tourists.
In the park, you'll also find the Central Church of Liberia (pictured above.) This interesting cathedral stands out with its all-white color and shape.
Parque Mario Cañas Ruiz is good during the day as well as in the evening to grab a bit to eat and sit on one of the nearby benches.
3. Visit a Local Brewery
There's nothing I love more than getting a taste of the local area with some excellent craft beer. There are two breweries out near the airport in Liberia that are great stops for a cold beverage while you wait for your flight. You might like it so much you'll grab some cans to take with you while you explore Costa Rica or take home!
Numu Brewing Company is located in an industrial park very close to the airport. Their full-flavored beers are inspired by the Costa Rican climate and feature tropical fruits. Try a few samples of the various beers on tap or pick up cans to go. Favorites here include the Chorotega IPA with hints of tropical fruits mixed in with a signature hops flavor, or the Liberiana Kölsch with a subtle maltiness and fruity notes.
Captain J Match Brewing Company is also in the Liberia airport area and is a small microbrewery that is gaining popularity. The beer here aims to represent the Guanacaste region of the country with local flavors. Try the Flamingo Mosaic Pale Ale or the refreshing San Juanillo Summer Ale. The owner here is great too, and will take you through the process of how all the beers are made.
Related read: Check out the best things to do in Montezuma for more local breweries to visit.
4. Hidden Garden Art Gallery
Only five minutes from the airport in Liberia is the largest art gallery in Costa Rica. The Hidden Garden Art Gallery spreads art throughout 15 rooms featuring dozens of local artists.
The gallery showcases how artists capture the beauty of Costa Rica through paintings and sculptures. All the rooms are divided into different styles, with some displaying more geometric art and others with beautiful underwater images.
This is a neat place to take home a piece of the country with art that will remind you of your trip. Often people stop in here close to when they're leaving to find a piece of art to take home. The owners here are great at packaging up art for the long flight home. You don't need a big budget either – there are pieces here for around $50 USD and then all the way up to over $1,000.
Hands-down, this art gallery is one of the best things to do in Liberia.
5. Ponderosa Adventure Park
Located less than 15 minutes outside the city, Ponderosa Adventure Park is a fantastic stop for the whole family in Liberia. The main attraction is the safari tour with animals like giraffes and zebras, but there are also waterfall and zipline tours here too.
The safari tour is a must-do if you come to Ponderosa. Make sure you buy at least two bags of carrots (under $2 USD per bag) at the reception desk before you leave! You'll get to feed giraffes and zebras right from your safari vehicle on the 90-minute drive through the savannah area.
You can spend an entire day here taking part in all of the activities, including swimming near the La Perla waterfall, kayaking, ziplining, and horseback riding on the tropical forest trails. If you are planning to take part in multiple tours, I recommend purchasing the full-day pass for $66 USD. That gets you access to every activity except horseback riding, which can be purchased separately.
The adventure park is open every day from 8 am to 5 pm.
6. La Leona Waterfall Hike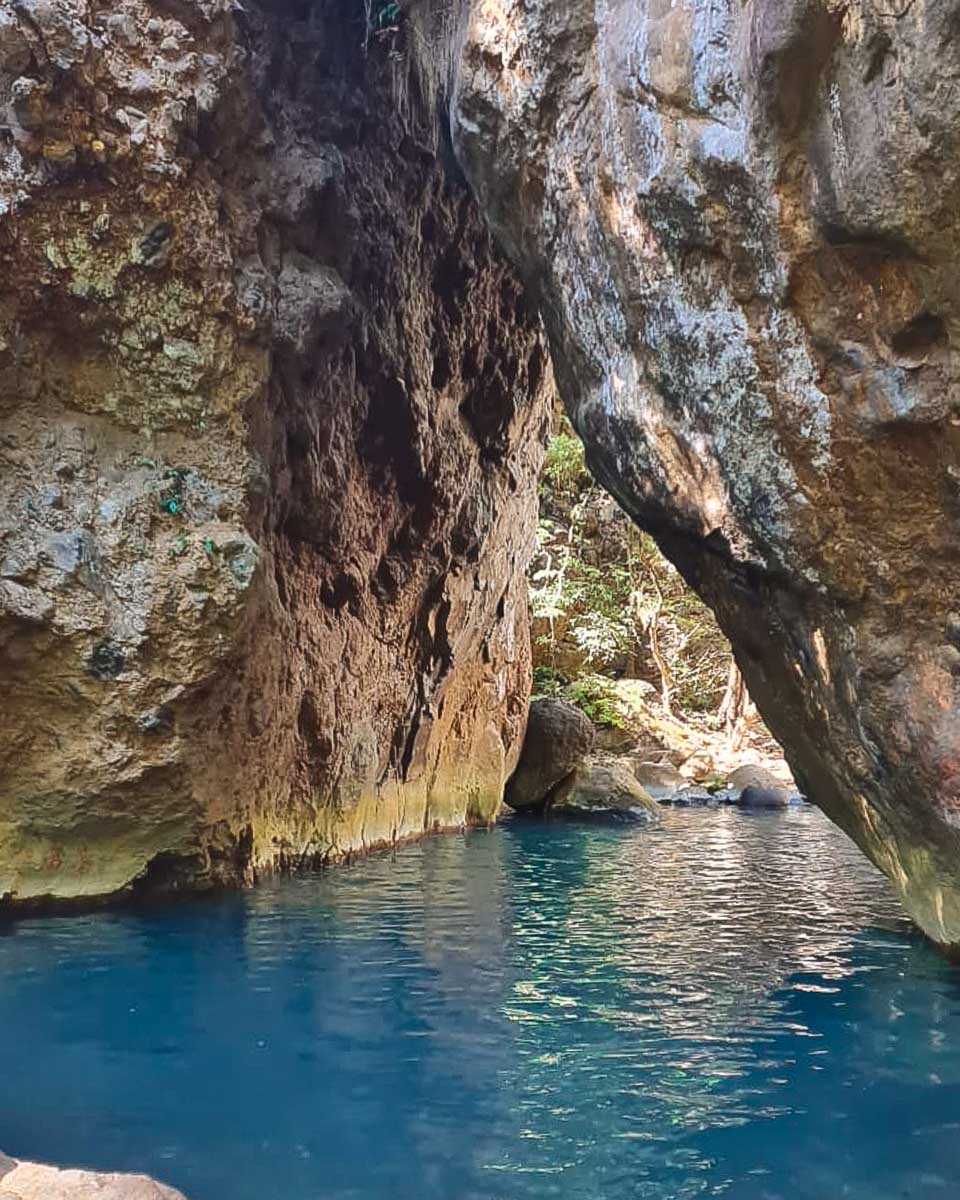 Getting up close to one of Costa Rica's spectacular waterfalls is something you have to do while you're here and is one of the top Liberia activities. But sometimes waterfalls can be difficult to find, or the roads are too rough for a rental vehicle, so it's nice to take the guesswork out of it with a tour like the La Leona Waterfall Hike.
This three-hour excursion follows the jungle trails around the Rincon de la Vieja Volcano to the stunning La Leona Waterfall. The highlight is swimming right near the waterfall and grabbing a few pictures here too!
What's great about this tour is you also get some bonus stops like at a local café for coffee and fruit before the hike and then a visit to the Poza La Pipa – a secluded swimming area with turquoise-blue waters where the Blanco and the Colorado rivers cross through.
7. Parque Nacional Palo Verde
This national park is one of the best spots to see wildlife – especially birds. Spanning more than 45,000 acres, Palo Verde is one of the most densely populated areas of migratory birds in all of Central America.
During the rainy season, floodwaters from the Tempisque River create huge marshes here that attract all types of birds. Then in the dry season (typically from December to May), the marshes shrink to form smaller pockets of water throughout the park. It's best to plan a visit here during the dry season as roads can be completely impassable after heavy rains.
To see the most wildlife, find one of the smaller bodies of water and just sit and wait. You'll likely spot lots of birds and may even be lucky enough to see some howler monkeys or capuchin monkeys. Or head out on the 20-meter boardwalk at Laguna Palo Verde – another great place to see the animals that call this park home.
To get here, it's about an hour's drive from Liberia – you'll follow the main Inter-American highway to the city of Bagaces and then turn onto a gravel road, following that for about 20 kilometers (12 miles) to the entrance of the park. You can also take a bus to Bagaces and then Uber or taxi down the gravel road to the park.
8. Tio Leo Coffee Tour
This is a fantastic stop in Liberia, as Tio Leo is so much more than a coffee shop! While you can buy coffee here, the real attraction is the three-hour tour where you'll learn all about the various crops harvested here, including coffee beans.
The tour, led by Tio Leo himself, includes a walkthrough of the coffee plantation, tours of sugarcane extraction, coffee roasting, a short cooking class to make empanadas, and a chocolate tour where you'll get to grind cocoa beans to make your own chocolate milk!
Tours are $39 USD for adults, $20 USD for kids, and under 5 are free. They are offered daily starting at 8 am and 12 pm, with additional tours offered during the summer starting at 3 pm. Bring hiking shoes, mosquito repellent, and sunscreen for the tour.
Getting to Tio Leo Coffee is really convenient if you're near the airport as it's less than a 10-minute taxi ride or drive away. It's perfect for stopping in before your flight or as one of your first stops on your way out of Liberia.
9. La Vieja Waterfalls Hike
Seeing a waterfall (or two or three!) is an absolute must while you're in Costa Rica. If you're not planning on renting a car or don't feel confident in trying to find hidden waterfalls on your own, a tour is really the way to go. The La Vieja Waterfalls Hike tour is an incredible way to see two waterfalls in one morning!
The tour starts with a pick-up in Liberia and then a short 25-minute drive for a quick coffee and breakfast stop at a small village coffee shop. Then only 10 minutes later is the first waterfall – the spectacular La Oropendola Waterfall at the slopes of the Rincon de la Vieja volcano. If swimming near a waterfall has been a dream of yours, then this is the place! You'll have time to swim in the bright turquoise pool with the 82-foot waterfall cascading down behind you.
The second waterfall is a short hike along a nearby trail with a bit of climbing and some caves to walk across. Then the La Leona waterfall will come into view after a quick swim to get there! After, you'll have a short visit to Poza La Pipa – a swimming area where two rivers meet, forming canyons and beautiful scenery. You'll finish the tour with a Cosa Rican lunch in downtown Curubande.
The tour is a bit pricier at $145 USD per person, but with it including transportation and even a meal, this is a pretty good deal. You don't have to worry about finding the waterfalls yourself and having a guide to tell you about the area is really handy.
10. Poza Los Coyotes
This is a beautiful hidden gem only 20 minutes from Liberia that is a favorite with locals and only opened to the public in 2020. For less than $2 USD, you get access to Poza Los Coyotes and its natural pools, a cave, a canyon, and a waterfall.
To get here, plan to drive along the main highway for about 10 minutes before turning onto an unpaved road for the final few minutes of the journey. The road is accessible to all vehicles, so you don't need an SUV or truck. You can also take a taxi or Uber from Liberia.
When you arrive, make sure to rent a tire (for less than $2) – you'll want it, later on, to float through the cave or on the natural pools. Also, bring a blanket or towel to sit on when you want to take a break from swimming.
The water here is a gorgeous shade of turquoise because of all the minerals in the water from the mountains around the Rincón de la Vieja volcano.
You'll be able to swim or float on your tire around the cave and in the natural pools. The canyon and waterfall area is great for photos, but not for swimming as the river current is too strong. Plan to spend 2-3 hours here or even the entire day if you want!
11. Rain Forest, Wildlife, Waterfall and Chocolate Private Tour
This tour is a fantastic choice for a one-stop-shop of some of the best things to experience in Costa Rica! The tour combines the beauty of the Llanos de Cortés waterfall, a chocolate tour on a local farm, and the chance to see sloths and other wildlife up close.
This is a full-day tour spanning six hours, starting first thing in the morning with pick-up at 7:30 am. While it is a more expensive tour at $250 USD, it has some incredible experiences (led by an expert guide) as well as lunch and transportation included.
Start off with a chance to explore a Tree Chocolate Farm. You'll get some of the history of cocoa and chocolate, see the entire production process, from the harvest of the fruit to sampling of the amazing organic chocolate.
Then, escape to the Llanos del Cortés Waterfall, where elegant curtains of water cascade over the rocks. Cool off with a swim here or enjoy the view from the nearby beach.
Finally, head to Finca Verde Lodge – a private nature reserve at the base of Tenorio Volcano. The short hike through the rainforest is the perfect chance to spot wildlife like sloths, toucans, butterflies, and tree frogs. Lunch is also served here for some extra time to enjoy the views.
Related read: Day trips from San Jose
Where to Stay in Liberia, Costa Rica
Liberia doesn't have a huge selection of hotels to choose from. However, that doesn't mean you can find a great place to stay before or after your holiday. In fact, I was pleasantly surprised by the quality of hotels in Liberia!
For budget travelers, Hostel Dodero is arguably the top choice. Not only is the hostel bookable on Booking.com and HostelWorld but it's also centrally located, clean, comes with friendly staff, and is well-reviewed!
For those with a moderate budget, Best Western El Sitio Hotel & Casino is a good option in town. The hotel has a pool, includes breakfast, a fitness center, and modern rooms.
If you're a luxury traveler, there really aren't many options in Liberia. However, the Hilton Garden Inn Guanacaste Airport is a beautiful hotel conveniently located by the Liberia airport. It comes with all the features and service you'd expect from a Hilton Hotel.
Pura Vida!
While Liberia may be a city you simply pass through after arriving in Costa Rica, there are some great things to do in Liberia and the surrounding area while you're here – even if only for a short time. There are some hidden gems and local tours mentioned above to help you explore this area before heading to your next destination.
I hope you have a few ideas and enjoy your time in beautiful Costa Rica and enjoyed this blog. Also, be sure to check out more of our blogs such as: