Costa Rica is a paradise for adrenalin junkies, and it's a well-known destination for adventure activities like whitewater rafting, ATVing, and caving! But, in fact, one of the best things to do in Costa Rica is ziplining!
Yep, Costa Rica is considered an expert in canopy (aka treetop) ziplines especially, and when you consider that most of the nation's wildlife and birdlife live high up in the trees, this thrilling sport is a no-brainer to try out the next time you're in Costa Rica!
In this blog post, I list 5 of the best ziplining destinations in Costa Rica, including Jaco and Monteverde, as well as detailing 5 of the best ziplining tours in the country!
This is the best guide on the internet to the best places to go ziplining in Costa Rica! Plus, I've detailed the best tours here (how much they cost and how long they last) and listed some essential tips to know before booking a ziplining experience here!
About Ziplining in Costa Rica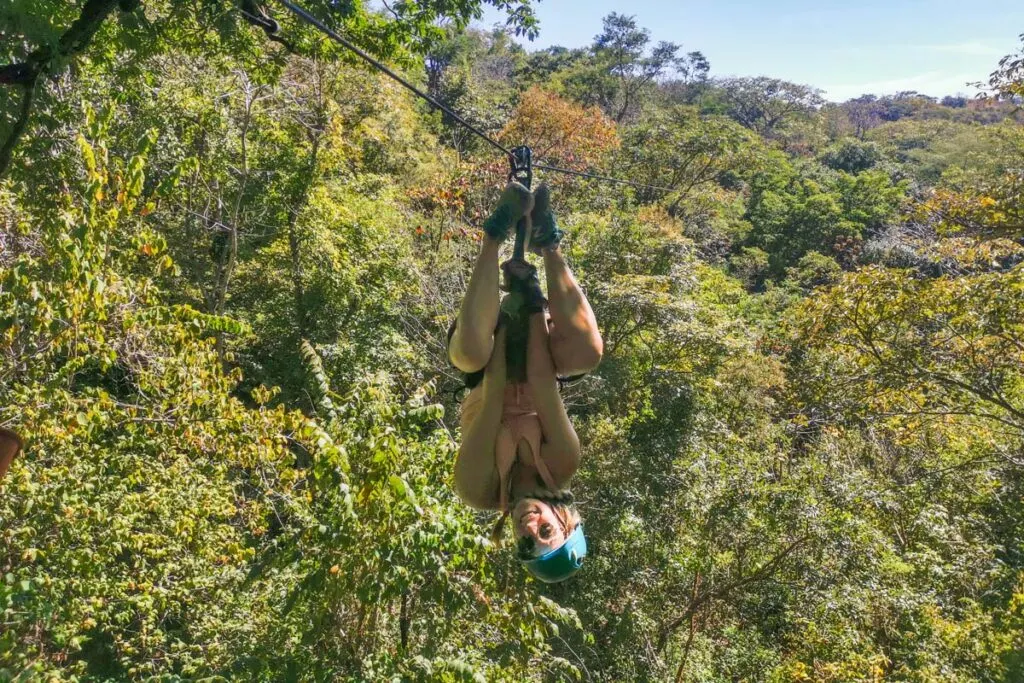 Ziplining is a very popular activity in Costa Rica, and there's a good reason for it – it's one of the best ways to see the nation's abundant wildlife because most of them (90% to be exact) live high up in the canopy! It's a different world high up in the treetops, with vibrant plants and animals like monkeys and sloths to be spotted as you zip through the trees on a ziplining tour!
Plus, as I mentioned earlier, Costa Rica was one of the first countries in the world to develop canopy ziplines, and here they use giant branches as the platform from which you will zip off and zip back on your tour. And up here, almost 100 feet from the ground, the view is honestly breathtaking!
And what's great is that people of any age and fitness level can join a ziplining tour as it's not a very physical activity! Plus, these tours operate no matter the weather, so it's a great rainy-day activity!
You will be securely strapped into a harness which is then attached to a strong cable so that you can "fly" along on the zipline. The tours on offer in Costa Rica vary greatly from a short and sweet 2-hour adventure to a full-day tour that also includes ATV'ing and horseriding. So, there's a tour for everyone on this list. I will say, though, that if you have a fear of heights, a ziplining tour in Costa Rica may not be for you!
As you can imagine, there are many places throughout the country where you can try ziplining, from Manuel Antonio, which is home to the longest twin zipline in Central America, to a breathtaking oceanview zipline in Guanacaste! Let me tell you more about the top-rated ziplining experiences in Costa Rica.
Where can you go Ziplining in Costa Rica?
In most towns in Costa Rica, you can book a ziplining tour, but the best spots include Monteverde, La Fortuna, Manuel Antonio, Guanacaste, and Jaco! But, all tours are not the same, and your experience will differ greatly depending on what region you choose to do your tour in.
For example, in the coastal region of Manuel Antonio, you will enjoy stunning ocean views from your zipline, whereas in Monteverde, which is home to the famed Monteverde Cloud Forest, is completely different and takes place in a lush cloud forest. The cloud forest is home to abundant birdlife!
Of course, some ziplining tours are better than others, and in each region listed above, there are several tours to choose from, so to make it easier for you further down in this blog post, I've listed 6 of the best ziplining tours in Costa Rica! That way, no matter where you choose to stay during your vacation in Costa Rica, you can find a highly-rated ziplining tour!
The BEST Places to go Ziplining in Costa Rica
1. Monteverde
One of my favorite places to go ziplining in Costa Rica is Monteverde, a district in the Puntarenas province of Costa Rica. Monteverde is a popular tourist destination because it's home to the famed Monteverde Cloud Forest and the bustling town of Santa Elena. It's also considered one of the best places to stay in all of Costa Rica.
And the great news for adrenaline junkies is that not far from Santa Elena is the exciting 100% Aventura Park which boasts a thrilling 10-cable zipline course!
On a ziplining tour here, you can get your heart pumping on the highest and longest zipline in Central America, aptly named 'The Superman, ' which is a whopping 4,461 feet (1,360 m) high and almost a mile long! Not only that, you can explore some of the best hanging bridges in Monteverde, also known as rope suspension bridges, on a tour here! Overall, you're guaranteed a fun time at Aventura Park!
If you're staying in Santa Elena, it's a 12-minute drive (4.4 km) to the Park, so you can easily drive yourself or grab a taxi or Uber if you prefer. Alternatively, there are many guided tours to this awesome Park, some of which include transportation to/from Santa Elena!
For example, this ziplining tour has it all! The tour is 3-hours long and includes a speedy ride on the iconic Superman zipline, which I mentioned earlier! This zipline has a special back-clip harness, so you can experience the thrill of ziplining facing forward and hands-free for 1.2 miles (1.9 kilometers.)
What's great, too, is that you'll also get to test the 10-cable zipline course, the Mega Tarzan Swing Ride, walk across the rope suspension bridges, and experience an ATV ride through the forest!
Related Read: If you're going to Monteverde, be sure to eat at some of the best restaurants!
2. La Fortuna
Many believe La Fortuna to be the adventure capital of Costa Rica – with an abundance of heart-racing tours on offer, from exploring Venado Caves to El Salto Ropeswing, and there are even whitewater rafting tours on nearby Rio Balsa and Rio Sarapiqui!
But, in my opinion, one of the best things to do in La Fortuna is ziplining. It's the perfect day activity for me because you get to see breathtaking scenery while speeding through the treetops!
The small town of La Fortuna is located in the central valley of Costa Rica and is also known as the gateway to Arenal Volcano National Park, and from pretty much everywhere in town, you can see this massive volcano looming above you! La Fortuna is located a 2.5-hour drive from San Jose, which makes it possible to visit on a day trip.
The cool thing about ziplining in La Fortuna is that you can zipline over a waterfall. Yep, on this zipline tour, you can zipline over La Fortuna Waterfall! Plus, you'll also be treated to breathtaking views of Arenal Volcano and Cerro Chato as you "fly" or zip across the 12 different ziplines here.
It's important to note that it's a bit of a hike to get to the first zipline, and some short hiking is required in between each zipline too. An added bonus is this particular tour includes a visit to the Maleku Cultural Resource Center and roundtrip transportation from La Fortuna.
Related Read: Some of the other top things to do in La Fortuna, besides ziplining, are visiting La Fortuna Waterfall and taking a sloth tour. Check out our detailed guides!
3. Manuel Antonio
Manuel Antonio is one of my favorite places to visit in Costa Rica; located next to the beautiful Manuel Antonio National Park, this coastal town is one of the most visited regions in the country. And it's really no surprise considering there's a plethora of awesome activities on offer here – from joining a sunset sailing cruise to exploring one of the many waterfalls and beaches in the region.
But, of course, one of my favorite things to do here is a ziplining tour. And what's great is that Manuel Antonio is home to the longest twin zip line in Costa Rica!
On this Manuel Antonio Canopy Tour, you will have the chance to fly through the treetops on a tandem zipline (which means you can do it at the same time as a friend), which is an impressive 4,300 feet long! And this zipline is just one component of this highly-rated tour; you can also walk across 6 hanging bridges, get your adrenalin pumping on 9 double-anchored ziplines, and experience 14 different tree platforms as part of this epic experience!
This 5-hour tour costs $90 USD and includes lunch, snacks, water, and return transport from Manuel Antonio.
If you do one activity in Manuel Antonio make it ziplining – the lush forest around Manuel Antonio is ideal for this heart-stopping sport!
Related Read: Check out my guide to the best places to stay in Manuel Antonio!
4. Guanacaste
Ziplining is one of the most popular and best things to do in the Guanacaste region; yes, in this massive area which is nestled between Nicaragua in the North and the Nicoya Peninsula to the South, you can book a variety of ziplining tours. These adrenalin-fuelled tours can be enjoyed in most towns in Guanacaste including Tamarindo, Liberia, Playa Flamingo, and Nosara!
Plus, you can also zipline in the stunning, lesser-known Rincón de la Vieja Volcano National Park! On a tour here, you zipline through the treetops, swing, rock climb, and walk across a steep hanging bridge over the White River Canyon.
This Guachipelin Adventure Volcano Combo has it all and is incredibly popular with tourists to the region. This full-day tour costs $135 USD which is for the self-drive option, or slightly more at $149 for transport to be included. You can get picked up in Playa Flamingo, Liberia, and Playa Coco for this particular tour.
Near the town of Playa Flamingo, this Guanacaste Forest Zipline tour takes place on a large family farm, which has been in the same family for many years! It boasts 9 different cables suspended at 390 feet, and some stretch as long as 1,800 feet! Keep your eyes peeled for howler monkeys, iguanas, and native birds as you fly through the forest here! There are 3 different time slots for this tour, and each one takes about 3 hours.
While the best ziplining tour in the surf town of Nosara is this canopy tour with Miss Sky. In fact, this canopy tour is the longest of its kind in the world at 11 km. You'll get to experience 21 ziplines on this tour, each averaging 500 meters in length. But the real selling point for this tour is that you'll get the chance to zipline into a 5-story building, which is pretty cool!
And lastly, in Tamarindo, there are a few different ziplining tours on offer. But I highly recommend this one because it's cheap and cheerful at just $65 USD per person. You will get to test out ten ziplines during the hour-long time slot. In fact, if you've never been ziplining before, this particular tour is a great introduction to the activity!
Related Read: If you're on a budget, be sure to check out my guide to cheap and free activities in Tamarindo!
5. Jaco
And lastly, Jaco, a small city on the Pacific Coast renowned for its epic beaches and great bars, is also a great place to base yourself if you want to try ziplining in Costa Rica. This party town is the closest beach town to San Jose, at just an hour and 40 minutes' drive!
Would you believe there are a lot of ziplining tours on offer in Jaco, so many in fact, that many tourists struggle to choose one? Well, luckily for you, I'll list my favorites below!
If you're only interested in ziplining (no ATV'ing or other extras like lunch), then this ocean and mountain view zipline tour is the perfect choice for you. It boasts 14 different ziplines, and the $66 USD price tag is affordable for even the budget savvy of travelers. The price also includes transportation from any hotel in Jaco.
While if you're after a long tour, this half-day tour combines ziplining and ATV'ing! The tour features 10 ziplines, including one that's half a mile in length. And once you're done zipping through the treetops, you'll hop into an ATV and go offroading into the rainforest and onto a waterfall – where you can take a refreshing dip if you wish! It costs approximately $179 USD but considering all it offers, it's great value for money, in my opinion!
Related Read: While you're visiting Jaco, check out the top-rated ATV tours from Jaco – read all about them!
The BEST Zipline Tours in Costa Rica
1. Guachipelin Adventure (Zipline with Volcano, Horseback Riding, and River Tubing Combo)
First up on my list of the best ziplining tours in Costa Rica is this full-day tour within Rincon de la Vieja National Park which includes a horseback ride, river tubing, a visit to a volcanic mud bath and natural hot springs, and of, course ziplining. That's 5 awesome adventures in one jam-packed day!
The epic ziplining course takes you through the treetops and over a steep canyon with a fast-flowing river below. There are 8 ziplines here and 18 platforms, and you must zipline, rock climb, and rappel your way through the course. There's even a hanging bridge, climbing wall, a Via Ferrata type (aka a cable) rappel, and a Tarzan swing! The course is just so much fun!
Once you're done zipping through the course, you will return to the starting point for a 45-minute horseback ride through the forest! It's a scenic journey, and you will see lots of unique flora, fauna, and native wildlife!
Next up is river tubing on Rio Negro, a thrilling, fast-paced ride of 5 km that takes you through twists and turns and rapids.
Lunch is also included, and this will be served up after river tubing. It includes a selection of entrees and sides, a dessert bar, as well as fresh juice, coffee, and tea.
And that's not all; after lunch, you will be driven to the Rio Negro Hot Springs, where you can relax in 10 different thermal pools, all of which are naturally heated by the Rincon de la Vieja Volcano! You may also treat yourself to a volcanic mud bath, during which you must lather yourself in volcanic clay mud and then wash it off with a cold shower. Your skin will feel "baby soft" afterward.
Considering all that's included, I think this is fantastic value for money at $138 USD per person.
Pick-up is included from most of the popular tourist towns in Guanacaste, including Playa Flamingo, Tamarindo, Playa Hermosa, Playa Grande, and more!
You can book this full-day tour within Rincon de la Vieja National Park here!
2. Oceanview Zipline in Guanacaste
Next up is the longest oceanview dual tandem zipline in the country located at Diamante Eco Adventure Park. You can zipline next to a friend, partner, or family member – which is quite the experience! Plus, the views of Playa Matapalo are breathtaking as you zip speedily along the 4,461-foot (1,360-meter) zipline.
This particular zipline is nicknamed "The Superman" because of the way you're strapped in – facing forward.
And if you're feeling really brave, why not try out the "Tarzan Swing," which involves you jumping from a 30-foot (9.1-meter) tower! Or attempt their version of a bungee jump, called the "Quick Jump," which is a scary free fall from a steep tower.
A slightly tamer experience is the zipline over the hanging bridge, which involves you ziplining right onto a bridge – but beware, there are crocodiles in the river below!
Allow 2 hours for this particular tour; prices start from $86 USD! Diamante Eco Adventure Park is located in Playa Matapalo, under an hour's drive from Liberia and just 30 minutes from Playa Hermosa and Playa del Coco.
You can book the longest oceanview dual tandem zipline in Costa Rica here!
3. Most affordable Zipline in Tamarindo
And now for the most affordable ziplining tour in the popular resort of Tamarindo – on this Monkey Jungle zipline, you will literally be hanging like a monkey (hence the name) from the treetops in the lush jungle in Guatemala de Santa Rosa, a short drive from Tamarindo!
On this particular tour, not only will you fly through the trees on 7 different ziplines, but you will also get the chance to explore the jungle on foot and see wildlife like white face monkeys, congo monkeys, armadillos, lizards, wild boars, and maybe even some small deer! There's also abundant birdlife to be seen in the trees here!
What's great, too, is this tour is short, taking just 1 – 2 hours, giving you more time to experience other awesome activities in Tamarindo!
At the end of your tour, you will be treated to a light snack of some local fruits and water. All of the above for just $66 sounds like a great price to me!
Here, you can book the most affordable ziplining tour in the popular resort of Tamarindo!
4. Longest Twin Zipline in Costa Rica
The longest twin zipline in Central America is just under a mile long (1.2 miles to be exact) and boasts 14 tree platforms, 6 hanging bridges, and much more! It's no wonder this Manuel Antonio Canopy Tour is one of the most popular things to do in the stunning coastal region of Manuel Antonio!
Located on the El Santuario property, a short drive from Manuel Antonio – this adrenalin-pumping tour includes flying through the treetops on the longest zipline in Latin America, which, as I mentioned earlier, is 0.8 miles long and 4,300 feet high! Plus, while you're here, you have the chance to try out 10 double-anchored ziplines, which span over 3.6 km in total, a double belay rappel, and 3 nature walks!
The unique touchless zipline system that they use here at El Santuario enables you to relax and enjoy the zipline (and the incredible views) without having to worry about braking at the end of each line. It's completely safe!
This particular tour is 4.5 – 5 hours long and includes transport from most hotels in Manuel Antonio or the nearby city of Quepos, as well as a delicious lunch. The price starts from $91 USD per person.
You can book the the longest twin zipline in Central America here!
5. 100% Adventure Park Combo in Monteverde
Next up is the popular 100% Aventura Park in Monteverde, where you can enjoy 3 hours of fun, including a 10-cable zipline course, ATV buggy ride, rope bridge, and rappel!
Test your bravery on the longest and highest zipline in Central America, the Superman zipline, which is aptly named because on this zipline, you will be attached to a special back-clip harness so that you can go head-first and hands-free for over a mile! Or try out the Mega Tarzan Swing, and feel your stomach drop as you leap from a steep height!
And after you've had your fill of ziplining, hop into an ATV buggy and speed through the rainforest, splashing through mud and taking in the scenery as you drive!
The price for this fun combo tour is $55 USD, and that includes hotel pickup and drop-off from Monteverde!
You can book this 10-cable zipline course, ATV buggy ride, rope bridge, and rappel! here!
6. 25 Ziplines over Waterfalls
And finally, a truly unique ziplining tour, one in which you can "fly over" 11 different waterfalls at the Adventure Park Costa Rica in Miramar. Situated within the province of Puntarenas, this awesome 25-zipline course lets you take in magnificent mountain, ocean, and rainforest views!
It's, in fact, the longest zipline course in Costa Rica, and as well as ziplining, you will have to swing over a rope bridge and perform 2 rappelling maneuvers! I will add that the views of the Nicoya Gulf from the ziplines are epic, so be sure to pause for a moment and take it all in!
After ziplining, you will jump into an offroad truck to explore the jungle from ground level. Plus, you may stop along the way to take a dip in a mountain pool filled with refreshing spring water!
A yummy lunch at El Tucan restaurant and return transport from most Arenal, Jaco, San Jose, Puntarenas, and Guanacaste hotels can be provided!
Because of the rappelling involved in this particular tour, a good level of fitness is required, and individuals should not weigh more than 280 pounds (127 kg). You should also pack a bathing suit and closed-toe shoes for this adventure!
An added bonus is that this is a small-group tour – a maximum of 10 people allowed, so you're guaranteed a personalized experience. Prices start from $111 USD per person!
You can book the Adventure Park Costa Rica in Miramar ziplining tour here!
How much do Zipline Tours in Costa Rica Cost?
The price of ziplining tours in Costa Rica varies greatly depending on how long it is and where the tour is located!
The more expensive tours, like this full-day tour within Rincon de la Vieja National Park, costs $138 USD per person because it includes more than just ziplining. On this tour, you can enjoy horseriding, river tubing, and a visit to some Hot Springs.
Whereas this ziplining tour in Tamarindo is super-cheap, costing just $66 USD. It's just 1-2 hours long and features 7 ziplines (a lot less than the more pricey options on this list).
On average, though, I recommend allowing just under $100 USD for a highly-rated ziplining tour in Costa Rica!
Is Ziplining in Costa Rica suitable for kids?
Yes, most ziplining tours in Costa Rica are suitable for kids aged 6 and over. It's a completely safe experience for them, and young kids will likely need to be harnessed to a professional guide.
However, it's important to note that some tours are not suitable for kids – for example, on those tours that involve rappelling, kids are not permitted. Check all age, height, and weight requirements before you book any one specific ziplining tour.
Can you Zipline in the Rain?
The great thing about ziplining in Costa Rica is that it's an activity that can be done in any weather. Yep, rain doesn't need to hinder your plans. However, it's important to note that in periods of heavy rain, your experience will be less enjoyable as you will get very wet, your visibility will be limited, and you may not see too much wildlife, as they tend to hide from the rain.
It's worth noting that if you book with Viator (who I highly recommend), you can cancel or change your booking date up to 24 hours in advance, so if the weather forecast is bad, you can amend your date last minute!
Related Read: Want to avoid the rain? Read about the best time to visit Costa Rica which includes info about the weather all year round.
Getting Around Costa Rica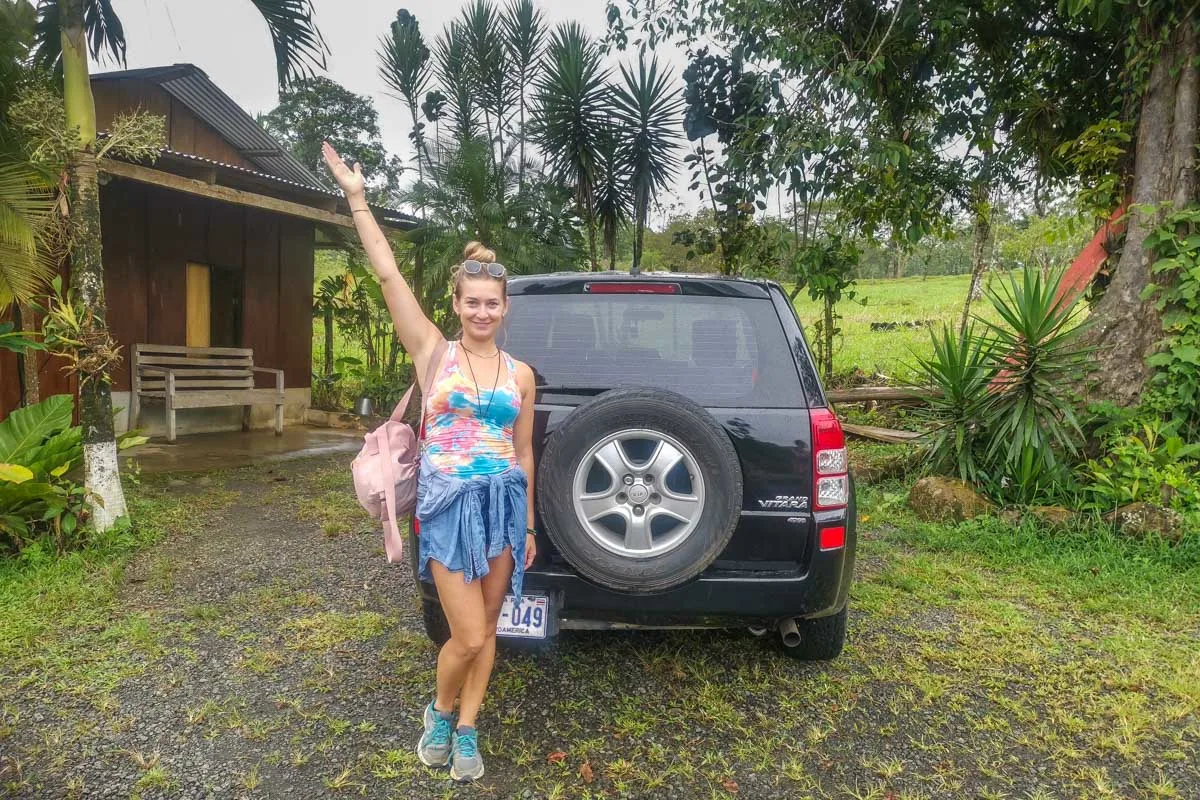 How you choose to get around Costa Rica is one of the biggest decisions you'll make when planning your holiday here! How you do it depends on your budget, travel style, and comfort level.
Renting a Car
Without a doubt, the number one way to explore Costa Rica is in a rental car. We book rental cars on the Discover Cars website as we have had good experiences with them in the past.
One of the things you need to watch for when renting a car in Costa Rica is the mandatory insurance that the government requires you to have. There are a lot of very cheap rentals that don't include this mandatory insurance (TPL) in the original booking price, but there are also ones that do. To avoid additional surprise charges when you pick up your rental car, be sure to rent a car that includes the mandatory insurance when you book.
Thankfully, on Discover Cars it's easy to tell apart the companies that include the mandatory insurance and those that don't. The trick is you can't pick any car on their website. In the picture below, you can see this rental car, with pick up in Jaco, includes the TPL. That means the mandatory insurance is included in the price. Any cover you get above that is extra.
Of course, I still suggest getting the full coverage offered by Discover Cars, which covers you even more.
You can browse cars on Discover Cars here.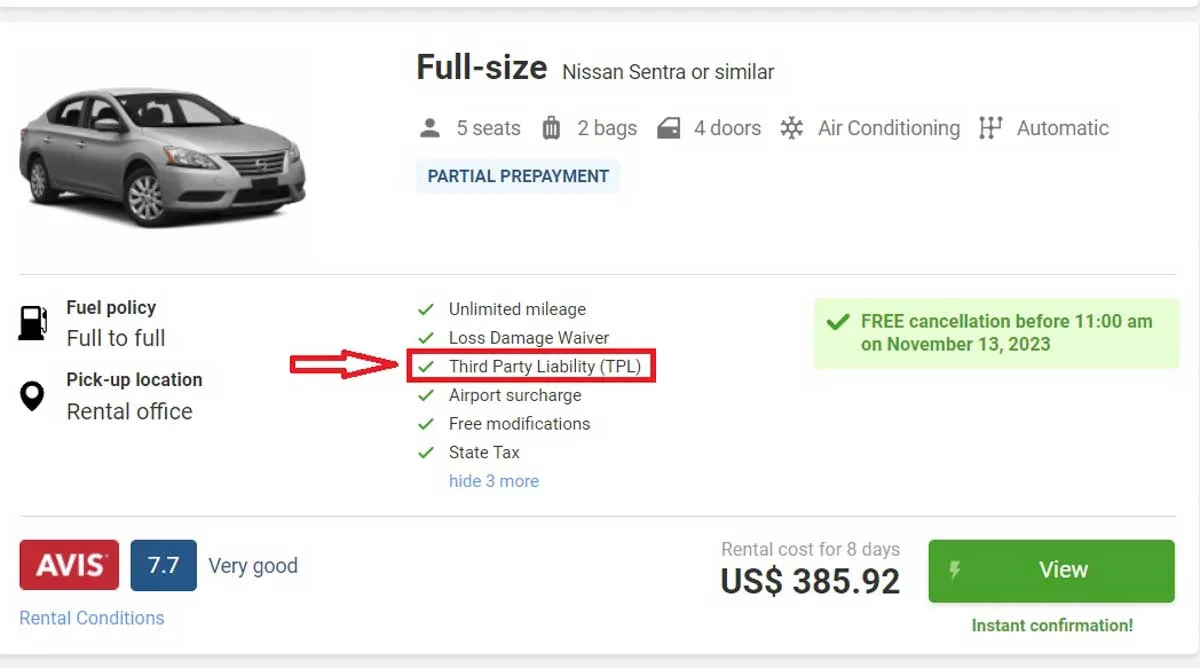 Book Shuttles
If renting a car isn't in your budget, you don't feel comfortable driving in Costa Rica, or you just don't like driving, shuttles are the next best option. There are hundreds of shuttle routes available all over the country, and they are very affordable.
Shuttles in Costa Rica are specifically for tourists and often include pick up and drop off at your selected hotels and airports. The drivers also speak some English, and the vehicles have air conditioning. You'll also be guaranteed a seat when you book a shuttle (which isn't the case with the public bus system.)
To get the best price, use the website Bookaway. They compare all the offers and prices of shuttle companies in Costa Rica so you get the best price! Honestly, we have saved so much money using Bookaway!
You can search for shuttles online on Bookaway here.
Public Bus
Lastly, you can use the public bus system. On short journeys, such as from San Jose to La Fortuna or Uvita to Manuel Antonio, this system is great. However, the longer the journey the more hassle and time spent on a bus. It's undoubtedly best to save the public bus in Costa Rica for short and straightforward trips!
The public buses are definitely the cheapest way to get around Costa Rica, but they are not always very reliable and schedules often change without notice and delays are to be expected. The buses can also be very crowded and hot – so just be prepared!
It's also good to speak some Spanish if you plan on riding the public bus since most drivers and ticket booth operators don't speak English.
Invest in Travel Insurance
Paying out of pocket for trip interruptions or medical treatment will add to what might already be a stressful situation. Not to worry, SafetyWing is here to help!
This affordable travel and medical insurance is perfect for digital nomads, long-term travelers, and remote workers. The best part is that it only costs $45 USD per 4 weeks.
To start coverage you must purchase it after leaving your home country. We usually purchase it as soon as we land at the airport.
Since using SafetyWing we've been reimbursed thousands of dollars when we've gotten sick. During the pandemic, they've even gone as far as to pay for our last-minute flights back to Canada before the border closed!
Pura Vida!
And there you have it, 5 of the best places to go ziplining in Costa Rica as well as 6 of the best tours available to be booked right now! I hope this detailed blog post has given you plenty of inspiration for your upcoming adventure-filled vacation to Costa Rica!
If you're planning a trip here, check out our list of all the best things to do in Costa Rica. Happy traveling and check out these blogs below:
Is Costa Rica Expensive? The Cost to Travel to Costa Rica
The BEST Restaurants in San Jose, Costa Rica
7 Day Costa Rica Itinerary: How to Spend One Week in Costa Rica!