San José is Costa Rica's capital and largest city. Here, you'll also find Costa Rica's largest international airport, making it a popular point of entry for many travelers.
Now I'm not going to sugarcoat it, San Jose isn't the nicest city to most. While there are some interesting museums and delicious restaurants to check out in the downtown core, the list of things to do in San Jose is somewhat limited. So, instead of staying in the city, many people choose to go on tours or day trips from San Jose to explore the nearby attractions instead.
Because of its location right in the center of the country, there are so many amazing tours and day trips from San Jose that you can easily take advantage of. Whether you feel like hiking through volcanic craters, chilling in hot springs, or tasting some of the best coffee in the world – here are a few of the best tours and day trips you can do from San Jose!
15 BEST Tours and Day Trips from San Jose, Costa Rica
1. Poas Volcano
Poas Volcano is a very active volcano (39 eruptive episodes since 1828!) located only about an hour and a half drive from San Jose city center. It's characterized for its acid blue lake crater, which is one of the world's biggest craters. Seeing this huge crater with your own eyes is mesmerizing, and understandably, it's one of the most popular day trips from San Jose. Poas is also one of the most popular volcanoes to visit in Costa Rica.
If you want to get a nice view of the crater, pick a sunny day to go and get there as early as possible to avoid clouds that typically cover the volcano by late afternoon. This is very important because the clouds can completely obstruct your view of the volcano – believe me on this, I once went and saw nothing but clouds.
The national park is open every day from 8 am to 4 pm and the ticket price is $15 USD. Make sure you book a ticket online on the SINAC website in advance since a limited number of tourists are allowed per time slot to visit the crater. During peak season, the early morning time slots book up days in advance.
To get there, it's easier if you rent a car. This way you will be able to take your time to visit the crater, hike around the park, and then visit some villages nearby like Varablanca and Fraijanes. From San José, the drive will take around two hours.
This region of Costa Rica is well known for its strawberries! You will likely see some stands along the road selling strawberries and other specialties of this mountainous area, like the famous Palmito Cheese!
From San Jose, those without a car can do highly reviewed organized tours. This specific tour leaves at 8 am and guarantees you skip the long lines at the volcano. On top of that, your entrance fee to Poas is included and organized for you for the price of $110 USD per person.
Another great thing about a tour like this is that you'll be able to learn about the geology and the crops grown in the area from your local guide!
2. La Paz Waterfall Gardens
La Paz Waterfalls Gardens is one of the best day trips from San Jose because it's one of the biggest private wildlife sanctuaries in the country and is located only a 45-minute drive from San José airport. It also hosts five stunning waterfalls which are accessible via paved trails.
This place is just amazing, it offers so much to see and makes for the perfect place to visit if you are on a family trip.
One of my favorite attractions is the butterfly observatory. You will also be able to see jungle cats, sloths, monkeys, snakes, frogs, and birds!
If you cast a line or two at their Trout Lake and catch something you can enjoy a fresh-caught fish for lunch (which they will cook for you of course!)
The entrance ticket is $50 USD for adults and $34 USD for kids aged 3-12 years old, and the park is open from 8 am to 5 pm. If you don't have a rental car, consider joining this organized day tour from San Jose. The tour includes transport to and from La Paz as well as lunch and a guided walk around the property and hummingbird gallery. You'll see a lot more with your guide and learn a ton!
Hot Tip: La Paz Waterfall Gardens are located very close to Pas Volcano, so I recommend visiting both attractions on the same day trip from San Jose! You can book an organized tour that also does this, or, just drive yourself. Be sure to visit Poas first to have the best chance of clear weather, and then go to La Paz Waterfall Gardens afterward.
Related Read: Choose one of the amazing hotels located close to SJO airport for a convenient stay!
3. Visit a coffee farm
You didn't think I would compile a list of the best day trips from San Jose without including a coffee farm, did you? You can't leave Costa Rica without trying their worldwide renowned coffee! There are literally hundreds of coffee farms around Costa Rica, but some of the most famous are located only a short drive from San Jose.
Just a one-hour drive from San José you can go visit Doka Estate. You can book an organized tour if you'd like. Lunch is not included, but the farm has a butterfly garden, hundreds of bonsai trees, and also offers a sugar cane tour.
Another tour option that's a popular day trip from San Jose is the Britt Coffee tour, in the province of Heredia, which is half an hour drive from San José. This tour includes transportation, lunch, and, of course, a coffee and chocolate tasting (which are one of my favorite chocolates in the world!).
If you are only staying a few days in San José, you can also book a tour which includes a coffee experience plus a visit to the Poas Volcano and La Paz Waterfall Gardens – that's three of the best day trips in one! For all it includes, the price is very affordable at just $166 USD.
4. Pacuare River Whitewater Rafting
If you feel adventurous and love water sports, you just have to go whitewater rafting while in Costa Rica. Pacuare River has its source in the province of Limón and flows into the Atlantic Sea while crossing a tropical forest.
The spectacular surroundings mixed with the speed of the current (including multiple class IV and V rapids) through 129 km (80 miles), make it one of the best places in the world to practice this sport.
I recommend that you book a tour with certified guides. This tour on class III – IV rapids will also offer you lunch after the rafting, as well as transportation. Pacuare River Whitewater Rafting is one of the most epic day trips from San Jose!
5. Irazu Volcano
In the province of Cartago, to the east of San José, you will find the Irazu Volcano. This is Costa Rica's highest volcano, and it's still active!
It's very accessible to get there, and you can rent a car or take a bus. If you enjoy hiking, this is also a great place since the volcano has its own national park with trails and amenities like a cafeteria, parking, toilets, and picnic areas. The entrance of the national park is $15 USD and its opening hours are from 8 am to 3:30 pm.
You can also book a half-day tour for $105 USD to visit the volcano and include transportation and snacks!
This tour will stay 3 hours at the volcano. Plus on the way back, it will also stop to tour to the Basilica de Los Angeles, in Cartago, the Costa Rican Cathedral of la "virgencita", the patron saint of Costa Rica to whom the Costa Ricans pay homage every August during its pilgrimage.
6. Arenal Volcano
Naturally, a lot of the best day trips from San Jose involve volcanoes. The Arenal Volcano near La Fortuna is one of my personal favorites in all of Costa Rica. This volcano is absolutely magnificent, it's huge!
This volcano is a 3-hour drive from San José, so I recommend that you leave early in the morning. I also suggest you pass by the Arenal Lagoon and go chill at one of the many hot springs in the La Fortuna area.
Arenal Volcano is located within Arenal Volcano National Park. Here you can hike many different trails and enjoy different viewpoints of the volcano. The admission is $15 USD and the entrance to the park is from 8 am to 4 pm.
With that said, you don't have to enter the national park to see Arenal Volcano. From the edge of Lake Arenal, you can easily enjoy volcano views. Even in La Fortuna town, you can easily see the volcano. However, you should know that clouds often cover the volcano making it impossible to see.
For the best chance of enjoying the volcano, I recommend spending a few nights in the area instead of just visiting on a day trip. There are lots of great hotels in La Fortuna that you can choose from to extend your stay.
However, if you are on a limited time you can see the highlights on this Full day Arenal Volcano Tour that also includes visits to the La Fortuna Waterfall and Hotsprings.
Other nice bonus attractions visited on the tour are a butterfly garden and an authentic Maleku Indian village. You won't have to worry about lunch because it is included in the price as well as a refreshing cocktail!
Related Read: While in San Jose, be sure to spend some time in the city too. Visiting the National Theater of Costa Rica is a must-do!
7. The Waterfall Trail (Pozo Azul)
If you're looking for some adventurous waterfalls to explore, skip the La Paz and La Fortuna Waterfall and head to what we like to call "The Waterfall Trail". Okay, so this isn't an actual name of anything, but it should be since there is a road just on the outskirts of San Jose that is literally full of waterfalls to explore!
The road is actually Highway 708, it starts about a 1.5-hour drive outside of San Jose city limits near a town called Bajos del Toro. Once you pass Bajos del Toro, you will drive a route that allows you to stop at several different waterfalls. They are all privately owned so the entrance fees vary, however, they are much cheaper than the more developed popular waterfalls all over the country.
We visited a few of them and our favorite was called Pozo Azul. Here, we paid 3,000 Colones (around $5.50 USD) each and walked to a viewpoint over the top of a huge waterfall. We then climbed to the bottom of the waterfall for an even more spectacular view. This involves navigating loose rocks and a steep climb – but that's what we loved about it!
The entire time we were there we only saw a handful of other people. It's definitely more of an off-the-beaten-path destination.
You can find the exact location of Poco Azul here. Unfortunately, there are no tours that I know about operating from San Jose to this area, so you will have to rent a car and drive yourself. Be aware, the road is narrow with steep cliff edges so you should be a confident driver. Also, never drive this route in the dark, and be sure to rent a 4wd.
Tip: This road connects San Jose with La Fortuna, so you can choose to drive this route if you're headed that way.
8. La Fortuna and Hot Springs
La Fortuna is a gorgeous region with exuberant nature and hot springs. It's better if you stay there a couple of days since there are so many activities to do in and around La Fortuna. You can hike or even go windsurfing in Arenal Lake.
Even if you don't have much time, one day is better than nothing. I recommend you book an all-inclusive tour like this one. The transportation from your hotel is included as well as lunch, dinner, quick stops at Cinchona, La Paz Waterfall, and la Casa del Café to see a coffee plantation.
You will also be able to go on a two-hour zipline adventure and then chill at Paradise Hot Springs!
This tour is a different day trip than the one I mentioned above about the Arenal Volcano because the focus is less on the national park, and more on exploring the variety of things to do and see around the town of La Fortuna. Hopefully, if the weather is clear, you will also see Arenal Volcano!
9. Tortuga Island
There is nothing more 'pura vida' than Tortuga Island! This amazing island has incredible white sand beaches and crystal clear water. You can spend the day on the sand, snorkeling (it's one of the best places to go snorkeling in Costa Rica!), or even hiking one of the many trails through the forest on the island.
In order to get to the island, you will need to take a 90-minute bus ride from San Jose (or drive yourself) to the coast at either Jaco or Puntarenas. From one of these locations, you can then book a boat to take you to the island. Another option is an organized tour from San Jose such as this one. It includes all your transport, an English-speaking guide, lunch, snacks, and drinks for $133 USD. They also offer a self-drive option with the meeting point in Puntarenas.
Note: If you are planning to spend some time in either Jaco or Montezuma, then I would just visit Tortuga Island on a day trip from either of these destinations – it's much more convenient. In fact, a day trip to Tortuga Island is one of the best things to do in Montezuma.
10. Manuel Antonio National Park
One of the most popular destinations in Costa Rica is Manuel Antonio National Park. Manuel Antonio offers some of the most diverse wildlife in Costa Rica. So if you are hoping to see monkeys, sloths, and amazing birds, Manuel Antonio is where you will want to go!
It takes just over 3 hours to get to Manuel Antonio from San Jose. It is reachable by bus, taxi, or through a tour. Your cheapest option will be to take the bus for $8 to $10 USD, but this is also the least comfortable and longest journey.
Except for Tuesdays, the park is open from 7 am to 4 pm every single day of the year including holidays. General tickets to the park cost $18 USD for adults and $5.65 USD for kids.
From there you can either spend the day exploring on your own or book a highly recommended guided tour of the park. Guided tours range in price as well as focus. You can go on nature tours, adventure tours, or a combination of both.
This particular guided tour meets directly at the entrance of the park. It's only $45 USD and lasts for 4 hours. If you want transport included in your guided tour of the park this 12-hour option is a winner – just read the reviews! Your guide will help point out wildlife and recommend the trails that are best suited to your hiking abilities.
11. Crocodile River
If you are looking for a quick day trip from San Jose, take a stop along the Tarcoles River. This river starts just west of San Jose and continues westward to the ocean.
There are many lookouts over the river where the roads intersect. There are also a number of bridges that you can stop on and take photos of the crocodiles below. There is one bridge, in particular, where it is guaranteed that you will see Crocodiles. This bridge is called "Crocodile Bridge" and you'll find the location on Google Maps about a 1.5-hour drive from San Jose. Near here you can also do a boat cruise to get up close to the crocs – if you dare!
You can take a bus or taxi out to the bridges, but the best option here is to rent a car and drive yourself. That way you can stop at as many lookouts as you would like and make sure you see everything.
If you are feeling a bit more adventurous, you can take an ATV river tour and drive from San Jose to the coast through rivers, beaches, and even waterfalls. Prices start at $179 USD and they can even pick you up from your hotel.
Note: The Crocodile River viewpoint is not far from Jaco, so if you're planning on staying a few nights in Jaco I would just plan to visit from there as it is more convenient than from San Jose.
12. Wildlife Rescue Center
Attention animal lovers! A day trip from San Jose to the Toucan Rescue Ranch is an amazing way to see rare wildlife and make a difference by supporting a wildlife rescue center. Located about 20 minutes north of San Jose, it is easy to get to and a great place for the whole family.
You can get there easily by bus or taxi, and since it is very close to San Jose they are also comparable in price. You can also book an all-inclusive tour to the ranch that includes both transportation and a ticket to the ranch for around $150 USD.
Reservations are required and there are many different options to choose from. You can drink coffee while sitting with sloths, take a classic walk of the ranch, or come at night to learn about nocturnal animals. All tickets start at $15 USD per adult and $7.50 USD per child. They go up from there depending on which tour you reserve.
13. Jacó Beach
One of the closest beaches to San Jose is Jaco Beach. It is a beautiful beach that is perfect for relaxing in the sand. The waterfront resorts reach right up to where the tide washes in and the skyline is breathtaking! The water is the perfect temperature for jumping in the waves and clear enough to see the fish swimming around.
Jaco Beach is also the perfect place to learn to surf.
It really is everything you would want on a beach and only about a 90-minute trip from San Jose. There is no entrance fee and there are multiple restaurants and hotels along the beach as well.
The cheapest way to get there is to take the bus. You have to buy tickets from San Jose the day of, but they are only $5 to $10 USD, so it is worth the effort to get in line early. You can also get there by taxi, but it is a more expensive route at around $100 USD. Shared shuttles are also readily available at $50 USD per person.
Another really great option is to schedule a tour! This tour will get you there and back plus food. It also includes a stop on the bridge over the Tarcoles River where you will get to see the crocodiles I mentioned above!
14. Tortuguero National Park
If ecotourism is what you are after, Tortuguero National Park is the perfect place to go! Offering everything from kayaking through the jungle to dark sand beaches with adorable sea turtles, you won't regret making a day trip to see it!
Due to its remote location, Tortuguero National Park can be a bit of a challenge to get to because you can only get there by boat or plane! The quicker, and more expensive, way to get there would be to take a 30-minute plane ride directly from San Jose to the city of Tortuguero.
The more common, and cheaper option is to take a three-hour bus ride from San Jose to either Cariari, Caño Blanco, or La Pavona. From there it is about an hour boat ride to the national park.
I would highly recommend staying more than one day in Tortuguero so you can spend more time watching the turtles nesting on the beach than riding the bus. After all, it is one of the top national parks in the country.
But if you only have a day trip then this tour is the way to go. It includes lunch, seeing the cloud forests, and waterfalls in the Braulio Carrillo National Park which is right on the way to Tortuguero.
Related Read: Tortuguero Beach is one of the most popular beaches to visit in Costa Rica!
15. Cartago
If you are loving touring the city but want to slow down and get out of San Jose for the day, Cartago is an excellent place to visit. It is only about a 30-minute drive and is very accessible by bus or taxi.
One of the most amazing things to see in Cartago is La Bascílica de Nuestra Seńora de Los Ángeles. This Roman Catholic church is stunning with its stained glass and vaulted ceilings. There are many other churches, and ruins of churches to see in and around the city.
Cartago also has many sanctuaries and botanical gardens to enjoy. Lankester Botanical Gardens is a unique place as it has over 800 species of orchids. If offers free admission to come and walk around this beautiful garden.
You cannot leave Cartago without stopping to eat at a 'Soda'. These quaint restaurants serve amazing local food including rice, beans, and plantains! They are very cheap as well, it only costs around $8 USD for a generous lunch for two!
Where to Stay in San Jose, Costa Rica
San Jose is definitely not lacking when it comes to accommodation options! There are actually hundreds of hotels to choose from, and most of them are extremely affordable! To make things a little easier on you, I thought it'd be helpful to provide you with a few of my favorite options!
If you're looking for a budget option of where the stay in San Jose, there are plenty, but I recommend Costa Rica Backpackers. This hostel has excellent ratings, is in a great location, and even includes an airport shuttle and swimming pool! The best part? Room prices start at $8 USD/person per night!
If you don't mind spending a little bit more, check out Terrazas de Golf Boutique Hotel is absolutely stunning. Each room provides garden or golf course views with a furnished balcony. They also include a free airport shuttle. Prices here start at around $90 USD per night.
Wanting a more luxurious experience? Grano de Oro Hotel is right in the heart of San Jose and features an on-site gourmet restaurant, massage services, and a rooftop garden! Room rates start at $204 USD/night.
If you want to stay out closer to the airport as opposed to in the city center, consider staying in Alajuela. This city is where the airport is actually located (connected with San Jose), and believe it or not, there are actually lots of fun things to do in Alajuela too!
Getting Around Costa Rica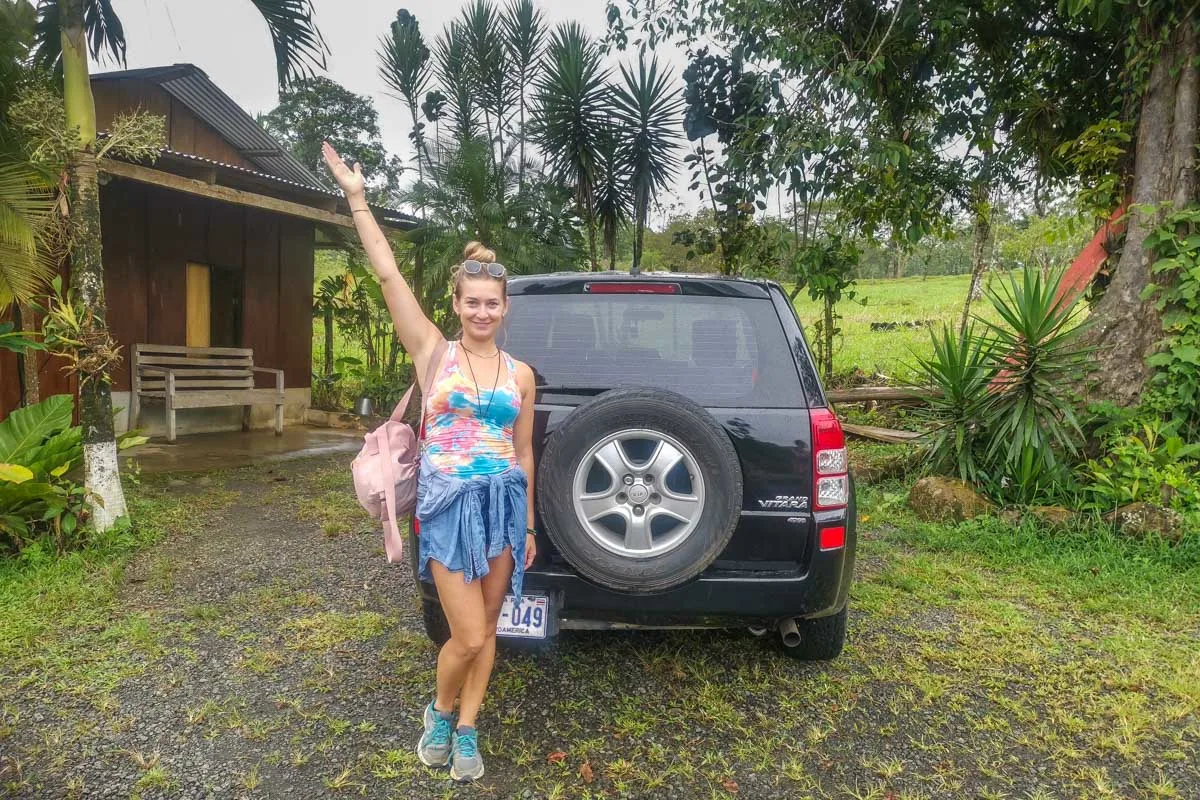 How you choose to get around Costa Rica is one of the biggest decisions you'll make when planning your holiday here! How you do it depends on your budget, travel style, and comfort level.
Renting a Car
Without a doubt, the number one way to explore Costa Rica is in a rental car. We book rental cars on the Discover Cars website as we have had good experiences with them in the past.
One of the things you need to watch for when renting a car in Costa Rica is the mandatory insurance that the government requires you to have. There are a lot of very cheap rentals that don't include this mandatory insurance (TPL) in the original booking price, but there are also ones that do. To avoid additional surprise charges when you pick up your rental car, be sure to rent a car that includes the mandatory insurance when you book.
Thankfully, on Discover Cars it's easy to tell apart the companies that include the mandatory insurance and those that don't. The trick is you can't pick any car on their website. In the picture below, you can see this rental car, with pick up in Jaco, includes the TPL. That means the mandatory insurance is included in the price. Any cover you get above that is extra.
Of course, I still suggest getting the full coverage offered by Discover Cars, which covers you even more.
You can browse cars on Discover Cars here.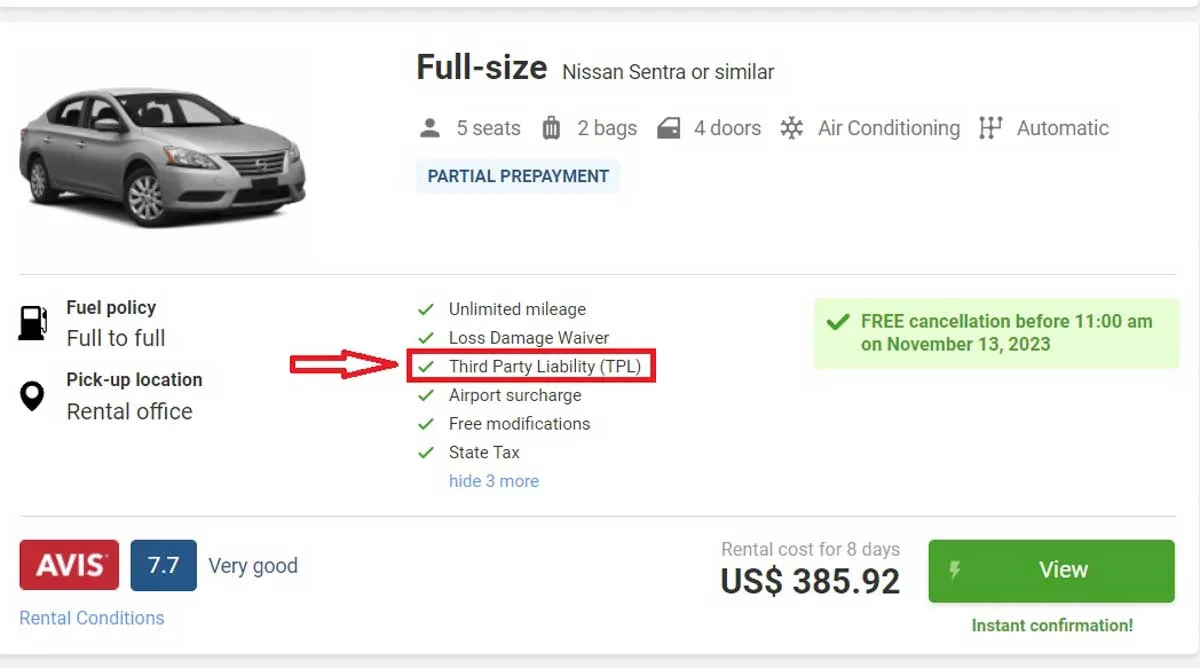 Book Shuttles
If renting a car isn't in your budget, you don't feel comfortable driving in Costa Rica, or you just don't like driving, shuttles are the next best option. There are hundreds of shuttle routes available all over the country, and they are very affordable.
Shuttles in Costa Rica are specifically for tourists and often include pick up and drop off at your selected hotels and airports. The drivers also speak some English, and the vehicles have air conditioning. You'll also be guaranteed a seat when you book a shuttle (which isn't the case with the public bus system.)
To get the best price, use the website Bookaway. They compare all the offers and prices of shuttle companies in Costa Rica so you get the best price! Honestly, we have saved so much money using Bookaway!
You can search for shuttles online on Bookaway here.
Public Bus
Lastly, you can use the public bus system. On short journeys, such as from San Jose to La Fortuna or Uvita to Manuel Antonio, this system is great. However, the longer the journey the more hassle and time spent on a bus. It's undoubtedly best to save the public bus in Costa Rica for short and straightforward trips!
The public buses are definitely the cheapest way to get around Costa Rica, but they are not always very reliable and schedules often change without notice and delays are to be expected. The buses can also be very crowded and hot – so just be prepared!
It's also good to speak some Spanish if you plan on riding the public bus since most drivers and ticket booth operators don't speak English.
Invest in Travel Insurance
Paying out of pocket for trip interruptions or medical treatment will add to what might already be a stressful situation. Not to worry, SafetyWing is here to help!
This affordable travel and medical insurance is perfect for digital nomads, long-term travelers, and remote workers. The best part is that it only costs $45 USD per 4 weeks.
To start coverage you must purchase it after leaving your home country. We usually purchase it as soon as we land at the airport.
Since using SafetyWing we've been reimbursed thousands of dollars when we've gotten sick. During the pandemic, they've even gone as far as to pay for our last-minute flights back to Canada before the border closed!
Pura Vida!
As you can see, San Jose is the perfect central location for exploring many of the best places to visit in Costa Rica on a day trip. These San Jose day trips offer a variety of experiences from wildlife to volcanoes and everything in between.
Be sure to have a look around my website a little more, I have plenty of blogs about Costa Rica that I'm sure you're going to absolutely love.
Before you go, be sure to read about the absolute best restaurants in San Jose, Costa Rica – it's such a foodie destination!
BEST All-Inclusive Resorts in Costa Rica
Where to See Sloths in Costa Rica + Facts and Tips!