The sleepy coastal town of Sámara is often the go-to choice for a family getaway in Costa Rica.
Located on the Nicoya Peninsula, Sámara's rather protected bay means the swells here are much calmer than nearby towns such as Nosara and Santa Teresa. This, along with the town's safe atmosphere, provides visitors with an ideal beach destination in Costa Rica.
On top of that, Sámara is home to tons of amazing things to see and do. A short drive out of town has you exploring waterfalls in the mountains, and on a short trip out to sea, you can snorkel with marine life or enjoy a cocktail on a sunset cruise. Sámara really is a top choice!
To help you plan your upcoming trip, here are the 25 best things to do in Sámara, Costa Rica!
Things to do in Sámara, Costa Rica
1. Go surfing/learn to surf
Although Sámara Beach is much calmer compared to other surf towns in Costa Rica, there are still some waves to surf. The best part is that beginners can relax and enjoy the surf a lot more because the waves in Sámara are smaller and much lighter. This means even those not overly comfortable in the ocean can try surfing.
If you already have experience surfing, you can rent surfboards on the beach. A 1-hour rental starts at $4 USD per hour and $15 USD for the entire day. This is the rental price for beginner boards; high-performance boards cost more.
The best time to surf in Sámara is at high tide, and during this time, the water is busy – especially if the high tide is at sunset!
If you're completely new to surfing or want to improve your skills with a coach, then you can join a surf lesson right on the beach. To do so, pop down to the beach in the morning and speak to one of the surf rental shops. They'll let you know the best time that day to do a lesson.
A surf school I loved was called Ticos Surf School. Although I only rented a board from them, I did see their surf lessons on the sand and in the water. They were really well done, and the coaches were very friendly. The price of a group lesson is $45 USD per person, and a private is $60 USD. The lesson will be two hours long and includes your board rental.
2. Relax in the tidal pools at Izquierda Beach or "secret beach"
Very few people know about Izquierda Beach, located a short walk from Sámara. In fact, we found the beach only by chance after searching around on the app called Maps.me for a new place to explore.
However, after an adventurous hike from town, we stumbled upon a completely secluded beach with no one else around. Even better, as the tide went out, there were lots of little tidal pools to swim in and relax. It was beautiful and certainly one of the best things to do in Sámara!
As I mentioned above, the tidal pools are only around at low tide, so it's best to time your visit. To reach the beach, follow the road to Casa Maya Samara. Here, there are two gates at the end of this road that say private property. On the left of the red gate, a small path travels along a barbed-wire fence. This is the beginning of the trail.
The trail also visits a viewpoint with a short detour, but it's really not that beautiful. Instead, head to the beach with some water, snacks, and music for an awesome day away from the crowds. Allow around 45 minutes to reach the beach if you walk from Sámara.
Important: The entire trail is shown on Maps.me (the travel map app), so please download it before you go. None of this is shown on Google Maps.
3. Visit Belen Waterfall
The most popular waterfall near Sámara is Belen Waterfall. Located around 25 minutes from Sámara by car, the waterfall is a refreshing place to cool off.
We visited the falls in December, and the entire waterfall was flowing. There were even some small pools at the top of the waterfall to relax in. It was a beautiful place to spend a few hours.
With that said, I have heard that Belen Waterfall is not overly enjoyable towards the end of the dry season around April. Without the rain, the waterfall becomes stagnant, and algae bloom. Unfortunately, there was some algae during our visit, so it's best to keep your head above the water.
The waterfall does get quite busy on weekends, but you can visit with very few people around during the week. If you don't have your own car, you'll need to rent a scooter or ATV (more on that below), take the bus, or organize a tour/taxi.
To use the bus, catch the bus from downtown Sámara heading towards Nicoya. Tell the driver you are going to Carretera Belen – he will know where to stop. Once off the bus, you need to walk 2 kilometers (1.2 miles) from the highway down a country road. Of course, you can always try to hitchhike too!
Once there, a guy charges everyone 1,000 Colones ($1.9 USD) for "parking" regardless of whether you took the bus or not.
Finding the waterfall is pretty easy with Google Maps. You can find its location here. Just be sure to keep an eye out for the sign on your right as you get really close to the waterfall. We drove too far, thinking the sign was for another waterfall (silly us) and it would be tough to turn around in a car on the narrow road.
4. Drink craft beer at 2 Gringos Artisan Brewing
2 Gringos Artisan Brewing is Sámara's very own local brewery. Located right in the middle of town, 2 Gringos is one of the best breweries I have visited in Costa Rica.
On tap, you'll find a huge selection of beers, and during my visit, there were over 24 on offer. They ranged from hoppy IPAs, to crisp pilsners, and fruity sours. Seriously, there is so much to choose it will take you a while to read about them all!
A beer at 2 Gringos costs around 4,000 colones ($7.50 USD) which is pretty expensive for Costa Rica. With that said, I loved their beer and every craft beer lover should visit!
Note: 2 Gringos Brewing tasting room is located in Coco's Mexican Restaurant, so you can eat delicious tacos while you drink beer – it's a win-win!
5. Get off the beaten path at La Roca Waterfall
Another local waterfall that's much less popular than Belen is La Roca Waterfall. The waterfall is certainly not as nice as Belen, but I loved the off-the-beaten-path feel of La Roca. Not only were we the only ones there during our visit, but the waterfall was surrounded by lush forest.
The short 5-minute walk to the waterfall begins from Bar La Roca – a closed-down restaurant on the main road between Sámara and Nicoya. The trail is a little hard to find but, if you're facing the restaurant, keep walking along the road to the left (away from Sámara) until you see a large grassed pathway heading down the side of the restaurant.
We couldn't find the trail at first, but the lady who lives in the house at the restaurant pointed us in the right direction.
The walk takes you down to the waterfall, so be prepared for a 10 to 15-minute walk back up. La Roca is an entirely free waterfall to visit, and you can drive there or take the bus. If taking the bus, tell the driver to stop at Bar La Roca.
6. Enjoy brunch at Bohemian Cafe
We're both lovers of brunch! It's our favorite meal to enjoy out – so we are always on the lookout for a great cafe everywhere we go! In Sámara, we found just that at Bohemian Cafe.
This cute cafe is the best place to enjoy breakfast or brunch in Sámara. The coffee was strong, and the food was even better. My go-to was called The Brunch, which came with two eggs, homemade bread, potato gems, and fruit. It was delicious!
7. Have a cocktail and meal at a beach club
Beach clubs are some of my favorite places to relax while on holiday. Great food, cocktails, and service right to your lounge chair on the beach – does it really get any better?
I spent a lot of time at two beach clubs in Sámara. The first was Gusto Beach Restaurant Pizzeria Bar. They offer free beach chairs with the purchase of a meal, so this is where I spent most of my days escaping from the sun right on the beach.
The second was La Dolce Vita! Here is where I spent my sunsets and nights enjoying my first drinks or a light meal. The restaurant often has live music, and it's so popular that you need to reserve a table during peak season.
There are other beach clubs in Sámara, but these are two of the best!
8. Werner Sauter Biological Reserve
Werner Sauter Biological Reserve is a small private reserve located not far from Sámara. It's the best place to visit near Sámara if you want to see a huge range of wildlife including monkeys, birds, and reptiles.
On top of that, the trails are beautiful and lead up into the mountain with views over Playa Sámara and Playa Carrillo. Werner Sauter is a lovely reserve and a great place to support in Costa Rica.
Tours to Werner Sauter cost around $50 USD per person and are guided. This specific tour includes pick-up from town as well as a 2.5-hour guided hike through the reserve. All that costs only $42 USD!
9. Enjoy incredible mountain views at Sabor de la Montaña
One of the best hidden gems I found in Sámara was a small family-run restaurant up in the mountains around 45 minutes from town. Sabor de la Montaña has arguably the best view in the area, and you can see as far Nosara Beach from your table. Honestly, it's spectacular and easily one of the best restaurants in Samara!
While there, we ordered a pizza cooked fresh in their woodfired oven. It was delicious and cheap at only 8,000 Colones ($15 USD) for a pizza that filled the two of us (with leftovers to spare.)
Now, I have to be honest, this place is rather hard to get to if you don't have a vehicle. I actually rode a scooter up here, but I would only recommend that to experienced riders due to the road conditions and dangers on the way up.
However, those with experience or a rental car should take a trip up the mountain to Sabor de la Montaña. Along the way, you'll enjoy spectacular views and visit remote towns seeing how many Costa Ricans actually live. Then, enjoy a nice lunch with a magnificent view! Their Pina Coladas are also so good!
10. Rent a Scooter or ATV
There are a few activities on this list that really require wheels. In fact, I often rent a scooter in Sámara to get around and explore with ease. The best place in town to rent a scooter from is El Cactus Scooter Rental.
For $35 USD, you can rent a scooter for 24 hours and head off and explore. Of course, you are driving a scooter, so there are a few places you cannot because of river crossings and bad road conditions.
If you want to take the short road to Nosara (there is a shallow river crossing) or drive something a little more suited to the mountain roads around Sámara, I recommend getting an ATV instead. You can get an ATV from Outback ATV Tours and Rentals in Sámara. This costs around $118 USD for a day but this changes depending on the time of year and demand.
They also run this quad biking tour that takes you from the mountains to the beach. Along the way, you'll discover fantastic viewpoints and even spot wildlife before finishing the tour on a secluded beach.
Related Read: Be aware of safety tips with our guide to renting a car in Costa Rica.
11. Go snorkeling at Isla Chora
Isla Chora is a small island that is part of the reef that protects Sámara from heavy ocean swells. It's a beautiful place to visit for the secluded beaches, but the highlight is without a doubt the incredible snorkeling.
Kayaking tours from Sámara are top-rated and involve a short 30-minute paddle out to Isla Chora before relaxing on the beach and snorkeling the reef. The tour we did was excellent and our guide, Luis, was such a fun and knowledgeable person. We got to see lots of wildlife below the water, including a turtle, pufferfish, and lots of small colorful reef fish.
The kayak out to the island was a little challenging because of the hot sun, so I highly recommend a good hat and long sleeve shirt! Other than that, I had such a fun time and it only cost us $48 USD! This is the perfect activity in Sámara for active travelers!
12. Sunset at the beach
One thing I love all over the Pacific Coast of Costa Rica is the beautiful sunsets – they are some of the best in the world!
In Sámara, the beach packs out with visitors who come to see the last few hours of the day. It's the best time to be out on the beach – especially if you burn easily.
Grab yourself a drink from the supermarket or sit at one of the beach clubs. Either way, spend every afternoon watching the sunset in Samara!
13. Turtle nesting tour
Turtles are one of the highlights of Costa Rican wildlife. Thousands of turtles visit the Pacific coast every month to lay eggs on the pristine beaches, and visitors can see both adults laying eggs and babies hatching.
Although Sámara isn't the best place to see turtles in Costa Rica, if seeing turtles is a must for you, you can do tours from Sámara where a knowledgeable guide will take you to all of the best spots.
This specific tour lasts 3.5 hours and visits one of three beaches for just $57 USD. The two closest are to the south and are called Playa Camaronal and Playa Corozalito. Turtles frequently visit both beaches and both great places to see them. These beaches are also within a 45-minute drive of Sámara.
The third beach, Playa del Ostional, is actually the best beach to visit, but it's also over 1.5 hours away – meaning less time with the turtles. With that said, the tour MUST visit Playa del Ostional if an arribada is happening. These happen once a month, sometimes twice!
Fun fact: For those who don't know, an arribada is when hundreds of turtles come to shore to lay eggs. Seeing one is a bucket list experience.
14. Have a bonfire on the beach
In Sámara, people usually leave the beach and head into town for dinner and drinks as the sun sets. However, a little later on, everyone heads back to the beach to enjoy drinks around a bonfire!
This happens just about every night in Sámara, and there are usually one or two bonfires to choose from. The best part is, that it's completely free to enjoy them. Just be sure to bring your own drinks.
If you go before 11 pm, there are many people around, and Sámara is a very safe town in Costa Rica.
15. Visit the Macaw Recovery Network/ Punta Islita Wild Macaw Reserve
If you haven't yet been able to spot an elusive macaw or want to learn a ton about these impressive birds, then a visit to Punta Islita Wild Macaw Reserve with Macaw Recovery Network is a must.
The Macaw Recovery Network is a center of volunteers and wildlife experts whose mission is to recover endangered Neotropical parrot populations. Although you can find many macaws in their care, they are focused on the Great Green Macaw – a critically endangered species.
A visit to the Punta Islita Wild Macaw Reserve with them not only supports this work but also gives you a great chance to see a macaw in the wild. They have two tours available. The first is a 1-hour walk of the reserve and a slide show on their conservation efforts. This tour runs at 7:30 and at 4:00 pm and costs $20 USD for adults and $10 for children.
The other tour lasts for 2 hours and is more about viewing the birds and taking photos. This tour is the better option but costs $50 USD per person.
The Macaw recovery Network is around 45 minutes from Sámara via a bumpy road. Those without a 4WD rental should opt instead to do this guided tour. It costs $125 USD and includes transport from Sámara and a 2-hour walk of the reserve (the $50 tour.)
16. Visit Playa Barrigona
Playa Barrigona is a remote beach around 10 kilometers (6 miles) from Sámara. Most commonly reached by car, the beach remains off the beaten path of tourists and therefore is pristine and without shops or street vendors. That means you need to bring your own food and drinks.
The beach is not the greatest for swimming due to the large swell but, the sand is pearly white, and without anyone around, it's spectacular!
Those with a car can easily reach the beach from town. However, there is a small river crossing along the way. The river is only half a foot deep in the dry season, so all vehicles and motorbikes can make it across. On the other hand, scooters should not attempt it, and having a 4WD, SUV, or ATV is recommended.
17. Go dolphin watching
If you love dolphins as much as we do, I bet you have a dolphin-watching tour at the top of your Costa Rica bucket list! The great thing about Costa Rica is you can see dolphins all up the Pacific coast!
From Sámara, this dolphin-watching tour takes you out on either a panga fishing boat or a catamaran (depending on your budget.) You'll cruise the coast in search of dolphins, stingrays, turtles, and even whales (depending on the season.)
After you've had a fun time with the marine life from the boat, the tour takes you to Isla Chora for some snorkeling. This is basically two tours in one, and the cheaper option costs only $57 USD!
18. Go horseback riding
One of the most popular things to do in Sámara is horseback riding. Unfortunately, Bailey is allergic to horses, so we often shy away from horseback riding tours. However, some of my friends went on this tour and loved it!
The tour encompasses all the terrain around Sámara, including the river, jungle, and beach. This means you get to experience all that Sámara has to offer and have chances to see monkeys, birds, butterflies, and crocodiles. The tour costs $59 USD, lasts for 2.5 hours, and finishes on Sámara Beach. If you can, I highly recommend doing the sunset ride starting at 4 pm!
My friends, who are horse lovers, also said that the horses are well cared for and in good shape and health. This is especially important because, in some towns like Tamarindo, we have witnessed the poor treatment of horses and hence will not recommend tours there!
19. Listen to live music or party at LIMEY'S Bar & Restaurant
One of the most lively bars in Sámara is LIMEY'S Bar & Restaurant. The live music here is performed by local artists who just jam together – it's so much fun. The bar packs out with locals and visitors alike, and it's a great place to enjoy a beer after a day at the beach and even a meal (the carbonara was surprisingly good.)
If you want a table downstairs with the band, you'll need to arrive early, but many people also grab beers from the store and drink on the street out the front. LIMEY'S Bar & Restaurant is open late on the weekends, and it can get pretty rowdy. If you came to Sámara to party, then a visit to LIMEY'S Bar & Restaurant is a must!
20. Mangrove tour
Kayaking all the way to Isla Chora in the ocean won't appeal to everyone. Even I found the paddle challenging when the sea was rough in some sections. Luckily, you can do another kayaking tour in Sámara that's much more relaxing and less challenging.
The mangrove kayaking tours take you far away from the beach to explore one of the most important ecosystems in Costa Rica. Some people are surprised to learn just how important they are to marine life and the birds of Costa Rica. I myself recently did a tour down in Puerto Jimenez and have a newfound appreciation for this often-forgotten environment.
This mangrove kayaking tour in Sámara takes you out to the Ora River, where you'll enjoy a leisurely paddle with only the sound of nature around. Spot monkeys in the trees and birds on the water as you paddle the calm river. Be sure to listen to your guide also, the mangroves are an interesting place.
This experience lasts around 3 hours and costs $53 USD.
21. Go on a sunset cruise
Costa Rica is an adventurous destination to visit, but that doesn't mean you shouldn't spend some time relaxing. That's why we decided to do a sunset cruise in Sámara one afternoon!
We boarded our boat at 3 pm heading out into the bay. We then jumped in the water at Isla Chora for our 3rd time snorkeling the reef here (I would not have kayaked if I knew we were going to do the cruise!) Then we headed out of the bay in search of marine life, although we were not that lucky that day. As the sunset, we enjoyed some drinks and the magnificent views!
Overall, it was a fantastic way to spend a few hours and one of the best things to do in Sámara!
You can book your cruise through Sámara Adventures, but they need at least four people to run the tour. We got lucky as others had booked too and paid only $60 USD each! Unfortunately, the tour is 18+ only, so you'll have to leave the kids at home (bummer!)
22. SUP
The great thing about Sámara is that the calm waters (usually) are perfect for stand-up paddleboarding or SUP! You can rent boards right from the beach, and they cost $10 USD or 6,000 Colones per hour. While in Sámara, I just had to give it another go, only this time, I went at high tide when the waves were around!
It was so much fun trying to surf the waves on a SUP and a great workout for my core. Of course, most prefer a leisurely paddle which you can do at low tide or on a calm day.
If you're not that confident, you can do this SUP tour in Sámara for $64 USD that takes you to Playa Carrillo Bay. It's around a 3-hour trip and there will be time to make use of the snorkeling equipment while you are out there.
23. Visit Nosara
If you're looking for a new beach town to check out not far from Sámara, look no further than Nosara. Although the two sound the same, each town is completely different. Sámara is a more laid-back town, whereas Nosara is a bustling coastal village filled with high-end shopping, luxury hotels, and top-rated restaurants. The contrast is insane!
I myself spent a few nights in Nosara so I could adequately check out all the best things to do in Nosara. But those on a shorter trip can certainly visit in a day. Suppose you're not a surfer, don't stress too much about spending lots of time at the beach. Instead, explore Nosara's small boutique shops and delicious cafes. My all-time favorite is Destiny's – it's the best brunch place in Costa Rica, in my opinion!
If you plan on staying later, watch the sunset on the beach and see some of Nosara's best surfers put on a show. The talent in this town is amazing to see!
The logistics of getting to Nosara are a little tricky. You need an SUV or 4WD to cross the shallow river to take the shortest route. There is another slightly longer route but the road itself is also nothing to look at and indeed a bumpy ride (a 4WD drive is recommended here too and definitely required in the wet season.)
With that said, it's worth it and only takes around 1 hour. You can also catch the bus, but that's a little more complicated involving two buses with limited departure times.
24. Visit a coffee farm on a coffee tour
Coffee! It's arguably one of my favorite things about Costa Rica. But do you know how it's made? What a raw bean look like? Or can you spot a coffee tree without help? If not, then join a coffee tour in Costa Rica and learn all about this amazing tree and bean that wakes most of us up every day.
One of the best tours in Sámara is the Diria Coffee tour. On the tour, you'll meet the locals who farm the coffee cherries and learn the entire process from start to finish. From bean to cup, you'll be a pro by the end! Then, taste the coffee from the farm and even take some home if you wish.
25. Shop at the artisan stores
Although Nosara is typically known as one of the best places to boutique shop on the Nicoya Peninsula, there are still plenty of boutique shops in Sámara. Gypsy Boutique Sámara was Bailey's favorite, and she found more than a few items to take home. The item she loves the most? Her woven beach bag!
Another cool place for handmade jewelry is located in the small food court where you'll find Sweeties by Celia (a really good restaurant, by the way.) Unfortunately, it's not on Google Maps, so just walk to Sweeties to find it. The selection here was mesmerizing, and I had to drag Bailey away from his stall!
Where to Stay in Sámara, Costa Rica
Sámara is one of those towns with a huge variety of places to stay. From budget backpacker hostels to luxury hotels, there are places to stay in all budget ranges.
For luxury travelers or those in families, I love Villas Kalimba. This place is spectacular and offers a fitness center, swimming pool, and restaurant. On top of that, it's located right on the beach. Their two-bedroom villas come with a full kitchen and everything you need for a great holiday.
If you consider yourself a mid-range traveler, then I actually have two great choices for you (both catering to couples and families). The first is Hotel Entre Dos Aguas, a rustic hotel with simple amenities on a beautiful property. Perfect for those who want a true Costa Rican stay.
The second place, Sámara Pacific Lodge, is more of your typical resort-style hotel with a large pool, bar, and included breakfast. The hotel is located a little out of town but not far from the beach.
If you're on a budget, there are lots of options, but not many of them are good. Las Mariposas is my top choice, with its location only 100 meters from the beach. The hostel has a great atmosphere for meeting other travelers and is suited to the social backpacker. You can book this place on Hostelworld or Booking.com.
For more info, read our detailed guide about deciding where to stay in Samara with the best hotels and areas!
Getting Around Costa Rica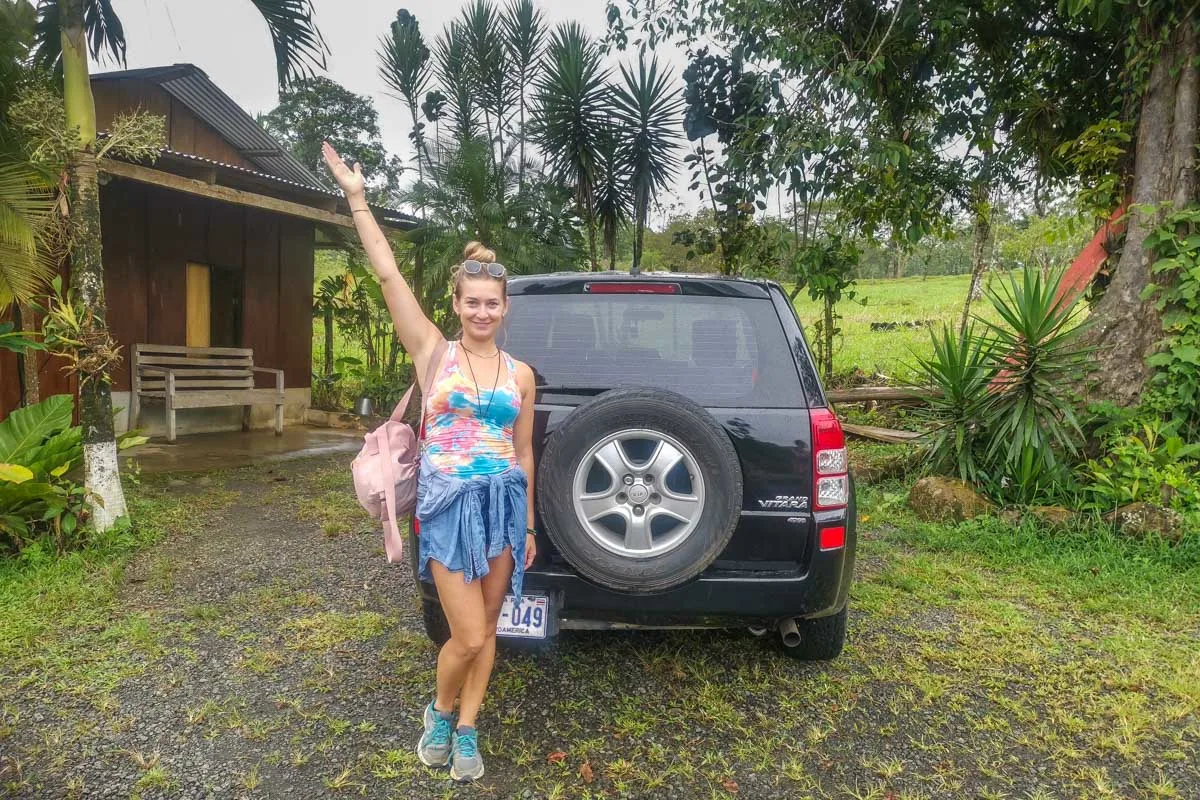 How you choose to get around Costa Rica is one of the biggest decisions you'll make when planning your holiday here! How you do it depends on your budget, travel style, and comfort level.
Renting a Car
Without a doubt, the number one way to explore Costa Rica is in a rental car. We book rental cars on the Discover Cars website as we have had good experiences with them in the past.
One of the things you need to watch for when renting a car in Costa Rica is the mandatory insurance that the government requires you to have. There are a lot of very cheap rentals that don't include this mandatory insurance (TPL) in the original booking price, but there are also ones that do. To avoid additional surprise charges when you pick up your rental car, be sure to rent a car that includes the mandatory insurance when you book.
Thankfully, on Discover Cars it's easy to tell apart the companies that include the mandatory insurance and those that don't. The trick is you can't pick any car on their website. In the picture below, you can see this rental car, with pick up in Jaco, includes the TPL. That means the mandatory insurance is included in the price. Any cover you get above that is extra.
Of course, I still suggest getting the full coverage offered by Discover Cars, which covers you even more.
You can browse cars on Discover Cars here.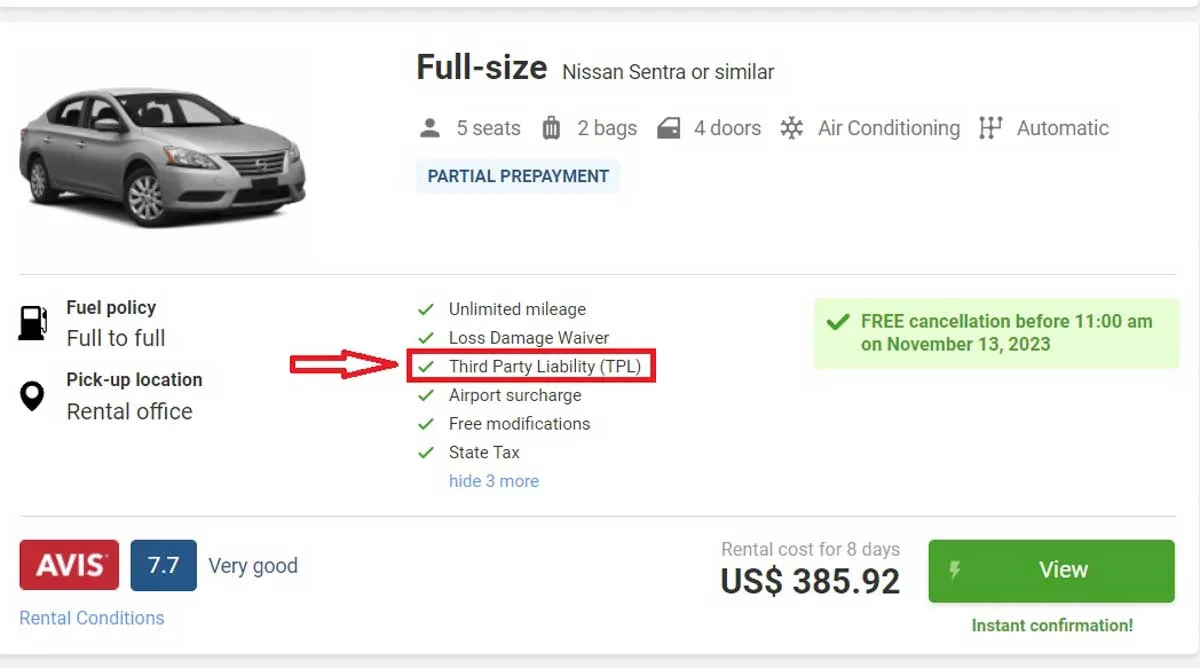 Book Shuttles
If renting a car isn't in your budget, you don't feel comfortable driving in Costa Rica, or you just don't like driving, shuttles are the next best option. There are hundreds of shuttle routes available all over the country, and they are very affordable.
Shuttles in Costa Rica are specifically for tourists and often include pick up and drop off at your selected hotels and airports. The drivers also speak some English, and the vehicles have air conditioning. You'll also be guaranteed a seat when you book a shuttle (which isn't the case with the public bus system.)
To get the best price, use the website Bookaway. They compare all the offers and prices of shuttle companies in Costa Rica so you get the best price! Honestly, we have saved so much money using Bookaway!
You can search for shuttles online on Bookaway here.
Public Bus
Lastly, you can use the public bus system. On short journeys, such as from San Jose to La Fortuna or Uvita to Manuel Antonio, this system is great. However, the longer the journey the more hassle and time spent on a bus. It's undoubtedly best to save the public bus in Costa Rica for short and straightforward trips!
The public buses are definitely the cheapest way to get around Costa Rica, but they are not always very reliable and schedules often change without notice and delays are to be expected. The buses can also be very crowded and hot – so just be prepared!
It's also good to speak some Spanish if you plan on riding the public bus since most drivers and ticket booth operators don't speak English.
Invest in Travel Insurance
Paying out of pocket for trip interruptions or medical treatment will add to what might already be a stressful situation. Not to worry, SafetyWing is here to help!
This affordable travel and medical insurance is perfect for digital nomads, long-term travelers, and remote workers. The best part is that it only costs $45 USD per 4 weeks.
To start coverage you must purchase it after leaving your home country. We usually purchase it as soon as we land at the airport.
Since using SafetyWing we've been reimbursed thousands of dollars when we've gotten sick. During the pandemic, they've even gone as far as to pay for our last-minute flights back to Canada before the border closed!
Pura Vida!
Sámara really is a top choice when it comes to holiday destinations in Costa Rica. We both really love visiting and think you will too!
Thanks so much for visiting Costa Rica Travel Life. I hope this guide on the best things to do in Sámara has helped plan your upcoming trip to Costa Rica. If it has, trust us with more of your plans and browse around. I'm sure you'll find lots of more helpful information including the few I've listed below:
How to spend 7 days in Costa Rica