Over the years, the little Tamarindo fishing village in Guanacaste Province, Costa Rica has rapidly developed into a top holiday destination. From the stunning beaches to a range of hotels for every budget, Tamarindo is a great holiday hub for adventure lovers.
Most importantly, though, Tamarindo is filled with local and international cuisines that you can find in the numerous restaurants sprawled across town offering mouthwatering dishes. From authentic Italian to deliciously fresh sushi showcasing the local seafood, Tamarindo is a top culinary destination in Costa Rica.
In this blog, we have carefully selected the best restaurants in Tamarindo that'll stimulate your taste buds with delicious meals. This is the only list you need when choosing where to eat in Tamarindo!
Best Restaurants in Tamarindo
1. Antichi Sapori Sicilian Cuisine – Best Italian Restaurant
Location: Avenida Central Plaza, Tamarindo
Average price: $25 USD for a main
Come here for: Authentic Italian
Takes reservations: Yes
A few strides from the beach in the inner city at Tamarindo Plaza sits Antichi Sapori. The Italian establishment has an inclusive bar/restaurant with a patio outside with a sitting capacity of over 30 guests.
Antichi Sapori, which means "Old-time flavors" in Italian, serves some of the best traditional Italian dishes in Tamarindo. Giuseppe, the owner, spares no cost to prepare fresh, homemade pasta, Carpaccio meat and fish, pizza, risotto, and many more authentic Italian delicacies. The bread and pastries are so fresh they melt in your mouth!
Antichi Sapori has served the old-time flavors from recipes passed down for many generations for more than seven years in Tamarindo. In fact, when you meet the owners you'll see their passion and love for Italian food from Sicilia.
During my visit, we got the Caprese Salad starter which we enjoyed with the house wine. For our mains, we had the Seafood Linguini and Pistachio Gnocchi, and both were delicious! For dessert, Giuseppe surprised every table with free cannoli which are filled with custard and sprinkled with pistachios. As an Italian myself, I can say they were some of the best I have ever had (sorry family!)
Giuseppe himself serves the tables and is a courteous and pleasant host/owner who goes out of his way to ensure that all his guests feel welcome. Overall, it was a fantastic food experience. In fact, Antichi Sapori is so good it made our list of the best things to do in Tamarindo!
Antichi Sapori is open every day except Sundays from 5 pm to 9 pm. Reservations are highly recommended during peak season as tables are limited in this small, intimate Tamarindo restaurant.
2023 Update: Due to personal health reasons, the owner has decided to close until they can make a full recovery. Make sure to check their Facebook page for updates.
Related Read: Love Italian food? Check out the best restaurants in Nosara for another top choice!
2. NOI Bistro – Best Breakfast
Location: Av. Central next to Longboards BBQ
Average price: $8 USD for breakfast
Come here for: Breakfast
Takes reservations: No
NOI Bistro is one of the best restaurants in Tamarindo to enjoy breakfast or brunch until 2 pm. In fact, I eat here most mornings while in Tamarindo – it's that good.
My favorite meal is the EL NOI BF which comes with two eggs cooked to your choice, fresh toast, hashbrowns, bacon, and Pico de Gallo. It's the perfect meal to fuel your body for a big day of adventure in Tamarindo. Bailey loves their AvoSmash which comes with lots more fresh vegetables.
If you have a sweet tooth, there's plenty of jam, waffles, pancakes, and also healthy smoothie bowls. To go with your food, get their huge coffees or try a mimosa! Regardless, all their breakfast options are under $8 USD making them super affordable!
Pierre, the manager, proactively walks around the dining area to check on the guests' needs. He also has well-trained staff who won't have you waiting long.
The restaurant/cafe gets really busy around 11 am and there can often be a waiting list for a table. So, get in early and enjoy Noi Bistro and their deliciously cheap breakfast meals.
NOI Bistro is open every day from 7:30 am to 3 pm and again for dinnner from 6 pm to 10 pm. You can view their menu here.
Related Read: For another amazing Italian restaurant, check out the best restaurants in Jaco!
3. Wabi-Sabi Sushi – Best Sushi
Location: Plaza Esmeralda
Average price: $8 USD to $13 USD for sushi rolls
Come here for: Japanese, Sushi
Takes reservations: No, does take away deliveries instead
Located in a strip mall in Plaza Esmeralda, you'll find the famous Wabi-Sabi Sushi. The restaurant doesn't look posh or striking in any way from the outside, but if you're into sushi and all her relatives, this place does Japanese food right.
Wabi-Sabi serves delicious sushi with a huge variety of flavors from classics to rolls with a local twist. These are my go-to and I usually get 3 or 4 rolls to share. If you want a Costa Rican twist, get the Tico Roll which comes with fried plantain. It's the perfect spot to get nicely done sushi meals at reasonable prices.
However, if you're not into sushi, they also have other Japanese classics such as teriyaki bowls, poke bowls, and salads. Everything is served fresh and quite tasty. The restaurant also has an open kitchen, so you can see their impeccably clean cooking areas.
Drinks on the menu include tasty margaritas, cold beer, and an assortment of ice cream dipped in mango/strawberry smoothie.
The restaurant offers indoor and open-air seating spaces with larger tables outside but is flexible in reorganizing tables at a moment's notice, depending on the guests' needs.
Wabi-Sabi in Tamarindo is open from Tuesday to Sunday from 1 pm to 9 pm. You can view their menu here.
4. El Mercadito – Best food market
Location: Next to Patagonia Argentinian Grill & Restaurant in the heart of Tamarindo
Average price: This highly depends on the restaurant you visit.
Come here for: Variety of food from all cuisines including traditional Costa Rican dishes
Takes reservations: No – it's a food court
El Mercadito was inspired by the marketplaces common in Spain and Italy. Attorney Juan Carlos Cerdas developed this amazing place next to Patagonia. The outdoor landscape features restaurants adjoining a central platform and a large bar, surrounded by clothing and beachwear stores.
Travelers appreciate the wide range of entertainment at this breezy, vibrant food marketplace. The menu options include tacos, pizza, arepas, pork, Italian, seafood, hamburgers, and vegan dishes.
The atmosphere comes to life with the illuminated stage lights from the Medusa bar events like bingo and tango dancing. It's a beautiful attraction that blends food and fun with plenty of activities. You order food from the various restaurants in the food court with spacious, clean bathrooms, and ample security so that visiting guests feel safe.
The restaurants at El Mercadito include:
Areas Venezolanas
Asian Fusion
Doña Ana
Lush Cocina Tropical
Mimosa
Mi Tribu
Patagonia
Poke Hawaiiano
Pura Vegan
Tamaburger Utopia
Pasteleria Francesa
El Mercadito is a great place to eat in Tamarindo especially if your group can't decide where to go. Instead, find a large table and let everyone select their own restaurant to order from.
El Mercadito is open from 11 am to 11 pm.
5. Green Papaya Taco Bar – Best Mexican
Location: Calle Corona, Tamarindo,
Average price: $15 USD for main dishes
Come here for: Mexican food, breakfast, cocktails
Takes reservations: No
Green Papaya Taco Bar makes some of the best Mexican tacos and margaritas in Tamarindo. The restaurant has a small comfy patio with swing chairs that add casual outdoor dining.
To start, you can have a mix of chips with guacamole and their famous Pico de Gallo. For a main, try their tasty Beef Burrito or the Mushroom Quesadilla, which are just wow! The Mahi-mahi Tacos are good too, nothing out of the ordinary from other places that offer fresh mahi-mahi. The Beef Enchiladas are delicious, and they also have plenty of vegan and vegetarian choices. The hot sauce is a.m.a.z.i.n.g!
The servings come in extra-large portions, so have something light for an appetizer or skip that and sip on a cocktail instead. They also have delicious local IPA beers on offer. For breakfast, try their Burrito or the Cheese Quesadilla.
Besides the tasty food, what makes this place one of the best restaurants in Tamarindo is its super trendy outdoor seating area. It's just beautiful and very Instagram-worthy.
The staff offer attentive, kind, and prompt service, helping you with menu choices and what drink goes with what.
Green Papaya Taco Bar is open from 11 am to 10 pm every day except Monday.
6. Nalu Bagel & Café – Best cheap breakfast
Location: Small food court near NOI Bistro
Average price: $5 USD for a bagel at breakfast and $8 USD for a sandwhich during lunch
Come here for: Cheap Breakfast
Takes reservations: No
Most travelers understand all too well that breakfast is an essential meal of the day if you're going to be outdoors site seeing, exploring, or shopping all day. Nalu Bagel & Café serves great healthy breakfast combinations, including vegan options like hummus toast, banana bread, bagel sandwiches, vegan smoothies, and plant milk coffee.
Try the Nalu Bowl (pictured above) and warm chocolate chip banana bread for a sweet but healthy breakfast. You also have to try the Coconut Bowl with coconut cream, banana, peanut/almond butter, and granola topped with coconut chips. It sure is a bowl of natural goodness!
If you love coffee, the cold brew range is also top of the charts. They sweeten them with honey for a healthy twist. What stood out for me though, a savory lover, were the bagels and sourdough toasts. All were delicious and so cheap! In fact, eating here is one of the best cheap things to do in Tamarindo.
You can also try the Red Velvet Smoothie or the pineapple/beetroot/orange and honey. A fresh delight to savor in the morning!
Nalu Bagel & Café is open from 8 am to 6 pm and is tucked away inside the small food court near NOI Bistro.
Related Read: For another awesome brunch place, check out the best restaurants in the capital city of San Jose.
7. Seasons – Best Mediterranean
Location: At Arco Iris Hotel (one of the best hotels in Tamarindo)
Average price: $22 USD for the main dishes
Come here for: Elegant Mediterranean
Takes reservations: Yes
Now, this right here is a Tamarindo restaurant for all seasons. Seasons Tamarindo is a unique restaurant in Tamarindo offering fresh, exceptional delicacies, including creative veggie appetizers, seafood, meat, delicious desserts, plenty of good wine, and attentive service – they have it all!
Some tasty dishes to sample at Seasons out include Sashimi, Beef Loin, Octopus, and Mushroom Polenta. My seafood favorites are the Mahi-mahi, Red Snapper, Tuna Sashimi, and the Shrimp in Spicy Coconut Sauce. For something light but full of flavor you can go past the Shrimp Scampi.
For dessert, try the White Chocolate Mousse and the Toblerone – both are excellent choices for a warm night. And to drink, you NEED to try the Hibiscus Margarita!
Shlomy, the owner, was all over the place, ensuring that his guests were well looked after. I found out he actually trained in Paris at Le Cordon Bleu!
You must visit Seasons if you're in Tamarindo especially if you enjoy elegant meals. They offer an impressive menu with superior tastes and service. Everything about this spot is beautiful.
Seasons Tamarindo is open Monday to Saturday from 5:30 pm to 10 pm. You can view their menu here.
2023 Update: Seasons Tamarindo has been temporarily closed. Check TripAdvisor to see if they have reopened.
8. The ROOF – Best view
Location: Above the skate park, Super Compro Building, Tamarindo
Average price: Small pizza $16 USD and large $32
Come here for: Pizza, sunset view
Takes reservations: Yes
The ROOF is the kind of spot you want to chill after a long day. If not for anything else, see the entire Tamarindo town from this rooftop restaurant serving wood-fired pizza.
The pizzas here are really good and most will find something they love. I love the Margarita Pizza, Hawaiian with a thick crust, and the Thin-crusted Pepperoni. Basic choices I know, but I like to keep my pizza simple! If you're picky, you don't need to order your pizza off the menu. Instead, get a customized pizza.
Pro tip – have them add in extra cheese, a little spicy oil with parmesan, and thank me later!
The ROOF also has delicious cocktails and a happy hour every day from 9 pm to 7 pm. I love to sip on their Sangria which is 2 for $13 USD during happy hour. If you prefer beer, get a happy hour bucket of 6 to share for only $24 USD!
Even if you don't come for food, The ROOF is a must-visit restaurant in Tamarindo for the view – especially at sunset. The orange backdrop provides a fantastic view, so you also want to bring your camera with you to take a few shots for memories' sake. You'll love it!
The ROOF is open from 4 pm to 10:30 pm every day except Friday and Saturday when they open until 11 pm. You can view their menu here.
Related Read: While you're here, be sure to check out some of the best tours in Tamarindo!
9. Ocho Beach Bar And Restaurant – Best beach club
Location: Central Tamarindo Beach
Average price: Cocktails are $15 USD and main meals $22 USD
Come here for: The location on the beach and sunset live music
Takes reservations: Yes
Ocho Beach Bar And Restaurant is my favorite beach club in Tamarindo. At sunset, I often come down for a few drinks and to listen to their live DJ. It's a really fun bar located right on the beach with one of the best ocean views!
Although I often only come for the sunset drinks, I have enjoyed a few meals here also. Their burgers are really good if you like juicy beef. If you're more of a seafood lover, get the Tuna Tartare – it's only a small portion but the flavors are top-notch!
As for drinks, well this place is one of the best for cocktails in Tamarindo. The Sangria here is well known but also the Passionfruit Mojito. Enjoy them during happy hour from 3:30 to 5:30 and drink cheap with a magnificent view.
Overall, Ocho is an off-the-beaten-path beach club that doesn't get as much attention as it should. However, it's my favorite and it might also be yours!
Related Read: Visiting beach clubs is also one of the best things to do in Santa Teresa.
10. Pizzeria La Baula – Best authentic pizza
Location: 91 Corona Street, Guanacaste, Tamarindo
Average price: Pizzas are $15 to $19 USD
Come here for: Italian pizza
Takes reservations: No
Pizzeria La Baula is a casual open-air restaurant that serves pizza, well we could say exclusively, but you'll find a few other dishes scattered on the menu just in case you're not into pizza. They have 28 pizza varieties, meaty pizzas with thin crusts, splattered with all kinds of tasty toppings and salads.
La Baula serves the best pizza in Tamarindo. Each pizza is made to order and served on their large wooden tables steaming hot. Try their handmade thin-crust pizza; you'll love almost every flavor unless you'd like to try your favorite from back home.
I liked the Hawaiian and Pepperoni. They've got among many combos to choose from, like the Gorgonzola pizza and the Margherita pizza; the ham, olive, artichoke, the prosciutto arugula Frescas, and the vegetarian pizza, etc.
It's a great family restaurant where you can go in groups of, say, 20 people and have a blast over giant pizzas with cold margaritas and beer; or thick yummy cocktails. If you've got kids, they have a sizeable playground to keep the kids busy too.
The service is pretty quick. The bar is also really great – complete with an array of beers, wines, and cocktails and a very laid-back atmosphere. It's a wonderful place to hang with friends, as you enjoy the evening. The price is reasonable for the quality and size of the pizzas.
Pizzeria La Baula is open from 5:30 pm to 10 pm every day except Tuesay and Saturday when they close at 9:30 and you can view their menu here.
11. Patagonia Argentinian Grill & Restaurant – Best steak
Location: 152, C. San Javier, Villarreal, Guanacaste Province next to El Mercadito
Average price: steaks are around $45 USD
Come here for: Steak
Takes reservations: Yes, recommended for 4 or more people
Patagonia Argentinian Grill & Restaurant is for steak lovers. True to its name, this small restaurant serves up tender Argentinian-style steak cooked to perfection.
The menu is diverse, with different meat cuts of the highest quality and an assortment of drinks and desserts. Crowd favorites are the rib-eye, new york, and beef tenderloin. All their steaks come with delicious Patagonia potatoes and salad and there are extras such as the chimichurri and jalapeño sauce.
I had the Calamari and Empanadas as starters and the Beef Tenderloin (cooked medium) for the main with thick-sliced potato chips and a large fresh salad. It was well-seasoned, tender, and so flavorful.
Overall this place is an excellent place to dine. The food is perfect. You have to be specific with your meat order, which is elaborated in the menu. The serving staff is incredibly kind, attentive, and efficient.
Come here for steak. It is freaking fantastic steak!
Patagonia Argentinian Grill & Restaurant is open from 11 am to 10 pm every day and you can view their menu here.
12. Waffle Monkey – Breakfast waffles
Location: Northern Pacific Coast, adjacent to the Coastal Spanish Institute
Average price: $2 to $9 USD
Come here for: Breakfast/Waffles
Takes reservations: No
If you're wondering where to eat in Tamarindo, wonder no more. Specialized in the best breakfast options in town, Waffle Monkey makes Belgian waffles with an assortment of toppings. They've carefully picked choices ranging from fried bacon, eggs, powdered sugar, cheese, honey, and many more tasty additions.
Most of the waffle variety is handmade, Belgian style, with creative combos to keep you full and energetic through the day. Try the delightful Salty Pig Waffles or the Easy & Cheesy option. You'll love it!
Jacob, the owner, is a pleasant, helpful soul and offers advice about the best places to visit after you're done with your meal. (If you don't have anything planned for the day).
If you're looking for the perfect relaxed and cool spot to eat breakfast on the beach! Pick Waffle Monkey. It's such a peaceful atmosphere you'll be tempted to bum on the comfy chairs the whole day.
Waffle Monkey is open from 7 am to 1 pm every day and you can view their menu here.
Must-do Activities While You're in Tamarindo
Sunset Catamaran Cruise: One of the best relaxing activities you can do in Tamarindo is a cruise through Tamarindo Bay. Aboard a catamaran, you'll sail out into the ocean in search of magnificent views, wildlife, and of course, an epic sunset. You can choose to do the tour in the morning or afternoon (afternoon is better), and it includes an open bar, water activities, and a meal for only $85 USD!
Learn to surf: Although you won't find Tamarindo on any list of the best places to surf in Costa Rica, it's arguably the most ideal place for beginners. You can do surf lessons any day of the week, and there are tons of surf schools in town. On average, a two-hour lesson costs $56 USD. This two-hour surf lesson is top-rated and has over 1,100 five-star reviews.
Visit Rio Celeste: One of the most beautiful rivers and waterfalls in Costa Rica is within reach of Tamarindo. Rio Celeste is a natural phenomenon where two rivers meet and cause the water to literally turn blue. Unfortunately, Rio Celeste is located 2.5 hours away, so unless you have your own vehicle, you're going to need to join a tour. This specific tour leaves Tamarindo at 6:30 am and includes everything!
Guachipelin Adventure Volcano: This epic full-day adventure includes ziplining, river tubing, horseback riding, a visit to natural hot springs, a volcanic mud bath, and a full buffet lunch. It's so popular because, with all those activities, the tour only costs $135 USD for the self-drive option (what we did) or $149 for the included transport.
For more things to do, including free activities, check out the best things to do in Tamarindo.
Getting Around Costa Rica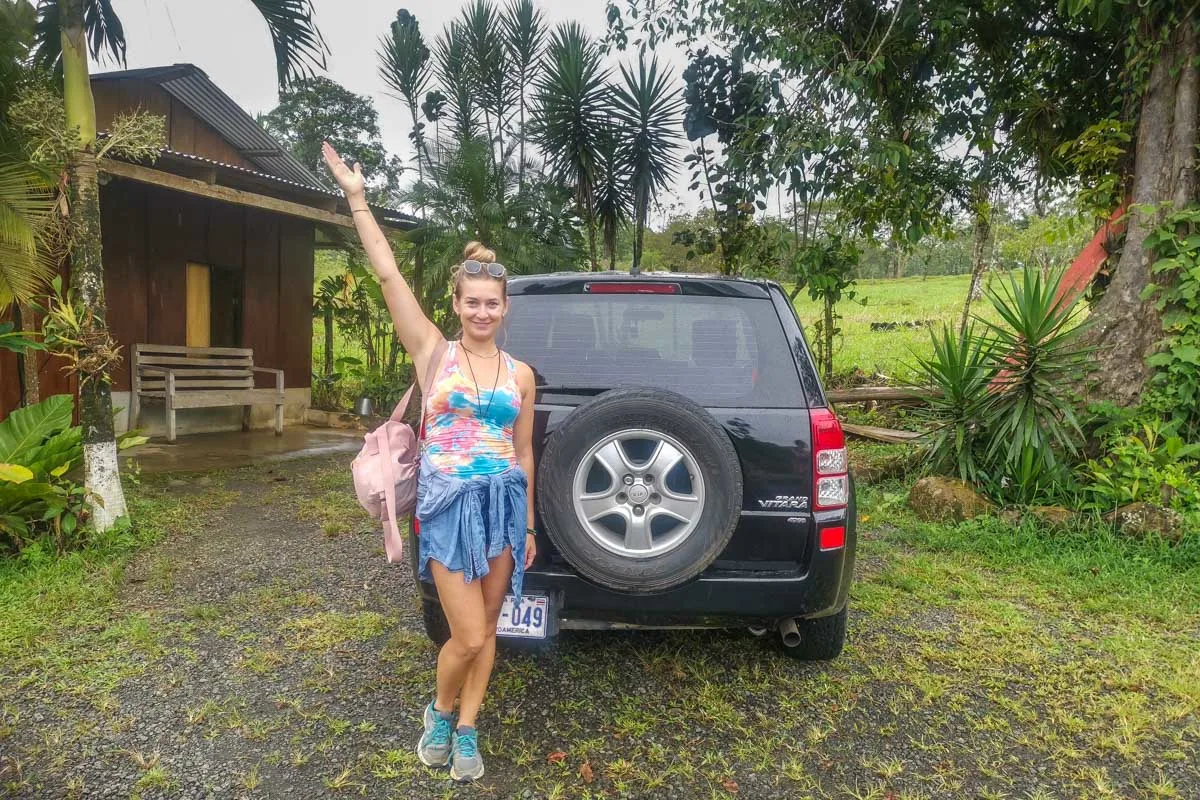 How you choose to get around Costa Rica is one of the biggest decisions you'll make when planning your holiday here! How you do it depends on your budget, travel style, and comfort level.
Renting a Car
Without a doubt, the number one way to explore Costa Rica is in a rental car. We book rental cars on the Discover Cars website as we have had good experiences with them in the past.
One of the things you need to watch for when renting a car in Costa Rica is the mandatory insurance that the government requires you to have. There are a lot of very cheap rentals that don't include this mandatory insurance (TPL) in the original booking price, but there are also ones that do. To avoid additional surprise charges when you pick up your rental car, be sure to rent a car that includes the mandatory insurance when you book.
Thankfully, on Discover Cars it's easy to tell apart the companies that include the mandatory insurance and those that don't. The trick is you can't pick any car on their website. In the picture below, you can see this rental car, with pick up in Jaco, includes the TPL. That means the mandatory insurance is included in the price. Any cover you get above that is extra.
Of course, I still suggest getting the full coverage offered by Discover Cars, which covers you even more.
You can browse cars on Discover Cars here.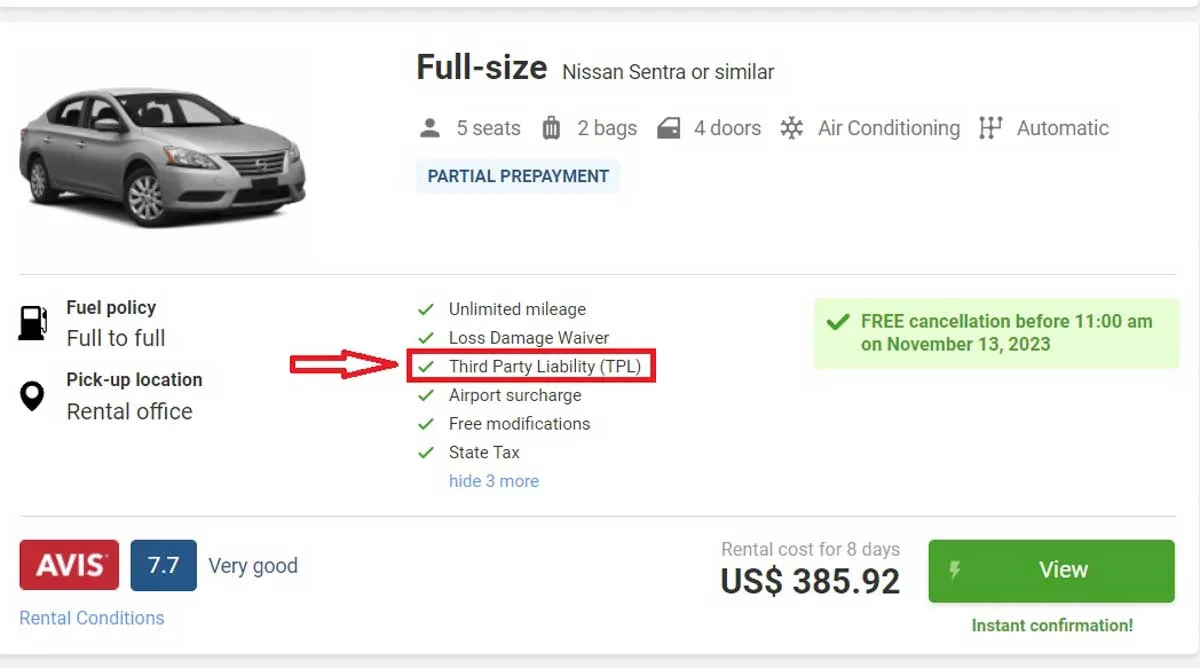 Book Shuttles
If renting a car isn't in your budget, you don't feel comfortable driving in Costa Rica, or you just don't like driving, shuttles are the next best option. There are hundreds of shuttle routes available all over the country, and they are very affordable.
Shuttles in Costa Rica are specifically for tourists and often include pick up and drop off at your selected hotels and airports. The drivers also speak some English, and the vehicles have air conditioning. You'll also be guaranteed a seat when you book a shuttle (which isn't the case with the public bus system.)
To get the best price, use the website Bookaway. They compare all the offers and prices of shuttle companies in Costa Rica so you get the best price! Honestly, we have saved so much money using Bookaway!
You can search for shuttles online on Bookaway here.
Public Bus
Lastly, you can use the public bus system. On short journeys, such as from San Jose to La Fortuna or Uvita to Manuel Antonio, this system is great. However, the longer the journey the more hassle and time spent on a bus. It's undoubtedly best to save the public bus in Costa Rica for short and straightforward trips!
The public buses are definitely the cheapest way to get around Costa Rica, but they are not always very reliable and schedules often change without notice and delays are to be expected. The buses can also be very crowded and hot – so just be prepared!
It's also good to speak some Spanish if you plan on riding the public bus since most drivers and ticket booth operators don't speak English.
Invest in Travel Insurance
Paying out of pocket for trip interruptions or medical treatment will add to what might already be a stressful situation. Not to worry, SafetyWing is here to help!
This affordable travel and medical insurance is perfect for digital nomads, long-term travelers, and remote workers. The best part is that it only costs $45 USD per 4 weeks.
To start coverage you must purchase it after leaving your home country. We usually purchase it as soon as we land at the airport.
Since using SafetyWing we've been reimbursed thousands of dollars when we've gotten sick. During the pandemic, they've even gone as far as to pay for our last-minute flights back to Canada before the border closed!
Pura Vida!
Tamarindo was not the place I thought I'd find such amazing places to eat. Oftentimes, places with a ton of tourism attract average restaurants looking to make a quick buck but Tamarindo is different – you just need to know where to look.
I hope your mouth buds are watering and you have a huge list of restaurants you want to visit on your upcoming trip. If so, don't run away just yet. Why not check out more of our blogs to help plan your Costa Rica adventure such as:
Best restaurants in Puerto Viejo