This blog may contain affiliate links. Read our disclosure policy for more info.
Costa Rica is famous for its incredible biodiversity, including rare and fascinating birds. In fact, birdwatching is one of the top things to do in Costa Rica, and once you see these amazing, colorful birds in their natural habitat, you'll understand why.
What I love about Costa Rica's birds is that they are as colorful and vibrant as the country itself! Its climate and abundance of rainforests mean that birds thrive here. You can spot many of its most famous species all year round, making birdwatching possible no matter what time of year you choose to visit.
Some birds can be spotted all over the country, while others stick to certain regions. Since we have spent so much time in this country we've put together this guide to the 12 most famous birds in Costa Rica so that you know exactly how and where to spot them.
Best Places to go Birding in Costa Rica
We'll start by saying that there are really no bad places to go birding in Costa Rica – pretty much everywhere is good.
However, there are certain places that are absolute gems for bird lovers. Certain towns and national parks offer a truly exceptional variety of birdlife that is a dream come true for any keen birdwatcher.
1. Osa Peninsula
The Osa Peninsula is one of the most biodiverse places in Costa Rica, which is already the most biodiverse country in the world! Over 460 species of bird can be found here, so we're not kidding when we say it's an ideal destination.
It's pretty remote, and home to a variety of different ecosystems which means the birdlife here will blow your mind. It's also home to Corcovado National Park, which is one of the best wildlife-spotting destinations in Costa Rica.
You can only visit the park as part of a tour, but it's 100% worth it. On this Corcovado day tour, you'll have a chance to spot many of the reserve's most famous creatures including beautiful scarlet macaws. At $110 USD, this tour leaves by boat from Drake Bay and is a great option for those who want to see Corcovado without staying overnight.
If you've got a little more time on your hands, then we highly recommend this overnight tour. You'll stay at the local ranger station in the park for a night and get a sunrise hike along with breakfast in the forest. Plus, so many of the creatures in the park are nocturnal, so you'll have the best chance to see a wide variety by spending a night. This tour is around $400 USD.
Most people wanting to see Corcovado choose to fly into the Osa Peninsula, and you can head to Puerto Jimenez or Drake Bay. Both of these towns are amazing places to see wildlife, including an incredible variety of birds.
Of course, we'd be here all day if we listed every bird you might see, but some of the most interesting ones to keep an eye out for are:
Scarlet macaws – in fact, the Osa Peninsula is the best place in Costa Rica to see these beautiful birds!
Red-throated caracaras
King vultures
Turquoise cotingas
Orange-collared manakins
Mangrove hummingbirds
… and so, so many more.
Aside from Corcovado National Park, the Drake Trail in Drake Bay is one of the best places in the Osa Peninsula to go birdwatching, and we saw a ton of toucans when we walked it.
We also saw lots of amazing birds on our mangrove kayaking tour in Puerto Jimenez. It's one of the best spots to kayak in Costa Rica. What's great about these two towns is that you're also pretty much guaranteed to see some beautiful birds when you're just strolling around, or chilling on the beach.
Related Read: Need more ideas for what to do on your trip? Our guide to spending a week in Costa Rica can help!
2. Monteverde
Monteverde is a region in the Puntarenas province, and one of the most popular ecotourism destinations in Costa Rica.
Monteverde is probably best known as the home of the Monteverde Cloud Forest where, as you might expect, you can see some seriously amazing birds.
Monteverde Cloud Forest is one of the best places in Costa Rica to see the resplendent quetzal, one of the country's most iconic birds. This small and beautiful bird is known for its bright green feathers and striking red underbelly, and it really is quite a sight to see.
You can visit the cloud forest on your own, or as part of a guided tour. If you come without a tour, entrance is $25 USD for adults and $12 USD for kids, and you can pay in either US dollars or colones, the local currency.
A private guided tour like this is a great option if you need help identifying the birds and want to learn more about what you're actually looking at. You'll have a dedicated guide and can tailor the tour to what you want for $79 USD, plus the entrance fee.
In addition to Monteverde Cloud Forest, the region is also home to the Curi-Cancha Reserve, which is another incredible place to spot rare birds. Entry is $20 USD for adults, or $12 USD for children, and you can take a guided or self-guided tour.
Other amazing birds you can spot in Monteverde include:
The coppery-headed emerald
The magenta-throated woodstar
The golden-browed chlorophonia
The black and yellow silky flycatcher
3. La Fortuna
La Fortuna de San Carlos is a small but vibrant town in the northern highlands of Costa Rica. It serves as a gateway to the Arenal Volcano National Park, which has one of the must-visit volcanoes in Costa Rica!
It's a popular tourist destination that's famous as one of the top places to see sloths, but it's also one of the best places in the country to go birding. In fact, if you decide to take a sloth tour in La Fortuna, you're bound to see some beautiful birds along the way, too.
La Fortuna is located in hot lowlands, but it's also surrounded by mountains that are covered in rainforest, resulting in a diverse range of birdlife.
One of the most popular ways to see birds in La Fortuna is to float down the Peñas Blancas river. You'll see some incredible birdlife as you float through the rainforest.
The popular El Burrito hike is another popular way to see birds in La Fortuna. Sadly, there are no burritos involved, but you'll see plenty of birds. You can trek it on your own or join this privately guided tour with transport from La Fortuna for around $96 USD per person.
Arenal Volcano National Park is one of the best places to visit around La Fortuna, and you can visit the Arenal Lodge Observatory at the heart of the park for some truly excellent birdwatching – in fact, over 500 species have been recorded there! It costs $15 USD per person to enter the park, and then the property offers a range of different birdwatching tours.
You can also visit the Caño Negro Refuge from La Fortuna, as it's about a 90-minute drive away. These wetlands are home to more than 300 species of birds, which is why visitors come from far and wide to visit. Entry to the park is free, although it's best to book a tour as the main way to get around the wetland is by boat, and that's pretty tricky to do on your own.
Of course, there are also some famous hanging bridges in La Fortuna and you can actually join this highly-rated bird-watching tour at one of them. The tour lasts for three hours and only costs $61 USD – which is great value considering all of the inclusions.
Some of the most exciting birds to spot in and around La Fortuna include:
The orange-billed sparrow
The clay-colored thrush (this one isn't known for its physical beauty, but rather its sweet-toned song!)
Toucans
The short-tailed hawk
Hoffman's woodpecker
Glossy ibis
Snail kite
Related Read: While in La Fortuna, be sure to also visit the La Fortuna Waterfall – it's beautiful!

Why We Book Tours with Viator

Viator is a trusted online booking system for tours around the world! We almost always book our tours using Viator for a couple of reasons:

Free cancellation on most tours – Most of the tours on Viator allow you to cancel and get a full refund up to 24 hours in advance. This is handy in case plans change, or if booking an outdoor activity, the weather forecast is looking grim.
Reserve now and pay later – You can secure your spot on some of the most popular tours well in advance and not pay until closer to the day of the tour.
Pay in your chosen currency – Avoid costly international transaction fees by choosing to pay in your home currency.
Peace of mind – When booking with tour operators you find in person on the street or in small booking offices, you are often promised one thing and given another. This online platform holds tour operators accountable with a written description of inclusions as well as the opportunity for customers to leave reviews.

Check out the Viator website here!
4. Carara National Park
Carara National Park is just 75 kilometers (43.5 miles) from San José, which is the capital of Costa Rica. This makes it an easy day trip from San Jose if you're staying in the city.
The park's forests are less dense than the rainforests in other national parks, which makes it a fairly easy place to spot wildlife – perfect for beginners!
You don't have to visit Carara National Park as part of a tour although, as always, it's super helpful to do so to get the most out of your birding experience.
Carara National Park is home to one of the largest populations of scarlet macaws in Costa Rica. Some of the other interesting birds you can spot here include:
Black-hooded antshrike
Boat-billed herons
Great tinamous
American egrets
Collared aracaris
The park is open daily from 8 am until 4 pm, and entry costs $10 USD per person.
5. Los Quetzales National Park
Los Quetzales National Park is, as you can probably guess from the name, one of the best places in Costa Rica to see quetzals!
The park is between 2,000-3,000 meters (6,500 – 9,800 feet) above sea level, which is much higher than many of the other national parks in Costa Rica. For this reason, you'll see lots of different birds here than you will at lower elevations
Like Carara National Park, Los Quetzales is around a 90-minute drive from San José, so you can visit on a day trip if you like, or stay overnight in one of the lodges. The park is open every day from 8 am until 4 pm, and entry costs $11.30 USD.
The best place in the park to see birds is in the lower cloud forest. If you're keen to see resplendent quetzals, then it's best to book a tour because these birds are very shy and difficult to spot on your own – particularly if you're a novice birdwatcher.
Some of the rare birds that are regularly found in Los Quetzales include:
The collared redstart
The flame throated warbler
The lush collared trogon
The long tailed silky flycatcher
Related Read: If you're planning to visit from San Jose, there are some great hotels near Juan Santamaria International Airport to check out.
6. Piedras Blancas National Park
Piedras Blancas National Park used to be part of Corcovado National Park. It's located in the Puntarenas province, across the gulf from the Osa Peninsula. It receives fewer visitors than Corcovado, but it's still incredibly impressive.
You have to enter Piedras Blancas through the town of La Gamba, and entry costs $10 USD per person.
The park is open from 8 am until 4 pm daily, and it's home to lowland tropical rainforest where you can spot jaguars alongside a huge variety of tropical birds. In fact, over 300 species of birds have been recorded here, including:
Scarlet macaws
Red lored parrots
White hawks
Quetzals
Toucans
5 Best Bird-Watching Tours in Costa Rica
As we've mentioned, no matter where you are staying in Costa Rica, you're sure to be close to some excellent birdwatching. To make the most of your experience and spot those especially sneaky birds hiding in the trees, we recommend booking a birdwatching tour. These are a few of our favs!
1. Monteverde
This early morning birdwatching tour in the Monteverde Cloud Forest will maximize your chances of spotting rare birds, including the iconic resplendent quetzal. Your guide will also help you spot other interesting forms of wildlife as you go, including capuchin monkeys and coatis.
This tour includes hotel pickup and drop-off, as well as breakfast. Binoculars aren't included, but you can rent these from the Monteverde Outdoor Center in Santa Elena, which is where most visitors to the cloud forest stay.
This is a small-group tour with a maximum limit of 8 people, so you'll have plenty of time to chat with your guide and ask questions. Plus, at $75 USD per person, we think it's pretty good value for money!
2. La Fortuna
They say that the early bird gets the worm, but in this case the early bird gets the … well, bird. This early morning tour starts at around 5:45 am to maximize your chances of seeing La Fortuna's most exciting species.
This tour includes hotel pick up and drop off, breakfast, and coffee – which, let's be honest, you'll probably need at this time of the morning!
You'll explore the more open areas of La Fortuna and head deep into the forest to ensure that you see as many different species as possible, and a spotting scope is included to help you get an up-close view of the birds. Prices start at $107 USD for adults and $54 USD for kids aged 4-11.
3. Drake Bay
You can choose to take either an early morning or late afternoon birdwatching tour in Drake Bay during which you'll get to experience the rich birdlife in the Osa Peninsula. We recommend the morning though, as first light is one of the best times to spot birds and listen as they sing and come to life.
You'll learn how to identify different species of birds by their appearance, song, and even the way that they fly! At $77 USD, this tour is pretty reasonably priced, too.
4. San José
If you want to take a birdwatching tour from San José, then this tour is a great option. You'll start early and head into Braulio-Carrillo National Park to see some of the best tropical birdlife that Costa Rica has to offer, including the rare bare-throated umbrellabird.
You'll enjoy rainforest walks and a gondola ride as you spot rare birds with the help of an expert. This $180 USD tour is an excellent choice if you're pressed for time!
5. Carara National Park
Starting at just $30 USD, this Carara National Park tour is a great budget-friendly option. You'll need to get yourself to and from the park's visitor center, where the tour will begin, and from there you'll tour the park and spot some amazing rare wildlife.
You can also upgrade from a group to a private tour if you prefer, and you can add a 2-hour birding trip along the Tarcoles River.
Related Read: For more incredibly cool experiences, check out our recommendations for the top tours in Costa Rica!
12 Famous Birds of Costa Rica
1. Scarlet macaw
The scarlet macaw is one of Costa Rica's most iconic birds. Once on the brink of extinction, their numbers have increased dramatically thanks to dedicated conservation efforts.
This is a beautiful bird with striking red feathers all over, as well as wings that are rainbow striped with green, yellow, and blue. They tend to inhabit lowland tropical rainforests, and the best places to spot them in Costa Rica are in Corcovado National Park in the Osa Peninsula, as well as Carara National Park.
Scarlet macaws are also one of the most intelligent bird species on the planet and they can even mimic human speech! For that reason – as well as their beautiful appearance – they're easily one of the coolest birds in Costa Rica.
2. Resplendent quetzal
Resplendent quetzals are stunning birds with bright green feathers and a long tail. Males tend to have an iridescent sheen to their feathers, while females are duller – but still striking nonetheless!
Resplendent quetzals like to live in thick, dense forests and their call is surprisingly deep and melodious. They tend to live in pairs or small flocks and are pretty shy and quiet birds.
Sadly, quetzals aren't doing so well. Although they were once pretty common all over Costa Rica, they're now only found in a few remote areas, namely Monteverde Cloud Forest and Los Quetzales National Park.
3. Toucans
Toucans are pretty common throughout Costa Rica, especially on the Caribbean side of the country, and you should be able to spot them in most national parks.
Costa Rica is actually home to six different toucan species, the most famous of which is the keel-billed toucan, which is black with a bright yellow breast and green bill. Keel-billed toucans are super social, so you'll usually spot more than one at once.
What's really cool about toucans is that they don't tend to fly – their preferred method of travel is bouncing! It's always fun to see these brightly colored guys hopping around.
The Osa Peninsula, Carara National Park, La Fortuna, and Piedras Blancas are all excellent places to spot toucans, although as we say, they are one of the more common birds you'll see in Costa Rica.
Related Read: You can also see toucans and other birds at some of the best wildlife rescue centers in Costa Rica!
4. Hummingbirds
There are over 50 different species of hummingbirds in Costa Rica, so you're bound to see some on your travels! In fact, you'll see them pretty much everywhere you go.
However, cloud forests tend to have a particularly dense population of hummingbirds. In Monteverde Cloud Forest, for example, you're likely to see hundreds flitting about at once.
There are also 2 species of hummingbirds that can only be found in Costa Rica, so spotting these is an extra special experience. They are the mangrove hummingbird and the coppery-headed emerald.
As you can probably guess from the name, the mangrove hummingbird can be spotted in the country's many mangroves, while Monteverde Cloud Forest is one of the best places to see the coppery-headed emerald.
Related Read: Seeing hummingbirds on a sloth watching tour is one of the top cheap things to do in La Fortuna!
5. Crimson-collared tanager
The crimson-collared tanager is a songbird that likes to live in evergreen forests. It's a distinctive bird that's mostly black in color, except for its crimson rump and collar and blue-white bill.
These birds are not shy and they forage at all levels of the forest, so they're relatively easy to spot. There's a large population of crimson-collared tanagers in Costa Rica and they can be found in forests throughout the country.
6. Great green macaw
Just like its cousin, the scarlet macaw, the great green macaw is another bird with a great comeback story. They were once found all over the country but the population was severely threatened by the destruction of mountain almond trees.
However, thanks to efforts by local communities and the Ara project, the population is slowly recovering. They can be spotted in the same places as scarlet macaws: the Osa Peninsula and Carara National Park.
7. Jays
Costa Rica is home to a large population of white-throated magpie jays, which are noisy, social birds that tend to be pretty easy to spot. They have blue wings, tails, and mantles, while their breasts and underbellies are white. They can also be identified by the curved crest of feathers on their heads.
Magpie jays can most commonly be found in the Guanacaste Province, as well as Monteverde Cloud Forest and Carara National Park.
Related Read: Monteverde is also one of the best places to go ziplining in Costa Rica!
8. Vultures
Okay, so we know that vultures don't come with the most positive associations, but they're still really cool to spot. And remember, they do play an important role in the natural life cycle by eating dead flesh, as gross as that is.
There are four types of vultures that can be found in Costa Rica:
Lesser yellow headed vultures
Black vultures
Turkey vultures
King vultures
Lesser yellow headed vultures are common in the north of the country, while turkey and black vultures can be spotted throughout Costa Rica.
Meanwhile, king vultures are more unique. Unlike other species of vulture, they're mostly white and only their wings, ruff, and tail are black. The head, meanwhile, is yellow, orange, purple, and red. It's the rarest type of vulture and can only be found in the Osa Peninsula.
9. Owls
There are 17 species of owls in Costa Rica, including the spectacled owl, which is the largest and one of the most difficult to spot.
They tend to be found in dense lowland rainforests and cloud forests, such as Monteverde, so they live in several places throughout the country. One of the best ways to spot owls is with a night tour! This night trek through the Monteverde Cloud Forest is only $42 USD and gives you a chance to spot the vast majority of nocturnal creatures who call the forest home.
The Costa Rican pygmy owl is another of the country's most notable owl species, and with its fluffy, reddish-brown feathers, we have to say it's one of the cutest, too! This owl is most often found in the central highlands, such as in Los Quetzales National Park.
10. Eagles
If you're eager for eagles, Costa Rica is the perfect destination for you.
The harpy eagle is the largest eagle in the country, reaching up to 3 feet in length (that's almost 1 meter). Unfortunately, it's also severely endangered.
However, these elusive birds can still be found in the Osa Peninsula, often deep in Corcovado National Park. If you want to spot one, a multi-day Corcovado tour is your best bet. You'll get more time in the park including some epic hikes to spot these rare birds.
Although it's generally pretty rare, the ornate hawk-eagle can also be seen in lowlands forests throughout Costa Rica, and you'll know one is nearby when you hear a whistling call that also sounds a bit like a hiccup!
Related Read: If spending more time in Costa Rica is for you, these multi-day guided tours are great options!
11. Cotingas
There are 7 types of cotingas in Costa Rica, and they vary greatly in size, song, and color.
The snowy cotinga is the most common type you'll find, as they can be seen regularly around the Caribbean lowlands. These mid-sized cotingas are white in color.
One of the more striking cotingas is the crimson fruitcrow, which is bright red with brown wings. They can be found throughout the country in several rainforests and national parks.
Meanwhile, the lovely cotinga is the rarest type. The female is grayish brown while the males are brilliant blue in color with black tail feathers. Like so much of Costa Rica's rarest wildlife, this species can be found in the Osa Peninsula, as well as on Silent Mountain and Arenal Observatory Lodge.
12. Bare-necked umbrellabird
Last but not least we have the bare-necked umbrellabird, which is actually a type of cotinga. It's a black bird with a bright red chest and a plume that looks a bit like an Elvis hairdo!
Sadly, the bare-necked umbrellabird is endangered, with a global population of around 2,500. It lives in the Talamancan montane forests in Costa Rica, an area that includes Monteverde Cloud Forest and Braulio-Carrillo National Park.
The BEST Things to do in Costa Rica
While there are so many fun things to do in Costa Rica, a couple of specific attractions and activities stand out amongst the rest. They are:
Explore Volcanoes
There are some impressive (and beautiful!) volcanoes that you'll want to check out while you're here.
Poas Volcano is known for its bright blue crater lake. Poas Volcano is most commonly visited on a day trip from San Jose. This Poas Volcano tour from San Jose is one of the best you can do since it also includes a visit to the La Paz Waterfall Gardens as well as a coffee farm.
Arenal Volcano is also one of Costa Rica's top attractions. Arenal Volcano is located closest to the town of La Fortuna. You can book this full-day tour from La Fortuna that takes you to the volcano to hike, the famous La Fortuna Waterfall and even a hanging bridge – it's a full day of adventure!
Chase Waterfalls
La Fortuna Waterfall is one of our favorite waterfalls in all of Costa Rica. You can easily visit it on this full-day tour in La Fortuna that also visits hot springs.
Rio Celeste is another beautiful waterfall that is famous for its bright blue water. Rio Celeste is a popular attraction to visit from Guanacaste Province and this particular tour includes transport from there. Alternatively, you can book this tour from La Fortuna or this tour from San Jose.
See the wildlife
Costa Rica is the place for wildlife lovers! One of the best places to see lots of animals in their wild habitat is at Manuel Antonio National Park. With the help of a guide you will see plenty of birds, monkeys, and even sloths! This particular tour is super popular and also has amazing reviews, so you really can;t go wrong.
There are also lots of wildlife rescue centers around the country that are worth visiting. The Jaguar Rescue Center in Puerto Viejo is one of our favorites as well as Rescate Wildlife Rescue Center in San Jose where you can book this private tour.
Getting Around Costa Rica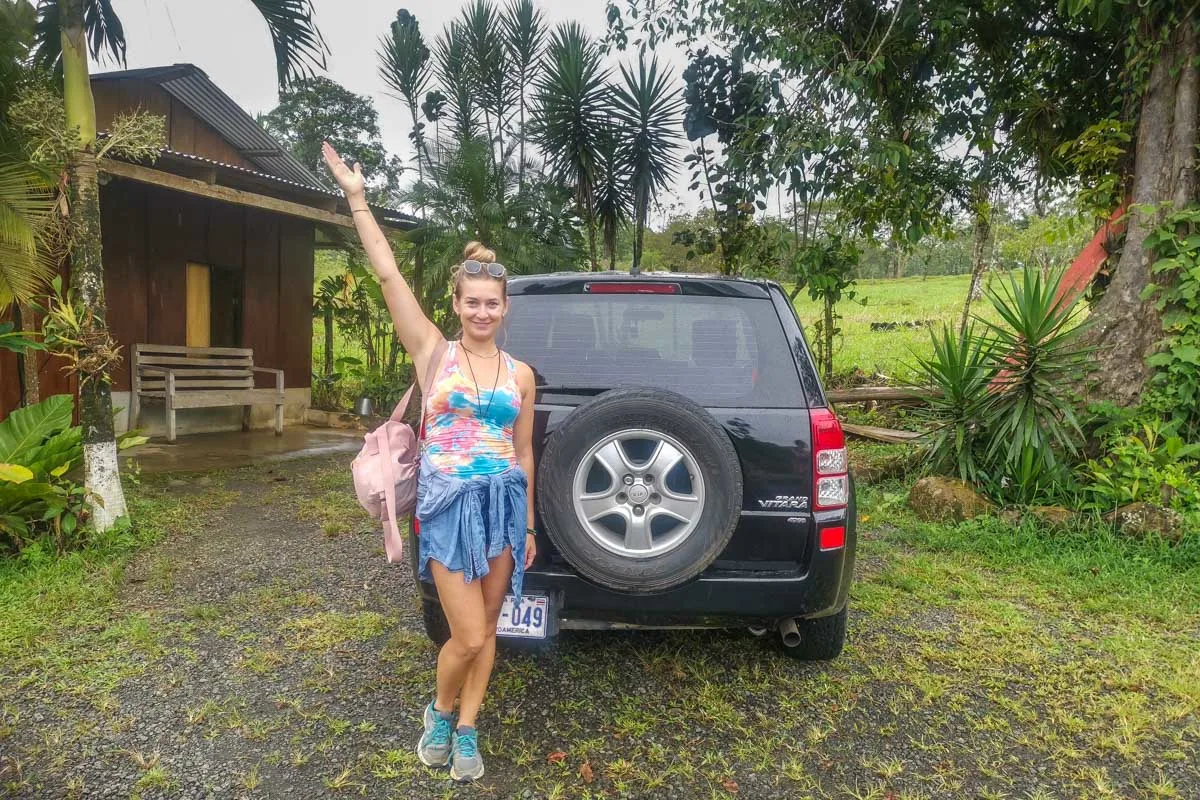 How you choose to get around Costa Rica is one of the biggest decisions you'll make when planning your holiday here! How you do it depends on your budget, travel style, and comfort level.
Renting a Car
Without a doubt, the number one way to explore Costa Rica is in a rental car. We book rental cars on the Discover Cars website as we have had good experiences with them in the past.
One of the things you need to watch for when renting a car in Costa Rica is the mandatory insurance that the government requires you to have. There are a lot of very cheap rentals that don't include this mandatory insurance (TPL) in the original booking price, but there are also ones that do. To avoid additional surprise charges when you pick up your rental car, be sure to rent a car that includes the mandatory insurance when you book.
Thankfully, on Discover Cars it's easy to tell apart the companies that include the mandatory insurance and those that don't. The trick is you can't pick any car on their website. In the picture below, you can see this rental car, with pick up in Jaco, includes the TPL. That means the mandatory insurance is included in the price. Any cover you get above that is extra.
Of course, I still suggest getting the full coverage offered by Discover Cars, which covers you even more.
You can browse cars on Discover Cars here.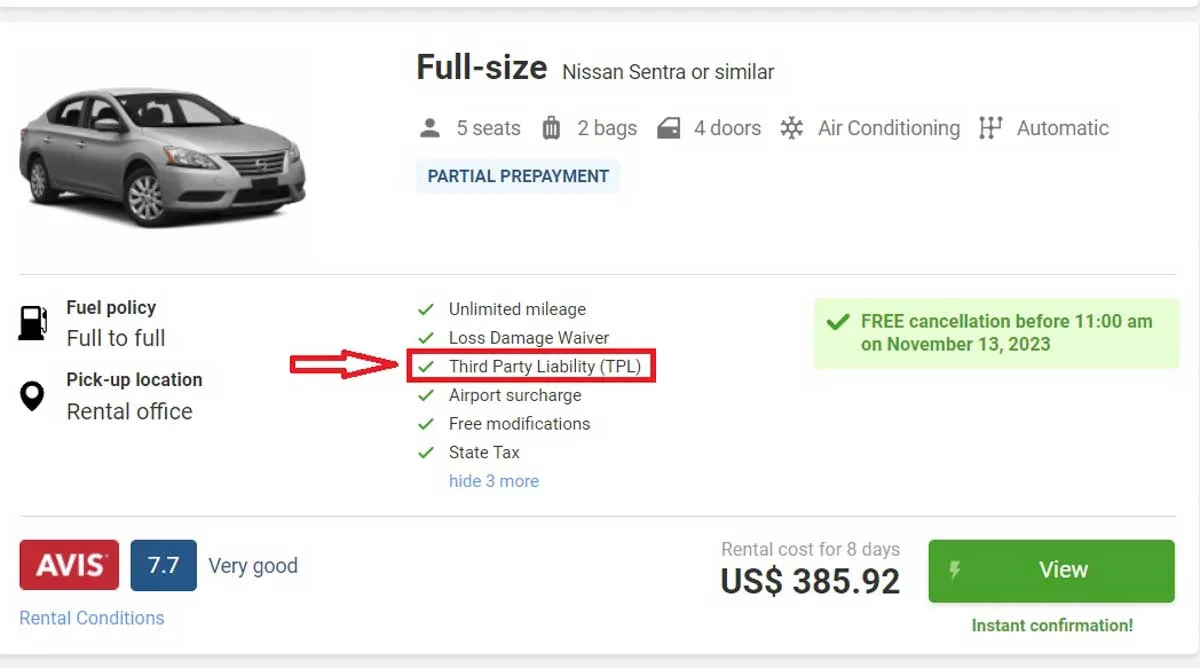 Adobe Rental Rent A Car is another rental company that we most often use in Costa Rica. We love them because Adobe has 15 offices around Costa Rica and delivers door-to-door around their offices at no extra cost. We also are pleased that all of their cars are new. In fact, they are never older than 2 years to the date. They are also the only company to include mandatory insurance and promise no hidden fees. You can get a free quote for a rental car from their website here.
Book Shuttles
If renting a car isn't in your budget, you don't feel comfortable driving in Costa Rica, or you just don't like driving, shuttles are the next best option. There are hundreds of shuttle routes available all over the country, and they are very affordable.
Shuttles in Costa Rica are specifically for tourists and often include pick up and drop off at your selected hotels and airports. The drivers also speak some English, and the vehicles have air conditioning. You'll also be guaranteed a seat when you book a shuttle (which isn't the case with the public bus system.)
To get the best price, use the website Bookaway. They compare all the offers and prices of shuttle companies in Costa Rica so you get the best price! Honestly, we have saved so much money using Bookaway!
You can search for shuttles online on Bookaway here.
Public Bus
Lastly, you can use the public bus system. On short journeys, such as from San Jose to La Fortuna or Uvita to Manuel Antonio, this system is great. However, the longer the journey the more hassle and time spent on a bus. It's undoubtedly best to save the public bus in Costa Rica for short and straightforward trips!
The public buses are definitely the cheapest way to get around Costa Rica, but they are not always very reliable and schedules often change without notice and delays are to be expected. The buses can also be very crowded and hot – so just be prepared!
It's also good to speak some Spanish if you plan on riding the public bus since most drivers and ticket booth operators don't speak English.
Thanks for reading!
There are so many birds in Costa Rica and there's something extra special about seeing them in the wild. Plus, if you happen to spot one of the rare ones (like the quetzal!), it feels like a big accomplishment! While our list only covers a fraction of the birds you can spot here, it's a great place to start whether you're an expert birdwatcher or just hoping to see a few while you're here.
Now that you know some of the top species and places to spot them, make sure you check out our other blogs for more ideas on places to stay, where to eat, and top activities to do while you're here. We fell in love with Costa Rica and want to help you discover this amazing country!
BEST Beaches in Costa Rica that You'll Love
Things to KNOW Before Visiting Caño Island, Costa Rica
BEST Places to go Whitewater Rafting in Costa Rica +Tips for Booking