One of the best parts of visiting Costa Rica is the abundance of outdoor activities and sights to explore! All over the country, you will find uniquely beautiful places, and the adventures are truly endless. Having lived in Costa Rica, I can easily say that one of my favorite activities was kayaking!
Kayaking in Costa Rica is an activity that anyone can take part in – even if you've never paddled a day in your life. It lets you get into areas that you wouldn't be able to otherwise. Just imagine exploring a mangrove forest, taking a night kayaking trip to see the magical bioluminescent algae, or having an adventure sport fishing!
While you could simply rent a kayak, I think there's something nice about booking a tour in Costa Rica that has the entire experience planned out for you. All the equipment is included and reserved just for you. Plus you get the benefits of free cancellation and the book now, pay later policy with Viator which comes in handy.
To help you plan your next adventure, we've put together this list of the best places and tours for kayaking in Costa Rica!
Best Places and Tours to go Kayaking in Costa Rica
1. Puerto Jimenez, Bio-Luminescence and Sunset Kayak Tour
Puerto Jimenez is one of Costa Rica's best-kept secrets. Its proximity to Corcovado National Park and Golfo Dulce (a great place for whale watching!) and other national parks and wildlife refuges make this a paradise for outdoor enthusiasts.
This is why the Bioluminescence and Sunset Kayak tour needs to be added to your Costa Rica "must-see" list if you're staying in Puerto Jimenez. This tour departs in the late afternoon so you have time to get out on the water and watch the sunset. In my opinion, few things are more beautiful in this world than a Costa Rican sunset.
But once it gets dark, the real magic begins!
The water turns a beautiful neon blue and green with the bioluminescent microorganisms that live underwater. It is seriously an awe-inspiring experience, with each stroke of your kayak paddle, the water below glows! You'll even have a chance to snorkel through the water and see the lights up close.
This tour is also a great chance to spot wildlife in Costa Rica. When we took this tour we saw dolphins swimming right next to our kayaks as we paddled! This was one of the best experiences in Costa Rica since the dolphins really put on a show for us!
We love that this is a small tour of up to 15 people, so it didn't feel too crowded. Included in this tour are local seasonal fruit as a snack, your knowledgeable guide, and all of the equipment for kayaking and snorkeling. You can book this excursion online for $62 USD.
2. San Jose, Sarapiqui River Tour
San Jose is the largest city in the country and is quite different from the pristine beaches and lush jungles people often associate with Costa Rica, but still very beautiful! While it certainly has the feel of a bustling city, it's a great launch point for day trips from San Jose, including going kayaking.
The Sarapiqui River is less than two hours from San Jose and this is the spot you'll leave for an epic Sarapiqui River tour. If you've ever wanted to combine whitewater rafting and kayaking (I didn't know I wanted to until I took this tour!), then this is the chance to do it!
You will meet at the Sarapiqui Outdoor Center near the launch point. You'll get a 1-hour introduction to white water kayaking where you will learn the basics before you hit the water! Once you are comfortable, your experienced guide will lead your group down the beautiful Sarapiqui River. You'll go through Class I and II rapids, which our guide called "mild rapids" so it was a good challenge for beginners but still a super fun time.
While on the river keep an eye out for tropical birds and other wildlife, perhaps you might even see a sloth, although I wasn't quite that lucky!
This is an awesome tour because once you learn the foundations of whitewater kayaking, you can take this skill no matter where you go. This tour is $75 USD per person and includes all the equipment, snacks and drinks, and your wonderful guide. If you're up for an adventurous kayak tour and you're staying around San Jose, make sure to book a spot on this tour online!
Related Read: San Jose is also a good base to join a coffee tour of Costa Rica. This country is known for amazing coffee after all!
3. Paquera, Bioluminescent Kayak Tour
The next one of the top spots to kayak in Costa Rica involves a bit of travel to get here, but its "hidden gem" status is well deserved! Paquera has some of the most beautiful beaches on the Nicoya Peninsula and the water is crystal-clear, so kayaking at night is extra special.
You'll need to hop on the daily ferry from the port town of Puntarenas or you can rent a car and drive here if you're traveling around the Guanacaste region. Another option is catching one of the daily buses from San José to Paquera.
One thing that makes Paquera so unique, is its "bio-bay" where you can see bioluminescent algae on this night kayaking tour! These microscopic organisms give off a glow, making the water light up at night. It is truly remarkable.
The tour starts at sunset, overlooking the bio-bay. You'll meet your guide and a small group of up to 10 for a safety briefing, refreshments, and getting set with all of your kayaking equipment.
When it begins to get dark, you'll slip your kayak into the calm water and have a full hour to explore the area. Here, you'll see the algae below light up as your paddle dips into the water. It is one of the prettiest things I've experienced!
Because Paquera is so remote, there is hardly any light pollution. This makes for one of the most starry skies I've ever seen. It was surreal to see the water lighting up below, and the millions of stars above!
This experience includes all the kayak gear, snacks, and your guide for only $36 USD! This tour is popular for a reason and tends to sell out, so make sure to book your spot here.
4. Manuel Antonio, Damas Island Estuary Tour
One of the most important ecosystems sits right outside of Manuel Antonio National Park. The Damas Island Estuary is home to a mangrove forest that is used for the conservation of endangered animals. This ecosystem is essential to wildlife including monkeys, sloths, birds, boa constrictors, and more.
I have done many mangrove tours in Costa Rica, and I never get tired of exploring this unique environment! I especially love kayaking tours from Manuel Antonio because you can get a close look at the mangrove's deep root system.
Here is your chance to explore this vast estuary too! This half-day tour takes you winding through the mangrove forest on a kayak. It gives you the opportunity to get into the area in a unique way and enjoy the natural beauty!
This tour departs from Quepos, or you can request pickup if you're staying in Manuel Antonio. You'll make your way to the estuary, all equipment and instruction are provided, and the guides lead the way.
The next few hours are relaxing as you paddle through the trees, taking in the scenery, and hopefully seeing lots of wildlife! The expert guides are a great source of information so you really understand the biodiversity of the area you are exploring.
Your day will end with a traditional Costa Rican lunch back in Quepos. Transportation, equipment, lunch, and your naturalist guide are included for $70 USD and you can easily book this tour online with Viator.
Related Read: Kayaking is hungry work, so make sure to pop into one of the restaurants in Manuel Antonio after your tour!
5. Manuel Antonio, Ocean Kayaking Tour
This area is one of my favorites because the long coastline provides gorgeous beaches and lots of water adventure activities, like surfing, parasailing, and sea kayaking. The big draw is Manuel Antonio National Park, which is quite stunning in itself, but there's also plenty to do in Manuel Antonio town!
If sea kayaking has been something you've always wanted to do, I suggest booking this half-day ocean kayaking tour. It's great for any skill level and lets you paddle on the open ocean!
You have the choice of single or double kayaks, so you can kayak as a couple if you're on a romantic getaway in Costa Rica!
It's a thrilling experience to paddle along the coastline and see all the marine life. Our guide was a great source of information as he told us all about the animals and sea life. Eventually, you'll make your way to a beach for a fresh pineapple snack and take a break from all that kayaking!
The tour will start and finish in the town of Quepos, or you can request a pickup from your local accommodation. It also includes a yummy lunch and if you need a vegetarian option, just let them know. It's a pretty sweet deal including transportation, lunch, snacks, a guide, and all your equipment for $78 USD.
If gliding on the ocean in a kayak sounds like a perfect day, make sure to book this tour with Viator here!
Why We Book Tours with Viator
Viator is a trusted online booking system for tours around the world! We almost always book our tours using Viator for a couple of reasons:
Free cancellation on most tours – Most of the tours on Viator allow you to cancel and get a full refund up to 24 hours in advance. This is handy in case plans change, or if booking an outdoor activity, the weather forecast is looking grim.
Reserve now and pay later – You can secure your spot on some of the most popular tours well in advance and not pay until closer to the day of the tour.
Pay in your chosen currency – Avoid costly international transaction fees by choosing to pay in your home currency.
Peace of mind – When booking with tour operators you find in person on the street or in small booking offices, you are often promised one thing and given another. This online platform holds tour operators accountable with a written description of inclusions as well as the opportunity for customers to leave reviews.
Check out the Viator website here!
6. Tortuguero, Tortuguero National Park
Tortuguero is a small town on the Caribbean side of Costa Rica. This town and national park are named after the turtles that use this area as their nesting ground! While it is very cool to visit during nesting season, there is plenty more to explore at any time of year.
Getting to Tortuguero takes a little planning. There are no roads that reach the town, it's connected by canals and rivers that lie in the dense jungle and eventually lead to the beach. To get here, you have to either take a small plane from San Jose or a boat from the nearby city of Puerto Limon.
Because there are so many rivers that surround Tortuguero National Park, what better way to experience it than by kayak?
This three-hour kayak tour begins early in the morning at 6 am, as that is the best time to see animals! You will meet your guide in the town of Tortuguero and head to the national park. Here, they lead you on a leisurely paddle through the rivers and canals, taking in the dense jungle. This remote jungle is really unlike anything I've seen before!
This tour is great because you truly can see so much wildlife like sloths, howler monkeys, birds, and alligators – be sure to keep those fingers out of the water!
This tour includes transportation, equipment, and guides for $45 USD. This is a great way to start your day and a truly unique way to experience this beautiful part of Costa Rica! You can book a spot on this small-group tour online.
7. Samara, Ora River Tour
Samara is the perfect location to spend a week in Costa Rica. This quaint town is known for its tranquil beaches and the surrounding forest and wildlife. The downtown is filled with restaurants and cute shops that lead right down to Samara Beach. The water here is much calmer than in the neighboring towns of Santa Teresa and Nosara, so it makes for a perfect place to swim, kayak, and have a chill beach day.
Because of its proximity to so many activities, staying in Samara is a great choice. You can use Samara as a launch point for various tour excursions, such as this kayaking trip. You'll spend the day exploring the Ora River. This river is lined with mangrove trees, which are home to many animals like herons, monkeys, iguanas, and if you're lucky you'll catch a glimpse of a sloth!
This tour is great for those who have never kayaked before, or if you're after a relaxing day on the water. While some of the kayaking tours in Costa Rica on our list are more adventure based, this one is certainly a chill day paddling through the mangroves.
You will eventually make your way to a beach where turtles lay their eggs! Here, you'll have a snack, take a break, and enjoy the views.
What I really love about this tour is that it offers hotel pickup from Samara or Carrillo, so it makes your day super easy! For $53 USD, you can book this tour online for a relaxing day that includes kayak equipment, snacks, transportation, and guides.
8. La Fortuna, Peñas Blancas River
La Fortuna is the place to be for adventures! Located right at the base of one of the must-see volcanoes in Costa Rica, the Arenal Volcano, there is no shortage of activities to be done here! Ziplines, hot springs, hiking, and more, you would need to spend at least a few days here to even scratch the surface.
I actually loved this area so much that I lived in La Fortuna for a while! The surrounding wildlife, outdoor recreation, and fun downtown are a draw for many, and I would recommend it to any traveler.
One of my favorite tours I did in La Fortuna was taking this Kayak Safari tour. The focus of this tour is kayaking, of course, but also seeing wildlife. This area is perfect for spotting howler monkeys, sloths, iguanas, birds, and more!
The tour takes off from Flow Trips headquarters right in La Fortuna. You will be kayaking down the Peñas Blancas River, which is right out of town. This tour is suitable for all skill levels and doesn't require any previous kayaking experience. You can also choose a single or double kayak for the exact same price.
The guides are truly impressive, they have quite the eye and I am always in awe of the animals they can spot hiding in the trees! They are also knowledgeable and enthusiastic about the area.
At the end of the tour, you'll get to try some traditional Costa Rican food! The tour is $55 USD which includes equipment, transportation to the river, snacks, and your expert guide. The group is limited to only six people, so make sure to book a spot before it fills up!
Related Read: If you're traveling on a budget, these are the best free and cheap activities in La Fortuna that you'll want to check out!
9. La Fortuna, Lake Arenal Tour
Just outside La Fortuna is Costa Rica's largest lake, Lake Arenal! It's right below the Arenal Volcano, so the views of the volcano are pretty impressive. The lake also provides hydroelectric power for the country, so you'll see large wind turbines on the rolling hills above.
Without a doubt, I think the best way to experience Lake Arenal is to get out on the water! This kayak tour gives you an entire afternoon to explore the lake, although it's so big you certainly won't see the whole thing! But, it makes for a fun adventure and is good for both experienced kayakers and first-timers.
You'll start the tour by being picked up from your hotel and brought to the lake. After some instruction, you will get on the water and begin exploring. The area surrounding the lake is a dense jungle that makes for a gorgeous lush green backdrop.
One of the main highlights of this tour is all the animals you can see. There is no shortage of beautiful birds in this area and it's pretty likely you'll hear howler monkeys like we did – these guys are loud!
After about two hours of paddling, you will visit an island on the lake to explore the beach and have a fresh fruit snack.
I love this area since the lake is calm and relaxing, and just overall stunning! Hotel pickup, transportation, kayak equipment, and the guide are included in the price of $68 USD. For a day on the lake, reserve your kayaking adventure on Lake Arenal online here!
10. La Fortuna, Kayak Fishing on Lake Arenal
Another outdoor activity that is widely popular in Costa Rica is fishing. So why not combine the two on this kayak fishing excursion!
Lake Arenal is a great spot to reel in a catch. Some of the most common fish in the lake include mojaras, tilapia, tiger bass, crawfish, catfish, and rainbow bass, known locally as "Guapote", which translates to "the handsome one" thanks to its bright colors.
We love this kayak fishing tour because not only do you get to have a fun morning casting a line, but you also get incredible views of Arenal Volcano! Your tour begins quite early with a 5 am hotel pickup (the early bird gets the fish right?!).
You can take the tour as a couple or with up to four people for $142 USD each. I think it's a huge bonus that this is such a small tour. The guides do this nearly every day, so can give tips and know the best spots where the fish will be biting!
Specialized fishing kayaks and all fishing gear are included in the tour. It's scheduled to last for four hours, although it can go longer if the fishing is good. Hotel pickup and transportation, as well as all the fishing gear, snacks, and your expert fishing guide (who is full of great tips!) are all included. This awesome experience can be booked online!
Getting Around Costa Rica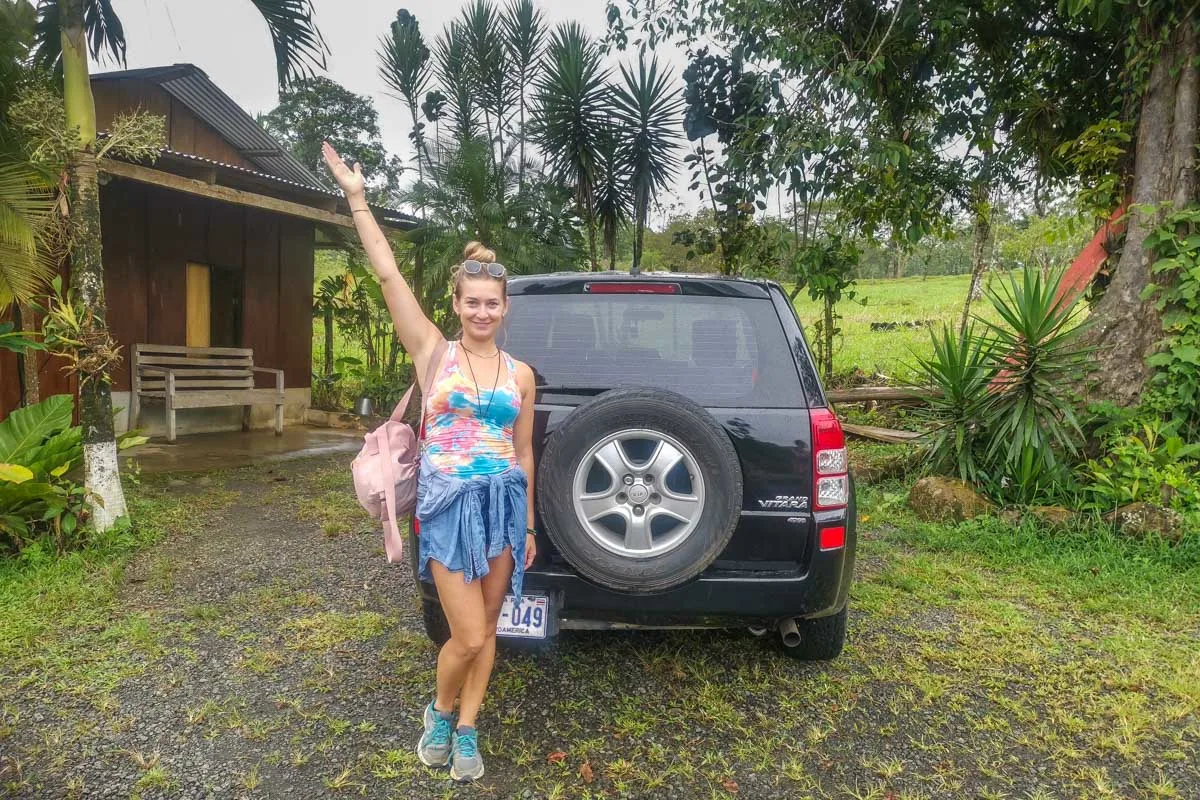 How you choose to get around Costa Rica is one of the biggest decisions you'll make when planning your holiday here! How you do it depends on your budget, travel style, and comfort level.
Renting a Car
Without a doubt, the number one way to explore Costa Rica is in a rental car. We book rental cars on the Discover Cars website as we have had good experiences with them in the past.
One of the things you need to watch for when renting a car in Costa Rica is the mandatory insurance that the government requires you to have. There are a lot of very cheap rentals that don't include this mandatory insurance (TPL) in the original booking price, but there are also ones that do. To avoid additional surprise charges when you pick up your rental car, be sure to rent a car that includes the mandatory insurance when you book.
Thankfully, on Discover Cars it's easy to tell apart the companies that include the mandatory insurance and those that don't. The trick is you can't pick any car on their website. In the picture below, you can see this rental car, with pick up in Jaco, includes the TPL. That means the mandatory insurance is included in the price. Any cover you get above that is extra.
Of course, I still suggest getting the full coverage offered by Discover Cars, which covers you even more.
You can browse cars on Discover Cars here.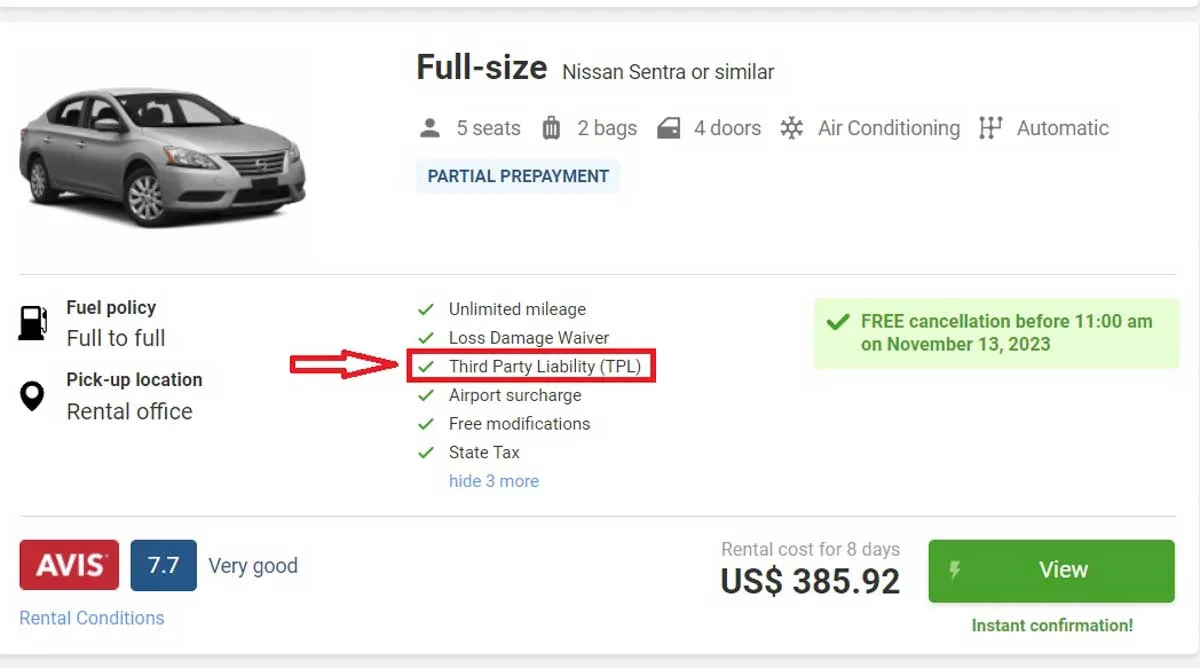 Book Shuttles
If renting a car isn't in your budget, you don't feel comfortable driving in Costa Rica, or you just don't like driving, shuttles are the next best option. There are hundreds of shuttle routes available all over the country, and they are very affordable.
Shuttles in Costa Rica are specifically for tourists and often include pick up and drop off at your selected hotels and airports. The drivers also speak some English, and the vehicles have air conditioning. You'll also be guaranteed a seat when you book a shuttle (which isn't the case with the public bus system.)
To get the best price, use the website Bookaway. They compare all the offers and prices of shuttle companies in Costa Rica so you get the best price! Honestly, we have saved so much money using Bookaway!
You can search for shuttles online on Bookaway here.
Public Bus
Lastly, you can use the public bus system. On short journeys, such as from San Jose to La Fortuna or Uvita to Manuel Antonio, this system is great. However, the longer the journey the more hassle and time spent on a bus. It's undoubtedly best to save the public bus in Costa Rica for short and straightforward trips!
The public buses are definitely the cheapest way to get around Costa Rica, but they are not always very reliable and schedules often change without notice and delays are to be expected. The buses can also be very crowded and hot – so just be prepared!
It's also good to speak some Spanish if you plan on riding the public bus since most drivers and ticket booth operators don't speak English.
Invest in Travel Insurance
Paying out of pocket for trip interruptions or medical treatment will add to what might already be a stressful situation. Not to worry, SafetyWing is here to help!
This affordable travel and medical insurance is perfect for digital nomads, long-term travelers, and remote workers. The best part is that it only costs $45 USD per 4 weeks.
To start coverage you must purchase it after leaving your home country. We usually purchase it as soon as we land at the airport.
Since using SafetyWing we've been reimbursed thousands of dollars when we've gotten sick. During the pandemic, they've even gone as far as to pay for our last-minute flights back to Canada before the border closed!
Pura Vida!
There's just something about seeing Costa Rica from a kayak that I love! It satisfies my adventurous spirit and gives me a bit of peace and quiet to take in the beautiful scenery. If you're considering going kayaking in Costa Rica, hopefully, this guide has helped you find out where to go and some of the best tours available.
If you need more ideas or travel inspiration for your trip, make sure to have a look at our other blogs about Costa Rica. We fell in love with this country and are always discovering new things that keep us coming back!
8 BEST Places to go Snorkeling in Costa Rica +Tips Before you go!
15 BEST All-Inclusive Resorts in Costa Rica (Our Unbiased Opinion!)