If you're planning a vacation to the Guanacaste region of Costa Rica, lucky you! It's one of my favorite places to visit in Costa Rica because not only is it exceptionally photogenic, but it's also home to chilled-out surf towns, golden sand beaches, and plenty of bucket-list-worthy activities like ziplining, scuba diving, and horse riding.
There are over 400 miles of Pacific Coast here in the Guanacaste, and it's surrounded by lush mountains, including the active Rincon de la Vieja Volcano (one of the best volcanoes to visit in Costa Rica!)
Of course, the surfing here is among the best in Costa Rica, as you'll learn below. So, if surfing is your sport of choice, consider a vacation to Guanacaste next.
What makes the region even more appealing is its unique climate – it doesn't have a 'rainy' season, and it is, in fact, the driest part of Costa Rica. So, if you're looking to vacation somewhere with pretty much guaranteed good weather, then head to the Guanacaste.
In this blog post, I list 7 of the best towns in the region and detail 15 of the best things to do in Guanacaste (hint – there's fishing, surfing, and waterfall chasing, to name but a few). There's pretty much every adventure activity you can imagine available here!
About Guanacaste, Costa Rica
Guanacaste is one of the provinces situated partly on the beautiful Nicoya Peninsula, together with the Puntarenas province. This 121-kilometer stretch of the Pacific Coast is easily one of the most naturally beautiful places in Costa Rica, if not the world.
Guanacaste is nestled between Nicaragua in the North and the Nicoya Peninsula to the South. It's known as Costa Rica's "gold coast," thanks to the dozens of golden sand beaches here. As such, it's a very popular tourist destination, particularly with surfers who visit this region to surf at some of the best surf spots in the world; these include Witch's Rock near Playa Flamingo and Playa Guiones near Nosara.
Interestingly, the part of Guanacaste on the Nicoya Peninsula is one of only five Blue Zone areas globally, which means that people here live the longest and are among the healthiest people in the world. This "Pura Vida" lifestyle has attracted people to the area for decades.
Some noteworthy towns in Guanacaste include Tamarindo, Nosara, and Samara – all large towns with lots of restaurants, hotels, all-inclusive resorts, and activities. Nosara is a more upmarket town with a great surf beach (Playa Guiones), and it's also known worldwide as a great place to practice yoga.
On the other hand, Tamarindo is a well-known party town that is also home to a very pretty golden-sand beach. While the small town of Samara has a more hippie vibe and is home to gorgeous and secluded Playa Izquierda.
Some smaller towns on the Nicoya Peninsula include Playa Flamingo, which I've mentioned earlier as being the gateway to one of the best surf breaks in the world out at Witch's Rock, and Playa Coco, a small town that also knows how to party!
Regardless of what you want from your vacation, Guanacaste is sure to have just what you need!
Getting around Guanacaste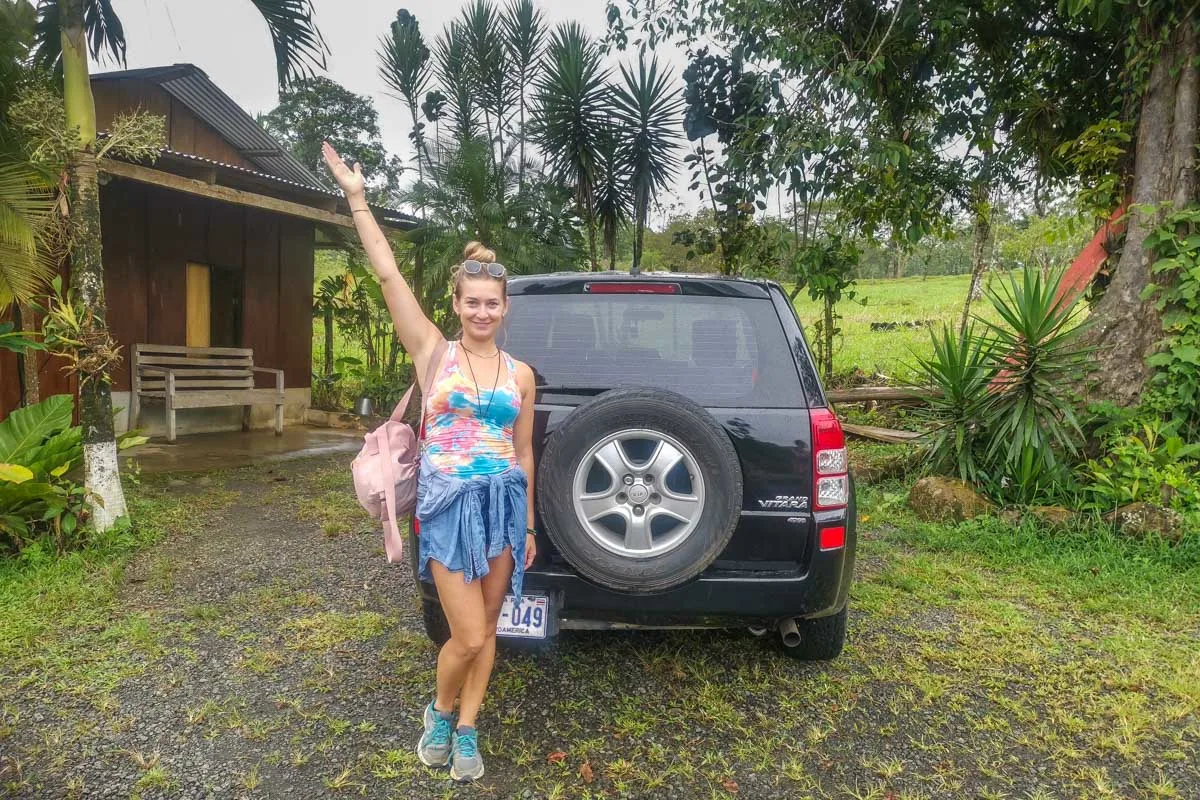 Most tourists come to the Guanacaste from Liberia Guanacaste International Airport, one of only two International Airports in Costa Rica. There are daily flights here from elsewhere in Costa Rica and worldwide destinations (most commonly from North America and Europe). Liberia International Airport is just outside of Liberia and is a short drive to other well-known destinations in the Guanacaste like Playa Coco and Playa Flamingo.
You can get a short domestic flight from Liberia Airport to Tamarindo Airport; this flight only takes 10 minutes, but there aren't many flights doing this route weekly, so I don't recommend this option.
It's only an hour and 10-minute drive between Liberia Airport and Tamarindo, so I recommend driving it yourself. You can easily rent a car from the airport. Towns like Playa Coco (a 30-minute drive) and Playa Flamingo (an hour's drive) are also an easy drive from the airport. However, Nosara (2.5 hours drive) and Samara (2 hours drive) are further, so that's important to remember when planning your trip.
You can get a taxi/ uber for between $70 – $150 USD, depending on your final destination in Guanacaste. Alternatively, a shuttle service operates from Liberia Airport to many towns on the Guanacaste, including Tamarindo, Nosara, Samara, and Playa Flamingo – this starts at only $20 USD per person one-way.
You can catch the public bus with Transportes La Pampa, which stops at both Tamarindo and Playa Flamingo if you're on a budget. This bus leaves every hour and costs just 1400 colones ($2.30 USD), but you may need to head out to the main road from the airport to flag this down as sometimes it doesn't turn into the airport! You can search the route here, and there is a number to call for more info. Personally, I just take the shuttle.
Some tourists come to Guanacaste from San Jose International Airport, the other International Airport in the country and the largest one. If you land at San Jose International Airport and have a rental car, you can easily drive to the Guanacaste; it's a 3-hour 25-minute drive without stops and takes you via Route 27 and Interamericana North Route 1. If you don't have a rental car, you can hire a private driver or catch a cab, but considering the distance, this will be costly!
Once you've arrived in Guanacaste, you will notice that the roads here are not in the best condition – especially to the south near Samara and Nosara. So if you want to drive yourself and explore the area, it is recommended to rent a 4WD car. With that said, those only visiting Tamarindo or Playa Flamingo won't need a 4WD. The road along this section from San Jose is in great condition.
For getting around each town, it's pretty easy to bus around in the north between Tamarindo, Playa Coco, and Playa Flamingo. The same can be said for Nosara and Samara. However, when it comes to connecting towns to the south (Samara and Nosara) with towns to the north, shuttles in Costa Rica are the best way to travel. Although this can be done via bus, the routes require multiple bus changes and can take most of the day.
Related Read: Check out the best free and cheap things to do in Tamarindo!
7 Most Popular Places to Visit in Guanacaste
1. Tamarindo
Tamarindo is one of Costa Rica's most visited tourist destinations and the most popular in Guanacaste. Home to beautiful beaches, an electric atmosphere, and all the comforts one could want, Tamarindo shouldn't be overlooked for a beach getaway.
In fact, Tamarindo beach is one of the prettiest in the region, with golden sand and backed by lush green mountains.
For many, Tamarindo is ideal for a short holiday because of the town's location close to Liberia – home to one of Costa Rica's international airports. On top of that, Tamarindo is safe – an important factor when choosing a place to visit abroad. Plus, the town here is lined with lots of great restaurants and boutique shops. Tamarindo pretty much has everything you need from a vacation town.
Although many come to unwind, don't miss the chance to get out and explore all the best things to do in Tamarindo. Some of the best activities available in this vibrant town include relaxing on a sunset catamaran cruise, catching some huge fish on a sports fishing adventure, and drinking craft beer. In fact, Tamarindo is a well-known party town in the Guanacaste region, and if a good night scene is important to you on vacation, then this is the town for you.
Popular sights like La Leona waterfall and Rio Celeste are within easy reach of the town. What's pretty cool, too, is that you can see turtles nesting at Playa Grande, which is next to the main beach in Tamarindo! This phenomenon is seasonal, though.
As with most of the other beachside towns in Guanacaste, Tamarindo is popular with surfers, although its calm waves attract more beginners than advanced surfers.
Where to Stay in Tamarindo
There are so many options for places to stay in Tamarindo. There are over 100 hotels and hostels in the downtown area catering to all types of travelers and their budgets.
The Selina is a good option for budget travelers, and I have personally stayed here. It's an upper market hostel with a great atmosphere and pool. The location is also near the beach, and the dorm rooms and privates all have AC. You can book Selina Tamarindo on HostelWorld or Booking.com.
If you'd prefer a little more luxury, the Tamarindo Bay Boutique Hotel comes with gorgeous rooms, a large pool, and a modern and sleek design. However, the location is slightly back from the beach, not for families. Instead, those traveling with kids will love Hotel Villa Amarilla, which offers large quadruple rooms and is right on the beach. The only drawback is they don't have a pool.
2. Samara
The sleepy coastal town of Sámara is often the go-to choice for a family getaway in Costa Rica.
Sámara's rather protected bay means the swells here are much calmer than in nearby towns like Nosara and Playa Flamingo. So, if you want to surf some 'easy waves' or are new to surfing, then Samara is the place for you!
Samara beach is exceptionally pretty, with palm trees lining the beach and golden sand. This charming town (it's more of a village, to be honest) is known for its safe atmosphere, and because of that, it's an ideal beach destination for both families and couples in Costa Rica.
On top of that, Sámara is home to tons of amazing things to see and do. A short 25-minute drive away is Belen Waterfall, which has some gorgeous natural pools for you to cool off in. The marine life in the waters around Samara is fantastic too, especially out at Isla Chora, a small island part of the reef that protects Sámara from heavy ocean swells. On a snorkeling tour, you can see turtles, pufferfish, and lots of small colorful reef fish.
Along the beach in Samara, you'll see lots of fantastic restaurants that serve unique cuisines, including homemade delicacies, seafood, yummy juices, locally brewed coffee, healthy salads, meats, and plenty of vegan options. There are several beach clubs dotted along the beach, and these are great places to watch the sunset with a drink in hand.
Sámara really is a top choice in Guanacaste!
Where to Stay in Samara
If you're on a budget, there are many options, but not many are good. Las Mariposas is my top choice, with its location only 100 meters from the beach. The hostel has a great atmosphere for meeting other travelers and is suited for the social backpacker. You can book this place on Hostelworld or Booking.com.
If you consider yourself a mid-range traveler, I have two great choices for you (both catering to couples and families). The first is Hotel Entre Dos Aguas, a rustic hotel with simple amenities on a beautiful property, perfect for those who want a true Costa Rican stay.
Read our detailed guide about deciding where to stay in Samara with the best hotels and areas!
3. Nosara/ Playa Guiones
Nosara was once considered a hidden gem, but today, this slice of paradise is a thriving tourist town attracting people (mainly surfers) worldwide. This small town was put on the tourist map thanks to the epic waves at Guiones Beach (also known as Playa Guiones); there are both left and right breaks to be caught on this 7 km stretch of beach.
Playa Guiones is also where I recommend basing yourself during your vacation to Nosara, as it's where everything happens, and all the best restaurants and boutique stores are located here. On the other hand, Nosara town is not near the beach and is quite quiet (it doesn't have a lot going on!)
I should mention that Nosara is considered an 'expensive' destination in Guanacaste, and accommodation and eating out can be costly. However, considering the awesome surf here as well as it being a very safe town, I still recommend it to visitors to Costa Rica. Nosara is popular mostly with families, couples, and surfers!
As well as being a surf mecca, Nosara is also a well-known yoga destination. So, if you're into that kind of thing, it should definitely be added to your list. Nearby the town, you can check out the Nosara Biological Reserve. This 90-acre nature reserve is home to an abundance of wildlife, and if you want to get your adrenalin pumping, why not check out the 21 ziplines at Miss Sky, which is considered the longest canopy tour in the world!
Where to stay in Nosara/ Playa Guiones
As I mentioned earlier, you want to stay near Playa Guiones, not in Nosara. The town of Nosara is not near the beach and is also not where all the best restaurants and shops are, and they are all in a small downtown area near the beach.
For budget travelers, stay at Selina Nosara. This hostel is definitely a luxury hostel, and the price reflects that, but, in my opinion, it's worth spending the extra $$$. Selina boasts a beautiful pool and offers a heap of free activities daily. This is without a doubt the nicest hostel I have ever stayed at! You can book this hostel on Booking.com or Hostelworld.
If you have a bigger budget, you will have more options available to you in Nosara. My top choice is The Sunset Shack which averages around $250 USD a night. It's perfectly located, close to the beach, and has a pool.
4. Ostional
Playa del Ostional is home to one of the most amazing wildlife phenomena in Costa Rica. An arribada, as it's called, is when hundreds of turtles come to shore to dig and lay their eggs on a beach at once.
The event happens in the rainy season, around one week before a new moon. Playa del Ostional is a 20-minute drive (9.9 km) from the town of Nosara. There's not much happening in Ostional other than the turtles; there are very few accommodations and restaurant options, so not many people spend the night here.
Instead, they stay in Nosara and book a tour to come see the turtles here. If you decide to spend the night in Ostional, you will have the place pretty much to yourself!
There are many tours to Playa del Ostional from Nosara to see the turtles, and they start from $60 USD per person. A more in-depth tour can be booked with the Wildlife Conservation Association which is outlined in our things to do in Nosara blog!
Where to Stay in Ostional
As I've said, there are limited accommodation options in Playa Ostional, but Cabinas Arribadas is a great, reasonably-priced option just 700 meters from the beach. It also features a restaurant, a large garden, and a shared lounge. The rooms here are shared dorm-style. You can book a bed on booking.com
Another option is Villas Punta India which is a little further from the beach (a 12-minute walk away), the villas here are spacious and stylish, and there's also an outdoor pool and restaurant.
5. Playa Flamingo
With stunning beaches, water activities galore, and the most beautiful sunsets, Playa Flamingo is an incredible destination in Costa Rica. It's also only an hour from Liberia International Airport, which is handy!
There aren't any flamingos to be found here (despite its name), but the sand on the beach here does have a slightly pink hue, which is where the beach got its name. The mile-long stretch of beach here, combined with the turquoise water and the crescent shape of the curved bay, makes for spectacular views.
Once you've arrived in Playa Flamingo, you'll notice the layout of the area is different from other towns in Guanacaste. There aren't any services located directly on the beach, but there are a small number of vendors selling everything from drinks and snacks to small souvenirs or rentals of umbrellas and beach chairs. There are restaurants and stores on both ends of the beach, though, together with some hotels/hostels.
The town is just a short walk from the beach and is mostly perched on the hillside looking south to Flamingo Beach or north to Potrero Beach. It's a small town, but there's everything needed to comfortably base yourself here for a few days.
While a beach day is a must, there are many other fun activities to do in and around Playa Flamingo, like witnessing an active volcano at Rincon de la Vieja National Park and horseback riding along the beach here. But the most popular and most famous thing to do here is to surf the iconic Witch's Rock, just North of Playa Flamingo. It's only suitable for advanced surfers, and many famous surfers have been spotted here! So, if you're a keen surfer, you just have to add Playa Flamingo to your must-visit list!
Where to Stay in Playa Flamingo
Unfortunately, there aren't many options in Playa Flamingo for budget travelers, but thankfully Massai Apartments is wallet-friendly and highly recommended. This beautiful hotel has fantastic reviews, a pool, and its apartments come with full kitchens! The hotel is a short walk to Playa Flamingo, and you're also not far from Playa Potrero.
Those that can spend a little more will be able to enjoy places closer to the ocean. Most of the options for those on a mid-budget are individual apartments. These are great, and some of the best are Oceanica 827, Sunset Heights 402, Flamingo Villa #12, Oceanica 804, and more. Browse them all on Booking.com, but these provide a luxurious and private place to stay for the price.
6. Liberia
In the heart of Guanacaste province is the city of Liberia. It's nicknamed La Ciudad Blanca (the white city) for the white gravel once used on the city's roads and the whitewashed buildings around town.
Chances are you may find yourself in this city at some stage during your trip to the Guanacaste as it is home to one of only two international airports in Costa Rica – Liberia International Airport. This is an excellent starting point for your vacation – even if you don't plan to stay right in the city.
Liberia really is the perfect gateway to the amazing beauty of the Guanacaste region as it's centrally located with a lot of different easy day trips nearby. There's loads to do in Liberia, from a tour to see one of the most spectacular waterfalls in Costa Rica, chocolate tours, a mini-African safari, great craft beer breweries, and exploring Parque Nacional Palo Verde, a 45,000-acre national park that is home to the most migratory birds in the whole of Central America.
Where to Stay in Liberia
For budget travelers, Hostel Dodero is arguably the top choice. Not only is the hostel bookable on Booking.com and HostelWorld, but it's also centrally located, clean, comes with friendly staff, and is well-reviewed!
For those with a moderate budget, Best Western El Sitio Hotel & Casino is a good option in town. The hotel has a pool, includes breakfast, a fitness center, and modern rooms.
7. Playa Coco
Considered one of the fastest-growing tourist towns in Guanacaste, Playa Coco, or 'Coco Beach' as tourists like to call it, is home to a 3 km stretch of beach as well as a small town. It's most well-known for its incredible scuba diving sites like Monkey Head, Bat Islands, and Catalinas Islands and the awesome fishing to be done in the waters here.
It's also just a 30-minute drive away from the International Airport in Liberia, so it's where many tourists decide to start their vacation in Guanacaste.
The town itself is small and consists of one main street with numerous bars, restaurants, stores, and accommodation options. Unlike other towns on this list, you can't surf at Cocoa Beach; although skimboarding is popular here instead. You will need to head to Witch's Rock if you're an advanced surfer or Tamarindo Beach if you're a beginner. Other activities available here include snorkeling at Marin del Rey or Kuna Vela, kayaking, or simply watching the sunset from the beach.
Playa Coco is a small town, that's for sure, so you may be surprised to learn that it's a lively party town. Yep, the town comes alive at night – there are many bars dotted along the main street, and they often have live music and drink specials. If you're in town during a holiday (Christmas, New Year, etc.), be prepared to party, as the bars here really put on a show during the holiday season.
Where to Stay in Playa Coco
If you're on a budget in Playa Coco, consider Hotel Savannah – just a 9-minute walk from the beach with an outdoor pool and a shared lounge, a shared kitchen, and a lovely garden area. The rooms here are basic but comfortable.
For mid-range travelers, consider Toro Blanco, a lovely hotel just 150 meters from the beach – there's even a swim-up bar and pool, which is pretty cool! As well as that, each apartment here has its own equipped kitchenette.
15 Best Things to do in Guanacaste
1. Explore Rincón de la Vieja National Park
The Rincon de la Vieja National Park is home to the largest and most active volcano in Guanacaste, with the Rincón de la Vieja Volcano and the dormant Santa Maria Volcano located within this giant national park. It's a whopping 35,000 acres in size and is also home to the Rio Negro Hot Springs, waterfalls, and hiking trails. It's undoubtedly one of the best National Parks in Costa Rica.
As well as that, there's an awesome adventure center here that offers horseback riding, ziplining, and tubing (mentioned below in more detail on the Guachipelin Adventure Volcano tour.)
The Rincón de la Vieja Volcano is 600,000 years old, and its last large eruption was back in 1998. In fact, it still bubbles and produces steam to this day. Directly translated from Spanish, the park means 'the old woman's corner' and is named so by the native tribe who believe a witch at the top of the mountain causes it to bubble and steam (like a cauldron!) While you can explore this park on your own, tours are quite popular here.
There are two entrances to the national park. The most popular is Las Pailas to the west and Santa Maria to the north.
As I mentioned earlier, there are some great hiking trails; I recommend the short 20-minute trail to the Las Pailas (boiling mud pots) – a cool feature of the area where the mud is so hot it bubbles in small pools! Another good hike is the Catarata La Cangreja trail (about 3 miles each way) which leads to a beautiful waterfall. There are also guided hiking tours on offer here, such as this tour.
The National Park is around an hour drive from Liberia. One of the best ways to get here from Liberia is by booking a full-day adventure tour. This tour includes transportation and incredible activities like ziplining through the tree canopy, stunning waterfalls, horseback riding, water sliding, a spa visit complete with a mud bath and hot springs, and even lunch!
While the park is just over two hours from both Playa Flamingo and Tamarindo. This tour from both towns is highly recommended and is 8 to 10 hours in duration. This tour is less about adventure activities and more about the national park.
For thrill-seekers, there are a lot of tour companies selling full-day combo tours to Parque Nacional Rincon de la Vieja. Common inclusions are ziplining, hot springs, tubing, and horseback riding. This Guachipelin Adventure Volcano tour is an insanely popular tour choice because on this 10-hour tour; you're certain to get your adrenaline pumping with ziplining, horseback riding, and tubing.
It also includes a visit to natural hot springs, a volcanic mud bath, and a full buffet lunch. You can drive yourself to the National Park to start this tour, or for an extra fee get transportation included. There are numerous pick-up locations throughout Guanacaste, including Liberia, Playa Flamingo, Playa Coco, and more!
Rincon de la Vieja National Park is open Tuesday to Sunday (closed Mondays) and costs $17 USD for adults and $5.60 USD for kids – if you don't have a tour booked.
2. La Leona Waterfall
Getting up close to one of Costa Rica's spectacular waterfalls is something you have to do while you're here and is one of the top Guanacaste activities. La Leona is definitely a place worth visiting. Until now, La Leona Waterfall has been a hidden gem, but its beauty has made its popularity rise in recent years.
This gorgeous waterfall sits within a canyon and the water running through it is turquoise blue. It's one of the few, if not the only, waterfall in Costa Rica with these characteristics. Its water comes from the "white river" or "Rio Blanco" that finds its source in the skirts of the Volcano Rincon de la Vieja.
The best time to go to La Leona Waterfall is between December and April in the dry season (also the best time to visit Costa Rica, in general.) This is because it's easier to walk through the river and trails at this time of year, outside of these months, the excessive rain can turn the river brown, and the waterfall can lose its blue color. I should also mention that it's best to visit the waterfall on weekdays and not on weekends since it gets more crowded.
La Leona Waterfall is located in the small town of Curubandé, 20 minutes from Liberia and two hours from Tamarindo.
Unfortunately, the only way to visit La Leona Waterfall is on a guided tour. This is because the waterfall's location within the canyon requires safety gear and an expert guide to access it. Thankfully, tours are very cheap and they are often considered one of the best tours in Costa Rica.
The best way to get to the Leona Waterfall is through Liberia. As mentioned, the waterfall is only 20 minutes from the town, and the road is well maintained. This three-hour excursion involves hiking the jungle trails around the Rincon de la Vieja Volcano into the falls. The highlight of this tour is getting to swim right near the waterfall at Poza La Pipa – a secluded swimming area with turquoise-blue waters where the Blanco and the Colorado rivers cross through.
From Tamarindo, there are two companies I know of that offer tours to La Leona. They are Native's Way and Costa Rican Way. The tours aren't cheap because there is a 2-hour drive to the waterfall each way. If you have your own vehicle, you can save around $100 USD per person – so renting a car for the day is a good option! The cheapest way to visit La Leona Waterfall from Tamarindo, and what I did, is to drive yourself to Curubande.
You'll then need to book with a tour office or head to the tour office you booked with (if you booked in advance like me.) There are lots of different tour operators in the region. One of the most popular is Guanaverde Experiences, which is the one I choose. This budget-friendly tour is 3-4 hours in duration. A local guide will take you on a moderate hike through the rainforest, canyons, and rivers on this tour. Once you reach the waterfall, you can dive in for a refreshing swim in the natural swimming pool here.
3. Drink craft beer
There's nothing I love more than getting a taste of the area with some excellent craft beer. The craft beer industry in Costa Rica is thriving, and breweries are popping up all over the place.
Two breweries out near the airport in Liberia are great stops for a cold beverage while you wait for your flight. You might like it so much you'll grab some cans to take with you while exploring Costa Rica or take them home! Numu Brewing Company is one of them, and it's located in an industrial park very close to the airport. Their full-flavored beers are inspired by the Costa Rican climate and feature tropical fruits. Favorites here include the Chorotega IPA with hints of tropical fruits mixed in with a signature hops flavor or the Liberian Kölsch with a subtle maltiness and fruity notes.
Captain J Match Brewing Company is also in the Liberia airport area and is a small microbrewery that is gaining popularity. The beer here aims to represent the Guanacaste region of the country with local flavors. Try the Flamingo Mosaic Pale Ale or the refreshing San Juanillo Summer Ale. The owner here is great, too, and will talk you through how all the beers are made.
If you're staying in Nosara, I urge you to try Guiones Brew Co., which recently opened in town. Although they usually only have a few beers on tap, what they do, they do well. Of course, my favorite is the IPA, but they also have a tasty Pale Ale. Guiones Brew Co. is known for its wood-fired pizzas too. They only cost $10 USD and are full of flavor – perfect with a craft beer. It opens at 4 pm, but it's best to head here after 5 pm for a better atmosphere.
If you are basing yourself in Samara, then head to 2 Gringos Artisan Brewing. Which is located right in the middle of town, 2 Gringos is one of the best breweries I have visited in Costa Rica. On tap, you'll find a huge selection of beers, and during my visit, there were over 24 on offer. They ranged from hoppy IPAs, crisp pilsners, and fruity sours. A beer at 2 Gringos costs around 4,000 colones which is pretty expensive for Costa Rica. This brewery is located in Coco's Mexican Restaurant, so you can eat delicious tacos while you drink beer!
The town of Tamarindo has its own brewery, too; it's called Volcano Brewing Co. Visiting Volcano Brewing Co. is a must for craft beer lovers. Although the actual brewery is now closed to the public, you can drink at their beachside restaurant and pub while enjoying the live music and sunshine. They had four types of beer available the last time I was there, including an IPA and a Pale Ale, and both were delicious. I also had lunch here and highly recommend the pulled pork sandwich!
4. Go on a sunset sailing cruise
Sitting aboard a luxury boat with a drink in hand as the sun sinks into the Pacific Ocean is easily one of the best and most relaxing things to do on the Guanacaste. Truly, the sunsets here are spectacular and amazing to view from the water where nothing is blocking your view. You can enjoy a sunset cruise from most of the towns on the peninsula, including Tamarindo, Playa Flamingo, and Samara.
From Tamarindo, one of the best tours on offer is this sunset cruise through Tamarindo Bay. Aboard a catamaran, you'll sail out into the bay in search of magnificent views, wildlife, and of course, an epic sunset. It includes an open bar, water activities, and a meal for only $76 USD! The best part is that the boat is capped at 35 people – unlike other cruises that have around 50! The tour lasts for 5 hours and finishes just after the sun sets in Tamarindo.
If you're staying in the Playa Flamingo area, this Sunset Catamaran Tour from Flamingo Beach sets off in the afternoon and then finishes early in the evening. What's great about this catamaran is that it's equipped with fun activities like trampolines, a freshwater shower, kayaks, a stairway to the sea, and an open bar! Keep an eye out for marine life like sea turtles, manta rays, dolphins, and whales as you cruise along the water. Then, get the chance to jump off the boat for a snorkeling stop. All the gear is provided too, which is a nice bonus.
A sunset cruise from Samara is a great way to spend an afternoon. Most tours depart at 3 pm and head out to Isla Chora, where you can try some snorkeling before sitting down with a drink back on board to enjoy the sunset. You can book this cruise with Sámara Adventures, and they need a minimum of four people to run the tour. Unfortunately, the tour is 18+ only, so you'll have to leave the kids at home (bummer!)
5. Learn to surf
The surf in Guanacaste is some of the best in Costa Rica, and thousands of surfers come here every year to conquer the epic waves here. Although it's mostly known as an area for more experienced surfers, there are some easier waves to catch on Tamarindo Beach and Samara Beach.
I did a few lessons at Samara Beach when I first started visiting Costa Rica. I learned a lot of the basics and now surf all over the country. Don't get me wrong, you can certainly learn at the other surf breaks around Guanacaste but you should look to hire an instructor and only surf small days.
If you consider yourself an experienced surfer, you have to try surfing at Witch's Rock. This well-known reef break is arguably the best surf spot in Costa Rica, and it attracts a lot of famous faces. Witch's Rock is located just north of Playa Flamingo, and unusually, you need a boat to get out there. The closest beach is called Naranjo Beach, and keen surfers often camp. Of course, you can book tours from Playa Flamingo that will take you out there for the day. You can also book tours from Tamarindo. These cost $675 for an entire boat that can take seven surfers.
Another challenging and popular surf spot on the Guanacaste is Guiones Beach, about a 15-minute drive from the town of Nosara. There are both left and right waves here, and with 7 kilometers of beach, there's plenty of space for everyone. The best time to surf here is from March to November. This also happens to be the low season, so avid surfers enjoy the lower prices and lack of people.
Agua Tibia Surf School is a great school for beginners. They have some of the best instructors in town, and the only negative is their location in South Nosara. If you want a good surf school closer to North Nosara, Nosara CR Surf School is another top-rated school.
In comparison, Tamarindo Beach in Tamarindo is perfect for beginners or maybe those who've never tried surfing! The calm waters here mean that your chances of standing up on your board are greatly increased. There are surf lessons offered here every day, with an average lesson costing about $50 USD for two hours. The trick is to find a good school that's highly rated.
This two-hour surf lesson in Tamarindo is top-rated and has over 1,100 five-star reviews. If you're a beginner, I don't recommend renting a board and giving it a go on your own. There are rocks hidden beneath the water in Tamarindo, and the local guides know where to go to avoid them.
6. Visit Rio Celeste
One of the most beautiful rivers and waterfalls in the country and one of the best things to do in Costa Rica is located right here in Guanacaste. Rio Celeste is a natural phenomenon where two rivers meet and cause the water to turn bright blue. This happens because particles in the two rivers mix and become heavy enough to reflect light, causing the blue color. It's one of the most incredible places I have seen in Costa Rica.
Rio Celeste is quite a drive from most of the towns on this list – Tamarindo (2.5-hour drive); Samara (3-hour drive); Nosara (3.5-hour drive); Playa Flamingo (2 hours and 15 minutes). Therefore, I recommend allowing a full day to visit this natural beauty!
Rio Celeste is located within Tenorio Volcano National Park, and unless you have your own vehicle, you will need to join a tour. This specific tour leaves Tamarindo at 6:30 am and includes a guided walk through Tenorio Volcano National Park, a visit to Llanos de Cortez Waterfall, and a guided tour through Finca Verde Lodge for a sloth and wildlife tour.
If you do have your own vehicle, I recommend leaving the town you're staying in really early to arrive at the park around opening time at 8 am. This is the best time to visit without the crowds and be sure to visit the waterfall first. This is the busiest attraction in the park and by 10 am the staircase down is packed. The entrance fee is $12 USD per person.
7. Go ziplining
Ziplining through the forests of Costa Rica is such a fun way to see the amazing scenery and get an adrenaline rush! This is one of the most popular things to do on the Guanacaste! You can try ziplining at many of the towns on the Guanacaste, including Liberia, Tamarindo, Nosara, and Playa Flamingo.
Ziplining is also available in Rincón de la Vieja Volcano National Park, where you can zip through the trees, rock climb, swing, and cross over a hanging bridge over the White River Canyon. One of the best ways to go zip lining here is on this Guachipelin Adventure Volcano Combo. This epic full-day adventure only costs $135 USD for the self-drive option (what we did) or $149 for the included transport; you can get picked up in Liberia, Playa Flamingo, and Playa Coco for this particular tour.
Just outside of Playa Flamingo, The Guanacaste Forest Zipline tour takes place at a large farm that has been in the same family for generations. This zipline course consists of nine different cables suspended at 390 feet! Some of the ziplines stretch as far as 1,800 feet long! As you zip through the forest, you'll see various birds, families of howler monkeys, iguanas, and horses and cattle from the farm. There are three different times for the tour 8 am, 10 am, and 1:30 pm, with each tour taking about three hours. The morning tour is the best because it's much cooler and you're more likely to see wildlife.
The most popular ziplining tour in Nosara is the canopy tour with Miss Sky. Their canopy tour is the longest in the world at 11 kilometers. You'll do 21 ziplines on the tour that are on average 500 meters long. The tour also includes a stop at a waterfall and finishes with a zipline into a five-story building.
In Tamarindo, ziplining is more about being above the canopy with wide-open views that let you know just how high up you are. You'll go fast, get a little scared, but overall, have a great time.
There are a few different tour options in tamarindo, depending on what you want. The first, and what I did, was a ziplining tour on its own. Tours such as this one cost only $65 and involve a ride out into the mountains and around ten ziplines. It's a great introduction, and the tours last around 1 hour. Of course, you can see lots of wildlife and enjoy spectacular views.
8. Go see the turtles at Playa del Ostional
Turtles are one of the most amazing animals in Costa Rica. And the Guanacaste province is so important as a nesting habitat for several species of turtles. Thousands of turtles visit this stretch of the Pacific coast every month for breeding, they lay eggs on the beaches here, and as a result, tourists flock here to see the turtles. In my opinion, this is one of the best things to do on the Guanacaste (in fact, I'd go as far as to say it's a must-do!).
There are two nesting seasons here in Guanacaste. From September to December, you can see green and black pacific turtles, while olive ridley turtles can be seen from September to April – these are the ones you will witness at Playa del Ostional.
At Playa del Ostional during these months, this phenomenon occurs a week before a new moon about once or twice a month. It's known as an arribada, and it's one of the best things we've witnessed during our time in Costa Rica.
From Nosara, you can book a tour to Playa del Ostional for $60 USD per person. You will leave Nosara early in the morning or just after dark. These tours just include transport and not a tour guide nor food etc. Alternatively, if you're after a more in-depth tour, book your tour with the Wildlife Conservation Association. Their tour involves talking with an expert about the phenomena, transport, and a guided tour on the beach. This costs $150 USD per person.
From Samara, you can book this specific tour which visits one of three beaches – Playa del Ostional, Playa Camaronal, or Playa Corozalito.
Because the tours take place in the dark, taking photos can be difficult because you can't use your flash.
There are other beaches along the Guanacaste to see turtles other than Playa del Ostional, although that is the most popular spot. From Playa Flamingo, this night nesting tour with Flamingo Adventures includes an experienced guide who will take you to a secluded beach. You'll get a special red light to see them in the dark that won't disturb the turtles as they lay their eggs. The tour is $59 USD and includes transportation.
From Tamarindo, you can also see turtles at Playa Grande, which is located next to Tamarindo Beach. Although the beach is separated from Tamarindo by the river, water taxis take you across for only 1,000 Colones ($1.60 USD.) Although you do need to plan ahead to spot the giant leatherback turtles because they can only be seen between November and April. On this turtle nesting tour, you can see Green Pacific and Olive Ridley turtles pretty much year-round, and it's 4 hours in duration.
9. Go boutique shopping
I don't know about you, but I just love picking up some unique souvenirs and clothing when I'm on vacation because it means I'll have something to take home that nobody else will have. Lucky for me then that the Guanacaste is filled with some fantastic boutique shops; in fact, I spent many hours here shopping, and I picked up some really cool stuff! Some of the best towns to go boutique shopping in this region include Nosara, Samara, and Tamarindo.
Nosara is filled with small boutique shops that sell clothing you probably wouldn't expect to see in a small beach town in Costa Rica. I loved shopping at WLDFLWRS, which is connected to the brewery in town. Some other great places to shop include Love Nosara and MaderArte. These boutique stores are certainly not cheap, but the quality is high.
Shopping is also excellent in Tamarindo! There's a variety of great boutique shops to pick up unique clothing or a new bathing suit or explore a local market. Every Saturday from 7 am to 1 pm, the Tama Market sells everything from fruits and vegetables to locally-made jewelry. The Tama Market is located behind Plaza Tamarindo near the skatepark. Another great market in Tamarindo is the Tamarindo Moonlight Market which is held on Thursday nights from 6 pm to 9 pm and has delicious Costa Rican food along with live music and performances.
There are plenty of boutique shops in Sámara too. Gypsy Boutique Sámara is a firm favorite of mine and has some really cool woven bags. Another cool place is a jewelry stall located in the small food court next to Rosa restaurant. The selection here is mesmerizing, and I could have spent all day looking at their collection.
10. Visit Belen Waterfall
Belen Waterfall is a beautiful waterfall with some small natural swimming pools at the top that are a refreshing place to cool off on a hot day. The falls look the most magnificent in the rainy season (June to November), but we visited in December, and they were still flowing. Located around 25 minutes from Sámara by car, this is the closest town to the falls.
I have heard that Belen Waterfall is not overly enjoyable towards the end of the dry season around April. Without the rain, the waterfall becomes stagnant, and algae bloom. Unfortunately, there was some algae during our visit in December, so it's best to keep your head above the water when swimming here.
The waterfall does get quite busy on weekends, but you can visit with very few people around during the week. If you don't have your own car, you'll need to rent a scooter or ATV, take the bus, or organize a tour/taxi.
If you're coming from Samara you can catch the bus from downtown Sámara heading towards Nicoya. Tell the driver you are going to Carretera Belen – he will know where to stop. Once off the bus, you need to walk 2 kilometers from the highway down a country road. Of course, you can always try to hitchhike too!
Once there, a guy charges everyone 1,000 Colones for "parking" regardless of whether you took the bus or not.
Finding the waterfall is pretty easy with Google Maps, and you can find its location here. Just be sure to keep an eye out for the sign on your right as you get really close to the waterfall. We drove too far, thinking the sign was for another waterfall (silly us) and it would be tough to turn around in a car on the narrow road.
11. Relax at a beach club
Beach clubs are some of my favorite places to relax while on holiday. Great food, cocktails, and service right to your lounge chair on the beach – does it really get any better? There are several great beach clubs in the Guanacaste region, specifically in Tamarindo and Samara – which I will detail below.
Tamarindo is known for its nightlife! So, if you're here in the evening, head to one of the beach clubs to enjoy a few drinks and watch the sunset. In my opinion, the beach clubs in Tamarindo really have to be enjoyed at sunset at least once during your stay. We enjoyed the Ocho Beach Bar at the southern end of Tamarindo with its live DJs and happy hour specials. You must try their sangria! Another great beach club is El Be, and they also have great cocktails and a more central location.
While staying in Samara, we spent a lot of time at two beach clubs there. The first was Gusto Beach Restaurant Pizzeria Bar. They offer free beach chairs with the purchase of a meal, so this is where I spent most of my days escaping from the sun right on the beach. The second was La Dolce Vita! Here is where I spent my sunsets and nights enjoying my first drinks or a light meal. The restaurant often has live music, and it's so popular that you need to reserve a table during peak season. There are other beach clubs in Sámara, but these are two of the best!
In Playa Flamingo, Cocos Loco is very popular. While you're here, you HAVE to try their signature drink named after the restaurant. The Coco Loco Cocktail is served frozen in a coconut and is made with coconut water, coconut cream, guaro, rum, and tequila.
12. Go scuba diving
Scuba diving in Costa Rica is truly a bucket list activity, and in my opinion, one of the best places in the world to dive is right here on the Guanacaste Peninsula, specifically around the Las Catalinas Islands near Playa Flamingo and Bat Island close to Tamarindo. Although expensive, these areas are a great place to learn to dive and get certified if you're a beginner!
Scuba diving around the Las Catalinas Islands is an amazing way to see incredible wildlife in an underwater paradise. This area is known for its giant manta rays, reef sharks, sea turtles, dolphins, and humpback whales. If you're an experienced scuba diver with your certification, this specific tour is a great option that includes two 45-minute dives. You can be picked up from your hotel (most locations in Tamarindo, Playa Grande, Playa Conchal, and Playa Flamingo) and taken to the Playa Flamingo Dive Centre, where you'll get on a boat and head out.
If you've never been scuba diving before or are looking to get your certification, the Guanacaste is a great place to do it. You can complete your PADI Open Water Diver Certification as part of this course, including the chance to scuba dive off the coast of Playa Flamingo. The course is completed over multiple days, including diving in a pool and diving in the ocean. The great thing about this certification is that it's good for a lifetime, so you can scuba dive anywhere in the world!
You can also do your PADI Open Water dive course in Tamarindo for $700 USD. If you just want to experience diving, you can also do this half-day dive course that has you diving in the ocean. Although you won't get certified, it's a great introduction with 5 hours of training and a dive to 10 meters.
Similarly, there are some fantastic dive spots near Tamarindo that beginner and advanced divers will really enjoy! As I've mentioned earlier, the best dive experience is out to Bat Island to swim with bull sharks. This is a fantastic opportunity for Advanced Open Water certified divers to challenge themselves and swim with large sharks. The tour includes two dives, one at Bat Island (where the bull sharks are) and the second near Playa del Coco, where you can see manta rays, turtles, and other ocean life.
I should also note that the small town of Playa Coco is a great spot to base yourself if you love scuba diving; that's because of its close proximity to some top dive sites, including Monkey Head, Bat Islands, and Catalinas Islands. There are numerous dive shops in the town where you can book yourself a dive tour.
13. Horseback riding
Horseback riding is without a doubt one of the most popular things to do in Guanacaste; in fact, there are several places you can ride a horse here – from a beach horseback ride in Playa Flamingo to a jungle trek near Nosara, there's a horseback adventure suitable for every type of traveler in the Guanacaste region.
Riding a horse along a beautiful beach is really popular in Playa Flamingo. It's a great way to enjoy the beach and view from a totally different perspective! I recommend booking a tour for this, and this particular Horseback Riding Jungle and Beach Tour is excellent as it also includes transportation there and back. Before you start, the team helps you pick out a horse that is suited for your level. The two-hour tour includes rainforest trails where you might spot howler monkeys, iguanas, and parakeets and then a walk (or gallop!) along the beach. My top tip for this tour is to bring long pants, good shoes, and your camera!
Another beach that is popular for horse riding is Tamarindo beach. All up and down the beach, you'll find people offering horseback riding tours. A great time to enjoy a ride is at sunset, and you can ride the entire length of the beach. These tours can be negotiated on the beach but expect to pay around $40 USD for an hour ride. If you want more of a tour, you can book horseback riding tours in the mountains too. Tour companies such as Natives Way Costa Rica offer a 2-hour tour for only $55 USD.
Whilst horse riding in Nosara is a little different but equally as awesome. That's because the entire area here is filled with trails used to navigate the mountains, rivers, and dense jungle. On this horseback riding tour, you'll head off with your newfound friend and explore the area for 1 hour. Along the way, you'll cross rivers, spot monkeys, and even take the horses for a shower afterward. It's a fun and exciting experience, and they even have ponies for kids as well as all the safety gear required. Most importantly, you'll ride horses that are really well cared for and groomed.
If you want the best of both worlds from your horse riding adventure – the beach and the jungle, then this tour from Samara is a great choice! The tour encompasses all the terrain around Sámara, including the river, jungle, and beach. This means you get to experience all that Sámara has to offer and have the chance to see monkeys, birds, butterflies, and crocodiles. The tour lasts for 2.5 hours and finishes on Sámara Beach. If you can, I highly recommend doing the sunset ride starting at 4 pm!
You can also do a horseback riding tour at Ponderosa Adventure Park, 15 minutes from Liberia; the tour takes you along some tropical forest trails.
14. Go fishing
Costa Rica has some of the best fishing spots in the world! Experiencing the thrill of reeling in a big catch is definitely one of the best Guanacaste activities. You'll need a tour to fish in the waters here, and you can book a tour from most locations in Guanacaste.
From Playa Flamingo, there are both half-day and full-day options available. The half-day option is this sportfishing private charter tour which includes inshore fishing around the islands off the coast of Playa Flamingo. Depending on the season, you're likely to catch mahi-mahi, red snapper, yellowfin tuna, or jack carvelle. You might even reel in a roosterfish – the crew calls it a "great fighting fish that will leave your arms tired but put a smile on your face." The cost is $500 for up to five people.
For a longer trip, this all-inclusive full-day charter takes you offshore fishing for $1,500 for a group of up to six. Offshore is where you're more likely to get some of the big game sportfish like sailfish, marlin, dorado, wahoo, and roosterfish. The captain and crew are all experienced fishermen and will help clean, bag, and ice whatever you catch so you can enjoy it later.
Fishing charters are also a very popular activity in Tamarindo. There are lots of fishing charter companies based here, and you can choose from inshore and offshore charters. The inshore charters only go a few miles off the coast and tend to fish for small tuna, snapper, wahoo, and dorado. Inshore tours are typically only half days (4 hours.) This specific tour costs $450 USD for four people.
On an offshore charter, the tour lasts for 9 hours (there are also options for 7), and you can fish for sailfish and marlin. Of course, the tour can also go inshore, so you can mix it up depending on what's working.
Although there is no "season" for fishing in Tamarindo, there are better times of the month as the quality of the fishing depends on ocean currents, availability of baitfish, and water temperature. However, you can catch fish all year round.
Please be aware that you need a fishing license in Costa Rica. This costs $17 USD for eight days; however, it's not policed heavily.
15. Visit Parque Nacional Palo Verde
Parque Nacional Palo Verde is one of the best spots to see wildlife in Costa Rica – especially birds. Spanning more than 45,000 acres, Palo Verde is one of the most densely populated areas of migratory birds in all of Central America.
The park is easily accessible from Liberia at about an hour's drive via the main Inter-American highway, but you can also drive here from other towns in Guanacaste if you have a rental car. There is a bus that you can catch into Bagaces town that leaves from Liberia, and then from Bagaces, you would need to get a Uber or taxi 20 km down the gravel road which leads to the park.
During the rainy season, floodwaters from the Tempisque River create huge marshes here that attract all types of birds. Then in the dry season (typically from December to May), the marshes shrink to form smaller pockets of water throughout the park. It's best to plan a visit here during the dry season as roads can be completely impassable after heavy rains.
To see the most wildlife, find one of the smaller bodies of water and just sit and wait. You'll likely spot lots of birds and may even be lucky enough to see some howler monkeys or capuchin monkeys. Or head out on the 20-meter boardwalk at Laguna Palo Verde – another great place to see the animals that call this park home. Alternatively, this jungle river cruise which departs from Tamarindo, Playa Coco or Playa Flamingo is a great way to get up close to the wildlife!
Getting Around Costa Rica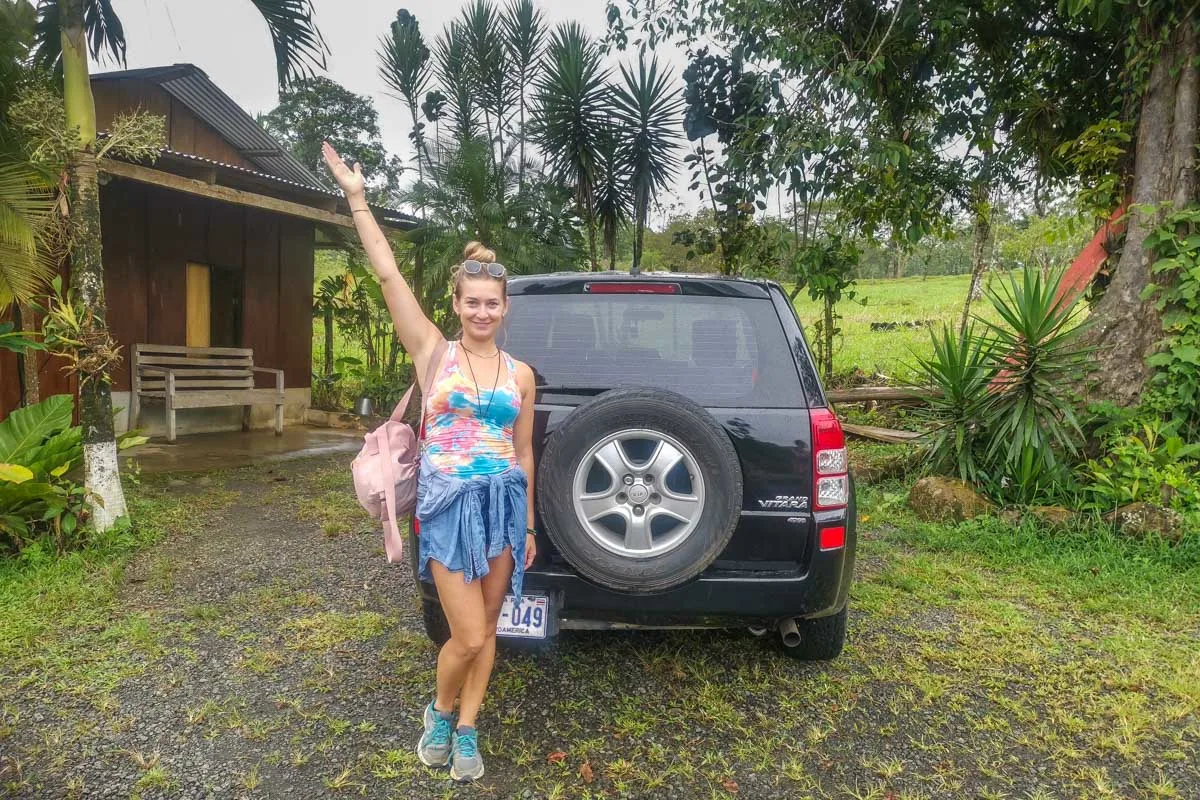 How you choose to get around Costa Rica is one of the biggest decisions you'll make when planning your holiday here! How you do it depends on your budget, travel style, and comfort level.
Renting a Car
Without a doubt, the number one way to explore Costa Rica is in a rental car. We book rental cars on the Discover Cars website as we have had good experiences with them in the past.
One of the things you need to watch for when renting a car in Costa Rica is the mandatory insurance that the government requires you to have. There are a lot of very cheap rentals that don't include this mandatory insurance (TPL) in the original booking price, but there are also ones that do. To avoid additional surprise charges when you pick up your rental car, be sure to rent a car that includes the mandatory insurance when you book.
Thankfully, on Discover Cars it's easy to tell apart the companies that include the mandatory insurance and those that don't. The trick is you can't pick any car on their website. In the picture below, you can see this rental car, with pick up in Jaco, includes the TPL. That means the mandatory insurance is included in the price. Any cover you get above that is extra.
Of course, I still suggest getting the full coverage offered by Discover Cars, which covers you even more.
You can browse cars on Discover Cars here.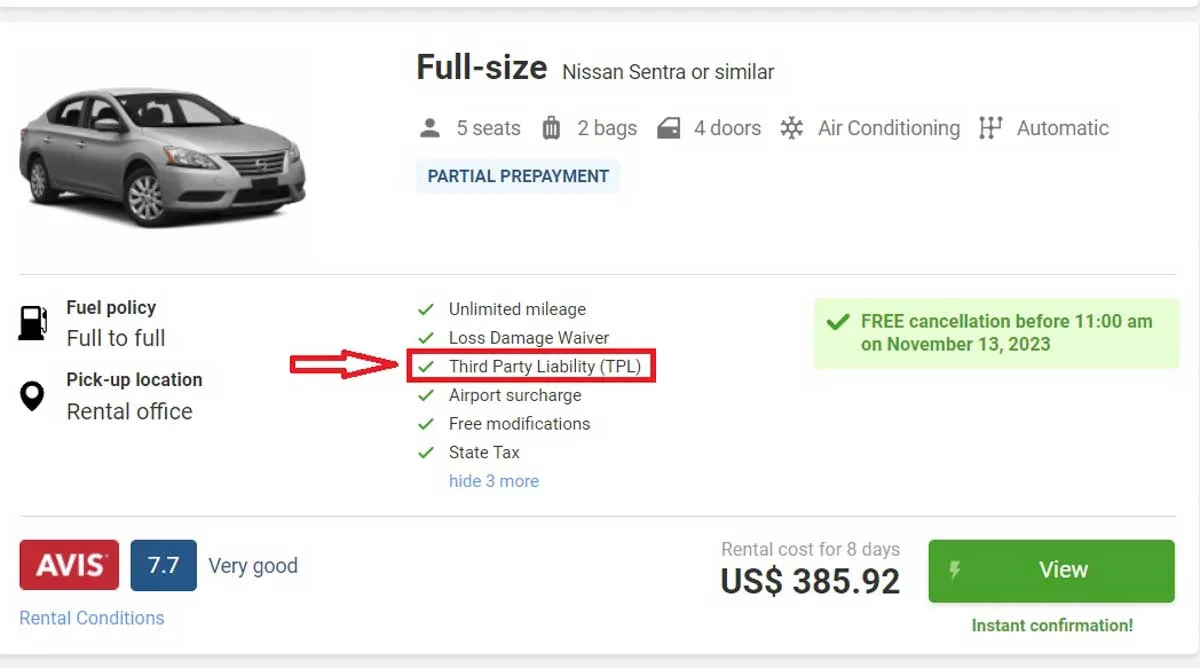 Book Shuttles
If renting a car isn't in your budget, you don't feel comfortable driving in Costa Rica, or you just don't like driving, shuttles are the next best option. There are hundreds of shuttle routes available all over the country, and they are very affordable.
Shuttles in Costa Rica are specifically for tourists and often include pick up and drop off at your selected hotels and airports. The drivers also speak some English, and the vehicles have air conditioning. You'll also be guaranteed a seat when you book a shuttle (which isn't the case with the public bus system.)
To get the best price, use the website Bookaway. They compare all the offers and prices of shuttle companies in Costa Rica so you get the best price! Honestly, we have saved so much money using Bookaway!
You can search for shuttles online on Bookaway here.
Public Bus
Lastly, you can use the public bus system. On short journeys, such as from San Jose to La Fortuna or Uvita to Manuel Antonio, this system is great. However, the longer the journey the more hassle and time spent on a bus. It's undoubtedly best to save the public bus in Costa Rica for short and straightforward trips!
The public buses are definitely the cheapest way to get around Costa Rica, but they are not always very reliable and schedules often change without notice and delays are to be expected. The buses can also be very crowded and hot – so just be prepared!
It's also good to speak some Spanish if you plan on riding the public bus since most drivers and ticket booth operators don't speak English.
Invest in Travel Insurance
Paying out of pocket for trip interruptions or medical treatment will add to what might already be a stressful situation. Not to worry, SafetyWing is here to help!
This affordable travel and medical insurance is perfect for digital nomads, long-term travelers, and remote workers. The best part is that it only costs $45 USD per 4 weeks.
To start coverage you must purchase it after leaving your home country. We usually purchase it as soon as we land at the airport.
Since using SafetyWing we've been reimbursed thousands of dollars when we've gotten sick. During the pandemic, they've even gone as far as to pay for our last-minute flights back to Canada before the border closed!
Thanks for reading!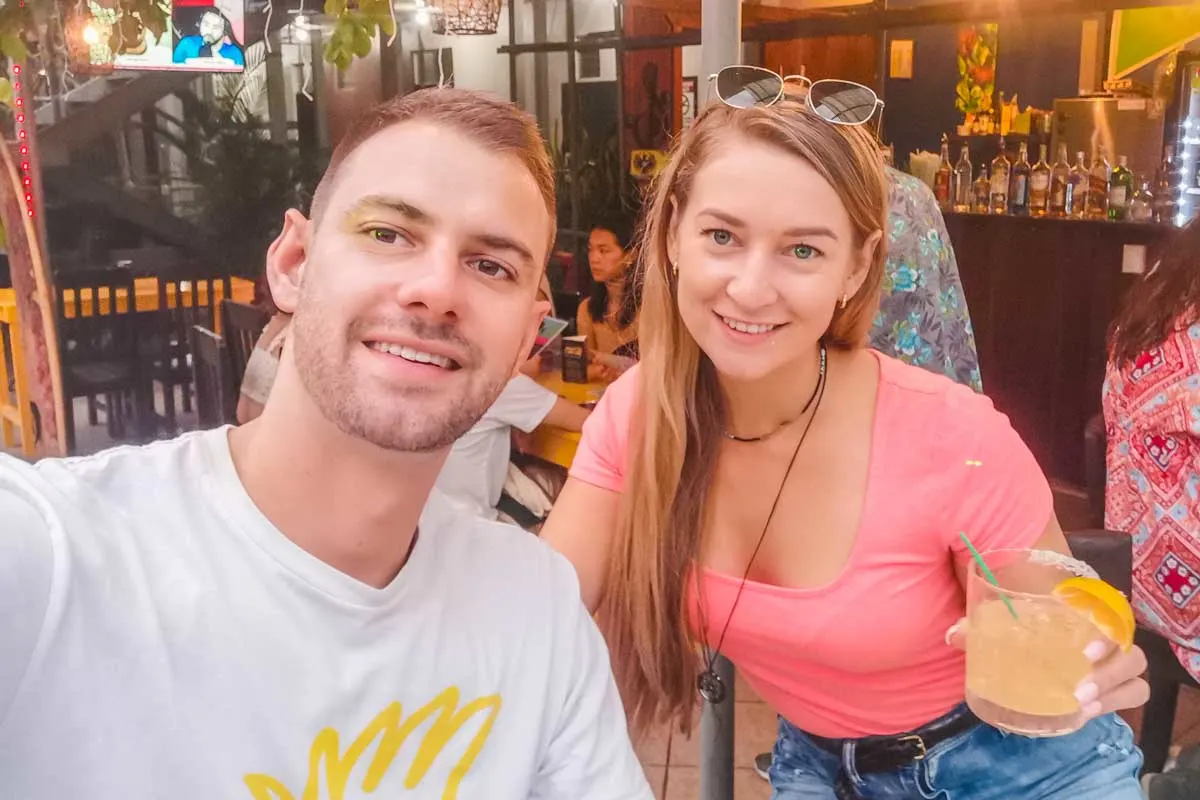 Guanacaste on the Nicoya Peninsula is certainly one of my favorite places for a vacation; I mean, it has great surf, stunning beaches, and perfect weather. What more could you want?!
Thanks so much for visiting Costa Rica Travel life. I hope this guide to the best things to do in Guanacaste, Costa Rica, has helped you better understand this large province. I just know you will love your time there; I, for one, cant wait to return soon!
Please browse around our website; I'm sure you'll find lots of more useful information!
Fun Things to do in Jaco, Costa Rica