This blog may contain affiliate links. Read our disclosure policy for more info.
Costa Rica is one of my favorite destinations in the world; this popular but small country is most famous for its varied and unique wildlife (think sloths, monkeys, and more!), natural beauty, and an abundance of awesome activities.
The truth is, there aren't many countries where you can go ziplining and white water rafting one day and go whale watching or looking for turtles the next! Having spent a lot of time in Costa Rica we have found that there is definitely a tour for every type of traveler in Costa Rica, so whether you're after an adrenalin-fueled holiday or a more relaxing getaway, you'll find what you're looking for in this gorgeous country!
And to help you plan your vacation to Costa Rica, we have come up with an incredibly detailed list of the 22 best tours in Costa Rica. Our list includes snorkeling, volcano-climbing, kayaking through mangroves, and much much more! Here are the absolute best tours in Costa Rica for every type of traveler!
Don't have time to read the full article? Here's a list of our personal favorite tours in Costa Rica:
The BEST Tours in Costa Rica
1. Tortuga Island
Tortuga Island is a paradise island off the Pacific coast of Jaco in the Puntarenas province; this small island is just 156 square kilometers and is part of the Islas Negritos Biological Reserve. It's home to fantastic snorkeling, white sand beaches, and overall good vibes! You can easily join a tour to Tortuga Island from many different locations around Costa Rica. In fact, it's one of the most popular day-trip options from San Jose.
Other than San Jose, tours to Tortuga Island are also offered from nearby Jaco as well as Montezuma, Paquera, Punta Arenas, Santa Teresa, Playa Herradura! It's important to note that you can only access the island on a guided tour, and all the tours I've listed above are full-day tours, so you will need to allow an average of 9 hours.
On your tour to Tortuga Island, you'll jump on a scenic boat ride first; then, you'll get to snorkel at not one but two epic snorkeling spots. Be prepared to spot turtles, sharks, and lots of fish here! I think snorkeling here is the best in Costa Rica – even better than Caño Island! After, the boat will drop you to the island, where you will enjoy a yummy lunch and plenty of beverages. You'll have a few hours there to play volleyball, kayak, or sunbathe.
Overall, it's really an enjoyable day out and one of the best tours in Costa Rica!
2. Poas Volcano
Poás Volcano is one of the largest open volcanoes in the world; the crater drops a huge 900 feet (274 meters) deep and stretches over a mile (1.6 km) in diameter! This active volcano had its last eruption in September 2019, but it is closely monitored so that visitors are safe. From the viewing area, you'll be able to look right into the volcano crater but don't expect to see lava here; instead, what you will see is a bright blue geothermic lake! It's so cool, and to me, it looks like something from another planet!
Visiting Poas Volcano can be comfortably done on a guided day trip from San Jose or Alajuela, with tours running from both.
Once you reach the volcano, you'll watch a video about the volcano and listen to a safety briefing. With your hard hat on your head, you'll enjoy a short 500-meter (0.3 miles) hiking trail leading to a viewpoint on the edge of the crater. You get approximately 20 to 30 minutes at the crater before you must return to the visitor center.
One of the most important things to note about visiting Poas Volcano is that the volcano is often covered in clouds, which can completely obstruct your view. Therefore, it is best to visit early in the morning as opposed to later in the day when it tends to be cloudy, and this greatly increases your chances of seeing the crater.
To access the park, you must purchase your tickets online and pick your visiting date and exact time for your entry. Once you arrive at the park, ensure you have your ID and entry permits ready. If you don't, you will be turned away and need to purchase your tickets from a nearby shop at a premium (security at Poas will tell you where.) However, if you book on a guided tour, the entrance ticket is almost always included.
One of the best tours you can choose is this guided Poás Volcano tour from San Jose. This particular tour includes a visit to the crater as well as La Paz Waterfall Gardens. It even includes a romantic breakfast at the Doka Coffee Estate, followed by a guided tour of the estate.
Related Read: Looking for more romantic things to do? Check out our guide to planning a honeymoon in Costa Rica!
3. Whale Watching
Seeing whales in the wild is a dream for many visitors to Costa Rica! I've been lucky enough to go whale watching in many countries, but Costa Rica was the first place I witnessed a baby whale swimming with its mother! It was an incredible moment for me, and it happened on my way to Corcovado National Park from Puerto Jimenez (a remote town on the southern coast.)
But, you don't have to travel to Puerto Jimenez to see whales in Costa Rica. As a matter of fact, whale watching tours in Costa Rica can be done all up the Pacific Coast, including from Drake Bay, Uvita, Manuel Antonio, Jaco, and Tamarindo, in the Gulf of Nicoya, and in the Gulf of Papagayo. You just need to pick the right month to guarantee your chances of seeing them!
It's important to note that here in Costa Rica, there are two whale watching seasons; the first runs from December to March and the second from July to October. This second season is when the whales come to give birth in the calm waters – an awesome experience if you're lucky enough to see it! However, I think the best months to visit Costa Rica for whale watching are January to February and July to September.
If you're visiting during these months, you should definitely book a whale watching tour and enjoy this bucket-list-worthy activity in Costa Rica! I highly recommend this incredible whale watching tour in Marino Ballena National Park. On this particular tour, you will hop on a boat in search of these majestic creatures. For over 3 hours, you'll explore the coastline, even heading out as far as Caño Island! In my opinion, it's one of the best tours in Costa Rica!
Why We Book Tours with Viator
Viator is a trusted online booking system for tours around the world! We almost always book our tours using Viator for a couple of reasons:
Free cancellation on most tours – Most of the tours on Viator allow you to cancel and get a full refund up to 24 hours in advance. This is handy in case plans change, or if booking an outdoor activity, the weather forecast is looking grim.
Reserve now and pay later – You can secure your spot on some of the most popular tours well in advance and not pay until closer to the day of the tour.
Pay in your chosen currency – Avoid costly international transaction fees by choosing to pay in your home currency.
Peace of mind – When booking with tour operators you find in person on the street or in small booking offices, you are often promised one thing and given another. This online platform holds tour operators accountable with a written description of inclusions as well as the opportunity for customers to leave reviews.
Check out the Viator website here!
4. Cano Island Snorkeling
Tours to Caño Island Biological Reserve are popular and involve jumping on a boat out to the island, where you can enjoy snorkeling or scuba diving. The reef here is filled with wildlife, and during my tour, I got to swim with turtles, sharks, and a huge variety of fish. I should note that although you can snorkel or scuba dive around the island, setting foot on the island is forbidden!
The best place to start your tour is from Drake Bay; from this small bay, it's just a 40-minute boat ride. In fact, tours to Caño Island are considered one of the best things to do in Drake Bay. From Uvita and Sierpe, you'll need to take an extra-long boat ride through the mangroves (and a short bus journey from Uvita,) but for keen divers or snorkelers, the trip is well worth it!
Caño Island Biological Reserve is a must-do for ocean enthusiasts!
Related Read: Consider staying a night or two in Drake Bay – check out the best hotels in Drake Bay before you book!
5. Overnight Corcovado National Park Tour
Corcovado National Park isn't the most popular national park in Costa Rica but it is the most important. That's because Corcovado National park is home to approximately 3% of the world's biodiversity, a huge percentage! In fact, it's the best place to see a large variety of Costa Rica's wildlife, including big cats and tapirs. This park is easily accessible from both Puerto Jimenez and Drake Bay.
The only way to visit Corcovado National Park is on a guided tour. The rules for the park make tourists visit with a certified guide. This is to protect the park and the animals within it.
From Puerto Jimenez, you can join this three-day tour that includes a stay at the ranger station – because it's three days long, you're pretty much guaranteed to see wildlife! Or, if you're short on time, you can book this day tour to the La Leona Ranger Station and enjoy the many hiking trails with a local guide.
From Drake Bay, you can do an overnight tour, when we did this tour, we saw every monkey species in Costa Rica, many rare birds, jaguar footprints, rodents, and other wildlife, including snakes. This full-day guided tour is another great option if you have limited time.
Although not as popular as those listed above, tours also leave from Uvita into the park. This particular tour visits the San Pedrillo Ranger Station, where you'll enjoy a hike through the park in search of wildlife.
Overall, Corcovado National Park is the best national park to visit for those who come to Costa Rica to see wildlife. Bird watchers and animal photographers love this place!
6. Cahuita National Park Tour
Cahuita National Park is a stunning area close to Puerto Viejo, and it's best known for its coral reefs and the 500 species of fish that live in these reefs. The park was created to protect the mangrove, reefs, and tropical rainforest here. What's awesome is that entry to the park is free, but donations are encouraged as they go towards the park's upkeep.
If you want to explore the national park by foot, there's a long trail that winds through the forest, and this is a great way to spot sloths and monkeys!
There are a few beautiful beaches within Cahuita, too (including Playa Blanca pictured above!) so keep an eye out for those you can swim in. Snorkeling is allowed on the beaches here, but only with a certified guide to ensure the coral is protected. There are even two different shipwrecks here in the shallow water that you can explore!
You can drive yourself to Cahuita National Park from nearby Puerto Viejo – it's just a 15-minute drive! Or, if you're staying around Puerto Limon, it's about a 45-minute drive along the coast. From San Jose, this is a longer trip of around 4 hours. If you don't have a rental car, buses leave San Jose daily for Cahuita, so that's another option.
Whiel you can visit on your own, on a guided tour you're guaranteed to have a much better experience. Tour guides are experts at spotting wildlife, so without them, there is a good chance that you won't see much. Tours also include other stops to make it a full day experience!
This tour from Puerto Viejo to Cahuita National Park is easily one of the best tours in Costa Rica. You'll have a professional naturalist tour guide to help you spot animals, including white-faced monkeys, snakes, raccoons, and more. They will also tell you all about the animals as well as the park. It also includes a visit to Cahuita's hidden waterfall, where you can cool off with a swim!
Alternatively, this full-day tour from Puerto Limon includes a stop at Cahuita National Park. It also visits the city of Limon, a covered boat cruise down the Tortuguero Canals, a stop at the Chiquita banana plantation, and a one-hour hike through the park.
Related Read: Renting a car in Costa Rica makes for an epic adventure, plus it's an easy way to get around!
7. Manuel Antonio National Park guided hiking tour
Manuel Antonio National Park is a sprawling coastal area filled with tons of biodiversity and natural beauty. And, it is considered one of the best national parks in Costa Rica.
Located within the park are several short hiking trails, including "The Sloth Trail," where you have great chances of seeing two- and three-foot sloths (the only types of sloths found in Costa Rica.) Other trails here take you to some epic viewpoints over the coastline or to secluded beaches and mangroves. Expect to encounter lots of wildlife on your hike, including snakes, monkeys, sloths, macaws, and more.
The park sits on the doorstep of the small town of Manuel Antonio (2.5 hours from San Jose) and is only a short drive from the city of Quepos. And we recommend staying the night in Manuel Antonio before exploring the park.
You can visit Manuel Antonio National Park on your own or on a guided tour, of which there are many! This specific tour is the best option if you're staying in Manuel Antonio town. It costs just $30 USD and includes a 2-hour guided walk through the park. However, don't just visit during the day. This jungle night tour is incredible, and Andre (your guide) is so talented at spotting wildlife in the dark!
Manuel Antonio National Park is open daily from 7 am to 4 pm. Entrance tickets to the park, which cost $18.08 USD for adults and $5.65 USD for children, NEEDS to be purchased online in advance. You must select the day that you're visiting when booking, and this is because the park has a limited number of daily tickets. Important – if you are booking a tour, check if it includes your entrance ticket or not.
Top Tip – check out the best things to do in Manuel Antonio, where I have lots of detailed info about visiting the park. Also, don't miss the best restaurants in Manuel Antonio during your visit!
Related Read: Another great place to see sloths is on a sloth tour in La Fortuna!
8. La Leona Waterfall
La Leona Waterfall is definitely worth visiting. Until recently, this pretty waterfall has been a hidden gem, but its beauty has made its popularity rise in recent years. La Leona sits within a canyon and the water running through it is turquoise blue. In fact, in my opinion, it's one of the best waterfalls in Costa Rica!
So, if you're visiting the Guanacaste Province of Costa Rica, seeing La Leona Waterfall is a must. This is an easy day trip of around 1 to 2 hours from the popular resort towns of Tamarindo, Playa Coco, and Playa Flamingo. You're even closer (around 20 minutes!) if you're in Liberia, making it one of the top things to do in Liberia.
Unfortunately, the only way to visit La Leona Waterfall is on a guided tour. This is because the waterfall's location within the canyon requires safety gear and an expert guide to access it. Thankfully, tours are very cheap and cost from just $30 USD!
For our tour with Guanaverde Experiences, we drove to the tour office near the waterfall. That tour through Guanaverde Experiences is top-rated and includes all the equipment needed, including a dry bag to take your camera or phone.
9. Costa Rica's Longest Zipline
Ziplining is one of those activities available in just about every tourist town in Costa Rica. The mountains and rainforests are perfect for this adventure activity, and I've done some awesome tours. Truthfully, ziplining is one of the best things to do in Costa Rica.
Although you can zipline in most towns, not all are created equal, and Monteverde comes in at number one, in my opinion, simply because the cloud forests and mountains here make the ziplining that much better. On top of that, if you book this ziplining tour, you'll be able to enjoy Costa Rica's longest zipline at 5,220 feet (1,591 meter) or almost 1 mile (1.59 kilometers!) You'll also get the chance to try out the 10-cable zipline course, rope suspension bridges, an ATV ride through the forest, and the Mega Tarzan Swing Ride – if you're brave enough, that is.
Ziplining at Aventura Park is easily one of the best things to do in the Monteverde region! So, if you're planning to go ziplining here, make sure you do it in Monteverde! It's one of the most adventurous tours available in Costa Rica!
You can drive or take a taxi or an Uber to 100% Aventura Park as it's conveniently located just outside Santa Elena. Once there, tours are offered daily with various fun attractions.
Related Read: Be sure to check out our guide on the best restaurants in Monteverde!
10. Pacuare River White Water Rafting
I've been lucky enough to try the thrilling sport of whitewater rafting all over the world. And even though my standards are relatively high, I loved whitewater rafting in Costa Rica. It's, without a doubt, one of the best adventure activities available in the country!
However, out of all of the rafting tours available in Costa Rica, one experience stands out from the rest – the Pacuare River! I loved my experience rafting down the Pacuare River, and I certainly got the adrenaline rush I signed up for!
Tours to the Pacuare River typically leave from either San Jose, Puerto Viejo, or Puerto Limon. Although it's a fantastic river, tours from San Jose are really long (12 hours) and require a lot of driving. For that reason, it's best only to do tours from Puerto Viejo (just over 2 hours driving each way) or Puerto Limon.
This is definitely one of the best tours in Costa Rica for thrill-seekers who love the water.
11. Turtle Tour in Tortuguero
Tortuguero National Park is a truly unique part of Costa Rica as it's one of the most important nesting sites for sea turtles. This park is one of the best places in Costa Rica to see turtles! It's home to a huge stretch of beach where 20,000 green sea turtles come every year to nest – the largest colony of turtles on the globe!
Tortuguero can only be accessed by boat or plane, and it's one of the most remote tourist attractions in the country. It is preserved and protected, so it's known as one of the wildest national parks in the country.
You can go turtle-spotting on your own; however, to view turtle nesting sites, you'll need to book this tour. Most nesting sites are protected and can only be visited with a guide to ensure you won't disturb the animals. Plus, turtles only lay eggs at night, so having a guide to assist you in the dark is helpful too!
There are peak times of the year to visit Tortuguero, within these months you're more likely to witness the turtles nesting. The nesting season here for green sea turtles is from July to October and from February to June for leatherback sea turtles.
12. Bioluminescent Tour
There are only a few places in the world where the ocean glows in the dark, and Costa Rica is one of them! This phenomenon is thanks to the bioluminescent plankton that floats under the surface and flashes bright blue as you pass by. This unique light show is used to scare off predators and help them find food. And it's one of the most unique tour options in Costa Rica!
These creatures are so small that there can be thousands of them in just one drop of water! Together, they create this magical appearance that looks like thousands of blue, glowing stars!
The best place to see bioluminescent plankton is in the waters around Paquera Bay. And one of the best ways to see the plankton is by gliding above them in a kayak. As you float across the water, every time you dip your paddle in, it will create bursts of sparkling light around you. This kayak tour (and what I did) gives you a full hour to explore Paquera Bay under the stars. This is one of the best places to kayak in Costa Rica! It's so peaceful to see the bioluminescent plankton below and the stars above you.
Another option to see them is by boat. This boat tour leaves from the small beach next to the ferry dock in Paquera. Partway through the tour, they anchor the boat so you can get out and swim amongst the glowing light. This is definitely one of the best things to do in Paquera, and all of Costa Rica, for that matter!
13. Mangrove Kayaking Tour
Mangroves are a special type of forest, made up of a variety of trees and shrubs, and are found where a river meets with the ocean – and they can be found all over Costa Rica. The mangroves here are a wildlife haven and can be home to a wide variety of different species, including birds, sloths, and monkeys!
What's great is that you typically won't have to travel far to explore a mangrove swamp in Costa Rica. The best way to enjoy any mangrove is from a kayak where you can paddle in the calm waterways.
The small town of Puerto Jiménez in the Puntarenas province is very close to the winding mangrove forests inside the Preciosa Platanares Wildlife Refuge. Here, there are 70-foot tall mangrove trees, and it's best to explore the winding river by kayak because on this tour, you'll have a local guide to help you spot wildlife; it even includes some delicious snacks for when you finish paddling.
14. Birdwatching tour
Bird-watching is one of the most popular activities in Costa Rica. The country is well known for its beautiful bird species, which include scarlet macaws, toucans, hummingbirds, quetzals, and more. The best part is that you can go bird-watching in almost every town in Costa Rica!
One of the most popular places to visit for bird lovers is Monteverde – especially for those who want to see the rare and beautiful quetzals. Bird-watching tours in Monteverde are best done in Curi Canchi Nature reserve, and this tour is a great option.
If you love macaws, you're in luck. They can be seen all over the country, but no place is better than Puerto Jimenez! We saw them daily in our hotel and even around town; sometimes, we were lucky enough to get as close as a few meters away.
Other great places to go bird watching include Manuel Antonio, Carara National Park in Jaco, Uvita, Dominical, and more.
Related Read: Check ut our complete guide to visiting Dominical, Costa Rica.
15. Irazu Volcano
In the province of Cartago, to the east of San José, is the mighty Irazu Volcano. This is Costa Rica's highest volcano, at a whopping 3,432 meters (11,260 feet), and it's still active – having last erupted in 1994!
Irazu is thankfully very accessible, and you can rent a car or take a bus there. If you love hiking, this is also a great place to do it since the volcano is located within a national park with plenty of awesome trails. There are also amenities like a cafeteria, parking, toilets, and picnic areas within the park. The entrance fee is just $15 USD, and its opening hours are from 8 am to 4 pm.
If you can, I recommend booking a guided tour to Irazu from San Jose, such as this half-day tour, which includes transportation and snacks! It's a 1.5-hour drive (47 km/30 mi) from San Jose to Irazu, and this tour involves 3 hours at the volcano. Plus, on the way back, it will also stop to tour the Basilica de Los Angeles in Cartago, the Costa Rican Cathedral of la "virgencita" (the patron saint of Costa Rica to whom the Costa Ricans pay homage every August during its pilgrimage.)
16. Cooking class
The food in Costa Rica is SO good. Sure, it may not be as famous as Italian or Mexican cuisine, but it's one of my favorite foods in the world! I just love Gallo Pinto (a breakfast dish which is made of rice and beans) and, of course, the famous Costa Rican tamale!
I always try to book a cooking class when I'm traveling because I believe the best way to take the tastes of the country home with you is by learning how to cook the food from that destination.
I did a cooking class with a local lady in Puerto Viejo, which was amazing! But there are lots of options for cooking classes across the country; these are a few of the best-rated.
Jaco – Learn from famed cookbook author Melissa Guzman in her home or have her come to wherever you're staying for a private cooking class. She'll teach you healthy, classic Costa Rican dishes such as ceviche and soup.
Manuel Antonio – Take a cooking class at a beautiful property with a botanical garden, vanilla plantation, cacao plantation, and a sugarcane mill. You'll start with a walk where you will learn about the local and fresh ingredients before getting to work in the kitchen.
Online – Wherever in the country you may be, join this cooking class via ZOOM. You'll receive a list of ingredients that you must purchase before the class and then learn to create recipes like empanadas, tortillas con queso, and Arroz con Pollo.
17. Fishing tour
If you enjoy fishing as much as I do, you certainly won't want to skip a fishing charter in Costa Rica.
It's worth noting that there are two main types of fishing charters in Costa Rica. The first are inshore tours, which usually head out up to 5 nautical miles; on these tours, you will typically catch fish such as tuna, roosterfish, mahi-mahi, jack crevalle, bigeye trevally, needlefish, barracuda, and snapper. Prices vary greatly but expect to pay between $250 to $550 USD for a half-day tour for up to 5 people.
The second option are offshore tours, which head out much farther and are full-day tours. On these, you can go for all the fish above and big game fish such as sailfish and marlin. These tours cost around $700 USD per boat.
However, in Santa Teresa, you can go on this inshore fishing charter for only $300 USD for up to 6 people. That means with a full crew, it's just over $50 USD per person! Which I think is fantastic value-for-money! And for that reason and the other reasons below, I think, this is one of the best tours in Costa Rica!
I did that particular tour while I was staying in Costa Rica, and I must admit it's well worth the early start of 6:30 am! In the morning, we headed out from Mal Pais a few nautical miles, and we were catching tuna within minutes. The trip involved passing fishing rods around the boat as we landed more fish. We ended the day with the grand total of 12 tuna! We even finished the tour with some fresh raw tuna at the dock.
You can also catch mahi-mahi, wahoo, snapper, roosterfish, and more. Your captain will know what fish to go for depending on the time of year, currents, and tides.
18. La Paz Waterfall Gardens
If you're looking for a fun day trip option from San Jose, consider the La Paz Waterfall Gardens, less than an hour from downtown. It feels like stepping into another world with lush forest, five different waterfalls, and picturesque hiking trails among rain and cloud forest.
The property is also home to the biggest butterfly garden in the world; an animal sanctuary that houses jungle cats, sloths, and monkeys; a hummingbird garden, a frog pond; and a trout lake where you can catch your own fish!
You can drive here yourself in a rental car, and it's best to get here early in the day to avoid the crowds. Allow a few hours to explore, the park is open from 8 am to 5 pm. You can purchase a ticket in advance if you want to skip the line. Admission is $50 USD per adult and $34 USD for children.
If you don't have a car, this guided tour includes transportation from San Jose and the entrance fee. You'll also have a tour guide to navigate the trails with you and help you spot amazing wildlife that might be hiding in the trees.
Or, why not join this guided tour that includes Poas Volcano and La Paz Waterfall Gardens to easily have the chance to see both!
19. Jaguar Rescue Center tour
Costa Rica has worked hard to protect its local wildlife. However, there are still issues that lead to animals needing help. Luckily, you'll find not-for-profit organizations all over Costa Rica rescuing these animals and rehabilitating them for release.
Visiting one of the many wildlife rescue centers in Costa Rica is a great way to support the cause (your entrance fee goes directly to helping the animals) and see some cool animals for yourself that are elusive in the wild.
The Jaguar Rescue Center, located in Puerto Viejo, is my favorite wildlife rescue center in the country! Despite the center's name, wild cats are rare to see here, but you will see lots of other animals like sloths, monkeys, opossums, toucans, deer, snakes, and more. My favorite has to be the adorable baby sloths!
The best way to see the animals and the work the center is doing to help them is through a tour. Just remember that you won't be able to hold or touch the animals as the hope is to release them back into the wild and not get them too used to people. You can also volunteer here, which, as you can imagine, is incredibly popular.
There are two options for tours. If you want to join a group tour, it's $24 USD. No need to book in advance; just show up about 15 minutes before the tour starts at 9:30 am or 11:30 am daily. If you want a more personal experience, book a private tour for $75 USD per person. These are offered every day at 2 pm and must be booked at least two weeks in advance.
20. Chocolate tour
Chocolate is one of my favorite treats, and I'm certain I'm not alone! Would you believe approximately one billion people eat chocolate daily! In Costa Rica, cocoa beans and chocolate have a long history. These beans were sacred to the Indigenous people and were even used as currency. It was also used to create a delicious drink for ceremonies and celebrations.
Today, cacao beans are still a very important crop in Costa Rica. There are lots of different farms that offer chocolate tours throughout the country. And on these tours, you can learn about the origins of chocolate and taste some homemade chocolate.
The best chocolate tour in Costa Rica I've been on is at the Rancho Raices de Osa in Puerto Jimenez. On this particular tour, we were given a visit of this stunning property and witnessed the chocolate-making process from beginning to end. We learned all about organic farming and, of course, got the chance to try the cacao. Towards the end of the tour, we got to make our own chocolate before finishing off with a refreshing cacao face mask.
In other parts of the country, this tour in La Fortuna and this tour in Manuel Antonio both take place at cocoa plantations. If you're in the San José area, visit Botánica Chocolate to sample different cacao recipes, from ancient cacao beverages to the chocolate bars we know and love today.
21. Coffee tour
Costa Rica is famous for its coffee, and the country produces more than 1.5 million bags of coffee every year that are shipped worldwide! But while you're here, you can enjoy a fresh cup of coffee with coffee beans grown probably not far from where you're sitting.
If you travel across Costa Rica, you'll see the coffee fields covering the hillsides. Most of the country's coffee is grown in the Cartago, Alajuela, Puntarenas, Heredia, and San José regions. The coffee is top-notch thanks to ideal growing conditions – volcanic soil, good climate, and high altitude.
Most coffee here (almost 90%) is grown by small farmers. One of the best things to do in Costa Rica is to get the freshest cup of coffee and learn about this important crop on a coffee tour.
There are coffee tours offered all over Costa Rica, so you're sure to find one near where you're staying. Here are a few great options by location:
La Fortuna – Visit a family-owned farm near La Fortuna on this tour. You'll see how coffee goes from bean to cup and how it is grown, roasted, and ground.
San José – Tour the Doka Estate coffee plantation to get up close to coffee production and have a bonus visit to the working sugar mill that processes sugar cane.
Quepos/Manuel Antonio – Learn about the history of the coffee bean while touring a local farm and enjoying a variety of tasty samples.
Guanacaste (including Liberia & Tamarindo) – Tour a coffee farm on this day trip from the Guanacaste area, which also includes visiting a nearby waterfall.
22. Night Walk in La Fortuna
While Costa Rica is stunning during the day, most of the county's wildlife comes alive at night. There are plenty of animals who live in the rainforests here that only come out once it gets dark. Would you believe that about 80% of the mammals here are nocturnal? I think that's a huge number!
If you really want to see the many animals here, consider going out at night. Having a guide is recommended because they know exactly where to look and can spot animals in the dark that you may have missed. In fact, a night tour in La Fortuna is one of the most memorable tours in Costa Rica!
I did this Rainforest Night Walk and Dinner tour while I was staying in La Fortuna; the tour is run by a company called Ecoterra. The tour includes a 90-minute hike, a visit to a frog sanctuary, and ends with a Costa Rican dinner prepared on a wood-burning stove. During the excursion, your guide will lead the way along an easy trail as you look for bats, birds, frogs, snakes, and other cool animals!
The trail follows around the mirrored lakes to a frog sanctuary where you can spot the rare red-eyed tree frog and the tiny dart frog. We saw so much wildlife when we did it, such as a huge green lizard and even a bullet ant, which is known for having the most painful sting of any insect in the world. Luckily, our guide kept us safe!
Related Read: Night tours in Monteverde as also very popular!
Getting Around Costa Rica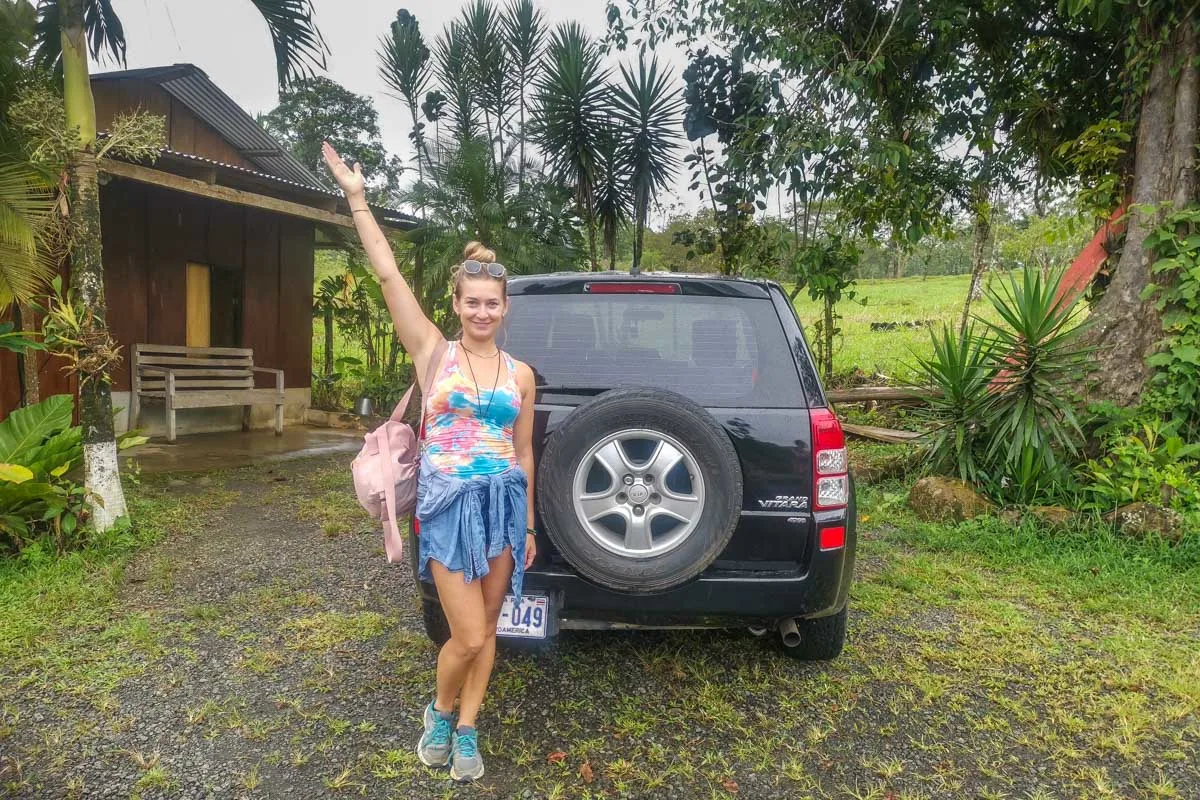 How you choose to get around Costa Rica is one of the biggest decisions you'll make when planning your holiday here! How you do it depends on your budget, travel style, and comfort level.
Renting a Car
Without a doubt, the number one way to explore Costa Rica is in a rental car. We book rental cars on the Discover Cars website as we have had good experiences with them in the past.
One of the things you need to watch for when renting a car in Costa Rica is the mandatory insurance that the government requires you to have. There are a lot of very cheap rentals that don't include this mandatory insurance (TPL) in the original booking price, but there are also ones that do. To avoid additional surprise charges when you pick up your rental car, be sure to rent a car that includes the mandatory insurance when you book.
Thankfully, on Discover Cars it's easy to tell apart the companies that include the mandatory insurance and those that don't. The trick is you can't pick any car on their website. In the picture below, you can see this rental car, with pick up in Jaco, includes the TPL. That means the mandatory insurance is included in the price. Any cover you get above that is extra.
Of course, I still suggest getting the full coverage offered by Discover Cars, which covers you even more.
You can browse cars on Discover Cars here.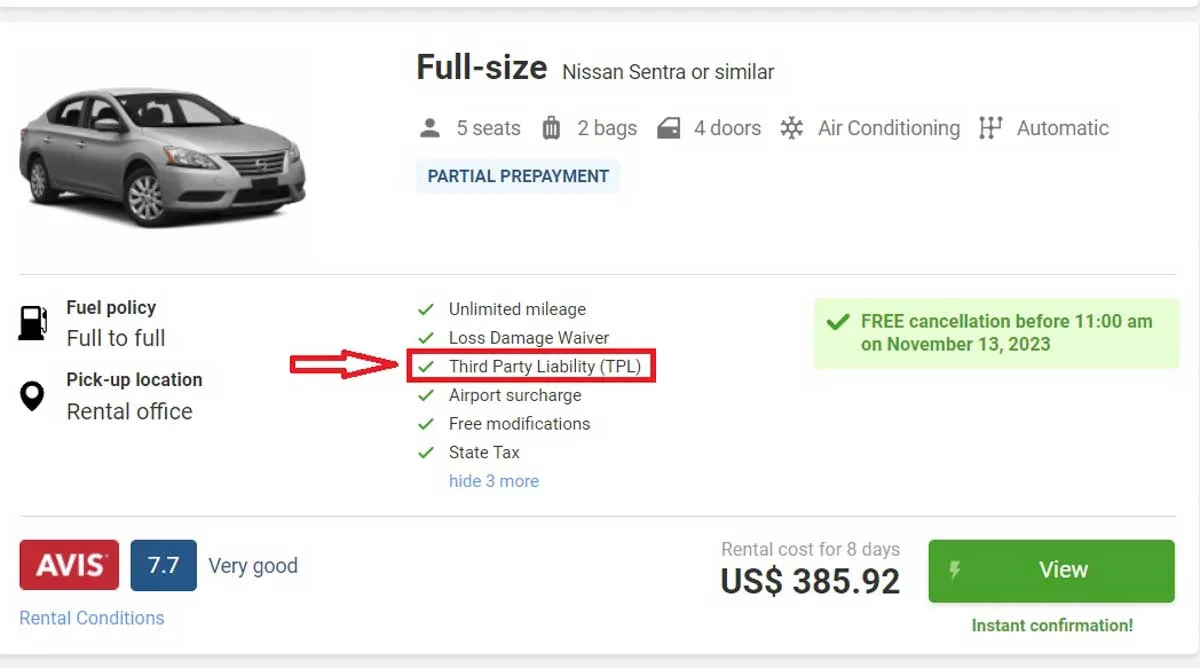 Adobe Rental Rent A Car is another rental company that we most often use in Costa Rica. We love them because Adobe has 15 offices around Costa Rica and delivers door-to-door around their offices at no extra cost. We also are pleased that all of their cars are new. In fact, they are never older than 2 years to the date. They are also the only company to include mandatory insurance and promise no hidden fees. You can get a free quote for a rental car from their website here.
Book Shuttles
If renting a car isn't in your budget, you don't feel comfortable driving in Costa Rica, or you just don't like driving, shuttles are the next best option. There are hundreds of shuttle routes available all over the country, and they are very affordable.
Shuttles in Costa Rica are specifically for tourists and often include pick up and drop off at your selected hotels and airports. The drivers also speak some English, and the vehicles have air conditioning. You'll also be guaranteed a seat when you book a shuttle (which isn't the case with the public bus system.)
To get the best price, use the website Bookaway. They compare all the offers and prices of shuttle companies in Costa Rica so you get the best price! Honestly, we have saved so much money using Bookaway!
You can search for shuttles online on Bookaway here.
Public Bus
Lastly, you can use the public bus system. On short journeys, such as from San Jose to La Fortuna or Uvita to Manuel Antonio, this system is great. However, the longer the journey the more hassle and time spent on a bus. It's undoubtedly best to save the public bus in Costa Rica for short and straightforward trips!
The public buses are definitely the cheapest way to get around Costa Rica, but they are not always very reliable and schedules often change without notice and delays are to be expected. The buses can also be very crowded and hot – so just be prepared!
It's also good to speak some Spanish if you plan on riding the public bus since most drivers and ticket booth operators don't speak English.
Invest in Travel Insurance
Paying out of pocket for trip interruptions or medical treatment will add to what might already be a stressful situation. We always travel with SafetyWing travel medical insurance.
The best part is that it costs only a fraction of what most insurance policies charge, which makes it perfect for digital nomads, long-term travelers (like us), and budget travelers. It only costs $45 USD per 4 weeks!
To start coverage, you must purchase it after leaving your home country. We usually purchase it as soon as we land at the airport.
Since using SafetyWing we've been reimbursed thousands of dollars when we've gotten sick. During the pandemic, they've even gone as far as to pay for our last-minute flights back to Canada from Colombia before the border closed!
You can click here to get a quote and read all the details!
Pura Vida!
And there you have it, 22 of the absolute best tours in Costa Rica! As you can see, it's such a varied list, and I'm certain you will find your new favorite tour in Costa Rica on this list!
Thanks so much for reading! I hope you enjoyed this guide to the best tours in Costa Rica. It's truly one of the best blogs I have written, and I am sure it's given you heaps of inspiration for your upcoming vacation! If you did enjoy this guide, then be sure to check out more of our in-depth guides to Costa Rica, such as:
Where to stay in Costa Rica – The BEST hotels
Must visit volcanoes in Costa Rica
Ultimate guide to the Nicoya Peninsula, Costa Rica