Costa Rica has many amazing things to offer, from lush rainforests and wildlife to stunning beaches and epic sunsets. However, not every attraction is well known enough to earn a spot on many of the best places to visit lists. One of those places is La Leona Waterfall!
However, let me tell you, La Leona is definitely a place worth visiting. Until now, La Leona Waterfall has been a hidden gem, but its beauty has made its popularity rise in recent years. This gorgeous waterfall sits within a canyon and the water running through it is turquoise blue. It's one of the best waterfalls in Costa Rica!
To help others explore this hidden gem, we have written this complete guide to visiting La Leona Waterfall. We will give you details about the waterfall, the different ways to get there, some tips for the visit, and ideas of other things to do nearby!
About La Leona Waterfall
La Leona Waterfall is located in the small town of Curubandé, 20 minutes from Liberia in the province of Guanacaste. La Leona is a unique deep blue waterfall rooted between two canyons. It's one of the few, if not the only, one in Costa Rica with this characteristic.
Its water comes from the "white river" or "Rio Blanco" that finds its source in the skirts of the Volcano Rincon de la Vieja. The color of the water is just amazing, between blue and turquoise, which is explained by the presence of sulfur. It's definitely a must in this area!
Unfortunately, the only way to visit La Leona Waterfall is on a guided tour. This is because the location of the waterfall within the canyon requires safety gear and an expert guide to access. Thankfully, tours are very cheap, as I mention below!
Best time to visit La Leona Waterfall
The best time to go to La Leona Waterfall is between December and April in the dry season (also the best time to visit Costa Rica, in general.) This is not only because it's easier to walk through the river and trails but because rain can turn the river brown and the waterfall can lose its blue color – similar to Rio Celeste.
Also, because the river's flow rate will be lower, the trails won't be muddy, which will be the case in the rainy season. Just be prepared, this region gets very hot in summer!
I also recommend going to La Leona Waterfall during weekdays and not on weekends since it gets more crowded. Although La Leona isn't well known to most overseas tourists, local Costa Ricans love La Leona Waterfall and tend to visit on weekends and holidays.
Getting to La Leona Waterfall
Getting to La Leona Waterfall is actually surprisingly easy – especially if you are spending a night in Liberia. That's because the best way to get to the Leona Waterfall is through Liberia. Once in Liberia, the waterfall is only 20 minutes away, and the road is well maintained.
To get there, you'll take the Interamericana Highway 1 north from Liberia and turn right off this highway to the town of Curubandé . This is where all the tour companies to La Leona are located.
The same road to La Leona will drive you to the Rincon de la Vieja sector Pailas if you are also planning to do this hike. This is the best road and easiest way to get there and does not require a 4X4 so long as you book a tour in town and not on a remote property.
If you are planning to visit La Leona from other locations, map yourself to Liberia and then to the waterfall. From Tamarindo, for example, La Leona is a 2-hour drive away.
How to Visit La Leona Waterfall
Drive yourself and do a tour
The cheapest way to visit La Leona Waterfall, and what I did, is to drive yourself to a tour office in Curubande. We drove to Guanaverde Experiences, which was only 2 hours from Tamarindo.
Once you arrive in Curubande, you'll then need to book with a tour office or head to the tour office you booked with (if you booked in advance like me.) There are lots of different tour operators in the region. One of the most popular is Guanaverde Experiences, which is why I chose them.
The cost of the tour to La Leona Waterfall will depend on the options you choose. For example, if you want to have lunch included or other activities, the tour will cost a lot more.
Different tour operators use different entrances to the waterfall too, and some have property along the river. This means the trail to the waterfall isn't always exactly the same but slightly longer or shorter. Some tour operators also offer breakfast or lunch, but if you want to be free to choose what to eat, there are a few restaurants in Curubandé and many others in Liberia's downtown.
The tour I did from Curubandé was this $30 USD guided tour with Guanaverde Experiences.
This tour is very affordable, and although it didn't include lunch, it includes the tour to the waterfall and a snack. It takes 3 to 4 hours, and the tour is offered in Spanish and English. We left from their private office in Curubandé, so you can leave your car there. They will then drive you (in a 4X4) to where the hike begins, which is one kilometer from their office.
If you need transportation, they can pick you up at your hotel for an extra fee. They offer three guided tours a day, at 9 am, 11 am, and 1 pm. Their hike is 4 kilometers in total and, in the end, they will serve you fruits and fruit juice! A maximum of 10 travelers are admitted per tour, so it's best to book in advance.
Tours from other towns or cities
Those without a rental car or who prefer an organized tour can do tours to La Leona Waterfall from all over Guanacaste. This specific tour offers pick-up all over the area, including Tamarindo, Playa Conchal, and Playa Flamingo.
The full-day La Leona Waterfall tours are more expensive, and they cost around $200 USD per person, but lunch, transportation, the entrance to the hike, and beverages are included. Pick up at your hotel is also offered. Check on their website for pick-up locations. There are plenty.
The departure is at 7 am and, it will take around 8 hours with the hike, lunch, and time of transportation. The tour is offered in Spanish and English.
About our La Leona Waterfall Tour
Guanaverde Experiences has a tour office in Curubande, which is where their tour begins. Guanaverde Experiences also offer free transport from their office in Curubande to the beginning of the hike, which means those without a 4X4 can still book this option.
From Curubande, you will take a 4X4 1 kilometer down a dirt road to the waterfall trail entrance.
The waterfall is hidden just on the outskirts of Rincon de la Vieja Volcano National Park. From the starting point, the trail is 1.3 miles (2 kilometers) each way. There is a climb in elevation and some caves to go across along the way. Here, your guide explains a lot about the area and shows you the caves. At the end of the hike, you have to swim 25 meters through a beautiful turquoise river canyon to reach the waterfall.
Guanaverde Experiences offer one of the shortest trails to the waterfall, which is handy if you're worried about completing the hike. You can tell them if there is someone with a specific physical condition, and they will adapt the hike by taking easier trails.
Seniors and people with sight disabilities have done the hike, but you need to at least have a moderate physical condition. The trails are not paved, but the guides are super friendly and helpful. You'll have to climb stones, cross rivers, and walk-through trails with a lot of tree roots.
Take the bare minimum with you for the hike, but the guides have dry bags for cameras and phones. You can also ask for a life vest if you need to. Since they have many guides, you will probably have a guide for your group, so it will be like a private tour. Of course, this will depend on how large your group is and the season.
On the way, you will see different water pools. You can stop anytime if you want to enjoy the water. The trail is as beautiful as the river. It's surrounded by trees that are crossed by rays of light while you walk through. You will also have a view of the gorgeous blue river and incredible rock formations.
The best part of the trail is when you are close to La Leona Waterfall. Here, you will have to swim two times. The first time through a big pool which is under one canyon and then, a second time, before entering the waterfall. When entering the waterfall, you will have to swim against the current, but there is a rope to help you out.
Once you get into the canyon where the waterfall is, there is also a little pool where you can swim. It's not very deep, but the water is freezing. There is also a little place with rocks where you can stand or sit and admire the waterfall. You can stay there a while, it's just magnificent, and then you will go back the same way you entered.
When you get back to the entrance, you can have your lunch if you did the hike in the morning or just change and enjoy a coffee or drink at a restaurant.
Who can do the La Leona Waterfall tour?
If you choose to do a longer tour, such as the one with Don Rafa Adventure Tours, it's best to only attempt the trail if you have some hiking expereince and are a confident swimmer. However, if you choose to do the tour I did with Guanaverde Experiences, then you can manage with less experience. This is because the trail is shorter and more direct to the waterfalls.
Unfortunately, both tours require you to swim through the canyon, but life jackets are provided, as I mentioned.
If you would like to do the tour I did, you can book it on Airbnb Experiences or Viator (like I did.)
Tips for visiting La Leona Waterfall
Wear comfortable shoes, non-slippery and not too heavy. Don't wear your newest shoes either. You will walk through a lot of stones, and you will have to cross rivers and swim so they will get wet and dirty.
Guides can keep your phone dry. They have waterproof bags they can carry or lend you. However, it's more practical if you have your own waterproof bag for your mobile. The place is so amazing that it is definitely worth getting one of these. That way, you will be able to take photos any time you want without asking the guides to give you your phone. Just make sure the bag is in good shape if you don't want your cellphone to get wet.
Walking sticks can be pretty useful if you are not good at keeping your balance or you prefer avoiding a fall.
If you want to wear a swimsuit, prefer a one-piece swimsuit or wear light sportswear on top of your two pieces swimsuit. At some specific points, mostly near the fall, you will have to swim, and currents can be pretty strong.
Bring a bottle of water!
If you are thinking of bringing food, remember you will have to swim, so if your bag is not waterproof, everything will get wet unless you put your things in a waterproof bag. Packed cereal bars or fruits can be a good option.
Don't forget to bring your sunscreen! The recommended season to go to La Leona is in summer, so it can get pretty hot! Although you will be near the river and the trees, the sun hits hard there!
Bring a hat and sunglasses!
I recommend you bring a change of clothes and a towel! Also, bring another pair of shoes or sandals!
Have some cash with you if you want to tip the guides at the end.
Related Read: For another stunning waterfall, check out La Fortuna Waterfall and the many epic tour options!
Things to do near La Leona Waterfall
1. Rincon de la Vieja National Park
Curubandé, the town where the waterfall is located, is full of natural beauties. One of them, is the Rincon de la Vieja National Park – one of the best national parks in Costa Rica! It's also a town full of history and there are several sites with petroglyphs in the surrounding area, which is evidence that this area was quite important for the indigenous that inhabited these lands between 300 BC to 800 AC.
Th petroglyphs were found during the construction of a geothermic energy project in the area near the volcano. Indeed, this volcano has geothermic sources and fumaroles, which are very interesting to see. Its geothermic sources also explain many thermal springs in the area.
There are two entrances to get to this national park. There is Sector Pailas, the most popular and accessible, and Santa Maria. The best way to access them is through the same road heading to La Leona. Other roads may not be easily accessible. It's a great option if you are going to La Leona on your own.
However, if you are not staying nearby, make sure you get up early to get there. The sun gets pretty hot in the summer, and walking at noon is not recommendable. We suggest you do this hike first, then take a pause for lunch, and go to La Leona Waterfall in the afternoon. If you are staying nearby, you can do both activities on different days.
In the National Park, you can do many different trails, but the Pailas sector is nice for an easy hike, and you will see the geothermic activity from there. There is also a trail to a beautiful waterfall called Oropendola and to another one called La Cangreja. You can hike the trails on your own, but the park closes at 4 pm.
2. Natural Water Pools and Waterfalls
Given the presence of Rio Blanco and Rio Colorado in the area, there are several natural water pools you can access. Some are accessed through Don Rafa's (another tour company in the area), but there are also others like "Poza Rio Colorado, "Poza del Canon," "La Pipa," or "Poza Los Coyotes."
Also, besides the falls already mentioned, there is "Las Chorreras Waterfall," just a 10-minute drive from La Leona. Just remember that you will need a 4×4 vehicle to access places that aren't on the main road because secondary roads can be in bad shape.
3. Hot Springs and Activities
This area is particularly rich in hot springs. One of the most popular places is Hacienda Guachipelin. This is a very nice hotel offering many activities like mud baths and thermal pools. They even have a spa in case you need a massage after the Leona hike. Hacienda Guachipelin also seems to run the Rio Negro Hot Springs, 5km away from the entrance to sector Pailas.
There is also Vandara Hot Springs, 30 minutes from La Leona Waterfall. They have mud baths and hot springs and a ton of activities to do like horseback riding and canopy.
Vida Aventura Nature Park is another place of this type in the area, but it only offers the activities, not the accommodation. It has a spa with mud baths and thermal pools. It also has artificial pools, water slides, trails, horseback riding, and zip-lining. You can have a full-day package with all the activities and lunch.
Related Read: If you love hot springs be sure to visit La Fortuna – there are tons of nice hot springs in La Fortuna that you enjoy!
Getting Around Costa Rica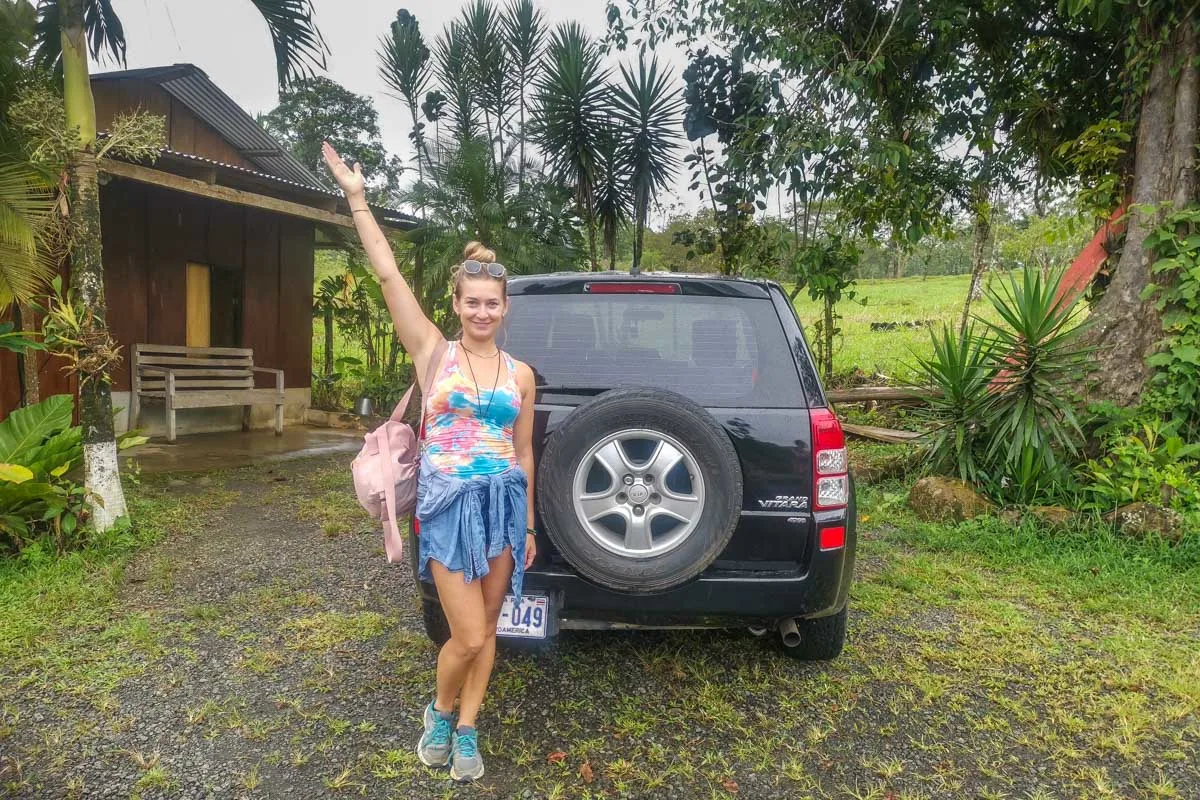 How you choose to get around Costa Rica is one of the biggest decisions you'll make when planning your holiday here! How you do it depends on your budget, travel style, and comfort level.
Renting a Car
Without a doubt, the number one way to explore Costa Rica is in a rental car. We book rental cars on the Discover Cars website as we have had good experiences with them in the past.
One of the things you need to watch for when renting a car in Costa Rica is the mandatory insurance that the government requires you to have. There are a lot of very cheap rentals that don't include this mandatory insurance (TPL) in the original booking price, but there are also ones that do. To avoid additional surprise charges when you pick up your rental car, be sure to rent a car that includes the mandatory insurance when you book.
Thankfully, on Discover Cars it's easy to tell apart the companies that include the mandatory insurance and those that don't. The trick is you can't pick any car on their website. In the picture below, you can see this rental car, with pick up in Jaco, includes the TPL. That means the mandatory insurance is included in the price. Any cover you get above that is extra.
Of course, I still suggest getting the full coverage offered by Discover Cars, which covers you even more.
You can browse cars on Discover Cars here.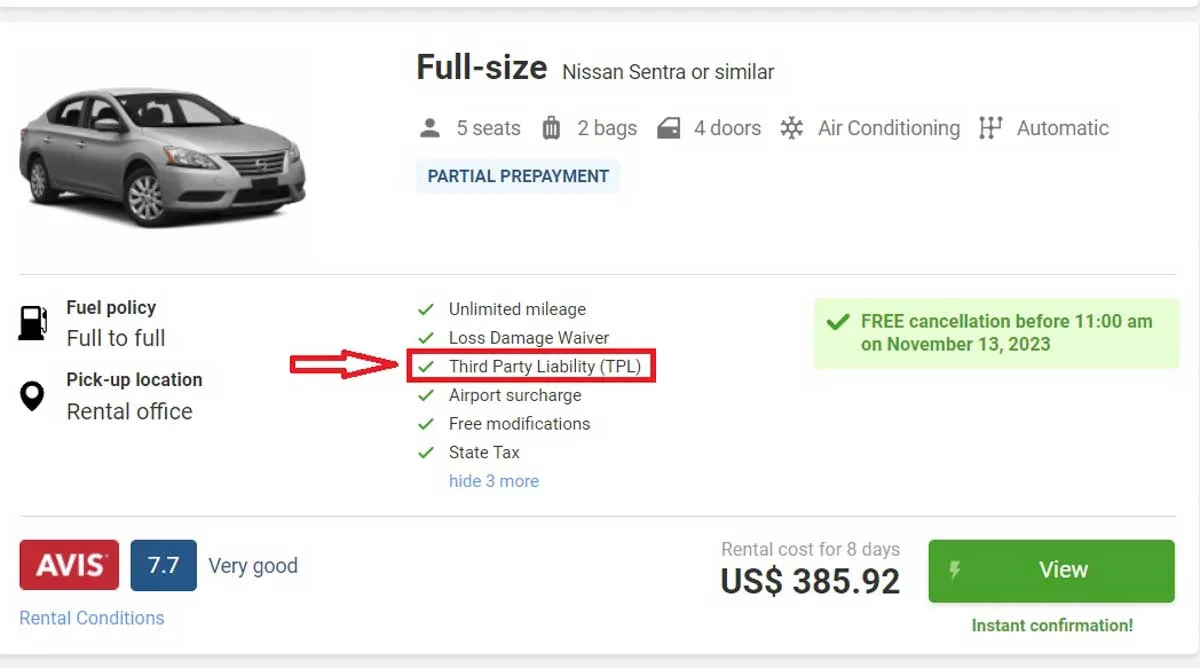 Book Shuttles
If renting a car isn't in your budget, you don't feel comfortable driving in Costa Rica, or you just don't like driving, shuttles are the next best option. There are hundreds of shuttle routes available all over the country, and they are very affordable.
Shuttles in Costa Rica are specifically for tourists and often include pick up and drop off at your selected hotels and airports. The drivers also speak some English, and the vehicles have air conditioning. You'll also be guaranteed a seat when you book a shuttle (which isn't the case with the public bus system.)
To get the best price, use the website Bookaway. They compare all the offers and prices of shuttle companies in Costa Rica so you get the best price! Honestly, we have saved so much money using Bookaway!
You can search for shuttles online on Bookaway here.
Public Bus
Lastly, you can use the public bus system. On short journeys, such as from San Jose to La Fortuna or Uvita to Manuel Antonio, this system is great. However, the longer the journey the more hassle and time spent on a bus. It's undoubtedly best to save the public bus in Costa Rica for short and straightforward trips!
The public buses are definitely the cheapest way to get around Costa Rica, but they are not always very reliable and schedules often change without notice and delays are to be expected. The buses can also be very crowded and hot – so just be prepared!
It's also good to speak some Spanish if you plan on riding the public bus since most drivers and ticket booth operators don't speak English.
Invest in Travel Insurance
Paying out of pocket for trip interruptions or medical treatment will add to what might already be a stressful situation. Not to worry, SafetyWing is here to help!
This affordable travel and medical insurance is perfect for digital nomads, long-term travelers, and remote workers. The best part is that it only costs $45 USD per 4 weeks.
To start coverage you must purchase it after leaving your home country. We usually purchase it as soon as we land at the airport.
Since using SafetyWing we've been reimbursed thousands of dollars when we've gotten sick. During the pandemic, they've even gone as far as to pay for our last-minute flights back to Canada before the border closed!
Pura Vida!
La Leona Waterfall will slowly but surely make it onto the typical tourist trail, however, for now it's a hidden gem that needs to be explored. I guarantee you won't regret taking the time to explore a little deeper!
Thanks so much for taking the time to read our blog! It brings us a lot of joy to be able to help shape your trip to Costa Rica – one of the most beautiful countries on th planet. If you found this guide helpful, be sure to check out more of our Costa Rica blogs such as: