This blog may contain affiliate links. Read our disclosure policy for more info.
Nestled in the province of Guanacaste in the northwestern part of the country, Tamarindo is a bustling resort-like town known as one of the country's top beach destinations. With its amazing beach, pulsating nightlife, mouthwatering cuisine, and a plethora of activities including ziplining and surfing, this small town has become a hotspot for every type of traveler, from backpackers to families – so naturally, there are a ton of places to stay in and around Tamarindo.
If you're someone who has never been here before, then choosing where to stay in Tamarindo can be a bit daunting. This is especially true with the dozens of hotels and different areas you can pick from.
Luckily for you, I've put together this blog to show you each of the town's charming areas, so you'll know exactly where to go to enjoy your visit. I've also included info about the best hotels in Tamarindo, you know, the ones that are sure to make your stay unique and memorable! And for budget travelers, I haven't forgotten you either, as I've handpicked hostels and budget-friendly hotels too.
So without further ado, here are the best areas and hotels to stay in Tamarindo, Costa Rica.
Don't have time to read the full article? Stay in Tamarindo Town to be near all the best restaurants, nightlife, and shops. Our top hotel pick for this area is Ten North Tamarindo Beach Hotel because of its beautiful pool and excellent reviews. You can check prices and book here on Booking.com, here on Hotels.com, or here on Expedia.
What are the Best Areas to Stay in Tamarindo, Costa Rica
Before deciding where to stay in Tamarindo, you first need to think hard about choosing an area based on the kind of vacation you're hoping to experience.
If you're someone who's looking for a great beachside vacation, you can find the best hotels in Tamarindo near Playa Tamarindo. This beach is an ideal starting point for exploring the area as there is an abundance of tour operators providing a diverse selection of activities here. This is also where most visitors come to stay, though, so expect the crowd.
If you're a laid-back traveler who prefers a more secluded holiday immersed in nature, there are quieter areas to stay in nearby, two of which are Playa Langosta to the South and Playa Grande to the North.
Continue reading for a more in-depth look at Tamarindo's three best areas and the best places to stay in.
About Staying in Tamarindo Town
A favorite destination for locals and tourists alike, Tamarindo lies right along the picturesque shores of the North Pacific Coast. In spite of its relatively small size, it serves as a focal point for shopping and entertainment, so there is never a shortage of things to do here.
While you're here, feel free to laze on the beach, treat yourself to a relaxing kayaking trip, and catch the waves to your heart's content. Aside from the typical beach activities, there's a lot to do inland, too. Try authentic Costa Rican food at a local restaurant, go hiking or biking through a forest trail, ride horses, or go golfing!
Another thing you'll about staying here is that most Tamarindo hotels, restaurants, bars, shops, and tour operators are all within a quick walk from the beach. Also, if you choose to stay in town, you have a ton of hotels to choose from!
Advantages to staying in Tamarindo:
Vibrant nightlife and atmosphere.
Plenty of must-try cafes and delicious restaurants in Tamarindo.
Lots of beautiful accommodations to choose from.
Nice surfing beach.
Disadvantages to staying in Tamarindo:
Very touristy
Can get pretty loud
Accommodations are not so peaceful
Super busy beach with thick crowd and lots of surfers
The closest beach can be busy with lots of vendors
4 BEST Hotels in Tamarindo (for every budget!)
$$$ – Jardin del Eden Boutique Hotel
Are you looking forward to a quiet Tamarindo holiday without dealing with the constant rowdiness of kids around? Then a stay at Jardin del Eden Boutique Hotel is just what you need.
An adults-only boutique hotel in the center of the town, Jardin del Eden is set in a tropical garden brimming in trees and flowering plants. It's far away from the bustling streets enough to provide you with nothing but the private retreat you're craving for, but also right in the heart of town, within walking distance to everything.
As one of the best hotels in Tamarindo, Jardin del Eden will pamper you with top-notch amenities in your suite and world-class facilities on the property. The rooms include flat-screen TVs and high-speed Wi-Fi, plus a huge (beautiful!) bathroom.
If you prefer more luxurious accommodation, stay in one of the suites that come with a large terrace with your very own jacuzzi and a panoramic view of the ocean and the town. Just imagine, enjoying your morning coffee or sunset cocktail here while dipping in the jacuzzi and soaking in the view – pure luxury!
Outside your suite, you can enjoy more of what Jardin del Eden has to offer. Visit the in-house spa for relaxing massages, body treatments, and facials. Join free beachfront yoga sessions, then enjoy a friendly game of outdoor tennis or a quiet stroll along the hotel's private beach, which is conveniently set in the middle of Tamarindo Beach.
When it's time to refuel, just head to the poolside restaurant that serves an eclectic mixture of Central American, Mediterranean, and Asian cuisine made from locally sourced ingredients. Feel free to visit Tamarindo's other dining options, too, jut walk out of the hotel and you'll have dozens of Tamarindo restaurants to choose from right at your doorstep.
The rooms at Jardin del Eden are diverse and spread out, with rates ranging from $220 to $579 USD per night.
Check availability and book Jardin del Eden Boutique Hotel online here on Booking.com.
Related Read: While in Tamarindo, check out the best tours the town has to offer!
$$ – Ten North Tamarindo Beach Hotel
Sitting right in the heart of Tamarindo town, Ten North Tamarindo Beach Hotel is one of the Tamarindo hotels that puts you within walking distance to the town's best restaurants and shops. The property is also just three minutes on foot from Playa Tamarindo, so you can plunge into the sea whenever you like.
But beyond the convenience of being close to the center of the action, what you'll like about staying in Ten North is their cozy suites. As soon as you walk into your room, you'll notice its "beachy vibe" with the driftwood headboard, turtle sculptures, and blue upholstery – perfect for your beach holiday. There are also blackout drapes, a flat-screen TV, and a fridge in your room!
For the hotel amenities, Ten North provides everything you need for a comfy stay. Get pampered with on-site massages or soak in the sun in the outdoor pool.
If you prefer going out than staying in, just approach the staff and ask help arranging your activity of choice. They can book surf lessons, scuba diving trips, sunset cruises, horseback riding sessions, and even volcano tours – just say the word!
Accommodations at the hotel range from one-bedroom units to two-bedroom apartments to suit different types of guests. Rates begin at $120 USD per night.
Check availability and book Ten North Tamarindo Beach Hotel online here on Booking.com.
$$ – BoHo Tamarindo – Adults Only
So you're looking for a romantic adults-only hotel for your honeymoon in Costa Rica but don't want to break the bank? Then BoHo Tamarindo is exactly what you're looking for! This cozy boutique hotel boasts only eight guestrooms, so you'll have more privacy and space to enjoy the property's amenities.
To kick off your day at BoHo Tamarindo, you will be served a hearty complimentary breakfast before you embark on a fun day out in the sun. Have the staff organize a snorkeling, diving, or canoeing trip for you on the nearby beach, or rent one of the hotel's bicycles and ride to the downtown area, where all the action is.
If you like a more laid-back way to spend your day, you can just chill out in the deckchair by the pool or do some yoga on the sun deck. There is also a common area on the property, where you can play some board games or read books and magazines.
When it's time to hit the hay, you can head to your room, which is tastefully decorated with wood and blue accents. Your suite sits right outside the pool area, so you can enjoy the view of the garden and pool while sitting on the beanbag of your private patio. Each suite is also equipped with air conditioning, a mini-fridge, and coffee/tea-making facilities.
Rooms start at around $189 USD per night. Check availability and book BoHo Tamarindo online here!
$ – Selina
Selina is every traveler's go-to accommodation provider for a budget-friendly stay in Costa Rica. But apart from its affordability, what makes Selina Tamarindo stand out from the other hotels in the Tamarindo downtown area is its unbeatable surfing school program.
Nestled between Playa Grande and Playa Langosta, Selina is among the best hotels in Tamarindo for surfing, thanks to its incredible waves and expert guides. Surf lessons at this site are suitable for all levels, from curious beginners to experienced professionals. So whether you're just starting or are already pretty skilled at surfing, Selina wouldn't disappoint.
If you're a non-surfer, there are plenty of other activities that the hotel can offer you, too. The hotel's schedule of activities changes each week, so you can experience everything that Tamarindo has to offer. Go on volcano treks or try restorative yoga and meditation sessions. Don't miss the salsa lessons, too!
Back at the hotel, you can chill at the outdoor pool or enjoy some chick-flicks in the movie room. There is a lively restaurant and bar on the property, as well, where you can try the best Costa Rican dishes. To cap off your day, catch the breathtaking sunset on Tamarindo Beach, which is only three minutes away on foot.
At Selina, you'll have the choice of staying in a dorm or a private room, both of which are equipped with air conditioning (a must in Tamarindo if you ask me.) Rates for a private room start at $139 USD per night, while a bed in the dorm rooms starts at $71 USD per night.
You can check availability and book Selina Tamarindo on Booking.com or here on Hostelworld.com.
Related Read: One of the best hotels in Santa Teresa, Costa Rica is also the Selina!
About Staying in Playa Grande
The stunning Playa Grande beach lies just north of Tamarindo, at the center of the Marino Las Baulas National Park. Having been a part of the park since 1990, the beach remains highly protected as an important nesting ground for leatherback turtles. While you're here, you'll most likely see turtles and some other local wildlife in the reserve. We were lucky enough to see baby turtles hatch when we were there!
Bordered by the Tamarindo Estuary, Playa Grande is well-known as a surfers' paradise for its consistently good waves, warm water, and reliable breaks. The beach's sandy base is ideal for experimenting with new tricks since there is little risk of crashing into rocks or reefs, and wipe-outs are completely tolerable. With such a long shoreline, surfers can also easily find a private spot to test their riding skills.
Playa Grande is a more isolated beach, though. It's quite a drive away from Tamarindo (the road takes you a roundabout route that takes about 40 minutes), so most travelers either take a boat or walk the couple of kilometers to get here from Tamarindo.
Since it's pretty secluded, expect a more quiet nightlife and fewer dining options than Tamarindo. However, the town's laid-back setting offers a variety of options for travelers to enjoy. You can find a handful of boutique cafes and shops in town, along with surf lessons and tours that you can try. It is much quieter and more peaceful than Tamarindo.
Vacation rentals in this area tend to be on or near the coast, with many boasting stunning views of the ocean. Most of the nearby surf camps also provide inexpensive lodging (usually without air conditioning).
Advantages of staying in Playa Grande:
Relaxing atmosphere
Hotels are significantly cheaper than Tamrindo town
Closer to wildlife
Surfing beach
Less crowded than Tamarindo
Perfect for swimming during low tide
Disadvantages of staying just outside of Playa Grande:
Limited selection of accommodation and services
Getting here is a bit of a hassle
The town is less vibrant than Tamarindo, not much nightlife.
No real luxury hotels around
3 BEST Hotels in Playa Grande
$$ – Hotel Cantarana
If you're looking for an intimate retreat away from the busy life of Tamarindo, Hotel Cantarana is one of the hotels you should consider. This boutique hotel is set within the Las Baulas National Marine Park near Playa Grande, a renowned nesting ground for leatherback sea turtles and a haven for countless bird species.
The hotel can even arrange some outdoor activities for you, from ATV tours and mountain biking to turtle and alligator watching.
If this already sounds like a dream to you, wait until you learn that Hotel Cantarana's major draw is actually the uncrowded surfing beach of Playa Grande. The beach is mere two minutes on foot down the hotel's private jungle trail! It's the perfect place to enjoy the beautiful sunsets each night.
After getting your fill of the beach, head back to the hotel and dip into the shaded outdoor pool. Feel free to just grab a book and lounge in the sun terrace, too. Should you start feeling hungry, the in-house restaurant offers a large selection of international and local dishes. Afterward, get pampered with a full-body massage before retreating to your basic, but comfy, rooms outfitted with tropical décor, king-size beds, air-conditioning, and a balcony with garden views.
The Double Room here costs as low as $104 USD per night, while the one-bedroom villa typically starts at $138 USD per night.
Check availability and book Hotel Cantarana online here on Booking.com.
$ – Pipe House Playa Grande
Sick of the same old boring hotel rooms? Why not try Pipe House Playa Grande then!
As soon as you walk into the property's gates, the rooms will immediately catch your attention. This is because they aren't your typical four-walled guestrooms in buildings. Instead, they are recycled concrete pipes stacked on top of each other, offering an open-air and cozy feel. This is one of the most unique hotels in the Tamarindo area and well worth checking out.
Since the room is built within a concrete pipe, it's pretty minimalist. You have an air conditioning unit above the bed, a wooden bedside shelf, and some towels and linen. No two rooms are the same, though. On the far end of the pipe, you can find a Mandala uniquely painted with a predominant color as a code to the room names.
Beyond the minimalistic design, what I love most about the rooms is that the top half is made of glass, so you can enjoy the view of the outdoors right from your bed! Watch the monkeys or squirrels eating off the mango trees and take in the tune of the singing birds in the morning – such a neat experience!
Pipe House is fully-equipped with the standard amenities, too. There is a ranch area, where you can find an open living room to socialize with other guests and a full kitchen complete with an oven and microwave. BBQ facilities are also readily available for use.
If you're up for some exercise in the morning, feel free to go jogging on the beach, which is only 75 meters away. Try the balance board, slackline, and jungle gym on the property, too. You can then relax with a yoga session before heading to Tamarindo by boat.
The deluxe rooms cost an average of $96 USD per night, a great deal if you ask me! You check availability and book Pipe House Playa Grande online here on Hostelworld or here on Booking.com.
$ – Playa Grande Surf Camp
Need to save money on accommodation but still want the best value for money? Then look no further than Playa Grande Surf Camp.
With laid-back surfer vibes and budget-friendly prices, this locally-managed hostel is the perfect option – all for the rate of under $75 USD! It boasts an outdoor swimming pool and lounging hammocks, where you can waste your time away. Hungry for some Costa Rican dishes? The on-site Café Mar Azul (one of the best restaurants in Tamarindo) will happily serve you the meal of your choice made from fresh and locally-sourced ingredients – you just have to try their ice cream banana bread sandwich!
If you prefer making your own lunch, feel free to use the self-catering kitchen and barbecue facilities and make friends with the other guests while doing so. Once you're energized for the day, try one of the surf lesson packages offered by the hostel itself. There are also plenty of other local activities to keep you busy, such as hiking, fishing, horseback riding, and tanning on the beach.
At the end of the day, you can retreat to your room outfitted with basic amenities like fans, air conditioning, and a private or shared bathroom.
Playa Grande Surf Camp is the only provider in the area that offers affordable accommodation in a shared dorm room (rates begin at $33 USD per night). If this isn't your style, you can always book private cabanas and open-air rooms for as low as $61 USD per night.
Check availability and book Playa Grande Surf Camp online here on Booking.com.
Related Read: Another beautiful beach area only about 45 minutes from Tamarindo is Playa Flamingo – there are some nice hotels here too!
Playa Langosta
Continue south on the main road from Tamarindo, and you will eventually come across Playa Langosta. This tiny neighborhood is more like a suburb of Tamarindo, boasting stunning sandy beaches with incredible surf.
Playa Langosta is a must-consider when choosing where to stay in Tamarindo since it makes a great destination for those wanting to escape the crowds and find a low-key and mellow spot to unwind in. This is because the area is made up of only a handful of rentals, hotels, rentals, and other essential businesses.
This means that you can go for uninterrupted strolls on the beach or set up a quiet picnic lunch before heading to the downtown area. Unlike Tamarindo, surfers won't have to compete for a wave as Playa Langosta has breaks left and right.
Another notable thing about Playa Langosta is that it's only a 5-minute drive to Tamarindo, but you'll feel like you're far away from it all. Although the place does fill up during the high season, it is typically much less crowded than Tamarindo.
Advantages to staying in Playa Langosta:
Has a natural, laid-back feel
No crowds at the beach
Only a 5-minute drive from downtwon Tamarindo
Nice luxury hotels to choose from
Disadvantages of staying in Playa Langosta:
Not many budget-friendly accommodations to choose from.
Limited options for restaurants
No nightlife unless you drive to Tamarindo
3 BEST Hotels in Playa Langosta
$$$ – Favela Chic Tamarindo – Adults Only
Want to immerse yourself in the jungle and the beach at the same time? Favela Chic Tamarindo offers you just that and more. Boasting five contemporarily designed bungalows set in the wilderness and a few steps from the beach, this adults-only hotel will give you the beachside lifestyle you've always wanted.
The first thing you'll notice about your fully-furnished bungalow is its boho-chic design with some Balinese beachy decor. It has dramatic vaulted ceilings that make the room more spacious and wooden furniture for that boho feel.
You also have a well-fitted open kitchen for the days when you don't feel like heading out for dinner. Enjoy your morning cup of coffee in the private outdoor patio as you soak in the pool views and the refreshing jungle breeze.
If you're feeling adventurous, explore the nearby Las Baulas National Park or walk to downtown Tamarindo for some shopping. Spend the afternoon walking down Playa Langosta, only two blocks away from Favela Chic.
If you just want to hang out on the property, lounge under the shady pergola or take a dip in the pool while watching the howler monkeys scurry about.
The bungalows have an average rate of $194 USD per night, but you can also book the two-bedroom bungalow for $288 USD per night.
Check availability and book Favela Chic Tamarindo online here on Booking.com.
$$$ – Cala Luna Boutique Hotel & Villas
Treat yourself to a luxurious escape in Cala Luna Boutique Hotel & Villas. Cocooned by lush vegetation, this boutique hotel translates to "Cove of the Moon," and you can clearly see it in the interior design dominated by lunar grays and cosmos blues.
What you'll love about staying in Cala Luna is how private the modern bungalows and villas are, since the property sits in a thick jungle. Not to mention that the units are framed with silver palm trees, lush hibiscus, and colorful bougainvilleas that you can enjoy from the comfort of your private patio.
Of course, the en-suite amenities are just as luxurious. Your suite is decorated with tropical hardwood blending with cream tones and well-appointed with a minibar, satellite TV, and seating area. If you want to take it up a notch, get a unit with a private pool and a full kitchen to make the most out of your stay!
Meanwhile, on the property, you will be as pampered as ever, with world-class amenities right at your disposal. Enjoy swimming in the private beach area or schedule a relaxing facial at the full-service spa.
Also, the hotel's in-house Cala Moresca restaurant is an amenity you don't want to miss! Serving Italian fusion meals and seafood, Cala Moresca is sure to satisfy your tastebuds. There's a bar here, too, where you can get fresh sushi and refreshing cocktails while chilling on the terrace.
The rooms are available for $404 to $528 USD a night, while villas start at $908 USD to upwards of $1,117 USD. Check availability and book Cala Luna Boutique Hotel & Villas online here on Booking.com.
$$ – Sueño del Mar Beachfront Hotel
With stucco buildings decorated with Guatemalan textiles and a Balinese-inspired outdoor shower, Sueño del Mar has a lot of character to show you. This charming bed and breakfast fronts the beach and features plenty of recreational amenities on-site to keep you busy.
Relax in the chairs and hammocks set up near the rocky shore. Go on a quick dip in the outdoor pool while you take in the beauty of the surrounding garden or grab a drink at the in-house bar to socialize with other guests. You can also approach the tour desk if you want to experience everything Tamarindo has to offer.
At the end of the day, retreat to your cozy room outfitted with standard amenities like air conditioning, microwave, and deluxe poster beds. You also have your own private furnished balcony or patio, where you can enjoy the view of the garden below or the ocean in the distance.
Sueño del Mar's accommodation includes only four rooms and two casitas, starting at $220 USD per night and includes daily breakfast.
Check availability and book Sueno del Mar Beachfront Hotel online.
Related Read: Visiting Tamarindo on a tight budget? Check out our guide about the best cheap and free activities in Tamarindo!
Must-do Activities While You're in Tamarindo
Tamarindo is a town filled with tons of things to do and see. So while you're planning your trip here, make sure to check out a few more of our other favorite activities:
Visit Rio Celeste – One of the most beautiful rivers and waterfalls in Costa Rica is within reach of Tamarindo. Rio Celeste Waterfall is a natural phenomenon where two rivers meet and cause the water to literally turn blue. Since it's 2.5 hours away, unless you have your own vehicle, you're going to need to join a tour. This specific tour leaves Tamarindo at 6:30 am and includes everything from hiking to a swim in the turquoise waters and even a visit to a wildlife sanctuary to see sloths!
Sunset cruise – One of the best relaxing activities you can do in Tamarindo is a cruise through Tamarindo Bay. Aboard this Sunset Catamaran Cruise, you'll sail out into the ocean in search of magnificent views, wildlife, and of course, an epic sunset. You can choose to do the tour in the morning or afternoon (afternoon is better), and it includes an open bar, water activities, and a meal for only $95 USD!
Learn to surf – Although you won't find Tamarindo on any list of the top places to surf in Costa Rica, it's arguably the best place for beginners. You can do surf lessons any day of the week, and there are tons of surf schools in town. This two-hour surf lesson is top-rated and has over 1,600 five-star reviews.
See turtles – Getting a chance to see turtles in Costa Rica is pretty amazing. Luckily there are some secluded beaches around Tamarindo where turtles come to lay eggs on the beach from November to April. This turtle nesting tour is an evening experience (that's when turtles come ashore) and if you're really lucky you'll even see baby turtles hatching and making their way to the ocean.
Adventure tour – If you're craving a day bursting with fun activities, this Guachipelin Adventure tour delivers! It's an epic full-day experience with ziplining, river tubing, horseback riding, a visit to natural hot springs, a volcanic mud bath, and a full buffet lunch. It's so popular because, with all those activities, the tour only costs $135 USD for the self-drive option (what we did) or $149 USD for the included transport.
Check out a local market – On Saturdays, the Tama Market is the place to be in Tamarindo! From 8 am to 2 pm, the market is bustling with stalls where you can do some shopping, pick up fresh fruit or veggies, or even grab lunch. We tried some excellent cold brew coffee here and I found a sunscreen I love made with natural products!
Getting Around Costa Rica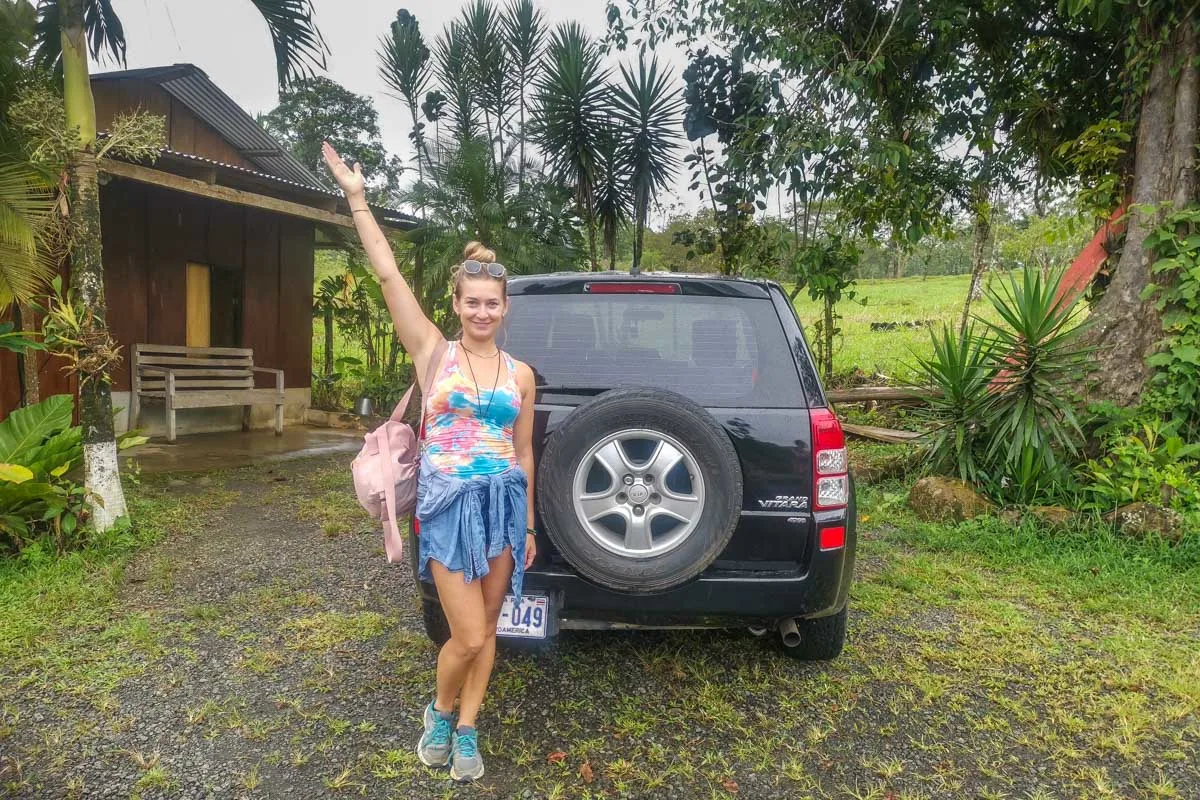 How you choose to get around Costa Rica is one of the biggest decisions you'll make when planning your holiday here! How you do it depends on your budget, travel style, and comfort level.
Renting a Car
Without a doubt, the number one way to explore Costa Rica is in a rental car. We book rental cars on the Discover Cars website as we have had good experiences with them in the past.
One of the things you need to watch for when renting a car in Costa Rica is the mandatory insurance that the government requires you to have. There are a lot of very cheap rentals that don't include this mandatory insurance (TPL) in the original booking price, but there are also ones that do. To avoid additional surprise charges when you pick up your rental car, be sure to rent a car that includes the mandatory insurance when you book.
Thankfully, on Discover Cars it's easy to tell apart the companies that include the mandatory insurance and those that don't. The trick is you can't pick any car on their website. In the picture below, you can see this rental car, with pick up in Jaco, includes the TPL. That means the mandatory insurance is included in the price. Any cover you get above that is extra.
Of course, I still suggest getting the full coverage offered by Discover Cars, which covers you even more.
You can browse cars on Discover Cars here.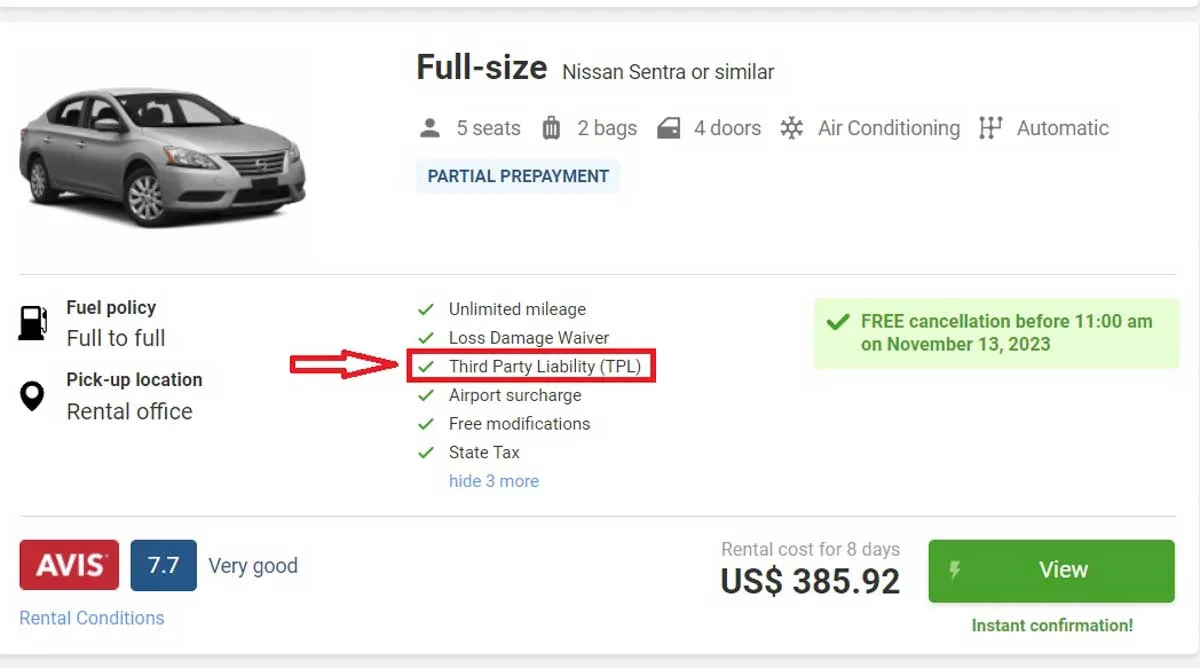 Adobe Rental Rent A Car is another rental company that we most often use in Costa Rica. We love them because Adobe has 15 offices around Costa Rica and delivers door-to-door around their offices at no extra cost. We also are pleased that all of their cars are new. In fact, they are never older than 2 years to the date. They are also the only company to include mandatory insurance and promise no hidden fees. You can get a free quote for a rental car from their website here.
Book Shuttles
If renting a car isn't in your budget, you don't feel comfortable driving in Costa Rica, or you just don't like driving, shuttles are the next best option. There are hundreds of shuttle routes available all over the country, and they are very affordable.
Shuttles in Costa Rica are specifically for tourists and often include pick up and drop off at your selected hotels and airports. The drivers also speak some English, and the vehicles have air conditioning. You'll also be guaranteed a seat when you book a shuttle (which isn't the case with the public bus system.)
To get the best price, use the website Bookaway. They compare all the offers and prices of shuttle companies in Costa Rica so you get the best price! Honestly, we have saved so much money using Bookaway!
You can search for shuttles online on Bookaway here.
Public Bus
Lastly, you can use the public bus system. On short journeys, such as from San Jose to La Fortuna or Uvita to Manuel Antonio, this system is great. However, the longer the journey the more hassle and time spent on a bus. It's undoubtedly best to save the public bus in Costa Rica for short and straightforward trips!
The public buses are definitely the cheapest way to get around Costa Rica, but they are not always very reliable and schedules often change without notice and delays are to be expected. The buses can also be very crowded and hot – so just be prepared!
It's also good to speak some Spanish if you plan on riding the public bus since most drivers and ticket booth operators don't speak English.
Invest in Travel Insurance
Paying out of pocket for trip interruptions or medical treatment will add to what might already be a stressful situation. We always travel with SafetyWing travel medical insurance.
The best part is that it costs only a fraction of what most insurance policies charge, which makes it perfect for digital nomads, long-term travelers (like us), and budget travelers. It only costs $45 USD per 4 weeks!
To start coverage, you must purchase it after leaving your home country. We usually purchase it as soon as we land at the airport.
Since using SafetyWing we've been reimbursed thousands of dollars when we've gotten sick. During the pandemic, they've even gone as far as to pay for our last-minute flights back to Canada from Colombia before the border closed!
You can click here to get a quote and read all the details!
Pura Vida!
With some of the best waves in the country, Tamarindo is a great getaway for surfers and beach bums alike. But beyond the awesome waves that you can find here, the town is also packed with interesting nature trips and cruises that will let you make the most out of your trip.
I hope this blog has pointed you in the right direction of where to stay in Tamarindo that best fits your budget and expectations. Whatever hotel you choose to stay at, your vacation will be a memorable one.
If you found this blog helpful, be sure to check out some of our other popular blog articles including:
What to do in Tamarindo, Costa Rica