Sitting between Uvita and Manuel Antonio and about a three-hour drive from Juan Santamaria International Airport (SJO) lies the small hippie community of Dominical. This surf town is one of the go-to spots in the country for surfers and backpackers, not only because of the low and mid-priced hotels lining the roads but also because of the town's mellow and laid-back ambiance.
This hippie vibe is what sets Dominical apart from its neighboring beachside towns, and because the area is pretty underdeveloped, you'll feel like you're really away from it all.
The beautiful Playa Dominical is undeniably the heart and soul of the neighborhood. There is not a day when the beach isn't packed with seasoned surfers and souvenir merchants. Close to the beach is the main area of the town, where you're bound to find budget-friendly hostels and boutique hotels. If higher-end lodging is more your thing, head outside the city to the hills for the best accommodation options.
However, if you're still undecided and don't know where to stay in Dominical, keep reading. In this blog, I'll cover the pros and cons of staying in town and on the hilltops, along with six of the best hotels in Dominical and nearby!
What are the Best Areas to Stay in Dominical, Costa Rica
Visiting Dominical means you'll only have two areas to stay in: the town center or the jungles/hills around the town.
The town center is super small, so expect everything to be a stone's throw away. It's also right on the beach. That means if you're in town just for the surf and sand, this is exactly where you want to be.
Meanwhile, the hills surrounding Dominical is quite a bit of a drive to the establishments and the beach. But it's well worth the hassle if you're looking for the best hotels in Dominical with panoramic ocean views.
Note: Many people also just visit Dominical on a day trip from other nearby, larger towns. Check out the best hotels in Uvita for more options, or the best hotels in Manuel Antonio!
About Staying in Dominical Town
Dominical is a rather small town without paved roads and large commercial establishments. But despite having only local restaurants, cafes, and shops, this town still attracts a crowd of tourists, thanks to its great surfing beach.
Another thing that draws me back to Dominical is its hippie and chill atmosphere. You can find parking areas lined with hammocks and tents and plenty of backpackers biking and walking around.
There are limited Dominical hotels, though, so make sure to plan ahead.
Advantages to staying in Dominical Town:
Lots of local cafes, markets, and delicious restaurants in Dominical
Close to the beach, so you can surf to your heart's content
Walking distance to everything.
Fun nightlife and town.
Disadvantages of staying in Dominical Town:
Very limited accommodation
Not much for wildlife around
Can be a little noisy
3 BEST Hotels in Dominical Town
$$$ – Tribe Boutique Hotel – Adults Only
If there's something better than visiting the idyllic town of Dominical, then it's staying in an adults-only hotel while you're here. That is exactly what the Tribe Boutique Hotel, one of the must-try Dominical hotels in the town center, offers guests.
Although the property is set in the heart of the downtown area, you'll still get to be in touch with nature. The hotel is surrounded by vibrant foliage and dotted with day beds and hammocks for you to soak in the sun.
If it gets too hot, there's a large pool in the middle of the property, and the beach is a mere two-minute walk away, too. You can't find an in-house restaurant here, but you can still dine right on site in the communal kitchen (where you can prep your own meals).
The rooms at the Tribe are very minimalist and follow the brown and white motif, giving them an airy and cozy ambiance. They're all fitted with basic amenities like a safety deposit box and AC, but I suggest staying in the ones with a balcony and refreshing views of the pool.
For the Queen Room with balcony, rates start at $160 USD per night, but other rooms can go as high as $266 USD per night.
Check prices and availability for the Tribe Boutique Hotel online in advance!
$$ – Hotel Tropical Sands Dominical
If an eco lodge in Costa Rica is what you want, and eco lodge it what you'll get at Tropical Sands Dominical Eco Inn. What makes it one of the best hotels in Dominical is its exceptional location. You see, although it's just a five-minute walk to restaurants and shops and a minute's walk to the beach, it's still one of the quietest properties in town. This is because it's on a dead-end road with little to no traffic, so you practically have the area all to yourself at times.
When you step into the property, you'll be greeted with a gorgeous courtyard hosting a well-landscaped garden of tropical trees and flowers. Expect to see lots of toucans visiting the garden, along with hummingbirds, butterflies, and iguanas. This is the perfect spot to relax in, especially since there are hammocks and picnic chairs under the shade of the trees, inviting you to lay back and relax.
If you'd rather stay inside, I'm sure you'd love hanging out in the library where books and board games are available for use. There is also a communal kitchen at this inn for your cooking needs. If you're someone like me who wants some adventure in the great outdoors, Tropical Sands has your back. The reception can help you plan and book activities, from chocolate farm tours to cooking and Spanish classes – all of the best activities in Dominical!
When it's finally time to hit the hay, you can pick from three types of rooms on the property: Standard Air-Conditioned, Kitchenette Air-Conditioned, and Fan Cabins. I highly recommend the Kitchenette Room, especially if you're visiting with family and friends. It has all the amenities of the fan cabins and standard room but with the added convenience of a well-equipped kitchenette.
My favorite room feature, though, is the patio with sweeping views of the tropical garden. There's a lone bench in front of your room, where you can just relax and drink your morning cup of coffee while listening to the birds.
Single/double occupancy rates in the hotel start at $68 USD for the Fan Cabins, $75 USD for the Standard AC Room, and $85 USD for the Kitchenette AC Room.
Check prices and availability for the Hotel Tropical Sands Dominical online in advance!
$ – Cool Vibes Beach Hostel
Cool Vibes Beach Hostel has everything you can expect to find in budget-friendly Dominical hotels but with the added Costa Rican charm. Its interior is bursting in tropical decor and colors and is well-appointed with basic amenities to make your stay as comfy as possible.
Right on-site, you can find an outdoor circular pool, which is honestly pretty small but still big enough to accommodate you and your friends. I also love the shared lounge, where you can chit-chat with the other guests while downing all the free coffee cups you can drink. While there is no restaurant here, you're free to make your own meals in the well-equipped communal kitchen.
The best part about staying in Cool Vibes is that you're just a minute's walk away from the beach. You can enjoy the surf and sand whenever you please. The hostel also offers surfboard rentals for $10 USD for 24 hours and surf lessons for $55 USD for two hours per person.
The rooms at the hostel come in either private or dorms. There's a double room for as low as $42 USD a night, triple room for $54 USD, and quadruple room for $66 USD. If you intend on staying only a single night, the rooms cost an extra $10 USD. Meanwhile, a bed in the shared mix dorm is $16 USD per person for a minimum of 2 nights.
Check prices and availability for Cool Vibes Hostel on Booking.com and Hostelworld.
About Staying in the Hills around Dominical
If you're deciding where to stay in Dominical but want the peace and quiet you can't find in the town, then staying in the surrounding hills is your best bet. Most of the properties in this remote area boast not only modern and gorgeous amenities but also sweeping views of the outskirts of Dominical.
This is truly a great spot for a relaxing escape, especially if you have a car that can easily take you to and from the town center.
You can also find places to stay that are close to Dominical's most popular attraction – Nauyaca Waterfalls!
Advantages of staying in the hills around Dominical:
Ocean and mountain views
Lots of holiday homes and unique accommodations for families and groups
Wildlife around
Quiet and peaceful
Disadvantages of staying in the hills around Dominical::
Most places to stay are expensive
Far from the beach
Not many restaurants and bars/stores around
Need your own transport
Not many hotels, mostly entire lodge and holiday home rentals
3 BEST Hotels on the Hills Surrounding Dominical
$ – Hotel Villas Rio Mar
A locally owned eco-hotel, Hotel Villas Rio Mar sits in the middle of the jungle, right next to the river and just 10 minutes away on foot from Playa Dominical. This strategic location makes it one of the best hotels in Dominical for guests with no cars.
But beyond the convenience of being within a quick walk away from everything, what made me love Villas Rio Mar is the fact that it's the perfect place to soak in Costa Rica's natural beauty. And by that, I mean you'll be surrounded by nothing but lush vegetation as far as the eyes can see.
The hotel prides itself in its well-manicured tropical garden that attracts all kinds of local wildlife, from sloths and monkeys to toucans and butterflies. I like that they have plenty of towering palms in the garden, too, so you can enjoy the exotic plants while staying away from the harsh sun.
Speaking of escaping the Costa Rican heat, Villas Rio Mar comes complete with two large pools to cool you off after a day of exploration. The first one has a baby pool and a pool bar, while the second is designed for laps.
If you're not up for a swim, there are other entertainment facilities on the property like the tennis court, miniature golf, rainforest trail, and billiards table. There is also a kids' play area to provide plenty of fun activities for your little ones.
When it comes to dining, Villas Rio Mar has one of the best restaurants around, its El Rancho Restaurant and Bar. They organically grow their own veggies to serve you the freshest dishes (my favorite is the assorted platter with chicken wings, mixed fajitas, BBQ ribs, fish fingers, garlic shrimp, and potato wedges). Menu selections also include international dishes.
Villas Rio Mar has at least 60 rooms on the property, categorized into three: the superior room, junior suite, and kitchen suite. All the rooms are air-conditioned and furnished with cable TV, Wi-Fi, and mini-fridge, but if you're looking for somewhere with a homier feel, I recommend the Kitchen Suite that features a kitchenette for all your meal preps.
Aside from the en-suite amenities, I love how all the rooms boast a spacious outdoor patio with hammocks/chairs, where you can enjoy the garden views.
The Superior Room comes at a rate of $112 USD per night, the Junior Suite at $135 USD per night, and the Villa for 4 people at $157 USD per night, all inclusive of breakfast.
Check prices and availability for the Hotel Villas Rio Mar online in advance!
$$ – Edge of the World
If there's only one word I can use to describe the Edge of the World, that would be homey. This adorable lodge is located on the hilltops about 5 km (3.1 mi) away from the center of Dominical. You can only rent the entire three-bedroom, three-bathroom house, so you're sure to enjoy some privacy and peace while here.
Furnished with tropical-inspired decor and wooden furniture, the lodge has everything you and your family need for a comfy stay. There's wireless internet connection, a kitchen with a fridge and microwave, three bathrooms with shower and washing machine, and a seating area. I also love how there's a terrace wrapping around the house, so you can freely enjoy the stars and the jungle.
Did I mention that local wildlife often visits the property? You'll surely wake up to the sounds of toucans flying in the trees in front of the house.
In terms of entertainment, the property comes complete with a private pool and garden. Dip in the pool all day long while you take in the beauty of the surrounding garden.
For the entire house, rates start at $212 USD per night.
Check prices and availability for the Edge of the World online in advance!
Hotel Cuna del Angel is another excellent sustainable stay. It's set right in between Dominical and Utiva and conveniently just a 12 kilometer drive (6 miles) from Ballena Marine National Park.
This means you'll have the perfect base to explore the natural beauty of Costa Rica. It can't get any better than that!
While the property is surrounded by jungle the main con of this accommodation is that it isn't far enough off of the main road to completely eliminate the noise of cars. However, if you aren't sensitive to that the low price point is of great value considering the spa, on-site restaurant, and other great ammentities the property has.
But besides being surrounded by singing birds and exotic flora, what really makes the Hotel Cuna del Angel stand out is the uniquely themed rooms where the decor and deign have been inspired by Caribbean, colonial and Asian cultures.
The highlight of both the deluxe rooms and jungle rooms have either a terrace or balcony so you can make use of the espresso pod machine before stepping outside and enjoy the natural views – you may even spot a money or two.
You also have an en-suite mini bar, cable TV, air conditioning, and a safe.
While the rooms are comfortable enough to hangout in the best parts of this hotel are found on the property grounds! Drop by Cuna del Angel's spa and choose from a range of treatments including massage, reflexology, hydrotherapy and body wraps. They use products from Raw Botanical which smell absolutely incredible!
If relaxing alone is more your style, you can head for a float in the infinity pool or let time go by and soak up the sun from one of the lounge chairs.
When it comes time to eat you won't need to bothered leaving the hotel to hunt for a delious meal because a world class chef cooks at the on site restaurant (which is 100% gluten free)! The best part is the open air dining with a beautiful view.
If you're like me, who loves to explore the outdoors, there is a lot to explore in the surrounded area. While I would recommend coming with a car to get around, there are tons of tours that you can book straight from the hotel. Alternatively the staff can also book you taxis for you.
Rooms here start at $205 USD for double occupancy and include a daily breakfast.
Check prices and availability for the Hotel Cuna del Angel!
Related Read: Learn about the best time to visit Costa Rica for the best weather, cheaper prices, and fewer crowds!
4 Must-Do Activities in Dominical
Visit Manuel Antonio National Park: Around 50 minutes north of Dominical is one of Costa Rica's best national parks. Manuel Antonio National Park is a gorgeous coastal park with tons of wildlife and untouched beaches. If you would like to do a tour, this specific tour is top-rated with lots of reviews. It lasts 4 hours and costs only $60 USD per person and you can meet your guide in Quepos or Manuel Antonio.
Visit Nauyaca Waterfalls: The most beautiful waterfall I have ever seen in Costa Rica is the Nauyaca Waterfalls. These two spectacular waterfalls are a combined 197 feet tall (60 meters) and are surrounded by lush rainforest and wildlife. They are located around 15 minutes from Dominical and visited on a 4-kilometer (2.5 mi) trail!
Alturas Wildlife Sanctuary: Alturas Wildlife Sanctuary is a non-profit wildlife rehabilitation center with the goal to release every animal they rescue. This involves treating animals in their veterinary clinic and slowly training animals to live in the wild again. It's a costly but rewarding process that saves thousands of animals. You can see lots of wildlife within the center including sloths, jaguars, pumas, macaws, toucans, and monkeys. These can change as animals are released and rescued continually.
Pozo Azul: Pozo Azul is another waterfall in Dominical that may be smaller than Nauyaca, but it's still well worth visiting. Pozo Azul is located a short drive from Dominical near Domincalito Beach. You can get there via taxi for around 3,000 Colones ($4.50 USD.) Once there, you can relax and enjoy the tranquility of Pozo Azul and take a swim in the water. It's really refreshing!
Getting Around Costa Rica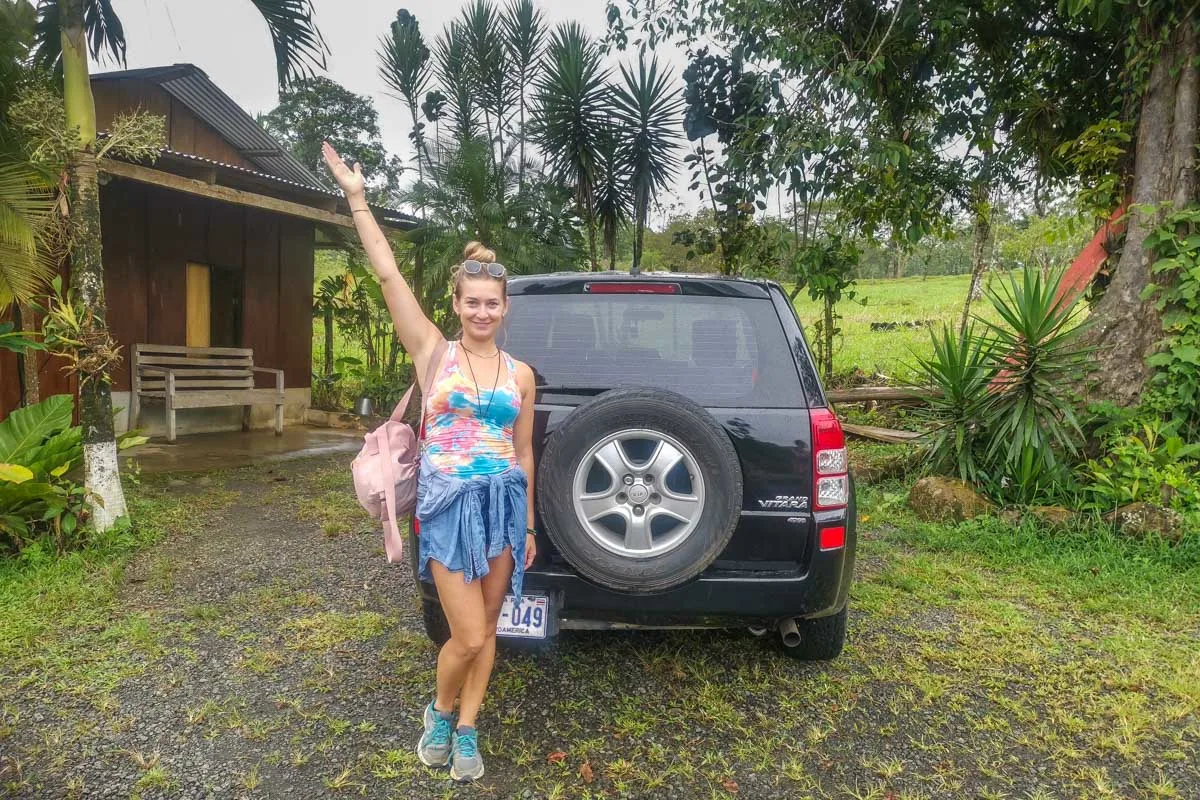 How you choose to get around Costa Rica is one of the biggest decisions you'll make when planning your holiday here! How you do it depends on your budget, travel style, and comfort level.
Renting a Car
Without a doubt, the number one way to explore Costa Rica is in a rental car. We book rental cars on the Discover Cars website as we have had good experiences with them in the past.
One of the things you need to watch for when renting a car in Costa Rica is the mandatory insurance that the government requires you to have. There are a lot of very cheap rentals that don't include this mandatory insurance (TPL) in the original booking price, but there are also ones that do. To avoid additional surprise charges when you pick up your rental car, be sure to rent a car that includes the mandatory insurance when you book.
Thankfully, on Discover Cars it's easy to tell apart the companies that include the mandatory insurance and those that don't. The trick is you can't pick any car on their website. In the picture below, you can see this rental car, with pick up in Jaco, includes the TPL. That means the mandatory insurance is included in the price. Any cover you get above that is extra.
Of course, I still suggest getting the full coverage offered by Discover Cars, which covers you even more.
You can browse cars on Discover Cars here.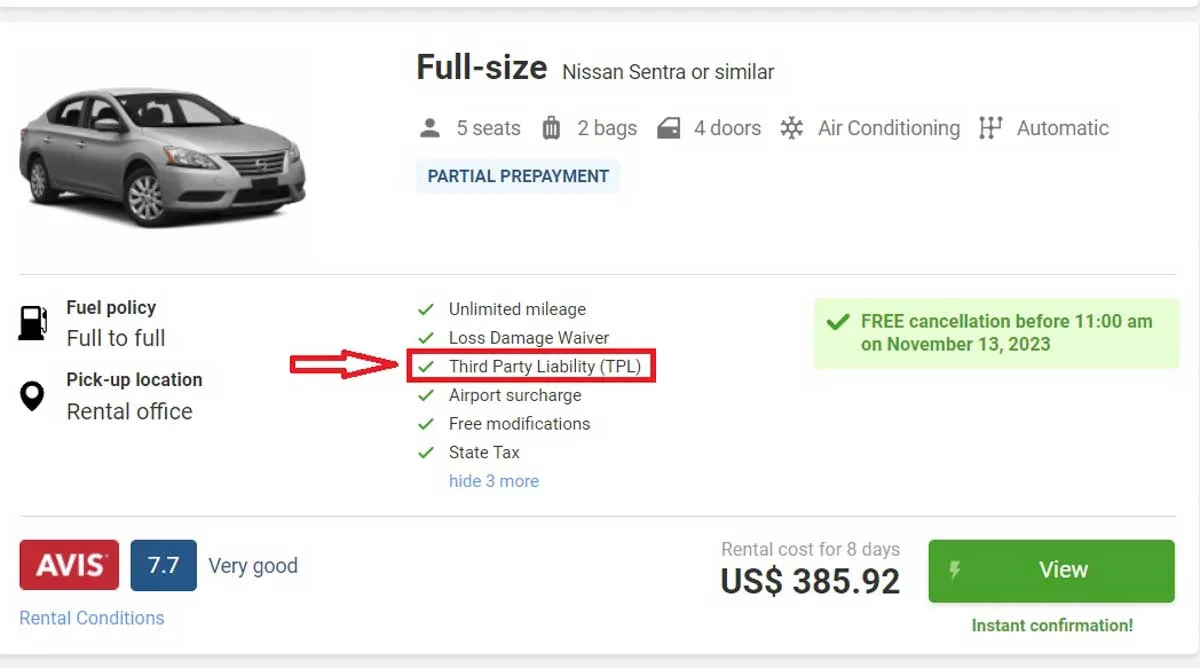 Book Shuttles
If renting a car isn't in your budget, you don't feel comfortable driving in Costa Rica, or you just don't like driving, shuttles are the next best option. There are hundreds of shuttle routes available all over the country, and they are very affordable.
Shuttles in Costa Rica are specifically for tourists and often include pick up and drop off at your selected hotels and airports. The drivers also speak some English, and the vehicles have air conditioning. You'll also be guaranteed a seat when you book a shuttle (which isn't the case with the public bus system.)
To get the best price, use the website Bookaway. They compare all the offers and prices of shuttle companies in Costa Rica so you get the best price! Honestly, we have saved so much money using Bookaway!
You can search for shuttles online on Bookaway here.
Public Bus
Lastly, you can use the public bus system. On short journeys, such as from San Jose to La Fortuna or Uvita to Manuel Antonio, this system is great. However, the longer the journey the more hassle and time spent on a bus. It's undoubtedly best to save the public bus in Costa Rica for short and straightforward trips!
The public buses are definitely the cheapest way to get around Costa Rica, but they are not always very reliable and schedules often change without notice and delays are to be expected. The buses can also be very crowded and hot – so just be prepared!
It's also good to speak some Spanish if you plan on riding the public bus since most drivers and ticket booth operators don't speak English.
Invest in Travel Insurance
Paying out of pocket for trip interruptions or medical treatment will add to what might already be a stressful situation. Not to worry, SafetyWing is here to help!
This affordable travel and medical insurance is perfect for digital nomads, long-term travelers, and remote workers. The best part is that it only costs $45 USD per 4 weeks.
To start coverage you must purchase it after leaving your home country. We usually purchase it as soon as we land at the airport.
Since using SafetyWing we've been reimbursed thousands of dollars when we've gotten sick. During the pandemic, they've even gone as far as to pay for our last-minute flights back to Canada before the border closed!
Pure Vida!
Dominical is a surfer's haven through and through. While small, it's the ideal location for a relaxing beachside getaway. I hope with this guide, you were able to pinpoint where you want to stay in Dominical to get the most out of your holiday.
If you found this blog helpful, be sure to check out some of our other where to stay blogs as well as a couple related reads below:
The BEST Restaurants in Dominical
The BEST San Jose Airport Hotels