After spending so much time in Costa Rica, I can honestly say there isn't a bad time to visit this amazing country. It's full of so many incredible things to do. We've visited Costa Rica frequently over the years and even lived there for a time. It's a place that captures your heart, and the natural beauty here absolutely takes your breath away.
So you've decided to go to Costa Rica, but when should you go? Depending on what you're hoping to do while you're here or what time of year you're booking a vacation, there are a lot of things to consider.
Costa Rica spans two coastlines and is home to areas that can have completely different weather and "seasons" even though you're in the same country! You'll also want to consider if avoiding crowds or finding better hotel deals are big factors for you or if you have more flexibility to travel during a non-peak time.
I've put together this complete guide to help you plan when to visit Costa Rica. After reading this blog, all that will be left for you to do is book your tickets!
Most Popular Time to Visit Costa Rica
While you'll find tourists in Costa Rica all year long, the most popular time to visit is anytime from December to April. This is summer in Costa Rica and the "dry season," so you'll find gorgeous sunny days and warm temperatures. Because summer in Costa Rica is winter for a lot of other parts of the world, it's a great time to escape the cold if you live somewhere that is especially chilly during those months.
Choosing to visit during this time will give you the widest variety of places to visit with fantastic weather. However, not everywhere is ideal to visit during this exact time.
Puerto Viejo has more of a rainforest climate, so the rain falls here throughout the year. However, the rainiest months are May to July and Nov to Jan, with the driest months being February to April and August to October when Puerto Viejo has a few bursts of summer weather. While the majority of the country is experiencing the most rain during that time, it's actually the best time to visit Puerto Viejo.
La Fortuna is famous for its unpredictable weather! You'll want to pack sunscreen and a raincoat, and you'll likely need both on the same day. La Fortuna is also a rainforest area that gets rain all year. The weather is so unpredictable you can wake up to sunshine and have a misty, rainy afternoon or vice versa.
The best weather in La Fortuna is typically from January to April, when the storms from the Caribbean calm down. With that said, La Fortuna is beautiful even in November and December, just don't be angry if you get a little rain and don't see Arenal Volcano – it's often covered in clouds during this time.
Costa Rica does have a dry season, as I mentioned above, along with a wet season where the country receives a lot of rain. Both seasons have their advantages depending on what you're hoping to do, your budget, and if you'd like to avoid the crowds.
If you're after some quick info, check out these frequently asked questions:
Dry Season in Costa Rica (December to April)
From December to April is Costa Rica's dry season. This is summer here, and across most of the country, this is when you're going to have the sunniest days. This is the peak time to come, so any popular beaches, landmarks, or destinations here will be at their busiest.
If you're going to the Caribbean Coast, the dry season there is more around September-October when they have a "mini summer" or January-March. This area is typically more humid all year, with the possibility of rain all the time. It's similar to La Fortuna, where there is no true dry season, and the weather is hard to predict, even day-to-day. You could have a fantastic view of the Arenal Volcano early in the day and then have it completely covered in clouds and rain a few hours later.
Related Read: Arenal Volcano is one of the best volcanoes in Costa Rica to visit!
Weather
While Costa Rica is warm all the time, the dry season will see temperatures rise up to 90°F (32°C). The driest month is usually February and the warmest temperatures of the season are in March and April. It will be cooler and more humid on the Caribbean Coast during this time and extra warm and dry in Guanacaste and the Nicoya Peninsula.
Prices
This is the most expensive time to visit Costa Rica. Hotels may be as much as 50% more compared to other times of the year. If you're coming during a holiday like Christmas or Easter, many hotels and rentals charge "peak rates" that are often non-refundable and further increase prices.
Crowds
Because this is the busiest time to visit, the crowds are the biggest during the dry season. If you're planning a trip, you'll need to BOOK IN ADVANCE and not just by a few days. We're talking months ahead of time. Hotels, tours, and car rentals in Costa Rica should be booked 2-3 months before you go and more like 6 months ahead of time if you want to come during a holiday like Christmas or Easter.
If you can purchase tickets ahead of time for places you want to visit, do it! As well, I like to try to plan stops at popular attractions during the week or early in the morning to avoid crowds and traffic.
Best places to visit
The Pacific Coast is perfect this time of year! This is the time to go surfing in Jaco, book a stay in the remote village of Drake Bay, see incredible sunsets in Santa Teresa, or go on a cruise in Tamarindo. Spending time on this coast during the dry season is amazing as you're typically close to a beach to cool off, and so many of these places are close to all the incredible activities Costa Rica has to offer.
Wet Season in Costa Rica (May to November)
From May to November, Costa Rica enters the wet or rainy season. The peak of the wet season is September and October, which are the rainiest months for much of the country and should generally be avoided for travel. However, you'll find the best (and driest) weather from August to October on the Caribbean coast, so this is a perfect time to visit places like Puerto Viejo or Tortuguero!
One of the advantages of the rainy season is how beautiful and green everything becomes. This is also the best time to see all the amazing waterfalls in Costa Rica as they are the most spectacular during this time of year.
Weather
Rainy, of course! But it depends on when you come. If you're here at the beginning or end of the rainy season, you're more likely to find clear, sunny mornings with the clouds and rain arriving in the afternoons. If you're here in the middle of the wet season, you could be in for days (or weeks) of straight rain, depending on where you are in the country.
Prices
If budget considerations are top of mind, come to Costa Rica during this season. The peak and high season rates are gone, so hotels are cheaper – sometimes by as much as 30-50%. You won't need to book a room as far in advance either. If you're renting a car, it's cheaper during this time also.
Crowds
To avoid the crowds, this is the time to come! Activities, tours, and beaches are a lot less busy. You may even find you have an entire spot to yourself! You won't need to plan tours or book as far as in advance if you're coming during this time. You'll also find while driving around the country, traffic isn't as heavy, so you won't experience those delays.
Best places to visit
While this is the wet season for most of the country, these are the driest months for the Caribbean side. It's one of the best times of the year to visit Puerto Viejo, Tortuguero, and Limon. You'll find hot, sunny days with beaches that aren't crowded because the rainy season elsewhere means many people don't travel during this time. Make sure to try snorkeling around Puerto Limon or see the incredible sea turtles laying eggs around Tortuguero.
The WORST Times to Visit Costa Rica
September and October
These two months are by far the rainiest in Costa Rica. You'll find significant rain almost every day. While often you may have sunny mornings with afternoon rains, this is the most likely time when it will rain for days and not let up. Some hotels and businesses around the South Pacific area (where rainfall is measured in feet, not inches during this time!) completely close up shop until November.
Note: This isn't true if you're headed to the Caribbean Coast. If you're hoping to head to the Caribbean side of the country though, you're in luck! This is the driest time around Puerto Viejo, and you'll find clear, sunny, and warm days. The temperature will rise to 84°F (29°C), and there isn't much rain. It's the total opposite of many other regions.
Holidays
If you want to avoid high prices for hotels and crowds of people everywhere, try to avoid coming around the main holidays. The ones to watch out for are Christmas, New Year's, and Easter. Costa Rica is EXTREMELY busy during these holidays.
The holidays fall during the dry season, so the weather is nice, and both tourists and locals have time off. Hotels book months in advance (6 months or more), and if you get a room, you'll often pay peak season prices. Traffic is also an issue so if you're traveling around the country, expect delays.
Overview of Each Month in Costa Rica
January
In January in Costa Rica, you can expect sunshine and not much rain in most areas around the country. It is especially nice to visit the Pacific Coast as it's rainier on the Caribbean Coast during this month. January promises to be hot, but not the hottest month of the dry season.
One thing to note, it that the first week of January is one of the most popular times to visit because of New Year's, so expect Costa Ria to be very busy. After that week, prices typically drop from peak season to high season prices.
February
February is one of the driest months in Costa Rica with lots of sunshine. February is right in the middle of the dry season.
If you visit Costa Rica in February, expect it to be pretty busy with tourists as it is in the middle of high season and one of the busiest months to go. Costa Rican kids are on "summer vacation," so expect certain destinations and attractions to be busy with locals as well as tourists.
The best places to visit in Costa Rica in February are on the Pacific Coast and in Guanacaste. Expect rain on the Caribbean side.
March
March in Costa Rica will be hot, hot, hot! For most parts of Costa Rica, this is one of the warmest months of the year. It'll be really dry in Guanacaste, so much so that some waterfalls almost disappear. With that said, March in Costa Rica is a great time to visit the South Pacific or Monteverde.
Crowds pick up in late March with tourists arriving in Costa Rica for Spring Break – especially to the party destinations like Jaco and Tamarindo. If Easter occurs in late March, watch out for prices to skyrocket, and hotels will be fully booked.
April
April is the final month of the dry season in Costa Rica, so there is still lots of sunshine and warm temperatures for most of the country. April is the best time to go to the Central mountains area or along the Pacific Coast. The rainy season starts early for the southern Pacific Coast, including Drake Bay. You can expect more rain around the Uvita and Dominical areas near the end of the month.
One thing to remember if you want to visit Costa Rica in April is Easter. If Easter falls in April, book early! Easter in Costa Rica is as popular as Christmas for travel here and is one of the most important holidays in Costa Rica.
May
While May in Costa Rica is officially the start of the wet season, the rain builds up as the season goes along. So you're more likely to have sunny mornings with an afternoon shower. You can still expect lots of sunshine around the Central Pacific Coast and in places like Manuel Antonio and Jaco. A bit more rain starts to arrive in places around the Nicoya Peninsula and heavy rain around the South Pacific.
March is not a busy time of year to visit Costa Rica – there won't be any crowds! This is a great month to come to find better prices and less busy destinations.
June
You'll see why this is sometimes called the Green Season – in June in Costa Rica everything starts to turn green and lush! It is more humid with rain off and on throughout the country, often in the late afternoon. You should expect really rainy weather around Drake Bay, the central mountains, and the Caribbean Coast.
June in Costa Rica is a good time to avoid crowds and take advantage of lower prices, with hotels significantly cheaper than in high season.
July
While July in Costa Rica is still in the rainy season, look out for the "little summer" (called veranillo) that typically arrives sometime in July … although it's hard to predict exactly when. It brings a few weeks of sunny days without crowds to compete with. Normally though, expect more rain than normal on the Caribbean Coast and typical rainy season weather in the Central and South Pacific regions.
When visiting Costa Rica in July, it is best to visit Tamarindo, Playa Flamingo, or Playa del Coco. Or head to Tortuguero National Park to see turtles in Costa Rica lay their eggs, as this is the start of nesting season.
August
In Costa Rica, August is the last month of the lighter rainy season, so still expect sunny mornings and rainy afternoons for most areas of the country. If you don't mind doing the bulk of your exploring in the mornings, head to Central Pacific or Central Valley regions for clear mornings to see the sights. Expect the rain to start to pick up around the Tamarindo and Santa Teresa areas as well as the Caribbean Coast, and heavy rain is the norm for Monteverde.
August is not typically a busy month in Costa Rica, so you'll have good access to hotels with more budget-friendly rates. You can also take advantage of last-minute bookings!
September
Let's not beat around the bush, September is one of the rainiest months in most areas of Costa Rica! However, it is the best time to visit the Caribbean Coast. The weather on the Caribbean side is dry and sunny – the total opposite of most of the country.
One of the best things about visiting Costa Rica in September is that not many tourists at all during this time, so you'll find empty beaches and quieter destinations, along with good hotel rates.
October
October is the second rainiest month in Costa Rica (after September.) This is also a common time for tropical storms to pass through. Hotels and some businesses actually close in September and October around the South Pacific region. Still, October is one of the best times to go to the beautiful Caribbean Coast, where the weather is gorgeous around Puerto Viejo. Don't go to the mountains – the rain is constant, and the temperatures dip.
November
November in Costa Rica is still a rainy month, but the rain starts letting up near the end of the month as the dry season starts to arrive for much of the country. If you're planning a trip to Costa Rica in November, head to the Northern Pacific Coast for the driest weather around Tamarindo and Playa Flamingo – it'll still be really rainy in the South Pacific and mountain towns like Monteverde. San Jose can be a bit of a gamble as the dry season can arrive in November, but sometimes the rain and wind linger until early December.
December
December in Costa Rica is the end of the rainy season, so the rain starts letting up, and the dry season arrives for the Central and North Pacific as well as the San Jose area. Everything is lush and green coming out of the rainy season.
Early in the month, it's not too crowded, but that drastically changes for the end of December. Christmas and New Year's are incredibly popular times to visit Costa Rica – dare I say the busiest time. Hotels are often fully booked months in advance, and prices rise too. Also, expect windier conditions thanks to what is known as "Christmas winds."
Whale Watching Seasons in Costa Rica
Costa Rica has the longest humpback whale watching season in the world! This is thanks to the two types of humpback whales that pass by the country during different times of the year.
The absolute BEST place to go whale watching in Costa Rica is around Uvita. Marino Ballena National Park is one of our favorite national parks in Costa Rica, and it was established to protect this area and the whales. Take a walk out on the spectacular "Whale Tail" sandbar and join a whale watching tour from this area – you might just spot a mom with her baby!
July to November Whale Watching Season
July to November in Costa Rica is the best time to see Southern Hemisphere Humpback Whales as they migrate from Antarctica to Costa Rica. The best months are August and September, when the whales are raising their babies here. Head to the Pacific Coast to see them on a whale watching tour.
December to March Whale Watching Season
From December to March in Costa Rica, Northern Hemisphere Whales migrate from Alaska to Central America. The best months during this time are January and February to see the whales along the Pacific Coast.
My Favorite Time to Travel to Costa Rica
My favorite time to visit Costa Rica is generally in November. This is a great time to visit anywhere north of Jaco on the Nicoya Peninsula and Guanacaste. It's also a quiet time when you can travel cheaper and don't need to book as far in advance!
I've even visited the Caribbean in November and although you get some rain, it's usually only in the mornings.
If you're planning to head south to the Osa Peninsula, I would choose to visit a little bit later, say January, due to the weather which can be very wet during November.
Of course, I often have a lot more time to explore than most, so those planning a once-in-a-lifetime trip should stick to the best seasons in order the maximize their holiday.
Getting Around Costa Rica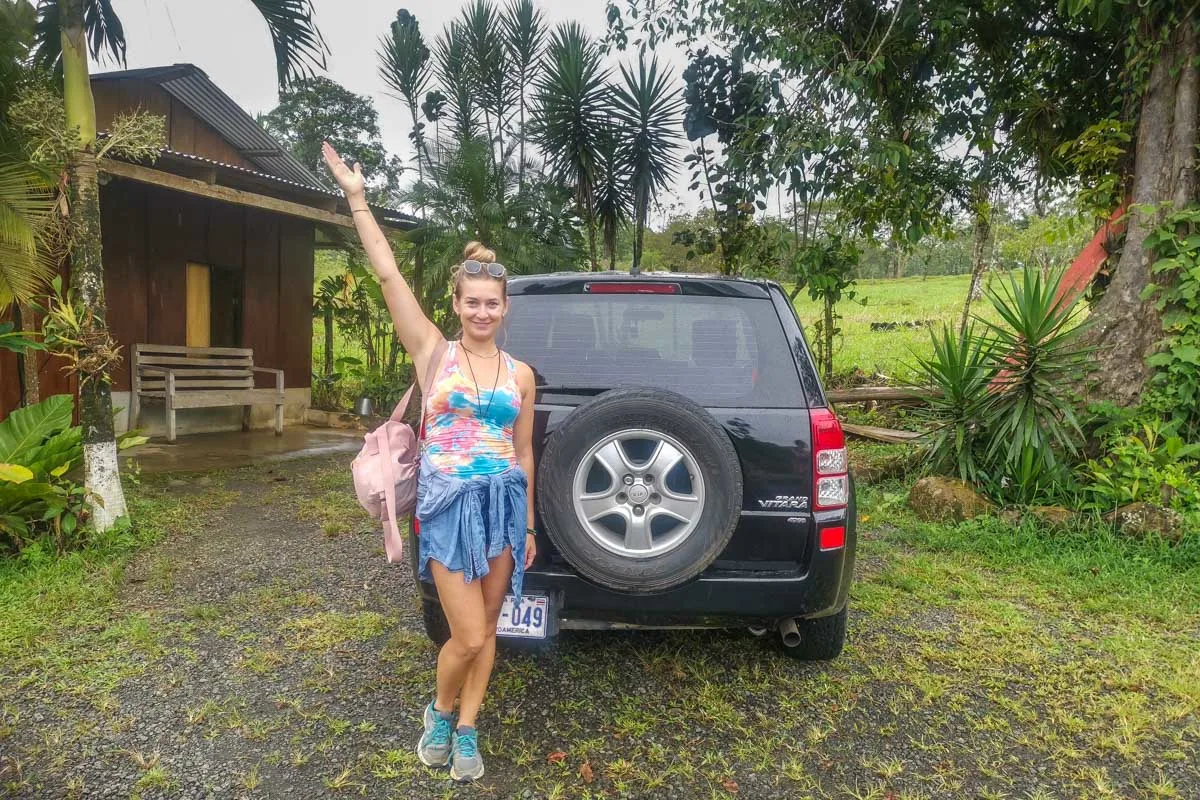 How you choose to get around Costa Rica is one of the biggest decisions you'll make when planning your holiday here! How you do it depends on your budget, travel style, and comfort level.
Renting a Car
Without a doubt, the number one way to explore Costa Rica is in a rental car. We book rental cars on the Discover Cars website as we have had good experiences with them in the past.
One of the things you need to watch for when renting a car in Costa Rica is the mandatory insurance that the government requires you to have. There are a lot of very cheap rentals that don't include this mandatory insurance (TPL) in the original booking price, but there are also ones that do. To avoid additional surprise charges when you pick up your rental car, be sure to rent a car that includes the mandatory insurance when you book.
Thankfully, on Discover Cars it's easy to tell apart the companies that include the mandatory insurance and those that don't. The trick is you can't pick any car on their website. In the picture below, you can see this rental car, with pick up in Jaco, includes the TPL. That means the mandatory insurance is included in the price. Any cover you get above that is extra.
Of course, I still suggest getting the full coverage offered by Discover Cars, which covers you even more.
You can browse cars on Discover Cars here.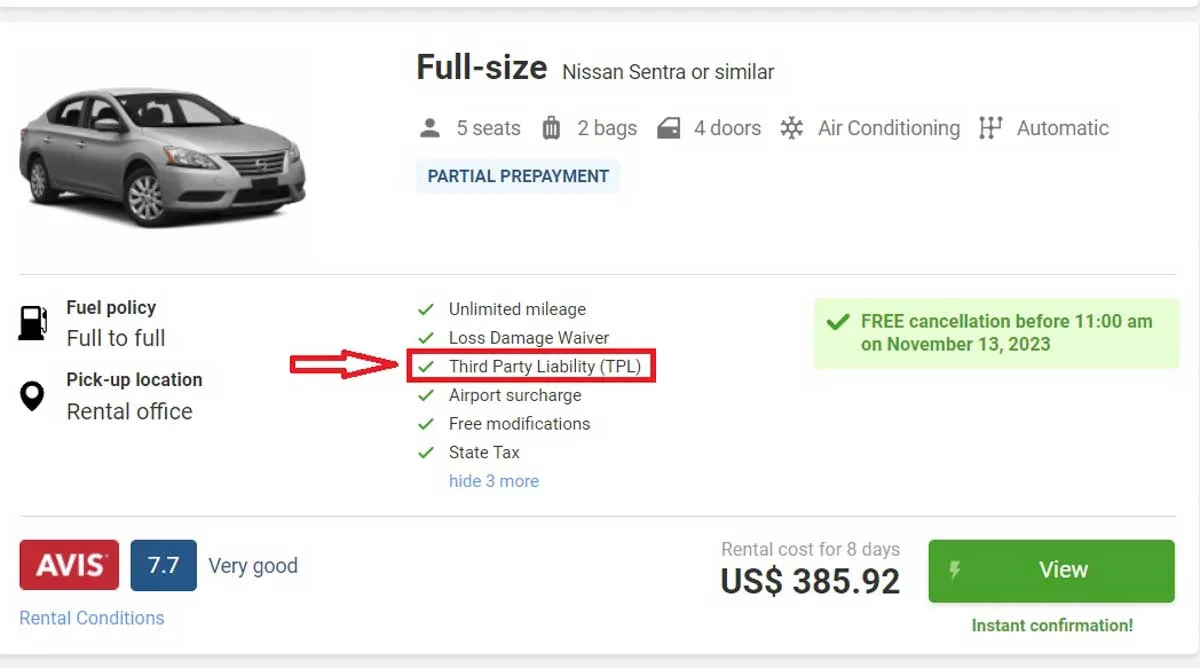 Book Shuttles
If renting a car isn't in your budget, you don't feel comfortable driving in Costa Rica, or you just don't like driving, shuttles are the next best option. There are hundreds of shuttle routes available all over the country, and they are very affordable.
Shuttles in Costa Rica are specifically for tourists and often include pick up and drop off at your selected hotels and airports. The drivers also speak some English, and the vehicles have air conditioning. You'll also be guaranteed a seat when you book a shuttle (which isn't the case with the public bus system.)
To get the best price, use the website Bookaway. They compare all the offers and prices of shuttle companies in Costa Rica so you get the best price! Honestly, we have saved so much money using Bookaway!
You can search for shuttles online on Bookaway here.
Public Bus
Lastly, you can use the public bus system. On short journeys, such as from San Jose to La Fortuna or Uvita to Manuel Antonio, this system is great. However, the longer the journey the more hassle and time spent on a bus. It's undoubtedly best to save the public bus in Costa Rica for short and straightforward trips!
The public buses are definitely the cheapest way to get around Costa Rica, but they are not always very reliable and schedules often change without notice and delays are to be expected. The buses can also be very crowded and hot – so just be prepared!
It's also good to speak some Spanish if you plan on riding the public bus since most drivers and ticket booth operators don't speak English.
Pura Vida!
I hope this guide to the best time to visit Costa Rica was helpful as you plan your own getaway. No matter when you come to visit, you'll find some amazing adventures here. It's great to be extra prepared, so you know what you're getting into once you arrive and what activities are the best for when you're coming here.
Once you arrive, you'll fall into the Pura Vida life this country is famous for. I'm sure once you're here, the hardest part will be leaving to go home!
If you found this blog helpful, be sure to browse around our site a little more, we have a ton of blogs about Costa Rica. Some of our favorites include:
The BEST Restaurants in San Jose
Where to Stay in Jaco, Costa Rica