This blog may contain affiliate links. Read our disclosure policy for more info.
Uvita is a small town located on the Pacific Coast of Costa Rica, only a short drive from Manuel Antonio National Park. Within a few miles of the town, you have access to a stunning national park, beautiful beaches, friendly locals, and of course, all the wildlife you'd expect to see in Costa Rica.
Home to the famous "Whale Tail," Uvita, Costa Rica, is an up-and-coming tourist destination in the country. In fact, in recent years, this once off-the-beaten-path town has exploded in popularity as travelers look for alternative places to visit due to Costa Rica's increase in tourism. However, Uvita is still a "hidden gem" in my eyes.
Despite the town's relatively undiscovered nature, there are plenty of fun and exciting things to do in Uvita. From exploring hidden waterfalls to relaxing on the beach, you won't get bored in Uvita.
Of course, not every activity in Uvita is well known. So, this blog will lift the lid on Uvita and show the few lucky travelers who visit all the best things to do in Uvita, Costa Rica. As a bonus, I've included other important bit of information to make this your one-stop-blog, or complete guide to visiting Uvita!
Don't have time to read the full article? Check out our list of our absolute favorite things to do in Uvita:
Spot whales, dolphins, and turtles on this boat tour in Marino Ballena National Park.
Slide down the natural slide at Uvita Waterfall.
Walk out to the famous "Whale Tail" at Marino Ballena National Park.
Go on this snorkeling tour at Caño Island.
Visit the secluded Arco Beach at low tide.
FAQs About Uvita, Costa Rica
Although this blog is a guide to the best things to do in Uvita, there are some extra things you should know before you go. Below are a few of the most FAQs about Uvita, all answered in one place.
Things to do in Uvita, Costa Rica
1. Go whale watching
To me, exploring Costa Rica is always about the wildlife. I think I speak for many when I say it's one of the main reasons to visit this beautiful country. Well, that wildlife doesn't stop when the jungle ends. In fact, some of the most beautiful creatures live beneath the deep blue sea!
In Uvita, whale watching is without a doubt one of the best things to do – especially if you love wildlife as much as me. On this incredible tour in Marino Ballena National Park, you head out on a boat in search of these majestic creatures. For over 3 hours, you'll explore the coastline heading out as far as Caño Island. Along the way, you'll have great chances at spotting whales, dolphins, and even sea turtles.
If you'd prefer to mix your whale watching tour with some snorkeling, then this specific tour is a good option. Although you'll spend less time whale watching, you'll also visit some sea caves as well as snorkel near Arco Beach.
Whale watching in Uvita is best done during one of two seasons. The best season is from July to November, and during this time, it's easy to see multiple whales each day, including babies! The second season runs from January to April, and although not as good, you still have great chances of seeing whales!
2. Visit Uvita Waterfall (Catarata Uvita)
The best place to cool off in Uvita isn't actually the beach. It's at one of the nearby waterfalls! This first waterfall (there are two more) I'll mention on this list is Uvita Waterfall.
Uvita Waterfall is located just on the outskirts of town and can be reached by taxi from almost anywhere in town for under $5 USD. Once there, you can swim in a pristine river with beautiful cascades and, of course, the main attraction, Uvita Waterfall.
Climb to the top of the waterfall and slide down the natural slide if you dare. It's scary at first but so much fun. If you prefer to relax, walk downstream a little and swim in the larger pools. There are boardwalks around the and even platforms to jump off. Uvita Waterfall is beautiful and my favorite place to visit in Uvita!
You can enter Uvita Waterfall at two different entrances. The first is the lower entrance along the road, and this costs 2,000 Colones ($3.75 USD). The entrance here is best for those with a vehicle and with your ticket you can visit a small butterfly garden too.
The second entrance is slightly further up the road and only costs 1,500 Colones ($2.80 USD). You need to walk down a steep and slippery path from this entrance, and there is very limited parking. It's less than $1 USD between them, so I prefer the lower entrance for convenience's sake.
3. Learn to surf
You can surf almost everywhere in Costa Rica, so it should come as no surprise Uvita is a great place for experienced surfers but especially those wanting to learn.
The best place to surf in Uvita is at Playa Hermosa, only a short drive north of town. Along the beach, you'll find lots of surfboard rentals as well as a few vendors. If you're an expereince surfer, just head to the beach and rent a surfboard. Rentals cost only $10 USD for the entire day.
If you're a beginer surfer wanting to learn, it's best to book a surf lesson in Uvita. This specific surf lesson costs $75 USD, lasts for 2 hours, and meets at Playa Hermosa. It includes your board rental, a really talented surf instructor named Josué, digital photos, water, and snacks.
The waves in Uvita are best for experienced surfers from May to September, when tropical storms create larger swells. For beginners, the best time to surf is during Costa Rica's busy season, from November to April. During this time, the waves are light, and currents are not as strong.
Related Read: Surfing is also one of the best things to do in Santa Teresa, Costa Rica.
Why We Book Tours with Viator
Viator is a trusted online booking system for tours around the world! We almost always book our tours using Viator for a couple of reasons:
Free cancellation on most tours – Most of the tours on Viator allow you to cancel and get a full refund up to 24 hours in advance. This is handy in case plans change, or if booking an outdoor activity, the weather forecast is looking grim.
Reserve now and pay later – You can secure your spot on some of the most popular tours well in advance and not pay until closer to the day of the tour.
Pay in your chosen currency – Avoid costly international transaction fees by choosing to pay in your home currency.
Peace of mind – When booking with tour operators you find in person on the street or in small booking offices, you are often promised one thing and given another. This online platform holds tour operators accountable with a written description of inclusions as well as the opportunity for customers to leave reviews.
Check out the Viator website here!
4. Visit the "Whale Tail" in Marino Ballena National Park
Without a doubt, the number one thing to do in Uvita is to visit Marino Ballena National Park and enjoy a walk out to the famous "Whale Tail".
Marino Ballena National Park is a small marine and coastal national park that protects this gorgeous coastline. The shape of the sandbar in the park is completely natural and very fitting to the area considering Uvita is one of the best places to go whale watching in Costa Rica. With an aerial view at low tide, you can see this sandbar looks exactly like a whale's tail – hence the name.
From Uvita, you can easily visit the national park and the Whale Tail. For the best experience, you should aim to visit the park at around low tide when you can actually walk onto the Whale Tail. The Whale's Tail is almost completely covered in water at high tide.
Although the Whale Tail is the main attraction, the beach itself is also spectacular. In fact, you can spot lots of wildlife in the coastal rainforest area and find secluded places to relax and enjoy a swim. Be sure to spend at least a few hours here, and be sure to keep a lookout for whales that frequent the area.
The entrance to the park is $6 USD for adults, and local guides wait at the entrance to the park in case you want to do a tour. Expect to pay around $40 USD per person for a guided tour, but this price is entirely negotiable depending on group size.
Marino Ballena National Park is open every day from 7 am to 4 pm. Tickets to the park can be bought directly at the park entrance gates in Uvita.
5. Swim at El Pavon Waterfall
If you enjoy exploring off-the-beaten-path attractions, then you'll love El Pavon Waterfall. Located a 25-minute drive south of Uvita, this gorgeous waterfall is surrounded by lush rainforest. The waterfall is easy to identify because of the round boulder wedged in the middle of the falls.
El Pavon Waterfall is very easily accessible because there is no hike to the waterfall – an added bonus! You can swim in the pool below the waterfall or head downstream to other natural pools. The water is really cold, but there's nothing more refreshing than swimming in crystal clear freshwater!
El Pavon Waterfall is free to visit. Getting here takes around 25 minutes from Uvita, and you do not need a 4wd to access the waterfall.
6. Visit the secluded Arco Beach at low tide
One of the most incredible beaches I have visited in Costa Rica is the secluded Arco Beach, located just north of Uvita. This small stretch of beach is best accessed at low tide and is a fantastic place to relax – especially if you prefer to stay away from the crowds.
What I loved so much about Arco Beach was the thick jungle that lined the shore. It's a cool place to spot wildlife and makes for fantastic photos! There are also some sea caves at one end of the beach.
You can easily take a taxi ($10 USD) from Uvita or drive yourself to Arco Beach. Because the beach is down the bottom of a cliff, you need to park or get dropped off at La Cusinga Lodge. They have a security guard, but just tell him you want to visit the restaurant (lower on this list.)
Once there, you need to follow the hotel's map down to the beach. It's easy to find but just ask if you're having trouble. The trail takes around 15 minutes to walk down to the beach, and it's best done with suitable footwear.
Make sure you time your visit with or around low tide and watch your belongings at the beach. There have been reports of petty theft while people are swimming, although, we have never had any problems.
7. Swim in the freshwater pool at La Cusinga Lodge
While at La Cusinga Lodge, a lovely couple told us about a secret waterfall and swimming hole on the hotel property. So, of course, we decided to check it out!
This "secret pool" is actually straightforward to find by following the map and signs at the hotel. However, we were surprised to find it completely empty for us to enjoy ourselves. Nevertheless, it was a fabulous find and the perfect place to enjoy a swim.
The trail to the pool is well maintained, and it only takes 5 minutes to reach the pool. The short trail begins at the hotel's parking lot and is called the Poza Trail.
8. Watch the sunset with an epic view
Around Uvita, there are some spectacular places to enjoy a meal or drink and watch the sunset.
My personal favorite is at the restaurant and bar at La Cusinga Lodge called Aracari Restaurant. Not only is the food delicious, but their vantage point overlooking the Whale Tail and Marina Bellena National Park is unmatched. I highly recommend visiting the restaurant for a meal and the bar for a sunset drink!
Another place with a gorgeous view is Gusto Italian. This top-rated restaurant in Uvita is located just north of town near Playa Hermosa. The views are spectacular, but the food is even more incredible. If you go, get a taxi and make sure they have a 4wd as the property is difficult to access.
Hot Tip: For a special place to stay, consider booking a room at La Cusinga Lodge. It is really reasonably priced considering how beautiful and remote the property is. This way, right from your room's doorstep you can enjoy these breathtaking views, the pool above, and access to Los Arcos Beach! Next time we visit Uvita we will definitely spend a couple of nights there.
9. Visit Dominical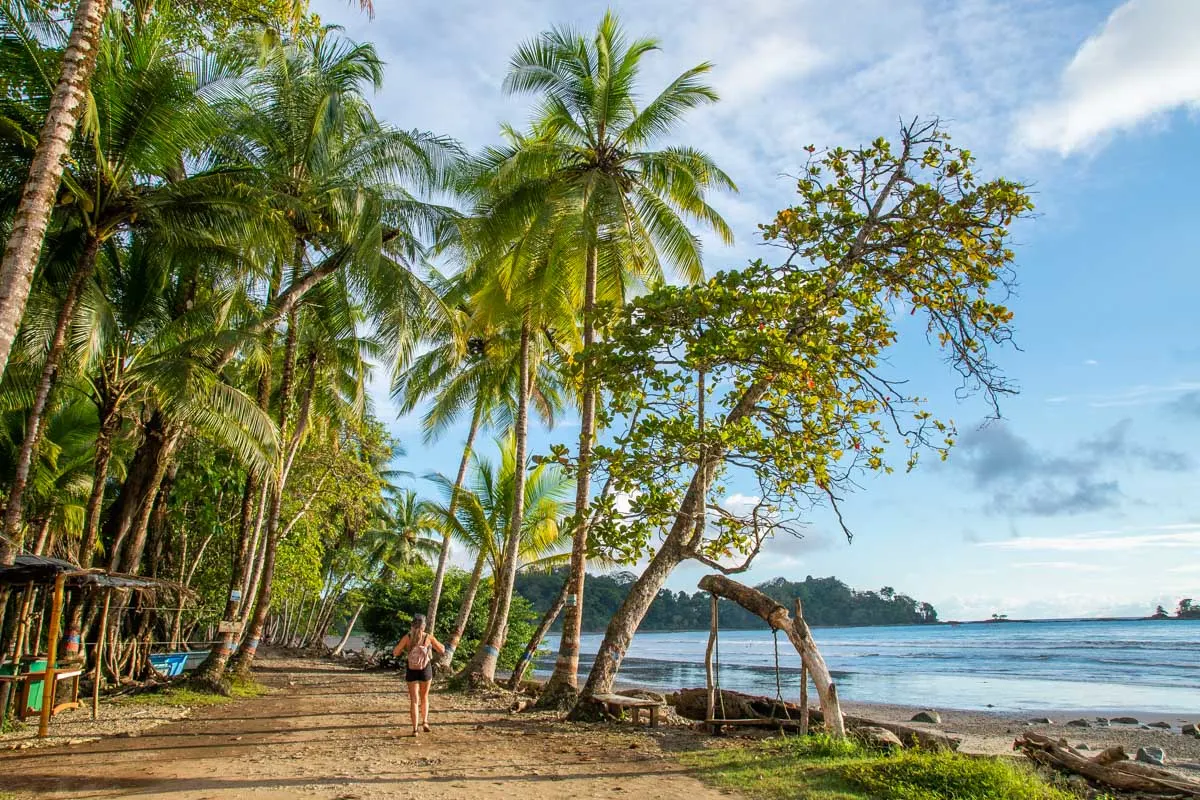 Just north of Uvita sits the small surf town of Dominical. Those who love the laid-back hippy vibe will love Dominical, and to me, Dominical is my preferred place to visit when compared with Uvita.
Pop into Fuego Brewery for a delicious craft beer and lunch – it's one of the best restaurants in Dominical. Or, head down to the beach for a surf. There is so much to do in Dominical, and it's one of the most underated surf towns in Costa Rica!
I highly suggest spending a night or two in Dominical if you have time, there are a few nice hotels in Dominical to choose from. There is a really fun atmosphere in town, and you can enjoy delicious food at restaurants such as Phat Noodle or Cafe Mono Congo.
10. Nauyaca Waterfalls
One of the most beautiful waterfalls in Costa Rica is Nauyaca Waterfalls. The two spectacular waterfalls stand 197 feet tall (60 meters) and are surrounded by lush rainforest and wildlife on all sides.
From Uvita, it's a 30-minute drive to the ticket office, and this is where you'll need to buy your entrance ticket ($12 USD at the office or $10 USD online). Then, it's another 1.2-mile drive (2 kilometers) to the parking lot, where you'll begin the hike to the base of the waterfall.
The trail from the parking lot is 4 kilometers (2.5 miles) each way along a dirt road. If you don't visit first thing in the morning, it's a hot trek with plenty of hills. However, once you arrive at the waterfall, you'll quickly forget the hike.
My recommendation is to visit the top waterfall first to check out the view and then walk down the bottom for a swim (the top isn't for swimming.) Make sure you spend lots of time enjoying the water, it's so beautiful.
If you don't want to walk the 4 kilometers or have mobility issues, other options are available. The first is to take a tour in the back of a truck. This costs $32 USD on top of your entry ticket. The other option is to take a horse, which costs $80 USD. You can book these options online in advance or at the ticket office.
Nauyaca Waterfalls is open from 7 am, and you cannot begin the trail after 2 pm.
11. Eat delicious falafel at Falafel Uvita
If you love falafel as much as I do, you need to check out Falafel Uvita! This small local restaurant is owned by a family from Israel, and the food is really authentic.
They serve large falafel plates for those wanting a big meal, as well as falafel wraps. All come with delicious homemade hummus and other sauces. They also have shwarma if you want something with meat.
Everything we had at Falafel Uvita was terrific, and we ate here a few times during our last visit.
Related Read: If you love falafel, you need to check out the best restaurants in Manuel Antonio to find my favorite falafel restaurant in Costa Rica!
12. Corcovado Nantional Park
Corcovado National Park is one of the most biodiverse places in the world. In fact, it's home to 2.5% of the world's biodiversity! To many, it's considered the top national park for wildlife lovers in Costa Rica, and I agree!
The park is most commonly visited from Puerto Jimenez and Drake Bay; however, some tours leave from Uvita too. This specific tour organizes everything for you and includes transport, tickets to the park, an expert guide, breakfast, lunch, and snacks.
The tour visits the San Pedrillo Ranger Station, where you'll enjoy a hike through the park in search of wildlife. During my visit, we saw every species of monkey in Costa Rica, lots of rare birds, jaguar footprints, rodents, and other wildlife, including snakes.
It's a long, tiring day, but if I had my time again, I wouldn't change a thing. After visiting Corcovado National Park, other national parks can be a little underwhelming!
Important: Corcovado National Park can only be visited with an approved guide. The park also only lets 150 people in per day, so booking ahead during peak season is recommended. Visiting the park is considered one of the best tours in all of Costa Rica – so you don't want to miss out!
13. Caño Island
One of the best snorkeling spots and dive sites in Costa Rica is located off the coast of Uvita. Caño Island Biological Reserve is a small island and marine reserve where visitors can jump in the water and swim with turtles, sharks, and a huge variety of fish. It's one of the best places to see turtles in Costa Rica!
You can both snorkel or scuba dive around the island, but visitors are no longer allowed on the island itself.
Tours to the island from Uvita involve a 90-minute boat ride each way, so those who get seasick should avoid this tour. Tours cost around $150 USD, and Dolphin Tour Costa Rica can organize them for you.
If you are planning on visiting Drake Bay, then just save this tour for your visit there. Drake Bay is closer to the island, and the boat ride is only 45 minutes each way from there.
14. Visit Manuel Antonio National Park
Around 1 hour north of Uvita sits one of Costa Rica's best national parks. Manuel Antonio National Park is a gorgeous coastal park with tons of wildlife and untouched beaches. Exploring the park is definitely one of the most popular things to do in Uvita.
There are a few different hiking trails within the national park that all link up. The best part is the park is relatively small, so exploring some of the best areas doesn't take a lot of time. You can see lots of sloths and monkeys as well as enjoy the beaches – which are pristine!
Those with a rental car can either choose to do a self-guided tour of the park or book a guided tour. This specific tour is the best option for those who self-drive to Manuel Antonio. The tour is only $25 USD and includes a 2-hour guided walk through the park.
Manuel Antonio National Park is open from 7 am until 4 pm every day and costs $18.08 USD for adults and $5.65 USD for children. Tickets MUST be purchased online, and there are limited tickets per day. No food is allowed in the park, and they search bags before you enter. Inside the park, there is a small cafe that sells food.
Related Read: Visiting Manuel Antonio? Check out all the best things to do in Manuel Antonio before you go!
15. Hacienda Baru Wildlife Refuge
The best place to go hiking near Uvita is at a small hotel and wildlife refuge called Hacienda Baru Wildlife Refuge. This gorgeous property is home to four trails that navigate the wildlife refuge giving visitors the chance to see lots of Costa Rica's most well-known wildlife. Spot monkeys, sloths, snakes, caiman, and white-nosed coati, as well as a huge range of birds.
You can visit the park on your own and do a self-guided tour of the refuge for $15 USD. This is the cheapest option, and you can visit places such as the birdwatching trail and spend as much time as you want to look for birds. There are 4.3 miles (7 kilometers) of trails to explore, and it's best to visit before 8 am or after 3 pm if you want to see some of the 300+ bird species on site.
With that said, Hacienda Baru Wildlife Refuge also has a huge variety of tours with expert guides. These include birdwatching tours, night walks, hikes, and even ziplining. The tours range in price, but most are only $36 USD, which is very cheap!
You can also stay at the hotel Hacienda Baru Lodge. Those who stay at the lodge get free access to the property, which means you'll get to explore and see a lot more!
16. Drink local craft beer
Love craft beer as much as us? Well, thankfully, Uvita is home to its own craft brewery! Whale Tail Brewery is Uvita's local brewery serving delicious craft brews fresh to thirsty travelers and locals. It's safe to say, it didn't take me long to get to know this place.
The brewery is only small, but they have ample room to enjoy a beer at their bar, which is attached to the brewery. They serve only a few beers, and during my last visit, three were available to try. What I love most is the price of their craft beer. Each beer costs just over $6 USD, so you can certainly enjoy a few on a budget.
They also serve food and cocktails so everyone will find something they love. The only drawback is the service, which can lack at times.
Definitely be sure to check out their menu here.
17. Alturas Wildlife Sanctuary
Supporting wildlife conservation is essential in Costa Rica! The best part is you can do it while viewing rare and unique wildlife.
Alturas Wildlife Sanctuary is a non-profit wildlife rehabilitation center with the goal to release every animal they rescue. This involves treating animals in their veterinary clinic and slowly training animals to live in the wild again. It's a costly but rewarding process that saves thousands of animals.
You can see lots of wildlife within the center, including sloths, jaguars, pumas, macaws, toucans, and monkeys. These can change as animals are released and rescued continually.
Alturas Wildlife Sanctuary is located only about a 15-minute drive from Uvita, making it one of the best things to do in Uvita for wildlife lovers!
Tours through Alturas cost $33 USD for adults and only $17 USD for children. You'll learn a ton about the animals during the 1.5-hour tour, and all proceeds go to supporting the animals. You can do tours at 9 am, 11 am, and 1 pm from Tuesday to Sunday.
18. Attend Envision Music Festival
One of the things that initially put Uvita on the world map was the Envision Music Festival held every year. The 7-day event is held in February and was created by the same people who brought you Burning Man. Although not as large, Envision is well and truly gaining popularity.
The festival is centered around the idea of disconnecting from modern civilization to dream, learn, and inspire. The festival is a fun event, and those who are looking to connect with like-minded people should really consider going.
I was supposed to go in 2022, but the event was unfortunately canceled. However, they are all set to go in 2023, so maybe I'll see you there!
19. Fishing charter
The fishing in Costa Rica is epic in just about every coastal town you can imagine. Uvita is no different. In fact, Uvita's remote location means less fisherman and more fish, which means you're almost guaranteed to catch something.
You can do two typical fishing tours in Uvita, inshore and offshore.
Inshore tours are 5 hours and involve going after fish such as tuna, roosterfish, mahi-mahi, jack crevalle, bigeye trevally, needlefish, barracuda, and snapper. In Uvita, these tours have a good chance of spotting dolphins, and you'll get snacks and beer included. Expect to pay around $140 USD a person.
Offshore fishing charters are 8 hour or full-day tours and normally chase larger fish. However, in Uvita, these tours still go for the same fish as the Inshore charter but also include 1.5 hours of snorkeling at Cano Island. So if you fill the bot with max 8 people, this tour costs only $175 USD a person. That's really good value considering the Cano Island tour alone is $150 USD!
The company that offers both of these tours in Uvita is called Bahia Aventuras.
20. Sierpe Mangrove Tour
The Sierpe Mangrove is one of the most extensive mangroves I have ever visited. In fact, it's the largest mangrove in Central America and a really cool and exciting place to do a tour.
On a Sierpe Mangrove tour through the wetlands, you'll spot tons of wildlife, including monkeys, birds, crocodiles, turtles, snakes, and even sloths. You'll also learn so much about mangroves and their importance to Costa Rica's wildlife.
From Uvita, you can reach Sierpe in around 45 minutes by car, and the tours leave from the main dock along the mangrove. Tours cost around $73 USD, and Bahia Aventura also runs these tours too.
21. Enjoy a delicious coffee at Sibu Café
If you're after a delicious brew and some tasty food, look no further than Sibu Café in Uvita. Located along the busy highway (I am not too fond of the location), this beautiful cafe serves up the best coffee and food in Uvita.
Their menu includes lots of interesting drinks such as an ice Nutella coffee, organic choco chai, and an ice coffee cocktail. On their food menu, they have a lot of classics, but they're all so tasty. Trust me; this is the best cafe in Uvita and one of my favorites in Costa Rica!
Related Read: Find out about all of the best restaurants in Uvita!
Where to Stay in Uvita, Costa Rica
When it comes to choosing the right place to stay in Uvita for you, location is essential. For example, those without a car will most likely want to stay near the national park, whereas those with a vehicle can choose to stay further out. If you would like more info on the different areas, be sure to check out our where to stay in Uvita blog.
Below are a few of my favorite hotels in all the different areas around Uvita.
Hostel Cascada Verde – $
For budget travelers, Hostel Cascada Verde is a top choice. The reviews of this hostel are fantastic. The location is on the inland side of town, meaning it's a fair walk to the national park. However, it is right across from Uvita Waterfall and Uvita Beer garden in a quiet area surrounded by lush forest.
Rates start at $20 USD for a one-night stay. You can check availability and make a reservation online here on Booking.com, here on HostelWorld, here on Hotels.com, or here on Expedia.
Bungalows Ballena – $$
If you'd prefer to be close to the national park, Bungalows Ballena is only a 1-minute walk from the entrance to the park. This small hotel offers two-bedroom bungalows with full kitchens and bathrooms. It's perfect for families, and they also have a pool. We stayed here last time we were in town and loved it – having our own little bungalow was convenient and comfortable.
All of the rooms have a patio. There's also a pool and grill available for guests. Rates begin at $111 USD per night. You can check availability and book online here on Booking.com, here on Hotels.com, or here on Expedia.
Oxygen Jungle Villas & Spa – $$$
Those looking for luxury have to check out Oxygen Jungle Villas & Spa. This stunning hotel is located in the hills surrounding Uvita and is perfect for those looking for a romantic getaway. The property features spectacular views, an infinity pool, gorgeous rooms, and an included breakfast.
This is one of the most romantic hotels in Costa Rica. Rates typically begin at $429 USD per night. Book online on Booking.com here, on Hotels.com here, or on Expedia here.
Getting Around Costa Rica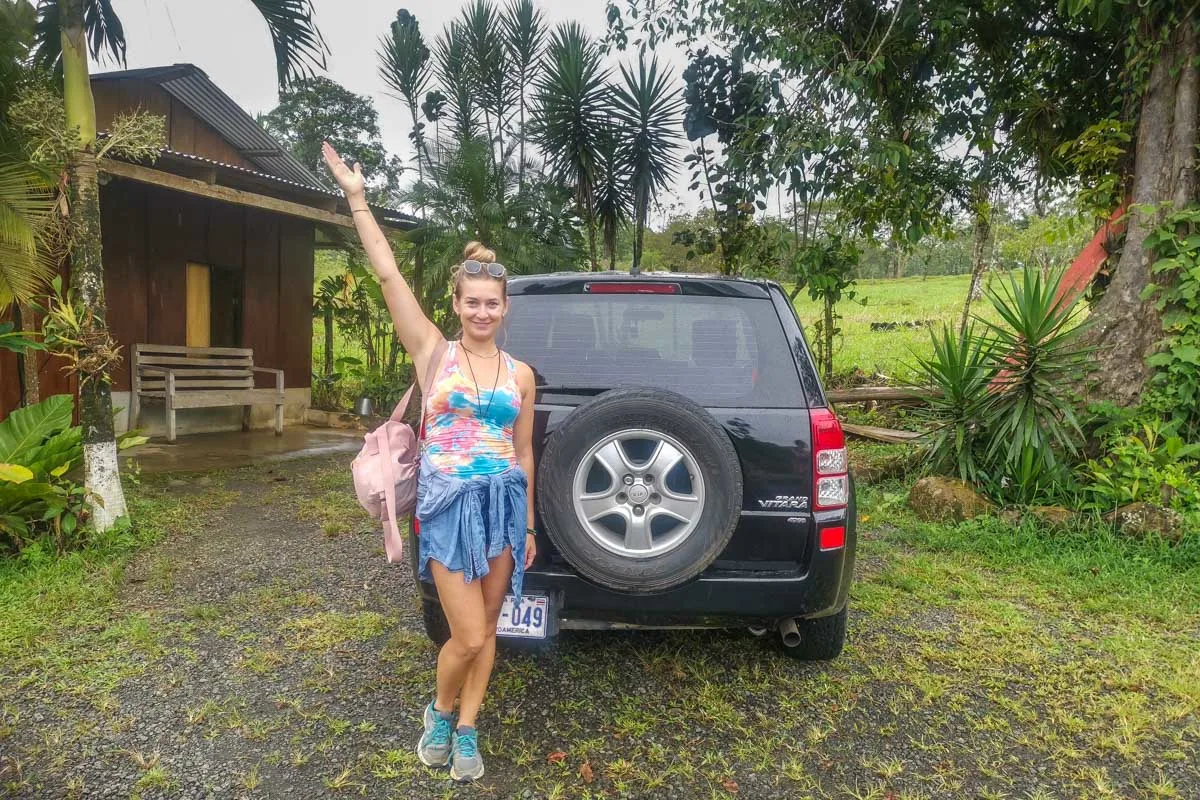 How you choose to get around Costa Rica is one of the biggest decisions you'll make when planning your holiday here! How you do it depends on your budget, travel style, and comfort level.
Renting a Car
Without a doubt, the number one way to explore Costa Rica is in a rental car. We book rental cars on the Discover Cars website as we have had good experiences with them in the past.
One of the things you need to watch for when renting a car in Costa Rica is the mandatory insurance that the government requires you to have. There are a lot of very cheap rentals that don't include this mandatory insurance (TPL) in the original booking price, but there are also ones that do. To avoid additional surprise charges when you pick up your rental car, be sure to rent a car that includes the mandatory insurance when you book.
Thankfully, on Discover Cars it's easy to tell apart the companies that include the mandatory insurance and those that don't. The trick is you can't pick any car on their website. In the picture below, you can see this rental car, with pick up in Jaco, includes the TPL. That means the mandatory insurance is included in the price. Any cover you get above that is extra.
Of course, I still suggest getting the full coverage offered by Discover Cars, which covers you even more.
You can browse cars on Discover Cars here.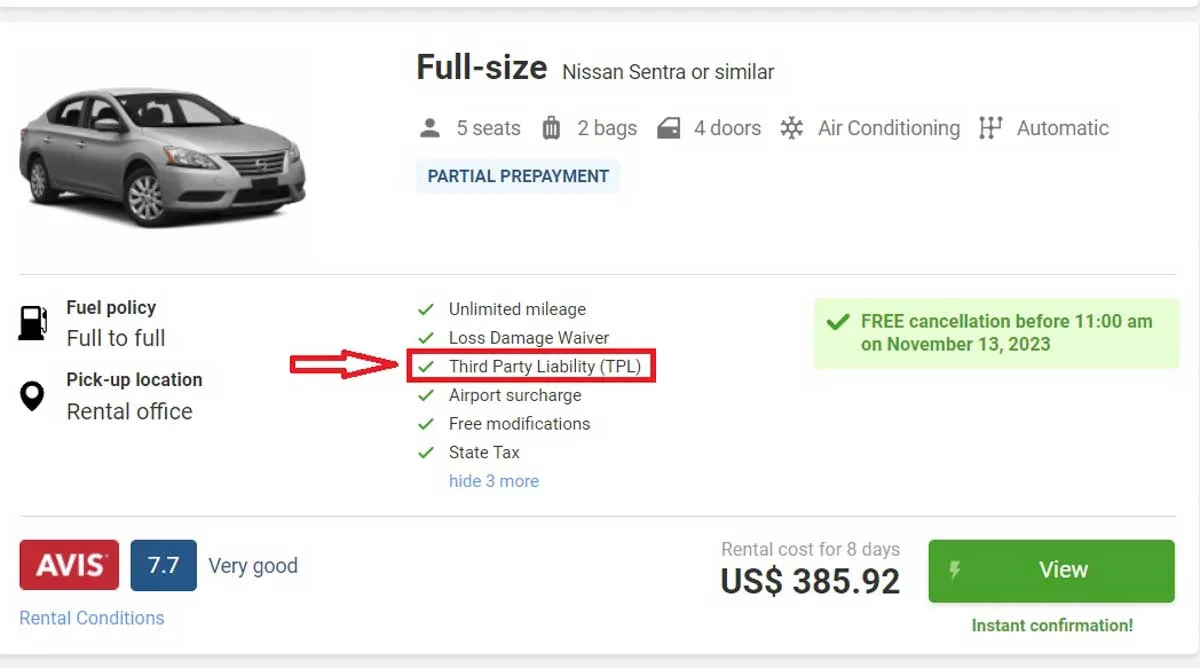 Adobe Rental Rent A Car is another rental company that we most often use in Costa Rica. We love them because Adobe has 15 offices around Costa Rica and delivers door-to-door around their offices at no extra cost. We also are pleased that all of their cars are new. In fact, they are never older than 2 years to the date. They are also the only company to include mandatory insurance and promise no hidden fees. You can get a free quote for a rental car from their website here.
Book Shuttles
If renting a car isn't in your budget, you don't feel comfortable driving in Costa Rica, or you just don't like driving, shuttles are the next best option. There are hundreds of shuttle routes available all over the country, and they are very affordable.
Shuttles in Costa Rica are specifically for tourists and often include pick up and drop off at your selected hotels and airports. The drivers also speak some English, and the vehicles have air conditioning. You'll also be guaranteed a seat when you book a shuttle (which isn't the case with the public bus system.)
To get the best price, use the website Bookaway. They compare all the offers and prices of shuttle companies in Costa Rica so you get the best price! Honestly, we have saved so much money using Bookaway!
You can search for shuttles online on Bookaway here.
Public Bus
Lastly, you can use the public bus system. On short journeys, such as from San Jose to La Fortuna or Uvita to Manuel Antonio, this system is great. However, the longer the journey the more hassle and time spent on a bus. It's undoubtedly best to save the public bus in Costa Rica for short and straightforward trips!
The public buses are definitely the cheapest way to get around Costa Rica, but they are not always very reliable and schedules often change without notice and delays are to be expected. The buses can also be very crowded and hot – so just be prepared!
It's also good to speak some Spanish if you plan on riding the public bus since most drivers and ticket booth operators don't speak English.
Invest in Travel Insurance
Paying out of pocket for trip interruptions or medical treatment will add to what might already be a stressful situation. We always travel with SafetyWing travel medical insurance.
The best part is that it costs only a fraction of what most insurance policies charge, which makes it perfect for digital nomads, long-term travelers (like us), and budget travelers. It only costs $45 USD per 4 weeks!
To start coverage, you must purchase it after leaving your home country. We usually purchase it as soon as we land at the airport.
Since using SafetyWing we've been reimbursed thousands of dollars when we've gotten sick. During the pandemic, they've even gone as far as to pay for our last-minute flights back to Canada from Colombia before the border closed!
You can click here to get a quote and read all the details!
Pura Vida!
Uvita is quickly becoming a top tourist destination in Costa Rica, and with the above list of things to do, it's really not hard to see why.
I hope this blog has helped plan and inspire your upcoming trip to Uvita, Costa Rica and made planning that little bit easier! If it has, be sure to browse around and check out more of our blogs. We have so much to show you such as: