This blog may contain affiliate links. Read our disclosure policy for more info.
Located on the Puntarenas province's South Pacific side, Uvita is the kind of place you've always imagined Costa Rica to be. Long gorgeous lengths of sand adorn the coastline, dense and jungle-like woodlands border the town, and the folks are very welcoming and sweet.
But what makes Uvita stand out from its neighboring towns is the renowned Playa Uvita, where you can find the Whale's Tail (Cola de Ballena) which is one of the best places for whale watching in Costa Rica. This picture-perfect half-mile-long sandbar is shaped like a whale fin and holds the title of the third-largest of its kind across the globe. The sandbar, along with the beach and coastal waters, is protected as part of the Marino Ballena National Park.
It can be pretty hard to narrow down the best places when it comes to deciding where to stay in Uvita, especially since the town is somewhat spread out. That said, it's essential to know where you really want to spend your holiday before booking your room.
In this guide, I'll cover three of the best areas in town, along with the top hotels in Uvita. Let's dive in!
Don't have time to read the full article? We suggest staying near Uvita Beach to have easy access to all the popular water activities as well as great restaurants and bars. Our top hotel pick in the area is Bungalows Ballena, where you can stay in a beautiful tropical holiday home with an excellent location. You can book Bungalows Ballena online here on Booking.com, here on Hotels.com, or here on Expedia.
What are the Best Areas to Stay in Uvita, Costa Rica
Uvita is a small town, but it's very spread out. It's basically split up into three areas: the main town near the highway, Playa Uvita (Uvita Beach) near Marino Ballena National Park, and the hilltops in the remote jungle above Uvita.
Hotels in Playa Uvita tend to be more costly, but the beach and the surrounding estuaries and mangrove swamps make up for the price difference. On the other hand, Central Uvita puts you within walking distance of grocery stores and other town amenities.
There are excellent restaurants in both parts of Uvita, so that shouldn't make a difference to your final decision. It's just that the area near the highway provides cheaper lodging, but the downside is that the beach is about 45 minutes on foot from here.
If you have a rental car and want somewhere quieter, the hilltop is where you should stay in Uvita. High-end hotels with ocean views abound here, but this means you'll have to spend more on transportation. Taxis are also an option as they can be pretty affordable in Uvita, but they can be hard to come by at times.
Keep reading for a more in-depth look at these three areas and find out where to stay in Uvita to match your budget. I;ve also included the best hotels in each area for all budgets, this way, you can easily choose the best hotel in Uvita for your holiday.
Staying near Uvita Beach
The area near Uvita Beach is my personal favorite as this is the section of town closest to the beach (where the national park is). Naturally, staying close to the beach means popular water activities like whale watching, snorkeling, and scuba diving are just at your fingertips – these are some of the best things to do in Uvita!
This area is where most of the tourists stay, too, so expect to see lots of rental cabins and rooms. There are also plenty of good bars and restaurants to eat in near Uvita Beach, but make sure to try the cozy street-side cafes that serve delightful local cuisine.
Unfortunately, the best hotels in Uvita that are located in this area typically book up fast. And although the hotels are close to the beach, it's hard to find one with ocean views.
Advantages to staying near Uvita Beach:
Close to beach/national park, restaurants, cute shops
Good vibe
Walking around is easy
Lots of beautiful accommodations
Can easily access the national park
Disadvantages to staying near Uvita Beach:
Hotels often book up fast
No ocean views from the hotel
No large supermarkets or banks here (a 45-minute walk to central Uvita)
Hotels are more expensive than in central Uvita, so don't expect many good budget-friendly places to stay
Related Read: For another epic beachside destination, check out where to stay in Tamarindo!
3 BEST Hotels near the Beach in Uvita
$$$ – Bungalows Ballena
A cozy accommodation provider just 300 meters north of Marino Ballena National Park's main entrance, Bungalows Ballena makes you feel like you're right at home with all of their comforts. Here, you can enjoy a beautiful two-bedroom stand-alone villa, which is nestled in the property's well-manicured garden of flowering plants and towering palm trees.
When you get to your bungalow, the first thing that will catch your attention is its tropical vibe. The room is made out of wood, and the furniture and decor are just as rustic while still appearing trendy and luxurious.
But while the structure seems like a simple wooden hut at first look, it's actually equipped with all the modern amenities you can find in a standard hotel – should I say "holiday home". Prep your meals in the full kitchen, catch up on your favorite show with the satellite TV in the living room, escape the outdoor heat with the air conditioning, and listen to the birds flying by on your private furnished patio.
From your room, you can easily walk to the outdoor pool, which is aptly shaped like a whale's tail and has a cute waterfall. Longe on the sunbeds by the pool or take a quick dip to cool off. In case you're bringing kids with you, they can have their share of fun in the on-site playground while you cook some BBQs in the ranchos next to the pool.
Beyond Villas Bungalow Ballena's amenities, I like that they make it easier for guests to enjoy what Uvita has to offer. Just give them the heads up, and they can coordinate your preferred tour with their partner operators to ensure that you have a pleasant experience.
The best part? The nearest supermarket, pharmacies, restaurants, and banks are just five minutes away by car! They also have secure on-site parking. You can walk to many restaurants and small shops that are just down the road.
A night here starts at $170 USD and goes up to around $250 USD, which is not too badly priced considering the bungalows have multiple rooms for the entire family – each bungalow can sleep up to 6 people!
You can check availability and book Bungalows Ballena online here on Booking.com, here on Hotels.com, or here on Expedia.
$$$ – Seren Glamping
Need a change of scenery from stuffy Uvita hotels? Then try Seren Glamping!
Seren Glamping immerses you in the beauty of nature the way that camping does but without you giving up the conveniences of a hotel room. This means you can still enjoy the comforts of air conditioning and Wi-Fi, all while taking in the refreshing outdoor air and listening to the wildlife roaming about right from your tent.
At the property, you'll be staying in a large tent pitched on a wooden platform and complete with a comfy king-size bed. This platform is where you can also find your private outdoor bath and shower, and seating area.
The on-site plunge pool and garden with stunning mountain views are right in front of your tent. Spend a lazy afternoon lounging on the poolside sunbeds. Or, if you're up for an adventure, Seren Glamping can always arrange the tour of your choosing, from kayaking and whale watching to canyoning and sport fishing.
The best part? You're free to bring your furry buddies here, and only guests of legal ages are accepted, so no kids!
You can stay here for as low as $149 USD to $250 USD per night. Choose between a double or quad tent that sleeps up to four people.
You can check availability and book Seren Glamping online here on Booking.com, here on Hotels.com, or here on Expedia!
$ – Villas Maria Luisa
Villas Maria Luisa may be your typical hotel with its outdoor swimming pool, garden, and free Wi-Fi. But what made it one of the best hotels in Uvita for me is its affordable rates and central location.
You see, staying in Villas Maria Luisa means you're only 15 minutes away on foot from Uvita's center, a few steps from the beach, and a quick car ride to Marino Ballena National Park. Not to mention the fact that you're a two-minute walk to La Ballena Roja Cafe, where you can savor some of the neighborhood's best healthy and fusion cuisine!
Back at Villas Maria Luisa, you also get your money's worth for your rooms. Each unit includes a cable flat-screen TV for the days you feel like staying in, a fully equipped kitchen with a fridge and microwave for meal prepping, and a seating area for having guests over. My favorite part of the room, though, is the sunny patio, where you can enjoy the refreshing view of the landscape.
Accommodations here start at only $80 USD a night.
You can check availability and book Villas Maria Luisa online here on Booking.com, here on Hotels.com, or here on Expedia!
Staying in Central Uvita
Uvita's reputation as a prominent tourist destination in Costa Rica has soared in recent years, thanks in large part to the Envision Festival and the well-paved Costanera Sur highway. Over time, the number of visitors in the area has grown so big that local tour operators have begun expanding to accommodate everyone.
The center of Uvita town is actually around the highway, which, although it isn't super appealing, it's where most of the amenities are. You can find all the basics here, from supermarkets and restaurants to pharmacies and gas stations. There is also an abundance of budget-friendly lodging options in the area.
The best part? You will be within a reasonable distance of the beach no matter which Uvita hotel you choose. So if you're traveling on a budget and want to save money on accommodation, I highly recommend staying here.
Advantages to staying in central Uvita town:
Lots of cheap hotels to choose from
Large selection of restaurants and amenities
Walking distance to large supermarkets/grocery stores
Close to the bus stop to other towns and attractions
Disadvantages to staying in central Uvita town:
Far walk to the beach and national park
Not overly scenic or nice
The highway can be loud
3 BEST Hotels in Central Uvita
$$$ – Hotel Marino Ballena
In search of a hotel within central Uvita with all of the amenities you need for a comfortable stay? Then look no further than Hotel Marino Ballena.
A modern hotel just off of the town's main road, Hotel Marino Ballena gives you exactly what you need and more. Start your day with a hearty complimentary continental breakfast to boost your energy before heading out to town aboard the hotel's shuttle service (surcharge). You can also hire a car right at the hotel to make it easier for you to explore Uvita.
After a long day of watching whales and hiking, head straight to the year-round outdoor pool for a quick plunge. While this pool isn't as big as those in luxury hotels, I like that it already comes complete with a kiddie pool for your little ones. Spend your afternoon sitting back and reading a book on the sundeck or prepping your dinner in the hotel's shared kitchen.
Finally, you can retreat to your airy and spacious room, well-appointed with a flat-screen TV, private bathroom, and air conditioning. There's also a porch right in front of your room, where you can enjoy the pool view or go stargazing at night.
Rates here start at $113 USD per night, inclusive of breakfast.
You can check availability and book Hotel Marino Ballena online here on Booking.com!
$$ – Big Bamboo de Uvita
Conveniently located right in the center of town, 2 km (1.24 mi) away from Marino Ballena National Park, Big Bamboo de Uvita is one of the best hotels in Uvita for inexpensive lodging. The Double Room here only costs as low as $45 USD, and the Suite for as low as $60 USD per night.
The affordable rate means that the rooms can be pretty basic with standard amenities like Wi-Fi, cable TV, and an air conditioner. But while the units can be a bit unremarkable, what makes Big Bamboo one of the top Uvita hotels for me is Chef Lucy, the hotel's manager and chef!
Chef Lucy has made Big Bamboo's on-site restaurant one of the popular reservation-only dining establishments in the neighborhood. This alone is enough to tell you that her meals are out of this world! This is a big plus since you won't need to head outside to taste Costa Rica's finest dishes. Just tell the chef to reserve you a plate.
One of the best things that I also love about the restaurant is that there is no set menu. Instead, Chef Lucy prepares different dishes daily using fresh ingredients to let you experience the different sides of the local cuisine. Reservations are available for grabs from breakfast to dinner.
Another notable feature of Big Bamboo is its surf camp led by the owner himself. If you sign up, you'll be taken to a different beach each morning and introduced to the best tides as you learn how to surf. If you're not up for surfing, the hotel can always book you a tour of the Nauyaca Waterfalls or take you whale watching.
You can check availability and book Big Bamboo de Uvita online here on Booking.com!
$ – Whale Tail Hotel
So you're a digital nomad looking to soak up those Pura Vida vibes without breaking the bank? Don't worry, Whale Tail Hotel has your back. Whether you're traveling alone and planning a family vacation on a budget, this Uvita hostel offers everything from private suites to shared dorm rooms.
But beyond the cheap rooms, Whale Tail Hotel has more in store for you. Right on the property is a swimming pool, where you can escape the scorching heat whenever you want. Drop by the games areas and BBQ lounges to chitchat with the other guests or head to the co-working space to finish that report.
In case you like to spend time in the great outdoors, just approach the tour desk to ask for help booking the perfect tour for you. Whether that's a hike to the secret waterfall or a day out snorkeling on an exotic island, the hostel staff can help you organize the best activities in Uvita. Want to learn how to hang ten? Feel free to sign up for the on-site Surf School with programs for both beginners and seasoned pros.
After a long day out under the sun, sit back and order a pint of artisanal beer at the hostel's very own brewery that sits adjacent to the property and is accessible via a footbridge. Enjoy the local bands playing here weekly as you dig into your dish and enjoy the unique beverages served.
The private suites here start at $95 USD per night, while the shared and dorm rooms can be booked for as low as $25 USD per night.
You can check availability and book Whale Tail Hotel online on Booking.com here, Hostelworld here, Hotels.com here, or Expedia here.
Related Read: Heading inland to La Fortuna? Read about the BEST hot springs in La Fortuna!
Staying in the Hilltops surrounding Uvita
Uvita Beach and Central Uvita can be a little overcrowded at times, especially since they're closer to the beach and to the national park. If you prefer a more secluded and peaceful holiday in town, the best hotels in Uvita for you are on the hilltops around the outskirts of Uvita. Sure, you'll be farther from town, but you'll be closer to nature and, of course, Costa Rica's wildlife.
But that isn't the best part! Most of the Uvita hotels in this area are luxury resorts with breathtaking views of the ocean. Talk about enjoying the sunset right in the comforts of your room!
Unfortunately, there is a downside to staying on the hilltops of Uvita, too. Depending on your hotel's location, it's probably best that you rent a car beforehand to make it easier for you to travel to and from the downtown area. But this is a small price to pay to stay in some of Uvita's best and most peaceful hotels.
Advantages to staying in the hilltops around Uvita:
Enjoy ocean views right from your hotel
Beautiful boutique hotels and villas are available
Peaceful surroundings.
Lots of wildlife to see
Good value for money hotels
Disadvantages of staying in the hilltops around Uvita:
May need your own transport
Not many choices for places to eat or things to do nearby
Not walking distance to town or the national park
The BEST Hotels in the Jungle around Uvita
$$$ – Rancho Pacifico – Boutique Hotel for Adults
Looking for a luxurious way to experience the natural beauty of Costa Rica? Then come to Rancho Pacifico – it's one of the best hotels in all of Costa Rica.
This high-end adult-only eco-hotel is truly a luxury paradise as it sits right on Uvita's rain-forested hilltops, offering privacy and commanding views of the Whale's Tail that you won't find anywhere else. It also offers treehouse-style hotel rooms for a really unique stay with an amazing view!
While staying here, you will jumpstart your day with a gourmet breakfast made with fresh ingredients, many of which are sourced from the hotel's own gardens. Combine this with views of the ocean from the hotel's open-air restaurant – pure luxury!
After breakfast, put on your hiking boots and explore the rainforest through the hiking trails on the property. If that isn't your style, then feel free to just relax in the infinity pool while you watch the waves crashing on the coast far below. From there, you won't have to walk far for lunch as you can treat yourself to a delectable selection of dishes right by the pool. The in-house spa, which offers a variety of treatments in a quiet rainforest setting, is also just a quick walk away.
Spend the remainder of your day hiding away in your room before grabbing a drink during the bar's happy hour. Once the sun finally sets, you will dig into a sumptuous four-course dinner specially prepared by the chefs.
Finally, you'll end the day with a walk in the moonlight back to your villa. Speaking of villas, you can choose from a variety of accommodation types at Rancho Pacifico to suit your needs and budget. Every unit comes complete with king-size beds, luxury linens, and unmatched ocean views bordered by the tropical landscape.
But if you truly want to be pampered, then you should book a luxury villa. Here, you can enjoy a private plunge pool or in-ground hot tub, spacious living areas and decks, a well-equipped kitchenette, and even private entrances! The best part is that the villas are the closest to the main clubhouse, cabana, and pool areas, so you're always just a few steps away from the amenities.
Rancho Pacifico features three distinct types of rooms: Luxury Villas, Rainforest Treehouses, and Modern Suites. The Villas start at $695 USD, the Treehouses from $620 to $695 USD, and the Suites for $545 USD per night. Every reservation includes a complimentary breakfast, a full a la carte menu with fresh juices, and the renowned Costa Rican coffee.
You can check availability and book Racho Pacifico Boutique Hotel online here on Booking.com, here on Hotels.com, or here on Expedia!
$$ – Casitas Del Rio
Certainly fitting its name, Casitas del Rio is tucked away next to the Morete River and is bordered by forests on all sides. This gives the property a feeling of being miles away from civilization, but you're actually just five minutes away by car from Uvita's amenities.
You can choose from three private riverfront casitas (small cabins or villas) here, all of which are adorned with modern minimalist decor and follow an open studio style. Included in the rooms are a kitchenette, private bathroom, air conditioning, and locally made wooden furniture.
But the highlight of the casita is the covered porch, where you can enjoy a close-up view of the nearby river and the property's well-kept tropical garden, where the resident three-toed sloth named Slothy usually hangs out. Did I mention that the deluxe casitas also have a private plunge pool? Spend your lazy afternoon in the pool with the lush greenery surrounding you and the sound of the river lulling you to sleep.
A quick tour of the property will bring you to the 50-ft (15 m) pool, where you can relax and escape the heat. If you feel like exploring, wander upriver to the nearby hidden waterfall and other natural swimming holes, then come back and relax in the garden while you grill some fresh fish.
A minimum of two nights is required to stay here, with rates from $160 USD per night.
You can check availability and book Villas Casitas del Rio online here on Booking.com!
$ – Cascada Verde Hostel
For a jungle escape that feels almost like an adventure in a treehouse, check out the Cascada Verde Hostel. This awesome hostel is about 2 km (1.24 mi) uphill from the town and puts you right in the middle of Costa Rica's wildlife. It features an open architecture style that truly immerses you in nature. Talk about hearing the glorious jungle symphony every morning and becoming neighbors with sloths, toucans, and monkeys.
Your room is well-appointed with furniture made of wood and bamboo, giving your living space a very natural look. But although the units look like a treehouse, you will still be treated to all the modern conveniences of a standard hotel room. Depending on which room you book, you'll have access to Wi-Fi, a private bathroom with warm-water showers, and a rustic en-suite kitchenette.
From your room, you can easily walk to the hostel's beautiful open terrace, where you can watch the monkeys jumping through the trees. Take a book with you to pass the time, or lay on the hammocks for a quick nap. The first-floor deck also holds regular yoga sessions for $10 USD.
If outside the hostel is where you want to be, you can rent snorkels and boogie boards at the front desk for $5 USD per day, too! The staff can happily assist you with tour booking, as well. After visiting the beach, make sure to drop by the Uvita Waterfall, which is only a five-minute walk from the hostel.
Back at the property, end your day with a homemade meal that you can prepare yourself in the spacious, fully-equipped communal kitchen and dining area. Feel free to take your plate to the furnished terrace, too, for a more romantic dinner.
The rooms at Cascada Verde Hostel are spread throughout the property and offer different types of amenities. You can find rooms in the main and guest houses, but there are also rooms in the private casita if you want a little more privacy.
Rooms with shared bathrooms start from $40 USD, rooms with private bathrooms from $55 USD, and a bed in the dorm from $11 USD.
You can check availability and book Cascada Verde Hostel online here on HostelWorld, here on Booking.com, here on Hotels.com, or here on Expedia.
4 Must-Do Activities in Uvita
While here, you should definitely ensure you check out some of the best things to do in Uvita:
Go whale watching: In Uvita, whale watching is without a doubt one of the best things to do – especially if you love wildlife as much as I do. On this incredible tour in Marino Ballena National Park, you head out on a boat in search of these majestic creatures. For over 3 hours, you'll explore the coastline heading out as far as Caño Island. Along the way, you'll have great chances at spotting whales, dolphins, and even sea turtles.
Learn to surf: The best place to surf in Uvita is at Playa Hermosa, only a short drive north of town. Along the beach, you'll find lots of surfboard rentals as well as a few vendors. If you're an expereince surfer, just head to the beach and rent a surfboard. Rentals cost only $10 USD for the entire day.
If you're a beginer surfer wanting to learn, it's best to book a surf lesson in Uvita. This specific surf lesson lasts for 2 hours and meets at Playa Hermosa. It includes your board rental, a really talented surf instructor named Josué, digital photos, water, and snacks.
Visit Uvita Waterfall: The best place to cool off in Uvita isn't actually the beach. It's at one of the nearby waterfalls! The best waterfall in Uvita is Uvita Waterfall. Uvita Waterfall lies just on the outskirts of town and can be reached by taxi from almost anywhere in town for under $5 USD. Once there, you can swim in a pristine river with beautiful cascades and, of course, the main attraction, Uvita Waterfall.
Visit the "Whale Tail" in Marino Ballena National Park: Without a doubt, the number one thing to do in Uvita is to visit Marino Ballena National Park and enjoy a walk to the famous "Whale Tail". Marino Ballena National Park is a small marine and coastal national park that protects this gorgeous coastline. The shape of the sandbar in the park is completely natural and very fitting to the area considering Uvita is one of the best places to go whale watching in the country. With an aerial view at low tide, you can see this sandbar looks exactly like a whale's tail – hence the name.
Getting Around Costa Rica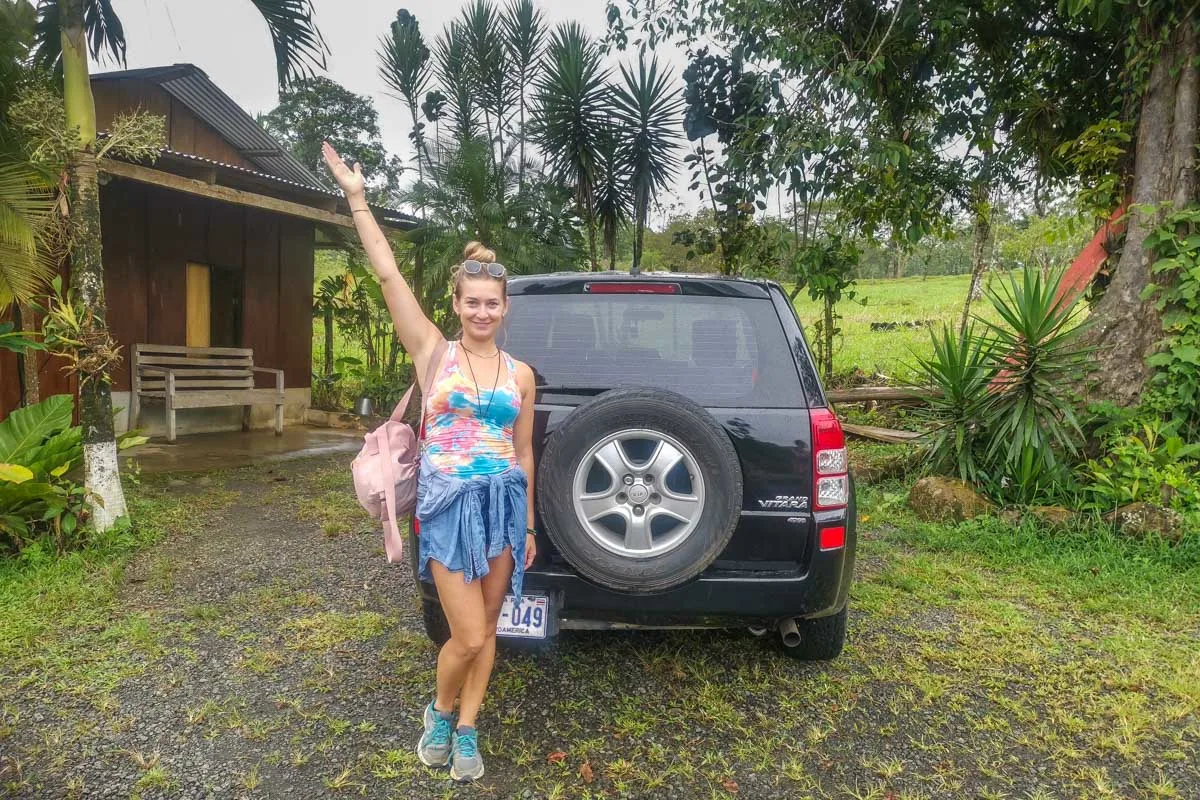 How you choose to get around Costa Rica is one of the biggest decisions you'll make when planning your holiday here! How you do it depends on your budget, travel style, and comfort level.
Renting a Car
Without a doubt, the number one way to explore Costa Rica is in a rental car. We book rental cars on the Discover Cars website as we have had good experiences with them in the past.
One of the things you need to watch for when renting a car in Costa Rica is the mandatory insurance that the government requires you to have. There are a lot of very cheap rentals that don't include this mandatory insurance (TPL) in the original booking price, but there are also ones that do. To avoid additional surprise charges when you pick up your rental car, be sure to rent a car that includes the mandatory insurance when you book.
Thankfully, on Discover Cars it's easy to tell apart the companies that include the mandatory insurance and those that don't. The trick is you can't pick any car on their website. In the picture below, you can see this rental car, with pick up in Jaco, includes the TPL. That means the mandatory insurance is included in the price. Any cover you get above that is extra.
Of course, I still suggest getting the full coverage offered by Discover Cars, which covers you even more.
You can browse cars on Discover Cars here.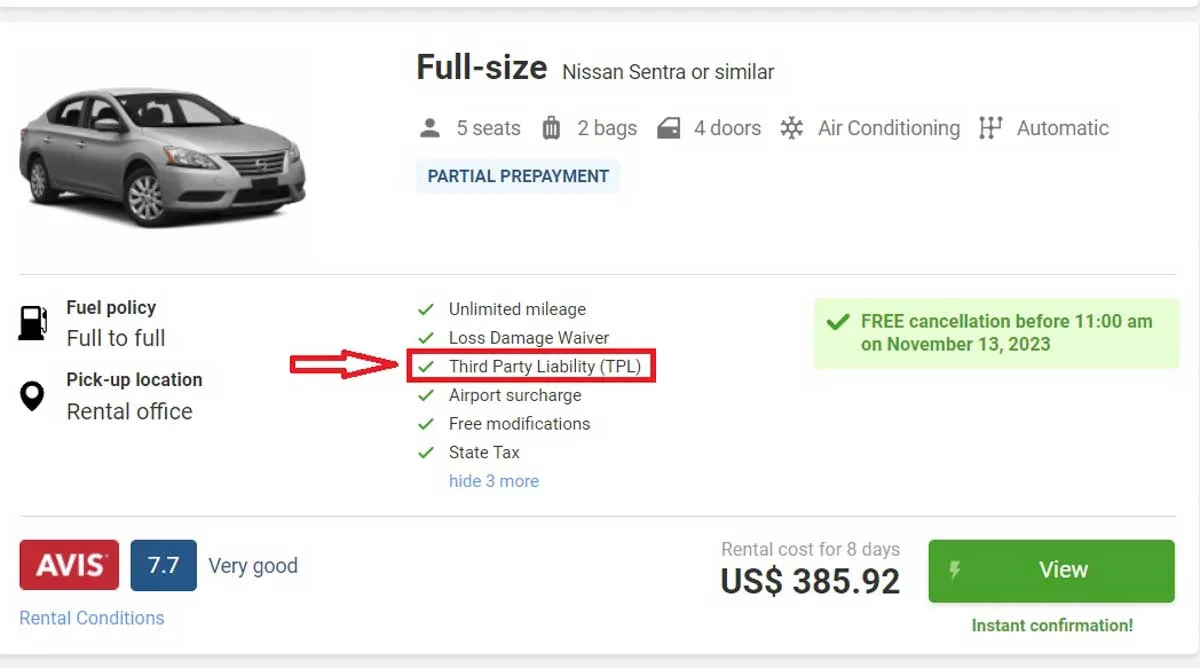 Adobe Rental Rent A Car is another rental company that we most often use in Costa Rica. We love them because Adobe has 15 offices around Costa Rica and delivers door-to-door around their offices at no extra cost. We also are pleased that all of their cars are new. In fact, they are never older than 2 years to the date. They are also the only company to include mandatory insurance and promise no hidden fees. You can get a free quote for a rental car from their website here.
Book Shuttles
If renting a car isn't in your budget, you don't feel comfortable driving in Costa Rica, or you just don't like driving, shuttles are the next best option. There are hundreds of shuttle routes available all over the country, and they are very affordable.
Shuttles in Costa Rica are specifically for tourists and often include pick up and drop off at your selected hotels and airports. The drivers also speak some English, and the vehicles have air conditioning. You'll also be guaranteed a seat when you book a shuttle (which isn't the case with the public bus system.)
To get the best price, use the website Bookaway. They compare all the offers and prices of shuttle companies in Costa Rica so you get the best price! Honestly, we have saved so much money using Bookaway!
You can search for shuttles online on Bookaway here.
Public Bus
Lastly, you can use the public bus system. On short journeys, such as from San Jose to La Fortuna or Uvita to Manuel Antonio, this system is great. However, the longer the journey the more hassle and time spent on a bus. It's undoubtedly best to save the public bus in Costa Rica for short and straightforward trips!
The public buses are definitely the cheapest way to get around Costa Rica, but they are not always very reliable and schedules often change without notice and delays are to be expected. The buses can also be very crowded and hot – so just be prepared!
It's also good to speak some Spanish if you plan on riding the public bus since most drivers and ticket booth operators don't speak English.
Invest in Travel Insurance
Paying out of pocket for trip interruptions or medical treatment will add to what might already be a stressful situation. We always travel with SafetyWing travel medical insurance.
The best part is that it costs only a fraction of what most insurance policies charge, which makes it perfect for digital nomads, long-term travelers (like us), and budget travelers. It only costs $45 USD per 4 weeks!
To start coverage, you must purchase it after leaving your home country. We usually purchase it as soon as we land at the airport.
Since using SafetyWing we've been reimbursed thousands of dollars when we've gotten sick. During the pandemic, they've even gone as far as to pay for our last-minute flights back to Canada from Colombia before the border closed!
You can click here to get a quote and read all the details!
Pura Vida!
It's hard not to fall in love with Uvita's beautiful beaches framed by a stunning backdrop of mountains. People flock to this destination to get away from the hustle and bustle of tourist attractions in the North Pacific and enjoy a peaceful vacation in the wilderness.
With this guide, you probably already have an idea of where to stay in Uvita and what hotels to look into for your next getaway. But regardless of where you choose to stay in Uvita, you can count on a great time in this scenic surf town.
Be sure to check out our other Uvita blogs or a couple of our other favorite blogs below:
The BEST Day Trips from San Jose