This blog may contain affiliate links. Read our disclosure policy for more info.
Dominical is a small, rather off-the-beaten-path surf destination in Costa Rica. Home to a large community of locals and ex-pats, it's seen as one of the top destinations for those looking for a laid-back lifestyle.
In fact, that's the reason I fell in love with Dominical.
Imagine gorgeous beaches, lush jungle, organic food, and talented musicians. Dominical has everything a hippie town needs and more.
However, those who came to Costa Rica to explore will still love Dominical. The surrounding area is home to tons of amazing things to do. These include exploring waterfalls, viewing wildlife, and surfing!
So, regardless of what you came to Costa Rica for, I am sure you'll love dominical. To help plan your trip, here are the 25 best things to do in Dominical! I've also included a few other things to know before you go, so after reading this guide to Dominical, you should be ready for your trip!
Don't have time to read the full article? Check out our list of our absolute favorite things to do in Dominical:
Learn to surf at Dominical Beach.
Go swimming in the bottom falls at Nauyaca Waterfalls.
See the monkeys and sloths at Manuel Antonio National Park on this tour.
Sunbathe and swim at nearby Playa Dominicalito.
Go on this whale-watching tour to spot whales, dolphins, and sea turtles.
Things to do in Dominical, Costa Rica
1. Learn to surf
One of the number one reasons people come to Dominical is to surf. Dominical Beach produces good waves for both intermediate and beginer surfers, and the best part is, you can surf all year round.
Surfboard rentals cost $10 USD for 24 hours for those who already know how to surf. You can rent surfboards all over town, but I got my rental from the Cool Vibes Hostel. They even have secure racks where you can store your board and have discounts for long-term rentals.
If you're completely new to surfing or just want some guidance, you can do lessons in Dominical too. A 2-hour lesson with board rental costs between $60 and $65 USD. You can book these at Dominical Waverider Surf School, Costa Rica Surf Camp, Dominical Surf school, and more. Trust me; there's no shortage of surf schools around town.
When picking a lesson, try to find a school with no more than three people per instructor, but two is ideal. This will drastically improve your learning and chances of standing up.
2. Visit Nauyaca Waterfalls
The most beautiful waterfall I have ever seen in Costa Rica is the Nauyaca Waterfalls. These two spectacular waterfalls are a combined 197 feet tall (60 meters) and are surrounded by lush rainforest and wildlife. With that said, you have to do a little work to get there.
From Dominical, it's a 15-minute drive to the ticket office, and this is where you'll need to buy your entrance ticket ($12 USD at the office or $10 USD online). Then, it's another 1.2-mile drive (2 kilometers) to the parking lot, where you'll begin the hike to the base of the waterfall. The lady at the ticket office will tell you where to go.
The trail from the parking lot is 4 kilometers (2.5 miles) each way along a dirt road. If you don't visit first thing in the morning, it's a hot trek with plenty of hills. However, once you arrive at the waterfall, you'll quickly forget the hike.
My recommendation is to visit the top waterfall first to check out the view and then walk down the bottom for a swim (the top isn't for swimming.) Make sure you spend lots of time enjoying the water, it's so beautiful.
If you don't want to walk the 4 kilometers (2.5 km) or have mobility issues, there are other options available. The first is to take a tour in the back of a truck. This costs $32 USD on top of your entry ticket. The other option is to take a horse, and this option costs $80 USD. You can book these options online in advance or at the ticket office.
Nauyaca Waterfalls is open from 7 am, and you cannot begin the trail after 2 pm.
Getting there without a car: If you don't have a rental vehicle, you can either take a taxi or the bus from Dominical. A taxi costs 10,000 Colones one way ($18.70 USD), and it's best to get their phone number so you can call when you are done. A taxi will take you to the ticket office and then drop you at the start of the trail.
If you want to take the bus, you can do so by catching it from one of the bus stops in Dominical. The first bus leaves at around 6:20 am (be at the bus stop for 6:00 am), and you need to tell the driver that you are going to Nauyaca Waterfalls. The bus will then drop you at the ticket office, and you will need to purchase your ticket and walk from here. This is an extra 2 km (1.2 miles) as you have to walk down to the parking lot on the road to the official start of the trail.
We actually took the bus from Dominical to get to Nauyaca and had no problems. We met some people at the waterfall who had a car and got a ride back to town with them.
Regardless of how you get there, visiting Nauyaca Waterfalls is a must-do and one of the best things to do in Dominical!
Related Read: Visiting Nauyaca Waterfalls is one of the best things to do in all of Costa Rica!
3. Drink craft beer at Fuego Brewing Co.
Dominical may be a small hippie town, but it still has its own local craft brewery that is also one of the best restaurants in Dominical. Fuego Brewing Company is a surprisingly large brewery located just off the main street in Dominical.
Hidden from the busy streets, Fuego Brewing is surrounded by nature with a gorgeous bar and restaurant elevated off the ground. The brewery actually sits below the bar, and part of the flooring is glass so that you can see the tanks and brewer at work – it's super unique!
On tap, the brewery has eight beers to try. These include ale, pilsner, IPA, kolsch and pale ale. My personal favorite is the Kaka mango pale ale – I hope it's available during your visit! On top of that, they serve food, and during my visit, we had the Poke Bowl and the Lobster Sandwich. Both were really good, however the beers were my favorite.
4. Explore Manuel Antonio National Park
Around 50 minutes north of Dominical is one of Costa Rica's best national parks. Manuel Antonio National Park is a gorgeous coastal park with tons of wildlife and untouched beaches. Exploring the park is one of the best things to do in Dominical and all of Costa Rica, for that matter.
There are a few different hiking trails within the park that all link up. The best part is, the park is rather small, so exploring some of the best areas doesn't take a lot of time. You can see lots of sloths and monkeys as well as enjoy the beaches – which are pristine!
Those with a rental car can either choose to do a self-guided tour of the park or book a guided tour that leaves from Quepos (the city on the border of Manuel Antonio.)
Regardless of which you choose, you'll need to drive yourself to one of the parking lots at Manuel Antonio National park. These are near the entrance gate; they are located near here and here. A full day of parking costs around 3,000 Colones($5.60 USD), depending on how close you are to the entrance.
If you would like to do a tour, this specific tour is top-rated with lots of reviews. It lasts 4 hours and costs only $63 USD per person. They also offer pickup, so you can save money by parking in Quepos instead of at the park entrance. Another option is to book a guide at the entrance gate, these are cheaper, but you can't exactly check reviews.
If you don't have a rental car, you can certainly still visit Manuel Antonio National Park from Dominical for the day. However, the bus takes around 1.5 hours each way, so you'll need to leave early. The bus actually stops in Quepos, and from Quepos, you'll need to get another short bus to Manuel Antonio near the park entrance. These leave every 20 minutes from the Quepos bus station. It is very easy to navigate, and once at the bus station in Quepos, you can visit the ticket office to get info on catching the bus to the park.
Manuel Antonio National Park is open from 7 am until 4 pm every day and costs $18.08 USD for adults and $5.65 USD for children. Tickets MUST be purchased online, and there are limited tickets per day. No food is allowed in the park, and they search bags before you enter. Inside the park there is a small concession stand, so bring money in case you get hungry to eat there.
Why We Book Tours with Viator
Viator is a trusted online booking system for tours around the world! We almost always book our tours using Viator for a couple of reasons:
Free cancellation on most tours – Most of the tours on Viator allow you to cancel and get a full refund up to 24 hours in advance. This is handy in case plans change, or if booking an outdoor activity, the weather forecast is looking grim.
Reserve now and pay later – You can secure your spot on some of the most popular tours well in advance and not pay until closer to the day of the tour.
Pay in your chosen currency – Avoid costly international transaction fees by choosing to pay in your home currency.
Peace of mind – When booking with tour operators you find in person on the street or in small booking offices, you are often promised one thing and given another. This online platform holds tour operators accountable with a written description of inclusions as well as the opportunity for customers to leave reviews.
Check out the Viator website here!
5. Watch a sunset at the beach
As the sun sets in Dominical, the beach becomes filled with people and the sky with colors. The sunsets in Dominical are some of the prettiest I have seen in Costa Rica, and there's a show practically every afternoon!
The sunsets are magnificent everywhere in Dominical, but one place stands out from the rest.
If you take a walk south along the beach for around 10 to 15 minutes, you get to a more secluded beach area. At sunset, the light reflects off the shallow water here, and the results are spectacular (see photo above.) Of course, you need the low tide to be around sunset time for the full effect.
6. Alturas Wildlife Sanctuary
Supporting wildlife conservation is essential in Costa Rica! The best part is you can do it while viewing rare and unique wildlife at one of the many wildlife rescue centers in the country.
Alturas Wildlife Sanctuary is a non-profit wildlife rehabilitation center with the goal to release every animal they rescue. This involves treating animals in their veterinary clinic and slowly training animals to live in the wild again. It's a costly but rewarding process that saves thousands of animals.
You can see lots of wildlife within the center including sloths, jaguars, pumas, macaws, toucans, and monkeys. These can change as animals are released and rescued continually.
For wildlife lovers, this is one of the best things to do in Dominical!
Tours through Alturas cost $33 USD for adults and only $17 USD for children. You'll learn a ton about the animals during the 1.5-hour tour, and all proceeds go to supporting the animals. You can do tours at 9 am, 11 am, and 1 pm from Tuesday to Sunday.
Alturas Wildlife Sanctuary is located about a 10-minute drive from Dominical. You can easily take a taxi there or drive yourself.
7. Visit Uvita and Ballena National Park
Only 15 minutes south of Dominical sits the tourist town of Uvita. On its own, Uvita is well worth a visit, and there is plenty to do in town such as visit Uvita waterfall, drink craft beer, and go whale watching.
On a day trip from Dominical, you can easily explore many of the top attractions in Uvita. However, be sure to time your visit with low tide so you can visit Marino Ballena National Park too.
This coastal park is the top attraction in Uvita, and the unique whale-tale-shaped reef is best seen at low tide. Entrance to the national park costs only $6 USD, and during whale migrations, you can also spot whales from the beach.
After you're done exploring the park, head over to Uvita Waterfall for a refreshing swim. The waterfall costs only 1,500 Colones ($2.80 USD) to enter, and you can even slide down the biggest waterfall (pictured above)!
8. Pozo Azul
Pozo Azul is another waterfall in Dominical that may be smaller than Nauyaca, but it's still well worth visiting. Pozo Azul is located a short drive from Dominical near Domincalito Beach. You can get there via taxi for around 3,000 Colones ($4.50 USD.)
Once there, you can relax and enjoy the tranquility of Pozo Azul and take a swim in the water. It's really refreshing! It's free to enter Pozo Azul, although I have heard of locals trying to get money from tourists to visit.
Afterward, you can walk from Pozo Azul to Dominicalito Beach, which is next on this list. However, this does involve crossing the highway and walking along it for a few hundred meters, so please be careful.
9. Head to Playa Dominicalito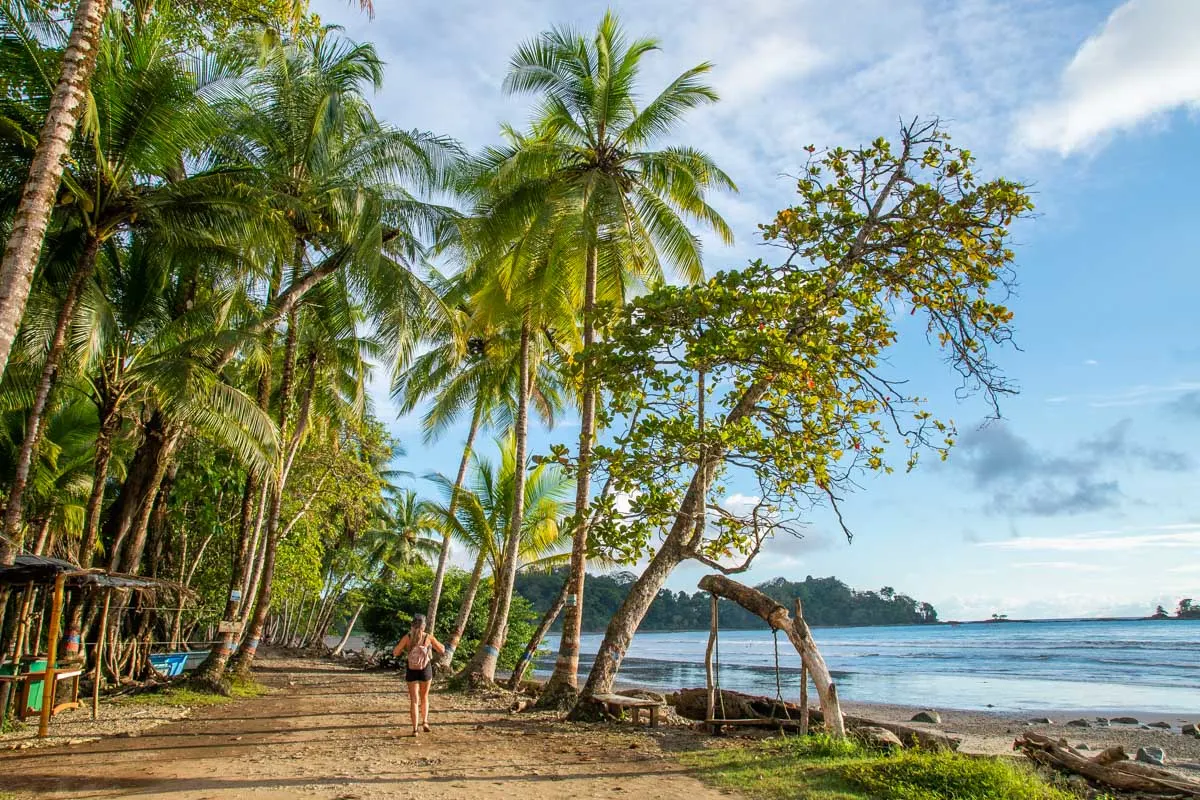 Dominicalito Beach is a beautiful beach located just south of Dominical. The beach here is much less busy than Dominical, and it's an excellent place for a swim because of the calmer water.
Lots of visitors come to Dominicalito to sunbathe, swim, and enjoy the serenity. There are lots of locals selling fresh coconuts, and it's a gorgeous place to enjoy a walk.
If you want to enjoy a tasty meal with a view, walk to the southern end of the beach to Cabinas La Parcela. This cute restaurant has breathtaking views and delicious food.
Two hours before sunset, Bailey and I actually got a taxi to Pozo Azul, walked to Dominicalito, and then walked all the way back to Dominical.
You can almost do this entirely on the beach. However, there is a section where you have to walk along the highway until you see a road heading back to the beach. You'll also visit the next place on this list if you do this!
10. Take in the views at Rocas de Amancio
Around halfway between Dominicalito and Dominical Beach is a small rock formation called Rocas de Amancio. It's the perfect place to watch the sunset and enjoy views of the area.
The walk-up is best done at low tide, so check before you go. Once there, be careful on the rocks but make sure you stay awhile to enjoy the views.
11. Eat at Phat Noodle
When it comes to the best places to eat in Dominical, Phat Noodle has to be my favorite. This Asian fusion restaurant serves up all the classics such as green, yellow, and red curries, pad thai, and my favorite, the Teriyaki Stirfry!
Aside from the delicious menu, the restaurant also offers a vibrant atmosphere, and you can see the chefs at work from some tables. Be sure to pop in early for their happy hour from 4 pm to 6 pm and enjoy two for one cocktail!
12. Enjoy the nightlife
Dominical has a surprisingly lively nightlife for a quiet hippy town – you just need to know where to look.
Overall, one of the top spots for food, drinks, and live music is at Tortilla Flats. It's located right on the beach and they have incredibe margaritas that are made with sour orange juice. For food I'd recommend getting the fish tacos – they are so fresh!
They typically have live music on during the weekends starting in the evenings. Just check their Facebook page for more info.
Overall the best place to meet people, especially locals and ex-pats!
Those looking to party much later can head over to the Rum Bar and dance the night away. On weekends they usually have live DJs as well as karaoke. The Rum Bar is also a sports bar with lots of flat-screen TVs, so sports lovers should also come here to catch their local team.
13. Visit Parque Reptilandia
Parque Reptilandia is a small reptile park located not from Dominical out towards Nuayaca Waterfall. In fact, it's a very popular place to visit after the hike to the waterfalls.
In Parque Reptilandia, you can see some of Costa Rica's reptiles including lots of lizards, frogs, and snakes. The front entrance to the park is a little run down, which made us think the park was closed. However, it is certainly open and very well looked after! The trails within the park take you to see lots of cool reptiles – our favorite was the Eyelash viper, which was on our Costa Rica wildlife bucket list!
It costs $12 USD for adults and $6 USD for children to enter the park, and you need a little over an hour to take it all in. Parque Reptilandia is open from 9 am to 4:30 pm. Those without a car can get to the park using the same bus that visits Nauyaca Waterfall.
A visit to Parque Reptilandia is undoubtedly one of the more unique things to do in Dominical!
2023 Update: Reptilandia Park is temporarily closed for renovations
14. Shop at the Friday "Eco Feria" Organic Farmer's Market
Every Friday in Dominical, a very interesting organic market comes to life just off the main street in a small community area. The Eco Feria Organic Farmer's Market is an excellent place to shop – especially if you like snacking on healthy treats!
The market is open from 8:30 am to 1:30 pm, but it's best to go early if you want the freshest food. I would love to leave you with some recommendations, but the market is always changing. This just means you'll have to discover it for yourself!
15. Enjoy a coffee by the river at Cafe Mono Congo
If you love waking up to a coffee with a view, then walk over and check out Cafe Mono Congo while in Dominical. This cute cafe sits on the banks of Río Barú, and you can listen to the water run by while you enjoy your morning brew.
I've eaten at Cafe Mono Congo countless times and tried many things on the menu. To be honest, I haven't had a bad meal. However, if you're looking for recommendations, be sure to try the breakfast tacos, breakfast bun, and Jalapeno cheddar omelet!
16. Go snorkeling or scuba diving at Caño Island
One of the best snorkeling spots and dive sites in Costa Rica is located off the coast of Dominical. Caño Island Biological Reserve is a small island and marine reserve where visitors can jump in the water and swim with turtles, sharks, and a huge variety of fish.
Tours to the island from Dominical is a somewhat long day that includes driving to the town of Sierpe 90 minutes away before taking a boat out to the island. Tours cost around $145 USD, and Villas Rio Mar can organize them for you.
I actually did my Caño Island tour from Drake Bay which is much closer, but I know it is popular to do tours from Uvita and Dominical for many people who aren't planning on spending a few days in either Sierpe or Dominical. The snorkeling was excellent, and we swam with turtles and got to see sharks.
Overall, this is undoubtedly a better activity to do in Drake Bay but not to be missed in Dominical if you want to snorkel at one of the top sites in Costa Rica.
17. Hacienda Baru Wildlife Refuge
The best place to go hiking in Dominical is at a small hotel and wildlife refuge called Hacienda Baru Wildlife Refuge. This gorgeous property is home to four trails that navigate the wildlife refuge giving visitors the chance to see lots of Costa Rica's most well-known wildlife. Spot monkeys, sloths, snakes, caiman, and white-nosed coati, as well as a huge range of birds of Costa Rica.
You can visit the park on your own and do a self-guided tour of the refuge for $15 USD. This is the cheapest option, and you can visit places such as the bird-watching trail and spend as much time as you want to look for birds. There are 4.3 miles (7 kilometers) of trails to explore, and it's best to visit before 8 am or after 3 pm if you want to see some of the 300+ bird species on site.
With that said, Hacienda Baru Wildlife Refuge also has a huge variety of tours with expert guides. These include birdwatching tours, night walks, hikes, and even ziplining. The tours range in price, but most are only around $40 USD, which is very cheap!
You can also stay at the hotel Hacienda Baru Lodge. Those who stay at the lodge get free access to the property, which means you'll get to explore and see a lot more!
18. Shop at the large beach market for souvenirs
One of the largest outdoor markets in Costa Rica is located along the beach in Dominical. This place is huge and sells lots of interesting souvenirs and items like sarongs! The prices are also much lower than other tourist towns in Costa Rica, most likely due to the fierce competition.
You'll find the market on Playa Dominical between Sesame Street and Main Street. The market is on all day, every day.
19. Go whale watching
The coastal waters of Dominical are a very popular route for migrating whales. In fact, there are two migrational seasons in Dominical that allow for whale watching almost year-round. This makes whale watching one of the most popular activities in Dominical!
The two seasons run from July to November and then December to April and are based on the seasonal migration of humpback whales. With that said, the best time to see the whales and their babies is from August to November. The migration from July to November tends to bring in a lot more whales, so your chances of spotting them increase dramatically.
Whale watching tours from Dominical cost around $99 USD and more commonly leave from Uvita in the protected marine area. You can also see dolphins and sea turtles, and this specific tour includes snorkeling too.
20. Yoga classes
One of the number one reasons people visit Dominical is to live a laid-back lifestyle, including morning surfs, healthy eating, and yoga. Yoga strengthens the body, relaxes the mind, and teaches discipline. It's a great workout that's also fun.
You can do yoga all over Dominical, from drop-in classes to full-on yoga retreats. For daily classes, Rock Star Yoga is the best place to go. They have a class every day during the week that starts at 8 am. On weekends the class begins at 9 am. The price of a single class is 7500 colones ($14 USD) and a mat rental is an additional 1500 colones ($2.80 USD).
If you're looking to immerse yourself in yoga, consider joining one of the retreats in Dominical. Danyasa Yoga retreat is one of the more popular retreats that offer accommodation and yoga classes as part of a package. They also have daily classes available too.
Another great retreat is Waterfall Villas – Wellness, Vegan, Yoga Retreat. Here you can book packages that include all your meals, accommodation, and yoga. Just arrive ready to learn and get fit and healthy! You can even get your yoga certification here.
21. Go whitewater rafting
Did you know some of the best whitewater rafting in Costa Rica is located not far from Dominical?
The two most popular rivers to whitewater raft are the Chorro River and Coto Brus River. Both have class III and class IV rapids that are sure to excite even the most adventurous.
Both rivers are suited only to those comfortable in white water and with previous rafting experience. The tour down the Coto Brus River costs $145 USD and the Chorro river is $135 USD.
If you don't have expereince, the best river to raft is the Savegre River which is suited to those ages 7+. The rapids on this river are class II and III, so there is less chance of a swim.
There are more rafting tours available depending on your budget, and Dominical Adventures is the best company in Dominical to book with.
22. Diamante Waterfall and Cave
One of the lesser-known waterfalls near Dominical is Diamante Waterfall and Cave. This is actually Costa Rica's tallest waterfall at over 183 meters (600 feet), and hidden behind the falls is a small cave that you can spend the night in.
The waterfall and cave are on private land, so you can't visit without a tour, which turns most people off this hidden attraction. However, for those who do venture out to Diamante Waterfall and Cave, you'll get an off-the-beaten-path expereince you're bound to love.
Day tours to the waterfall start at $72 USD and include a hike to the waterfall, a delicious lunch, and transport. The hike to the waterfall is moderately challenging due to the 800-meter (244 feet) elevation gain, and you'll undoubtedly sweat a lot! The tour leaves at 8:30 am and arrives back at around 3:30 pm.
For an even more memorable expereince, the full day rappel tour is a cool option. You'll hike to the waterfall and then rappel into Diamante Falls 274 meters (90 ft). It costs $125 USD and include lunch. This tour leaves at 8:30 am and arrives back the next day at 4 pm.
Where to Stay in Dominical, Costa Rica
When it comes to the best places to stay in Dominical, you really have to decide if you'd prefer a place close to the ocean or in the mountains surrounded by the rainforest. Personally, when I'm visiting Dominical, I tend to lean towards the coast most of the time. Simply because I usually avoid a rental car and love to surf daily!
Where to stay along the coast
Cool Vibes Hostel – $
For budget travelers, Cool Vibes Hostel is a great option that's close to the beach and well within the budget price range. The hostel is only available on Hostel World but comes with a small plunge pool, large kitchen, and basic rooms. They also have surfboard rentals and storage available.
Please note there is a 2-night stay minimum. You can check prices and reserve a room online here on Hostelworld or here on Booking.com.
Hotel Tropical Sands Eco Inn – $$
If you'd prefer to stay out of a hostel, Hotel Tropical Sands Eco Inn suits those on a lower budget so it's a nice option if you're hoping to stay in an eco-lodge in Costa Rica. The rooms here are basic but clean, and the property is well taken care of with a lot of gorgeous landscaping!
All of the rooms come with a private bathrooms, and kitchenettes are available. Rates for a one-night stay begin at $54 USD. Reserve a room online here on Booking.com, here on Hotels.com, or here on Expedia.
Villas Alturas – $$$
In the luxury price range, there are lots to choose from. However, the place that stands out the most is Villas Alturas. These gorgeous villas have spectacular views of the ocean but are surrounded by nature. The view from the communal pool is stunning, and breakfast is included in the room rate!
Rates typically begin at around $200 USD for a one-night stay. You can check availability and reserve a spot at Villas Alturas here on Booking.com, here on Hotels.com, or here on Expedia.
Getting Around Costa Rica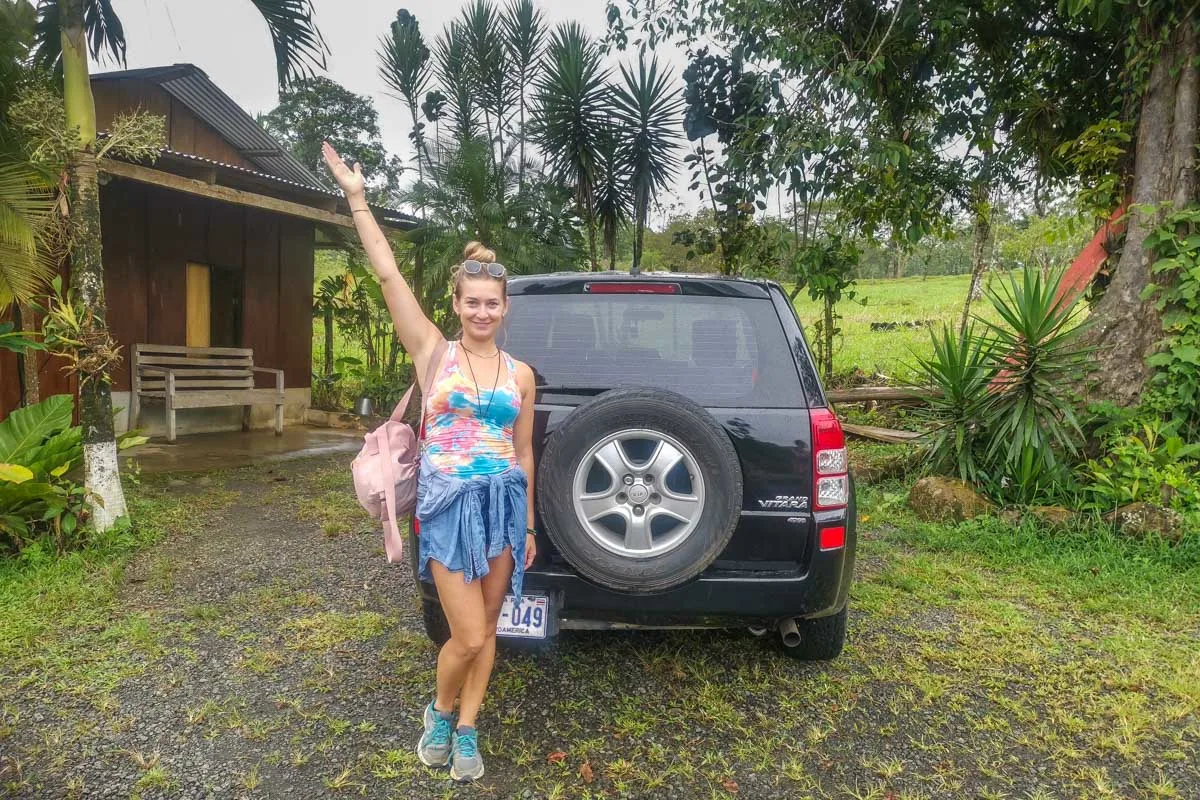 How you choose to get around Costa Rica is one of the biggest decisions you'll make when planning your holiday here! How you do it depends on your budget, travel style, and comfort level.
Renting a Car
Without a doubt, the number one way to explore Costa Rica is in a rental car. We book rental cars on the Discover Cars website as we have had good experiences with them in the past.
One of the things you need to watch for when renting a car in Costa Rica is the mandatory insurance that the government requires you to have. There are a lot of very cheap rentals that don't include this mandatory insurance (TPL) in the original booking price, but there are also ones that do. To avoid additional surprise charges when you pick up your rental car, be sure to rent a car that includes the mandatory insurance when you book.
Thankfully, on Discover Cars it's easy to tell apart the companies that include the mandatory insurance and those that don't. The trick is you can't pick any car on their website. In the picture below, you can see this rental car, with pick up in Jaco, includes the TPL. That means the mandatory insurance is included in the price. Any cover you get above that is extra.
Of course, I still suggest getting the full coverage offered by Discover Cars, which covers you even more.
You can browse cars on Discover Cars here.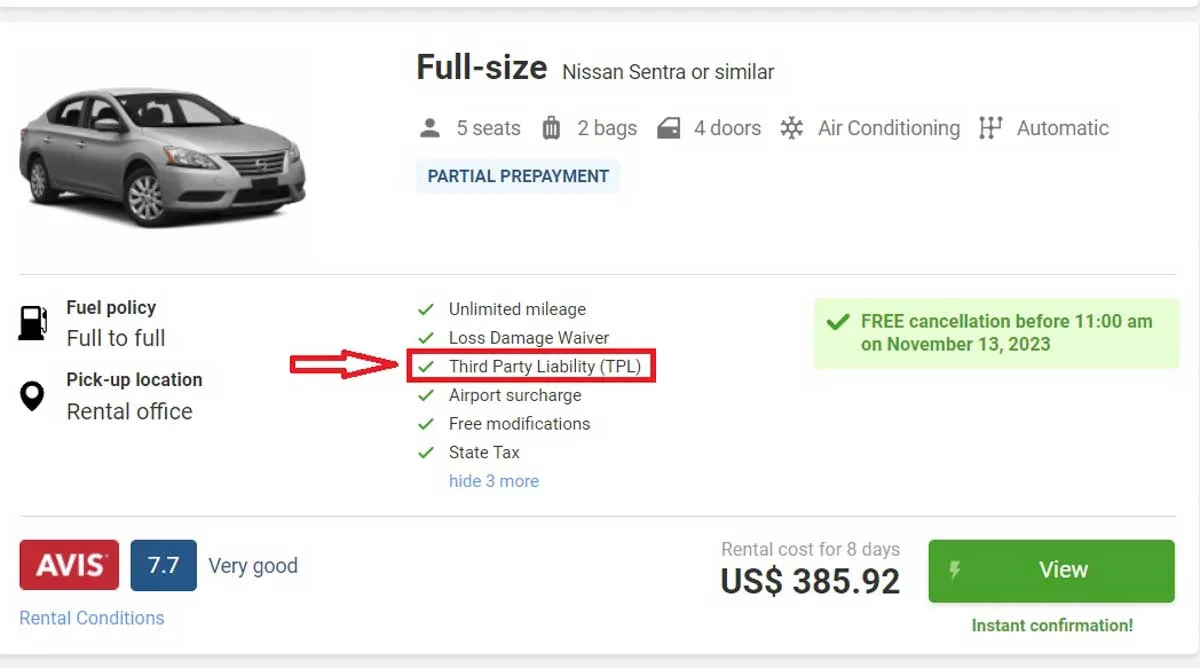 Adobe Rental Rent A Car is another rental company that we most often use in Costa Rica. We love them because Adobe has 15 offices around Costa Rica and delivers door-to-door around their offices at no extra cost. We also are pleased that all of their cars are new. In fact, they are never older than 2 years to the date. They are also the only company to include mandatory insurance and promise no hidden fees. You can get a free quote for a rental car from their website here.
Book Shuttles
If renting a car isn't in your budget, you don't feel comfortable driving in Costa Rica, or you just don't like driving, shuttles are the next best option. There are hundreds of shuttle routes available all over the country, and they are very affordable.
Shuttles in Costa Rica are specifically for tourists and often include pick up and drop off at your selected hotels and airports. The drivers also speak some English, and the vehicles have air conditioning. You'll also be guaranteed a seat when you book a shuttle (which isn't the case with the public bus system.)
To get the best price, use the website Bookaway. They compare all the offers and prices of shuttle companies in Costa Rica so you get the best price! Honestly, we have saved so much money using Bookaway!
You can search for shuttles online on Bookaway here.
Public Bus
Lastly, you can use the public bus system. On short journeys, such as from San Jose to La Fortuna or Uvita to Manuel Antonio, this system is great. However, the longer the journey the more hassle and time spent on a bus. It's undoubtedly best to save the public bus in Costa Rica for short and straightforward trips!
The public buses are definitely the cheapest way to get around Costa Rica, but they are not always very reliable and schedules often change without notice and delays are to be expected. The buses can also be very crowded and hot – so just be prepared!
It's also good to speak some Spanish if you plan on riding the public bus since most drivers and ticket booth operators don't speak English.
Invest in Travel Insurance
Paying out of pocket for trip interruptions or medical treatment will add to what might already be a stressful situation. We always travel with SafetyWing travel medical insurance.
The best part is that it costs only a fraction of what most insurance policies charge, which makes it perfect for digital nomads, long-term travelers (like us), and budget travelers. It only costs $45 USD per 4 weeks!
To start coverage, you must purchase it after leaving your home country. We usually purchase it as soon as we land at the airport.
Since using SafetyWing we've been reimbursed thousands of dollars when we've gotten sick. During the pandemic, they've even gone as far as to pay for our last-minute flights back to Canada from Colombia before the border closed!
You can click here to get a quote and read all the details!
Pura Vida!
Dominical is quickly becoming one of the top beach destinations in Costa Rica. I still enjoy its rather off-the-beaten-path vibe though I hope it doesn't lose its charm in the future!
Thanks so much for reading! I hope this guide on the best things to do in Dominical has helped plan your upcoming trip! If it has, be sure to check out more of our content such as the blogs linked below.
The best hot springs in La Fortuna