Uvita is a town in the province of Puntarenas, in the Central Pacific. It's a great place to stay if you want to visit some surrounding attractions. One of the most popular is the national Park "Marino Ballena." Its name comes from the shape of its beach, which resembles the tail of a whale. Whale watching and other water activities like snorkeling are popular here.
With so much to see and do in Uvita, you'll want to make sure you fuel your body properly! Thankfully, Uvita is home to some pretty tasty restaurants that you need to try.
To help you out, we have narrowed all the restaurants in Uvita down to our top 10! That way, you'll waste no time finding the best places to eat in Uvita!
Best Restaurants in Uvita
1. Aracari Restaurant – Best View
Location: 5 km South of Uvita Beach
Average Price: $10-20 USD
Come here for: Seafood and international food
Takes reservations: yes
Aracari Restaurant is nestled in Uvita's mountains and has one of the best views in the area over the ocean from up on a cliff – it's honestly stunning. It's ideal for couples and families. One thing I like about this place is its focus on sustainability. They use local and fresh ingredients in their cuisine. They have built their restaurant and lodge using handcrafted wood and taking care to preserve the natural ecosystem.
Aracari Restaurant is located in the beautiful La Cusinga Lodge (one of the very best hotels in Uvita.) You don't have to be a guest to eat at the restaurant. We went late in the afternoon to enjoy the sunset here, and it was beautiful! You will need to get a taxi or drive yourself there, though, since it is located a few minutes from central Uvita.
The building melts in the surrounding nature from where you can enjoy your meal. They have an open-air dining area so you can take in the views from every angle. They offer a combination of local cuisine with a touch of fusion.
The menu is pretty large. They offer meats, pasta, sandwiches, burgers, fish, salads, and appetizers. However, people usually come here for their seafood and fish dishes like their mahi-mahi. You can't go wrong with any of their seafood pasta – trust me! They also have veggie and gluten-free options. It's open daily from 11 am to 8 pm.
2. Sibu Restaurant & Coffee Store – Best Cafe
Location: next to Uvita information center just off the highway
Average Price: $6-$25 USD
Come here for: coffee and snacks
Takes reservations: no
If you like a nice fresh coffee, Sibu Restaurant & Coffee Store is definitely a place to visit. Its strategic position in Uvita downtown, on one side of the main road, makes it a perfect stop. They have a very large selection of coffees, from cappuccino to chai lattes and iced coffee. You can also accompany your coffee with their homemade desserts and pastries.
However, this place also has a huge menu for breakfast, lunch, and dinner. They make homemade bread for breakfast, for example, like fresh bagels, pancakes, and English muffins.
They also have sandwiches, pizzas, burritos, quesadillas, burgers, and meats with vegetarian and gluten-free alternatives. One thing that I particularly like about this place is its selection of wines, cocktails, and beers. It's open daily from 7 am to 9 pm.
.
3. Pizza Time – Best Pizza
Location: Uvita downtown, on one side of the main road.
Average Price: $9-$23 USD
Come here for: pizza!!!
Takes reservations: no
Pizza Time is a simple and unpretentious Italian restaurant that makes one of the best pizzas in the area. It's a great spot to come with friends or family. The place is centric and very spacious.
Their pizzas are cooked in a homemade brick oven which gives them that wood-fired taste. They have two portion sizes, small and big. Prices are also pretty affordable. For $15, you can have a big margarita pizza, for example.
You will find classic pizzas like pepperoni pizza and more original ones like chicken barbecue or shrimp pizzas. You can also make your own combination of ingredients, and they also have calzones which I love!
Pizza Time also offer pasta and Italian specials like eggplant parmesan which is also one of my favorites. It's open every day except Mondays from noon to 9 pm, and they have a delivery system in case you are staying in Uvita and want to eat in bed at your hotel.
4. Bar Restaurant Los Laureles – Best overall restaurant
Location: 450 meters East of the Banc of Costa Rica in Uvita downtown.
Average Price: $10- $15 USD
Come here for: Latin food
Takes reservations: yes
Located a few meters away from the main road, Bar Restaurant Los Laureles is a quiet and nice place to enjoy great local food. The place is charming but casual. Their specialty is Latin food and Costa Rican food, but their menu is pretty large. You will also find burgers, pizzas, and seafood, for example.
One of my favorite Costa Rican dishes is Patacones. It's a mashed and fried green plantain that they serve with a beans puree, meat, cheese, and avocado. They also have a bunch of cocktails and a few desserts. I particularly love their caramel flan, a typical dessert in Costa Rica.
It's open from Monday to Friday, from 11 am to 9 pm.
5. Bagel Time Bakery – Best Bakery
Location: Uvita downtown, on one side of the main road.
Average Price: $3-$8 USD
Come here for: bagels!
Takes reservations: no
I just love bagels, and I was so happy to find out there was a nice bakery in Uvita. Bagel Time Bakery is also classified as the number one restaurant in the area, so you can't miss it.
The place is simple, laid back, and prices are pretty affordable. They make all kinds of different bagel bread: plain, with garlic, poppy seeds, sesame or cinnamon, and raisins. Bagels are served plain or made into sweet or salty sandwiches, like a cinnamon walnut and cream cheese bagel or a salmon spread cream cheese bagel.
They also serve eggs, omelets and salads, and of course, fresh coffee. It's open from Tuesday to Sunday from 8 am to 4 pm.
6. Indómitos Cafe – Best vegetarian / vegan
Location: Barrio Los Angeles Uvita, near Uvita's waterfall.
Average Price: $7-$12 USD
Come here for: vegetarian and vegan options
Takes reservations: yes
This eclectic restaurant on the outskirts of Uvita is a great place for those of you looking for vegetarian/vegan and healthy meals. Indómitos Cafe is simple but very charming. They have an open terrace surrounded by a beautiful garden.
You can come here for a late breakfast, lunch or dinner. They have superfood smoothies like their green smoothie made with pineapple, banana, spinach, ginger, cucumber, mint, and lemon juice!
They also have several options for brunch, like omelets with free-range eggs, scrambled tofu, or fruit salads. They also have different salads, desserts, and a wide selection of alcoholic beverages! It's open from Wednesday to Sunday from 11 am to 11:30 pm.
7. Rancho Cielo Alto – Best healthy food
Location: in Playa Hermosa, 10 km from Uvita's Beach
Average Price: $40 USD
Come here for: a fine dining experience
Takes reservations: yes
Rancho Cielo Alto is just beautiful. It's in Playa Hermosa, a few kilometers away from Uvita's beach. It's located on a little hill facing the ocean, so the view from its open terrace is breathtaking.
It's a great place for a fine dining experience and if you like healthy and clean dishes. They use organic ingredients, and they offer gluten-free, vegan, and vegetarian alternatives. Everything is made from scratch in their open kitchen.
If you're looking for a farm to table meal, this is your place! I mean, one of the best things to do in Costa Rica is enjoying the local freshest prepared food, so this restaurant ticks that off the bucket list.
They usually serve a 4 or 5-course meal for around $40-50, but you have to book in advance.
8. Sabor Espanol – Best Seafood
Location: In playa Uvita, near Yaritza's camping
Average Price: $10-$30 USD
Come here for: seafood and Spanish cuisine
Takes reservations: yes
Spanish cuisine is reputed for its succulent seafood dishes, and this restaurant makes no exception. Sabor Espanol is elegant and charming, which makes it a great spot for a romantic dinner or a fine dining experience – perfect if you're visiting Costa Rica on a honeymoon!
One classic dish is "Mariscada a la plancha" or shellfish grilled, but they also have several other options like fish with clams in white wine sauce, salmon in coconut sauce, or grilled squids. They also have meats, a few salads, appetizers, and an extensive list of white and red wines. It's open from Monday to Friday for dinner only and on weekends for lunch and dinner.
9. Scala – Best Variety
Location: between Playa Hermosa and Dominical Beach
Average Price: $10-$40 USD
Come here for: contemporary cuisine
Takes reservations: yes
This modern and classy place is another great option for a fine dining experience. It's located between Playa Hermosa and the town of Dominical a short drive from Uvita. But the drive is worth it! Scala is located in an elevated position facing the ocean, so the view from their terrace is fantastic! It's also surrounded by jungle-like vegetation that makes the place a relaxing spot to chill and have a great culinary experience.
Their cuisine is contemporary and varied. They serve some original dishes like roasted octopus with eggplant puree but also premium meat cuts and even vegan options, like a vegan grain chili. They also serve pizza and an extensive list of cocktails.
It's open daily from 11:30 am to 9:30 pm. Reservations are recommended as this is not only one of the best restaurants in Uvita but also one of the best places to eat in Dominical – so it can get busy!
10. Soda Ranchito Dona Maria – Best cheap eats
Location: Uvita downtown, diagonal to Banco de Costa Rica
Average Price: $6-$15 USD
Come here for: authentic local cuisine
Takes reservations: no
This last place, Soda Ranchito Dona Maria, is a perfect option if you want to try some authentic Costa Rican cuisine. It's open during the week, from 7 am to 4 pm only, so you can go there to have breakfast or lunch.
You will find some Costa Rican classics like Gallo pinto for breakfast, which is a mix of rice and beans usually served with eggs and sausage. For lunch, there are Casados, which is also a traditional plate of rice, beans, legumes, salad, and a meat of your choice. They also serve meats and fried rice with shrimp or chicken, for example. Other snacks like burgers or nachos are also on their menu.
Related Read: Check out the amazing restaurants in San Jose, Costa Rica!
4 Must-Do Activities in Uvita
While here, you should definitely ensure you check out some of the best things to do in Uvita:
Go whale watching: In Uvita, whale watching is without a doubt one of the best things to do – especially if you love wildlife as much as I do. On this incredible tour in Marino Ballena National Park, you head out on a boat in search of these majestic creatures. For over 3 hours, you'll explore the coastline heading out as far as Caño Island. Along the way, you'll have great chances at spotting whales, dolphins, and even sea turtles.
Learn to surf: The best place to surf in Uvita is at Playa Hermosa, only a short drive north of town. Along the beach, you'll find lots of surfboard rentals as well as a few vendors. If you're an expereince surfer, just head to the beach and rent a surfboard. Rentals cost only $10 USD for the entire day.
If you're a beginer surfer wanting to learn, it's best to book a surf lesson in Uvita. This specific surf lesson lasts for 2 hours and meets at Playa Hermosa. It includes your board rental, a really talented surf instructor named Josué, digital photos, water, and snacks.
Visit Uvita Waterfall: The best place to cool off in Uvita isn't actually the beach. It's at one of the nearby waterfalls! The best waterfall in Uvita is Uvita Waterfall. Uvita Waterfall lies just on the outskirts of town and can be reached by taxi from almost anywhere in town for under $5 USD. Once there, you can swim in a pristine river with beautiful cascades and, of course, the main attraction, Uvita Waterfall.
Visit the "Whale Tail" in Marino Ballena National Park: Without a doubt, the number one thing to do in Uvita is to visit Marino Ballena National Park and enjoy a walk to the famous "Whale Tail". Marino Ballena National Park is a small marine and coastal national park that protects this gorgeous coastline. The shape of the sandbar in the park is completely natural and very fitting to the area considering Uvita is one of the best places to go whale watching in the country. With an aerial view at low tide, you can see this sandbar looks exactly like a whale's tail – hence the name.
Getting Around Costa Rica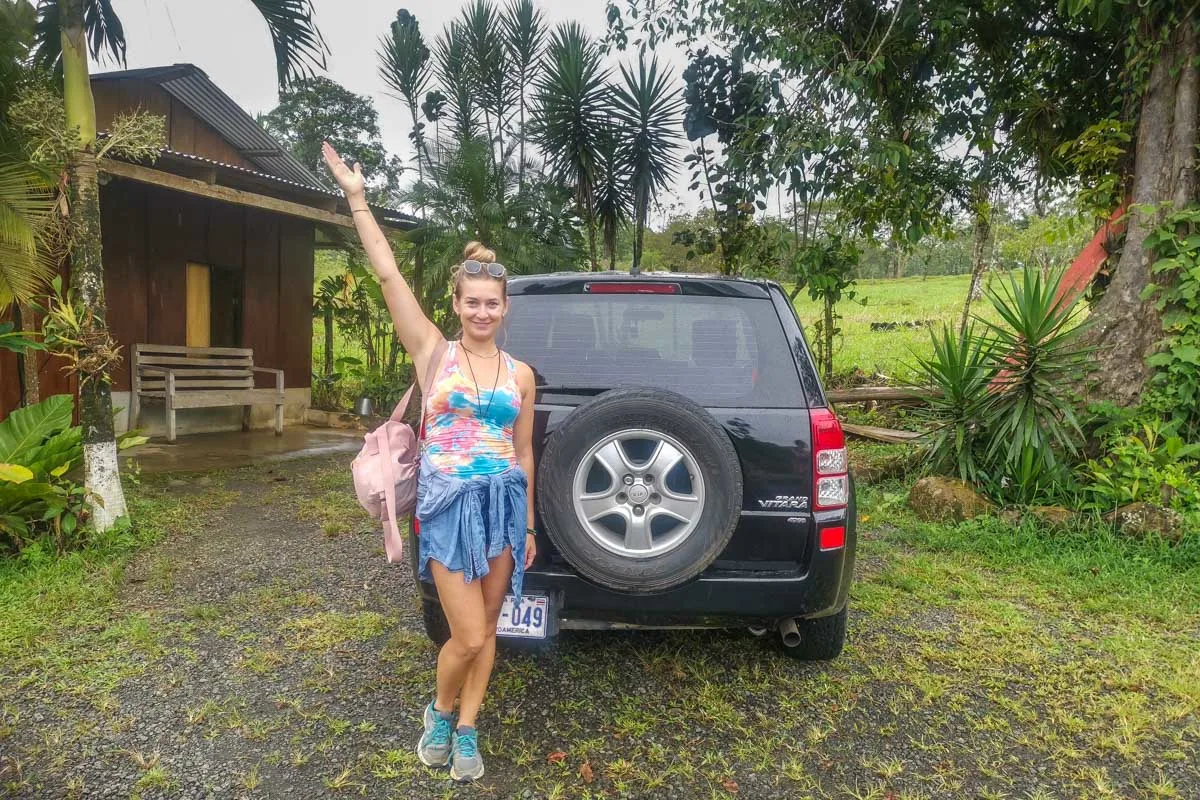 How you choose to get around Costa Rica is one of the biggest decisions you'll make when planning your holiday here! How you do it depends on your budget, travel style, and comfort level.
Renting a Car
Without a doubt, the number one way to explore Costa Rica is in a rental car. We book rental cars on the Discover Cars website as we have had good experiences with them in the past.
One of the things you need to watch for when renting a car in Costa Rica is the mandatory insurance that the government requires you to have. There are a lot of very cheap rentals that don't include this mandatory insurance (TPL) in the original booking price, but there are also ones that do. To avoid additional surprise charges when you pick up your rental car, be sure to rent a car that includes the mandatory insurance when you book.
Thankfully, on Discover Cars it's easy to tell apart the companies that include the mandatory insurance and those that don't. The trick is you can't pick any car on their website. In the picture below, you can see this rental car, with pick up in Jaco, includes the TPL. That means the mandatory insurance is included in the price. Any cover you get above that is extra.
Of course, I still suggest getting the full coverage offered by Discover Cars, which covers you even more.
You can browse cars on Discover Cars here.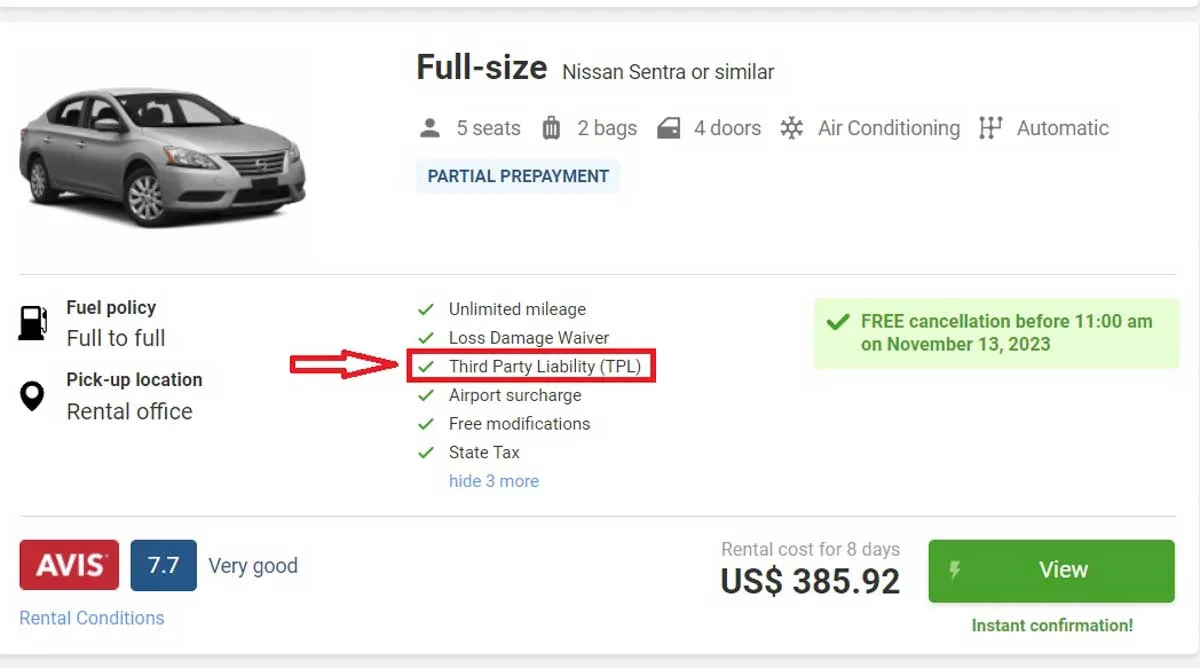 Book Shuttles
If renting a car isn't in your budget, you don't feel comfortable driving in Costa Rica, or you just don't like driving, shuttles are the next best option. There are hundreds of shuttle routes available all over the country, and they are very affordable.
Shuttles in Costa Rica are specifically for tourists and often include pick up and drop off at your selected hotels and airports. The drivers also speak some English, and the vehicles have air conditioning. You'll also be guaranteed a seat when you book a shuttle (which isn't the case with the public bus system.)
To get the best price, use the website Bookaway. They compare all the offers and prices of shuttle companies in Costa Rica so you get the best price! Honestly, we have saved so much money using Bookaway!
You can search for shuttles online on Bookaway here.
Public Bus
Lastly, you can use the public bus system. On short journeys, such as from San Jose to La Fortuna or Uvita to Manuel Antonio, this system is great. However, the longer the journey the more hassle and time spent on a bus. It's undoubtedly best to save the public bus in Costa Rica for short and straightforward trips!
The public buses are definitely the cheapest way to get around Costa Rica, but they are not always very reliable and schedules often change without notice and delays are to be expected. The buses can also be very crowded and hot – so just be prepared!
It's also good to speak some Spanish if you plan on riding the public bus since most drivers and ticket booth operators don't speak English.
Pura Vida!
We hope you enjoy your stay and culinary experiences in Uvita! If you eat at any of the above restaurants in Uvite, I'm sure that you'll be impressed! Having tasty meals while you're on holiday is important, so we really hope this blog helps you out!
If you found this blog useful, check out some of our other popular posts below:
Things to do in Jaco, Costa Rica
The BEST Waterfalls in Costa Rica