A trip to Costa Rica simply isn't complete without a bit of waterfall chasing – waterfalls are one of the things the country is known for. Luckily, the beautiful rainforests of Costa Rica are full of spectacular waterfalls, each more beautiful than the last, and the Nauyaca Waterfalls are no exception.
Nauyaca Waterfalls can be found in the Southern part of Costa Rica, along the Pacific Coast, just outside of the small bohemian beach community called Dominical. The falls can be easily visited as a day trip from popular tourist destinations like Manuel Antonio, Uvita, or Jaco.
After a magical hike through the lush primary rainforest, you'll arrive at one of the most gorgeous waterfalls in Costa Rica – and probably the world. The towering waterfalls empty into a pristine jungle pool, perfect for swimming.
If you want to experience one of Costa Rica's most beautiful rainforest waterfalls during your trip, you can't pass up a trip to the stunning Nauyaca Waterfalls. We've created this guide with everything you need to know to plan the tropical adventure of a lifetime on your visit to Nauyaca Waterfalls.
1. About Nauyaca Waterfalls
Nauyaca Waterfalls are actually two levels of waterfalls that have a combined height of 197 feet (60 meters.) Above a beautiful blue pool, surrounded by thick rainforest on all sides, the falls can only be reached by a jungle hike, in the back of a truck, or a horseback riding tour.
The Nauyaca Waterfalls require a little more effort to get to than some of the other waterfalls in Costa Rica, but if you're up for a hike or an easy truck/ horseback ride, you will be rewarded with one of the best things to do in Costa Rica.
At the Nauyaca Waterfalls, you can hike and explore all around the falls and take in the views from multiple levels by climbing the huge rocks surrounding the area. You can swim in the majestic pool of the lower falls all day or swim up under the falls to feel the power of the water pouring down on you from above in a jungle shower.
You'll be surrounded by the lush rainforest and bio-diverse plant and animal life that make Costa Rica a beloved destination for travelers worldwide. If you're lucky, you might even spot some of the country's rare and endangered wildlife like monkeys, sloths, birds, and more.
2. Where are Nauyaca Waterfalls?
Located in the Puntarenas Province of Costa Rica, Nauyaca Waterfalls are on the Pacific side of Costa Rica, only a few hours north of the Osa Peninsula. The area is famous for surfing, nature, and laid-back boho vibes.
Nauyaca Waterfalls can be found via a 4-kilometer (2.5 miles) hike into the dense jungles outside the hippie surf town of Dominical. The waterfalls feel super remote, but travelers love that they're accessible from popular beach destinations like Dominical, Manuel Antonio, Uvita, and Jaco.
The most popular entrance to the falls is just 20 minutes outside of Dominical, home to plenty of cool things to see and do. It's on a beautiful property in the middle of the rainforest owned by a Costa Rican family, the Don Lulos.
Related Read: Check out the best hotels in Dominical before you go!
3. The two entrances to Nauyaca Waterfalls
There are two ways to enter Nauyaca Waterfalls. The first entrance is off the main road from Dominical to San Isidro, known as Don Lulo's entrance. This is where we entered as you can access this entrance via bus and a really well-maintained highway that does not require a 4WD. This saves you a ton of time simply because it's a smooth ride.
To enter the falls from this entrance off of the main road, drive to the location linked above and buy your tickets from the ticket office. It is here that you can choose how to reach the waterfalls either by hiking, signing up for a horseback riding tour, or purchasing a ride in the truck. After you have your ticket, the attendant will tell you to drive down to the parking lot around 2 kilometers down a steep but well-maintained road.
From the bottom parking lot, the trail is well-maintained and suitable for most hikers. It is a little muddy so don't wear your best shoes. The distance to the falls from this entrance point is about 2.5 miles (4 kilometers.) With that said, it is definitely a hike that requires a bit of effort. It is almost entirely uphill the whole way there, so some level of fitness is required – and bring plenty of water!
The only problem with this entrance is if you book your transport with the truck or horse, you only get 2 hours at the waterfall. Although I personally think this is more than enough time for most, so I don't think it's an issue. If you hike, you can spend as much time as you like.
The second is a new entrance point is called Nauyaca Waterfall Nature Park.
The Nauyaca Waterfalls Nature Park entrance allows for more flexibility, so you can stay at the falls as long as you like if you choose the truck option, and the hike is also much shorter. The newer access allows you to arrive via the east side of the falls off of the major road and is generally less crowded.
Turn off the main road, and follow the unpaved road for about 15 minutes. Along the way, you will see signage directing you toward the entrance. 4×4 cars are recommended for this route, but most rental vehicles should be able to make the journey – just be careful and travel at your own risk.
From this entrance, you can choose to hike from the parking lot or ride in the truck down to the falls (or combine both.) If you decide to walk, it is about 40 minutes down (unlike the other entrance that involves a hike up) to the waterfall and about an hour back. The hike back out is steep and moderately challenging, so many opt to hike in and ride the truck out.
If you take the truck, you still need to walk another 10 minutes, but this still saves you a lot of effort.
4. How much does it cost to visit Nauyaca Waterfalls
There are different prices to enter Nauyaca Waterfalls depending on the entrance you choose.
From Nauyaca Waterfalls Nature Park, you'll pay $30 USD ($20 USD for kids) to enter the park. This includes access to the changing rooms, a truck ride to and from the waterfall, and parking. This entrance does not offer horseback riding tours.
The original Don Lulo entrance costs only $10 USD if you choose to hike and $32 USD if you choose to ride in the 4×4 truck. A horseback riding tour is available for an additional fee of around $80 USD. There is also a charge of $4 USD for parking if you take your own car.
As you can see, there are benefits to both entrances!
5. Do you need to book tickets to visit Nauyaca Waterfalls?
If you just plan on hiking to Nauyaca Waterfalls or entering from the Nature Park Entrance, booking tickets ahead of time is not necessary. Nauyaca Waterfalls is a popular tourist destination and is open daily, so you can just pay cash or card when you arrive.
If you want to do the paid truck ride or horseback riding tour at the Don Lulo entrance, you can book online ahead of time if you choose. This will just secure your spot on the horse and truck.
You can book through the Nauyaca Waterfalls Nature Park website here.
6. Can you pay by credit card at Nauyaca Waterfalls?
Yes, you can pay on either Visa or Mastercard credit cards as well as cash. However, I recommend bringing both – I always get nervous there could be an outage or broken machine!
7. Nauyaca Waterfall hours?
The actual waterfalls at Nauyaca Waterfalls are open from 7:30 am to 3:30 pm every day. This means you can stay at the waterfall until 3:30 pm and then walk back (leaving the entire park at around 4:30 pm.)
However, there are specific hours from each entrance.
The ticket office at the Don Lulo entrance opens at 7 am, and this is also when the first 4wd tour leaves, with the final departure around noon. From the Don Lulo entrance, you cannot enter the park after 2 pm as the ticket office closes. You can still be in the park until 4:30 pm (leave the waterfall by 3:30 pm); you just can't purchase more tickets. The full 4×4 tour schedule at Don Lulo is:
07:00 am
08:00 am
09:00 am
10:00 am
11:00 am
12:00 pm
Please note, on Sundays, they open at 8 am.
The Nauyaca Waterfalls Park opens at 7:30 am and stays open until 4:30 pm. They have no last entry, but I am sure you wouldn't want to arrive later than 2 pm anyway. Remember, at the waterfall, it says you must leave by 3:30 pm.
8. The best time to visit Nauyaca Waterfall?
The best time to visit Nauyaca Waterfalls is early in the morning before the crowds of tourists arrive. The waterfalls open at 7:30 am (Don Lulo's entrance opens at 7am), so the earlier you can get there, the better – before 10 am is best if you want to enjoy the peace and solitude in nature.
We were at the ticket office at 7:00 am when it opened and began the hike right away. When we got to the waterfall after the 1-hour hike (around 8 am), we were the only ones there for 45 minutes. It was magical!
The peak tourist season in Costa Rica is from December until March, so while that is a great time to visit Nauyaca Waterfalls, you will be hitting the crowds. The rainier season can make the waterfall super powerful and muddy, but you won't see quite as many tourists. Before or after peak season is a great time to visit if you want to experience the magic without the crowds.
9. Getting to Nauyaca Waterfalls
To get to Nauyaca Waterfalls, you have plenty of options. There is an accessible public bus from Dominical (to Don Lulo's entrance). There is also a bus route from Uvita, which can be a little more tricky. Ask your hotel in Uvita or Dominical for bus departure times and locations as they do frequently change.
For travelers with a rental car, it's an easy drive from the main road that runs between Dominical and San Isidro.
It's about 45 minutes by car from Uvita, 20 minutes from Dominical, and about an hour from Manuel Antonio, making it a fantastic day trip from any of these popular tourist hot spots.
To take the bus from Uvita and Dominical:
Head to the bus stop across from the Uvita bus station.
Take the bus heading for San Isidro, which leaves around 6 in the morning.
Tell the driver you want to stop at the entrance to Nauyaca, which will cost about $5 USD. You can reach the falls by about 7 am via this bus route.
The same bus passes through Dominical, so from Dominical, you will hop on the bus at about 6:15 am in town at the bus stop pictured above. There are not many options on the way back, so taking the bus is really only convenient from Dominical. We took the bus there, and then asked some other travelers for a ride back in their rental car.
Please remember, the bus drops you at the ticket office on the main road. From here, you need to purchase your ticket and then walk 2 kilometers along a paved road to the parking lot and start of the trail. This adds 2 kilometers (each way) to your walk as the trail is 4 kilometers from the parking lot, not the ticket office.
A few other ways to visit Nauyaca Waterfalls include hiring a taxi, which will be pricey and provide only one-way transportation. You will have to get the phone number of a cab driver to schedule the ride back when you're finished. You can also choose to book a tour to the waterfalls that includes a shuttle service – there are plenty of options departing from Manuel Antonio, Quepos, Uvita, and Dominical.
10. Is there parking at Nauyaca Waterfalls?
Both entrances to Nauyaca Waterfalls have large and accessible parking lots, making driving yourself an excellent option for those who are traveling with a rental car. The parking is included with admission from the Nauyaca Waterfall Nature Park entrance and costs $4 USD at the Don Lulo entrance.
11. How long is the hike to Nauyaca Waterfalls?
From the entrance we used (Don Lulo), the hike is about 2.5 miles (4 kilometers) and takes about an hour (we went fast, so allow 1.5 hours.) The way there is much harder from this entrance as you need to hike up to the waterfall. In most sections, it's not that steep but still challenging and definitely a workout.
The hike back out is a little easier, but if it's wet, it can be slippery as you need to hike down some steep sections.
The hike from the Nauayaca Waterfalls Nature Park is much shorter, and on the way to the waterfall, you only need to hike for around 40 minutes down to the waterfall. The way back up takes a little longer at 1 hour.
If you choose to hike, it's a good idea to bring plenty of water and take your time in both directions to really enjoy the sights and sounds of the jungle. The hike is moderately strenuous, so you have to be ready for some exercise, but it will be well worth it for the nature you can experience along the way and the refreshing water to cool off in once you reach the falls.
12. Other ways to reach Nauyaca Waterfalls without hiking
If you aren't interested in hiking, have some mobility issues, or simply want to save yourself from sweating on the way to the waterfalls, there are a few other options for getting there that don't involve walking.
From the Don Lulo entrance, you can choose to venture to the falls via horseback for $85 USD per person. It's a fun, and adventurous way to experience the jungle trail on the way to the waterfalls and will save you from the strenuous hike. The tour takes about 5 hours.
The other option is to take a 4×4 truck. From the Don Lulu office, this costs $32 per person, and you will book a time for the hourly shuttle between 7 am and noon. The premium truck experience includes breakfast, entrance to the falls, round trip 4×4 ride, lunch, and a guide for $85.
The Nauyaca Waterfall Nature Park entrance allows you to approach the falls from the east side, and the cost is $30 USD, including the ride to the falls and access to bathrooms, changing rooms, and the various nature park hiking trails.
13. How long do you need to visit Nauyaca Waterfalls?
Nauyaca Waterfalls are simply gorgeous, and you will want to give yourself plenty of time to enjoy the falls and explore the surrounding areas. If you plan to use the 4×4 shuttle service, you can prepare for a half-day with around 2 to 3 hours for your visit. If you choose to hike or horseback ride, plan for a full day with at least 5 hours.
Pack some snacks and bring a swimsuit, as you will likely want to swim in the jungle pool and climb on the rocks all day once you arrive.
We spent a total of 2 hours at the waterfall, which was more than enough time to enjoy it!
14. Can you swim at Nauyaca Waterfalls?
Swimming at Nauyaca Waterfalls is permitted and encouraged. Plunging in the large deep swimming hole at the waterfall's base is an unforgettable experience. The plummeting falls empty into a large lagoon-like pool that offers plenty of space for swimming and sunning on the large boulders surrounding the water. You can even swim all the way up to the falls and climb on the rocks underneath the waterfall for a jungle shower.
The upper falls at Nauyaca are a great place to walk around and take in the views, but you can't swim in the upper area. There are some seriously amazing views from the upper level, and it's a great place to take photos of both cascades. The upper fall drops an impressive 147 feet.
The lower falls are the more popular of the two areas, and most visitors can be found hanging out on the rocks and swimming in the pristine waters below the falls. The lower waterfall has tiers about 65 feet high and empties into a large deep swimming hole. It's the perfect place to swim, relax on the rocks, and enjoy the rainforest.
Signs are in place to tell you where you can and cannot swim.
You should be a confident swimmer, though, as the current can be somewhat strong.
15. Facilities at Nauyaca Waterfalls?
At the newer Nauyaca Waterfall Nature Park entrance, the facilities are plentiful. There are bathrooms, changing rooms, and showers. They can be accessed by the public and are included in the price of admission.
The Don Lulo entrance doesn't have facilities besides the small visitor center and a small restaurant along the hike (here, you can find bathrooms and food.) It's very basic, I would bring everything you think you'll need, including snacks.
When you get to the actual waterfall, it's important to note that there are bathrooms at the entrance to the falls, but they are not very nice. It is a remote location. It's also a good idea to pack your own snacks and drinks; unless you book a tour that includes lunch, there won't be anywhere to purchase food at the falls, although there is sometimes a fruit stand down the road from the entrance.
I will mention that while I was at Nauyaca Waterfalls, there was some construction going on, so more facilities might be on the way!
16. What should I bring to Nauyaca Waterfalls?
To have the perfect day at the beautiful Nauyaca Waterfalls, you'll want to pack a small day pack with a few essentials. Here is a list of a few things you might want to include for your adventure.
Bottles of water – the hike will definitely make you thirsty! Pack more than you think you need.
Bug spray – like everywhere in the rainforests of Costa Rica, mosquitos are plentiful.
Natural sunscreen that is safe for the water if you plan to swim.
A camera
Cash for the entrance fees and snacks if you need to purchase them.
Swimsuits
Towels
A dry change of clothes
Sturdy shoes – preferably a pair that is good for both the water and the trail.
A rain jacket or poncho – especially if you're visiting during the rainy season.
A picnic lunch or trail snacks – there aren't many food vendors, so it is best to come prepared.
Moisture-wicking clothing.
17. Is Nauyaca Waterfalls suitable for kids?
Nauyaca Waterfall is an excellent destination for families with kids of all ages. It's important to remember that the hike is moderately strenuous and takes about an hour each way, so if you're choosing the walking route, use discretion about whether or not your kids will be up for it. If not, you can always choose to take the 4×4 shuttles to make the journey to the falls a little easier.
Kids should use caution while swimming at the base of the waterfall. There are lifeguards on duty, but the pool is deep, so keep a watchful eye on little ones.
18. Best tours to Nauyaca Waterfalls
If you're staying in some of the popular tourist destinations on the Pacific Coast of Costa Rica, you might choose to opt for a guided day trip to Nauyaca Waterfalls. A few awesome tours include round-trip shuttle service, which are great options if you're visiting Costa Rica without renting a car.
From Manuel Antonio
If you're coming from Manuel Antonio, this guided waterfall tour makes an excellent choice. It's a full-day excursion and takes about 6 hours from start to finish. It includes an air-conditioned shuttle from the steps of your hotel all the way to the waterfall's entrance and a knowledgeable guide who will point out all of the flora and fauna along the journey to the waterfall. The tour includes breakfast and a traditional Costa Rican lunch before returning you back to your hotel. This is one of the best tours in all Costa Rica!
From Quepos
From Quepos, this great tour option allows you to reach the falls with a shuttle service right from your Quepos hotel. The guided hike and tour to the waterfall take approximately 7 hours. The guide will show you all the best swimming spots and jump off the rocks into the pool. The tour also includes lunch, snacks, and water throughout your day.
Getting Around Costa Rica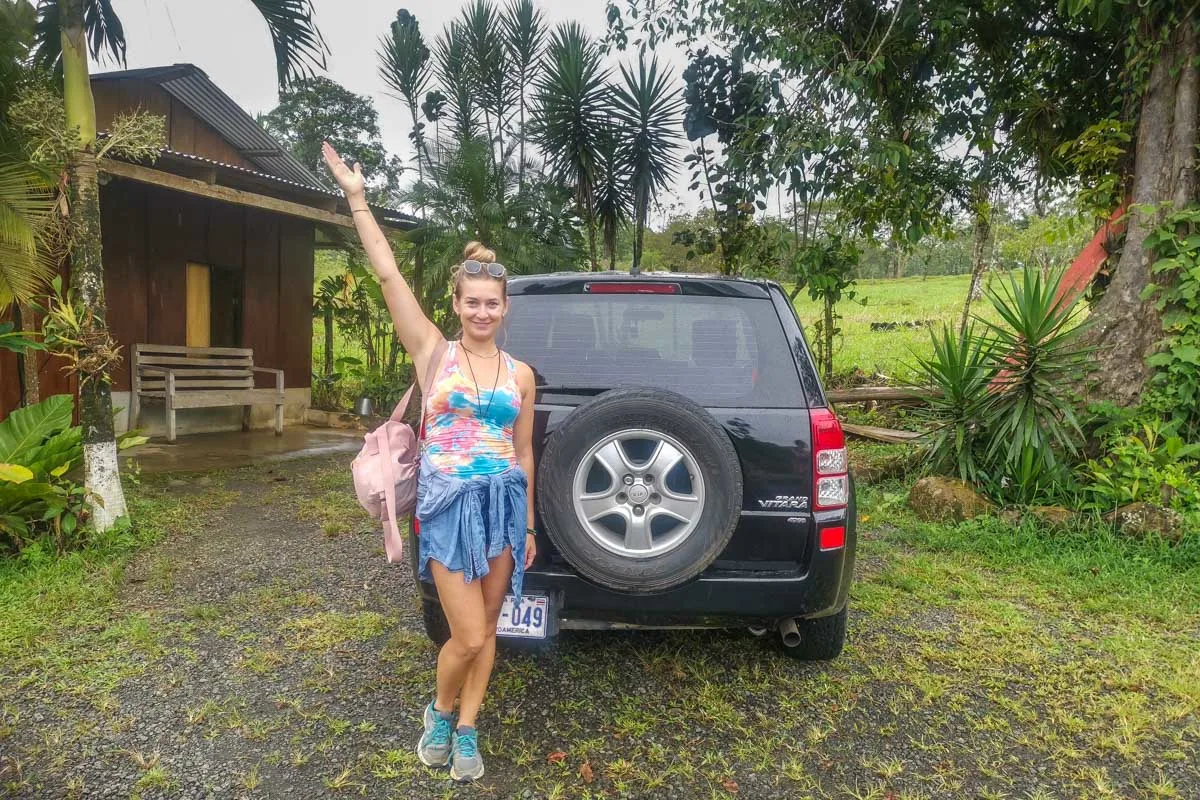 How you choose to get around Costa Rica is one of the biggest decisions you'll make when planning your holiday here! How you do it depends on your budget, travel style, and comfort level.
Renting a Car
Without a doubt, the number one way to explore Costa Rica is in a rental car. We book rental cars on the Discover Cars website as we have had good experiences with them in the past.
One of the things you need to watch for when renting a car in Costa Rica is the mandatory insurance that the government requires you to have. There are a lot of very cheap rentals that don't include this mandatory insurance (TPL) in the original booking price, but there are also ones that do. To avoid additional surprise charges when you pick up your rental car, be sure to rent a car that includes the mandatory insurance when you book.
Thankfully, on Discover Cars it's easy to tell apart the companies that include the mandatory insurance and those that don't. The trick is you can't pick any car on their website. In the picture below, you can see this rental car, with pick up in Jaco, includes the TPL. That means the mandatory insurance is included in the price. Any cover you get above that is extra.
Of course, I still suggest getting the full coverage offered by Discover Cars, which covers you even more.
You can browse cars on Discover Cars here.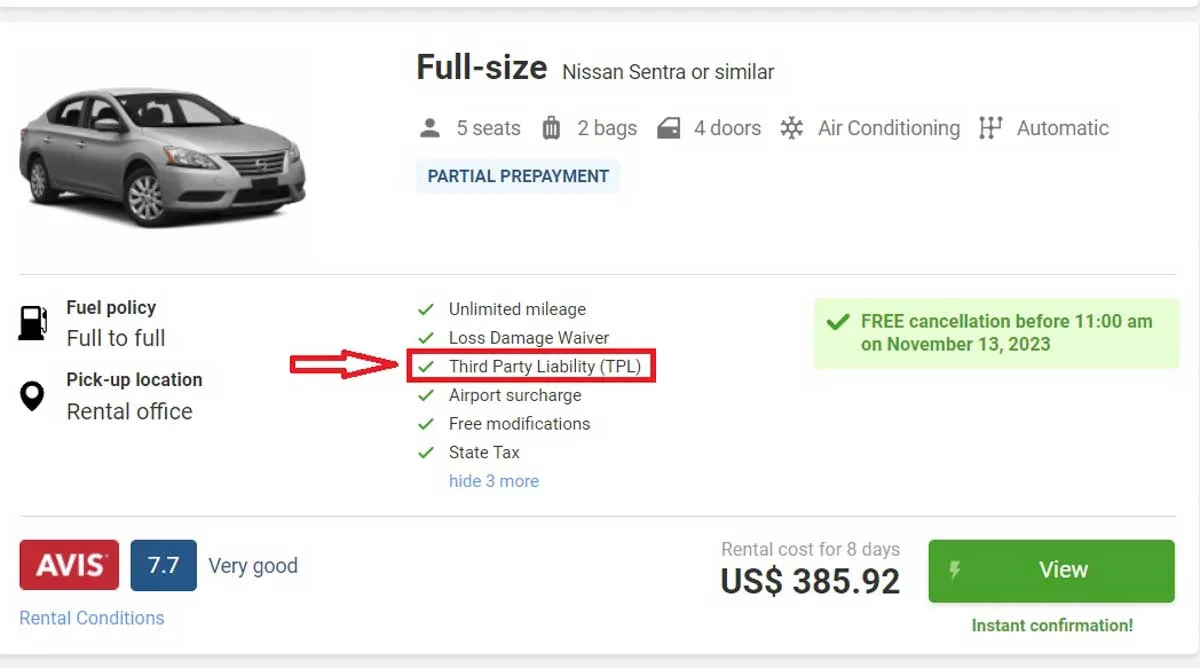 Book Shuttles
If renting a car isn't in your budget, you don't feel comfortable driving in Costa Rica, or you just don't like driving, shuttles are the next best option. There are hundreds of shuttle routes available all over the country, and they are very affordable.
Shuttles in Costa Rica are specifically for tourists and often include pick up and drop off at your selected hotels and airports. The drivers also speak some English, and the vehicles have air conditioning. You'll also be guaranteed a seat when you book a shuttle (which isn't the case with the public bus system.)
To get the best price, use the website Bookaway. They compare all the offers and prices of shuttle companies in Costa Rica so you get the best price! Honestly, we have saved so much money using Bookaway!
You can search for shuttles online on Bookaway here.
Public Bus
Lastly, you can use the public bus system. On short journeys, such as from San Jose to La Fortuna or Uvita to Manuel Antonio, this system is great. However, the longer the journey the more hassle and time spent on a bus. It's undoubtedly best to save the public bus in Costa Rica for short and straightforward trips!
The public buses are definitely the cheapest way to get around Costa Rica, but they are not always very reliable and schedules often change without notice and delays are to be expected. The buses can also be very crowded and hot – so just be prepared!
It's also good to speak some Spanish if you plan on riding the public bus since most drivers and ticket booth operators don't speak English.
Invest in Travel Insurance
Paying out of pocket for trip interruptions or medical treatment will add to what might already be a stressful situation. Not to worry, SafetyWing is here to help!
This affordable travel and medical insurance is perfect for digital nomads, long-term travelers, and remote workers. The best part is that it only costs $45 USD per 4 weeks.
To start coverage you must purchase it after leaving your home country. We usually purchase it as soon as we land at the airport.
Since using SafetyWing we've been reimbursed thousands of dollars when we've gotten sick. During the pandemic, they've even gone as far as to pay for our last-minute flights back to Canada before the border closed!
Thanks for reading!
Now you know everything there is to know about visiting Nauyaca Watrfalls. I hope you enjoy this magical destination as much as did! If you have any questions, be sure to leave them in the comments below.
For more blogs about Costa Rica, check out these related blogs below:
Where to Stay near the San Jose Airport
The BEST Restaurants in Dominical