This blog may contain affiliate links. Read our disclosure policy for more info.
Jaco, a small city located on Costa Rica's Pacific Coast, is known for good surfing and even better parties. In fact, it's the best "party" destination on the coast of Costa Rica. People visit from far and wide to enjoy the slow beach life during the day and the exciting nightlife when it gets dark.
The fact that Jaco is known as a party place is a deterrent for many travelers. I mean, I get it. Many travelers visit Costa Rica in search of relaxation and wildlife, not nightlife.
Before visiting Jaco, I wasn't quite sure what to expect – was it really a city only worthwhile for the nightlife?
After spending plenty of time in Jaco, I've come to realize that while you can enjoy some great bars and nightclubs here, there are plenty of other fun things to do in Jaco. Because of its easy access to nearby destinations on day trips, I can see the appeal of this city and can honestly say that it is a good spot to base yourself during a holiday in Costa Rica.
In this blog, I'll share the 23 best things to see and do in Jaco. Believe me, after reading this; you'll also understand that there is more to Jaco than what first meets the eye!
Don't have time to read the full article? Check out our list of our absolute favorite things to do in Jaco:
Ride the aerial tram above the jungle treetops and then zipline on this combo tour
Go bird-watching in Carara National Park on this guided tour.
Explore the jungle on this ATV tour.
Swim at Playa Mantas and Playa Blanca.
Hike up to El Miro, an abandoned hotel that was never finished.
About Jaco, Costa Rica
Jaco, Costa Rica is the closest beach city to San Jose, so it's popular for those seeking sand and sun. It's also famous for having some of the best waves in all of Costa Rica! So, make sure to try out surfing while you're here.
The city itself has a population of over 10,000 people, but that number more than doubles during holidays and the summer season (late December to early April). So it can get busy! But that means lots of options for activities and things to do.
San Jose International Airport is the closest international airport to Jaco, and it's about a 1.5-hour drive to get to Jaco from there. You can take the bus from downtown San Jose to Jaco for around $5 USD, and the trip is around two hours. There are also private shuttles, or you can rent a car and drive as the road is completely paved and an easy drive.
Jaco Beach is about 2 miles (3.2 kilometers) long, with great surfing waves and beautiful surroundings. You also might spot a Scarlet Macaw flying at the beach or in the nearby hills! The sunsets are spectacular here, so make sure to catch a few of these from the beach.
Jaco itself is an established beach town, so you'll find everything you need here from restaurants, shopping, car rentals, pharmacies, and many places to stay.
Expect hot and humid weather in Jaco along with the dry season from December to April and the rainy season from May to December. The temperature is typically around 75°F to 90°F (24°C to 32°C) during the day no matter when you come.
While Jaco does have that party atmosphere, I found it to still be a safe place to visit in Costa Rica. Use common sense always and don't venture to isolated areas at night or leave valuables in your car or on the beach unattended.
Things to do in Jaco, Costa Rica
1. Ride in the aerial tram
Yes, Jaco is a city. But the great thing is that it's still surrounded by lush jungle, just waiting to be explored. The best way to do this? On an aerial nature walk of course!
Ride in a tram up above the trees and take in the views as you spot plenty of wildlife (especially monkeys and birds.) It's a scenic but exhilarating way to see the jungle and the views are spectacular. After the tram ride, you will be guided on the ground through the jungle as your guide tells you all about the plants around you.
The Aerial Nature Walk in Jaco was one of my highlights during my last trip. The entire experience lasts for about 1.5 hours and costs $55 USD per adult. Although a fun tour on its own, there is one way to make it even better. And that's by adding the ziplining!
Thrill-seekers can book the Aerial Tram ride and zipline combo as I did for something a little more exciting. This experience includes the tram ride mentioned above before you get geared up to tackle 10 fun ziplines. Although not the craziest zipline in Costa Rica, it's so much fun!
Also, by combining the two activities, you'll save money (the tour is only $85 USD) and enjoy two of the best things to do in Jaco at once!
Related Read: A similar experience is one of the best things to do in Monteverde.
2. Explore Carara National Park
Located only a short 30-minute drive from Jaco is the stunning Carara National Park. This is your best opportunity for walking pristine trails through the jungle. It's the most northern Pacific coastal rainforest in Costa Rica and also the closest national park to Jaco.
The word "Carara" actually translates from the indigenous Huetar language meaning "River of lizards." So naturally, you can expect to see plenty of reptiles here, including crocodiles!
You can easily visit the park on your own if you drive yourself to the entrance gates. The park does have an entrance fee of $11.30 USD for foreigners (a discounted rate is available for Costa Ricans.) It is open daily from 8 am to 4 pm from May to November, and then from 7 am to 4 pm from December to April.
If you visit on your own, this is certainly one of the cheapest activities in Jaco. You can still easily spot wildlife too. Just look for the groups with their eyes in the canopy. It's a good indication there's something to see and most of the time, they are more than happy to share the experience.
Another option is to visit on a guided tour from Jaco. The benefits to this are having transport organized as well as an experienced tour guide by your side in the park. Tour guides are experts when it comes to spotting wildlife, and they offer a wealth of knowledge.
This particular tour is one of the best options out there and is a half day, 3 to 5-hour long tour that includes your entrance fee and transport. It was also really cheap at $31 USD for the group tour (they also offer private tours for $50 USD per person.)
3. Ride through the jungle on an ATV
Taking an ATV through the Costa Rican rainforest is such a great way to cover a lot of ground while enjoying a fun ride. What's great about Jaco is that it's so close to amazing scenery that even if you only have time for a short ATV tour, you'll still see some incredible sights. In my opinion, riding in an ATV is one of the must-do activities in Costa Rica!
This two-hour ATV tour starts in Jaco, where you'll get instructions from your guide on how to operate an ATV. Then you'll drive on your ATV outside the city over rugged mountain terrain, through knee-deep water, past a small waterfall, and then end with a stop to appreciate the panoramic view of the Pacific Ocean, Nicoya Peninsula, and the Agujitas Mountains. It's breathtaking!
If you have a bit more time, this three-hour ATV tour includes stops at two different waterfalls so you can cool down under the Jaco sun! Bring your bathing suit because there's a 15-foot (4.6 m) jump from a rock platform into a natural pool at the Pura Vida Waterfall you have to try. Or, you can just swim if jumping off a cliff isn't your style. The longer tour also includes a stop at the Cascada del Zorro waterfall as well as mountain and ocean views.
Both of these Jaco tours are under $100 USD and are an entertaining way to see some of the wilderness Jaco has to offer. To me though, the longer tour is much better value and worth the extra money – it's the best ATV tour in Jaco!
Why We Book Tours with Viator
Viator is a trusted online booking system for tours around the world! We almost always book our tours using Viator for a couple of reasons:
Free cancellation on most tours – Most of the tours on Viator allow you to cancel and get a full refund up to 24 hours in advance. This is handy in case plans change, or if booking an outdoor activity, the weather forecast is looking grim.
Reserve now and pay later – You can secure your spot on some of the most popular tours well in advance and not pay until closer to the day of the tour.
Pay in your chosen currency – Avoid costly international transaction fees by choosing to pay in your home currency.
Peace of mind – When booking with tour operators you find in person on the street or in small booking offices, you are often promised one thing and given another. This online platform holds tour operators accountable with a written description of inclusions as well as the opportunity for customers to leave reviews.
Check out the Viator website here!
4. Visit Playa Mantas and Playa Blanca
Only 20 minutes from Jaco are two beautiful beaches you just have to visit! These can be a bit more difficult to access, but with a bit of planning, you'll want to spend the whole day here once you arrive.
To drive here, take Highway 34 and be on the lookout for a left turn shortly after the Los Guarumos restaurant. If you see the main entrance to the Punta Leona Hotel, you've gone too far. The road is a mixture of paved and dirt before you'll find the beach parking lot.
It's around 1,000 colones ($1.86 USD) an hour to park here, and you'll have to pay in cash. This parking lot does fill up on Saturdays and Sundays, so plan to arrive early if you want to come on a weekend.
Playa Mantas is only a short walk from the parking lot, and this stunning beach is a hidden gem. It has turquoise water with gentle waves perfect for swimming, nice sand, and a jungle backdrop where you'll see white-faced monkeys (who come onto the beach and try to steal food!) and Scarlet Macaw parrots. Playa Mantas is also THE BEST place to SUP in Costa Rica – I've never seen a bay this clam on the Pacific Coast before!
Playa Blanca is another gorgeous beach that you can walk to from Playa Mantas. During low tide, walk south on the sand from Playa Mantas to a rocky path that connects to Playa Blanca. Once you're on the beach, dig your toes into the soft sand and enjoy one of the most beautiful beaches on this coast!
Note, that both these beaches are in front of the Punta Leona Resort. While they are not private beaches, the only way to directly access Playa Blanca (not walking over from Playa Mantas) is through the resort either as a guest or paying for an expensive day pass. Avoid this by accessing it from Playa Mantas, and then you can enjoy both beaches!
5. Surf, surf, and surf some more!
Costa Rica is one of the best destinations in the world for surfing! But big waves can be intimidating for beginners – this is why Jaco is excellent for those learning how to surf.
The waves around Jaco Beach are strong and consistent but not too powerful if you're completely new to surfing. The beginner waves are perfect to learn to surf but are still enough of a challenge if you have some experience too! As a beginner myself, I really liked the soft waves and huge beach in the area so I could practice without a big crowd.
If you're completely new to surfing, take a class like this two-hour surfing lesson to learn the ropes for about $50 USD. You'll be taught safety in the water, paddling, and how to stand up and ride the waves. Expect to stand up and ride your first wave before the end of the lesson!
What's great about this particular lesson is that it includes rash guards and surfboards for the day – so you can keep practicing after the formal instruction is done. Beach chairs and umbrellas are also included for the day, so you can relax after riding the waves.
If you're an experienced surfer, you can rent a board on the beach or from surf shops in Jaco for around $10 to $15 USD per day. The best surfing here is from mid to high tide, and surfing during the week will always be less busy than weekends.
If you're totally new to surfing, stick to the south side of Jaco Beach. If you have a bit of experience, the middle or north end of the beach has larger waves. For experienced surfers, the most famous beach is Playa Hermosa. It has huge waves, but it is only for the pros – swimming is banned here because of the big swells and strong currents.
If you don't want to surf yourself, watch a local surf competition to see the pros in action. Jaco is a popular surfing competition destination with multiple events throughout the year.
Related Read: Love surfing? Check out the best things to do in Nosara Costa Rica.
7. Stuff yourself at Ridiculous Burgers
Voted the #1 Costa Rica Best Burger spot, Ridiculous Burgers is a tasty stop to grab a meal in Jaco. There are dozens of burgers to choose from, with everything from a traditional cheeseburger to a lobster burger, salmon burger, or even rabbit burger.
We stop in here every time I'm craving a huge burger. You'll certainly want to bring your appetite because the burgers are huge. My favorite is the Texas Burger which will leave you stuffed. The main attraction here though is the juicy beef so even the simple cheese burger is delicious!
Ridiculous Burgers is centrally located in Jaco so stop in for lunch or dinner, burger lovers! I must warn you though, a side of fries costs extra, and in all honesty, the burgers are so big that you probably won't be able to eat them anyways.
It can also be a budget friendly place with the smaller burgers starting around $7 USD but you can also spend a bit more (up to $25 USD) for a burget stacked with unique toppings.
Ridiculous Burger is open from 11:30 am until 11 pm Monday through Thursday, 11:30 to 12 am on Sunday, 11:30 am to 2 am, and Friday from 11:30 am to 2 pm.
8. Go birdwatching
There are lots of amazing, rare birds in Jaco, so doing some birdwatching is a great activity while you're here. Spot the rare scarlet macaws, hummingbirds, toucans, motmots, and more. Bird watchers will love Jaco!
I highly recommend this birdwatching and photography tour through Carara National Park. The tour includes transportation from any hotel, hostel, or Airbnb around Jaco. Then you'll spend 3 to 4 hours with an experienced guide searching for different types of birds.
You can expect to see somewhere between 20 to 40 different species of birds in Costa Rica, including the birds mentioned above. Although I mentioned the national park above, those specifically wanting to see birds require the right equipment – and that's what this tour provides.
9. Hike up to El Miro
One of the best free activities in Jaco is the hike up to El Miro. Located on the southern end of Jaco, El Miro is actually an abandoned hotel that was never finished. These days the road up to the hotel is closed so cars cannot make it to the top. So, lace up your shoes and enjoy the walk.
The hike up takes around 25 minutes, not including getting to the base of the trail. Along the way, you can spot monkeys in the trees above you, and there is also a lower viewpoint around halfway up. Don't stop here, though. Keep hiking up for the main attraction.
The entrance to the viewpoint is on your left after you turn a really steep left-hand turn. You'll then walk along the hotel's old balcony to the main building, where you can see the entire city and ocean. It's such a beautiful spot and a great workout!
This was without a doubt one of my favorite things to do in Jaco!
Safety Note: Hiking up for sunset is fun; however, it is wise to travel in groups and leave before it gets dark.
9. Visit Tortuga Island
The small island of Tortuga is the ideal island getaway from Jaco. Together with Alcatraz Island, the area makes up the Islas Negritos Biological Reserve. It's home to fantastic snorkeling spots, pearly-white beaches, and lots of coconuts!
Tours to Tortuga Island are very popular from Jaco but do require a decent amount of travel. That's why it's super important to book a tour that offers a speed boat such as this one. The tour includes transport from Jaco to Punta Arenas with a stop at the Tarcoles River to see the crocodiles (you can read about this below.) Then, it's off to catch your speed boat to Tortuga Island.
On tours from Jaco to Tortuga, you'll take a 45-minute boat ride out to the islands and take in the fantastic views along the way. Then it's off to two snorkeling spots to swim with turtles, sharks, and lots of fish. The snorkeling here is some of the best I have seen in Costa Rica – even better than Caño Island!
Afterward, the boat drops you on Tortuga Island for a delicious lunch and plenty of drinks (beers, juice, and pop.) After that, you'll have a few hours to relax, play volleyball, kayak, or drink lots of coco locos.
Overall, it's really an enjoyable tour and although a long day, it's one of the best day trips from Jaco!
Related Read: Visiting Tortuga Island is also one of the best things to do in Montezuma as well as Santa Teresa.
10. Chase waterfalls
Costa Rica truly is the land of waterfalls! You have to visit a few while you're here to take some amazing photos and go swimming with the cascading water behind you. There's nothing quite like it. In fact, I've done this in more places in Costa Rica than I can remember.
While there are lots of waterfalls around, they can be hard to find on your own (or on private land) and get to – especially in Jaco! Even I, an avid waterfall finder, decided to join a tour in Jaco. The best tour to experience it all is this 10 Hidden Waterfalls experience.
This tour includes a professional guide who will help you see 10 different waterfalls throughout the Las Monas Rainforest. After the initial 15 minute hike, expect to see a new waterfall every 150 to 300 feet (91 m)! You'll also get the chance to swim in natural pools and jump from the top of a waterfall. It's such a fun experience that makes you feel rejuvenated and in touch with nature.
Another option combines riding an ATV with seeing waterfalls in this action-packed half-day tour. It starts in the mountains behind Jaco, and you'll see everything from waterfalls, rivers, and rainforest to the countryside and small villages. This tour even offers a yummy lunch and some fishing fun at a small pond with tilapia fish.
If you're up for a bit of a day trip, I highly recommend driving the 1.5 hours and visiting Nuayaca Waterfalls, located near the towns of Dominical and Uvita! These two spectacular waterfalls are the most beautiful waterfalls I've ever seen in Costa Rica! It is a bit of work to get here with a 2.5 mile (4 km) hike along a dirt road, but the view is absolutely worth it. Visit the top waterfall first to see the view and then walk down to the lower falls for a swim.
11. Party!
Jaco is known for the nightlife and party scene. It's really popular to hit the beach during the day and then party at night once the sun goes down. Bars will start to get busy around 8 to 9 pm, but the most popular clubs typically start filling up after that, and then the party goes until dawn!
To begin your night, head down to one of the party hostels such as Selina and Room2Board. Their parties kick off at around 7 pm with a happy hour and sometimes DJs on weekends.
Another cool place is Jaco Blu, which is an open-air club that sits right on the beach with pools in the middle. It has a "Las Vegas pool party" type of atmosphere and typically has great music. Saturday night is the best night to party it up here.
For all-night partying, Le Loft is the place to go. It's the only club open past 2 am! Le Loft is one of the favorite clubs here and fills up quickly. They're known for high-class service and a fun atmosphere with DJs playing music all night long.
Another fun spot is Orange Pub – it's a large club that is a popular spot if you're touring the nightclubs around Jaco. They bring in DJs from all over Costa Rica and Central America so you can dance and party to great music. Or there's billiards and table football to enjoy with friends.
12. See crocodiles in the Tarcoles River
This is one of the best activities in Jaco, and it's completely free! Take a short 25-minute drive north of Jaco to the famous crocodile bridge over the Tarcoles River.
The Tarcoles River is home to one of the world's largest crocodile populations. This bridge crosses the river and is a popular gathering spot. Just park your car at one of the ends of the bridge and walk over to see the crocs in the wild.
When we visited, we saw over 15 crocodiles! Some were as big as 15 feet (4.6 m) too. There's a popular sand bar where they like to hang out about halfway across the bridge, but you're basically guaranteed to see some – check out both sides of the bridge while you're here!
The drive is pretty straightforward if you have a rental car, or you can take the bus as it passes right by the bridge. We rented scooters for the day for $45 USD for eight hours. You'll need a valid driver's license for that and a credit card for a deposit.
Another fun way to get up close and learn about crocs is on a crocodile cruise like this one. You'll get to explore the Tarcoles River on a guided boat tour, spotting crocodiles, reptiles, and birds along the way. The boat also serves Costa Rican coffee and refreshments. Although we haven't done the cruise ourselves, many people told us it was one of their favorite experiences in all of Costa Rica!
13. Enjoy the view at Villa Caletas
On a clear evening, this is a must-do! Villa Caletas is a hotel built on a mountain right on the coast about 15 minutes from Jaco. One of their claims to fame is the amazing sunsets you can watch here!
There's a Greek-themed amphitheater at the hotel restaurant that offers the most spectacular views. People typically start arriving around 4:30 pm to enjoy a couple of drinks and see the sunset – so make sure to get here early.
While we were there, there was a happy hour from 4 pm to 6 pm with some great cocktails. You can also eat dinner here at one of two restaurants to enjoy a meal and the incredible view.
The restaurant at Villa Calestas is open from 7 am to 10 pm.
You can choose to stay right at the hotel for easy access to sunset-watching and enjoy the hotel's beach and infinity pool. This is a more luxurious option as rooms typically range from $200 to $500 USD per night.
14. Go ziplining
Ziplining is one of the most fun and popular things to do while you're in Costa Rica! Jaco is particularly great for ziplining as you'll be treated to views of the rainforest, mountains, and the beautiful coast.
There are SO MANY ziplining tour options in Jaco that it can be hard to narrow down a great tour. I have a couple of favorites, depending on what you're looking for.
If you're just interested in just ziplining, I recommend this ocean and mountain view zipline tour. It includes 14 different cables that will have you soaring high above the treetops. What's great is that the $66 USD price tag also includes transportation from any hotel in the Jaco area.
If you're looking for a longer adventure, this tour combines ziplining and off-roading on an ATV! It's a half-day tour that includes 10 ziplines, including one that's almost half a mile long. After the zipline canopy tour, you'll get to ride an ATV into the rainforest and drive to a waterfall, where you can also take a swim.
The tour finishes with a Costa Rican lunch at a local restaurant and an ATV ride with views of the Pacific Ocean and the Nicoya Peninsula. The price for this one is around $179 USD, but considering all it offers, this is still a good deal.
15. Visit PuddleFish Brewery
This is my favorite spot for craft beer in Jaco! PuddleFish Brewery is a local microbrewery offering a selection of craft beers and cocktails. What's on tap changes all the time, but we really enjoyed the mango pale ale and strong IPA when we were here.
The brewery and tasting room are inspired by surf, sail, and sea, and it's a great place to get a taste of the local culture. The food here is good too. It's a food truck-style kitchen with pub food, and the appetizers and chicken wings we ate here were delicious.
You can also book a tour of the facility to see the malting, brewing, and packaging processes. The 30-minute tour also includes beer samples in the Tasting Room so you can figure out what you like.
PuddleFish Brewery is open every day except Monday from 12 pm to 10 pm.
Related Read: Puddlefish is one of the best craft breweries in Costa Rica – find out what the others are.
16. Day trip to Manuel Antonio National Park
Around 1 hour south of Jaco is one of Costa Rica's best national parks. Manuel Antonio National Park is a gorgeous coastal national park with tons of wildlife and pristine beaches. Exploring the park is one of the best things to do in Jaco and must, at least once.
There are a few different hiking trails within the park that all link up. The best part is the park is rather small, so exploring some of the best areas doesn't take a lot of time. You can see lots of sloths and monkeys as well as enjoy the beaches – which are some of the best in all of Costa Rica!
Those with a rental car can either choose to do a self-guided tour of the park or book a guided tour that leaves from the park entrance (the city on the border of Manuel Antonio) for just $59 USD which is a great deal.
Regardless of which you choose, you'll need to drive yourself to one of the parking lots at Manuel Antonio National Park. These are near the entrance gate; they are located near here and here. A full day of parking costs around 3,000 Colones ($5.56 USD), depending on how close you are to the entrance.
If you don't have a rental car, you can certainly still visit Manuel Antonio National Park from Jaco. This specific guided tour includes your transport from Jaco, as well as a tour of the park with an expert guide, lunch at one of the best restaurants in Manuel Antonio, and the park entrance fee.
Manuel Antonio National Park is open from 7 am until 4 pm every day and costs $18.08 USD for adults and $5.65 USD for children. Tickets MUST be purchased online, and there are limited tickets per day. No food is allowed in the park, and they search bags before you enter. Inside the park, there is a small concession stand, so bring money in case you get hungry to eat there.
Of course, if you're visiting the town of Manuel Antonio, then it's best to explore the park from there.
17. Go horseback riding
Whether you are picturing horseback riding on the beaches of Jaco or in the jungle, you can find it here. I love horseback riding in Costa Rica as it's really relaxing and a great way to explore without your feet getting tired from hiking!
For a horseback riding adventure with a gorgeous beach backdrop, try this tour along the Beach of Esterillos. CR Beach Barn is only steps away from the beach. You'll get matched up with one of their horses along with some instructions on how to ride if you need them, and then you're off! This is a nice, leisurely ride with beautiful coastal scenery that's great for kids or those who don't have a lot of experience with horses.
For an experience combining horseback riding and a swim in a private waterfall, this tour is a great option! You'll explore a private 80-acre property with waterfalls and natural pools to swim in. The tour starts only 10 minutes from Jaco Beach and includes a trail ride through the rainforest. Plus, you'll get fresh tropical fruit at the end of the journey and can buy professional photos taken throughout the trip.
If you're planning a horseback ride anywhere in Costa Rica, remember to wear long pants, closed-toe shoes (runners/sneakers are fine), and bring sunscreen, sunglasses, and a change of clothes if you plan to go swimming.
18. Take a cooking class
The food in Costa Rica is divine! While you can't bring a private chef home with you, the next best thing is learning how to make some of the dishes for yourself.
This private cooking class is with published cookbook author Melissa Guzman. She'll teach you multiple Costa Rican recipes for appetizers and entrees, including classic dishes like ceviche.
You can choose to go right to Melissa's home, or she'll come to your house or condo for the class. You'll need a minimum of four people, so the cost is around $280 USD for the group.
The best part is you get to eat everything you make as well, so lunch is completely taken care of!
19. Golf
La Iguana Golf Course is located only 10 minutes away from Jaco. It features 18 holes on a golf course designed by Ted Robinson.
The course is in the heart of the rainforest and includes exotic plants, banana trees, and orchids in the landscaping. You also will likely spot monkeys and a variety of birds while you're on the course.
Tee times are available daily from 6:30 am until 3:50 pm or there's a driving range available as well. It is more expensive to golf here, so expect to pay around $200 USD per person to play the entire course.
20. Go shopping
Make an afternoon out of wandering around the shops on the main street in Jaco. There are lots of nice boutique shops to explore along Pastor Diaz Avenue – not far from the beach. You'll find lots of smaller stores and galleries with locally made items, including jewelry, art, coffee, and clothes.
The Jaco Farmers' Market is an excellent stop for fresh produce and other local goodies. The vendors here have all kinds of fruits and vegetables. There are also amazing bagels and baked goods and freshly squeezed orange juice and coconut water. If you need a good book, the used book stall here also has a huge selection of titles. The market is open Thursdays from 2 pm to 8 pm and Fridays from 6 am to 12 pm.
21. Try paragliding
Soaring high above the ground while paragliding is an amazing (and adrenaline-filled!) way to see Jaco. Once you get up in the air, it's so peaceful up there, and you definitely feel like you're flying.
There are a few different options for tandem flights in the area. This paragliding flight tour guarantees you'll make it up to 900 feet (274 m) so you can glide over the rainforest and Jaco Beach area. The panoramic sights with nothing to block your view are amazing!
To get a bit higher, this paragliding experience will take you up to at least 1,500 feet (457 m) and possibly higher, depending on the day. You'll see Hermosa Beach, Herradura Beach, and Jaco Beach. You'll be high enough to be soaring with the birds and see the tropical forests underneath you.
22. Eat delicious food beachside at El Point
This was my absolute favorite place in Jaco for drinks and food with a view that can't be beaten. El Point is right on the beach, with tables even on the sand. The best time to come is just before sunset so you can watch the sun go down while enjoying a great meal.
What's amazing about this place is that even if you go for the view, you'll want to come back because the food is so good. It was honestly the best place I found for food during our time in Jaco, definitely worthy of the title of one of the best restaurants in Jaco. I think I ordered their seared tuna with mango chutney three times!
The seafood here is exceptional, with a menu filled with choices from mahi-mahi to tuna to shrimp and even octopus. The cocktails too are worth the visit. I tried the passionfruit margarita and Pina Colada, and both were really tasty.
Prices are good too, with the average entrée around $16 USD for a main. You'll probably find yourself here more than once while in Jaco!
23. Visit Mirador de Jaco
Just off the road up to Miro Mountain is the Mirador de Jaco Viewpoint that you have to stop by. It has the iconic JACO sign in large letters with the beach backdrop that makes for a very Instagram-worthy photo.
The lookout has views of the entire Jaco Beach coastline and is particularly nice at sunset. While you can walk here, it's not advised. Instead, get a taxi or you can also drive and park along the side of the road.
This is typically a busier spot, with people taking turns to grab photos with the sign.
Where to Stay in Jaco, Costa Rica
As you can imagine, Jaco is a tourist city filled with beautiful hotels, holiday apartments, and even backpacker hostels. In fact, the hardest part about finding a great place to stay in Jaco is choosing from all the options – trust me, I've been there before!
Room2Board Hostel – $
For budget travelers and backpackers, I love Room2Board Hostel. The hostel is on the pricier side of budget hostels, but it has a beautiful pool, surf camp, yoga, and modern facilities. The atmosphere is also great for meeting other travelers.
Rates for beds in a dorm begin at $18 USD/night, and rates for private rooms with private bathrooms begin at $70 USD/night. You can book Room2Board here on HostelWorld, here on Booking.com, here on Hotels.com, or here on Expedia.
Apartotel Flamboyant – $$
If your backpacking days are over and you can spend a little more, Apartotel Flamboyant is a top choice in the medium budget range. The hotel is centrally located, and you can see the beach from the pool. The rooms are a more typical Costa Rica design, but it's one of the best for location and amenities.
All of the rooms have a private bathroom, and the property's gardens are beautiful. Rates for a room begin at $115 USD/night. You can check availability and book a room online here on Booking.com, here on Hotels.com, or here on Expedia.
Los Sueños Marriott Ocean & Golf Resort – $$$
Luxury travelers have tons of great options depending on what you're looking for. If you don't mind staying out of town, Los Sueños Marriott Ocean & Golf Resort is beautiful. This beachside resort is like something out of a fairytale.
Located on Herradura Beach, the resort grounds include a huge pool, restaurant, fitness center, and spa. Room rates begin at $269 USD/night. You can check availability and book a room here on Booking.com, here on Hotels.com, or here on Expedia.
For more info, check out our where to stay in Jaco guide.
Getting Around Jaco, Costa Rica
Jaco is a pretty big city, so getting around on foot isn't always the most ideal. If you already have a rental car, then great, you're all set! If not, you'll need to know how to get around this city to explore all of the fun activities and attractions.
If you're up for it, rent a scooter, motorbike, or ATV. A scooter is a good budget-friendly option as you can get them for as little as $45 USD per day – cheaper than taking multiple taxis. ATVs are obviously more fun, they cost around $180 USD per day. A motorbike will cost you about $75 USD per day, but keep in mind, you must have a motorbike license to rent it. Both a scooter and ATV only require a normal driver's license.
We rented from AXR when we were in Jaco and they were a good company, professional with good quality scooters and ATVs.
If you don't want to rent any vehicle, you can easily take taxis and Ubers around Jaco. For shorter trips in town and nearby, they are a good option. However, they can get pretty pricey for longer trips like out to Crocodile Bridge. For these types of day trips, it's best to book an organized tour.
There is also a public bus that operates to select areas in and around Jaco, however, the schedule isn't widely known and can change frequently.
Getting Around Costa Rica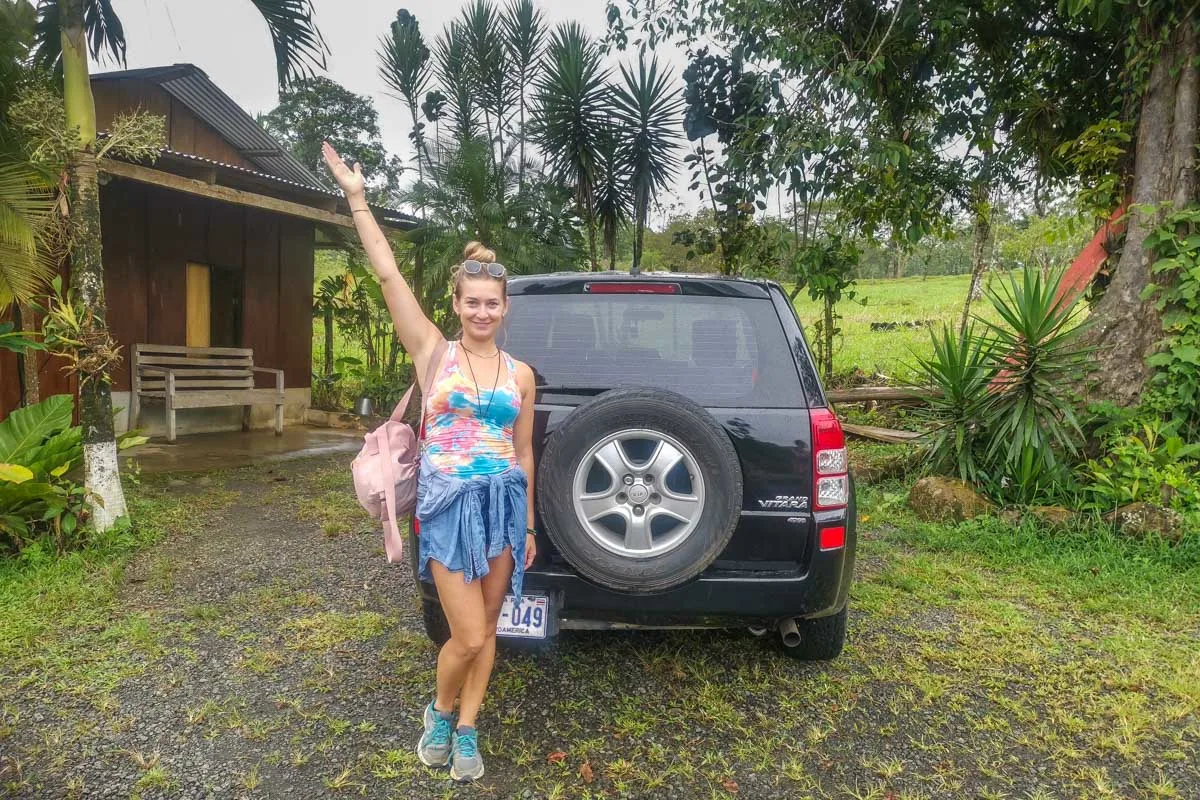 How you choose to get around Costa Rica is one of the biggest decisions you'll make when planning your holiday here! How you do it depends on your budget, travel style, and comfort level.
Renting a Car
Without a doubt, the number one way to explore Costa Rica is in a rental car. We book rental cars on the Discover Cars website as we have had good experiences with them in the past.
One of the things you need to watch for when renting a car in Costa Rica is the mandatory insurance that the government requires you to have. There are a lot of very cheap rentals that don't include this mandatory insurance (TPL) in the original booking price, but there are also ones that do. To avoid additional surprise charges when you pick up your rental car, be sure to rent a car that includes the mandatory insurance when you book.
Thankfully, on Discover Cars it's easy to tell apart the companies that include the mandatory insurance and those that don't. The trick is you can't pick any car on their website. In the picture below, you can see this rental car, with pick up in Jaco, includes the TPL. That means the mandatory insurance is included in the price. Any cover you get above that is extra.
Of course, I still suggest getting the full coverage offered by Discover Cars, which covers you even more.
You can browse cars on Discover Cars here.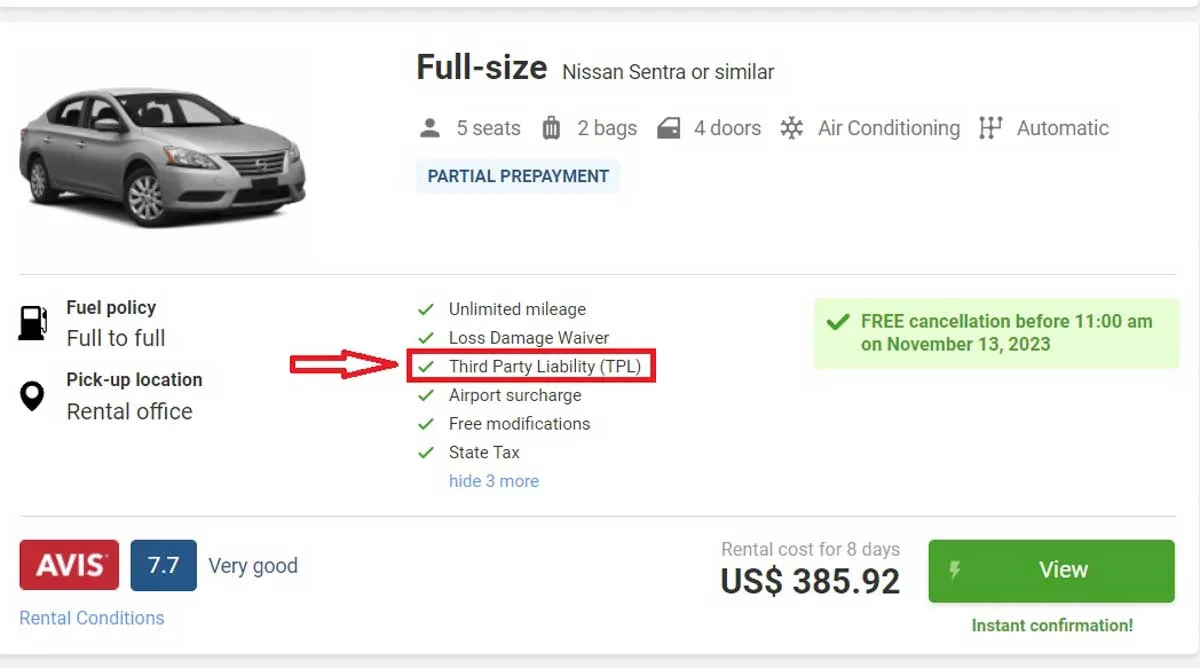 Adobe Rental Rent A Car is another rental company that we most often use in Costa Rica. We love them because Adobe has 15 offices around Costa Rica and delivers door-to-door around their offices at no extra cost. We also are pleased that all of their cars are new. In fact, they are never older than 2 years to the date. They are also the only company to include mandatory insurance and promise no hidden fees. You can get a free quote for a rental car from their website here.
Book Shuttles
If renting a car isn't in your budget, you don't feel comfortable driving in Costa Rica, or you just don't like driving, shuttles are the next best option. There are hundreds of shuttle routes available all over the country, and they are very affordable.
Shuttles in Costa Rica are specifically for tourists and often include pick up and drop off at your selected hotels and airports. The drivers also speak some English, and the vehicles have air conditioning. You'll also be guaranteed a seat when you book a shuttle (which isn't the case with the public bus system.)
To get the best price, use the website Bookaway. They compare all the offers and prices of shuttle companies in Costa Rica so you get the best price! Honestly, we have saved so much money using Bookaway!
You can search for shuttles online on Bookaway here.
Public Bus
Lastly, you can use the public bus system. On short journeys, such as from San Jose to La Fortuna or Uvita to Manuel Antonio, this system is great. However, the longer the journey the more hassle and time spent on a bus. It's undoubtedly best to save the public bus in Costa Rica for short and straightforward trips!
The public buses are definitely the cheapest way to get around Costa Rica, but they are not always very reliable and schedules often change without notice and delays are to be expected. The buses can also be very crowded and hot – so just be prepared!
It's also good to speak some Spanish if you plan on riding the public bus since most drivers and ticket booth operators don't speak English.
Invest in Travel Insurance
Paying out of pocket for trip interruptions or medical treatment will add to what might already be a stressful situation. We always travel with SafetyWing travel medical insurance.
The best part is that it costs only a fraction of what most insurance policies charge, which makes it perfect for digital nomads, long-term travelers (like us), and budget travelers. It only costs $45 USD per 4 weeks!
To start coverage, you must purchase it after leaving your home country. We usually purchase it as soon as we land at the airport.
Since using SafetyWing we've been reimbursed thousands of dollars when we've gotten sick. During the pandemic, they've even gone as far as to pay for our last-minute flights back to Canada from Colombia before the border closed!
You can click here to get a quote and read all the details!
Pura Vida!
I really enjoyed our time in Jaco and found while it can be a fun party destination, that's not all that's here. There are so many great things to do in Jaco or the surrounding area with lots of fun day trip options. We really enjoy basing ourselves here for a while to soak up the sun and culture of Costa Rica. Hopefully, you have lots of ideas for your trip here now. Pura Vida!
Thanks so much for reading! I hope you've found what you're looking for. If you have, be sure to browse around some more and check out our other articles such as: