Flanked by the Barú River, Dominical is a favorite beach destination known for its great waves that draw surfers worldwide. Beautiful beaches and lush rainforest surround it – it's no wonder people love Dominical.
Dominical is home to several surf schools, yoga retreats, scuba diving shops, bird-watching spots, and kayaking/snorkeling shops. While exploring some of the best activities in Dominical, be sure to also sample tasty meals from the range of restaurants sprawled across town on the beachfront.
There are a ton of great places to eat in Dominical, from delicious Asian cuisine to tacos that really take you back to Mexico!
In this blog, I list my 8 favorite restaurants in Dominical to add to your Costa Rica bucket list!
Best Restaurants in Dominical
1. Phat Noodle – Best Asian
Location: Main Street, Dominical
Average Price: $9 to $12 USD for mains
Come here for: Asian, Thai, colorful food dishes
Takes reservations: No
Phat Noodle is a beautiful restaurant with the kitchen set in a converted old school bus right in the heart of Dominical, surrounded by a beautiful flower garden. The atmosphere is lovely, very cozy, with a chilled ambiance, all outdoors.
Here, you'll find the perfect combo for strictly vegan meal options and a range of meat choices. They mainly serve Asian cuisines, tasty piping-hot bowls of noodles, and hand-crafted cocktails.
We had a delicious Pad Thai and Pulled Pork that was slow-roasted in a delightful red curry sauce and topped with fresh Thai herbs for our main dishes. It was all fantastic! The Pork was so tender, and the sauce in the Pad Thai was out of this world! So yummy!
The staff are extremely friendly and professional at Phat Noodle and are more than happy to help you choose your meal.
Phat Noodle also plays great music and has a happy hour with three drinks specials (2 for 1) for adults and kids (non-alcohol, of course!) from 4 pm to 6 pm daily – what's not to like!
Overall, we loved this spot. With reasonable prices and huge portions, it's not number one for no reason!
Phat Noodle is open from 12:30 om to 8:30 pm every day, and you can view their menu here!
2. Cafe Mono Congo – Best Cafe
Location: Pueblo del Rio downtown, right on the river!
Average Price: $6 to $8 USD for breakfast mains
Come here for: Breakfast or brunch
Takes reservations: No
This restaurant is my go-to cafe in Dominical. Cafe Mongo Congo has the best casual vibe, and the menu has a huge variety of drink options, including coffee, tea, smoothies, and fresh cold-pressed juices.
At Cafe Mono Congo, you can have a hearty breakfast (my favorite), or a lingering lunch with some tasty craft beers or wine. If you are not in a hurry, you can chill on the deck as you watch the beautiful scenery across the horizon – the cafe has views of the river!
The place is popular among tourists so expect a crowd and a vibrant, noisy atmosphere. Also, they don't offer full table service, so you need to order at the counter.
I like coming here to chill, enjoy the breeze and have a good time! The patio is covered, offering a cool shade as you enjoy the stunning views of the river over a chilled beer or some tasty margaritas.
I've had breakfast here many times, and they don't disappoint with each visit. I love their stuffed bagels and the gringo burrito made with chicken sausage and guacamole. Fantastic! Combining that with a slice of cheesecake and fresh coffee or juice is so refreshing! You'll never go anywhere else for breakfast in Dominical.
Overall, the service is wonderful and welcoming, and with everything on the breakfast menu under $10 USD – it's a no-brainer!
Cafe Mongo Congo is open from 7:30 am to 5 pm every day except Wednesday, when they close at 3 pm. You can view all their menus here.
Related read: My favorite cafe in Costa Rica is one of the best restaurants in Nosara!
3. Del Mar Taco Shop – Best Mexican
Location: 50 meters south of the police station
Average Price: Tacos are $3 USD each, and mains are $10+
Come here for: Mexican BBQ
Takes reservations: Yes
Del Mar Taco Shop is located right on the main street in Dominical. It's situated along a beach road and is the perfect spot to either have a late lunch or early dinner after an eventful day at the beach.
They've got this food truck counter-like style where you can place your food order, or they can serve your food at one of the picnic-style tables. I liked the vibe, the social atmosphere, and the décor, which was nicely done. It captures the Dominical culture, which is laid back and all about simplicity.
We scrolled through the menu and decided to go with the day's special as recommended to us by the waiter. So we had Hawaiian BBQ Specials, a large plate of grilled meat (we preferred chicken) marinated in shoyu (soy sauce), fresh ginger and garlic, and sugar. It was delightful!
We also tried the Carne Asada (grilled beef) – a Mexican one-inch-thick grilled steak marinated in seasoning and lime juice and then cut into tiny strips. Both dishes were heavenly delicious!
Of course, you can't skip the tacos here – especially the seafood (the restaurant's literally name translates to tacos of the sea)! The fish tacos are my favorite, and they come Bahia style, which means they are beer-battered. After a surf, three tacos really satisfy your cravings!
Overall, the service was fast, welcoming, and the prices realistic. Del Mar Taco Shop is open from 11 am to 8:30 pm every day!
Related Read: If you're a big foodie, be sure to drive down the road and also check out the best restaurants in Uvita!
4. Fuego Brew Co – Best Brewery/Pub
Location: Hidden just off Dominicals main street
Average Price: $12 USD to $30 for mains
Come here for: Craft beer and pub food
Takes reservations: No
Fuego Brew Co. is Domincals very own craft brewery, and one of the best breweries in the country. What I love so much about Fuego Brew Co. is its surroundings – just picture lush trees, flowers, and birds. So exquisite. The wooden décor offers a country-feel with the beautiful wide bar, strong high tables, and low loungers. It's just a beautiful place to relax or even work!
The highlight of this joint is the brewed beer (well, duh!) They make amazing craft beer with numerous exotic fruits. You need to try the mango pale ale! The beer is at par with most universal microbreweries but undeniably fantastic for Costa Rica. Don't worry if you're not a beer drinker either; all the drinks, from cocktails to wines, are wonderful.
I had the lobster sandwich on my first visit. The meat was succulent and tasty, and the garlic and other seasoning soaked in pretty well, making it deliciously savory. Bailey decided on the Poke Bowl, which came served in a coconut shell. She enjoyed it, but the portion was a little small.
The beer and food prices are a little high at Fuego Brew Co. for Costa Rica standards, but it's worth it. Our food was delicious, savory, and hearty. Make a reservation in advance as the place fills up pretty fast in the evenings.
We highly recommend Fuego Brew Co if you're wondering where to eat in Dominical as you enjoy fresh, locally brewed beer.
Fuego Brew Co. is open from 7 am to 10:30 pm every day, and you can view their menu here.
5. Su Raza – Best cheap eats
Location: Main street in Dominical
Average Price: $5 for Casados
Come here for: Casado
Takes reservations: yes
Su Raza is a small, welcoming Tico restaurant. It's a family-owned establishment managed by Avenant, who is so sweet and welcoming.
The menu has an assorted range of delicacies, but I come here for the huge Casados, which are so cheap! They have a few options, such as beef, chicken, and fish.
I personally had the chicken, and Daniel had the chicken fajitas. We shared both dishes (as always) and enjoyed some ice-cold beers while relaxing on a breezy terrace to the soft music played every evening. One particular night we visited, they had a beautiful jazz tango fusion that was exciting, loud, but entertaining.
Overall, the atmosphere is peaceful, with great cheap food and warm, welcoming service. The Casado is probably one of the best I've ever had in Costa Rica.
Su Raza is open from 9 am to 10 pm every day except on weekends when they open at 10 am.
6. El Pescado Loco – Best Fish Tacos
Location: Along the river in Dominical
Average Price: $7 USD for two tacos
Come here for: Tacos and fish and chips
Takes reservations: No
Located along the river, El Pescado Loco is the number one restaurant in Dominical for fish tacos! The restaurant has an outdoor comfy seating area with a roof and enough space for a handful of visitors. It's casual, but the food is anything but!
If you're looking to eat the tastiest seafood tacos in Costa Rica, this is it! El Pescado Loco makes the yummiest tacos I've ever eaten (outside of Mexico, of course.) I've visited this spot in the past, and I can't get enough of their tacos.
I had fried fish tacos. The fish was well done, and it came with warm crispy chips and a Guacamole dip. Omg, it was so good! Every bite was a delight.
They also serve up a famous fish and chips, vegan cauliflower tacos, sandwiches, and sides.
Overall, this place is an open secret. The owners take pride in their food, made with love, and it shows. They provide excellent service. The husband greets all the guests at their table, making great convos with almost everyone. He was very pleasant.
El Pescado Loco is open from 11:30 am to 8 pm every day except Sunday, and you can view their menu here.
7. NFusion Bistro – Best view and fine dining
Location: Calle San Martin, Alturas Sanctuary
Average Price: $18-$22 for the main dishes
Come here for: A beautiful sit-down meal with a view!
Takes reservations: Yes
NFusion Bistro by Villas Alturas is located in a remote area where you require a 4×4 vehicle to take you up the rough road and into this hidden gem of a Sanctuary. But trust me, the trip is worth it!
The restaurant is located within the Alturas Wildlife Sanctuary, a wildlife sanctuary that's a must-visit while in Dominical. The restaurant has the most magnificent view of the tropical Pacific coast overlooking Marino Ballena National Park.
There are stunning views, a clean wide pool, and a terrific chic deck overlooking the expansive, beautiful ocean. The sunset views are just heavenly! What more could you want?
The restaurant offers fresh foods solely from organic produce. Most of the dishes have a tropical feel – very fitting for food in Costa Rica! Of course, the food is so fresh and delightful, with reasonable prices.
My partner and I reserved lunch as part of the trip to the Alturas Sanctuary. We had homemade pasta with shrimp and fish tacos which were so yummy. The fish strips dipped in the sauce were out of this world! I ordered a pina colada, and Daniel had a cold beer. The coastline view from the terrace where we sat was spectacular!
The service was outstanding. This is no doubt one of the best premium restaurants in Dominical.
NFusion Bistro's opening hours need to be checked before visiting as they open and close throughout the day. Also, be sure to plan your visit to the rescue center, which you can read about in our Dominical guide. You can view their menu here.
8. Dominical Sushi – Best Sushi
Location: 100 meters west of the entrance of Dominical
Average Price: $10 USD for rolls and $3 for nigiri
Come here for: Sushi!
Takes reservations: yes
Dominical Sushi (as the name suggests) is the best place in Dominical to enjoy fresh Costa Rican sushi! The restaurant is located in the jungle off the main road, near the river at the edge of Dominical. It has an open-air setting with stunning views of the river and magnificent sunset in the evenings.
The service is awesome and quick, and the waiting staff are very friendly. You always arrive and leave with a smile!
The sushi is no exception. You can create your own Sushi boat – it's huge and is ideal for groups, but that didn't stop us. We ordered Sashimi Maguro and a few rolls as well as some salmon nigiri. I was impressed by the freshness and the size of the servings. You could tell the sushi was delicately prepared with love and dedication from the sleek arrangement. We truly enjoyed a wonderful meal of tasty sushi rolls.
The food prices are a little bit steep but worth it. Overall, a great place to try fresh Japanese cuisine.
Dominical Sushi is open from 12 pm to 10 pm every day, and you can view their menu here.
4 Must-Do Activities in Dominical
Visit Manuel Antonio National Park: Around 50 minutes north of Dominical is one of Costa Rica's best national parks. Manuel Antonio National Park is a gorgeous coastal park with tons of wildlife and untouched beaches. If you would like to do a tour, this specific tour is top-rated with lots of reviews. It lasts 4 hours and costs only $60 USD per person and you can meet your guide in Quepos or Manuel Antonio.
Visit Nauyaca Waterfalls: The most beautiful waterfall I have ever seen in Costa Rica is the Nauyaca Waterfalls. These two spectacular waterfalls are a combined 197 feet tall (60 meters) and are surrounded by lush rainforest and wildlife. They are located around 15 minutes from Dominical and visited on a 4-kilometer trail!
Alturas Wildlife Sanctuary: Alturas Wildlife Sanctuary is a non-profit wildlife rehabilitation center with the goal to release every animal they rescue. This involves treating animals in their veterinary clinic and slowly training animals to live in the wild again. It's a costly but rewarding process that saves thousands of animals. You can see lots of wildlife within the center including sloths, jaguars, pumas, macaws, toucans, and monkeys. These can change as animals are released and rescued continually.
Pozo Azul: Pozo Azul is another waterfall in Dominical that may be smaller than Nauyaca, but it's still well worth visiting. Pozo Azul is located a short drive from Dominical near Domincalito Beach. You can get there via taxi for around 3,000 Colones ($4.50 USD.) Once there, you can relax and enjoy the tranquility of Pozo Azul and take a swim in the water. It's really refreshing!
Related Read: Heading to Dominical? Read about the best hotels in Dominical!
Getting Around Costa Rica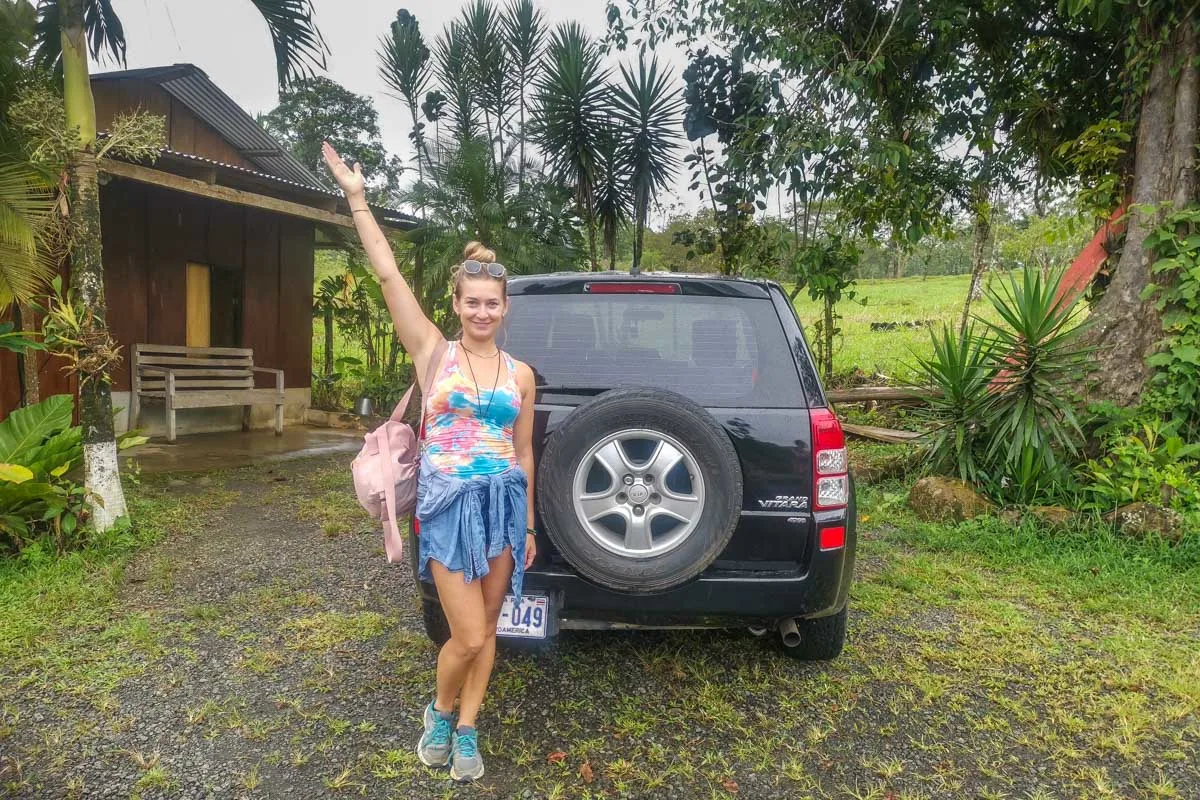 How you choose to get around Costa Rica is one of the biggest decisions you'll make when planning your holiday here! How you do it depends on your budget, travel style, and comfort level.
Renting a Car
Without a doubt, the number one way to explore Costa Rica is in a rental car. We book rental cars on the Discover Cars website as we have had good experiences with them in the past.
One of the things you need to watch for when renting a car in Costa Rica is the mandatory insurance that the government requires you to have. There are a lot of very cheap rentals that don't include this mandatory insurance (TPL) in the original booking price, but there are also ones that do. To avoid additional surprise charges when you pick up your rental car, be sure to rent a car that includes the mandatory insurance when you book.
Thankfully, on Discover Cars it's easy to tell apart the companies that include the mandatory insurance and those that don't. The trick is you can't pick any car on their website. In the picture below, you can see this rental car, with pick up in Jaco, includes the TPL. That means the mandatory insurance is included in the price. Any cover you get above that is extra.
Of course, I still suggest getting the full coverage offered by Discover Cars, which covers you even more.
You can browse cars on Discover Cars here.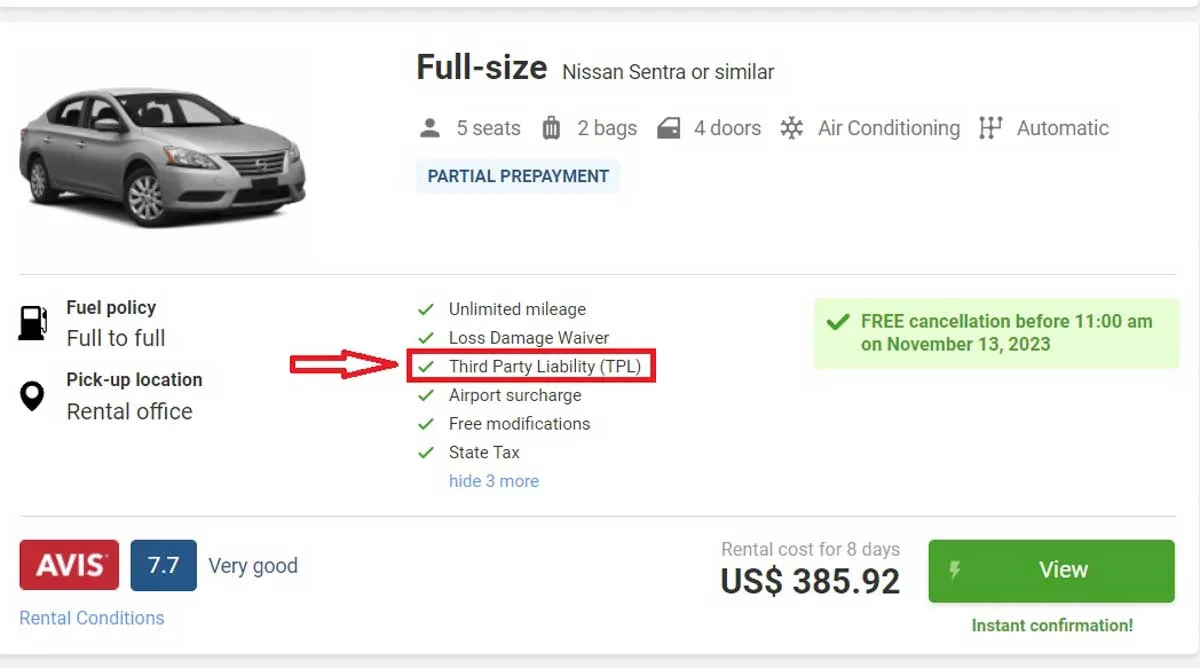 Book Shuttles
If renting a car isn't in your budget, you don't feel comfortable driving in Costa Rica, or you just don't like driving, shuttles are the next best option. There are hundreds of shuttle routes available all over the country, and they are very affordable.
Shuttles in Costa Rica are specifically for tourists and often include pick up and drop off at your selected hotels and airports. The drivers also speak some English, and the vehicles have air conditioning. You'll also be guaranteed a seat when you book a shuttle (which isn't the case with the public bus system.)
To get the best price, use the website Bookaway. They compare all the offers and prices of shuttle companies in Costa Rica so you get the best price! Honestly, we have saved so much money using Bookaway!
You can search for shuttles online on Bookaway here.
Public Bus
Lastly, you can use the public bus system. On short journeys, such as from San Jose to La Fortuna or Uvita to Manuel Antonio, this system is great. However, the longer the journey the more hassle and time spent on a bus. It's undoubtedly best to save the public bus in Costa Rica for short and straightforward trips!
The public buses are definitely the cheapest way to get around Costa Rica, but they are not always very reliable and schedules often change without notice and delays are to be expected. The buses can also be very crowded and hot – so just be prepared!
It's also good to speak some Spanish if you plan on riding the public bus since most drivers and ticket booth operators don't speak English.
Pura Vida!
Dominical may be a small hippy surf village, but that doesn't mean you can enjoy delicious food. This blog proves that!
I hope you enjoyed reading this guide to the best restaurants in Dominical and now have a heap of restaurants you want to visit. If you did, stay a little longer and check out more of our in-depth guides at My Costa Rica Travel Life! We have so much more for you to check out such as:
Things to do in Manuel Antonio