If you're an animal lover, Costa Rica is one of the best places in the world to see unique wildlife like sloths, spider monkeys, and more in the wild. In fact, this tropical nation is home to a whopping 4% of the world's animal species! I mean, where else can you expect to see a sloth just lazing in a tree on a walk around a new town (this cool experience happened to me in the town of La Fortuna!)
Luckily, many of Costa Rica's animals flourish in the wild, but some may get physically or psychologically injured due to a number of factors, from habitat loss due to deforestation to being abandoned by their mother! It's a sad but true fact of life.
And that's where animal rescue centers come into play! These amazing centers care for these vulnerable animals and prepare them for their release back into the wild.
There are plenty of wildlife rescue centers in Costa Rica, from the huge Rescate Wildlife Center near San Jose to the small Sibu Wildlife Center in Nosara. And outside of being lucky enough to spot Costa Rica's native animals in the wild, a wildlife center is the only other way to get up close to this nation's most famous residents because zoos are banned here!
So, in this blog post, I'll detail 5 of the best wildlife rescue centers in Costa Rica so that you can add one to your Costa Rica itinerary!
About Animal Rescue Centers in Costa Rica
In short, an animal rescue center's main purpose is to care for and rehabilitate injured animals (either physically or psychologically injured), so they may be released back into the wild. These animal rescue centers here have a high success rate, and some centers in Costa Rica have a success rate as high as 98% – meaning that most of the animals housed in such centers are successfully released back into the wild. But for those that can't be rehabilitated, the center will care for them for the remainder of their lives.
Visiting an animal rescue center in Costa Rica is a fantastic, ethical way to see wildlife and contribute to the great work these centers are doing.
As I mentioned above, there are no caged zoos in Costa Rica! Yep, back in 2013, the government made the brave decision to remove all cages from their zoos, and their plan is that by 2024 they will shut down both zoos (Santa Ana and Simon Bolivar Zoo) and move all their animals either into more ethical animal rescue centers or back into the wild!
Rescue centers in Costa Rica have to meet strict criteria in order to operate. For example, they must properly identify all animals and have a medical file for each animal. As well as that, they cannot reproduce animals, and members of the public cannot touch or hold the animals housed within these centers. With these guidelines in place, you know the animals are kept in a safe and ethical space.
Below, I've included the best of the best animal rescue centers in Costa Rica that offer the most memorable experience for visitors but also the most ethical!
5 BEST Wildlife/Animal Rescue Centers in Costa Rica
1. Jaguar Rescue Center (Puerto Viejo)
First up, and a must-visit for animal lovers, is the Jaguar Rescue Center in Puerto Viejo! Open since 2008, this incredible facility helps to rescue and rehabilitate (mostly native) animals! But not only does it help animals in need, but the center is also a research hub and attracts scientists from around the world!
The first animal that was brought here to be saved back in 2008 was a jaguar, so they named the center after him! Nowadays, though, wild cats are not commonly seen here, and instead, you will get the chance to get up close to animals like monkeys, sloths, toucans, opossums, snakes, deer, and much more!
You may even be lucky enough to spy a baby sloth here – I did, and it was a memorable moment for me. These creatures are honestly so adorable!
The best way to help the center is to book a tour, but remember, you can't hold or touch these creatures because the aim of the center is to release them back into the wild. And too much human interaction can hinder that – they are wild animals, after all.
They offer two types of tours at the Jaguar Rescue Center -a group tour and a private tour. The group tour starts at 9:30 am or 11:30 am every day and costs just $24 USD per person. There is no need to book the group tour in advance; simply show up 15 minutes before the start time. While if you're after a more personalized experience – consider the private tour, which is offered from Thursday to Monday at 2 pm. The private tour costs $75 USD and should be booked at least two weeks prior!
The Jaguar Rescue Center is located a 10-minute drive from Puerto Viejo.
Related Read: Heading to Puerto Viejo? Check out our guide to the best hotels in Puerto Viejo!
2. Rescate Wildlife Rescue Center (San Jose/Alajuela)
Rescate Wildlife Rescue Center is situated on the outskirts of San Jose city and is home to pretty much all of Costa Rica's native wildlife, from spider monkeys to sloths. It's a huge property, and you could easily spend the whole day here. What's great about this center is that just 2% of the animals here stay here for life – meaning the other 98% are successfully released back into the wild!
This center was set up in the late 1980s and houses thousands of endangered animals like the curassow (similar to a pheasant), spider monkeys, iguanas, and scarlet macaws, as well as lots of injured and stray creatures. In my opinion, it's one of the best wildlife rescue centers in Costa Rica because of the variety of animals found here and the center's success rate at releasing the animals back into the wild.
It will take 2 to 3 hours to walk around the grounds here; that's taking your time to stop at each enclosure and take some photos. Keep your eyes peeled, though, for lizards and birds who may scamper in front of your feet. FYI – these specific creatures are allowed to roam free!
Rescate is located a 16-minute drive from Alajuela city or a 35-minute drive from downtown San Jose. The rescue center opens daily from 8:45 am – 4:45 pm. Entry is $30 USD for adults and $15 USD for kids.
Or, if you prefer a more personalized tour, then book this exclusive private tour of the Rescate Wildlife Rescue Center. The tour van will pick you up at your hotel at 8:00 am and bring you back in the evening. This particular tour is 5 hours long.
Related Read: Rescate Wildlife Rescue Center is one of the best day trips from San Jose – read about the others.
3. Kids Saving the Rainforest Wildlife Rescue Center and Sanctuary (Manuel Antonio)
Visitors to Manuel Antonio shouldn't miss visiting Kids Saving the Rainforest Wildlife Rescue Center and Sanctuary. It's a not-for-profit center that focuses on protecting the diverse wildlife of Costa Rica and was established in 1999.
At the center, they work towards rehabilitating wildlife, conducting scientific research, and promoting reforestation and conservation. They rescue over 100 animals each year, and since 1999 just 50 animals remain on the property full-time – which means all the other animals have been successfully rehabilitated and released back into the wild!
It's a 25-minute drive from Manuel Antonio to the KSTW Center, and tours here cost $60 USD per adult, $45 per child under 12, and children under the age of 3 are free. But be sure to book your tour before in advance, as they cannot accept walk-ins.
On the fascinating tour of this animal rescue center in Costa Rica, you'll see plenty of wildlife, including 5 different types of monkeys! The monkeys housed here include Spider Monkeys, Squirrel Monkeys, White Faced Monkeys, Marmosets, and Tamarins. And you'll also get an insight into their rehabilitation and conservation efforts here. I learned so much!
These guided tours are held every day except Tuesday and start at 9 am and finish at 11:30 am. After the tour, you can go for a swim at a swimming hole on the property – a fantastic end to a great morning, in my opinion!
Related Read: another one of the best things to do in Manuel Antonio is check out Manuel Antonio National Park!
4. Alturas Wildlife Rescue Center (Uvita/Dominical)
Located a 10-minute drive from the small beach town of Dominical and 15 minutes from Uvita is the Alturas Wildlife Sanctuary, a not-for-profit animal rescue center with a big goal – to release every animal they rescue back into their natural environment! They aim to do this by treating the animals for any injuries or illnesses at their on-site Veterinary Clinic and then working closely with the animals to ready them for their lives in the wild. This process has helped to save thousands of animals so far!
There are so many animals housed within this wildlife center including jaguars, sloths, macaws, pumas, toucans, and monkeys. But the selection of animals constantly varies as many animals are released, and new ones are rescued every week!
A guided tour of Alturas costs $25 USD per adult and just $15 USD for children. During the 1.5-hour experience, you'll learn so much about the animals here, and all proceeds go to supporting the animals. Tours run from Tuesday to Sunday at 9 am, 11 am, and 1 pm.
And last but certainly not least is this small animal rescue center in Nosara, one of the best places to surf in Costa Rica! It's similar to the centers listed above in that its primary focus is on rescuing and rehabilitating animals!
The best way to describe this center is as a jungle oasis that provides a permanent home for wildlife that can't be released back into the wild. Be it due to physical or psychological injuries, these creatures, like sloths, monkeys, birdlife, and more, will remain at this spacious center and get the treatment they need for the remainder of their lives. The center works with other organizations and specialists to ensure they are offering the best care to the animals housed here.
A guided tour of the Sibu Wildlife Center costs $60 USD and is led by the inspirational founder – Vicki Coan. On the tour, you will learn so much about the animals here, the work they do to improve their quality of life, as well as taste some herbs and spices that they grow in their on-site nursery.
There are some important factors that must be met before booking a tour of this special center – children under the age of 5 are not permitted, and all visitors must have been in Costa Rica for a minimum of 72 hours prior to their visit! Also, because the walk around the center involves some hills and uneven terrain, suitable footwear should be worn!
Related Read: While in town, be sure to also check out the best restaurants in Nosara!
Getting Around Costa Rica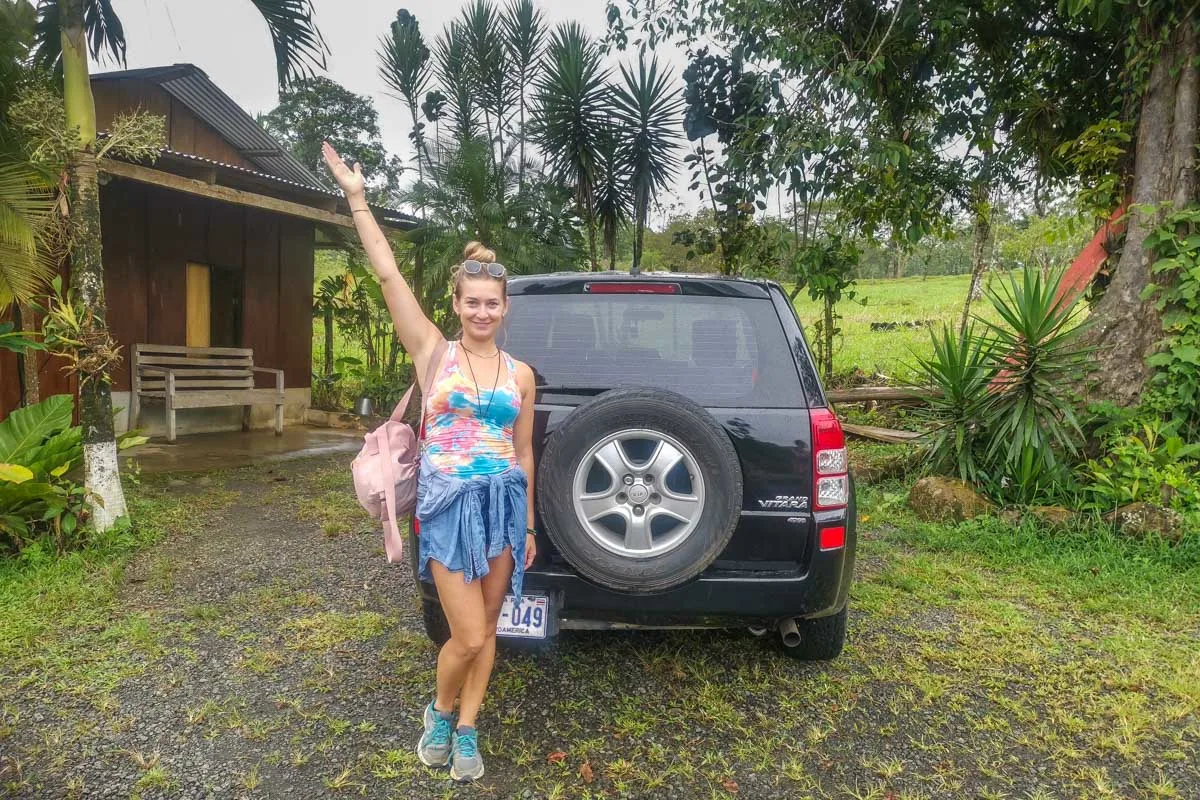 How you choose to get around Costa Rica is one of the biggest decisions you'll make when planning your holiday here! How you do it depends on your budget, travel style, and comfort level.
Renting a Car
Without a doubt, the number one way to explore Costa Rica is in a rental car. We book rental cars on the Discover Cars website as we have had good experiences with them in the past.
One of the things you need to watch for when renting a car in Costa Rica is the mandatory insurance that the government requires you to have. There are a lot of very cheap rentals that don't include this mandatory insurance (TPL) in the original booking price, but there are also ones that do. To avoid additional surprise charges when you pick up your rental car, be sure to rent a car that includes the mandatory insurance when you book.
Thankfully, on Discover Cars it's easy to tell apart the companies that include the mandatory insurance and those that don't. The trick is you can't pick any car on their website. In the picture below, you can see this rental car, with pick up in Jaco, includes the TPL. That means the mandatory insurance is included in the price. Any cover you get above that is extra.
Of course, I still suggest getting the full coverage offered by Discover Cars, which covers you even more.
You can browse cars on Discover Cars here.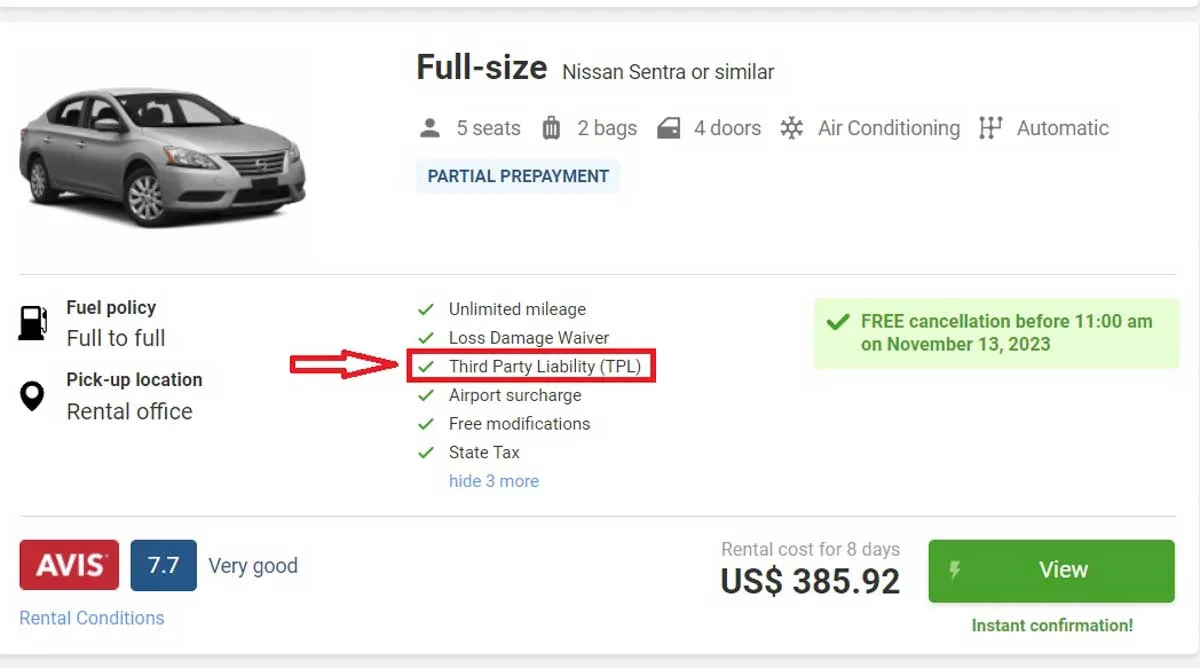 Book Shuttles
If renting a car isn't in your budget, you don't feel comfortable driving in Costa Rica, or you just don't like driving, shuttles are the next best option. There are hundreds of shuttle routes available all over the country, and they are very affordable.
Shuttles in Costa Rica are specifically for tourists and often include pick up and drop off at your selected hotels and airports. The drivers also speak some English, and the vehicles have air conditioning. You'll also be guaranteed a seat when you book a shuttle (which isn't the case with the public bus system.)
To get the best price, use the website Bookaway. They compare all the offers and prices of shuttle companies in Costa Rica so you get the best price! Honestly, we have saved so much money using Bookaway!
You can search for shuttles online on Bookaway here.
Public Bus
Lastly, you can use the public bus system. On short journeys, such as from San Jose to La Fortuna or Uvita to Manuel Antonio, this system is great. However, the longer the journey the more hassle and time spent on a bus. It's undoubtedly best to save the public bus in Costa Rica for short and straightforward trips!
The public buses are definitely the cheapest way to get around Costa Rica, but they are not always very reliable and schedules often change without notice and delays are to be expected. The buses can also be very crowded and hot – so just be prepared!
It's also good to speak some Spanish if you plan on riding the public bus since most drivers and ticket booth operators don't speak English.
Invest in Travel Insurance
Paying out of pocket for trip interruptions or medical treatment will add to what might already be a stressful situation. Not to worry, SafetyWing is here to help!
This affordable travel and medical insurance is perfect for digital nomads, long-term travelers, and remote workers. The best part is that it only costs $45 USD per 4 weeks.
To start coverage you must purchase it after leaving your home country. We usually purchase it as soon as we land at the airport.
Since using SafetyWing we've been reimbursed thousands of dollars when we've gotten sick. During the pandemic, they've even gone as far as to pay for our last-minute flights back to Canada before the border closed!
Pura Vida!
And that was 5 of the best animal rescue centers in Costa Rica! A visit to one of these amazing wildlife centers is a must-do while visiting this biodiverse country!
If you're planning a trip here, check out our list of all the best things to do in Costa Rica. Happy traveling and check out these blogs below:
Where to Stay in Costa Rica – A Hotel Guide!
Where to See Sloths in Costa Rica
25 Must-See Animals in Costa Rica
5 BEST Places to go Ziplining in Costa Rica +Top-Rated Zipline Tours