Monteverde means "Green Mountain" in Spanish, and once you arrive in this lush region of Costa Rica, you'll see why. The rolling green hills and rainforests are what makes this area special.
One of the most amazing things to do in Monteverde (and the reason most tourists come) is to visit the cloud forests. As their name suggests, these unique places are where mist and clouds hang low throughout a tropical rainforest. These are among the rarest habitats on the globe and are home to incredible species of plants and animals.
Although the cloud forests are the main attraction, there are so many other amazing things to do in Monteverde, Costa Rica. From drinking delicious craft beer to braving the dark to spot unique and dangerous wildlife, Monteverde is a town filled with adventure.
So, I've put together a list of the 20 best things to do in Monteverde to give you plenty of ideas so you can add this destination to your Costa Rican vacation.
About Monteverde, Costa Rica
Monteverde is the name of the most well-known cloud forest in Costa Rica as well as a district in the Puntarenas province of Costa Rica. Within the district and right near the national park, sits the town of Santa Elena. This town and its surroundings are where people stay to explore the area referred to as Monteverde.
Monteverde and Santa Elena sit at over 4,250 feet (1,300 meters) above sea level. So, before you arrive, make sure to pack for colder nights and days that can be windy, rainy, and a little bit on the chillier side. In fact, Monteverde gets over 100 inches of rain every year! Temperatures in Monteverde hover around 24°C (75°F) all year with the temperature dropping at night, which is why it's best to bring layers.
Getting to Monteverde will require travel no matter which of the two international airports you arrive at. Be prepared for an approximately three-hour drive from San José International Airport and around a two-hour drive from Guanacaste Airport in Liberia.
It's best to plan to stay in the Monteverde area for a few days to explore all this region has to offer – from treetop dining to butterfly gardens or ziplining and horseback riding, there's so much to do!
21 Best Things to do in Monteverde, Costa Rica
1. Visit Monteverde Cloud Forest
This is one of the main Monteverde attractions, and it's an incredible place to spend some time. The Monteverde Cloud Forest essentially welcomes the sky down into the rainforest – letting you walk through the low-hanging clouds and mist.
The Monteverde Cloud Forest Reserve was created in 1972 to protect this area and now stretches more than 35,000 acres with a huge array of wildlife, including more than 100 kinds of mammals, 400 types of birds of Costa Rica, and 1,200 species of amphibians and reptiles.
There are six main trails here, forming a network of about 8 miles (13 kilometers.) There are short trails that will only take about 10 minutes to walk and others that stretch a couple of kilometers and will pass through swamps and by waterfalls. Make sure to take the Sendero Camino Trail that leads to a suspension bridge that gives you a bird's eye view above the rainforest canopy.
It's totally possible to explore the cloud forest here on your own as it's about a 20-minute drive or taxi ride away from the main town of Santa Elena. There's a $25 USD entrance fee once you arrive and please only pay this at the entrance gate.
However, booking a tour of the cloud forest with an experienced guide such as this one will enhance the experience and make it more likely for you to see some wildlife! The guides here know exactly what they're looking for and can help you spot animals like monkeys, sloths, birds, and other critters hiding among the trees. The tour also includes a spotting scope (think telescope to see wildlife!), so you're more likely to see some of the amazing animals here.
The Monteverde Cloud Forest is open from 7 am to 4 pm every day, and by 8 am there is often a line to get in. For this reason, be sure to arrive early.
2. Visit the Santa Elena Cloud Forest Reserve
While the Monteverde Cloud Forest is the most well-known, it's not the only cloud forest here! The Santa Elena Cloud Forest Reserve is smaller and tends to be less busy but is equally as beautiful.
The Santa Elena Cloud Forest has 12 kilometers (7.5 miles) of trails filled with viewpoints (including a great observation tower) and stunning scenery of the lush rainforest. You'll find similar plants and animals as the other cloud forest as the misty clouds create the perfect habitat for thousands of species. If you're lucky, you might spot a spider monkey, which is unique to this specific cloud forest. Also, keep an eye out for hundreds of different types of orchids.
The Santa Elena Cloud Forest is operated by the local community with all entrance fees going to protecting the reserve and funding education in Monteverde. Admission is $16 USD for adults and $7 USD for kids.
There's an easy way to get here as a local bus from Santa Elena town goes to the cloud forest every day at multiple times throughout the morning and early afternoon for only $2 USD per person. You can also drive here, but there are a few steep hills, and it isn't paved, so it's best to attempt with an SUV or 4×4.
Santa Elena Cloud Forest is open from 7 am to 4 pm every day.
3. Drink craft beer
This is one of my favorite ways to get a taste of the local area!
Monteverde Brewing Co is a fantastic first stop. They use local water rich in minerals combined with local ingredients like organic coffee and fruit. The beer is produced in small batches for high quality and premium freshness.
I highly recommend taking a tour at Monteverde Brewing Co. It starts with a 16oz pint of beer, five 6oz samples, and a full look around the production facility. The cost is $35 USD per person, and there's also a non-alcoholic version of the tour for $25 USD. After the tour, stay here for a meal with their yummy burgers marinated in a red ale.
Another great place to grab a drink with a view is at Belmar Craft Brewery. This taproom and beer garden has a gorgeous natural spring lake to look out onto while you sip a beer. All the artisanal ales here are made with water from their spring in the cloud forest, and some even include ingredients from the brewery's organic garden.
They have a selection of seasonal brews as well as favorites like Aurora Pale Ale with mellow hops and earthy lemongrass and Nubosa Tropical Stout with coffee and chocolate notes. Plan to come here on a weekend as Belmar Craft Brewery is only open Friday, Saturday, and Sunday from 1 pm to 9 pm.
4. Go ziplining (the longest one in Costa Rica!)
Ziplining is such a fun way to see some fantastic scenery (as it flies past you!) and have an adrenaline-filled adventure. Visiting the 100% Aventura Park is easily one of the most exciting things to do in Monteverde while you're here.
You can drive yourself or take an Uber or taxi to 100% Aventura Park as it's conveniently located just outside Santa Elena. Once there, tours are offered daily with a wide variety of fun attractions.
However, if you want to take care of transportation and all the zip-lining fun, this ziplining tour has it all! The three-hour tour includes all the favorites at Aventura, including the Superman zipline, which is the longest and highest zipline in Costa Rica and all of Latin America! This zipline has a special back-clip harness, so you get to "fly" facing forward and hands-free for 1.2 miles (1.9 kilometers.)
You'll also get the chance to try out the 10-cable zipline course, rope suspension bridges (some of the best hanging bridges in Monteverde), an ATV ride through the forest, and the Mega Tarzan Swing Ride – that is, if you're brave enough.
If you're planning to go ziplining in Costa Rica, make sure you do it in Monteverde!
Related read: Ziplining is also one of the best things to do in Tamarindo.
5. Go birdwatching
Costa Rica is an incredible place for birdwatching. The country is home to more than 900 types of birds – for such a small country, that's a lot of birds! The birds here range from 50 species of tiny hummingbirds to large scarlet macaws and toucans.
Both the Monteverde Cloud Forest and the Santa Elena Cloud Forest are good spots for birdwatching, but the Curi-Cancha Reserve is considered even better. This private wildlife reserve has natural trails you can explore on your own or on a tour.
A tour guide is really helpful for spotting birds as they know exactly what to look for and have specialized equipment like a spotting scope to help you see them too. There are a couple of tours I recommend, including the Monteverde Birdwatching Experience, which involves four hours of birdwatching, typically starting in the early morning. It's a great tour if you're planning on visiting Monteverde because you'll spend the morning looking for birds before going off on your own to explore the cloud forest.
If you'd prefer to visit another area of Monteverde, then this Birdwatching Tour is a good option. On the tour, you can pick which area to explore – either the Monteverde Cloud Forest or the Curi-Cancha Reserve.
The beauty of a birdwatching tour is asking questions about the birds you see and getting the chance to spot things that you would definitely miss on your own.
6. San Lucas Treetop Dining Experience
Remember when you were a kid and wanted a treehouse (or were lucky enough to have one!) – channel that and dine above the trees! The San Lucas Treetop Dining Experience reminds me of the view from a treehouse paired with an amazing meal.
There are only eight tables here, with each set inside a glass box on a deck platform raised 50 feet in the air. You'll have views of Monteverde and the surrounding forest – it makes for a very memorable evening! The menu is a surprise too, with the chef utilizing what's in season to create an incredible seven-course meal.
Because there are only a few tables, reservations are recommended. You can book at 5 pm or 8:30 pm – I recommend the earlier time so you can enjoy the sunset! The experience is $140 USD per person (Children are $45 USD) and lasts for 2.5 hours. The tables are enclosed, so you won't get rained on. But make sure to bring layers as the evenings can be chilly.
San Lucas Treetop Dining Experience is easily one of the best restaurants in Monteverde and Santa Elena.
Related Read: After dining in the treetops, why not stay in them with a room at one of the best treehouse hotels in Costa Rica!
7. Explore Curi-Cancha Nature Reserve
The Curi-Cancha Nature Reserve is one of the best places to see wildlife in Monteverde – especially birds. Keep an eye out for the colorful, resplendent Quetzal!
There are nine short trails in Curi-Cancha that all join together. You can combine a few for a longer hike or just pick a couple to explore. It isn't typically too busy, and the entire nature reserve only allows 50 people in at a time.
While there are so many animals and birds here, they can be difficult to spot hiding among the trees, so there are tours in Monteverde offered to help. I recommend checking out this birdwatching tour of Curi-Cancha to have an expert guide help you spot birds and animals. Guides know the area so well and typically have powerful scopes to see birds hiding far away in the trees.
To get to Curi-Cancha from Santa Elena, take the main road toward the Monteverde Cloud Forest and then take a left just before the Monteverde Cheese Factory and follow the road to the nature reserve. The entrance fee is $20 USD and the reserve is open from 7 am to 3 pm every day.
8. Wander through the forest on a night tour
One of the best tours in Monteverde happens after dark! Experience the wildlife nightlife with a Monteverde Rain Forest Night Walk. In fact, this highly rated tour is one of the best in the country!
Almost 80 percent of the animals in Monteverde are nocturnal, so nighttime is the perfect time to spot them.
You could see everything from sloths, porcupines, snakes, lizards, frogs, birds, or one of the many felines that call the rainforest home.
What's great about these night tours is the experienced guide to help you spot critters along with a flashlight and optic gear. Tours are offered at 5:30 pm or 8 pm. The later tour tends to be less busy and takes place completely in the dark.
This tour is only $30 USD (plus a $10 USD entrance fee) and will take place at the Refuguio de Vida Silvestre – located only a few minutes from the center of Santa Elena. This is an easy drive or taxi ride to get here.
9. Selvatura Park Hanging Bridges
Selvatura Park is a nature and adventure park located inside 850 acres of protected rainforest. This park has a network of hanging bridges above the tree canopy that give you incredible aerial views of the rainforest.
The hanging bridges in Selvatura Park are 5 feet wide (the widest bridges in Costa Rica!) and the longest in Monteverde. There are 8 bridges stretching 150-510 feet in length and towering 36-180 feet above the forest floor.
Get the chance to explore all the bridges and the surrounding trail with the Selvatura Park Hanging Bridge Tour. This gives you two hours to explore and enjoy the forest from unique viewpoints.
Getting here is pretty simple as Selvatura Park borders the Monteverde Cloud Forest Reserve and is only a short drive from the center of Santa Elena.
10. Go bungy jumping!
Bungy jumping is one of the fun Monteverde attractions you have to try … if you're brave enough! The Extreme Bungee Jumping in Monteverde Tour has a daring jump from over 460 feet. That's the highest in Costa Rica and all of Central America!
What's unique about this Bungy jump is it takes place from a tram over the cloud forest. The tram moves across a cable system and then stops, where you will take the plunge!
The tour includes all the safety equipment you need, entrance fees, and hotel transport if required for about $87 USD. Note – there is a weight limit for this activity of 242 pounds (110 kg).
11. Monteverde Frog Pond
This is a quick stop in Monteverde to see more than 25 species of frogs and toads. You might spot the colorful Poison Arrow Frog or the Red-Eyed Tree Frog!
Tickets to the Monteverde Frog Pond cost $20 USD but are good for two visits – one during the day and one at night – including a guided night tour, typically at 6 pm. Some of the ticket proceeds also go to conservation and research as the number of frogs and toads is declining around the world.
Many of the frogs are more active (and vocal!) at night, so the night tours are where you can see and hear more of them. The Monteverde Frog Pond is open daily from 9 am until 8 pm.
12. Visit the Monteverde Hummingbird Gallery
The best place to enjoy a coffee and a snack in Monteverde is at the Monteverde Hummingbird Gallery. This small gift shop and cafe is home to a beautiful garden with lots of hummingbird feeders. While you enjoy your brew you'll be surrounded by hummingbirds from a range of species.
The Monteverde Hummingbird Gallery is located at the entrance to the cloud forest and is a good stop after the park to rest your legs and get a bite to eat. It's also a gift shop so you can pick up a small souvenir to remind you of your visit.
13. Join the Monteverde coffee, chocolate, and sugarcane tour
While you're here, one of the best activities in Monteverde involves three things that this region is famous for – coffee, chocolate, and sugarcane. I recommend the Don Juan Tour for this as it's an excellent two-hour experience.
During the tour, you'll learn about coffee from seed to finished cup, see sugarcane, and also get the chance to see how chocolate goes from cocoa beans to finished chocolate bar. You may even get the chance to grind up cacao beans and make your own chocolate! It's such a fun and informative tour that tops all other coffee tours in Costa Rica I have done (except the tour I did in Puerto Jimenez, Costa Rica which was also excellent)!
Tours are offered at a variety of times daily and cost $36 USD.
14. Explore the Bat Jungle
This is a cool find that is perfect for a rainy afternoon in Monteverde. The Bat Jungle exhibit lets you see eight different species of bats and learn more about the fascinating creatures from some super knowledgeable guides.
Armed with a flashlight, you'll get to see dozens of bats flying around and eating little bits of fruit. You might even spot some baby bats! If you're afraid of bats, don't worry, the animals are still behind glass while you view them. The exhibit also has a special ultrasonic microphone so you can hear the bats echolocating and "talking" to each other.
The Bat Jungle is open daily from 9 am to 5 pm. Tours take about 45 minutes, and it's best to phone ahead to book. Admission is $14 USD, and it's conveniently located just outside of Santa Elena on the road from Santa Elena to the Monteverde Cloud Forest Reserve.
15. Monteverde Butterfly Garden
The Monteverde Butterfly Garden – or the "Mariposario" as it's called locally – lets you get up close with spectacular butterflies in four different gardens.
Hour-long tours are offered daily from 9 am to 3 pm, and you'll want to bring a camera to capture photos of the butterflies of every different color of the rainbow. Tours also include a chance to see a variety of insects, the rearing chamber where caterpillars are raised to become butterflies, and look through the glass at an active leafcutter ant colony – my favorite part!
What's great about the tour here is that once it's finished, you can stay as long as you like. The one-time admission fee of $15.50 USD also allows you to come back as many times as you like while you're in Costa Rica.
The Monteverde Butterfly Garden is located in Cerro Plano – between Santa Elena and the Monteverde Reserve and is easy to get to by car or taxi.
16. Go Horseback Riding
This is a great way to give your feet a break and explore the Monteverde Cloud Forest on horseback! This Monteverde Cloud Forest horseback riding tour lets you cover a lot of ground as you trek through the farmland and surrounding landscape in Monteverde.
Keep an eye out for toucans, parrots, monkeys, and other critters as you experience the rural side of Costa Rica, far from any crowds or traffic. You'll also get views of the Gulf of Nicoya, coffee and sugarcane plantations, tropical forests, and open fields.
The tours are offered at three different times daily, with the 8 am tour being the best one for birdwatching, the 11 am tour typically the best for clear views, and the 3 pm tour offering spectacular sunsets.
You don't need to be an experienced rider either as all the tours are suitable for beginners. Roundtrip transportation and snacks are also included during the two-hour tour.
Related Read: Horseback riding is also a super popular activity in Samara.
17. Monteverde Orchid Garden
The Monteverde Orchard Garden is full of beautiful orchid flowers – 450 different types with at least 120 in bloom at a time! It's a great place to explore while you're in Monteverde.
The collection started with one orchid over 30 years ago and grew as the founder rescued orchids the wind stripped from trees. The space opened to the public about 15 years ago and is a tranquil spot in Monteverde.
While you can pop in and look at the flowers without a guide, a tour is recommended and included with your entrance fee of $14 USD. The guide will help you spot the tiniest orchids as 80% of wild orchids have flowers with sizes of 1mm to 3cm.
The 45-minute tour involves a short walk with accessible trails. You can arrive anytime during their opening hours from 9 am to 5 pm, but be prepared to wait about 20 minutes if you haven't booked a tour in advance. If possible, book online before you go.
18. El Tigre Waterfalls Monteverde
This area is named after the Jaguars (that the locals called "El Tigre") that live in this forest. Now, it's the site of an amazing hike where you can see waterfalls and volcanoes!
The El Tigre Waterfalls Monteverde tour includes a combination of hiking, swimming, and horseback riding. The tour is self-guided to start, which means you can take your time. Drive to the El Tigre Waterfalls parking lot (less than a half-hour from Santa Elena) and enter the reception area. You'll get a map and instructions to start the hike.
The 3.2 miles (5.2 kilometers) trail will pass by four different waterfalls across nine bridges, including hanging bridges and natural tree bridges, and has a beautiful viewpoint to see four volcanoes. Once you reach the end of the trail, a guide will be waiting with horses for horseback riding and then a lunch to follow.
Make sure you wear good shoes for hiking as this trail has lots of uphill and slippery sections. Also, bring a rain jacket!
Related Read: El Tigre Waterfalls is one of the best waterfalls in all of Costa Rica – find out what the others are!
19. Cerro Pinocho
This is one of the best places in Monteverde to see an amazing sunset. The large hill offers panoramic views of the rolling green hills and cloud forest with a spectacular sky backdrop.
You can walk here from Santa Elena town but be prepared for about a 1-1.5-hour hike. You'll definitely want a taxi on the way back as after sunset, it will be completely dark. Or you can take a taxi or drive here from the start and bring a coffee or picnic to enjoy as you watch the sunset.
A taxi each way costs just over $10 USD and the entrance to the viewpoint is $4 USD. There are also picnics offered which can be booked in advance to enjoy at the viewpoint.
20. Day Trip to Tenorio River for rafting
The Tenorio River is an amazing place for an adventure on 20 class III and IV rapids and a huge 12-foot drop called Cascabel Falls! The twists, turns, and drops of the challenging rapids will get your adrenaline pumping and make for a fun day trip.
The trip will take you about 1.5-2 hours from the Monteverde and Santa Elena area. There are two options. If you want transportation, this tour includes that as well as the rafting experience. If you have a rental vehicle and can drive yourself, book this tour for just the rafting. Both rafting experiences start at 9 am.
Make sure to wear clothes that can get wet and bring a change of clothes to wear on the way home!
Where to Stay in Monteverde, Costa Rica
Monteverde may be a small tourist town but there are a surprisingly large amount of great hotels in all budget ranges.
If you're budget traveler or backpacker, there are lots of nice hostels in Monteverde. If you like modern features and outstanding facilities, Selina Monteverde is the best option. The hostel is beautiful, has great reviews, and lots of activities including yoga. The only downside is Selina is a high-end backpacker hostel. You can book Selina on Booking.com or Hostelworld.
For the more budget-conscious, I recommend the Monteverde Backpackers which is almost half the price and includes breakfast. You can book Monteverde Backpackers on Booking.com or Hostelworld.
For those well past their backpacking days who can spend a little more, I love Camino Verde B&B Monteverde Costa Rica. This boutique hotel has beautiful rooms, deck with magnificent views, and includes breakfast. It's a comfortable hotel that comes at a great price.
If you're a luxury traveler I highly suggest choosing what we call a "destination hotel". These hotels are an attraction in themselves because of the unique experience they offer. In Monteverde one of the best is Chira Glamping Monteverde which offers luxury camping with the option to have your own private hottub surrounded by nature.
Getting Around Costa Rica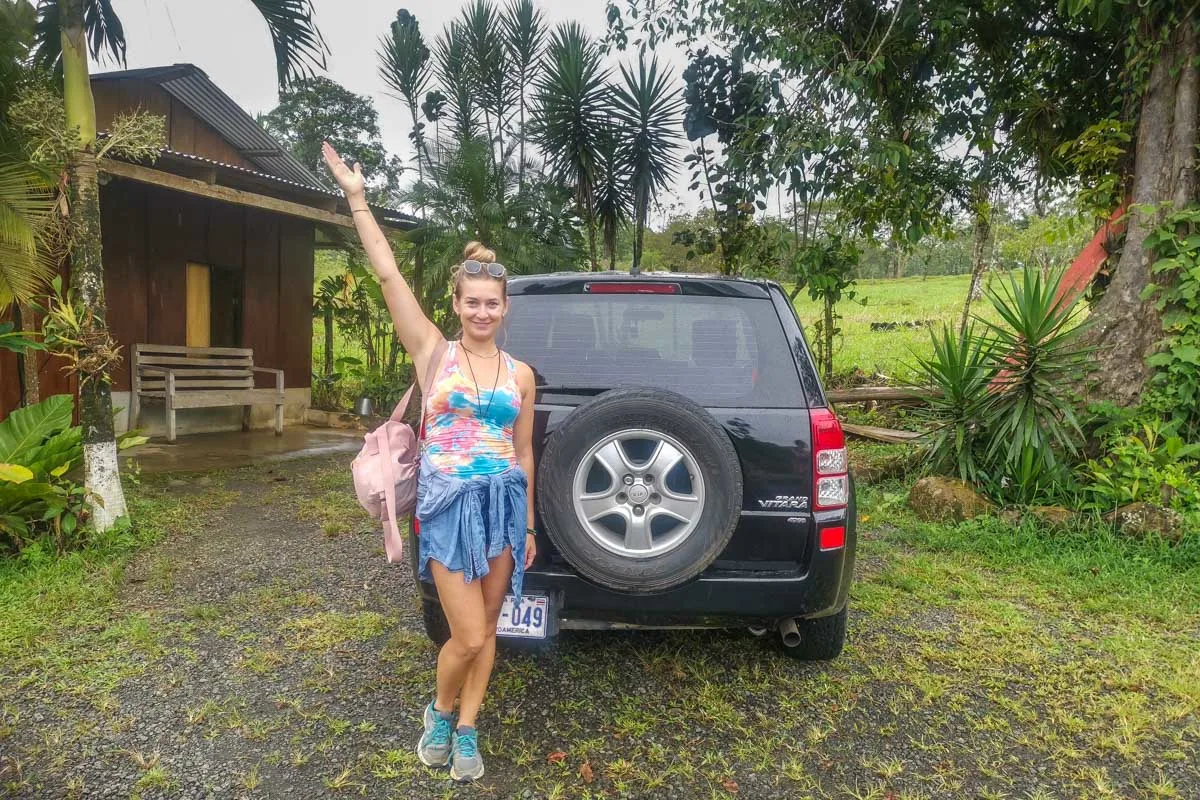 How you choose to get around Costa Rica is one of the biggest decisions you'll make when planning your holiday here! How you do it depends on your budget, travel style, and comfort level.
Renting a Car
Without a doubt, the number one way to explore Costa Rica is in a rental car. We book rental cars on the Discover Cars website as we have had good experiences with them in the past.
One of the things you need to watch for when renting a car in Costa Rica is the mandatory insurance that the government requires you to have. There are a lot of very cheap rentals that don't include this mandatory insurance (TPL) in the original booking price, but there are also ones that do. To avoid additional surprise charges when you pick up your rental car, be sure to rent a car that includes the mandatory insurance when you book.
Thankfully, on Discover Cars it's easy to tell apart the companies that include the mandatory insurance and those that don't. The trick is you can't pick any car on their website. In the picture below, you can see this rental car, with pick up in Jaco, includes the TPL. That means the mandatory insurance is included in the price. Any cover you get above that is extra.
Of course, I still suggest getting the full coverage offered by Discover Cars, which covers you even more.
You can browse cars on Discover Cars here.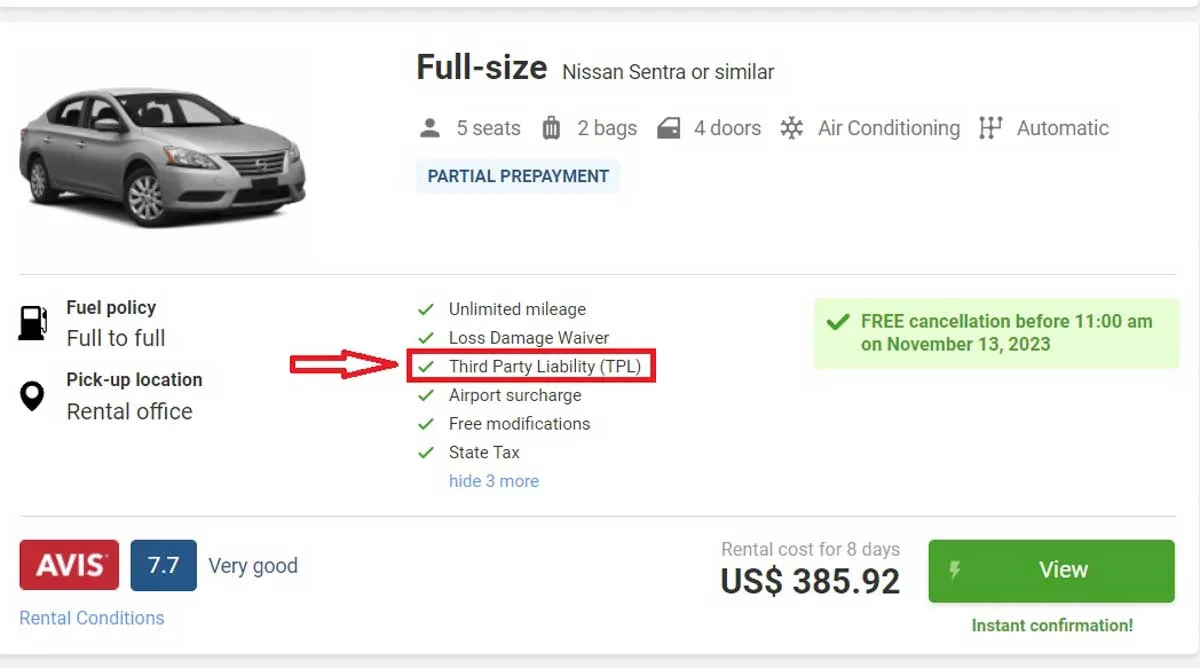 Book Shuttles
If renting a car isn't in your budget, you don't feel comfortable driving in Costa Rica, or you just don't like driving, shuttles are the next best option. There are hundreds of shuttle routes available all over the country, and they are very affordable.
Shuttles in Costa Rica are specifically for tourists and often include pick up and drop off at your selected hotels and airports. The drivers also speak some English, and the vehicles have air conditioning. You'll also be guaranteed a seat when you book a shuttle (which isn't the case with the public bus system.)
To get the best price, use the website Bookaway. They compare all the offers and prices of shuttle companies in Costa Rica so you get the best price! Honestly, we have saved so much money using Bookaway!
You can search for shuttles online on Bookaway here.
Public Bus
Lastly, you can use the public bus system. On short journeys, such as from San Jose to La Fortuna or Uvita to Manuel Antonio, this system is great. However, the longer the journey the more hassle and time spent on a bus. It's undoubtedly best to save the public bus in Costa Rica for short and straightforward trips!
The public buses are definitely the cheapest way to get around Costa Rica, but they are not always very reliable and schedules often change without notice and delays are to be expected. The buses can also be very crowded and hot – so just be prepared!
It's also good to speak some Spanish if you plan on riding the public bus since most drivers and ticket booth operators don't speak English.
Invest in Travel Insurance
Paying out of pocket for trip interruptions or medical treatment will add to what might already be a stressful situation. Not to worry, SafetyWing is here to help!
This affordable travel and medical insurance is perfect for digital nomads, long-term travelers, and remote workers. The best part is that it only costs $45 USD per 4 weeks.
To start coverage you must purchase it after leaving your home country. We usually purchase it as soon as we land at the airport.
Since using SafetyWing we've been reimbursed thousands of dollars when we've gotten sick. During the pandemic, they've even gone as far as to pay for our last-minute flights back to Canada before the border closed!
Pura Vida!
While the cloud forest may be the initial draw to the area, there are so many things to do in Monteverde, Costa Rica that you surely won't get bored! It's worth basing yourself here for a few days to explore the wide range of Monteverde attractions and tours that will give you a taste of this amazing place.
While the cloud forest is a must-do, I hope this list has given you lots of ideas for incredible adventures that could become the highlight of your time here. If it has, check out these related blogs below and plan your trip to Costa Rica!
The BEST Restaurants in Monteverde
Best things to do in Manuel Antonio