This blog may contain affiliate links. Read our disclosure policy for more info.
After an adventurous day out in the Arenal/La Fortuna area, there is no better way to unwind than soaking in a relaxing hot spring! Fortunately, you will find plenty of hot spring options just outside of downtown La Fortuna.
There are luxurious hot springs that come with hefty price tags along with budget-friendly ones that won't leave your wallet empty.
With so many options available, I figured I'd help you out by telling you all about the 15 different hot springs you can visit in La Fortuna. Below, I'll compare them all including prices, facilities, and location so that you can easily find the right hot springs to visit for your upcoming holiday.
Here's everything you need to know about the hot springs in La Fortuna.
15 Hot Springs in La Fortuna
1. Tabacon Hot Springs
Location: 13 km (8 miles) northwest of La Fortuna
Price: Day Pass (with lunch or dinner) – $81 USD; Full-Day Pass (with lunch and dinner) – $149 USD
Hours: Day Pass and Full-Day Pass – 10 am to 10 pm
Best for: Anybody looking for a luxurious hot spring where price isn't an issue.
Tabacón Hot Springs is one of the favorite hot springs in La Fortuna. It is well-known for its natural hot springs and pools that wind through a luscious garden, giving guests the sense of being in the heart of a jungle.
Within the property, you can find five different springs with mineralized, naturally heated water. The springs feed dozens of pools at temperatures ranging from 72 F to 105 F (22 C to 40 C), so no matter your preference, you will surely find the perfect pool for you.
For that deluxe touch, the main area of the hot springs comes complete with a swim-up bar and a waterslide. Sip on a cool beverage as you soak in the soothing streaming water. Meanwhile, there are secluded pools in the lower section that offer a spectacular view of the Arenal Volcano.
The Tabacon Hot Springs are located within the Tabacon Thermal Resort & Spa, one of the most luxurious non-all-inclusive resorts in the Arenal area. While some hotels in La Fortuna only offer their on-site hot springs to guests, the Tabacon Thermal Resort & Spa hosts a day pass program that allows non-hotel guests to enjoy their hot springs. However, if you're planning on staying in the hotel, access to the hot springs is complimentary.
2. Baldi Hot Springs
Location: 4.7 km (2.9 miles) away from downtown La Fortuna
Price: Entrance only – $27 USD for nationals, $44 USD for foreigners; Entrance with lunch or dinner – $49 USD for nationals, $66 USD for foreigners; Entrance with lunch and dinner $71 USD for nationals, $88 USD for foreigners
Best for: Family-friendly facilities
The Baldi Hot Springs is one of the most developed and visited hot springs in La Fortuna, not to mention the most lively one! Set amidst lush vegetation, this hot springs resort boasts 25 thermal water pools with temperatures ranging from 93°F to 152°F (doesn't it sound dreamy?!). It also comes complete with a massive jacuzzi for up to 60 guests.
One of the major draws of Baldi Hot Springs is its massive space that lets you unwind in the company of friends and family. The property not only provides you with a spacious therapeutic paradise to relax in, but it also has bustling pool/bar areas and massive water slides that cater to social gatherings. There's even an interactive kids' play zone within the property for families with small children, which is super convenient!
With that said, these hot springs are probably not the best choice for anybody looking for a super relaxing and peaceful experience.
I'd say the two things that I really love most about Baldi is that despite its safe location outside the danger zone of the Arenal Volcano, it still offers breathtaking views of the majestic landform. This property is also clearly visible from the main road, thanks to its showy, roofed entry.
The Baldi Hot Springs is part of the Baldi Hot Springs Hotel and Spa, a superior-quality hotel with rooms starting at $276 USD per night. Many consider it to be one of the best hotels in La Fortuna, and if you're a guest at the hotel you can enjoy the hot springs for free as much as you want.
Related Read: While in La Fortuna, be sure to visit the famous La Fortuna Waterfall!
3. EcoTermales Hot Springs
Location: 5.2 km (3.2 miles) from downtwon La Fortuna
Price: Entrance only – $45 USD; Entrance with lunch or dinner – $73 USD
Hours: Monday to Thursday from 5 pm to 9:45 pm and Friday to Sunday from 10 am to 4 pm and 5 pm to 9:45 pm
Best for: an intimate and romantic experience
Nestled in La Fortuna's primary rainforest, EcoTermales Hot Springs is a family-owned and operated natural hot spring. The thermal springs that await you at this property come from hyperthermal magnesia-filled waters. This means that you can indulge in the waters' muscle-relaxing, analgesic, and anti-inflammatory properties! Sounds nice, right?
There are six intimate and romantic pools here, the temperatures of which range from 99° F to 106° F. Should you prefer a change in temperature, there is also a freshwater waterfall and pool here, as well as two pools with ordinary water.
Part of what makes EcoTermales Hot Springs appealing is that it offers a quiet getaway where you can escape for a few hours without breaking the bank. Although there are other less expensive hot springs in La Fortuna that provide the same service, the EcoTermales Hot Springs remain a popular destination. This is because the resort allows a maximum of 80 visitors per time slot every day so that everyone has a chance to experience total relaxation.
There are also paved and illuminated pathways through the jungle at EcoTermales, perfect for romantic strolls with your special someone, wildlife observation, and some amazing photo ops!
EcoTermales, unlike the above two La Fortuna hot springs mentioned, is a stand-alone hot spring without an accompanying hotel. However, there is a restaurant and a bar on the grounds, so you can dine here for lunch or supper. It is also just a few minutes away from downtown La Fortuna, putting it in a handy position close to most hotels.
4. Titoku Hot Springs
Location: 4.8 km (3 miles) west of downtown La Fortuna
Price: Entrance only – $15 USD for nationals, $33 USD for foreigners; Entrance with a meal – $40 USD for nationals, $52 USD for foreigners
Best for: Those looking to avoid crowds.
If you're looking for a more intimate and genuine hot springs experience in Arenal, then I think you'll fall in love with Titokú Hot Springs. There are eight jacuzzi-style pools here that cascade down and come with a lower temperature as you get closer to the bottom.
The pools are nestled in beautifully landscaped gardens and are lit with multi-colored ambient lighting at night. A full-service bar is also on hand, so you can enjoy a glass of champagne while relaxing in the pools. For additional convenience, there are dressing rooms, showers, and lockers available for guest use.
Small and intimate, Titokú is frequently overlooked by visitors since it's surrounded on all sides by larger thermal resorts. But it's exactly because it's hidden in plain sight that makes it such an incredible find!
Not to mention the fact that this property has a maximum capacity of 80 guests, with each pool accommodating between six and twenty people. With the fewer guests around, you can expect a really peaceful and uncrowded experience. In fact, you often have an entire pool to yourself, which is one of the delightful perks of visiting these hot springs. It's no wonder this place is often considered one of the best hot springs in Costa Rica!
Titokú Hot Springs is part of the Arenal Kioro Suites & Spa, a luxury hotel set on 27 acres of lush, verdant countryside. However, since the hot springs are on a separate parcel of land, you feel far away from the hustle and bustle of the resort.
5. Paradise Hot Springs
Location: 4.8 km (3 miles) northwest from La Fortuna
Price: Basic Day Pass – $38 USD; Day Pass + Meal – $58 USD; Premium Day Pass – $170 USD
Best for: Hot springs with hydromassage
After a long day of exploring Arenal, a refreshing dip in the outdoor hot spring pools and jacuzzis is just what you need. They feature natural magnesium-rich water that cleanses the skin and promotes relaxation. Similar to the other La Fortuna hot springs, the property's pools also have varying temperatures, from a steamy 104° F to a cooler 81° F.
But the main selling point of Paradise Hot Springs is the variety of hydromassage (different intensity water jets or waterfalls) featured in each pool. This alleviates stress and muscle soreness in the back, shoulders, neck, and feet. It's a truly relaxing experience you don't want to miss!
The Paradise Hot Springs' tropical aesthetic is also stunning. The pools are tucked away in verdant gardens with Costa Rican coffee trees, exotic palms, and local flowers. At night, they are illuminated with a kaleidoscope of colors for a romantic vibe— trust me it's just as magical as it sounds!
You can find the Paradise Hot Springs within the Paradise Hot Springs Thermal Water Resort, a 17-room high-end hotel.
6. The Springs Resort Hot Springs
Location: 12 km (7.5 miles) northwest from Parque de la Fortuna
Price: Two-Day Pass – $85 USD + 13% VAT; Multi-Adventure Package – $124.20 USD
Best for: Luxurious hot springs that's affordable
If Tabacon is out of your price range, but you still want to experience a huge, luxurious hot spring resort, consider The Springs. This sprawling resort features 28 hot springs and pools, four acres of beautifully landscaped recreational grounds, swim-up bars, and one of the best volcano views in La Fortuna!
Nestled within picturesque patches of rainforest, the hot springs in this property are pretty varied in terms of temperature and environment. You can choose to dip in pools that are as cool as 83° F and as steamy as 104° F. You can also find them in a variety of settings, from rushing waterfalls to quiet woodlands. Isn't it great to have options?
Three hot springs are found here: La Lagunas, Perdido, and Club Rio. At La Lagunas, you can enjoy eight pools with views of Arenal Volcano and a swim-up bar, while at Perdido, there are seven additional pools and a kiddie slide. But unlike the other two with a man-made atmosphere, Club Rio boasts waterfalls that gaze out over the river canyon, giving it a more natural feel.
The Springs Resort Hot Springs is part of The Springs Resort & Spa. If you're wondering where to stay in La Fortuna, this definitely isn't a bad option! On top of its cold-water pools and hot springs, the resort comes complete with luxurious accommodations, on-site restaurants and bars, a full-service spa, and a tour and activity hub.
Related Read: Soaking in hot springs in La Fortuna is one of our "must-do" activities in our 7-day Costa Rica itinerary!
7. Los Laureles
Location: 4 km (2.5 miles) west of La Fortuna town
Best for: Budget-friendly hot springs with camping area
Los Laureles Hot Springs is one of the smallest hot springs in La Fortuna. While it may lack the luxurious facilities found in Tabacon or Baldi, it is still a great place to unwind and experience La Fortuna's hot springs!
There are a total of seven thermal water pools and two cold-water pools on the property, along with a restaurant and a ranch. The grounds are well-kept and home to a diverse assortment of native tropical plants and flowers.
Yes, the hot springs at Los Laureles are very basic, but they are a must-visit for budget travelers! You can also spend the night here as they have a camping area and cabins available.
You won't find a restaurant or bar here, so guests can bring their own food and drinks and have a picnic or grill out on the BBQ!
8. Termalitas del Arenal
Location: 4.2 km (2.6 miles) west of La Fortuna
Best for: Cheap hot springs for families.
Termalitas del Arenal is a family-friendly leisure complex with hot springs surrounded by lush tropical gardens and an awe-inspiring view of the Arenal Volcano. Pools of different sizes and temperatures are provided to suit the needs of swimmers of all ages and levels. You can also find hydromassages in the pool that are either water springs or waterfalls.
In addition to the hot springs, there are other amenities within the premises of Termalitas del Arenal, including cold water pools, a slide, hydromassage beds (I really love these things!), a wet bar, ranches with BBQ grills, and a restaurant.
You are welcome to bring your own food and beverages inside, but take note that no accommodation or camping facilities are available.
9. Los Lagos
Location: 1.6 km (1 mile) from Arenal Natural Ecological Park
Best for: A variety of hot springs in one place
Los Lagos Hot Springs is a popular La Fortuna hot springs destination for kids and couples alike, thanks in part to the affordability of the hot springs pass. Although it isn't the cheapest hot springs in La Fortuna, this pass gives you access to a variety of hot and cold pools, as well as free admission to a few wildlife exhibits on-site. It ends up being a pretty good deal!
The pools at Los Lagos are large and fed by crystalline rainforest springs. However, what makes them stand out from the other hot springs in the area is that they are all different from one another. They are framed with handcrafted concrete that looks like natural-looking gray/brown boulders. It's definitely a sight to see.
Pool areas and pathways between them are decorated with colorful gardens full of plants and flowers, such as heliconia, ferns, and tall grasses. Several of the property's pools include turquoise mosaic tile flooring, adding to the tropical theme. You can also find fun waterslides on the premises, along with waterfalls and a faux volcano.
The Los Lagos Hot Springs are the in-house hot springs of Hotel Los Lagos, a tropical hotel housing a gourmet restaurant, a wet bar, a seasonal outdoor pool, and a luxurious spa.
Related Read: Love food? Be sure to eat at a couple of the best restaurants in La Fortuna while you're there!
10. The Royal Corin Thermal
Location: 5 km (3 miles) west of La Fortuna
Price: Single Adult Pool Entry with a meal- $49; Family Pass Pool Entry with a meal – $150
Best for: Relaxing boutique experience at affordable price
The thermal water at The Royal Corin is 100% natural and teeming in mineral salts and ions, including calcium, carbon, and magnesium. Thanks to the waters' high mineral content, just soaking in the pool replenishes your skin's moisture and brings back its radiance! (Sign me up!)
Within the property, you will find two natural warm water swimming pools that range in temperature from 93°F to 104°F. There are also four thermal water jacuzzis with hydromassage to give you a more relaxing experience. If you need a break from the heat, you can dip in the cold-water pool or head to the wet bar for a drink.
One of my favorite things about The Royal Corin is that it isn't as crowded as Tabacon, so you'll have more time to enjoy yourself and get a better value for your money.
The Royal Corin Thermal is located on the grounds of the 54-room boutique hotel of The Royal Corin. It is recognized for its excellent service, welcoming environment, and romantic atmosphere, integrated into a natural setting that is nestled in the midst of lush rainforest at the foot of the Arenal Volcano.
11. Volcano Lodge and Springs
Location: Right next to Arenal Natura Ecological Park
Price: $113 to $388 USD per night
Best for: Luxurious hot springs exclusive to hotel guests
There are plenty of beautiful and therapeutic hot springs in La Fortuna, but the Volcano Lodge, Hotel & Thermal Experience stands out for its exclusivity. If you're looking for an epic experience at a hot spring, this is where to stay in La Fortuna so you have the chance. Private and far away from the crowds, these springs are accessible only to hotel guests.
Two main springs are located on the premises: one close to the cold-water free-form pool and the other located near the swim-up bar and has its own ambient lighting and music. Both locations are designed with falls, waterways, tropical gardens, and secluded pools with different temperatures for you to relax in.
For a more private experience, consider booking either the Junior Suite or Thermal Superior Room. A private plunge pool with its own waterfall and naturally heated water await you here.
The Volcano Lodge Hot Springs is set within the Volcano Lodge, Hotel & Thermal Experience at the base of the Arenal Volcano. This 64-room hotel combines its rustic yet modern vibe into its luxurious amenities, including hot spring-fed jacuzzis, boutique spa, and on-site bars.
12. Loma Real Hotel and Hot Springs
Location: 3 km (1.9 miles) from Arenal Natura Ecological Park
Price: from $79 USD night
Best for: Cheap hot springs exclusive to hotel guests
Loma Real Hotel and Hotsprings is one of the properties in La Fortuna that only offers its hot springs to guests. The hot springs themselves are pretty basic, with a few tropical plants surrounding them. Apart from hanging out in the hot springs, you can also stroll in the garden while admiring the majestic view of the Arenal Volcano in the distance.
A continental or à la carte breakfast is available at the Loma Real Hotel & Hotsprings. When staying here, you'll have a room with a private bathroom, a flat-screen TV, and a terrace with a garden view.
13. Arenal Manoa & Hot Springs
Location: 8 km (5 miles) from downtown La Fortuna
Price: $170 to $545 per night
Best for: kid-friendly hot springs that are exclusive to hotel guests
The hot springs at Arenal Manoa are exclusive to guests and cater to swimmers of all ages. The property features a large hot spring for adults, a shallower one for kids, and a jacuzzi should you want a more relaxing experience.
Also on-site is a full-service swim-up bar where you can order food, drinks, and cocktails without leaving the water. It goes without saying that you'll find it very easy to relax here.
Arenal Manoa's hot springs are therapeutic, as are most of the hot springs in the Arenal region. Research done on the waters at the property has discovered minerals in the waters, such as sulfate and magnesium, that deliver some health benefits to your body.
Naturally, the resident hotel of Arenal Manoa & Hot Springs, the Arenal Manoa & Hot Springs Resort, is worthy of praise, too. It comes complete with a working ranch, rooms with panoramic views of Arenal Volcano, lush gardens, and an on-site restaurant serving an eclectic blend of local and foreign cuisine.
14. Kalambu Hot Springs
Location: 4.8 km (3 miles) west of Parque de la Fortuna
Price: Entrance only – $11.20 USD; Entrance + Food – $17.75 USD
Hours: Friday to Sunday 9 am to 9 pm
Best for: Most unique hot springs experience in La Fortuna
Kalambu Hot Springs is the only one of its kind in La Fortuna as it combines water park fun with hot springs— it's a thermally heated water park! With massive slides, thermal pools, swim-up bars, and play areas, the facility has something in store for everyone!
Within walking distance of the changing rooms is an interactive playground designed especially for children. It's basically a pool of geothermal water with several water cannons, slides, and platforms of varying heights.
Nearby, you can find a five-story tower with three slides (Cyclone, Tornado, and Avalanche) that go directly into the pool. Opposite the tower is the so-called Mammoth, a four-story 370-foot-long (113 m) water slide.
After all that action, you can unwind in one of two thermal pools in the property, both of which come with a swim-up bar. One is for families, while the other is solely for adults.
These thermal pools are located on the sides of the park's restaurant, which serves Mexican and Costa Rican cuisines, salads, and grilled selections. There is also a snack bar, where you can get typical theme park food, along with frozen drinks, fresh fruit juices, and even Costa Rican beer.
15. FREE hot springs
Location: 12.1 km (7.5 miles) west of La Fortuna
Best for: Free wild hot springs in La Fortuna.
Want to visit hot springs in La Fortuna without spending a thing? Well then, it's time to skip all of the above hot springs and head straight to the wild hot springs! Just outside of La Fortuna town you'll find a river where the water is hot. It is completely free to visit and one of the best free things to do in La Fortuna.
The hot springs location can be found on Google Maps (It's called El Choyin) and if you have your own car you can easily drive there. With that said, there are guys who will charge you for parking (on the street) to keep your car "safe." I'm not totally sure it is necessary for safety, but you should pay them as it is their job and they will help you park. They will try to charge you around 3,000 Colones ($5.60 USD), however, if you tell them you know that the price is 1,000 Colones ($1.87 USD) they will accept it.
After parking, they will direct you towards the river, under a bridge. Here you can explore the river and find your own place to relax. If you want, bring a beer or some snacks. It really is beautiful and the water is super hot!
One thing that is important to know is that some petty theft has been known to happen here. Keep your valuables with you at all times, or just don't bring them to the river at all.
If you don't have a car, you can try and hitchhike there or take a taxi from town.
Related Read: Be sure to check out the hanging bridges in La Fortuna while you're in town!
Other Things to do While You're in La Fortuna
Of course, exploring the hot springs in La Fortuna is one of the best experiences, but there are so many other things to do in La Fortuna you won't want to miss! These are just a few of our top picks:
Hanging bridges – The views of La Fortuna are even better among the treetops! The Mistico Hanging Bridges are some of the best to explore. There are 14 total bridges here with 6 of them being hanging bridges. It's a fantastic place to spot wildlife especially if you join this guided tour!
Arenal Volcano – Arenal Volcano is the centerpiece of La Fortuna! You can wander the trails at Arenal Volcano National Park on your own or as part of a hiking tour. For more unique volcano views, take to the sky aboard the Sky Tram, fly by on an ATV ride, or take a leisurely sunset cruise on Lake Arenal.
Where to Stay in La Fortuna, Costa Rica
Because La Fortuna is such a big tourist town, there are a ton of amazing places to stay. Here are our top recommendations for every budget.
Selina La Fortuna – $
One of the go-to budget options is Selina La Fortuna. I've stayed in Selina hostels around the world and this is a great one. It has a fun party atmosphere and a great co-working space where we spent a lot of time.
Selina Fortuna is located right in the middle of town, so you have easy access to great bars and restaurants nearby. Rates begin at $26 USD for a one-night stay in a dorm and $124 USD for a one-night stay in a private room. You can check availability and book on Booking.com, Hostelworld.com, Hotels.com, or Expedia.
Casa Luna Hotel & Spa – $$
Those with a medium budget should check out Casa Luna Hotel & Spa. I stayed here on my first visit to La Fortuna and loved it. The property is beautiful, with a large pool and four hot tubs surrounded by nature. You can also enjoy the tropical botanic garden at the hotel.
Casa Luna Hotel & Spa is near Arenal Volcano National Park, and all the rooms have views of the volcano and the rainforest. The hotel also includes a delicious breakfast in the $204 USD room rate. Casa Luna is located a short drive from town and you can reserve a room online on Booking.com here, Hotels.com here, or Expedia here.
The Springs Resort & Spa at Arenal – $$$
For arguably the most luxurious hotel in La Fortuna, check out The Springs Resort & Spa at Arenal. While the rooms don't come cheap ($600 USD+), it's a bucket list place to stay that's perfect for visiting Costa Rica on a honeymoon!
You'll find 28 hot spring pools here, making the resort the perfect place if you really want to relax. There's also a resort-style pool, a fitness center, a swim-up bar, hot tubs, and a spa and wellness center. You can reserve a room at The Springs Resort & Spa at Arenal on Booking.com, on Hotels.com, or on Expedia.
For more in-depth info on the areas to stay in La Fortuna, check out our blog on where to stay in La Fortuna!
Getting Around Costa Rica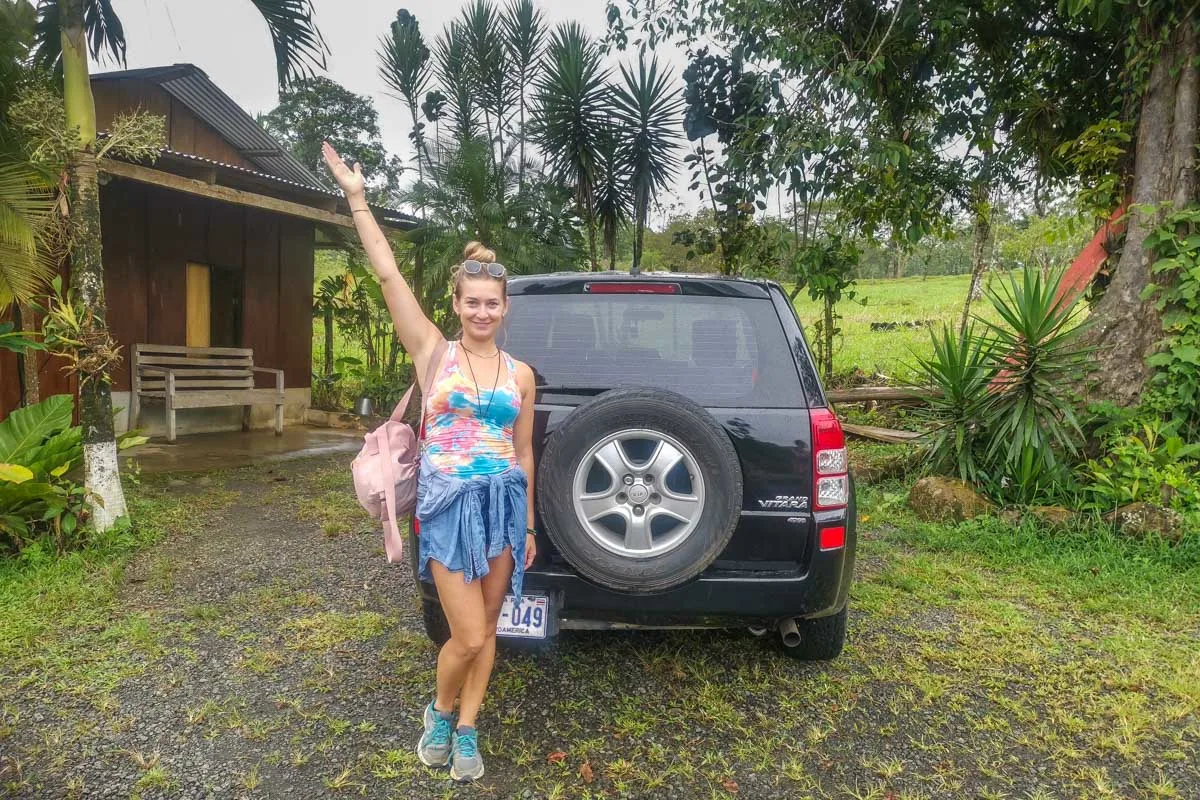 How you choose to get around Costa Rica is one of the biggest decisions you'll make when planning your holiday here! How you do it depends on your budget, travel style, and comfort level.
Renting a Car
Without a doubt, the number one way to explore Costa Rica is in a rental car. We book rental cars on the Discover Cars website as we have had good experiences with them in the past.
One of the things you need to watch for when renting a car in Costa Rica is the mandatory insurance that the government requires you to have. There are a lot of very cheap rentals that don't include this mandatory insurance (TPL) in the original booking price, but there are also ones that do. To avoid additional surprise charges when you pick up your rental car, be sure to rent a car that includes the mandatory insurance when you book.
Thankfully, on Discover Cars it's easy to tell apart the companies that include the mandatory insurance and those that don't. The trick is you can't pick any car on their website. In the picture below, you can see this rental car, with pick up in Jaco, includes the TPL. That means the mandatory insurance is included in the price. Any cover you get above that is extra.
Of course, I still suggest getting the full coverage offered by Discover Cars, which covers you even more.
You can browse cars on Discover Cars here.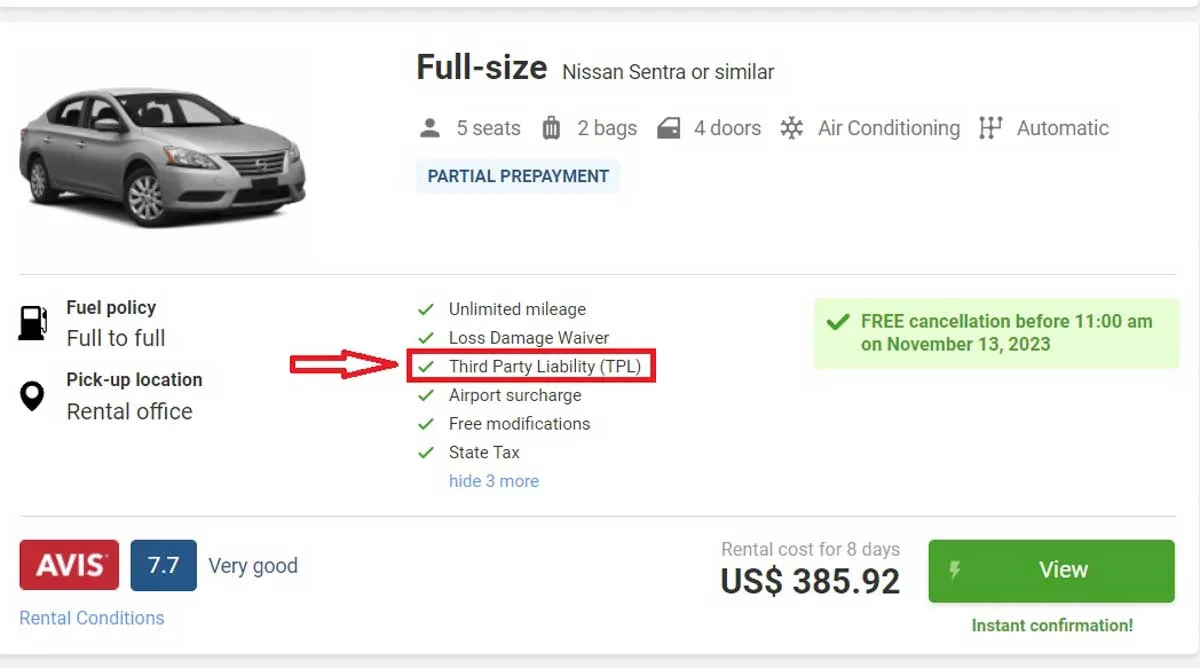 Adobe Rental Rent A Car is another rental company that we most often use in Costa Rica. We love them because Adobe has 15 offices around Costa Rica and delivers door-to-door around their offices at no extra cost. We also are pleased that all of their cars are new. In fact, they are never older than 2 years to the date. They are also the only company to include mandatory insurance and promise no hidden fees. You can get a free quote for a rental car from their website here.
Book Shuttles
If renting a car isn't in your budget, you don't feel comfortable driving in Costa Rica, or you just don't like driving, shuttles are the next best option. There are hundreds of shuttle routes available all over the country, and they are very affordable.
Shuttles in Costa Rica are specifically for tourists and often include pick up and drop off at your selected hotels and airports. The drivers also speak some English, and the vehicles have air conditioning. You'll also be guaranteed a seat when you book a shuttle (which isn't the case with the public bus system.)
To get the best price, use the website Bookaway. They compare all the offers and prices of shuttle companies in Costa Rica so you get the best price! Honestly, we have saved so much money using Bookaway!
You can search for shuttles online on Bookaway here.
Public Bus
Lastly, you can use the public bus system. On short journeys, such as from San Jose to La Fortuna or Uvita to Manuel Antonio, this system is great. However, the longer the journey the more hassle and time spent on a bus. It's undoubtedly best to save the public bus in Costa Rica for short and straightforward trips!
The public buses are definitely the cheapest way to get around Costa Rica, but they are not always very reliable and schedules often change without notice and delays are to be expected. The buses can also be very crowded and hot – so just be prepared!
It's also good to speak some Spanish if you plan on riding the public bus since most drivers and ticket booth operators don't speak English.
Invest in Travel Insurance
Paying out of pocket for trip interruptions or medical treatment will add to what might already be a stressful situation. We always travel with SafetyWing travel medical insurance.
The best part is that it costs only a fraction of what most insurance policies charge, which makes it perfect for digital nomads, long-term travelers (like us), and budget travelers. It only costs $45 USD per 4 weeks!
To start coverage, you must purchase it after leaving your home country. We usually purchase it as soon as we land at the airport.
Since using SafetyWing we've been reimbursed thousands of dollars when we've gotten sick. During the pandemic, they've even gone as far as to pay for our last-minute flights back to Canada from Colombia before the border closed!
You can click here to get a quote and read all the details!
Pura Vida!
I hope this blog has helped you learn all about the different hot springs you can visit in La Fortuna/Arenal. If you have time, why not visit a couple of different hot springs? If you do, be sure to comment below and tell me which hot springs in La Fortuna were your personal favorite!
Be sure to keep looking around my blog a little more too, I have plenty of informative blog articles about visiting Costa Rica!
BEST sloth tours in La Fortuna
BEST beach towns in Costa Rica that you should Visit