There's nothing more refreshing than being surrounded by nature while on vacation in Costa Rica. While you can take in plenty of amazing tours, find hidden waterfalls, and visit some incredible national parks, there's a way you can enjoy the best Costa Rica has to offer without even leaving your hotel room.
I'm talking about treehouse hotels. Yes, hotels in trees! It's like camping but you're 30 feet up in the air and sleeping with the birds and monkeys.
When you're picking where to stay in Costa Rica, opt for an unforgettable experience by booking a couple nights in the treetops. If you were one of those kids who always dreamed about having a treehouse in your backyard, this is your chance to experience it … but in one of the most beautiful countries in the world.
If you're like us and love combining exciting experiences with quality time outdoors, trust me when I say there is exactly where you want to be. And I bet after you've been in a treehouse hotel, you'll never want to go back to a fancy hotel room ever again!
If you're already sold, let's take a peek at the top treehouse hotels in Costa Rica to find out which ones are the best fit for your vacay.
Why Stay in a Treehouse Hotel in Costa Rica?
Costa Rica is home to tons of interesting wildlife and some of the most beautiful places I've ever seen. Treehouse hotels give you a front-row seat to all the beauty on display and are great if you're really looking to escape from it all.
Now, these aren't your typical treehouses though – it's a lot more than just some boards slapped onto a tree, I promise! There's typically some type of platform constructed among the trucks and branches of one or more trees. There may be add-ons like a rope swing, hammock, rope bridge, ladder or staircase, porch, slide, or even a trap door.
But besides the neat add-ons, a treehouse hotel also provides the amenities you'd expect from a hotel. Like … ahem … a bathroom for starters – that's an important one! Some even have a fully-equipped kitchen. Large windows are also pretty standard to let the natural light in and catch the breeze. So typically there isn't a need for air conditioning.
On top of providing the necessities of a comfortable hotel stay, there's this "cool" factor to treehouse hotels that make them stand out. I can guarantee this is one of the most unique places to spend a week in Costa Rica and it's definitely worth posting some Insta photos of!
Depending on which one you pick, you'll have views of rainforests, mountain ranges, or beaches as well as the opportunity to see the animals and birds of Costa Rica up close.
We've also found most treehouse hotels in Costa Rica are eco-conscious, which means they take steps to preserve the natural environment around them. That's a huge plus in our books.
The BEST Treehouse Hotels in Costa Rica
1. Tree House Lodge
Location: A 15-minute drive from the town center of Puerto Viejo and the nearest airport in San Jose is 2 hours away.
Amenities: Fitness center, free Wi-Fi, and private parking
Price range: From $200-$390 USD per night
Situated in the town of Puerto Viejo, the Tree House Lodge is an oceanfront eco-lodge offering 3-star accommodation. This 10-acre property hosts six open-air treehouses that are tucked away in nature and provide luxury comfort with stellar views.
One of the best things about this treehouse in Costa Rica is its proximity to some of Costa Rica's top beaches of Punta Uva Beach and Chiquita Beach. This means beach days and fun water activities like fishing, snorkeling, canoeing, and diving are only steps away.
The eco-lodge is also close to lots of restaurants in Puerto Viejo, where you can indulge in local Costa Rica dishes. It's also a short drive from one of the top wildlife rescue centers in Costa Rica, the Jaguar Rescue Center. This incredible facility helps to rescue and rehabilitate animals and also acts as a research hub for scientists from around the world. I was lucky enough to see a baby sloth here!
Most of the treehouses here sleep two to four people, but a couple can accommodate larger groups of 5-7 people. Each treehouse is complete with a private bathroom and a fully-equipped kitchen, as well as a mosquito net, Wi-Fi, BBQ facilities, fans, an iPod Doc, a safe box, and a fridge.
A huge bonus is that most of them also feature a hot tub and air conditioning, while others have a balcony and/or patio with sea, mountain, or garden views. One of them has a Jacuzzi, while another one has your very own indoor mini golf course!
Staying one night at Tree House Lodge costs $200-$390 USD, depending on the type of treehouse you choose.
Other amenities on the property include a garden, free Wi-Fi, and a private parking space. There's also a fitness center where guests can do pilates and Tae Bo with a personal trainer.
Book your very own private tree house at Tree House Lodge online here!
2. Nosara Tree House
Location: The town center of Nosara is a 15-minute drive away, while the closest airport in Liberia is a little over 2 hours away by car
Amenities: Yoga room, shared swimming pool, free Wi-Fi, and private parking
Price range: From $450-$1,000 USD per night
Nosara Tree House is a private holiday home in the town of Nosara that welcomes not only adults and kids, but also pets. It's a beachfront property in Costa Rica that's within walking distance of Guinos Beach, where you can catch some breathtaking sunsets. It's also close to some of the top activities in Nosara including surfing, yoga, and ziplining!
You won't need to travel far for food and drinks because the treehouse is only a short drive from some of Nosara's best restaurants, cafes, and bars. After eating, you can drop by boutique stores, gift shops, handmade crafts, or art galleries.
Another highlight of Nosara Tree House is its yoga retreat so you can really relax by joining one of the yoga, meditation, or breathing classes.
The building can sleep up to 10 guests, and the minimum length of stay is three nights. Guests are given the option to reserve either the whole treehouse or just some of its floors. You can reserve the entire house (with five bedrooms) for $1,000 USD per night, or the first and second floors (with three bedrooms), or the penthouse (with two bedrooms) for $450 USD per night.
In addition to the five rooms, Nosara Treehouse also has a living room, a fully-equipped kitchen with a fridge and other appliances, and five bathrooms with a shower and a hairdryer. You can also expect a hot tub, BBQ facilities, complimentary Wi-Fi, and private parking. There's even a shared swimming pool with guests of the other nearby property called Frog Pad.
Because this is a single property, you'll want to check availability and book Nosara Tree House online now to secure your dates!
Related Read: If you're an eco-conscious traveler, you might also like to stay in an ecolodge in Costa Rica!
3. Tree Houses Hotel
Location: This treehouse hotel is only 10 minutes' drive from the town of Santa Clara by car and almost a two-hour drive from the nearest airport in San Jose
Amenities: Complimentary Wi-Fi, free parking, luggage storage, picnic area
Price range: From $278-$548 USD for 2 nights
Just 30 minutes away from La Fortuna you can escape to the Tree Houses Hotel, which features a total of seven private treehouses. Surrounded by plenty of wildlife, animals, trees, and plants, the hotel guarantees a unique jungle experience.
Notably, the hotel stands on 70 acres of wilderness home to a wide array of animals such as congos, sloths, agoutis, toucans, howler monkeys, armadillos, kinkajous, and hummingbirds, just to name a few. The best part is you'll likely spot many of these creatures right from your room!
During my stay, I discovered the wide trail from the hotel to Rio Vieja. Along the way, there's a beautiful waterfall with three small pools, a picnic area, and washrooms.
The seven private tree houses here are separated by forest trees, giving you complete privacy and tranquility. Giving off a rustic feel, the houses can sleep two to six people and are equipped with various amenities like a deck with tables and chairs, Wi-Fi, air conditioning, a bathroom with a shower, a mini-fridge, and a safe box.
Travelers are required to stay for a minimum of two nights and the rates range from $278- $548 USD for two nights. Pricing is for double occupancy; an additional $20 USD charge per person may apply.
One of my favorite parts is that every morning, you can enjoy Costa Rican breakfasts served on the hotel's open-air patio. And anytime during the day, you can request spa treatments or massages on the deck of your treehouse. Talk about luxury!
Check availability and book a stay at Tree House Hotels here.
Related Read: This area is also an amazing place to see sloths! So book a sloth tour in La Fortuna and see just how many you can spot.
4. Tulemar Resort
Location: This resort is just a few minutes away from the town center of Manuel Antonio and about a three-hour drive from the closest airport in San Jose.
Amenities: 4 swimming pools, 2 restaurants, beach bar, private beach area, free private parking, Wi-Fi, gift shop
Price range: Rates range from $290-$1,093 USD per night
Hidden away in a lush rainforest overlooking Manuel Antonio's coastline, Tulemar Resort is the only hotel licensed to operate in the world-renowned Tulemar Gardens. Wildlife thrives in the area, with sloths, iguanas, white-nosed coati, basilisks, and three of Costa Rica's four native monkey species residing here.
What's amazing about this full-service resort is that it has a private beach area, which is the only exclusive sandy beach in the region. On the beach, sun loungers and umbrellas are set up and beach towels, food and drink services, and beach attendants are available. If you're looking to get out on the water, kayaks and boogie boards are also available.
This resort puts you so close to great activities in Manuel Antonio town and the incredible Manuel Antonio National Park. There are beautiful walking trails, lots of wildlife (including the adorable squirrel monkeys!), and stunning beaches to enjoy. I've found this is also one of the best places to spot sloths in Costa Rica – there's even a trail called "The Sloth Trail" because it's so common to see them along here.
It's also worth noting that Tulemar Resort features four swimming pools and two restaurants, one serving Costa Rican cuisine and the other Italian cuisine. They also have a beach bar, a gift shop, and a private parking area that's free of charge.
The resort offers a variety of services as well, such as airport shuttle service (shuttles in Costa Rica are super handy!), transportation (for air or land), and car rental service. They can also provide spa services for both adults and kids.
Tulemar Resort offers standard rooms, bungalows, casas, private houses, and vacation rentals that can sleep four to 10 guests. There's one vacation rental ideal for up to 26 people if you're traveling with a large group! Rates range from $290-$1,093 USD per night.
Each type of accommodation is designed differently, but they have a few common amenities including Wi-Fi, a cable TV, air conditioning, a room safe, and a private bathroom with a bath or shower.
Most units feature a living area and a terrace. Some have a kitchenette while others have a fully-equipped kitchen or only a coffee maker and/or mini-fridge. Selected ones offer ocean and jungle views.
Book your stay at Tulemar Resort online here!
Related Read: Since you'll be staying in the treetops, why not soar above them on one of the best ziplining tours in Costa Rica!
5. Pacuare Lodge
Location: This eco-friendly hotel is just a 10-minute drive from Bajo Tigre and 2.5 hours from the nearest airport in San Jose.
Amenities: Restaurant, bar, spa, free Wi-Fi
Price range: Accommodation rates range from $1,145-$1,686 USD per night
Pacuare Lodge in the town of Bajo Tigre is an eco-friendly property sitting on the banks of the Pacuare River, one of the world's ten best rivers known for its scenery and rapids. The lodge is hidden in the rainforest, so if you're craving a nature-based experience, this is my pick!
Arriving at the lodge will already be an adventure because the only way to get there is via white water rafting. I mean talk about an exciting start to your trip!
Another great thing about the lodge is that its onsite restaurant has a menu that boasts farm-to-table cuisine and changes with the season. It is also interesting that they don't have a chef but a culinary team comprising local Costa Ricans from small towns and Indigenous communities. All the food here is delicious!
The lodge also houses a spa offering facial and body treatments, body wraps, and massages for adults, teens, and kids. And for additional convenience, you also get free use of golf carts to go around the property.
At Pacuare Lodge, you can choose from 20 suites and villas that can sleep three to five people. In particular, the Jaguar, Linda Vista, and Canopy villas are more spacious and secluded than the rest. Perfect if you're planning a honeymoon in Costa Rica!
Each villa is constructed with a living room with one or two daybeds, a bathroom, a spring-fed pool, a bridge, and a tree platform with river or jungle views (except Canopy Villa).
If you prefer a smaller accommodation, you can pick from the River View Suites or Garden View Suites. These suites, alongside the villas, are provided with eco-fans, naturally-sourced bathroom toiletries, big terraces with hammocks and lounges, outdoor showers, and free Wi-Fi.
Accommodation rates start at $1,145 USD per night for double occupancy, and the minimum length of stay is two nights.
Check availability and book your stay at Pacuare Lodge online now.
6. 7-Level Treehouse
Location: This treehouse hotel is 20 minutes away from the town of Puerto Jimenez and 5.5 hours from the closest airport in San Jose.
Amenities: Rainforest pool, fully-equipped kitchen, complimentary Wi-Fi, free private parking
Price range: Starts at $343 USD per night
This 7-Level Treehouse is a special property where you can have the entire place to yourself! This private holiday home is perfect if you're traveling with family or friends. Just make sure if you're renting a car in Costa Rica, you choose a 4×4 to get here.
The house was constructed around the trunk of a huge mahogany tree. Thanks to its elevated position, the 360°views of the surrounding rainforest are spectacular. This treehouse has even been featured on TV and in magazines!
Located in Puerto Jimenez, the treehouse is a great base for visiting Corcovado National Park, where you can discover the country's impressive biodiversity. There, you can encounter a variety of wildlife like monkeys, toucans, lizards, and sloths, among others.
You'll also have quick access to several beaches from the property. This makes it easy for you to try out different water sports such as swimming, fishing, kayaking, snorkeling, scuba diving, and surfing. Dolphin and whale watching is also a must-try activity.
The 7-level Treehouse, which can accommodate eight to nine people, has four screened bedrooms that are on separate levels. There are three bathrooms with showers, too, as well as a fully-equipped kitchen with Pacific Ocean views.
Relax on the open-air deck or in the open-air living room with views of the beach, the rainforest, Corcovado National Park, and the Gulfo Dulce. You'll probably see monkeys and tropical birds during your stay, and there's often a friendly iguana or two hanging around!
Other conveniences in the treehouse are fans, mosquito nets, reading lights, a safe box, and a closet. There's also a garden, an outdoor play area, a fire pit, and a BBQ grill.
Because this is a private holiday home, make sure you book the 7-Level Treehouse quickly to ensure you get it for your vacation!
7. Luxury Treehouse in Manuel Antonio
Location: This holiday home is in the heart of Manuel Antonio town and lies 2.5 hours from the closest airport in San Jose.
Amenities: Private pool, hot tub, fully-equipped kitchen, complimentary Wi-Fi, parking
Price range: The average rate per night starts at $460 USD
In the town of Manuel Antonio, there's a brand new Bali-style treehouse called Luxury Treehouse. It's located in an exclusive neighborhood and is stunning with its mixture of native hardwoods and local artisan furniture.
The location of this treehouse in Costa Rica is perfect for anyone who loves the beach (like me!) since it's only a few minutes' walk away from Manuel Antonio Beach, one of Costa Rica's top surfing spots. It's also a great beach to swim at or catch an incredible sunset.
Manuel Antonio National Park, is also nearby with its beautiful walking trails where you'll have the chance to see monkeys, sloths, macaws, snakes, frogs, and more. I've found it's a different experience every time you go! Plus, it's easy to visit multiple times since Luxury Treehouse is one of the very few private houses within walking distance of the national park, as well as restaurants and shopping.
This treehouse is my pick for families or groups of friends, as the entire house can sleep up to seven people. Brand-new stainless appliances are also available in the kitchen, including a refrigerator, a stovetop, a microwave, and a dishwasher. The treehouse even has an open-air living area with a television, a dining area, a deck/patio, and a veranda.
If you're in the mood to go swimming but not on the beach, you even have the option of using the private pool onsite. For relaxation, take a soak in the hot tub.
The three bedrooms here are equipped with queen beds, air conditioning, ceiling fans, and DVD players. You'll also find three bathrooms, two of which have showers.
Sitting in the middle of tropical rainforest, Luxury Treehouse is an excellent choice for those who want to disconnect from busy city life. Every morning, you'll most likely wake up to the sound of howler monkeys – nature's alarm clock! The surrounding forest is also inhabited by sloths, birds, and butterflies, which you can spot right out your windows.
Check availability and book the Luxury Tree House online here!
Related Read: If you'll be spending more time in the area, check out these other great places to stay in Manuel Antonio and top tours you won't want to miss!
8. Topos Tree House
Location: The treehouse is just a five-minute car ride from downtown Cahuita and four hours from the closest airport in San Jose.
Amenities: Fully-equipped kitchen, open-air terraces, complimentary Wi-Fi, and parking
Price range: The rate starts at $260 USD per night
Lying on Costa Rica's Caribbean coast, in the town of Cahuita, Topos Tree House is a private holiday home that's perfect for a couple or a group of up to four people. The structure is built in a giant rubber tree, so you'll find yourself literally living in a tree, with jungle and wildlife surrounding you.
What I really like about this treehouse is that its location puts you just within walking distance of Negra Beach, which is popular with surfers, the famous Reggae Bar, and a variety of restaurants. You'll also find bicycle rental services and shops offering activities like snorkeling as well as surf lessons.
Another huge selling point for me is that it only takes 10 minutes to get to Cahuita National Park by car. While this is one of the most well-known national parks, it's one of the least commercialized. The highlight is snorkeling in some of the country's best coral reefs which are home to more than 500 species of fish!
Topos Treehouse has three levels and can be reserved for $260 USD per night during the low season (May to June and September to November). The rate is only for double occupancy, so there's an additional $15 USD charge per person. The minimum length of stay is two nights.
On the first floor, there's a living room, a dining room, a fully-equipped kitchen, a bathroom, Wi-Fi, and hammocks. The second floor is where you'll find the bedrooms along with another bathroom with hot water and a second living room overlooking the trees and plants. There are two bedrooms, each featuring air conditioning, a mosquito net, a fan, a safe box, a closet, and a window opening out into the tree branches.
The third floor also has Wi-Fi plus a balcony with a bistro table and chairs. Finally, outside the treehouse, there's a garage, fish-turtle-amphibian ponds, a BBQ grill, an outdoor shower, and gardens.
Book a stay at Topos Tree House easily online before you go.
9. Lapa Rios Lodge
Location: This eco-friendly lodge lies 40 minutes away from the town of Puerto Jimenez and a 6-hour drive from the nearest airport in San Jose
Amenities: Outdoor pool, bar, restaurant, spa and wellness center, free Wi-Fi, and private parking
Price range: From $1,131-$1,644 USD per night
Within Central America's last remaining lowland tropical rainforest in Costa Rica's Osa Peninsula is an eco-friendly hotel called Lapa Rios Lodge. This property protects 1,000 acres of rainforest and supports the local community. Its sustainable practices make it one of the best treehouses in Costa Rica.
Another amazing thing about this lodge is that you'll see wildlife up close. You'll likely spot scarlet macaws (which the property is named after) as well as frogs, toucans, endangered monkeys, and lots of different types of birds.
Staying at Lapa Rios Lodge is also a great move when it comes to exploring the area. Puerto Jiménez is a great starting point for visiting Corcovado National Park, and is the nearest town to the property. The beach isn't that far from the lodge, too, so this means exciting water sports are within easy reach. You can go fishing, swimming, snorkeling, or surfing.
The lodge houses a total of 17 private houses, six of which are villas and 11 are bungalows. All units, which sleep four to five guests, are overlooking where the Pacific Ocean and Golfo Dulce meet – talk about beautiful! The nightly rate for double occupancy ranges from $1,131-$1,644 USD and travelers are required to stay for at least three nights.
All accommodations come with a tea/coffee maker, a terrace with an outdoor rain shower, a lounge area, and a private bathroom with organic, eco-friendly toiletries, a shower, or a bathtub. Also, guests get to enjoy ocean or rainforest views from each unit. Some houses are provided with complimentary Gourmet Costa Rican coffee and feature a living area and a plunge pool.
More amenities can be found outside the villas and bungalows including an outdoor pool, a bar, and a wellness center offering massage services and yoga classes. Lapa Rios Lodge also houses a restaurant that serves three a-la-carte, multi-course meals made with local ingredients. Snacks or vegetarian, vegan, and gluten-free options, as well as non-alcoholic beverages, can be requested.
Book a room at Lapa Rios Lodge online here!
10. Rancho Pacifico
Location: This boutique hotel is approximately a 15-minute drive from downtown Uvita and almost 3.5 hours from the closest airport in San Jose.
Amenities: Outdoor swimming pool, restaurant, bar, fitness center, spa, hot tub, free Wi-Fi, and private parking
Price range: The price ranges from $545-$995 USD per night
Rancho Pacifico is a 5-star resort located in the town of Uvita. It is widely regarded as Costa Rica's finest adults-only boutique hotel. Since it's a property exclusive to adults, it's the perfect place for a Costa Rican honeymoon or romantic getaway.
This luxury resort houses an award-winning spa, which makes it one of the best treehouse hotels in Costa Rica. You can share a soothing massage with your loved one or try a body scrub, body wrap, or facial.
The onsite restaurant and lounge are also highlights of the property, as they offer views of the Pacific Ocean and the famous Whale's Tail beach in Marino Ballena National Park.
What's more, the restaurant uses only the freshest local ingredients, many coming from their own gardens, in preparing dishes of American, Caribbean, and Italian cuisines. Guests can request vegan, dairy-free, and gluten-free options and also room service.
There's also a full-service bar offering an extensive list of wine, national and craft beers, juices, and cocktails made with fresh local fruits. Other resort amenities to expect include an outdoor swimming pool, a fitness center, a shared lounge, a terrace, a hot tub, and free private parking.
With regard to accommodation, Rancho Pacifico offers three types: suites, treehouses, and villas. Each of them provides luxury living, privacy, and ocean views, and features king-size beds, organic bath products, and complimentary Wi-Fi.
While they have common amenities, the units are designed differently. In particular, villas have a plunge pool or in-ground hot tub and a kitchenette, while the treehouses are complete with outdoor soaking tubs and a bathroom with double indoor-outdoor showers.
The accommodation rate per night ranges from $545-$995 USD, and guests need to stay for at least two nights. The units can sleep two to six people.
If this property is calling your name, reserve a room at Rancho Pacifico today!
Related Read: If you're planning a stay near Uvita, you can't miss seeing the incredible Uvita Waterfall!
Getting Around Costa Rica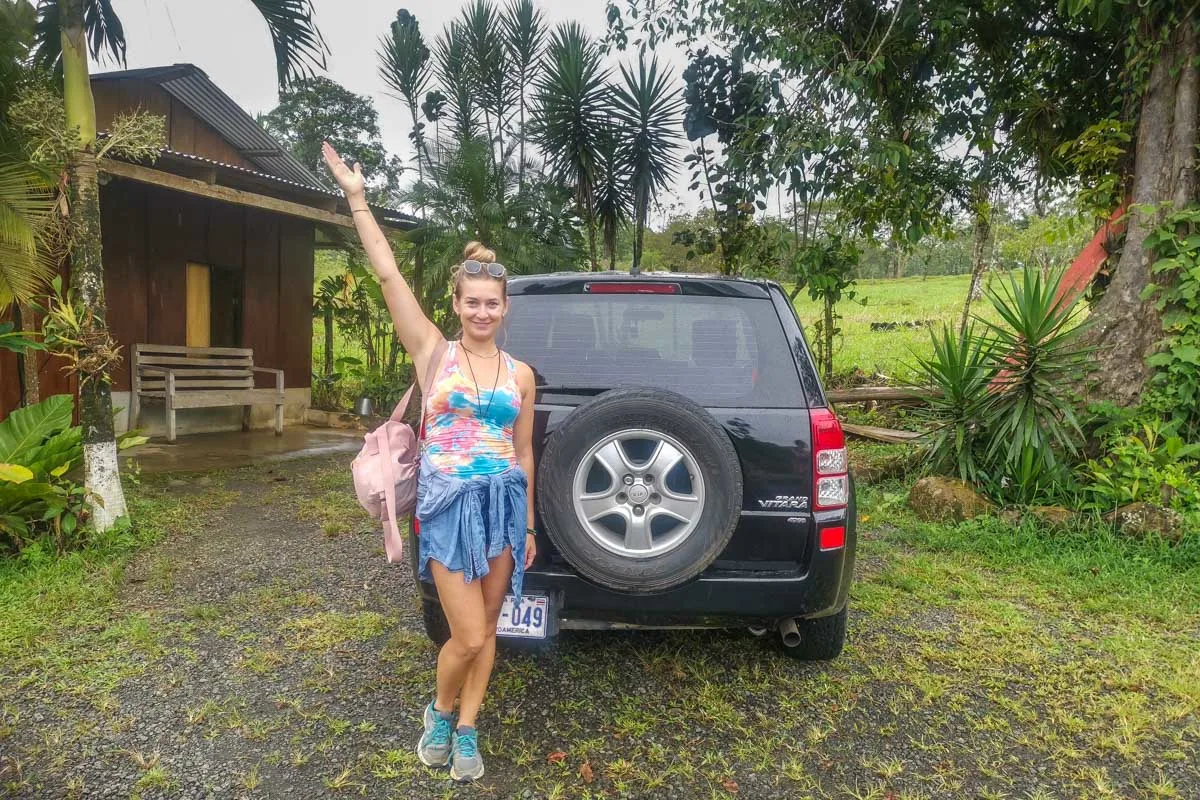 How you choose to get around Costa Rica is one of the biggest decisions you'll make when planning your holiday here! How you do it depends on your budget, travel style, and comfort level.
Renting a Car
Without a doubt, the number one way to explore Costa Rica is in a rental car. We book rental cars on the Discover Cars website as we have had good experiences with them in the past.
One of the things you need to watch for when renting a car in Costa Rica is the mandatory insurance that the government requires you to have. There are a lot of very cheap rentals that don't include this mandatory insurance (TPL) in the original booking price, but there are also ones that do. To avoid additional surprise charges when you pick up your rental car, be sure to rent a car that includes the mandatory insurance when you book.
Thankfully, on Discover Cars it's easy to tell apart the companies that include the mandatory insurance and those that don't. The trick is you can't pick any car on their website. In the picture below, you can see this rental car, with pick up in Jaco, includes the TPL. That means the mandatory insurance is included in the price. Any cover you get above that is extra.
Of course, I still suggest getting the full coverage offered by Discover Cars, which covers you even more.
You can browse cars on Discover Cars here.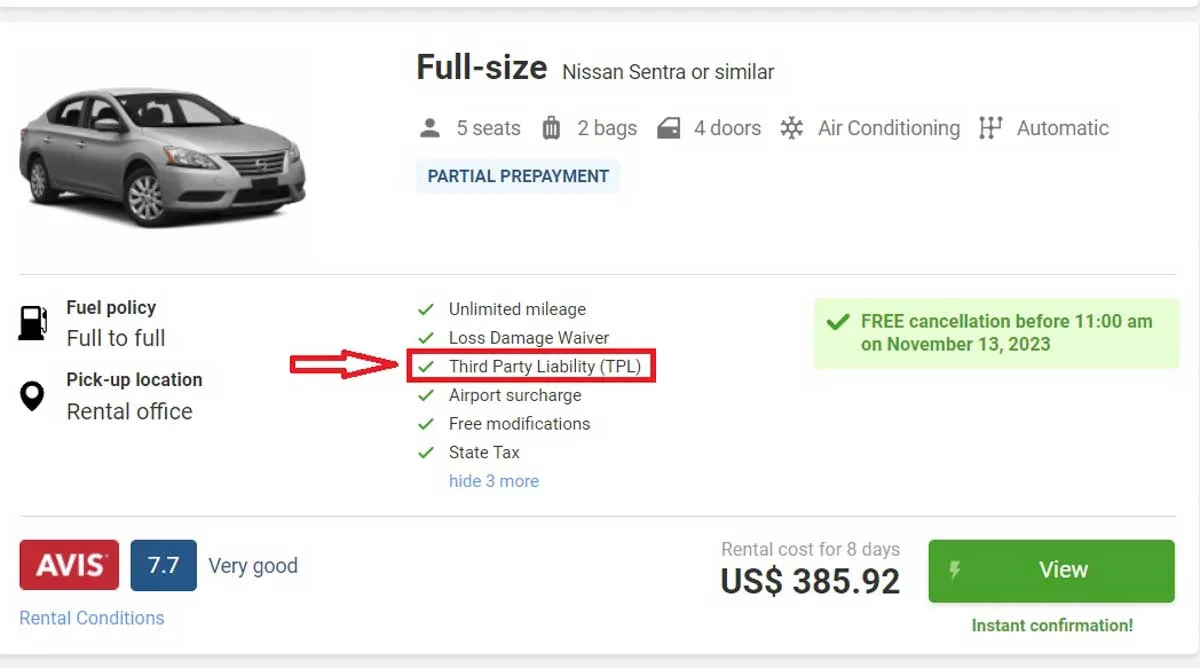 Book Shuttles
If renting a car isn't in your budget, you don't feel comfortable driving in Costa Rica, or you just don't like driving, shuttles are the next best option. There are hundreds of shuttle routes available all over the country, and they are very affordable.
Shuttles in Costa Rica are specifically for tourists and often include pick up and drop off at your selected hotels and airports. The drivers also speak some English, and the vehicles have air conditioning. You'll also be guaranteed a seat when you book a shuttle (which isn't the case with the public bus system.)
To get the best price, use the website Bookaway. They compare all the offers and prices of shuttle companies in Costa Rica so you get the best price! Honestly, we have saved so much money using Bookaway!
You can search for shuttles online on Bookaway here.
Public Bus
Lastly, you can use the public bus system. On short journeys, such as from San Jose to La Fortuna or Uvita to Manuel Antonio, this system is great. However, the longer the journey the more hassle and time spent on a bus. It's undoubtedly best to save the public bus in Costa Rica for short and straightforward trips!
The public buses are definitely the cheapest way to get around Costa Rica, but they are not always very reliable and schedules often change without notice and delays are to be expected. The buses can also be very crowded and hot – so just be prepared!
It's also good to speak some Spanish if you plan on riding the public bus since most drivers and ticket booth operators don't speak English.
Invest in Travel Insurance
Paying out of pocket for trip interruptions or medical treatment will add to what might already be a stressful situation. Not to worry, SafetyWing is here to help!
This affordable travel and medical insurance is perfect for digital nomads, long-term travelers, and remote workers. The best part is that it only costs $45 USD per 4 weeks.
To start coverage you must purchase it after leaving your home country. We usually purchase it as soon as we land at the airport.
Since using SafetyWing we've been reimbursed thousands of dollars when we've gotten sick. During the pandemic, they've even gone as far as to pay for our last-minute flights back to Canada before the border closed!
Pura Vida!
When it comes to unique accommodations in Costa Rica, treehouse hotels are up there (literally, ha)! Hopefully, you've found this guide helpful as we've compiled the 10 best treehouses in Costa Rica for all budgets and travelers – whether you're going as a couple or with a big group.
While each is unique and gives you the chance to discover a different area of Costa Rica, they all do a great job of showing the things Costa Rica is most known for.
If Costa Rica is your next destination, make sure you browse around our other blogs. We've spent a ton of time here and have lots of activities, restaurant recommendations, hotel guides, and tips to make your trip amazing!
Is Costa Rica Expensive? Cost of Traveling to Costa Rica
7 MUST-VISIT Volcanoes in Costa Rica